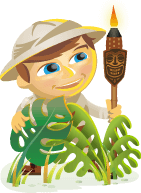 Wondering if Messenger chatbots are right for your business?
Want to know how to build your own chatbot?
To explore why and how to create Facebook Messenger chatbots, I interview Ben Beck.
More About This Show
The Social Media Marketing podcast is an on-demand talk radio show from Social Media Examiner. It's designed to help busy marketers and business owners discover what works with social media marketing.
In this episode, I interview Ben Beck, a bot expert who writes a weekly column for ClearVoice.com. He has an online course focused on generating leads with chatbots.
Ben explores what you need to know to get started with chatbots.
You'll discover the best tools for creating chatbots.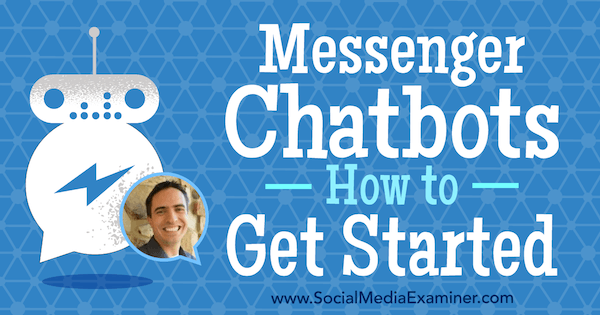 Share your feedback, read the show notes, and get the links mentioned in this episode below.
Listen Now
Where to subscribe: Apple Podcast | Google Podcasts | Spotify | RSS
Here are some of the things you'll discover in this show:
Messenger Chatbots
Ben's Story
Ben's relationship with bots started when he was a teenager in the mid-1990s. He chatted with ALICE, the first bot to use natural language processing. ALICE had a rudimentary interface that worked via the Internet. You typed into a little box and a response showed up. Although Ben looked at the code for ALICE, it was too complex for him to figure out how to tinker with it. However, ALICE sparked Ben's interest in chatbots and he's been watching them ever since.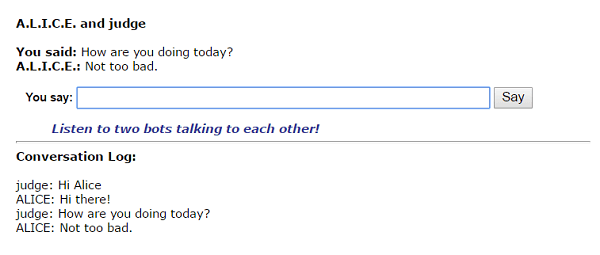 Fast-forward to 2004. Ben got into online marketing, starting with SEO and online advertising. Over the last six or seven years, his interest shifted to marketing automation and email marketing. In the last five years, Ben has been using systems like HubSpot and Marketo to do email drip campaigns and as robust solutions for lead generation.
Last year, Facebook released the option to use chatbots inside of Facebook Messenger.
People naturally converse with these bots to get information about a business, submit information, get help with booking vacation plans, and more. Ben thinks bots will be the new lead generation method. Although bots may not unseat email, they'll be just as big.
Listen to the show to hear my thoughts on the impact of Facebook.
What's a Chatbot?
A chatbot is a software application built to simulate a human-like conversation. Ben believes it was Matt Schlicht, the creator of Octane AI (a chatbot-building platform), who compared chatbots to a game of tennis. For the longest time, chatbots have followed a chat-reply, chat-reply sequence (or hit it over the net, receive, hit it back). Chatbots are now starting to take on human-like capabilities.
The range of a chatbot's abilities can be huge.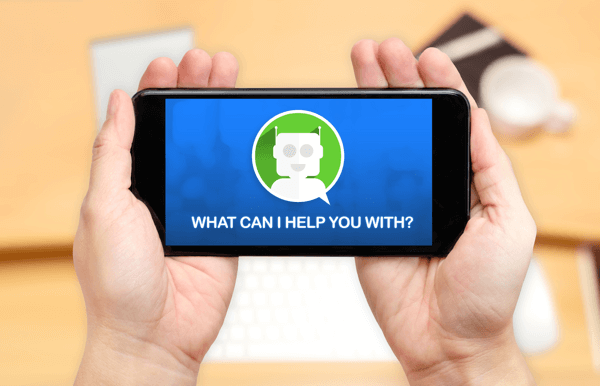 For instance, if you were planning a family trip to Disneyland, you could visit their site and type questions into their pop-up box like, "What time does the park open on September 12?" and a chatbot could give you the answer. In this hypothetical example, the bot watches for certain patterns in a string to determine the response.
An advanced chatbot could use the best in artificial intelligence (AI) technology to learn. For example, Disney could take their conversations with customers over the last five or six years and feed them into their AI platform. The chatbot could become more human-like by studying questions and responses between an actual person and a park guest.
However, the way a bot learns through AI capabilities has the potential backfire. About a year ago, Microsoft released Tay, a chatbot that learned by interacting with people on Twitter. For the first day or two, tons of people interacted with Tay, but as a result of people's communications, the bot became racist and picked up other bad conversational habits, so Microsoft had to pull it down.
Listen to the show to learn more about Microsoft's chatbot fail.
Facebook Messenger Chatbots
Currently, Facebook Messenger has more than 1.2 billion users and Facebook is putting a lot of money into getting people on the platform. Chatbots are a big piece of that. With Facebook Messenger chatbots, small- and medium-sized businesses can make quick connections.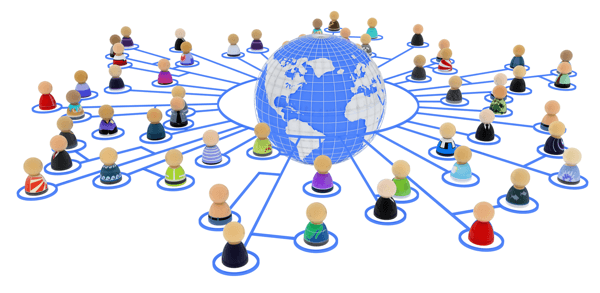 Say you had a chatbot on your ecommerce website and someone wanted to ask a question or receive product updates. They'd just need to click the blue button on your website to open Facebook Messenger. Your welcome message would greet them. As soon as they took an action (responded to the message or hit a button), they're considered a subscriber, and you have permission to reach out to that person through Messenger.
Because Facebook Messenger is so new and untapped, marketers who move their lead generation efforts to Facebook Messenger have an immediate advantage. Namely, people receive email notifications all the time, but Facebook Messenger notifications aren't as numerous. When customers receive a message from you via Messenger, it's almost like they're receiving an IM from a friend.
Current research shows that up to 60% of people who receive a message on Facebook Messenger through a chatbot are engaging with the message. Compare that rate to email. Even if you have a phenomenal email marketing list with a 30% to 40% open rate, your click-through rate still ends up being 1% to 3%. That's 3% engagement versus 60% engagement on a Facebook Messenger chatbot. It's a world of difference for marketers.
Ben says Facebook Messenger does have one disadvantage. You can't see your chatbot subscribers' email addresses. You can see their gender, location, name, and other info, but Facebook is unlikely to reveal their email addresses because it wants to keep people on the Facebook platform.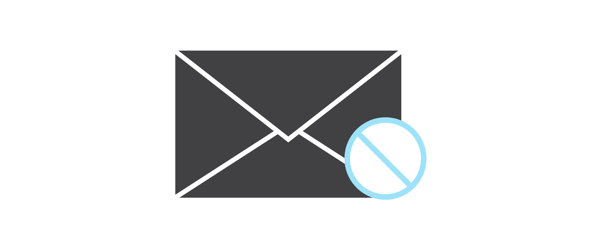 Listen to the show to hear my thoughts about how Facebook Messenger compares to email.
Chatbot Business Applications
I ask Ben to share examples of the ways companies are using chatbots. Ben says companies like Domino's allow you to order products through Facebook Messenger.
I talk about my experience ordering flowers through the 1-800-Flowers.com chatbot. It was great on the ordering side (the bot asks you questions, shows pictures, and takes you through the entire process), but not so much for customer support.
For improved customer service, Ben mentions a tool called ManyChat, which has automatic dialogs (artificial intelligence-driven content), as well as an option for a person to step into the live chat when necessary.
ManyChat also ties into the Facebook Advertising API so you can tell ManyChat to open a Messenger bot when someone clicks an ad. Simply copy the code snippet ManyChat gives you and paste it into a field in Facebook Power Editor. When someone clicks your ad, they can start a Messenger dialog with your chatbot automatically.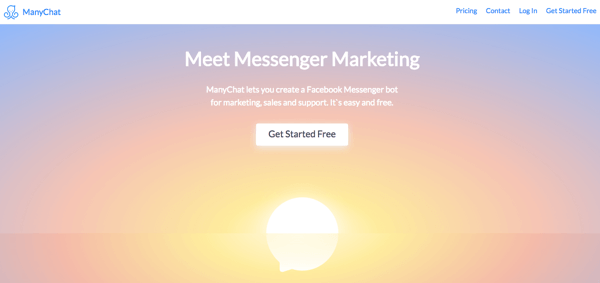 Again, all someone has to do is send a single message or click a button and they're on your subscriber list. Then you can message them as much as you'd like.
I ask if it's possible to create a chatbot with the most common questions people ask about Social Media Marketing World.
Ben says yes, you can pull your frequently asked questions and plug them into the chatbot interface. Then the chatbot will look for certain patterns to understand and answer the question. For example, if someone wants to know about getting a visa to travel to the conference, they don't have to ask the question in specific language for the chatbot to give a response.
This technology can also serve as a lead generation method. After the chatbot answers a question, Messenger can reach out to the person a day or two later and share a promotional code, an ebook on why it's important to attend, or a video testimonial from a past attendee.
Ben mentions several other ways you can use chatbots. A chatbot can guide new app users through a tutorial. A life-coaching chatbot can warm up leads for a one-hour consultation. Chatbots can help you create audience segments or score leads so your sales team knows how sales-ready a lead is.
Listen to the show to hear me discuss how chatbots automated an online contest.
Chatbots on Different Social Media Platforms
Ben recommends ManyChat for creating Facebook Messenger chatbots and API.AI for creating chatbots on other platforms such as Telegram, Slack, Skype, or Amazon Alexa. With API.AI, you can build a bot once and release it into different locations, including Facebook Messenger.

Ben believes ManyChat trumps API.AI in the area of drip marketing. For instance, if you ordered flowers from 1-800-Flowers.com, you could tell ManyChat to reach out two days after the delivery and ask how the flowers were. In this way, ManyChat helps you create a proactive marketing experience and is easy to use. Although API.AI isn't focused on drip marketing, the tool is more robust.
API.AI is free at the moment because they're trying to build their audience. Ben thinks they'll eventually release freemium or paid versions with more functionality.
ManyChat is doing a freemium model. The free version is good but limits the number of broadcasts and the tools you can use. If your needs go beyond what the free version offers, the fee is affordable and goes up incrementally. For 500 users, it costs $10 a month, and 10,000 users costs $65 a month.
Both API.AI and ManyChat display the same type of content and work similarly. The user sees a card, which can include videos, downloadable files, or photos. After a user clicks something, the chatbot takes them through the logic chart that you built. Alternatively, users can type into a chat box, and the bot will try to determine what the user is saying to respond appropriately.
For example, Domino's uses a photo carousel for ordering. The bot shows different pictures, the user slides left or right, and then clicks what they want. Then the bot takes the user to toppings, extras, and the drink menu.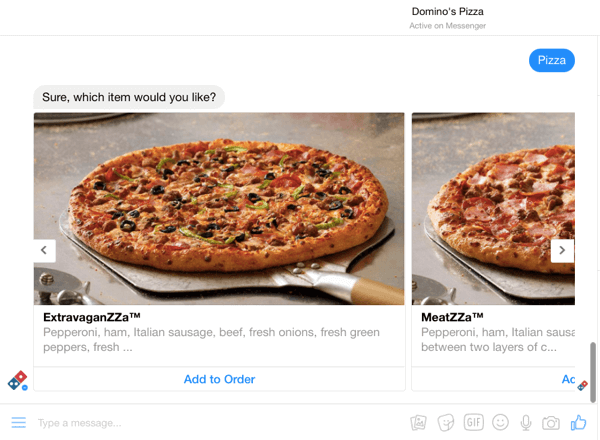 Listen to the show to discover how Zapier works with ManyChat and API.AI.
Programming a Chatbot
Programming a chatbot is easy, although the interface isn't quite as user-friendly as an email provider. With a chatbot, you need to consider a lot of functionality and logic, so the creation process requires a little more thinking than sending out an email.
You don't need to know any programming language to program a chatbot, however. The process is simply point, click, drag, drop, type in the words you want, upload your image, put in the embed code for your YouTube video, and so on.
API.AI and ManyChat both include templates (ManyChat calls these examples) so you have a starting point for creating a bot.
The bot keeps a list of everyone who has engaged with you, and you can pull up the individual chat conversations. You can also categorize your list. For example, in ManyChat, you assign a tag to anyone who's interested in a specific product. After you apply the tag, you can follow up with those customers about that product stream.
API.AI will track all of the conversations an individual has had with you. When you open a conversation, the parts where the natural language processing didn't do a very good job are highlighted in pink. To help the bot respond better in the future, you can type in a response. ManyChat doesn't yet have that functionality.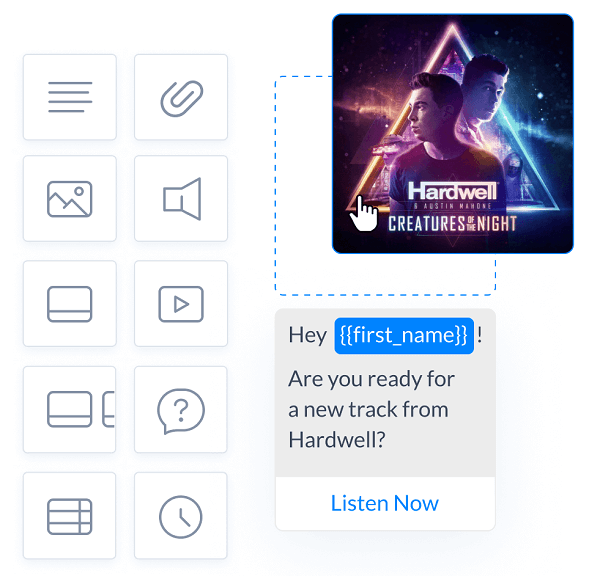 In API.AI, the AI stands for artificial intelligence, so it's a clear focus. ManyChat will likely get into the artificial intelligence space, but for now, it's a simple marketing tool. Both tools have point-and-click interfaces. Write the welcome message and give options for two paths. Then add cards to build out the individual paths.
People ask Ben all the time where to get the content to feed their chatbots.
If you're building a bot for customer service, go to your FAQs. Ben has also helped clients build chatbots by looking at their Google Analytics. He'll pull up the heat map, and starting at the home page, see where people are clicking. Those clicks provide a quick indication of what people look for when they come to the home page. From there, he uses the analytics to build up the logic behind the bot.
For a real estate company, Ben used relevant questions from Quora as source material. He emphasizes that he didn't copy Quora's content. He used it only to help inform how he developed source material for the company's chatbot.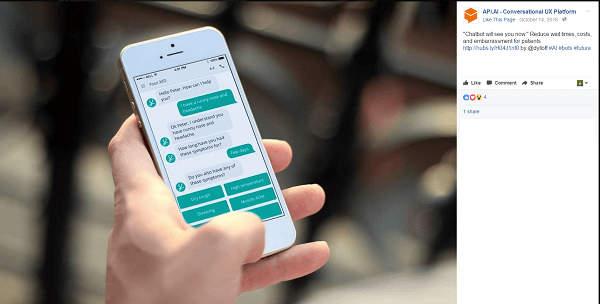 When you use chatbots for lead generation, make sure you focus on your prospect's ideal path and end goal. For instance, the path might begin with someone watching a video. Then, after they watch the video (which you can see in ManyChat), you serve the next piece, perhaps an ebook download. At that point, move to your end goal: asking for their email address within the chatbot.
You can also set up different logic, Ben continues. If they don't watch the video and they don't engage, then you send a generic message such as, "I would love to answer any questions you have." Then feed it different content based on the logic.
Before you build your chatbot, Ben suggests drawing a basic workflow on a piece of paper. Figure out the first, second, and third steps. Keep the logic simple. Then build the content.
I ask whether you want to keep people in the Messenger interface or get them to an email automation system. Ben says your objective depends on your use case. B2C and B2B might play differently. However, Ben's chatbot clients have all wanted to keep communication within the Facebook Messenger app because the engagement rate is so high.
Even people who have tons of Facebook friends still receive only a couple of Messenger posts each day, so Messenger is still an untapped market. When someone logs into Facebook and the little red number over the communication icon says there's a message, they click that red button right away, if only to clear it out.
When you program a chatbot, make sure you give users a way to opt out. In pretty much all chatbots, the user simply needs to type "stop" to unsubscribe from your chatbot communications.
Listen to the show to hear my thoughts on why chatbots might be a better way to communicate with customers than email.
Discovery of the Week
Lumyer adds augmented reality camera effects to your photos or videos.
This app is unique in that you can add motion graphics, accents, or static elements to an existing photo or video.

For example, you can add confetti, snow, lightning, a lens flare, and more. The app includes face filters that were previously only available through Snapchat or Instagram. The app can also add cool green-screen effects that add movement behind the person in the foreground.
To use Lumyer, take a photo or video. Then open the app, download the effects you want to add, and apply them to your photo or video. When you're done, save your changes and upload your photo or video to your desired social media platform.
Lumyer is a free app for iOS or Android. The cost to remove the watermark is $1.99. Most of the filters and add-ons are free, although you'll occasionally find ones that cost $0.99 or $1.99. Download only your favorites so the app doesn't take up too much space on your phone.
Listen to the show to learn more and let us know how Lumyer works for you.
Listen to the show!

Where to subscribe: Apple Podcast | Google Podcasts | Spotify | RSS
Key takeaways mentioned in this episode:
Learn more about Social Media Marketing World 2018.
What do you think? What are your thoughts on Messenger chatbots? Please leave your comments below.