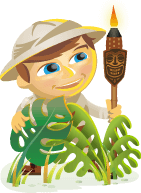 Do you want to communicate with your customers via Facebook Messenger?
Wondering how Facebook Messenger bots and Messenger ads can help?
To explore this topic, I interview Molly Pittman.
More About This Show
The Social Media Marketing podcast is an on-demand talk radio show from Social Media Examiner. It's designed to help busy marketers and business owners discover what works with social media marketing.
In this episode, I interview Molly Pittman, the vice president of marketing at DigitalMarketer. She specializes in customer acquisition and teaches regularly for DigitalMarketer Engage, which is the company's membership community.
You'll discover how businesses can benefit from integrating Facebook Messenger features into their marketing.
Molly shares use cases for Facebook Messenger marketing.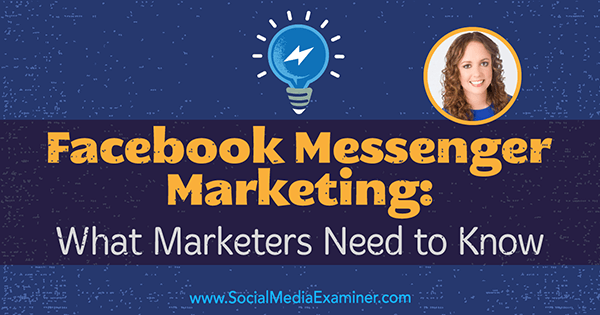 Share your feedback, read the show notes, and get the links mentioned in this episode below.
Listen Now
Where to subscribe: Apple Podcasts | Google Podcasts | Spotify | YouTube Music | YouTube | Amazon Music | RSS
Here are some of the things you'll discover in this show:
Facebook Messenger Marketing
Why Consider Messenger Ads?
As soon as Facebook Messenger ads became available in November 2016, Molly started experimenting with them. Molly says she's excited about Facebook Messenger ads because they're not just a new interface element or feature. Facebook Messenger ads are a whole new channel.
Molly believes the value of Facebook Messenger ads lies in the app's popularity and convenience. More than one billion people communicate via Facebook Messenger. Because that's where people are having conversations with friends, family, colleagues, or whomever, Molly believes businesses should be connecting with their customers via Facebook Messenger, too.
The app's popularity makes Facebook Messenger a good place to buy ads, connect with prospects, and talk to customers. Molly says that DigitalMarketer's initial tests have shown good results. The open rate and consumption are really high.
Molly has seen the benefit from the consumer's standpoint, too. A few months ago, as Molly was driving in Austin, she saw a new apartment complex being built. Molly was interested, so she went to the company's Facebook page and contacted them through their Message Us button. They responded almost instantaneously. Every step of her communication with the company was done through Facebook Messenger.
I ask Molly if she believes Facebook Messenger will replace email. Molly responds that email will likely always be a powerful tool for marketers, certainly for the next five years. However, she says Facebook Messenger isn't necessarily a replacement but is the mode of communication most similar to email. In some aspects, Messenger is better than email, she continues, because people tend to respond instantaneously on Messenger, whereas people don't feel compelled to respond to emails right away.
Listen to the show to hear Molly and I discuss our predictions for the future of Facebook Messenger.
The Types of Messenger Ads
Molly explains the two types of Facebook Messenger ads.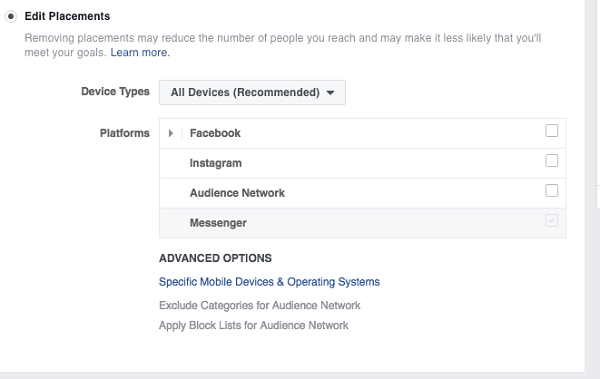 The first one is called a destination ad because when you set it up, you choose Facebook Messenger as the destination (as opposed to your website). Like a regular ad, a destination ad appears in the news feed and can display a video, carousel, or image. When someone clicks the ad, a message to your Facebook page opens in Facebook Messenger and you can begin a conversation.
For example, the first test Molly ran was a simple destination ad that said, "Do you have questions about how DigitalMarketer can help grow your business? We'd love to chat." When someone clicked the ad, a Facebook Messenger window opened where the person could type his or her message to DigitalMarketer.
Molly says you can target anyone with destination ads, such as your custom audiences and interests. The opportunities are endless.
The other type is a sponsored message, which is more like an email. When you send someone a sponsored message, it appears in their Facebook Messenger inbox.
Molly explains that Facebook limits your audience for sponsored messages so Facebook Messenger doesn't become full of spam. You can send sponsored messages only to people who have messaged your page in the past. Also, people can unsubscribe from your sponsored messages.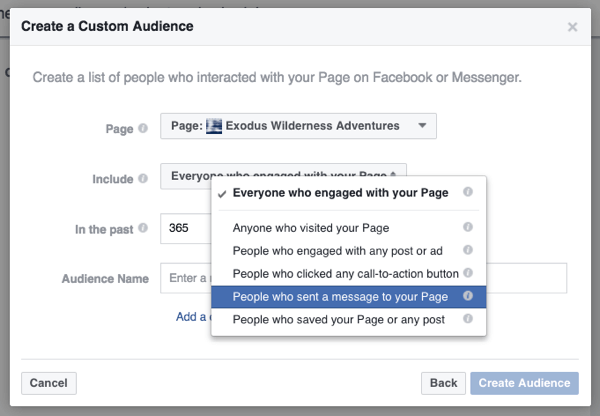 Molly says her first four tests of sponsored messages had open rates of more than 80%. Email might have a 10% to 15% open rate. Molly says the sponsored message open rates show how many people are using Facebook Messenger and how quickly they're reacting.
Listen to the show to hear Molly and I discuss in which inbox sponsored message ads appear.
Use Cases
Molly and I discuss two use cases for Facebook Messenger ads. Molly says one goal might be to build your connections via Facebook Messenger, which Molly likens to building your email subscriber list. She says, however, that instead of sending people who click your ad to a page on your company's website where they enter their email address, your destination ad starts a conversation in Facebook Messenger.
Molly says that when you start that conversation, you need to deliver something of value or otherwise help your audience. For example, you might answer a question that's important to your customer or share a document such as an industry report. That report can be the basis for continuing the conversation. You might follow up by asking whether the recipient has any questions about the report.
When you build connections via destination ads, Molly explains, you gain the ability to send your connections sponsored messages, too. That's because you can only send sponsored messages to people who have messaged you already.
Molly says you can also use destination ads to drive sales conversations. In this example, your ad targets customers who are further along in the customer journey, such as people who visit your sales page but not the thank-you page that people see after making a purchase. After you create a Facebook custom audience of this group, you can show them an ad that says, "I noticed you didn't buy X. If you have questions we can answer, click here to talk to one of our specialists."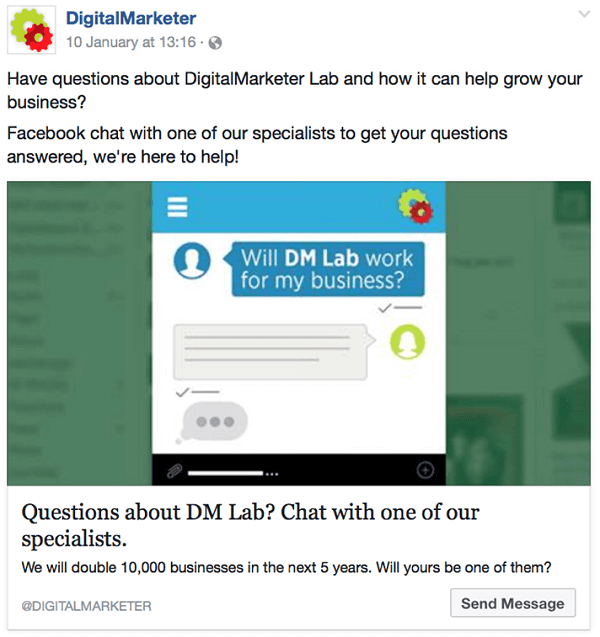 When someone clicks the ad, a Facebook Messenger conversation begins with your customer care or sales team. This conversation gives a customer care or sales representative a chance to overcome any doubts or objections that person might have had about purchasing your product. Molly says the interaction is very similar to live chat on a website.
When you use destination ads to start sales conversations, Molly says it's helpful to start the conversation deeper into the customer journey, because you want to provide a good customer experience. Most businesses aren't able to handle half a million Facebook Messenger conversations, but you can manage fewer conversations with people who are closer to making a purchase.
Listen to the show to hear Molly share how a local home improvement company used a destination ad to start ideal sales conversations with their customers. 
Costs
Molly finds destination ads cost about the same as any other Facebook ad because you're paying for people to click a link. The only difference is that link sends people to Facebook Messenger instead of your website.
For a campaign with sponsored messages, Molly uses a tool called ManyChat that charges $10 per month to send out messages. The cost increases depending on how many contacts you have. (A little later, we discuss the tool in more detail.) When you use this tool, you don't pay per impression.
Molly says the tool is helpful because, at the moment, Facebook doesn't display how many people can receive sponsored messages from you. Behind the scenes, Facebook automatically creates and updates an audience of people who have messaged your page in the past. So when you choose to place an ad in Messenger, which sets up a sponsored message, you simply select Messenger as the placement. (Molly expects that the ability to see the size of your Messenger audience is coming soon.)
I ask what you can include in a sponsored message. Molly says you can include one link, one image, and as much text as you want. For the text, Molly writes in a friendly, informal style because people are used to receiving messages from friends and family in their Facebook Messenger inbox.
Molly also includes a benefit for the sponsored message subscriber. For example, she sent a sponsored message to let people know DigitalMarketer was raising the ticket price of their annual event. She said, "Because you're a subscriber and have messaged us in the past, we would like to give you a coupon code to save $500 off your ticket."
Listen to the show to discover some of the options we think are coming to Facebook Messenger ads.
Messenger Bots
To send sponsored messages for DigitalMarketer, Molly uses ManyChat.com, a bot that integrates with Facebook Messenger. Bots are useful for greeting someone who just messaged your page or for answering frequently asked questions. However, Molly thinks this tool is especially valuable for sending sponsored messages because it has several cool features that Facebook doesn't have.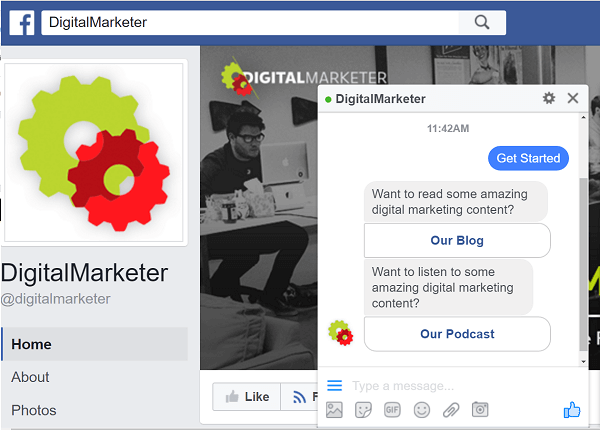 In ManyChat, you can see your subscriber list. Specifically, Molly says you can see how many people subscribe to the page, their names, and when they subscribed. You can unsubscribe someone, too.
ManyChat also provides helpful options when you send sponsored messages. For example, you can choose to send a push notification that makes a noise. Molly says she sets a message about content to be quiet, so it simply appears in a recipient's inbox when they open it. Also, you can tag people based on their interests and send sponsored messages only to those groups.
Listen to the show to hear Molly's thoughts about how to use autoresponders with ManyChat.
Other Uses for Bots
Molly says bots can help you connect with customers on Facebook Messenger even outside of Facebook. For example, you can link a Contact button on your website or text in an email so that customers can contact you via Facebook Messenger. Molly says that ManyChat provides a URL that opens a Facebook message to your business as long as the person who clicks is logged into Facebook.
For instance, DigitalMarketer included one of these bot links in an email about their Traffic & Conversion Summit. The email asked, "Are you considering attending? Click this link." Molly emphasizes that the email said people would be chatting with a bot when they clicked.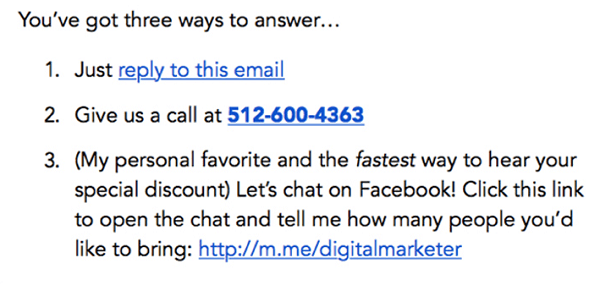 To keep the bot interaction interesting, DigitalMarketer created funny questions and answers. Depending on how someone answered a question, the bot asked different questions. At the end of the sequence, the bot recommended whether the person should come to the Traffic & Conversion Summit.
To create a bot-based interaction, Molly explains that the sequences are all based on keywords. For example, to trigger the sequence about the Traffic & Conversion Summit, someone needed to mention a keyword in their Facebook Messenger conversation with DigitalMarketer.
Molly believes you can do fun, interesting interactions with bots, but you have to remember people use Facebook to interact with other people. Molly thinks bots are great for welcoming people, guiding them through any common issues, and maybe asking two or three questions to tee up a sales conversation with a real human. However, Molly says you shouldn't expect to automate your entire sales process through a bot. Bots and human contact go hand in hand.
I ask Molly how managing all of these conversations works. Right now, Molly says, you don't have an easy way to separate the automated conversations from the human conversations. At DigitalMarketer, the team goes through all of the messages in a single inbox.
Molly says focusing on your customer is the key to making Facebook Messenger ads successful. For example, although DigitalMarketer is still figuring out its strategy for Facebook destination ads, the first test (which included a custom audience of only people on their email list) had a 500% ROI. The ad featured a simple, customer-focused question: "Do you have questions about how we can help your business?"
To get started with Facebook Messenger ads, Molly recommends thinking about how you can serve your audience. What question do they have? How can you start this conversation? Remember, don't send an ad to a half-million people, especially if you don't have the staff to handle it. Start with a small group that you can retarget who already know your brand. Somebody needs to be available to talk to the people you message because they expect a quick response and human interaction.
Listen to the show to hear how people are responding to Molly's bots.
Discovery of the Week
TwIM is an iOS app that's dedicated to Twitter direct messages. It's like a Facebook Messenger for Twitter.
Compared with the Twitter app, TwIM gives you nuanced control over your Twitter notifications. For example, you can see a notification only when you receive a Twitter direct message so you can know when you have a message before you open the app.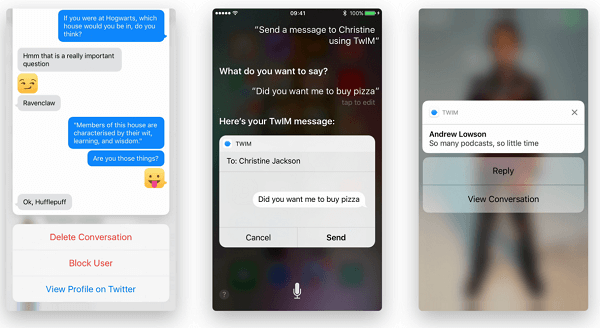 With TwIM, you can also search for people by username to start a conversation; send full messages with emojis; block and unblock users; reply to people using text, photos, maps, or URLs; and more.
TwIM could be a great new tool for social media managers who are heavily into providing customer service or interaction with fans and friends in Twitter direct messages. And it's free.
Listen to the show to learn more and let us know how TwIM works for you.
Listen to the show!

Key takeaways mentioned in this episode: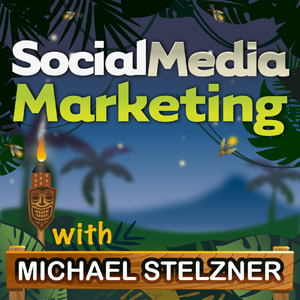 Ways to subscribe to the Social Media Marketing podcast:
What do you think? What are your thoughts on Facebook Messenger marketing? Please leave your comments below.