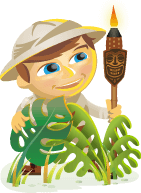 How does your business respond to customer concerns and inquiries?
Do you have a social customer care plan in place?
To explore how to improve customer care for your business, I interview Dan Gingiss.
More About This Show
The Social Media Marketing podcast is an on-demand talk radio show from Social Media Examiner. It's designed to help busy marketers and business owners discover what works with social media marketing.
In this episode, I interview Dan Gingiss, author of Winning at Social Customer Care, head of global social media at McDonald's, and host of the Focus on Customer Service podcast.
Dan explores the most important qualities of social care representatives.
You'll discover tools to make providing social customer care easier.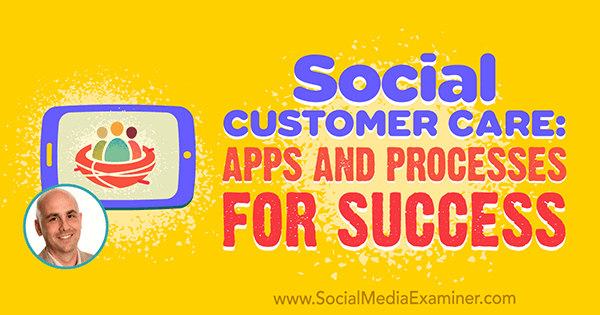 Share your feedback, read the show notes, and get the links mentioned in this episode below.
Listen Now
Where to subscribe: Apple Podcast | Google Podcasts | Spotify | RSS
Here are some of the things you'll discover in this show:
Social Customer Care
Why Social Customer Care Is Important
Offline experiences don't stay offline for long, Dan explains, particularly when they're bad. They get discussed online and things can get out of control. (Just watch the news!) Marketers need to care because they're the ones at the helm of social media handles.
Plus, whenever you do social media marketing (organic or paid, but especially paid), people ask customer service questions. When people see your brand in their feeds, they remember their questions or problems. Your marketing is their reminder.
More marketing leads to more people talking back. And that can be a good thing.
Listen to the show to discover what marketers should never say.
Who Should Do Social Customer Care
The ideal people for social customer service are those who are naturally empathetic, want to talk to customers and solve their problems, and can remain calm when an angry customer is yelling at them. You don't need to involve everyone, and the people who are involved should like talking to people.
These days, social customer care agents are doing work that blurs the line with community management. Which role deals with someone commenting on your really cool sponsorship with the NFL versus someone asking a question about your product or service versus a customer who is really angry because you screwed up? That line may not always be clear.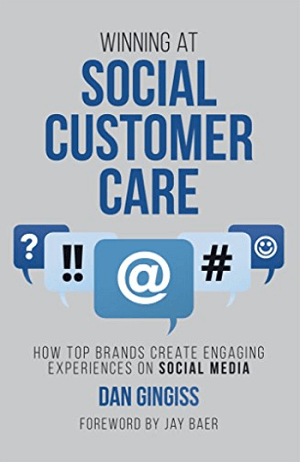 When the marketing department owned all of social media, they were okay with the first two. They loved talking about football and could answer questions. However, when they started getting complaints or complicated questions, they had to call customer service for backup. Customer service's job was to know about the products and services, how to fix things when they went wrong, and most importantly, how to talk to other people.
A social customer care agent could be a phone rep, an email rep, or a chat rep. Depending on the size of your organization, the social person may need to have phone skills as well as writing skills. In a large company, people in customer service may work only on the phone, chat, or social. But in a smaller business, one person might handle phone calls and Twitter.
However your organization divides up the work of customer service, Dan emphasizes that everyone involved should have the same customer service training. Customers should have a consistent experience, no matter which customer service channel they choose.
You've probably seen examples of people calling a company, talking to an agent, and not liking the answer. So they go to Twitter to get a different answer. The biggest mistake the company can make is to give a different answer on Twitter because then you teach everybody to just go to Twitter.
Listen to the show to hear Dan discuss what skills customer care agents might need in the near future.
Customer Support Bots
Although bots have a role in customer support, they still have a ways to go.
For instance, Dan tried using a bot to buy flowers and when he needed assistance, he typed, "Help." The bot asked if he wanted to talk to customer service, and when he wrote, "Yes," the bot answered, "I'm sorry. Customer service is closed." A moment later, a rep joined the conversation and said, "How can I help you?" Dan ended up having a conversation simultaneously with the bot and the rep, so that's not good.
Dan thinks messenger bots can answer only very basic and repetitive questions.
For example, you could say, "Do you offer roses?" And the bot can respond, "Yes, we do." Or you might say, "What kinds of roses do you offer?" And the bot could list the colors. You don't need a human being to answer those types of questions, and customers are okay with interacting with a bot in those situations. However, if something gets complicated, handing off the chat to a human being should be very easy.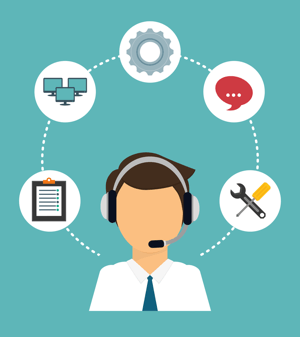 Bots may have the biggest impact assisting agents, rather than customers.
In a call center, an agent will generally sit in front of three different screens with a bunch of hacks they've developed for efficiency: sticky notes, Word files with commonly used answers the agent can cut and paste, and so on. A bot might be able to listen alongside the agent and find answers quickly with fewer hacks, so the agent can focus on having a more human conversation with the customer.
While Dan sees bots becoming most useful to agents, he notes there's a limit to basic questions, and at some point, a customer will need to talk to a human. It would be a really bad idea for companies to try to replace humans with bots in an attempt to save money because that will absolutely ruin the experience.
I ask if social customer care mostly means Facebook and Twitter. Dan says yes, although social customer service is moving to Messenger and Twitter Direct Messages. In the United States, Twitter is first and Facebook is second. Outside the U.S., Facebook is first and then Twitter.
Service happens on other social media channels, too. For instance, Snapchat adds a visual element. At Social Media Marketing World, the owner of iOgrapher shared how one of his customers had two cables plugged into the wrong ports. As soon as they connected on Snapchat, he could see the problem right away. On the phone, figuring out the problem would have taken much longer.
Listen to the show to hear my experience as a customer trying to use a bot.
Tools for Social Customer Care Representatives
A small company, solopreneur, or single social media person may be fine using free resources such as Buffer, Hootsuite, or TweetDeck. You need to be able to search for references to your brand and other keywords. However, these tools won't help you queue or prioritize responses. For example, if you get a tweet from a VIP, you might want to put him or her at the top of a queue but you won't be able to do that.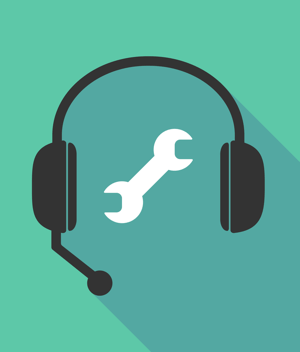 A bigger company needs to choose between an all-in-one enterprise solution (which does both publishing and customer service) and a dedicated customer service provider (all they do is social care). All-in-one solutions include Sprinklr, Spredfast, Salesforce, Adobe, and Percolate. For dedicated customer service, there's Conversocial, Sparkcentral, Lithium, and Brand Embassy.
The all-in-ones typically started as publishing platforms. Although these tools have a marketing slant to them, they were designed for publishing content. The marketing capabilities came after the platform developers realized the tools needed to sort and respond to all of the incoming content, too.
The dedicated service providers aren't in the publishing business. They want to handle only customer care. Conversocial and Sparkcentral, which Dan mentions in his book, were built from a call center agent's point of view. In these tools, the queue makes a lot of sense to a call center agent because the queue works similarly to an IVR (interactive voice response), which directs telephone callers to press a number for their desired department or issue.
In social, the customer doesn't have to press 1 or 2 (like in IVR). The tool reads customers' keywords and, for instance, puts someone who uses the word emergency on the VIP list so they receive an answer first. This prioritizing capability is extremely helpful, especially for big brands that receive a ton of mentions.
I ask whether customer support on Facebook makes sense for small businesses. Dan says Facebook and Twitter are fine for small businesses. In the native apps, you typically answer messages in chronological order, which works until you reach a certain volume of messages. A company that receives a high volume of messages needs extra tools to sift through the messages and prioritize them.
For example, you want the ability to identify people who need immediate help. An airline might hear from someone who wants to know the price of a flight from Chicago to L.A., while another customer is stranded at O'Hare Airport due to a snowstorm. You want to answer both messages, but the stranded passenger is obviously the one you'd want to help first.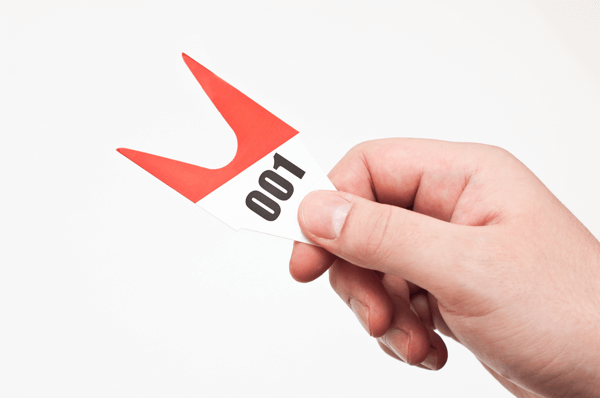 These platforms also allow you to prioritize especially valuable customers. So if someone is influential in your industry, you might add a note to move that person to the top no matter what they ask.
If you have multiple customer service agents, all-in-one solutions help avoid collisions. Agents might claim or be assigned specific posts. You don't want a customer to receive two different responses from the same brand.
The dedicated tools may end up costing more than the all-in-ones because you still need to pay for a publishing platform. At Discover, Dan says they used two platforms, a publishing and a service platform, because they wanted a best-in-class platform for both. However, the all-in-ones are popular and are improving the customer service aspect. The choice between an all-in-one or dedicated platform depends on your need, particularly if you're publishing a lot.
Dan also says that social care platforms make things easier as you scale. High-end solutions aren't always necessary from day one.
Next, Dan and I talk about public versus private conversations. If a customer service conversation needs to be private, you can take a conversation into messaging on Facebook or Twitter. For example, you may need to talk about personal information, bank accounts, or heath information. Facebook and Twitter have figured that out, so making the conversation private is easy.
However, Dan emphasizes that you don't want to tell everyone to direct-message you. A customer often asks a question that other people have. For instance, "Does your product do this?" Or, "How do I make your products solve this problem?" Answer those questions publicly because you want other people to see that you're providing good service. Also, you might be solving a problem for somebody else.
You also need to consider dark posts, which are basically ads. These posts don't necessarily appear in your Twitter or Facebook feed, and a tool can help you see and respond to questions or comments.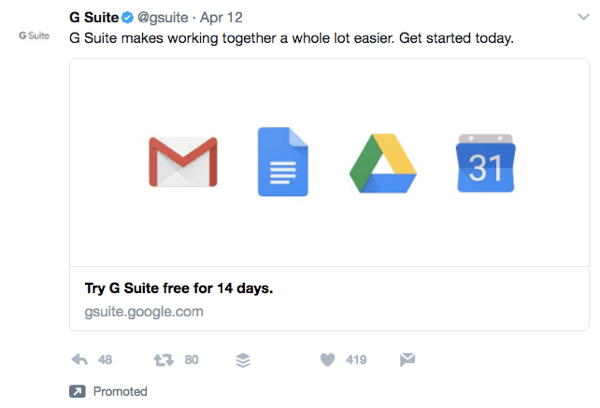 The more money you put into advertising, the more important managing dark posts becomes.
Listen to the show to learn how managing dark posts on Twitter differs from Facebook.
Special Tool Features
As you consider customer service tools, Dan suggests looking for special features, too. For example, Sparkcentral, a dedicated service platform, has a feature called Boomerang that allows you to set up an automatic follow-up to the conversation.
Imagine you tweet at a brand and say, "Hey, I'd like to buy flowers for my wife's birthday next week." Wouldn't it be something if, in addition to answering your question now, the company also wrote you next week to say, "Hey, Mike, tell your wife happy birthday." You'd be amazed.
That same functionality can simply see if your profile displays your birthday and put a note in the system to automatically send you a tweet on the day that says, "Happy Birthday."
@MarshaCollier Happy birthday, Marsha! 🎉🎈 pic.twitter.com/m6wjxtfHnv

— Sparkcentral (@Sparkcentral) December 4, 2016
It's a neat little way to come back to people later when they don't expect it. When customers tweet a brand, they expect a response immediately but they certainly don't expect you to come back weeks or even months later and remember you.
Listen to the show to hear about the pricing of enterprise tools.
How to Empower Reps
Recently, a video of a man being dragged off of an airplane went viral. The employees of that airline on the ground and in the plane simply weren't empowered enough to solve the problem. The plane was overbooked and they had to get somebody off.
After this event, discussions often focused on how the employees said they hit a limit in the amount of money they could offer. You want to believe that rational people would realize the boss would be okay with them spending an extra couple of hundred dollars if it avoids calling the police and dragging a person off a plane. But for whatever reason, those employees didn't feel empowered to do that.
Companies need to make sure that the people in the customer care role on any channel have the ability to care for customers. That doesn't mean you allow them to go crazy. However, some brands, like Zappos, empower their agents to order pizzas and buy an item from a competitor if Zappos doesn't have the item in stock.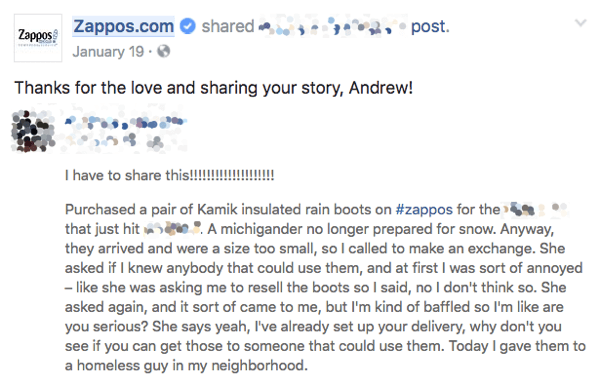 Dan recommends that companies create guidelines for those handling customer care. Give them an idea of how far they can go. Sometimes that's a dollar amount, sometimes that's an ability to ignore a policy or make an exception to a rule. Set out scenarios, write them down, and share them. Let reps know what they're allowed to do in each case and emphasize solving the problem for the customer.
Listen to the show to learn why social media increases the need to take customer care seriously.
Proactive Care
Proactive care is anticipating people's needs and responding to them before they ask.
For example, Dan had Madeleine Aman from Duke Energy on his podcast. Duke Energy tweets and posts to Facebook when they think the power is going to go out. "Big storm coming. We may have some problems tonight. If your power goes out, don't worry. We're watching it and will take care of it as quickly as we can."
Then, when that storm hits and a power outage occurs, Duke Energy's phones aren't lighting up and its Twitter feed isn't going nuts because the company got in front of the issue. The proactive social strategy has increased their customers' trust in them.
Similarly, every company has experienced a website problem at some point. When your website goes down, you'll probably find out from people posting on social media. If you can't get your website back up in a few minutes, write a post that says, "We know our website is down. We're working on it." This will decrease the number of incoming messages and tweets coming from people trying to use your site.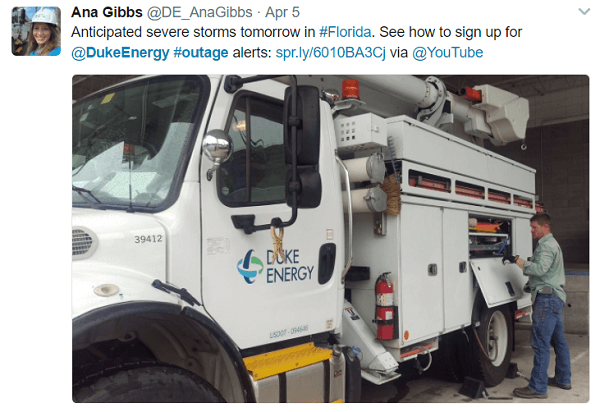 Although a PR person may tell you to be careful (admitting a problem will reflect poorly on your brand), Dan maintains that proactive service is a best practice. People will trust you because you're not pretending that the website isn't down.
You can also be proactive by looking at trends in social mentions based on customer issues or questions.
For instance, say a customer tweets to Gap, "Hey @Gap, my new jeans ripped the first time I wore them. What can you do for me?" Gap might answer that specific question but also take their service further by being proactive. The company could look for all conversations about blue jeans, regardless of whether they're mentioning Gap, and help solve problems and perhaps convert people into new customers.
This proactive tactic of looking at trends is different from trolling competitors' posts. Dan cautions against trolling because it can get you in some trouble. However, you can look for conversations about your industry or the products you sell and insert yourself into that conversation to provide help.
Maybe instead of the jeans being ripped, somebody has a stain and doesn't know how to get it out. Can you imagine if Gap jumps in and says, "We know a lot of things about blue jeans. Here's how to get that stain out."
You don't have to be huge to use a proactive approach. In fact, if you're a company that doesn't get a lot of mentions on social media, helping others is the way to get yourself into more conversations. Don't just sit around waiting for people to talk to you.
Listen to the show to hear what some hotels do for people visiting their city, no matter where those people are staying.
Discovery of the Week
TinyMails is a cool Google Chrome plugin for Gmail. As you're writing an email, TinyMails tells you the word count and how long your message will take to read. For instance, it may say a paragraph-long email is 547 words and will take 2 minutes and 53 seconds to read.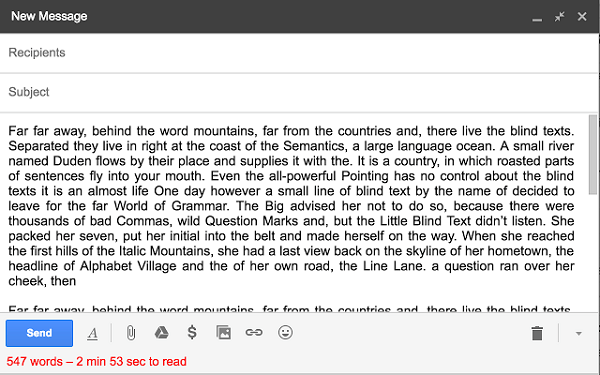 TinyMails is helpful when you need to be brief. If you know you're sending an email to someone who'll spend only a minute or two on reading it, you can keep it short enough so your recipient will read the whole thing.
After you add this extension to your Chrome browser, the TinyMails counter appears under the Send button in Gmail so you can track the length of your emails.
Find TinyMails in the Google Chrome Store.
Listen to the show to learn more and let us know how TinyMails works for you.
Listen to the show!

Where to subscribe: Apple Podcast | Google Podcasts | Spotify | RSS
Key takeaways mentioned in this episode:
Learn more about Social Media Marketing World 2018.
What do you think? What are your thoughts on social customer care? Please leave your comments below.