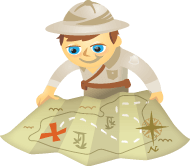 Do you want to use the images your fans and customers post on social media?
Wondering how to secure permission to use your customers' content?
If you want user-generated content (UGC) for your marketing, you need to take steps to avoid potential legal hassles.
In this article, you'll discover how to use fan content legally in your social media marketing.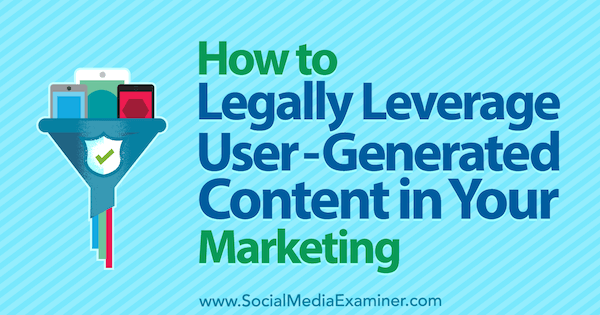 #1: Know When You Need to Obtain Rights
Digital Rights Management (DRM) may sound like a term that only lawyers need to worry about. Until fairly recently, it was. At its essence, DRM is copyright protection for digital media including music, video, photos, and printed material. A few years ago, DRM existed to protect brands. In part, it was a response to the copying of commercially created material that spread through peer-to-peer sharing.
But now that brands want to use material that consumers have created and posted on social media platforms like Facebook, Instagram, Twitter, and YouTube, it's the brands that need to get permission to share. This is where things can get confusing.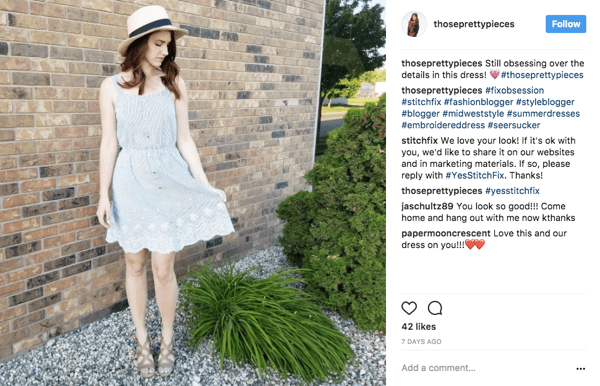 Social networks have terms of service that we all agree to (but probably don't actually read) when we set up an account. Most network agreements include verbiage that gives them permission to share and display content that's posted on their network.
For example, Instagram's blog has permission to use the photos its users post on the network. But that doesn't mean that Starbucks can use the photos it finds on Instagram for the purpose of advertising its new drink. Starbucks has to ask for the photographer's permission. In other words, just because the content is posted publicly doesn't mean it's free for anyone to use.
#2: Seek Permissions on Individual User Posts via Comments
The good news is that if you want to secure the rights to users' content, it's not too complicated. You can simply request permission by asking users via a comment.
For instance, PetSmart monitors dozens of hashtags related to pets, and when they see an image they'd like to use on their social channels or for other marketing purposes, they leave a comment asking the poster to reply with #yespetsmart.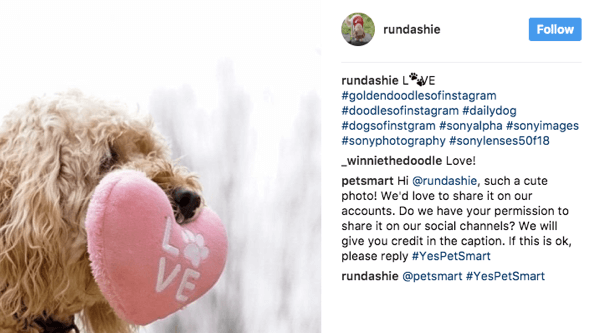 Once they've received permission from the user, they repost the photo with a new caption and give photo credit to the original poster.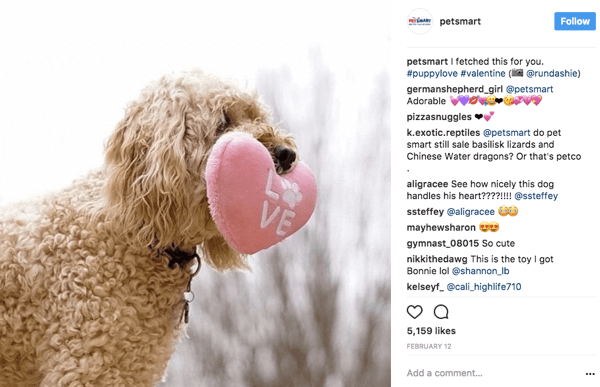 Media organizations also use this "reply with yes" technique to get permission to use people's newsworthy tweets, photos, or videos.
#3: Streamline Permissions Requests via UGC Contest Software
If you're hosting a hashtag contest, one in which people enter by using your designated branded hashtag, you have their implied permission to use what they post. However, it's still a best practice to ask for their explicit permission.
Social Media Marketing Workshops (Online Training)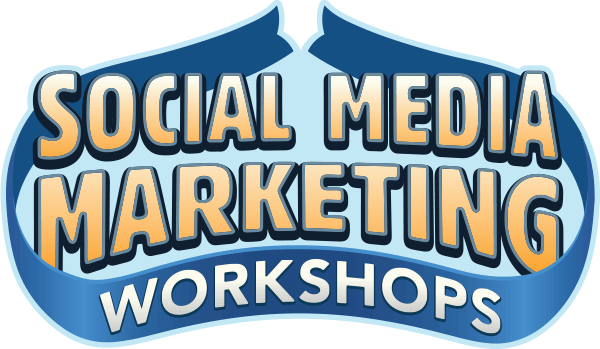 Want to improve your paid and organic marketing on Instagram, Facebook, YouTube, or LinkedIn—and secure your future? Get ready to be coached by 14 of the world's best social marketing pros in the most comprehensive social marketing training we've ever offered. You'll receive step-by-step live instruction so you can increase your reach, create amazing engagement, and sell more with social media. Become the marketing hero for your company and clients as you implement strategies that get proven results. This is a live online training event from your friends at Social Media Examiner.
JOIN EVENT NOW!
Here's an example of a recent contest hosted by Dwayne "The Rock" Johnson's film production company. To enter, people had to film a short video that included their best slow-motion Baywatch impersonation and include the hashtag "#slowmochallenge" in the caption.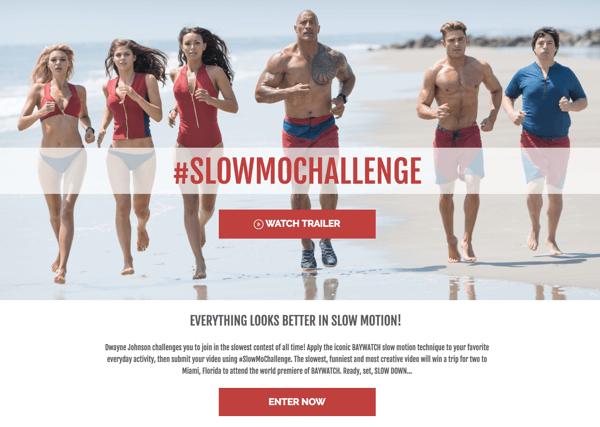 Baywatch fans responded by posting all sorts of silly slow-mo videos. The winner was chosen by brand representatives rather than by voting, and the prize was a trip to the movie's premiere in Miami.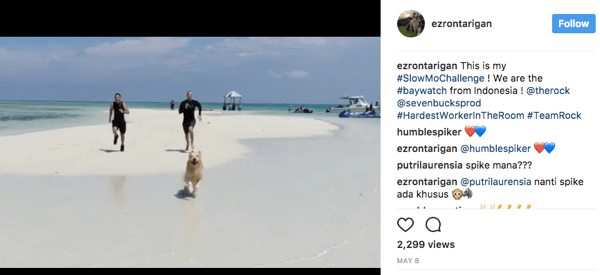 But what if someone sees your branded hashtag shared on social media and posts a photo or video, and thereby unknowingly enters your contest using your special hashtag? This person hasn't visited your social pages or your website, and has no idea you've published terms and conditions outlining how you'll eventually use their content.
The solution? Before you use anyone's content on your social platforms or in any marketing materials, always ask for permission!
While it's possible to secure rights to UGC by keeping an eye on specific hashtags and commenting on them one at a time, there is also software that makes it a lot easier.
When you use DRM tools, they will pull the content into private databases for you. From there, you select the posts you want to secure the rights for and the poster will receive a comment asking for permission. When they reply "#yes" (or with whatever hashtag you specify), you'll get a notification they've given you explicit permission and you're able to use the content.
Most important: You create a record that the user has granted you permission.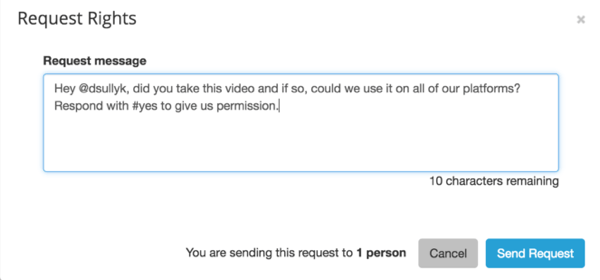 Conclusion
The people who love your business are your best marketers. When they tell stories about their experiences with your products and services, it adds a level of authenticity, and can influence their friends and followers to check out and purchase your products.
Retailers especially are incorporating more UGC into their ecommerce marketing efforts because they've found that two of UGC's hallmarks, authenticity and inspiration, pay huge dividends. And even though it might be tempting to "use" content your fans have posted publicly on social media platforms, it's wise to get the creator's permission first or risk a lawsuit.
While legal action may be relatively rare, it does happen. A few years ago, the drugstore chain Duane Reade posted a photo on its Facebook page of actress Katherine Heigl carrying two of the store's shopping bags. It was one of those "stars are just like us" stories, but Heigl turned around and sued the company for $6 million because Reade hadn't asked for permission to use her likeness to promote their business.
The lesson? Before you use your customers' content for marketing, whether they're celebrities or not, get their permission. The last thing you want is to have one of your customers come after you for showcasing their content in your marketing.
*Nothing in this article is intended to be legal advice and is for educational purposes only.
What do you think? How do you secure permission to use fan content in your marketing? Please share your thoughts in the comments below.