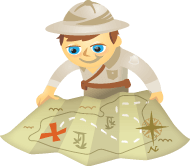 Do you want to build a stronger community?
Looking for ways to spark engagement with your followers?
Your fans and customers can play an important part in developing a social media presence that shares authentic stories.
In this article, you'll discover four creative ways to include fans in your social media marketing.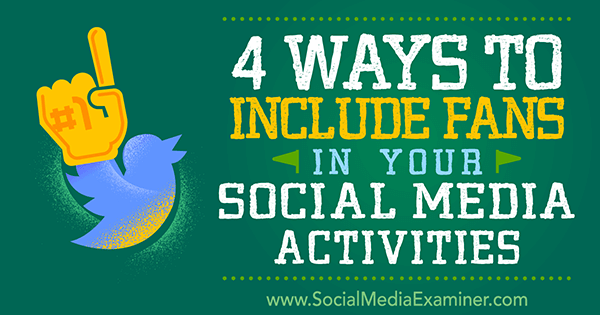 #1: Give Fans Their 15 Minutes of Fame
With an entire generation growing up under the lure of social media, it's no surprise that more people are looking for ways to get their name out there. Your brand can be the ideal platform for their 15 minutes of fame.
If you give your fans the spotlight, in return they'll give you interesting and original user-generated content (UGC) that you can use on your social pages, website, and advertising campaigns. It's a win-win.
Ask your followers on Twitter, Instagram, Facebook, or Pinterest to submit their content under a catchy hashtag. This way, you get instant access to their submissions and can collect an ample amount of viable content to work with.
National Geographic's #WanderlustContest Instagram campaign is an excellent example. The magazine asked users to submit photos of the incredible people and places they've visited and tag their photos with the campaign hashtag. It was a great opportunity for fans to get recognition for their own photography, while National Geographic got access to a diverse collection of travel photos that they could use on social media and elsewhere.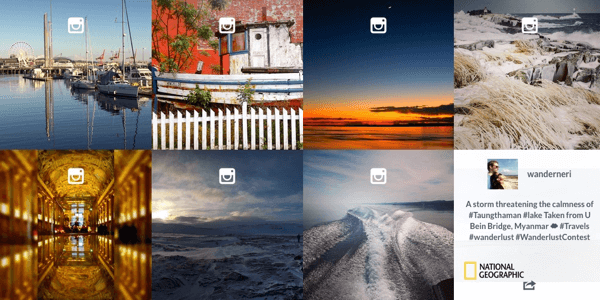 #2: Run a Fan Content Contest
Everybody loves a good contest. Contests appeal to the human drive for competition and create a sense of excitement. So what better way to make your campaign go viral than through a UGC contest on social media?
Ask your fans to submit videos, articles, designs, artwork, or anything else relevant to your brand, and offer a prize for the winner (such as money, a year's supply of product, etc.) to motivate and inspire their innovations. After you receive submissions, let people vote on which piece of content is best.
Eggo ran a creative campaign called The Great Eggo Waffle Off! on their Facebook page. They asked fans to submit their tastiest recipes with Eggo waffles. Then all participants could vote on their favorite. The winner received a $5,000 prize, plus the glory of knowing their waffle recipe reigned supreme.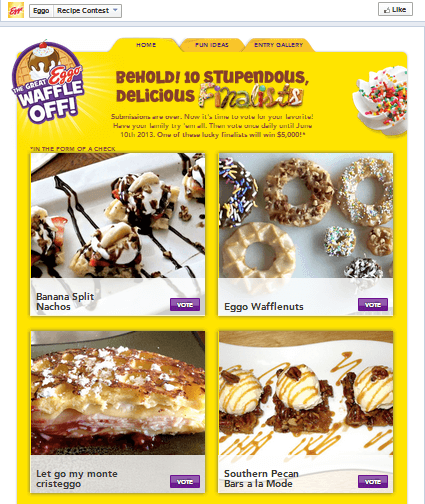 This campaign was great marketing for Eggo because it showed pictures of their product in an unusual and creative light. In addition, customers were able to interact with the brand on a deeper level by showing their own talents and ideas.
#3: Encourage Creativity With Your Products
People love the opportunity to think out of the box. That's why asking fans to show their creative side is sure to have a positive outcome.
Twitter, Instagram, Pinterest, and even Facebook offer tons of opportunities for fans to be creative, whether it's through video submissions, designs, or other types of creative content. Try to get users involved with your product, and see what clever and artistic output they can generate using your brand as the inspiration.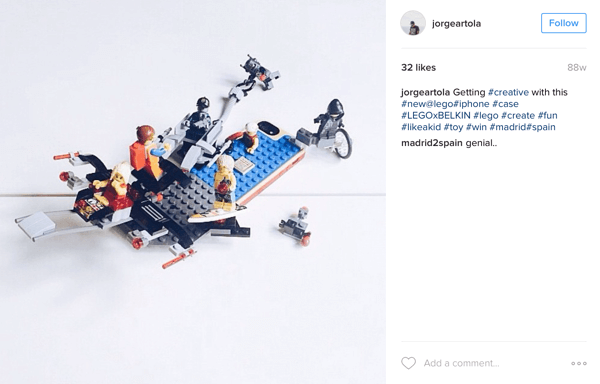 There are a variety of examples of these types of campaigns, from Lego's #legoxbelkin iPhone case design contest to Starbuck's #WhiteCupContest.
#4: Crowdsource Customer Input
One of the easiest ways to engage with fans is crowdsourcing on Facebook and Twitter. Ask your followers their opinion on which new flavors to try, which looks they prefer, or what new ideas they have for your products/campaigns. Users love the empowerment that comes along with offering their perspective, and as a result you'll build community and greater customer loyalty.
Express used this Facebook post to ask users to choose their favorite top. By posing simple questions, you get a better idea of what your customers are looking for, while also engaging them in conversation.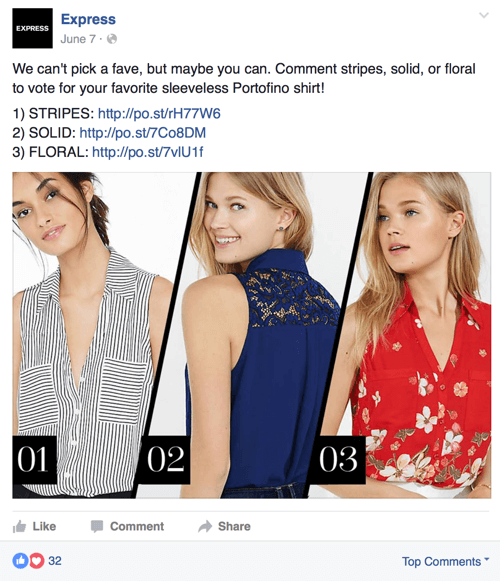 Final Thoughts
Social media is all about storytelling. When social first became popular, companies created their own stories, inviting users to passively watch and interact with them on their terms. But part of every business's story is their customers. That's why more often we're recognizing the important role users and customers play in developing a thorough, accurate, and engaging story.
Hence the growth of user-generated content. Just as it sounds, it's content created by the people using the products and services offered by your business. It can take the form of pictures, videos, articles, comments, and much more.
Instead of telling people what's great about your products from your own perspective, you can show how your products make consumers' lives better from their point of view, which is a much more sincere and uplifting storytelling technique. It's also a great opportunity for users to get involved with your brand, making them feel significantly greater loyalty.
What do you think? Have you used fan content in your social media marketing? What tips can you offer? Please share your thoughts in the comments below.