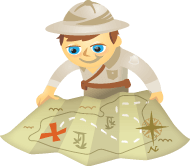 Want to increase your Facebook news feed exposure?
Looking for a solution that doesn't involve ads?
In this article, you'll discover how to improve your organic visibility via Facebook's Audience Optimization feature.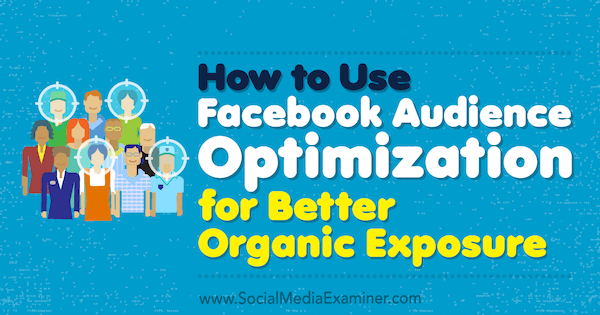 Why Use Organic Post Targeting?
Facebook gives businesses access to a large global audience, but the platform is becoming increasingly saturated with branded content. This makes it difficult for businesses to get visibility in the news feed and deliver engaging content that's tailored to a core audience.
With audience optimization, Facebook's organic post targeting tool, you can target your posts to specific segments of your page's audience based on their interests. This creates an opportunity to personalize your Facebook content and optimize its potential for engagement, both in terms of subject matter and how it's written.
Here's how to use organic post targeting to help reach specific segments of your page's audience.
#1: Enable Audience Optimization for Posts
To find out if the organic post targeting feature is activated for your Facebook page, start to compose a new post. Below the "Write Something" field, look for the targeting icon shown below:

If you don't see the targeting icon, you need to activate this feature for your Facebook page. Click the Settings tab at the top of your page to access your page settings.
On the General tab, click Edit to the right of the Audience Optimization for Posts option.

Next, select the check box to allow you to select a preferred audience and restrict visibility for your posts. Then click Save Changes. The targeting icon will appear whenever you compose a new Facebook post.

#2: Apply Audience Optimization to New or Published Posts
Once you've activated Facebook's organic targeting feature, you're ready to start using it when you publish new posts to your page or with posts you've already published.
When you compose a post, click the target icon below it. In the pop-up window that appears, you'll see two tabs: Preferred Audience and Audience Restrictions. These tabs allow you to define a target audience segment based on their interests, age, gender, location, and more.
Define Your Preferred Audience
Get Expert Social Media Marketing Training from the Pros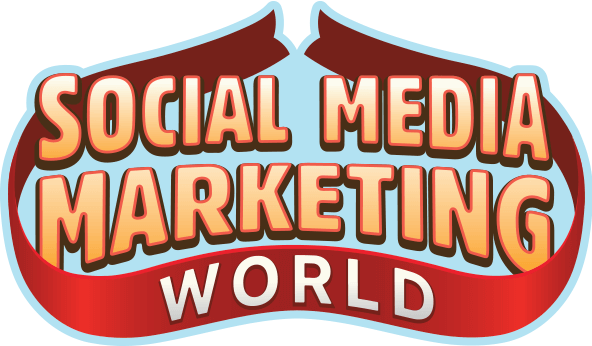 Want to get ahead of the competition or learn how to diversify your strategy?
Learn from dozens of the industry's most trusted experts, rub elbows with other smart marketers, and take your marketing to the next level during this 3-day event in sunny San Diego, CA.
CLICK TO LEARN MORE
On the Preferred Audience tab, choose the audience you'd like to reach with your post. Facebook lets you define this audience by adding up to 16 interest tags. People who have these interests will be more likely to see your content.
Once you type in your first interest tag, Facebook will automatically recommend others. Whether you accept these suggestions is up to you, but it's important to make informed choices based on your target demographic.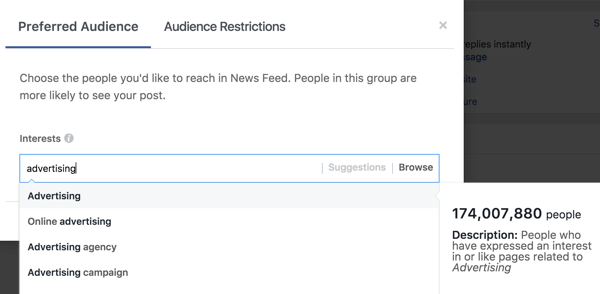 Restrict the Visibility of Your Post
The Audience Restrictions tab works in tandem with the Preferred Audience tab. It lets you limit the visibility of your post to only specific demographics. People who fall outside of these demographics won't be able to see your post anywhere on Facebook.
You can restrict your post's target audience based on age, gender, location, and language. For example, you can specify that you want your Facebook post to be visible only to women between the ages of 20 and 30 who live in the state of Illinois.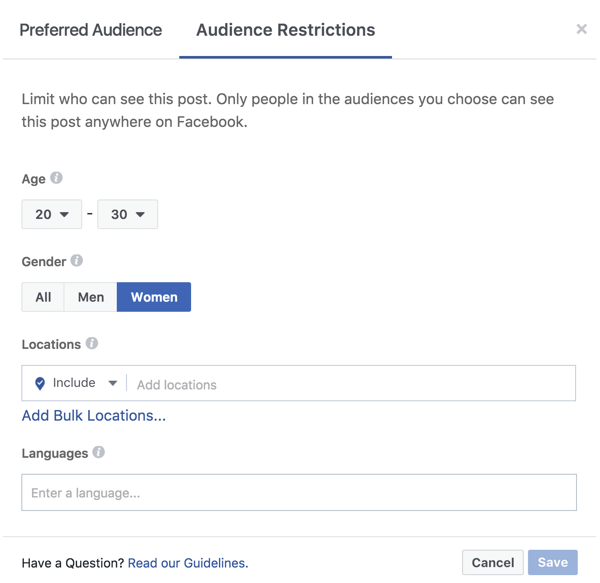 When you're finished defining your audience targeting criteria, click Save. Now finish composing your Facebook post as normal and click Publish.

#3: Analyze Insights and Engagement
Now that you've started targeting your posts to segments of your page's audience, it's time to see if your efforts are paying off.
To evaluate your success, head to the Insights tab on your Facebook page and click Posts in the left navigation bar.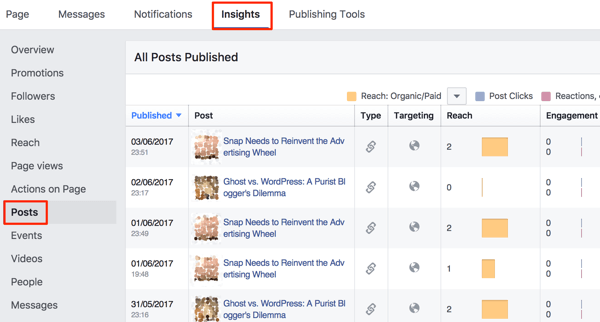 Here, you'll get insights into how much reach and engagement each post has received. This data includes the number of people who have interacted with the post. You can also see whether people have commented on, shared, liked, or simply clicked through the content.
These insights are invaluable because they reveal the types of content that are resonating well with your target audience. If you're not satisfied with your results, you can always go back and tweak your audience.
Conclusion
An estimated 65 million businesses operate a Facebook page, each of which posts an average of 1.48 times each day. This equates to more than 74 million branded posts daily, which in turn equates to an organic reach of just 2%.
While the sheer volume of business posts has disoriented users and frustrated marketers, you do have an opportunity to improve your outreach efforts. With audience optimization, you can target your Facebook posts to the segments of your page's audience that are most likely to be interested in it.
What do you think? Do you use organic post targeting to help reach relevant audience segments? Has it worked for you? What tips can you offer? Please share your thoughts in the comments below.
Experience The World's Largest Social Media Conference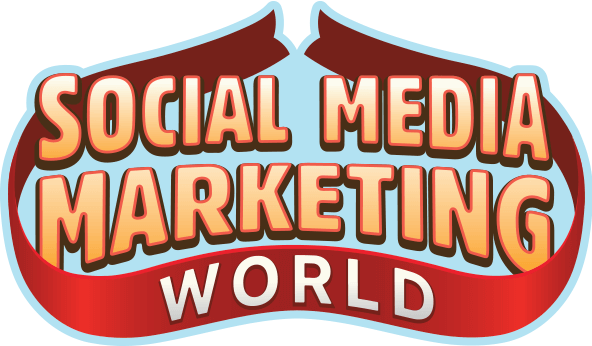 Quality marketing training, actionable takeaways, and beneficial connections—that's just a fraction of what you can expect at Social Media Marketing World! Join thousands of smart marketers in sunny San Diego this spring and level up your marketing.
🔥 Sale ends Tuesday! 🔥
GET TICKETS NOW