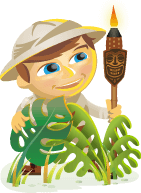 Do you have a mobile strategy for your business?
Are you interested in discovering what the future of mobile marketing has in store?
To learn how to market your business with mobile, I interview Tom Webster.
More About This Show
The Social Media Marketing podcast is an on-demand talk radio show from Social Media Examiner. It's designed to help busy marketers and business owners discover what works with social media marketing.
In this episode, I interview Tom Webster, the Vice President of Strategy and Marketing at Edison Research. He's authored studies such as The Social Habit and Twitter Users in America. He's co-authored a new book with Tim Hayden called The Mobile Commerce Revolution: Business Success in a Wireless World.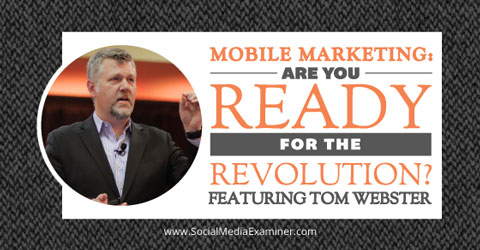 Tom explores how mobile marketing impacts your business.
You'll discover why successfully mobile marketing goes beyond technology, how consumer behavior is already being shaped by mobile, and how to respond to the mobile commerce revolution.
Share your feedback, read the show notes and get the links mentioned in this episode below!
Listen Now
Where to subscribe: Apple Podcast | Google Podcasts | Spotify | RSS
Here are some of the things you'll discover in this show:
Mobile Marketing
Why Tom wrote his new book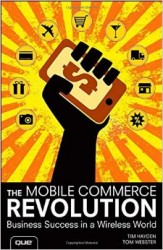 Working in consumer behavior and market research, Tom has tracked human behavior for decades. He helps brands figure out why humans do what they do. His particular area of interest is to capture the opinions and study the behavior of people out of their homes and on the go.
For Tom, understanding mobile marketing goes beyond the technology. It's about being able to understand people's needs, wants, and desires while they are in transition, out and about, and away from home.
This idea was the impetus behind his new book, The Mobile Commerce Revolution: Business Success in a Wireless World
Listen to the show to learn how it's been possible for Tom's company, Edison Research, to study mobile behavior for decades. 
What is the mobile commerce revolution
Every year, experts in various trades are asked if this is going to be the year of mobile when, in fact, the year of mobile has already happened. According to Tom, the mobile commerce revolution is already upon us.
You'll hear Tom describe the Starbucks mobile app as an example of how much consumer behavior has already been shaped by mobile.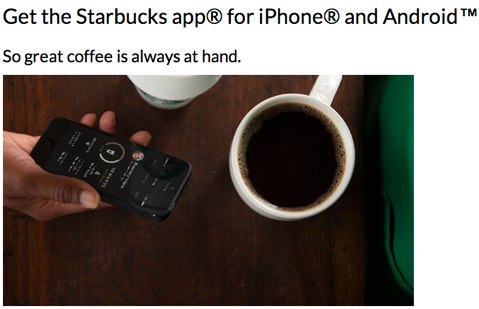 There's no special technology to the Starbucks mobile app. It's nothing more than a bar code on your phone that's tied to a method of payment. Yet it's eliminated the need for a wallet and made it simpler to purchase items using something Starbucks customers already have in hand: their smartphones.
The use of this smartphone app has become such default behavior that it's prompted customers to make a purchase at Starbucks when they otherwise might not have.
If you base your mobile strategy on the technology, then you will not make it. Mobile isn't about technology. It's about being able to understand and enable human behavior.
Listen to the show to hear what companies with successful mobile strategies are doing that others aren't.
How marketers should respond to the mobile explosion 
It's easy to be lulled into thinking that big data and clickstream analytics will give you everything you need to know to develop your mobile strategy. However, the first step when you develop a successful mobile strategy is to examine human behavior.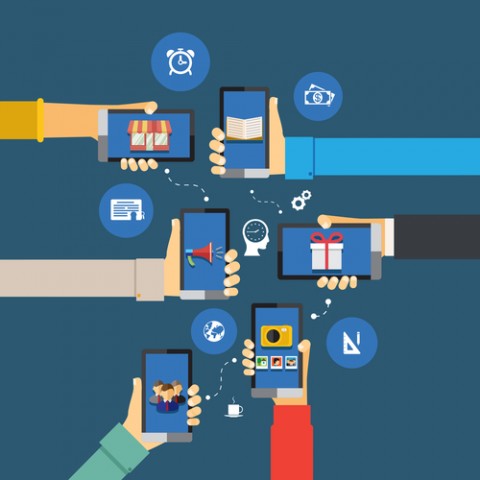 Tom describes the mobile web as having three distinct eras. We've moved past the first two eras of optimizing for mobile and responsive design. We are now moving towards a new era of contextually relevant experiences based on a customer's unique needs and wants in the context of their specific location. Mobility enables this capability to happen.
There is a serious measurement gap between the online and the offline interactions because our focus has either been on search or on purely technology solutions. Tom shares that the center of your measurement should be individual human interactions and the goal of your mobile marketing strategy should be to create one-on-one relationships with your customers.
Listen to the show to learn how mobile can bridge the measurement gap between offline and online interactions with your customers. 
Examples of mobile marketing done well 
Many companies do mobile marketing very well. You don't necessarily have to be a large company like Starbucks to make this happen. You just have to think of ways to develop a direct relationship with each of your customers.
Tom illustrates this point with two mobile app companies, LevelUp and TabbedOut. Both use fairly simple technology and yet facilitates a value exchange between your local business and your customers, eliminates pain points for both parties, and allows personalized offers to be marketed directly to your most valued clientele.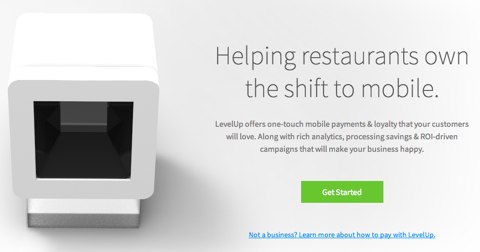 Another example of mobile marketing that is done well is Hilton Worldwide. They are slowly rolling out an update to their Hilton HHonors app that allows guests to check into their hotel room and customize their stay from their smartphones. Very soon, you will be able to open the door to your hotel room with your smartphone as well.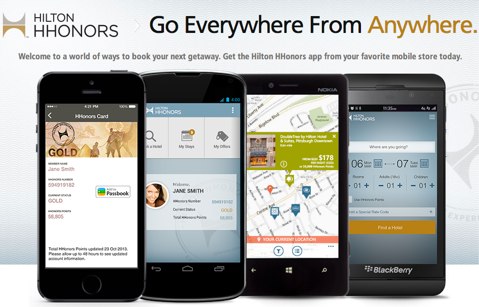 Listen to the show to explore how each of these companies and others are truly finding and providing value through mobile. 
Mobile listening 
You'll hear Tom describe mobile listening as still being in its infancy. The technology for it is a little different than what is needed for social media listening. In social media listening, you have the ability to analyze the text in a post or tweet and assign a sentiment to it. However, we aren't able do the same thing for a photo or image as easily.
According to Tom, the next vanguard of social listening will enable two things: natural language processing and image processing. The next generation of listening will help marketers understand which images of their products are being shared, where the user is located (in your business or elsewhere), and what sentiment is being expressed with it. This new technology will go beyond text and be uniquely tied to your mobile device.
Listen to the show to find out how future mobile technology could actually fulfill a core human desire that's been around for hundreds of years. 
Discovery of the Week
Are you overwhelmed by the flood of news and information coming through your social media networks? Are you looking for a quick and easy way to discover the most important news stories being recommended by your friends and trusted sources?
Have you heard about Nuzzel? Nuzzel is a content aggregation tool that finds the top stories being shared on Facebook and Twitter by friends and experts in your field and lifts it up for you to see. It is available as a web-based platform or an iOS app and offers a number of features to make sure you never miss anything big or newsworthy again.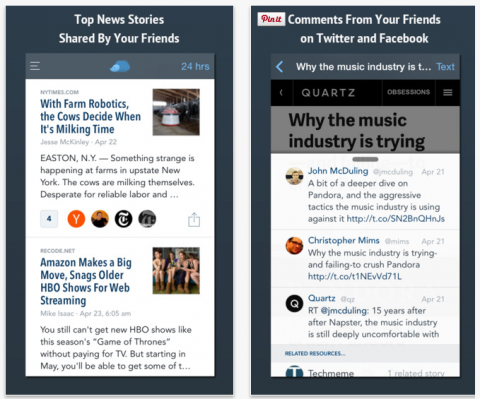 In the settings of this app, you can give Nuzzel a threshold of a certain number of friends who have to share a news item before it's delivered to you. You can search to see what news items have been popular among your friends and colleagues over the last 24 hours, 8 hours, 1 hour, etc. and then share what interests you with your friends via Twitter, Facebook, email, or SMS from within the app.
Listen to the show to learn more and let us know how Nuzzel works for you.
Other Show Mentions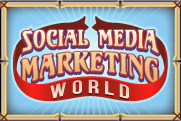 Today's show is sponsored by Social Media Marketing World 2015.
We are super-excited about Social Media Marketing World 2015. It's the world's largest social media marketing conference. By attending, you'll make connections with 100+ of the world's top social media pros (plus 2,500 of your fellow marketers) and you'll discover amazing ideas that'll transform your social media marketing.
See what attendees experienced at our 2014 conference.
The event takes place in sunny San Diego, California on March 25, 26 and 27, 2015. Hundreds of people have already secured their tickets.
The buzz and excitement of this conference is off the hook. Many people come to this conference because of the content, but while they're here, they discover something even more amazing. That's the networking opportunities.
Aside from the awesome events, parties, and networking on an aircraft carrier, we uniquely offer a dedicated team called networking ambassadors. Their job is to help you find the kind of people you want to connect with at this conference. Perhaps you're representing a brand and would like to meet other brands or you own a small business and want to find other small business owners like you. Whomever you're looking to meet, our networking ambassadors will connect you with them at this conference.
We have the best sale going on right now. Click here to check out all of the speakers, the agenda and to grab your early bird tickets.
Key takeaways mentioned in this episode: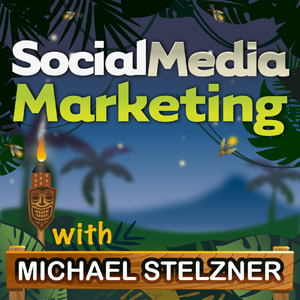 Ways to subscribe to the Social Media Marketing podcast:
What do you think? What are your thoughts on how to succeed on mobile marketing? Please leave your comments below.