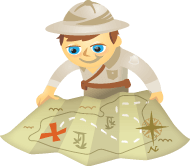 [Updated by Social Media Examiner Staff on 10/17/17]
Want to visually brand your Facebook Stories (and enable your fans to, as well)?
Have you heard of the Facebook Camera Effects platform and its Frame Studio feature?
Now you can design a custom frame that overlays your Facebook Stories and you can share it with your fans.
In this article, you'll discover how to create Facebook Event frames and Location frames for your business.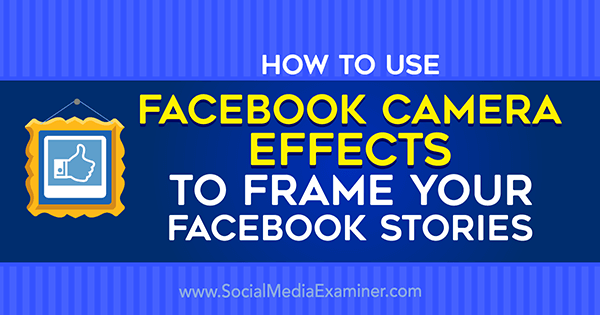 #1: What Are Facebook Event Frames and Location Frames?
Facebook frames let users add text and design overlays to the edges of their images, just like Snapchat's filters. People can use frames to express creativity, enhance images, and most importantly, show what they've been up to.
Frames are available to use in Facebook Stories Facebook Stories, and can also be applied to Facebook Page and Facebook Profile photos. The overlay for Facebook Stories is available to mobile users via Facebook's in-app camera. images created for.
Facebook Story creators can apply frames to a story by tapping on the magic wand icon at the bottom left of your Facebook Camera or swiping up.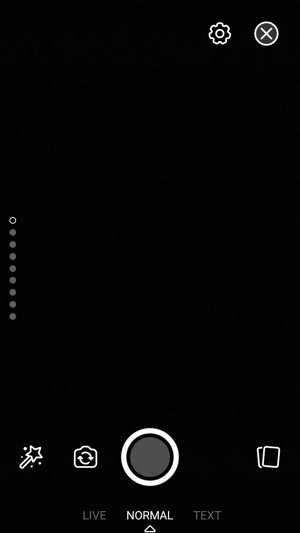 When Facebook Story creators tap the Magic Wand icon, they see a preview of the Facebook Frames available for a Story.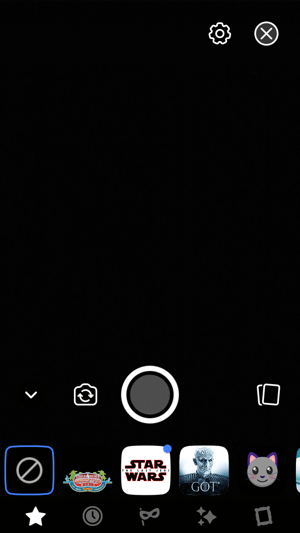 Tap on the frame you want, and it will appear on the Facebook Camera and be applied to the photo or video you take to add to your Facebook Story.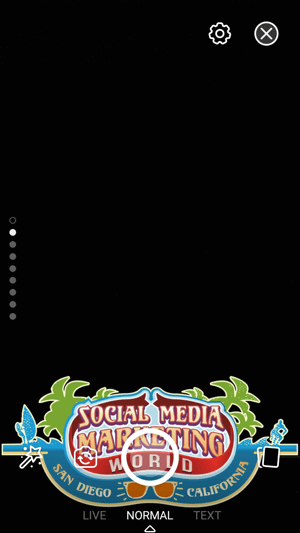 Add any other edits, and your story is ready to go.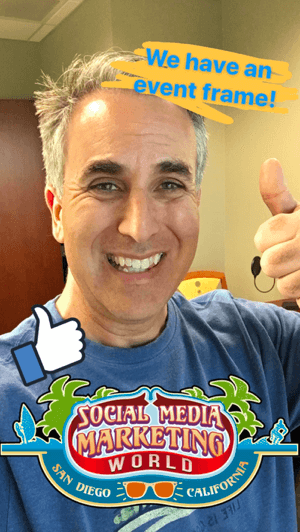 Your can also apply Facebook Location and Event Frames to your Profile or Page Photo. Go to the Profile Pic Frames page. There, they will select the Profile or Page at the bottom left, search for the frame you want, and add it to your Profile or Page Photo.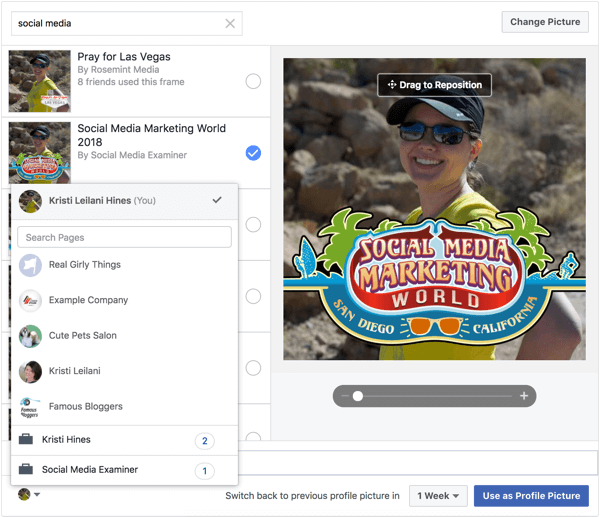 Everyone has access to creating and submitting Facebook frames, which can be shown to friends, fans, and followers.

When customers use your frames, they're letting all of their followers know they're excited about what you're doing. This is a powerful, authentic form of word-of-mouth marketing that can go a long way toward increasing your business's visibility.
When customers use your frames, they're letting all of their followers know they're excited about what you're doing. This is a powerful, authentic form of word-of-mouth marketing that can go a long way toward increasing your business's visibility.
#2: Create a Branded Facebook Event Frame or Business Location Frame
Creating a Facebook frame is a surprisingly simple process, though it's admittedly more challenging if you lack design talent. If that's the case, hiring a designer for your project will probably be worth it.
First, you'll need to create a design in image creation software like Adobe Photoshop or Adobe Illustrator. This is where you may need the designer to step in to create something truly unique. You can have them create one seamless design or ask them to create several different design elements you can place throughout the frame. You can also try tools like Canva and Easil, which offer free and paid memberships for non-designers who want to do graphic design work on their own.
Once you have the design in hand, open the Facebook Camera Effects home page. Click Create a Frame in the upper-right corner to open the Frame Studio tool.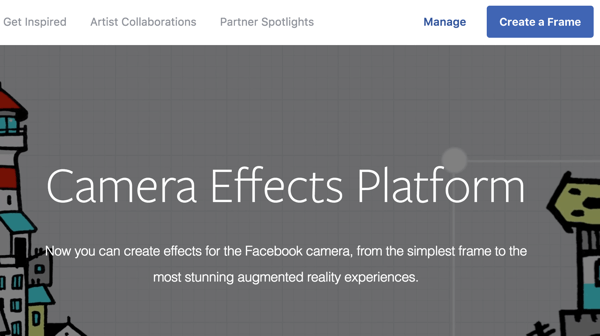 At the top right, you will be able to select the Facebook Profile, Business Pages, or Event Page in the dropdown that you want associated with your Facebook Frame.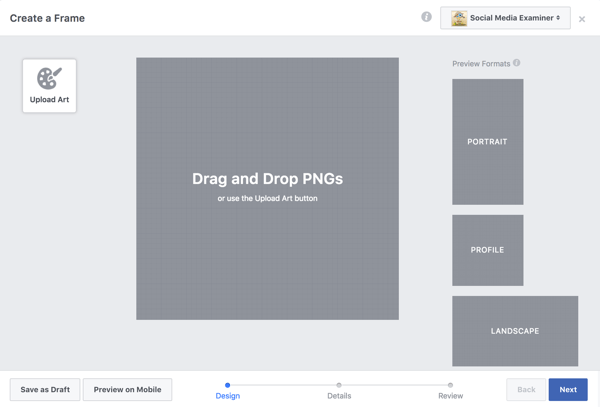 You'll start with a blank canvas. Click Upload Art to upload your design and place it on the screen. You can click and drag the corners to scale the design to your desired size.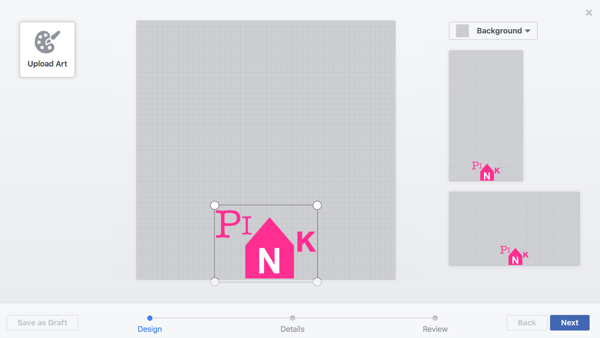 You can upload more than one design and place each independently on the frame, as well as add a colored background. Pay attention to how the frame looks both vertically and horizontally. When you're satisfied with the placement of all your elements, click Next.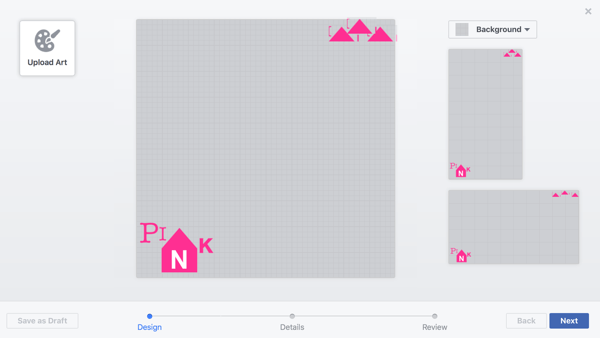 On the next screen, you'll be asked to name your frame and select its owner. Choose your frame name carefully, as friends and followers will be able to search for your frame effect using this name. Facebook lets you choose either your personal profile or business page as the owner of the frame.

In the section below, you can choose who sees your frame. Show the frame only to people at a place, landmark, or point of interest if you want to capitalize on foot traffic, or to people in any location if your campaign isn't location specific.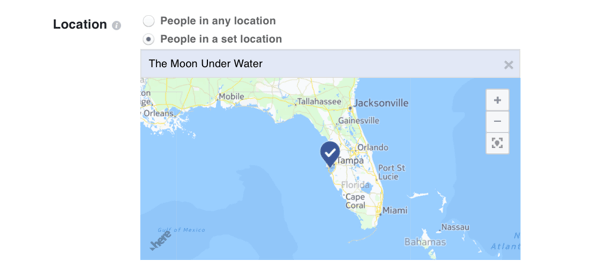 Next, you can choose a start and end date for when your frame will be available. You can opt to make it available as soon as Facebook approves it or schedule a specific timeframe when it can be used. Setting a timeframe is helpful if you're using the frame to promote a special event.
Below the schedule, choose keywords to add to your frame. Keywords are essential because you want to make sure the right users can find your frame if they go looking. When you're finished, click Next.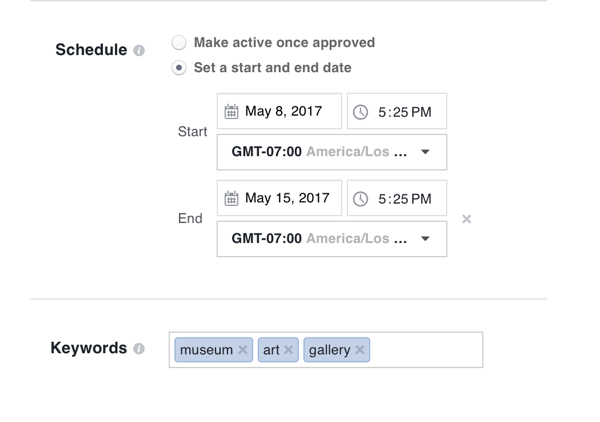 On the last page, review your frame and click Submit. Now you just have to wait for Facebook to approve it. Once approved, the frame will be available for your friends and followers to use.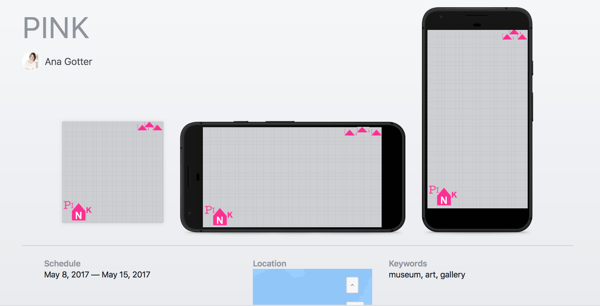 #3: Facebook Frame Best Practices
When creating Facebook frames for your business, there are a few best practices and policies to keep in mind. For example, currently only Verified Pages representing sports leagues, sports teams, sports tournaments, non-profit organizations, schools and universities can include logos or watermarks in their Facebook Frames.
Don't let your design take up the whole screen. This may sound obvious, but based on filters I've seen on Snapchat, apparently it's not. Make your frame as unobtrusive as possible while still ensuring it adds something to the image.
In many cases, positioning the heaviest and largest detail at the corners of the image will be the most unobtrusive. If you have a larger overlay at the bottom of the image, either forgo decorations around the rest of the image or keep it as minimal as possible.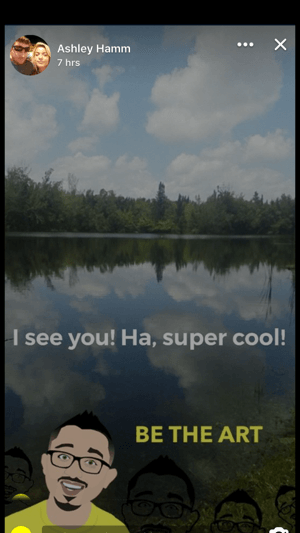 Tell users your frame is available. Since Facebook may not be able to continue using the location targeting feature for frames, you'll want to make sure users know the frame is there for them to use; otherwise, you'll have to hope they stumble upon it on their own. Make a post about your frame, use it yourself, and remind users to create content with the frame when they're visiting your local store.
There's a lot of FOMO happening on social media, and just as importantly, there's a need for users to show where they've been and what they're up to. If you create a frame that will let users show they've done something awesome (for example, they had a killer workout session at your gym or ate an ornately decorated cupcake at your bakery), your followers will use it.
Sometimes, showing that they've been to your physical location is part of the allure, so you can get away with including more branding here than you normally would.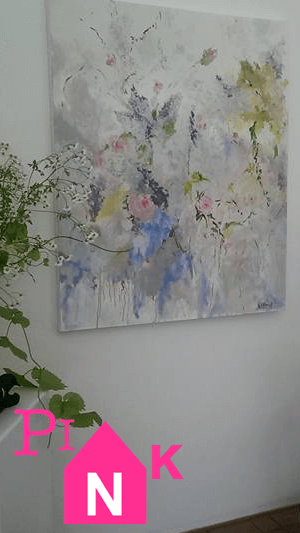 Choose your use case carefully. When creating your frames, you can choose from two primary use cases:
Create a generic business frame that incorporates your branding.
Create a frame focused on promoting a special event your business is hosting.
If you create both, it's a good idea to use them separately. Otherwise, your message may get muddled. Having specific intended uses for frames will help you get more engagement.
Want more like this? Explore Facebook for Business!
Final Thoughts
Facebook Camera Effects frames can offer plenty of benefits to the businesses that use them.
When customers visit your brick-and-mortar location, let them know your frame is available. Because many customers love to show they're leading interesting, exciting lives (and because psychologically people feel special when asked for a favor), it shouldn't be too difficult to encourage usage from loyal fans.
What do you think? Have you created a Facebook frame for your customers to use yet? How will you promote it? Share your thoughts, knowledge, and experience in the comments below!