Want to repost and reshare your Instagram content? Wondering how to reshare (regram) Instagram posts without using third-party tools?
In this article, you'll discover in-app features that let you reshare Instagram feed posts, stories, IGTV, and reels. You'll also find tips to obtain permission to reshare Instagram content legally.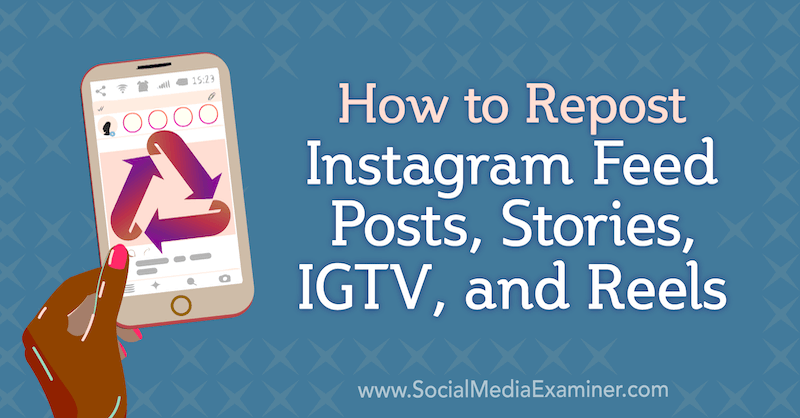 To learn how to repost images and video on Instagram, read the article below for an easy-to-follow walkthrough or watch this video:
#1: Repost Instagram Feed Posts
Instagram makes it easy to share feed posts to your stories. From any feed post—yours or someone else's—tap on the paper airplane icon on that post and choose Add Post to Your Story from the pop-up menu.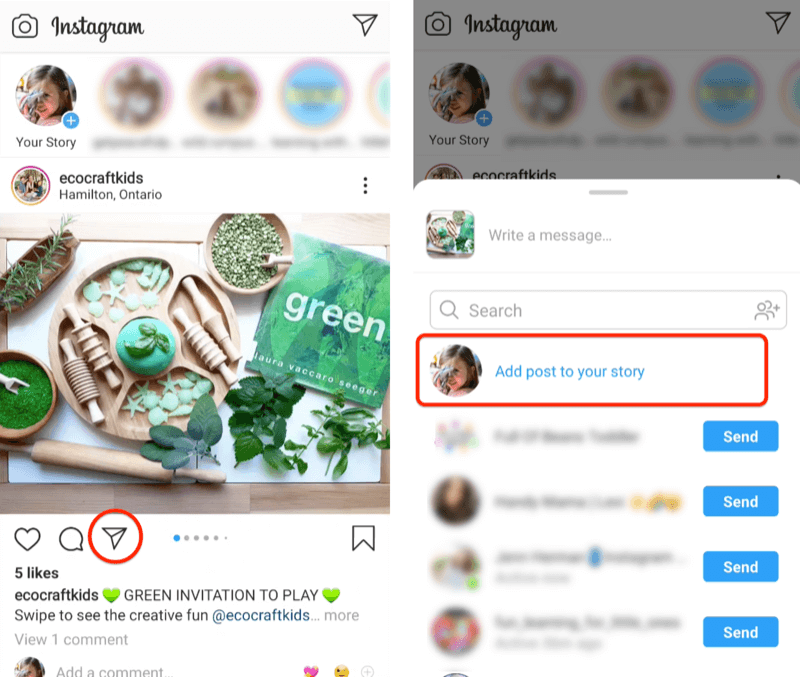 When you share an Instagram feed post to your story, the original post image is imported into the story and the image is clickable, taking viewers who tap on it directly to the original post. Like any story, you can add doodles, stickers, or text to draw attention to the posts and incentivize people to click.
Sharing a feed post to your story is a great way to highlight that content with your audience, especially if you tend to get more views on your stories than you do on your feed posts. It's also helpful for resurfacing older evergreen content for your audience.
The ability to share other accounts' Instagram feed posts to your story is great for collaboration, brand partnerships, and helpful tips and resources that your audience would enjoy.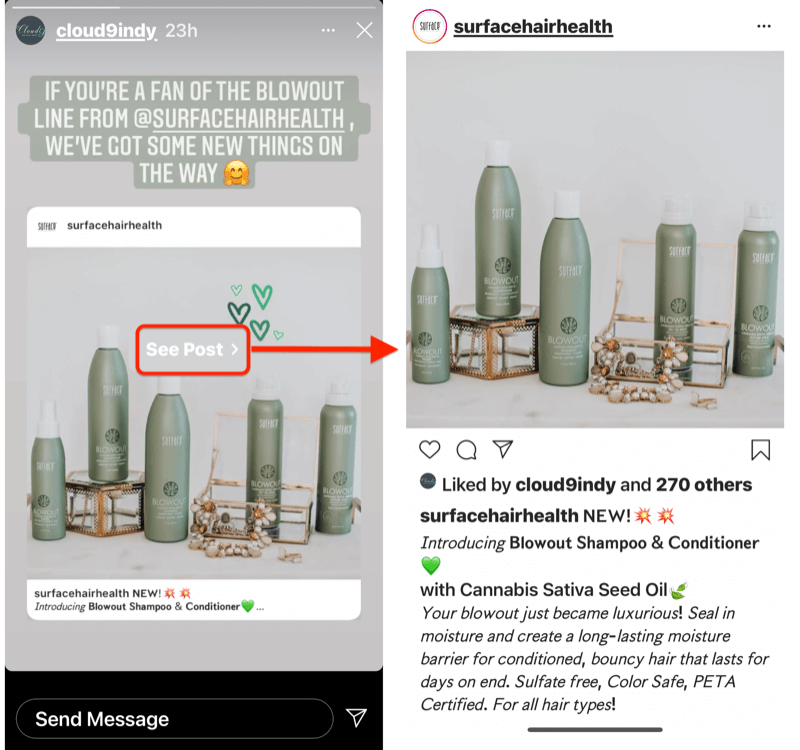 Note that while sharing to Stories is a widely rolled-out feature on Instagram, not everyone has it. I have it on all of my Instagram accounts except my main account.
In addition to sharing a feed post to your story, you can also share any Instagram feed post (as well as any story or IGTV video) to a direct message (DM) chat. This could be a single DM or a group DM that you're part of.
To share a feed post to a DM, simply tap on the paper airplane icon from any post and choose the person or direct message group to share it to. It will go directly to their DM thread or start a new one. At this point, you're free to customize your message or carry on the conversation however you choose.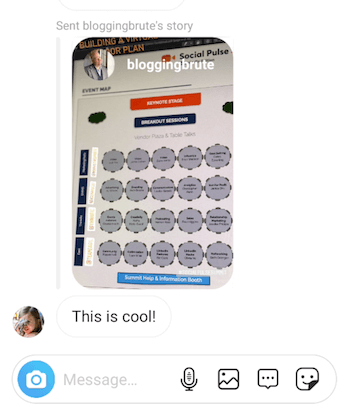 🌟 Ready to Supercharge Your Social Marketing Strategy? 🌟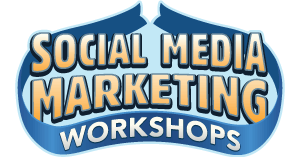 Struggling with your social marketing? You're not alone. The solution? The Social Media Marketing Workshops!

During these live 2 hour deep-dive workshops, you'll discover what's working now on Instagram, Facebook, TikTok, YouTube, and LinkedIn. Skyrocket your engagement, broaden your reach, and amplify your sales.

Become the marketing hero your company and clients need—without leaving your home!
🔥 Save $670 on an All-Access Ticket! Sale Ends Tuesday! 🔥
GET YOUR TICKETS NOW
#2: Repost Instagram Stories
When it comes to Instagram stories, you can only reshare someone else's story to your story if you were tagged in the original content. If someone tags you in their story, you'll get a notification in your direct messages. From there—or from the story itself—you have the option to share to your story.
Once you choose that option, the story post will appear in your own story builder, where you can pinch and zoom to resize or move it. You can also add stickers, doodles, and text like any other story.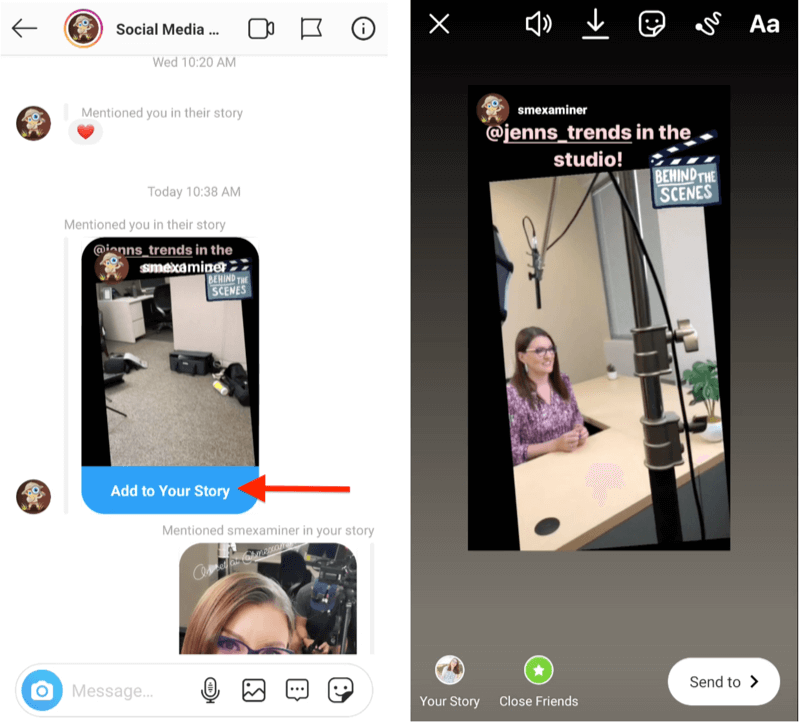 If someone tags you in the first story of a sequence but not in the subsequent ones, you can only share the one in which you are tagged. So if you're tagging people in your own stories, make sure you tag them in each segment that you mentioned them in or that are related.
#3: Repost IGTV Video
Instagram lets you share IGTV videos to both your story and the feed. When you upload your IGTV video, you have the option to add a preview to the feed and stories. If you share a preview to the feed, a 15-second preview of the IGTV video will appear in your profile and your followers' feeds.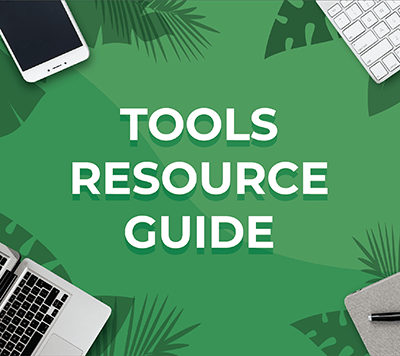 Looking for something to make your life easier?
Discover the tools we recommend to drive engagement, save you time, and boost sales across your entire marketing funnel or business.
Whether you need help planning content, organizing social posts, or developing your strategy, you'll find something for every situation.
FIND YOUR NEXT FAVORITE TOOL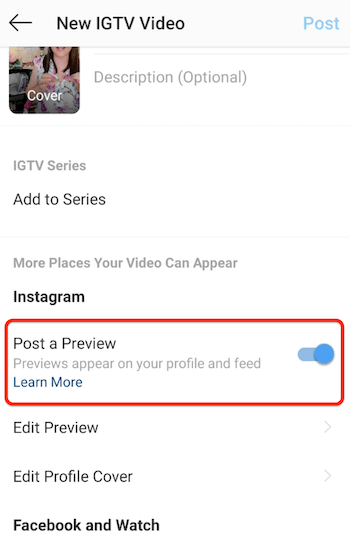 Once the 15-second preview ends, viewers are prompted with a Keep Watching bar to view the remainder of the video on IGTV.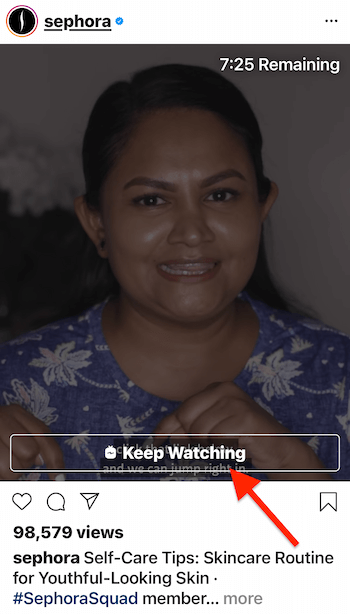 Similarly, if you share an IGTV video to your story, a preview of the video and a link to the IGTV video will appear in your story for viewers to navigate to IGTV to watch the whole video.
#4: Repost Instagram Reels
When it comes to Instagram Reels, you can share your own or anyone else's reels by opening the full-view reel and tapping on the paper airplane icon. From the pop-up menu, you can share the reel to your story or a DM.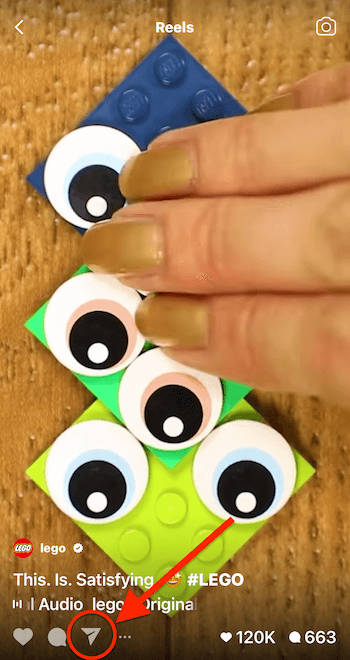 Bonus: How to Safely Repost a Screenshot of Content to Your Feed
As we've discussed, you can't natively share an Instagram feed post from someone else to your own feed or share stories from other accounts to your own story simply because you like them. When it comes to resharing content to the feed, here's what you can do.
First, you can use third-party reposting tools that allow you to capture the original image and caption, and import it into an Instagram post of your own. These tools typically add a watermark to the image with the original account's username and will include a brief message like "repost from @username."
While this practice used to be super-common a few years ago, API access restrictions have made these more cumbersome today. The easier option now is to take a screengrab of the image you want to post and crop it to the size of the image; upload that as a new image to your account.
When you use the screenshot method, you still have to copy the original caption or write your own to complement the image.
Now you may be wondering, "How legal or safe is it to simply take a screengrab of someone else's content?" When you use a screenshot method or any resharing method for the feed, the original content ownership isn't retained and you need to get explicit permission from the content creator to share that content.
Explicit permission means written permission. This could come from you commenting on their post to ask for permission and them replying with a yes. It could also come via a direct message or other direct communication with the user where you ask for permission and they give it to you.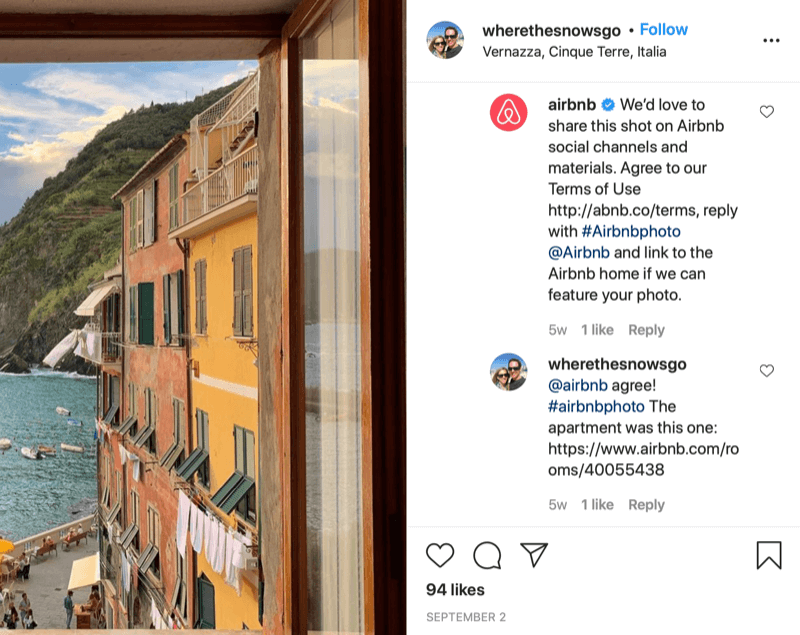 Once you have that permission, you can repost their content to your feed. If the account included any requirements like tagging or @mentioning them, be sure to do that. Even if they don't require this from you, it's a best practice to provide that attribution to their original content.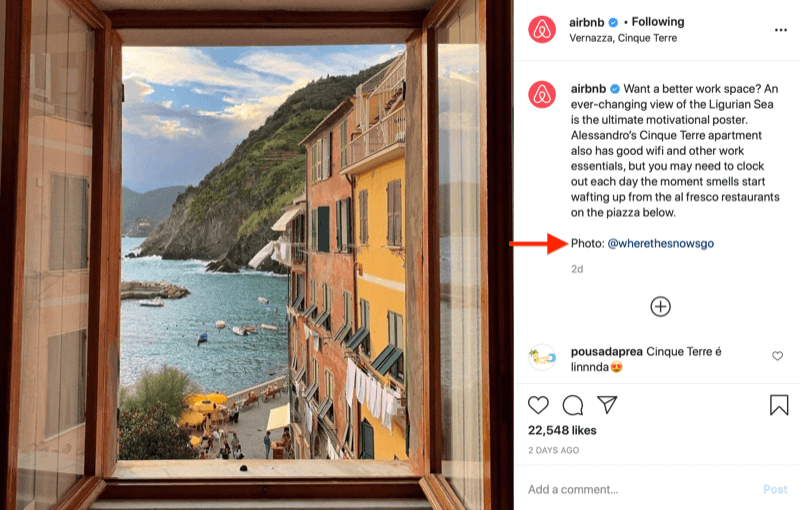 Keep in mind that if you don't get permission to use someone else's content on your Instagram account, they can pursue legal action against you, including suing you. If you generated any revenue from that post, they could sue you for all income generated from that content. No one wants that legal headache so always get permission first.
Conclusion
One of the things people love most on social media platforms is the ability to reshare other people's content and posts but sharing and reposting have always been challenging on Instagram. To recap, here are all of the ways you can share feed posts, stories, reels, and IGTV videos within Instagram.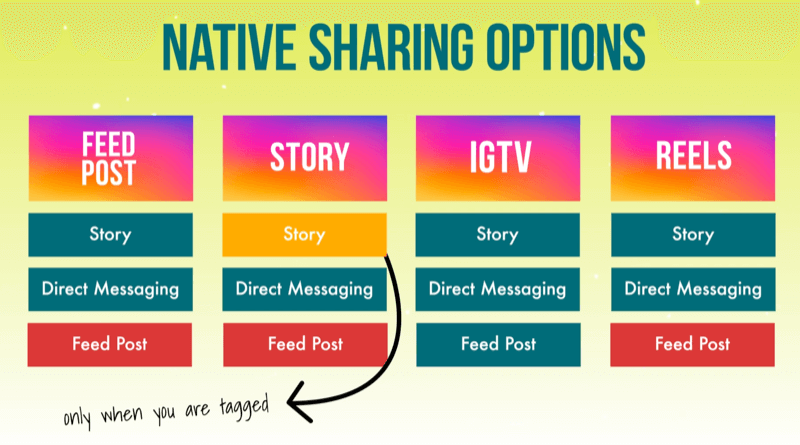 When you can't natively reshare someone's original Instagram content, a workaround is to take a screenshot of it. However, make sure you get explicit permission from the creator before you do so.
What do you think? Is reposting a part of your Instagram content strategy? Share your thoughts in the comments below.
More articles on Instagram marketing:
Get Your FREE Course: Web3 for Beginners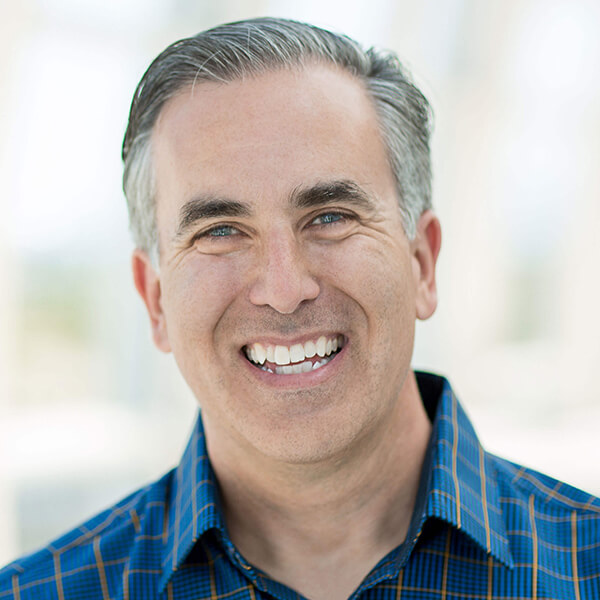 Curious about Web3, but don't know where to start or who to trust?

Introducing Web3 for Beginners, a course taught by Michael Stelzner, the founder of Social Media Examiner.

Learn the basics of Web3 and apply it to your business with this FREE comprehensive course.
CLICK HERE TO GET FREE ACCESS