Does your marketing include episodic video content? Wondering how to promote your series?
In this article, you'll discover how to release and promote a documentary storytelling series on social media.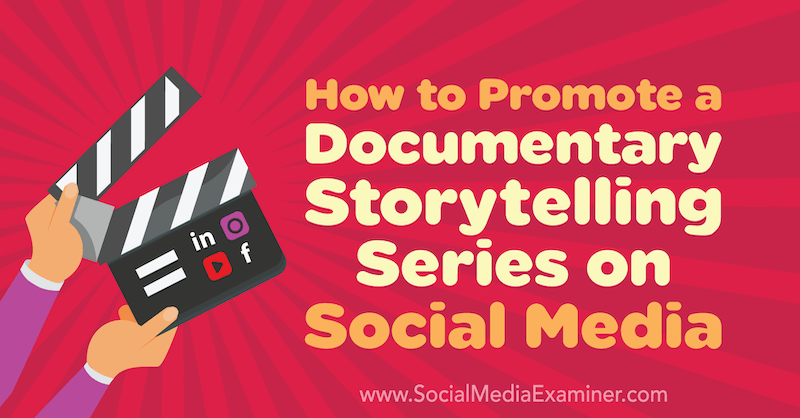 Why Marketers Should Consider Documentary Storytelling
Using storytelling rather than product pushing in marketing content can give you a significant edge. While traditional marketing highlights the product, storytelling creates a compelling and engaging narrative that puts the customer before the product and spotlights your brand's mission.
Thanks to Netflix, the docuseries has become one of the hottest formats for storytelling. With consumers hungry for authenticity and transparency and algorithms favoring conversation-generating content, the docuseries is worth exploring. It allows viewers to connect on a deeper level and become more invested in your brand through a behind-the-scenes look at a journey they can relate to.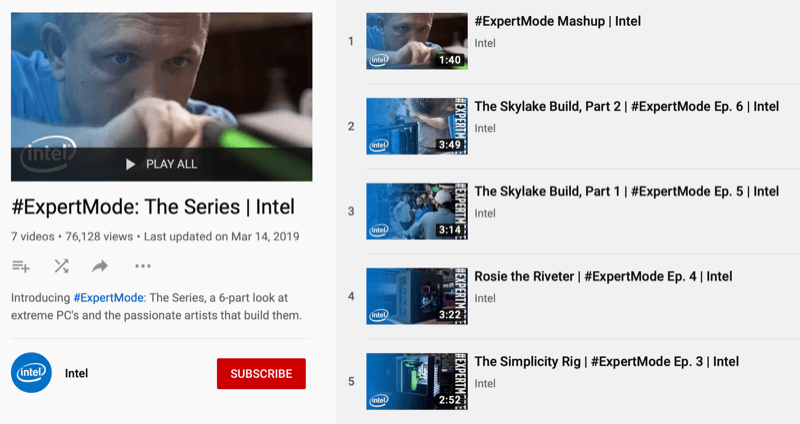 Video is known to have higher engagement rates and higher ROI than any other form of content on social media. By the end of 2022, Cisco predicts that video will account for 80% of all consumer Internet traffic. According to Hootsuite, the average engagement rate for a Facebook video is 6.13%, while overall engagement rates on the platform are much lower at 3.6%.
The numbers don't lie. It's clear that video is a powerful digital marketing tool that brands can't ignore. As a result, marketers are making big investments in video documentary storytelling to capture the right audience in a competitive social media landscape. Here's how you can start the type of conversations that get your docuseries content noticed on social platforms.
#1: Ensure Each Episode of Your Docuseries Is Entertaining and Educational
The goal of a docuseries is both to entertain and educate your target audience. Within that context, you want to offer real value to your viewers—share lessons and insights that your target audience can relate to and learn from.
Digital Distillery, an Auckland, New Zealand-based creative agency founded by Cat Howell, is an example of a brand that is successfully using the docuseries format to engage with their target audience. The idea for their docuseries Pay the Invoice stemmed from a challenge (as many great ideas do). The agency was having trouble getting a difficult client to pay their invoice.
Many freelancers, entrepreneurs, and agency owners were struggling with similar issues. From lead generation to late invoices, there were certainly many important shared experiences for this community to connect on. But Howell couldn't understand why everyone held their cards so close to their chests.
The docuseries she created follows seven budding entrepreneurs on their journeys to scale their businesses. The docuseries was a way for Howell to build a connection between her business and target audience. Pay the Invoice demonstrates why the docuseries is such a powerful video format for brands. It touches on what Howell calls "the human piece."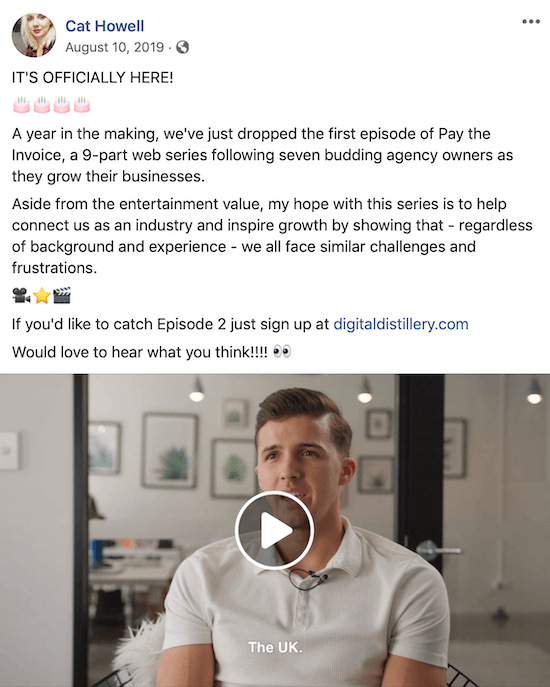 #2: Choose a Release Strategy for Your Docuseries
The method you use to release your content can also help keep your audience engaged. "There's a lot of power in mimicking what the best in the industry are doing. If you look at the best publisher in the world, it's Netflix, and they release everything at once," says Howell.
Get Your FREE Course: Web3 for Beginners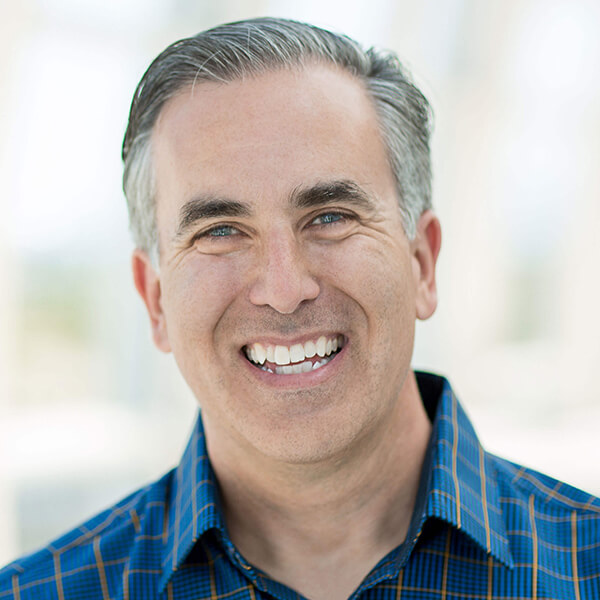 Curious about Web3, but don't know where to start or who to trust?

Introducing Web3 for Beginners, a course taught by Michael Stelzner, the founder of Social Media Examiner.

Learn the basics of Web3 and apply it to your business with this FREE comprehensive course.
CLICK HERE TO GET FREE ACCESS
Whether it's best for your brand to release everything at once or publish episodes weekly will depend on your audience and goals. Both release methods have their pros and cons.
A single release of an entire series can have a big impact. With the binge culture Netflix has established, people will often set aside an entire weekend or a few nights during the week to watch a complete series. Around the release date, with many viewers watching at the same time, conversations on social tend to happen organically. A full series release gives you an opportunity to have a bigger impact on social platforms through conversation among viewers watching at the same time.
If you already have an established viewer base, though, you might want to give your brand the opportunity to stay top of mind with your community over a longer period of time. You can achieve this through weekly episode releases.
#3: Optimize Your Docuseries and Episodes for Primary Distribution on YouTube
You need to catch your audience's attention right away, especially when your video is competing for views in an increasingly crowded news feed. You'll need to create compelling imagery and thumbnails to promote your docuseries and individual episodes.

If you don't have a graphic designer on hand, use a free tool like Canva that helps you create strong, professional-looking graphics without needing to know how to use Adobe Creative Suite.
Subtitles are another crucial component that can help your video content thrive. Audiences tend to watch from their mobile devices when they're on the go and are less likely to turn the sound on. Headliner (free and paid plans, starting at $12.95/month) is a web-based tool you can use to generate subtitles and allow these on-the-go viewers to follow along.
Before posting your video, double-check that the subtitles are correct and the font type and color are easy to read. Fix any mistakes if necessary before publishing your video.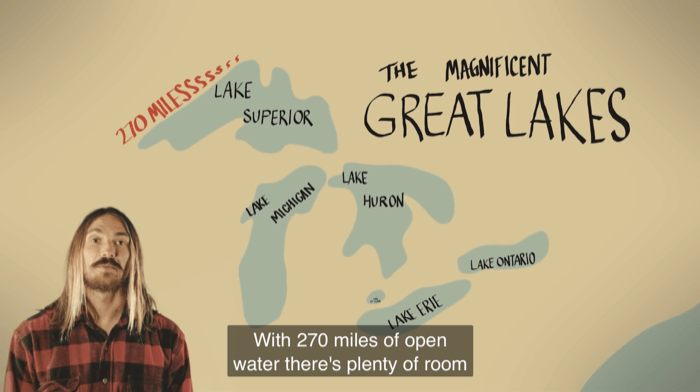 YouTube has a number of native tools you can leverage to make your content easy to discover. To ensure your video thrives on YouTube, take the following steps:
Compile your videos into playlists: This will help YouTube understand what content is related and can make recommendations to viewers. These playlists also help lead the viewer to watch more than just one video.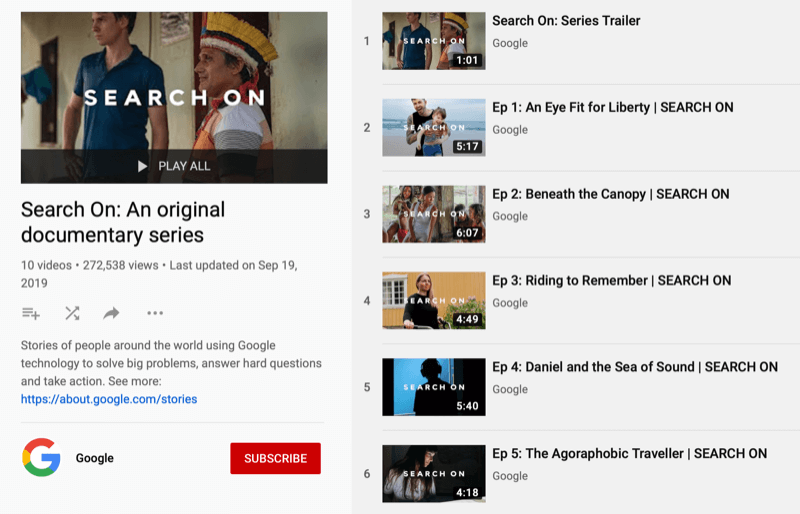 Add relevant keywords: YouTube users often treat the platform like a search engine. That's why it's crucial to select the right keywords and title for your docuseries episodes so your video is more likely to appear in the search results of your target audience. Think about what your ideal customer might be searching for and use titles and keywords that match up with what they might type into the search bar.
You can research YouTube titles using tools like UberSuggest (free) and TubeBuddy (free and paid plans, starting at $9/month).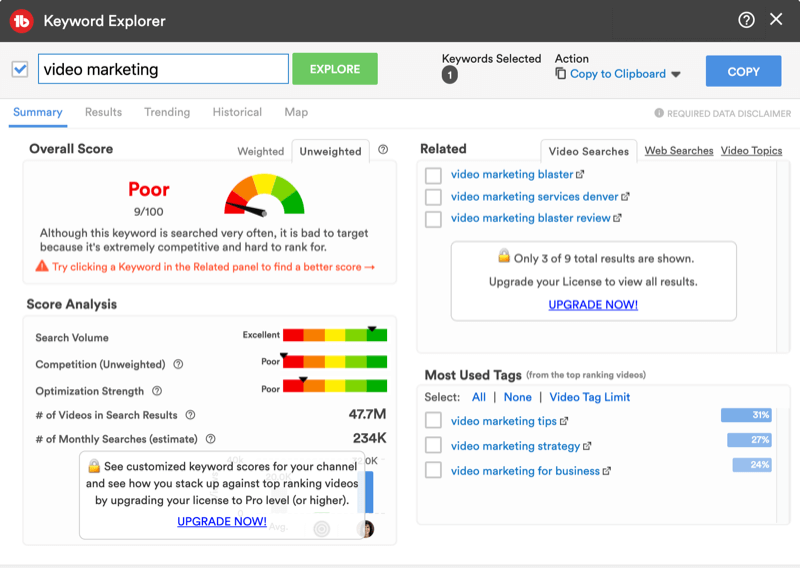 Don't forget your call to action (CTA). Include your CTA at the end of the video, as well as in the video description. Think about what you want to accomplish for your business with this video. Would you like more subscribers, client leads, or website traffic? Decide on one goal and create an appropriate CTA.
Finally, keep track of key metrics with YouTube Analytics. These include click-through rate (CTR), watch time, and audience retention. Record these metrics at least weekly and try to identify any significant patterns or behaviors that will help you improve your videos going forward.
Optimize Each Episode for Native Secondary Distribution on Facebook
When you upload episodes of your docuseries to Facebook, follow these recommended video specs:
Dimensions: 1280 x 720; minimum width 600 pixels (length depends on aspect ratio)
Aspect ratio: 16:9 (landscape) or 9:16 (portrait)
Maximum file size: 4GB
Video formats: .MP4 or .MOV (recommended)
Maximum length: 120 minutes
Maximum frames: 30 fps
A Note About Distribution on Other Platforms
If you choose to publish your docuseries on other platforms, ensure that you load each episode natively to each platform, which will help boost your video's reach. This is important not just for social media but also for your website. Embedding video content on your website helps decrease the bounce rate and improve your ranking in Google's search results, according to Noam Judah of SEO agency TopRankings.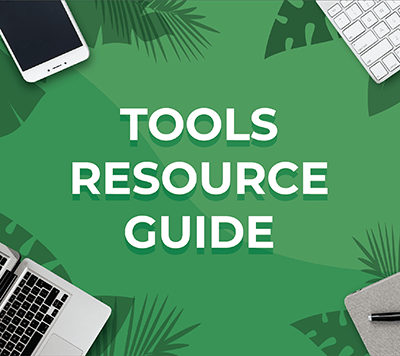 Looking for something to make your life easier?
Discover the tools we recommend to drive engagement, save you time, and boost sales across your entire marketing funnel or business.
Whether you need help planning content, organizing social posts, or developing your strategy, you'll find something for every situation.
FIND YOUR NEXT FAVORITE TOOL
In addition, make sure your video is formatted correctly in both length and aspect ratio for the intended platform. You can find a comprehensive overview of recommended dimensions, aspect ratio, video format, and video length here.
#4: Promote Your Docuseries With YouTube Ads and Facebook Ads
Before you spend your hard-earned dollars on YouTube and Facebook ads to promote your docuseries, ensure that you have a solid strategy in place.
Start by creating a few audience groups that you'll target with a unique strategy. First, identify who your main target audience is. Then break up this audience into various subcategories with similar interests.
Howell describes her main audience for Pay the Invoice as freelancers, entrepreneurs, and agency owners. But she also targets more niche audiences within this larger bucket using specific keywords, and the ad copy for those target audiences is tailored to their more specific interests. To visualize this, she was able to use the hiking episode in Pay the Invoice to target people interested in hiking within the broader audience of freelancers, entrepreneurs, and agency owners.
When you're ready to set up your Facebook and YouTube ads, consider using Facebook ThruPlay and YouTube TrueView for the best results.
Pro Tip: It's important to test different teaser video formats and lengths. By testing different creative, you'll be able to better optimize your paid advertising strategy and save on ad spend.
#5: Boost Visibility for Your Docuseries via Organic Promotion on Facebook
Creating and posting a compelling docuseries are only the beginning steps of a successful content marketing strategy. Meaningful engagement with your target audience is crucial in creating a strong community of loyal brand followers. Here are two ways to generate this engagement on Facebook.
Host a Facebook Watch Party
Changes to the Facebook algorithm in 2018 lowered the reach of pages but increased the priority of posts from Facebook groups. This makes Groups an excellent platform to use to promote your docuseries. Specifically, you might want to explore the Facebook Watch Party feature, which allows group members to watch a video in real time together as a community and share reactions and comments live.
Start by creating a Facebook group post and selecting the Watch Party option.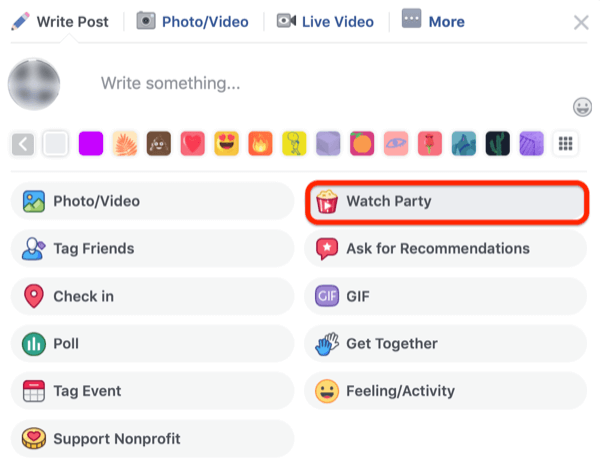 Next, choose the video you want to watch together as a community. A watch party is perfect for launching the premiere episode of your docuseries. You can also add multiple videos if your docuseries has multiple episodes.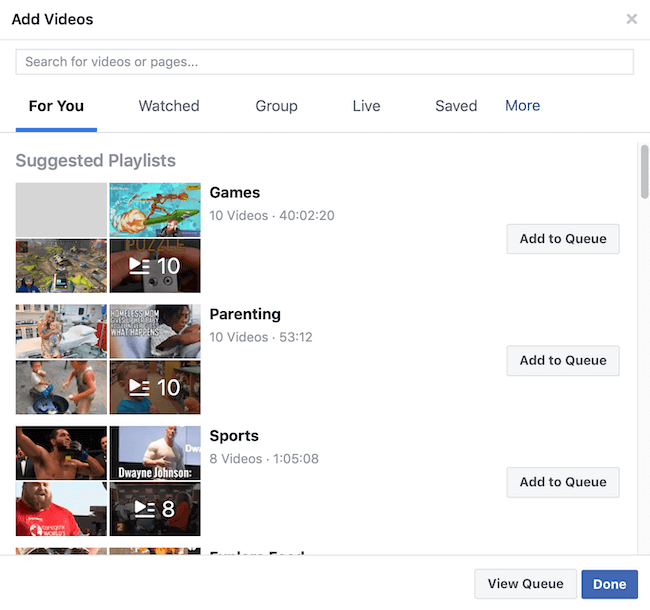 When you start the watch party, group members will see the post if they're logged in. However, you might also want to consider sending them an invite so they receive a notification about the watch party.
Be sure to promote the watch party to your community in advance so they know when to tune in and join the conversation.
Facebook Live Q&A
Hosting a Facebook Live Q&A can also be an effective way to promote your docuseries on the platform. Facebook Live sessions are shown to have on average six times more engagement than recorded videos. As with a watch party, promote your live video in advance so your community knows when and how to tune in.
Before you go live, test your camera, sound settings, and internet connectivity. To do this, select the Only Me option for your audience and shoot a practice video to make sure there are no technical issues.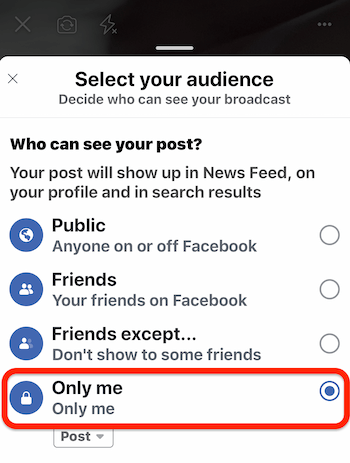 When you're ready to go live, set a location for your live video and write a short but engaging description. This will help increase discoverability.
Keep in mind that it can often take some time to start amassing viewers so you'll want to develop a strategy to fill the time while you wait for your community to log on and tune in. During this period, keep viewers entertained and engaged but don't dive into any of the main conversation topics about your docuseries. Save these for when the bulk of your viewers have tuned in.
Throughout the broadcast, periodically reintroduce both yourself and the topic of conversation, your docuseries. You can also give new viewers a short recap of what they missed.
Take questions about your docuseries from your community while you're live; don't simply talk at them. This is an excellent opportunity for you to engage with your community directly.
When your video is complete, select the option to post your video as both a Facebook post and Facebook story so users who didn't tune in live can watch the video later.
#6: Other Ways to Build Awareness for Your Docuseries
Here are a few additional ways you can boost visibility and viewership of your docuseries:
Host a Twitter chat: Consider hosting a Twitter chat as docuseries episodes are posted to create a conversation around the series. Start by picking a topic or theme for the discussion so you can guide the conversation. Also create a branded hashtag for chat participants to use to track the conversation as it's happening and once it's completed.
Leverage user-generated content (UGC): Eye-catching merchandise can help you promote your docuseries and also create an additional revenue stream. Consider mugs, hoodies, and hats with a phrase or hashtag your community identifies with. Then as your community posts and shares images of wearing and using the merchandise, it will help boost the visibility of the docuseries, create UGC you can leverage, and foster a sense of community among viewers.
To get the most out of the merchandise and generate as much UGC as possible, consider hosting a contest. Ask users to submit a photo of themselves wearing or using your brand merchandise. Request that they tag your brand and use a specific branded hashtag for the contest so you can track entries.
Encourage additional posting and engagement by giving contest participants bonus entry options. For instance, users who post to both their Instagram grid and Stories will be entered twice. Make the winner selection exciting. Consider hosting a live video where you select the winner and discuss the prizes. Pick multiple winners with different tiered prizes so you can directly engage with more than one follower.
Leverage the personal networks of the talent involved in the docuseries. Provide them with assets to share on their own social platforms to help you expand your reach organically.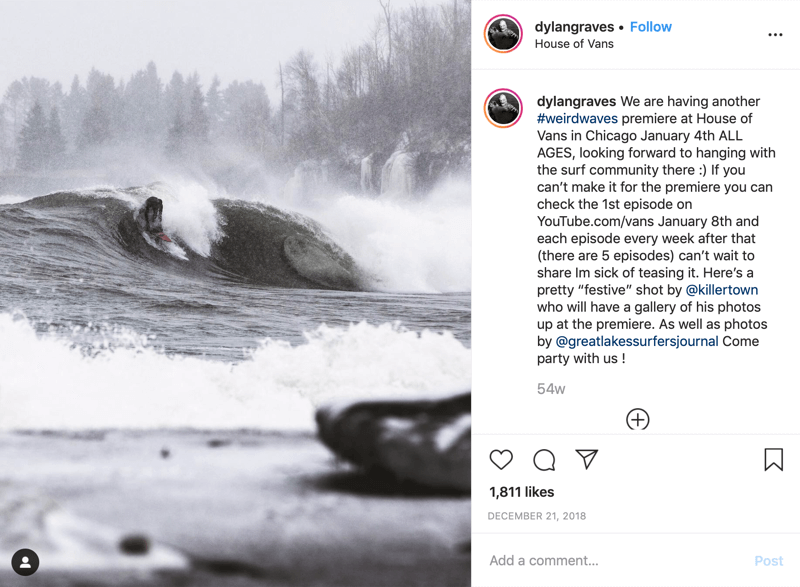 Finally, a smart PR strategy can go a long way toward increasing the visibility and viewership of your docuseries. There are a few different ways to do this:
Look for guest posting and interview opportunities on relevant blogs and podcasts and ensure that these posts link back to the docuseries website or episodes. This will help you gain new viewers and boost Google search rankings.
Announce the launch of a new docuseries on the day the premiere episode goes live through a press release.
Conclusion
It's clear that video content is here to stay and has become a powerful marketing tool for brands. The docuseries is an especially potent format because when used properly, it can help build brand affinity, start meaningful conversations, and create a sense of community among viewers. Use the above tips to promote thoughtful, quality content that resonates with viewers to help set your brand apart from your competitors.
What do you think? Will you consider creating a docuseries for your brand? What topic might be a good fit? Share your thoughts in the comments below.
More articles on video marketing:
Get Your FREE Course: Web3 for Beginners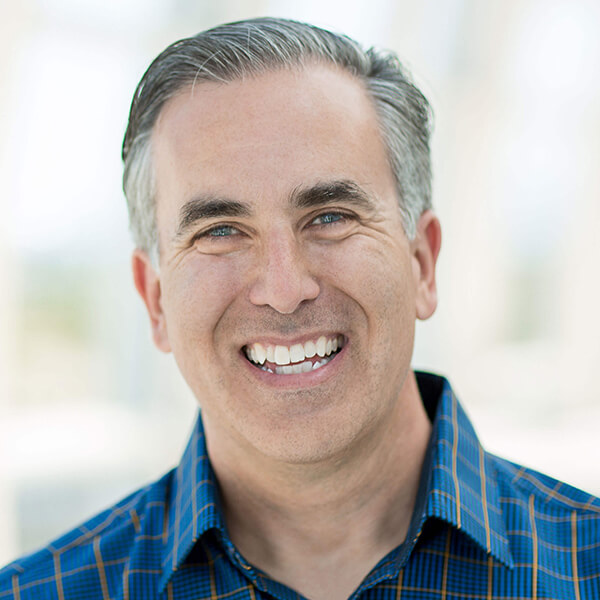 Curious about Web3, but don't know where to start or who to trust?

Introducing Web3 for Beginners, a course taught by Michael Stelzner, the founder of Social Media Examiner.

Learn the basics of Web3 and apply it to your business with this FREE comprehensive course.
CLICK HERE TO GET FREE ACCESS