Wondering how to make your YouTube content more viewer-friendly? Do you want to increase your YouTube watch time?
In this article, you'll find three easy ways to increase the amount of time people spend watching your videos on YouTube.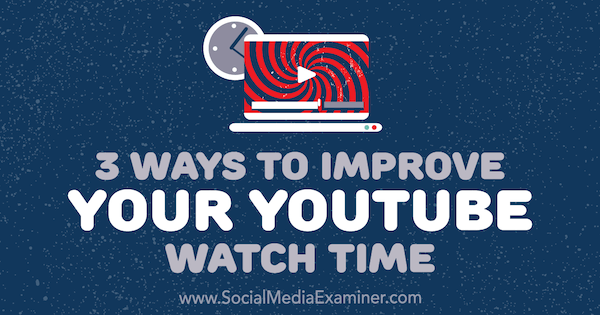 Why Does YouTube Watch Time (Minutes Watched) Matter?
YouTube is one of the most powerful marketing platforms, as well as one of the most overcrowded. How do you get visibility for your content, and generate views and interactions?
It's not only hard to generate organic YouTube visibility (due to the sheer volume of content published every minute), but it's also difficult to figure out the algorithm. Back when YouTube visibility relied on the number of video views, it was quite easy. These days, YouTube judges video quality based on how many minutes are watched (i.e., whether people watch deep into the video and how long they keep watching).
It makes sense: If more people close a video or move to another one after a few seconds of watching, it must not be very interesting. The minutes watched metric—known as watch time—is difficult to manipulate or fake because YouTube clearly knows when the same person is watching the video in full, over and over again.

So, to sum up, why should video creators care about the watch time metric? If YouTube sees a lot of people watching deep into your video, that's the strongest signal of high-quality content. You'll also notice your YouTube-driven views grow (mainly from suggested and related videos).
Outside of YouTube rankings, getting people to watch past the beginning of your videos means more people will hear your main points, follow your verbal calls to action, and simply remember your brand.
With the takeaways above, it becomes obvious that watch time is by far the most important YouTube engagement metric, and coincidentally is the one this article focuses on. Here are four ways you can improve it.
#1: Create a Clickable Table of Contents for Your YouTube Video
YouTube lets you create clickable timestamps in both your video descriptions and comments. When viewers click a timestamp, it takes them to that exact part of the video. Using this tactic, you can create a nice outline of your video content. It's a great way to drive people deeper into the video and get them to watch past the beginning.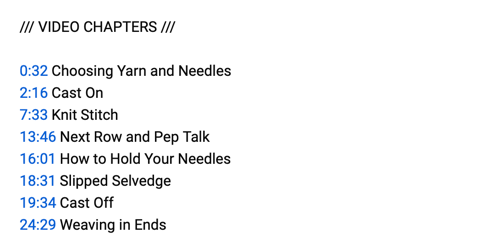 Here's a detailed tutorial on creating a timestamp for your video with lots of screenshots. To summarize, start by finding the time in the video that you want to deep-link to.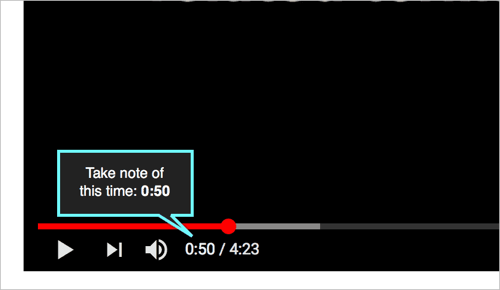 In the comment box, type this time exactly as you see it, using the format Hours:Minutes:Seconds (no spaces).
After the time, type the name for this section of the video. Try to make it sound interesting and inviting to click. Phrasing your video sections as questions may be a good idea. Questions usually prompt a click because people feel inclined to start looking for answers right away.
In the end, you'll have a clear list describing your video content with clickable timestamps taking viewers to each section.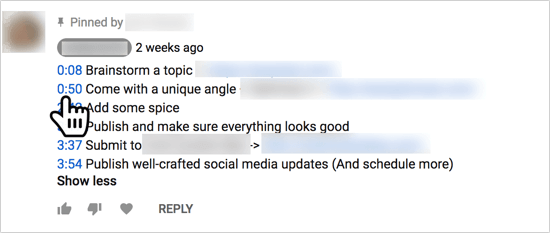 If you cover a few concepts in your YouTube video or answer several questions, adding clickable timestamps will help your audience quickly navigate to the part that most interests them (before they get too bored) and keep them watching.
#2: Sort Your YouTube Videos Into Playlists
Playlists are a way for YouTube to better understand what your video is about and how it relates to other videos. You may have noticed that YouTube suggests topics now, allowing you to discover new videos on the topics you've watched previously.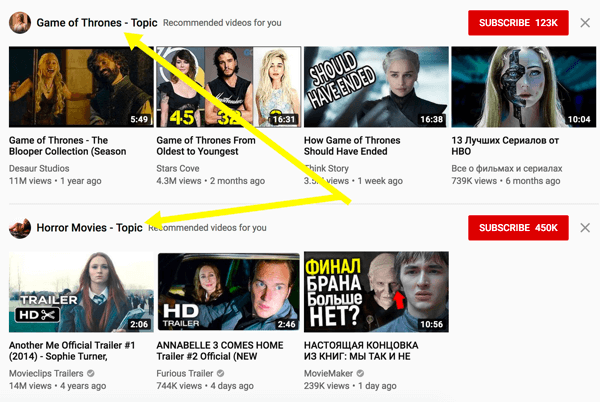 In the mobile app, YouTube suggests playlists, often including new content you've never watched before. That content is similar to what you've watched before and seem to like.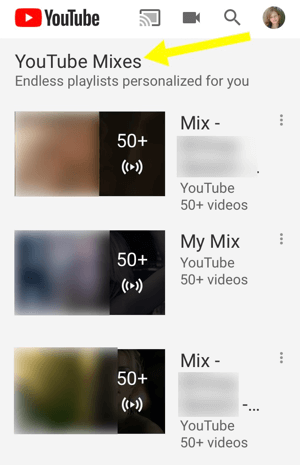 YouTube uses a variety of signals to determine whether your video should be suggested as part of a topic or an automatically generated playlist, including personal user preferences, text content and hashtags, common audience, and so on.
Sorting your videos into playlists with other videos on the same or related topics places your content into that relevant neighborhood and helps YouTube classify it correctly.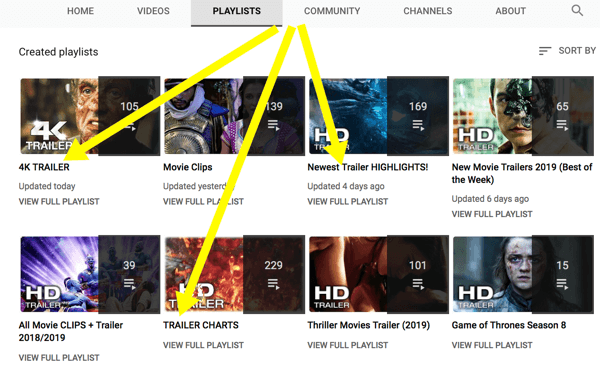 Playlists are also perfect for increasing the Watch Time metric because they're made for eternal viewing. In other words, playlists improve the engagement rate of your content by giving your audience collections of videos so they can sit back and watch endlessly.
You may want to partner with fellow YouTube creators to have them add your videos to their playlists, too.
Keep in mind that playlists are content entities of their own. They may rank both in YouTube and Google search results, especially for brand names. Whenever you're marketing a podcast or series, make sure to create a playlist with the podcast's name. Here's an example of our podcast playlist ranking in Google: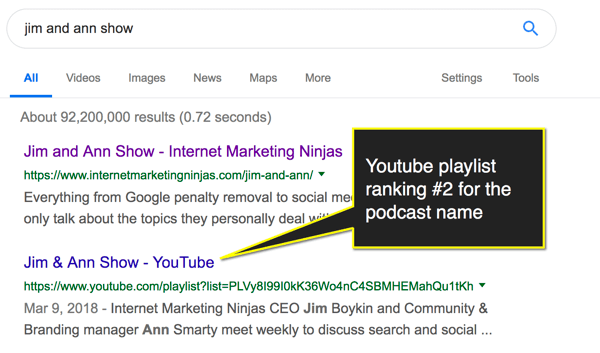 And here's the playlist ranking in YouTube search: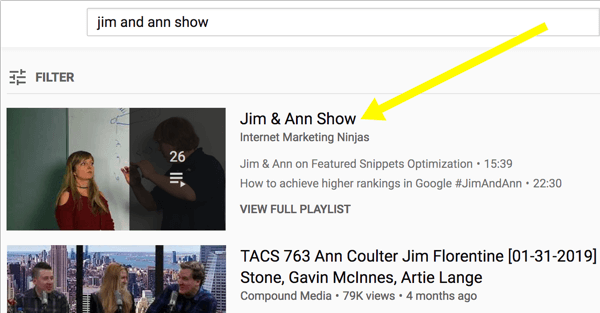 Playlists help boost discovery (especially if you invest well in promoting your brand). Furthermore, once viewers find your playlist, YouTube will play all of the videos one by one automatically without distracting viewers by suggesting other videos.
Creating and marketing YouTube playlists is important for both discovery and increasing your Watch Time metric.
In short, I suggest putting some effort into creating YouTube playlists. Here's my usual routine:
Always create branded playlists around your major brand name, personal brand name, and the names of any projects you're working on (e.g., podcasts, video series, etc.).
Create generic category playlists (e.g., by general topic, type of content, etc.).
Create "Best of," "Top," and similar playlists of your videos as well as videos by other video creators. This sets important contextual associations for YouTube to put you into the most relevant category. The ideal scenario is to partner with other YouTubers, putting each other's videos in all sorts of public playlists.
Link to your branded playlists from your site to get them ranked in Google.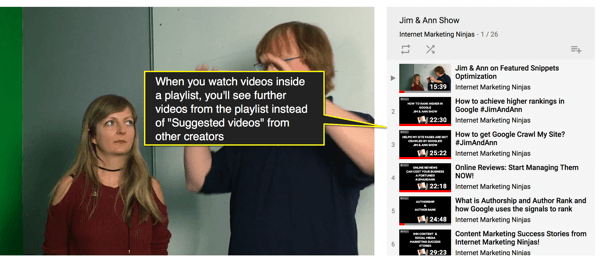 #3: Build Anticipation With a YouTube Premiere
Another great way to improve engagement with any content, including video content, is to time it right.
When it comes to YouTube marketing, I suggest scheduling a YouTube premiere for your video and promoting it through your social media channels using seasonal hashtags.
Find the Optimal Time for Your YouTube Premiere
You want to publish the premiere exactly at the peak of a seasonal trend. To identify the best date to schedule your premiere and actually publish the video, do some research on your video topic with Google Trends. This tool will help you determine exactly when you need to start preparing and publishing the content for it to get noticed.
For instance, if your video is related to the topic of graduation, May 25–30 looks like a good date range to schedule a premiere on YouTube and start building anticipation.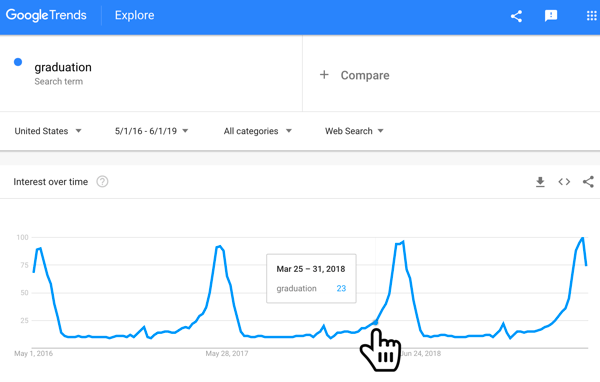 And April 15 should be a good day to publish your video to catch the peak of interest before there's too much content covering your topic.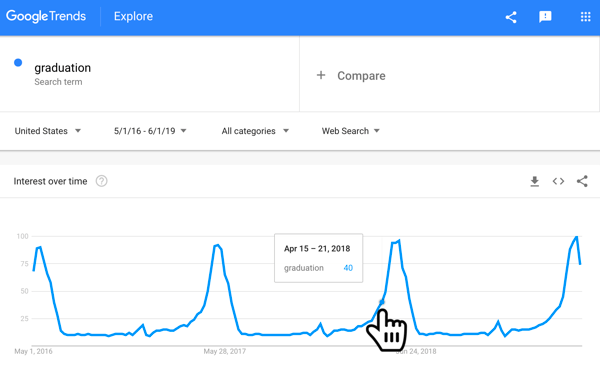 Set Up a YouTube Premiere
Now you're ready to schedule your premiere. Start by uploading your video. On the right side of the upload page, activate the Premiere option.
Then select Scheduled where you'd normally select the video privacy, and choose the date and time when you want it to go live.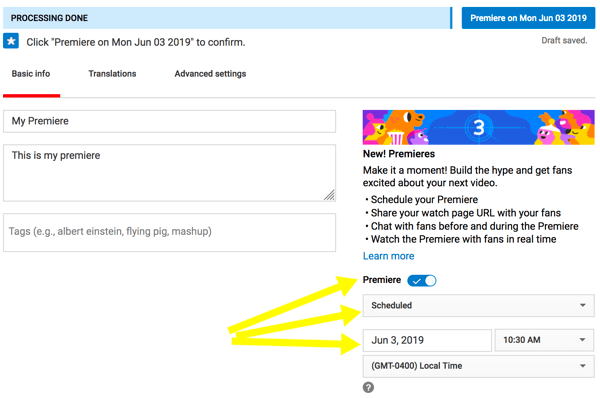 When you schedule your video as a YouTube premiere, you'll get a shareable link to invite people to watch and build some leads. Your future video page gives your audience an option to set a reminder so they'll get notified when it goes live.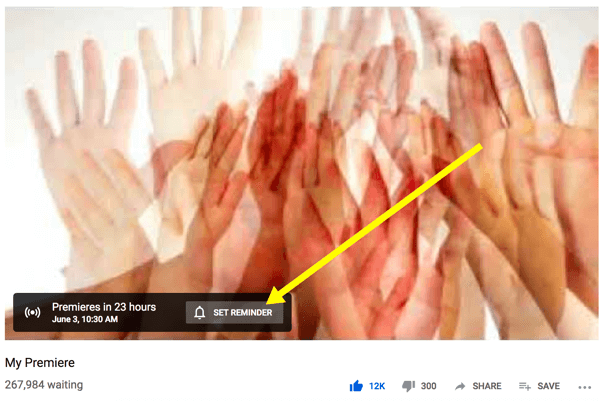 Promote Your YouTube Premiere
Now use your social media calendar app to plan how you'll promote the link and get your community engaged.
ContentCal is an editorial calendar platform that lets you schedule seasonal content as far as 1 year ahead. The Campaigns feature can help you plan both the promotion and publication of your YouTube premiere. The tool is available in both free and paid plans, starting at $13/month.
You can keep important dates and links on the Campaigns tab. A ribbon will appear across your shared calendar dashboard to notify your team of an approaching campaign, as shown below. This is the signal for them to start working on content creation and marketing.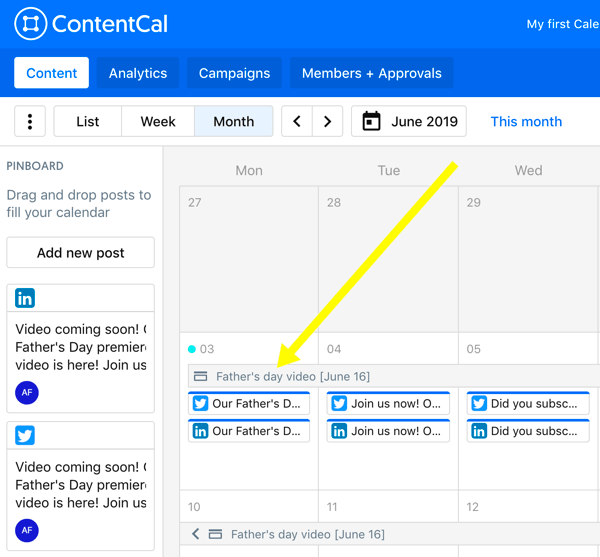 Clicking the ribbon takes them to the campaign brief with details on how and when you plan to promote the video. Create a quick timeline for each campaign for the team to act upon when they see the campaign approaching.
Using ContentCal, you'll be able to engage your team in promoting your video and building anticipation. Your team can add social media updates to the pinboard for you (or any assigned moderator) to spread them around your campaign. This way, you end up with varied social media updates across multiple channels.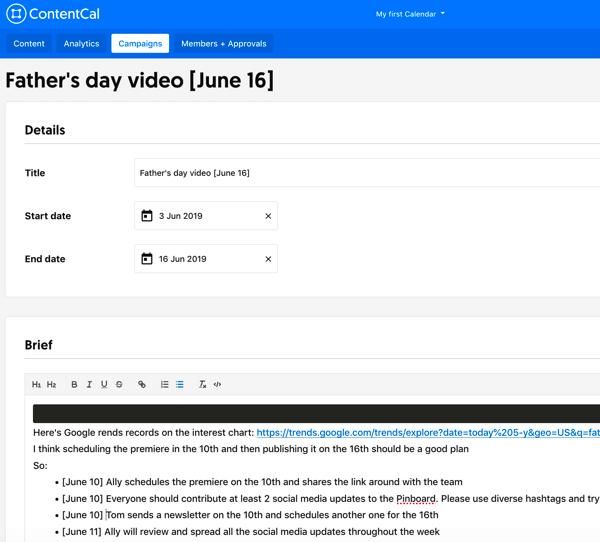 Conclusion
YouTube's watch time is the most important metric for your video marketing success. Building it up will take time and effort but it's doable. To get more people to watch more of your YouTube video content, try the following tricks:
Use either the description or the pinned comments (or both) to create a clickable table of contents sending viewers deep into the video to the part they're most interested in.
Sort your videos into playlists to put your content into the related context for YouTube to classify them properly (for your videos to appear in related and suggested videos).
Time your video content to seasonal trends using YouTube premieres. Seasonal content is generally more engaging than any other type of content and it can be planned as much as a year ahead.
Optimize your video for Google's organic rankings. Google rankings are generally much easier to predict than YouTube search rankings. Plus, Google referral traffic is much more engaging than social media ads.
There are of course many more (tactical) tricks to get people to watch past the first 2 seconds of your YouTube video but the tips above lay an important foundation that will help you create an engagement-focused video marketing strategy.
What do you think? Which of these tactics will you try to improve your YouTube watch time? Do you have any other tips to offer? Share your thoughts in the comments below.
More articles on YouTube marketing: