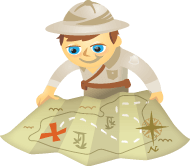 Do you run social media contests for your business?
Looking for ways to make your contests deliver more than entries?
A strong social media contest can generate real value for your business.
In this article, you'll discover four tips for executing a successful social media contest.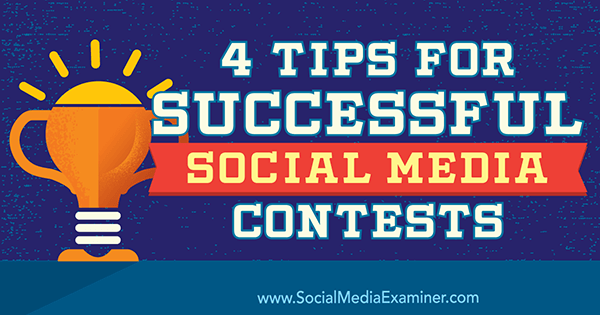 #1: Appeal to Prospective Customers, Not Just Entrants
The first step in creating a profitable social media contest campaign is designing one that's attractive to your target market. Here are a few ways to do that:
Add labels to your contest copy to address your target audience. For instance, a fashion brand might choose "Are you a Fall Fashionista? Enter to win three outfits for work, drinks, and casual Sunday." A software as a service (SaaS) business or consultant might opt for "Marketers! Enter to win a year's subscription to AcmeSocial."
Tie your promotion to an event relevant to your target market. For instance, if you promote your contest in conjunction with Comic-Con, the Victoria's Secret Fashion Show, the final episode of The Bachelor, or the Super Bowl, only people interested in that event will enter.
Choose prizes of value to your target market. For SaaS and ecommerce businesses, choose a product as your contest prize. If you're a retailer, give away a gift card to avoid pigeonholing your customers into a specific prize. For example, if you give away a purse as a prize, you'll exclude most men.
In this social media contest from travel company Collette, the prize is a free $15,000 vacation, which appeals specifically to their target market.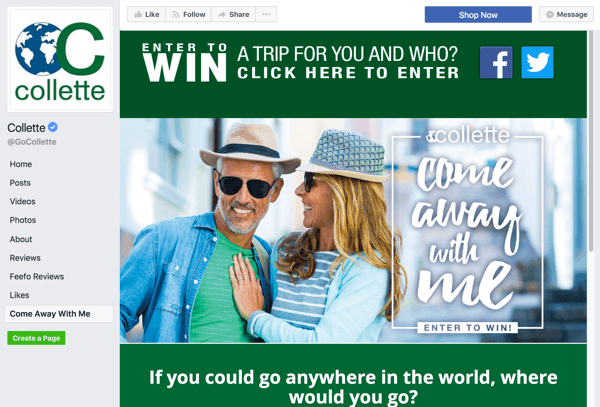 For B2B (and SaaS) companies, team up with another business with the same target market. Cross-promote the contest to your respective newsletters to trade prospects.
#2: Offer an Incentive for Social Sharing
A great way to spread the reach of your contest and increase your social media following is through incentivized sharing and liking. The process is simple: give contest entrants an increased chance of winning in return for a share of the contest, a tweet, or a like of your social media page.
You can put this incentivized sharing option in a pop-up that appears as soon as people enter the contest. This is the point at which their desire to win is strongest, making them more likely to share or like your page than before they entered.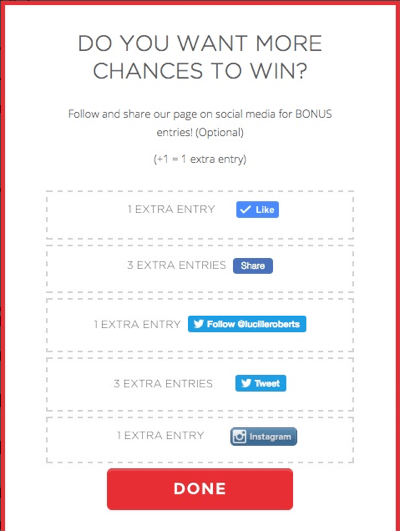 You can also tap into entrants' social networks with a referral, photo, or Instagram contest.
Referral Contest
With a referral contest, you give every entrant a discount or coupon code. The grand prize is awarded to a single entrant but people can improve their chances to win by sharing the contest with their social network via the unique URL you provide. Every time they refer a friend, they get an extra entry.
Alternatively, create a standard contest, and if people refer a certain number of friends, they get entered into a secondary promotion.
Photo or Instagram Contest
With a photo or Instagram contest, entrants submit a photo manually or via the use of a brand hashtag. For example, Instagram users could enter Nikon's photo contest below by tagging their images with #Nikon_Photo_Contest.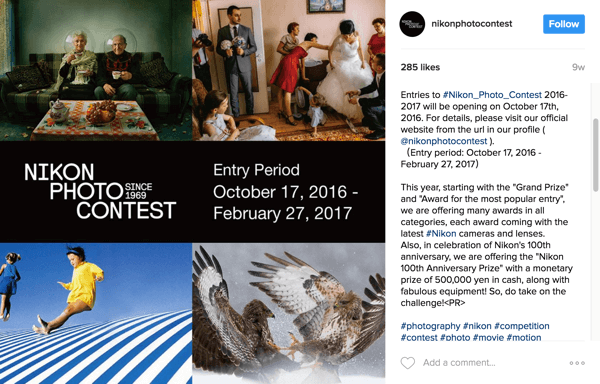 You can then automatically add the photos to a gallery within the contest page and award the prize to whichever entrant's photo receives the highest number of votes. Entrants are incentivized to share their photos (and thus, your campaign) with their networks.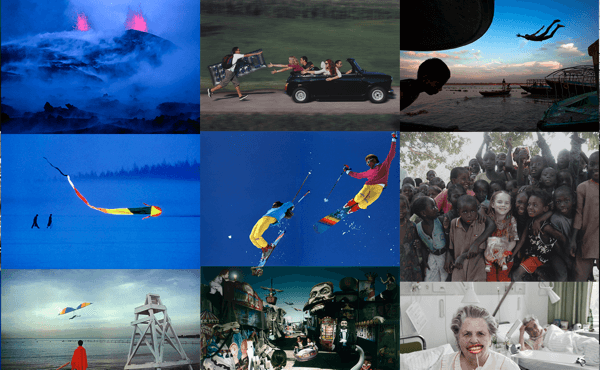 The photo contest below received 352 entries and 1,900+ votes. The votes are counted only when users provide an email address, which means new contacts for the business.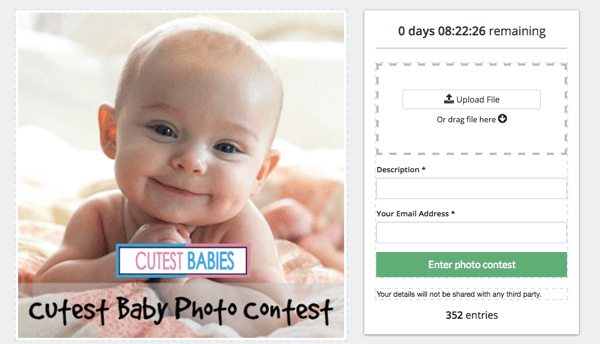 #3: Promote Your Contest With Paid Social Ads
Encouraging entrants to help promote your contest is possible only if you have a decent following in the first place. That's where social media advertising comes in.
If you're unsure about the idea of paying for contest entrants, let's look at a real-world example. This is an Instagram ad from protein bar company Bhu Foods.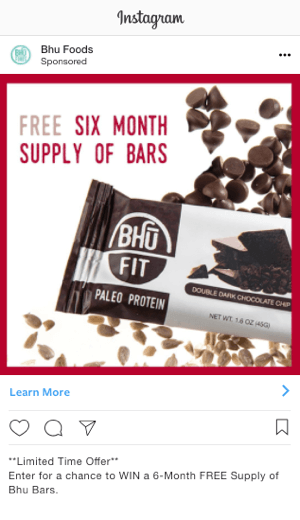 The ad targets people based on specific demographics, page likes, and interests. So far the ad has reached 52,666 people. With a daily budget of $53.45, it has delivered 323 entrants at a cost per entrant of $0.79. The company has spent about $255 to expose their brand to 52,000+ people.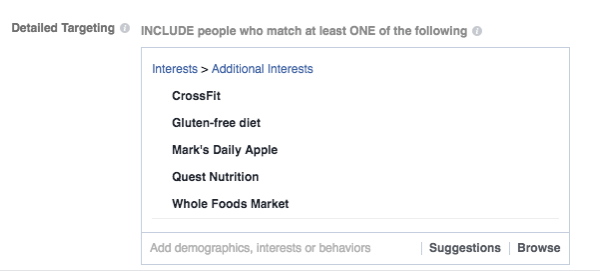 While we can't measure the ROI of that exposure, we can measure the ROI based on lifetime customer value and the chance of a contest entrant becoming a customer. Let's do the math:
$180 (6-month supply of product; the prize) + $255 (ad spend) = about $435
A box of Bhu bars retails at $29.99. The lifetime customer value is approximately $60.
Bhu Foods has reached out to contest entrants with a 10% coupon and (conservatively) about 10% of entrants convert. That gives the company a revenue of $1,728 (32 people x $54), an ROI on their ad spend of more than 400% . That ROI, along with contest buzz and the fact that these are conservative estimates, makes this contest a very good investment.
Here are a few ad campaigns run by Lucille Roberts. Because of a (significantly) greater lifetime customer value and great entrant conversion, their ad ROI is likely better than Bhu's above.

Bhu Foods is currently testing their contest ad against the same image with a brown border and the headline "Don't Miss Out" (instead of "Limited Time Offer"). That ad is also doing well, with a CPA of $0.93.
Testing is essential. Even if your campaigns don't last long enough to reach statistical significance, you can still get valuable insight about which designs and copy work for your target audience. You can then apply those lessons in your next campaign.
#4: Follow Up With Prize-Related Discounts in an Email Campaign
Once your contest is over, the real work starts: turning entrants into customers. You have a few options here, depending on what kind of email marketing platform you're using.
The easiest option is to send an auto-response email as soon as someone converts on your social media contest. That email would look something like the one below. Note the coupon, which incentivizes entrants to convert.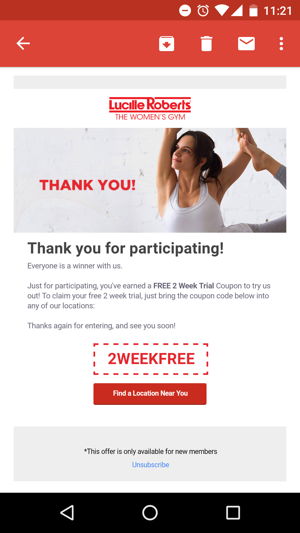 The downside to an auto-response email is that everyone who receives it still believes (on some level) they're going to win your product for free through the contest.
A better strategy is a more advanced technique: set up an email drip campaign. Normally SaaS and B2B companies use email drip campaigns to "onboard" potential customers (we call them leads). They get a top-of-funnel contact and nurture prospects toward a final sale with educational emails, and down the line, subtle sales pitches.
Here's a diagram of a potential drip campaign for a social media contest.

Here's how it works:
John converts on your social media contest. He receives an auto-response email thanking him for entering and prompting him to share the contest with friends (not shown above).
Once the contest is over, he receives a conciliatory email (the first email in blue above). This email mentions your business is currently running a discount related to the prize he entered to win.
If he clicks through on this email but doesn't convert on the sale, a day later he receives a follow-up email with another prompt focusing on the discount's limited-time availability (the first email in orange above).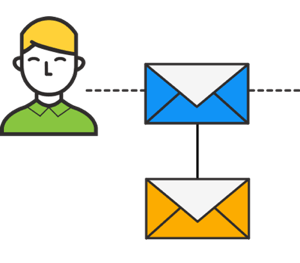 If he doesn't convert, five days pass and he receives another email with a blog article focusing on recent product releases, updates, news, or top tips related to your products.
If he clicks through on this email, a day later he receives a follow-up with a discount or promotion related to the blog's subject matter (the second email in orange).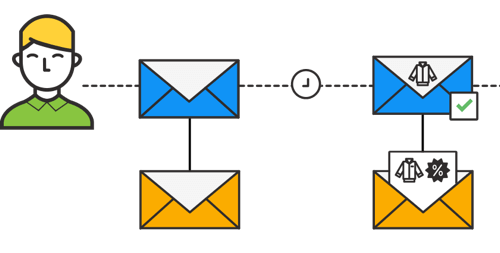 You might be thinking that this is a pretty aggressive approach to turning contest entrants into customers, but it's nothing more than you'd do manually if you could. This is selling at its most focused: personalized communication, timely offers, and the ability to tailor your offer to a prospect's desires.
Conclusion
The chief criticism you might have heard about social media contests is that even if they're successful, entrants are only interested in winning the prize. There's no long-term value beyond a bit of buzz.
However, a well-designed social media contest can leverage the strengths of social media (audience size, interconnectedness, a desire for brand interaction) to generate real value for your business.
What do you think? Have you tried a social media contest for your business? What were the results? Please share your thoughts in the comments below!