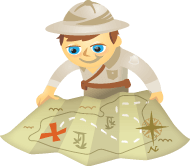 Do you want more organic traffic from Facebook?
Have you considered pinning your ads as Facebook page posts?
In this article you'll discover how to drive organic traffic and conversions by pinning a Facebook carousel ad to your page as a post.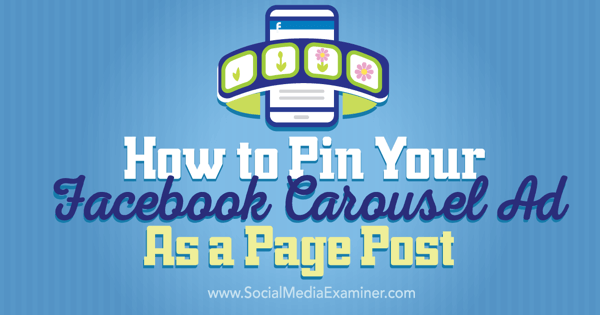 Listen to this article:
Where to subscribe: Apple Podcast | Google Podcasts | Spotify | RSS
#1: Set Up Your Facebook Carousel Ad
First, you need to create your Facebook carousel ad. Click the green Create Ad button and select Send People to Your Website as the objective.
Next, enter a URL. This is the final URL visitors click through to at the end of your carousel, so you may want to choose your main website for this one, depending on the point of your carousel.
Now, name your campaign something that you can easily recognize later so you can refer back to the carousels you've created. Then click the Set Audience & Budget button.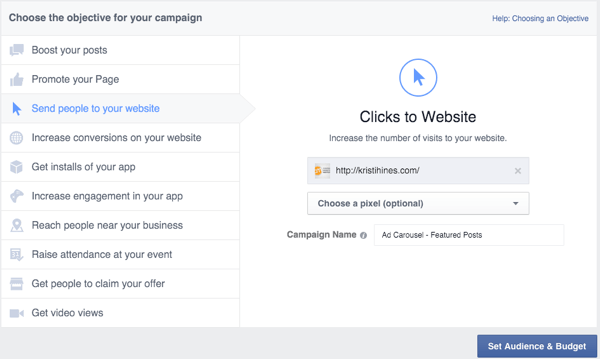 Next, choose your ad audience. Note that if you want to run this as an ad, you'll want to get specific about your ad targeting. If you don't want to run this as an ad, you don't have to; thus, you don't need to do anything at this point.
Now set your ad budget. In case you forget, set the lifetime budget as low as $25 so that even if your ad does run, you won't spend that much. Then click Choose Ad Creative.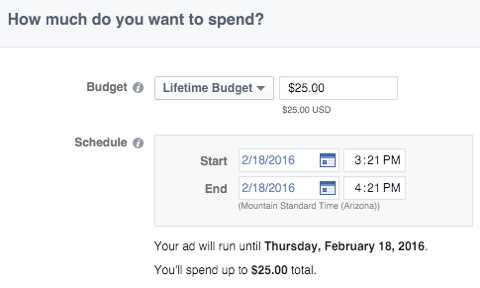 #2: Design Your Carousel Ad
Now, you'll design your carousel ad. First, select Multiple Images in One Ad.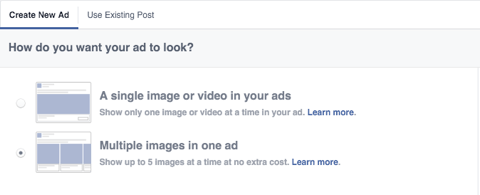 Next, connect your page so the ad will be shown in the desktop news feed. This is extremely important.

Remove all other placements except the Desktop News Feed, as they're unnecessary.
Configure one to five images, links, and calls to action for your carousel ad using the following specifications.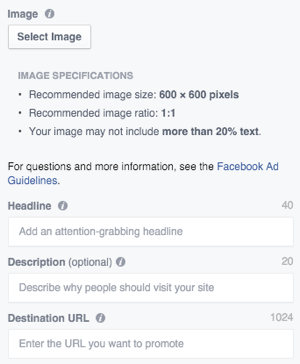 Note that for each carousel image, you can have different website URLs (even from different domains) and different call-to-action buttons.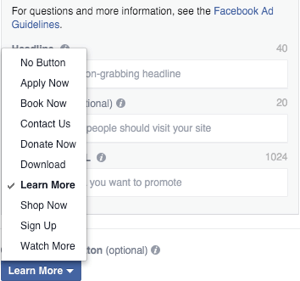 Once you're finished, your preview should look like this.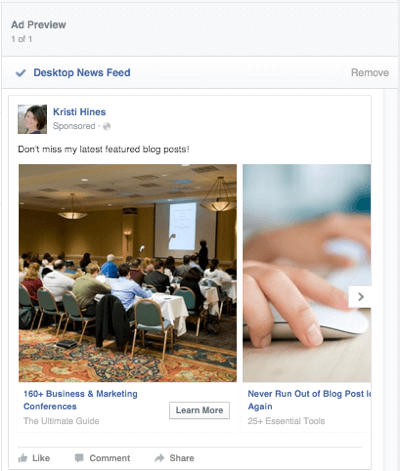 Be sure to click through your carousel images one more time to ensure that the images, ad copy, and URLs are correct. You can click the Review Order button to get a quick glance at all of your settings. Then click the Place Order button to place the ad into Facebook's review queue.
#3: Pin Your Carousel Ad to Your Facebook Page as a Post
At this point, you will be taken to your Ads Manager dashboard.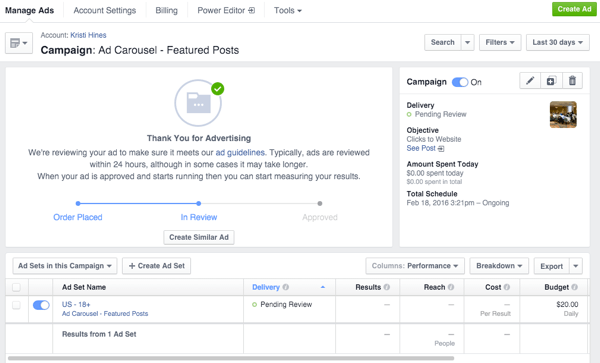 In the box to the right, you'll see a See Post link.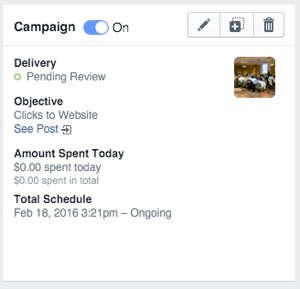 Click on the See Post link to go to your carousel ad post.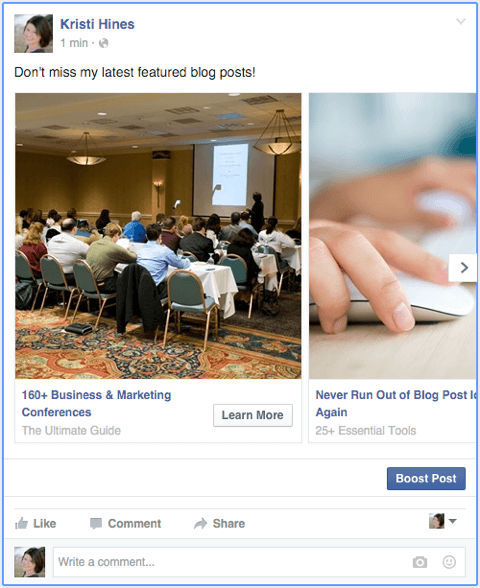 Click on the Share link to share the post and use the drop-down menu to choose the Share on a Page You Manage option.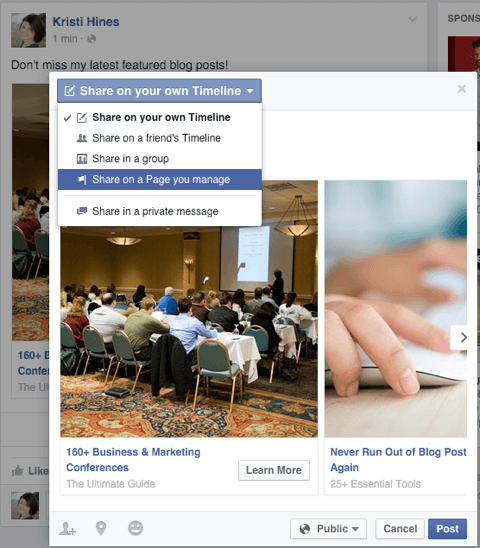 Select your page and remove the via tag that appears in the Say Something About This area. Then add your own descriptive comment.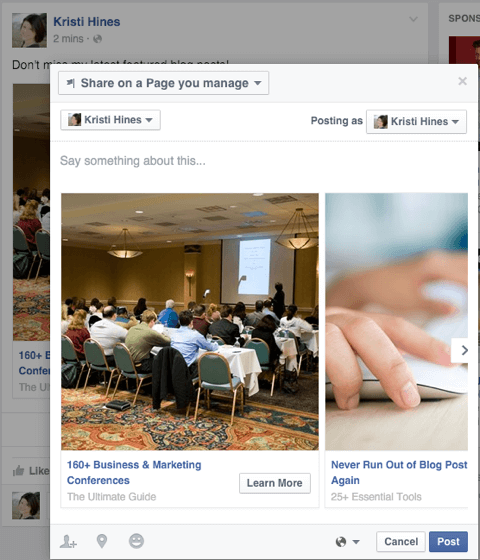 Now post it to your page. You should see a confirmation of success.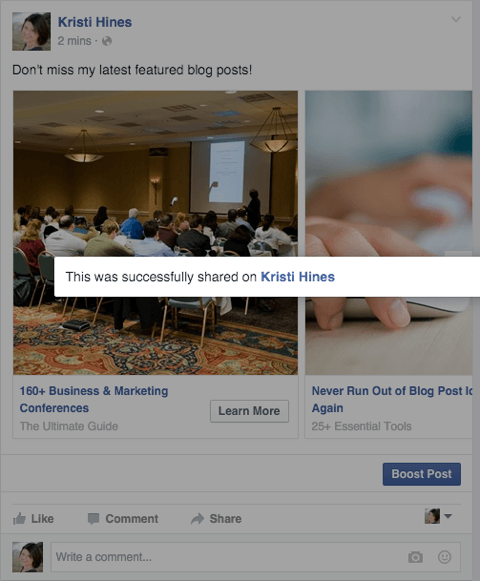 Now use the arrow at the top right to pin it to the top of your page wall.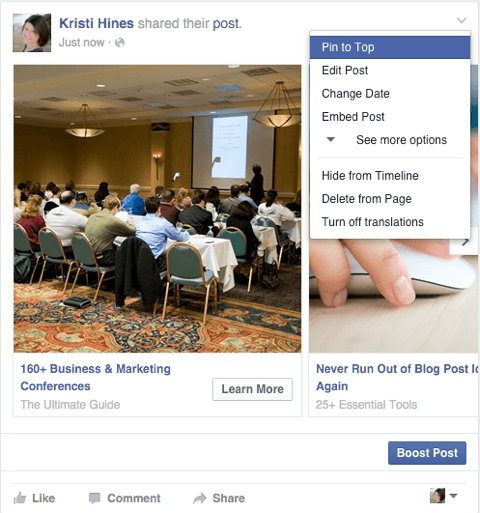 At this point, you can either let your ad campaign run or go back to your Ads Manager dashboard and toggle the ad and the campaign off. The choice is yours and won't affect your pinned post.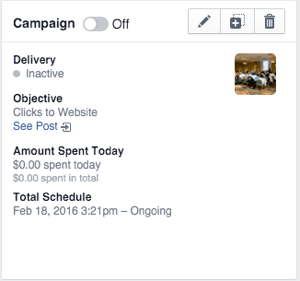 In Conclusion
As you can see, the possibilities for carousel ads are endless! And thanks to the Ad Preview option, you have the choice to actually run an ad or just use the post to gain some organic engagement and possible click-throughs to your website.
What do you think? Have you, or will you, try this tactic? If so, be sure to share your ideas and experiences in the comments!