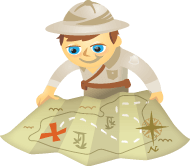 Are you using Facebook ads effectively for your business?
Do you want to get results without spending a lot of money?
By selecting a well-targeted audience with your Facebook ads, you can reach your goals without breaking the bank.
In this article I'll show you how to set up your Facebook ads to generate big results on a small budget.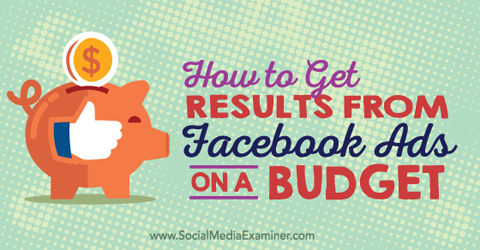 Listen to this article:
Where to subscribe: Apple Podcast | Google Podcasts | Spotify | RSS
Set Proper Goals
Before you spend any money on Facebook ads, think about the objectives for your ad campaign. Once you've set your goals, you can better determine your budget.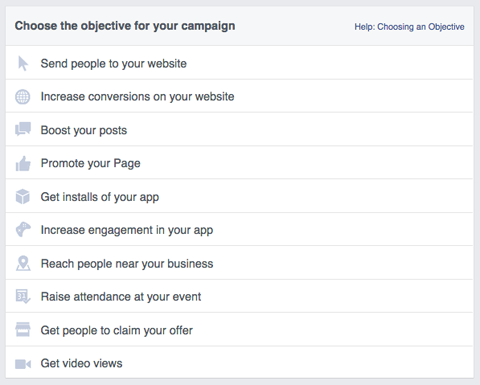 The four most popular Facebook campaign goals for businesses are building a targeted fan base, promoting owned content, generating conversions and promoting a local business. Here's a look at what you can do with a budget of 5 to 10 Euros or Dollars per day.
#1: Build a Targeted Fan Base
When you get started with Facebook advertising, growing the audience for your Facebook page is the logical first step. Fans are more likely to opt into your list, read your content and buy from you than non-fans. In other words, when highly targeted people like your page, it's an indication that they want to see your content.
There are many ways to target Facebook ads to grow your audience. To get the most from a small budget, focus first on attracting the people who know you best. This audience has already invested in you and is likely to convert at a higher rate and lower cost than any other group.
Target Your Email List
If you want to create a custom audience based on your customer email list, go to Audiences in your Facebook Ads Manager. In the upper-right corner of the page, click Create Audience and select Custom Audience from the drop-down menu.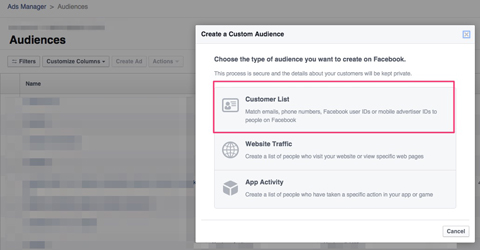 Then click Customer List in the Create a Custom Audience dialog box.
To create your custom audience, upload a .CSV file with your customers' email addresses. Facebook then populates the audience and gets it ready for you to target with your ads.
Target Website Visitors
🌟 Ready to Supercharge Your Social Marketing Strategy? 🌟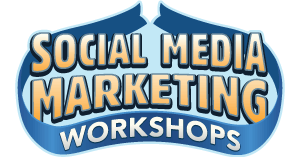 Struggling with your social marketing? You're not alone. The solution? The Social Media Marketing Workshops!

During these live 2 hour deep-dive workshops, you'll discover what's working now on Instagram, Facebook, TikTok, YouTube, and LinkedIn. Skyrocket your engagement, broaden your reach, and amplify your sales.

Become the marketing hero your company and clients need—without leaving your home!
🔥 Save $670 on an All-Access Ticket! Sale Ends Tuesday! 🔥
GET YOUR TICKETS NOW
One of the most powerful Facebook ad types is the website custom audience. The people who visit your website already know you and are more likely to respond positively to your ads.
After you've targeted a custom audience for your email list (as described above), move on to promoting your page to website visitors.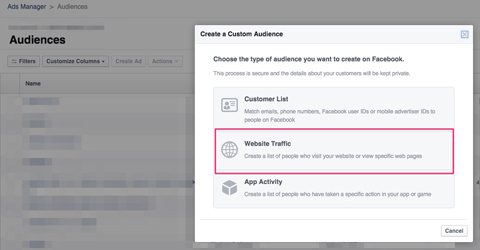 To create a website custom audience, you need to install a custom audience pixel in the header of your website.
Facebook lets you create an audience based on traffic in the last 30, 60, 90 and 180 days. Set up an audience for each option. You might target this audience for people who have visited your site, but aren't yet fans of your page.
Target a Lookalike Audience
Depending on your website traffic, it's likely that you'll always have an audience to target. But if you want to expand your options, consider lookalike audiences.
You can create lookalike audiences based on your custom audience of email subscribers or website visitors. Facebook will match your database within a 1% similarity, giving you a narrower audience to target.
Access Audiences from the Ads Manager and then create a lookalike audience for the location you want to target.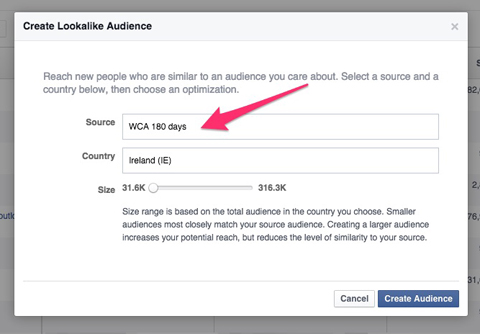 Target Interests
If you're a new business with a small customer list and limited website traffic, you may be wondering how to target your Facebook ads. Interest targeting can be effective if you do it right, but overall it's generally less effective than the options above.
The reason for this is that when you target a page or interest, Facebook gives you an audience that includes people who've expressed an interest or liked pages associated with your audience.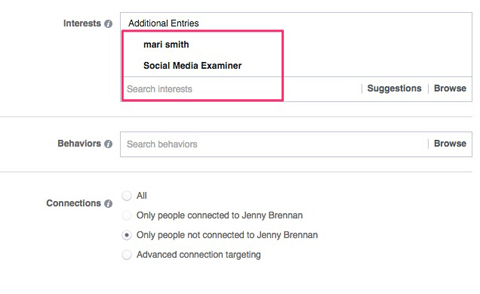 If you ask Facebook to optimize your ads, they will show your ads to the people most likely to take action.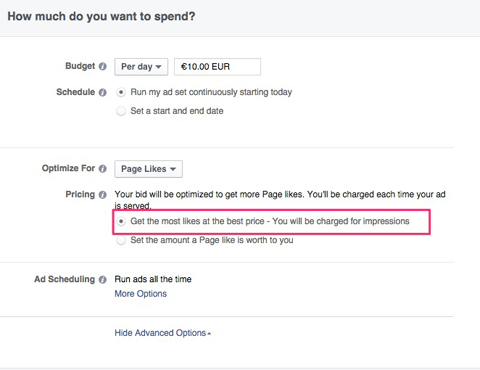 Split-Test Your Audiences
After you've set up your audiences, it's a good idea to test each one over a 72-hour time period. A good rule of thumb is to spend 5 to 10 Euros or Dollars a day on each test ad, but this number may vary depending on your audience size and the results from each audience.
Here's an example of an ad cost breakdown for each audience: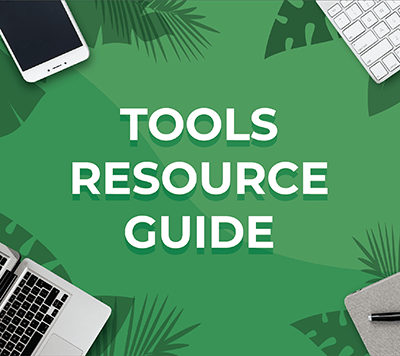 Looking for something to make your life easier?
Discover the tools we recommend to drive engagement, save you time, and boost sales across your entire marketing funnel or business.
Whether you need help planning content, organizing social posts, or developing your strategy, you'll find something for every situation.
FIND YOUR NEXT FAVORITE TOOL
Interests: €1.05 ($1.18) per like
Lookalike: €0.62 ($0.70) per like
Custom audience: €0.54 ($0.61) per like

Of course, there are many ways to split-test your ads, and audience targeting is one.
#2: Promote Owned Content
Have you ever heard the expression "promote your best content"? There's a good reason for doing that. Sending people to your website and sharing your best content helps them get to know you, like you and trust you. It's at that point people will be more likely to buy from you.
You have better potential to dive deeper into certain topics and help the audience on your company blog.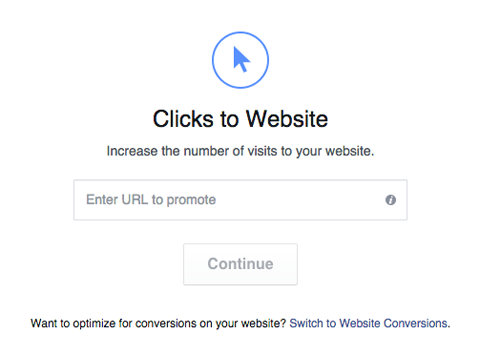 To promote your content, you can target a few combinations of audiences: fans of a page, fans and friends, lookalike and interest audiences and a customer list. Test to see which do best.
When you invest in fans, ensure they get access to your best content on a weekly basis. You might also create some fan-only content and specific content that further deepens your connections with fans.
Promoting your content to lookalike and interest audiences is an effective way to build awareness of your brand and how you add value for your customers. Try combining a lookalike audience with an interest and see what results you get.
Three types of website content that you can promote to fans only are testimonial pages, blog content (share the good stuff) and sales messages or special offers.
You can also use Facebook ads to promote a weekly video and help your audience get to know you. For example, Jill Celeste offers weekly video tips on her Facebook page.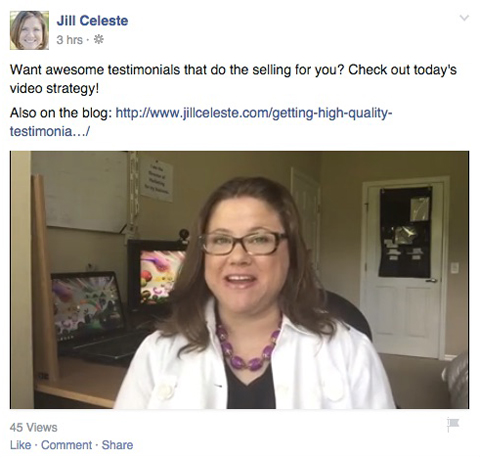 It takes time to connect with people, so don't give up after your first video. If you publish consistently, Facebook users will start paying attention to your content.
Here's an example that shows the benefits of a video ad.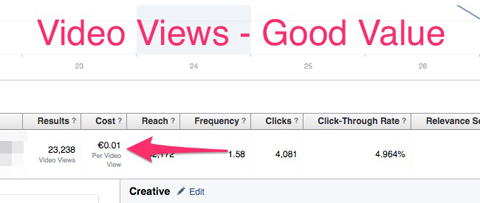 Test the promotion of different types of content on your Facebook page. You may be surprised by the reaction you receive.
Video Ad Tips
Keep it short and sweet.
Within three seconds, convince viewers why they should keep watching.
Use a strong call to action.
Be genuine, fun, educational or informative.
#3: Increase Conversions and Sales
Many businesses and brands want to skip straight to conversions as a goal for their Facebook ads. This is understandable, especially when you have a small budget. Just like the examples above, focus on the audiences most likely to convert.
Generating leads is a strong aspect of Facebook advertising, but it's important that you're targeting the right audience.
Before you start testing these types of ads, check your own news feed and see which lead generation campaigns show up. Take note of the ad copy, call-to-action buttons and visuals in other ads to improve your own conversions.
For example, this ad might grab your interest if you're a fan of this page or you've visited the company's website.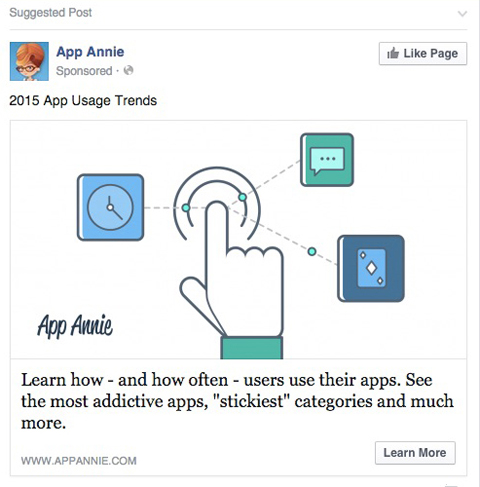 If you're a fan of this company's page, you may be interested in downloading the report mentioned in this ad.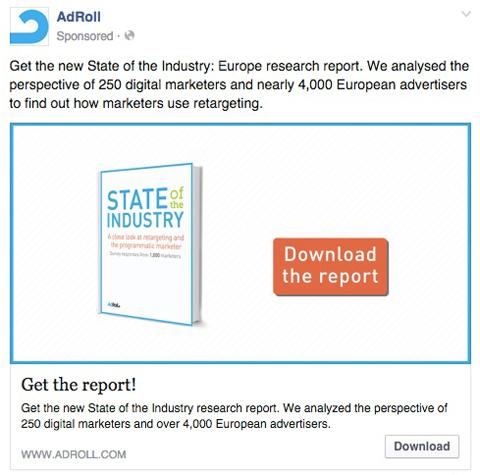 You might see the following ad if you've liked the company's page. Clicking the ad takes you to a sales landing page, and as a fan there is a higher chance that you'll buy.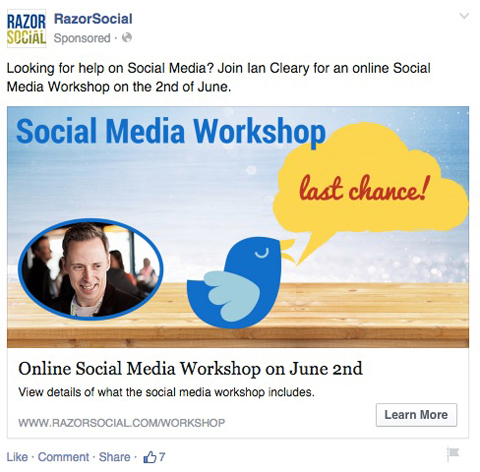 If you have a limited ad budget, optimize for conversions at the best price. Facebook knows their users well, so you'll likely get better results.
The following test ad cost €10 ($11.26) a day and generated 42 leads. The target was a website custom audience.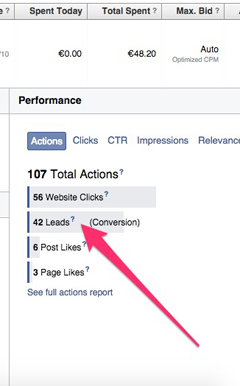 #4: Promote a Local Business
Promoting a local business with Facebook ads and a small budget presents certain challenges.
Here is a simple system that typically works well: Build a local fan base for €5 ($5.63) per day, promote your sales messages to fans for €5 ($5.63) per day and choose products that have a good margin to get best ROI.
If you're a local business, you may want to limit your promotions to one per week. It's a good idea to promote regular contests to build awareness of new products and services. This is a great way to add value to your fans without directly selling to them.
Conclusion
You can get results from your Facebook ads with a small budget. But it's important to manage your expectations for the campaign.
What do you think? Do you run Facebook ads for your business? How have they performed? What are your experiences working with a small budget? Please share your thoughts in the comments below.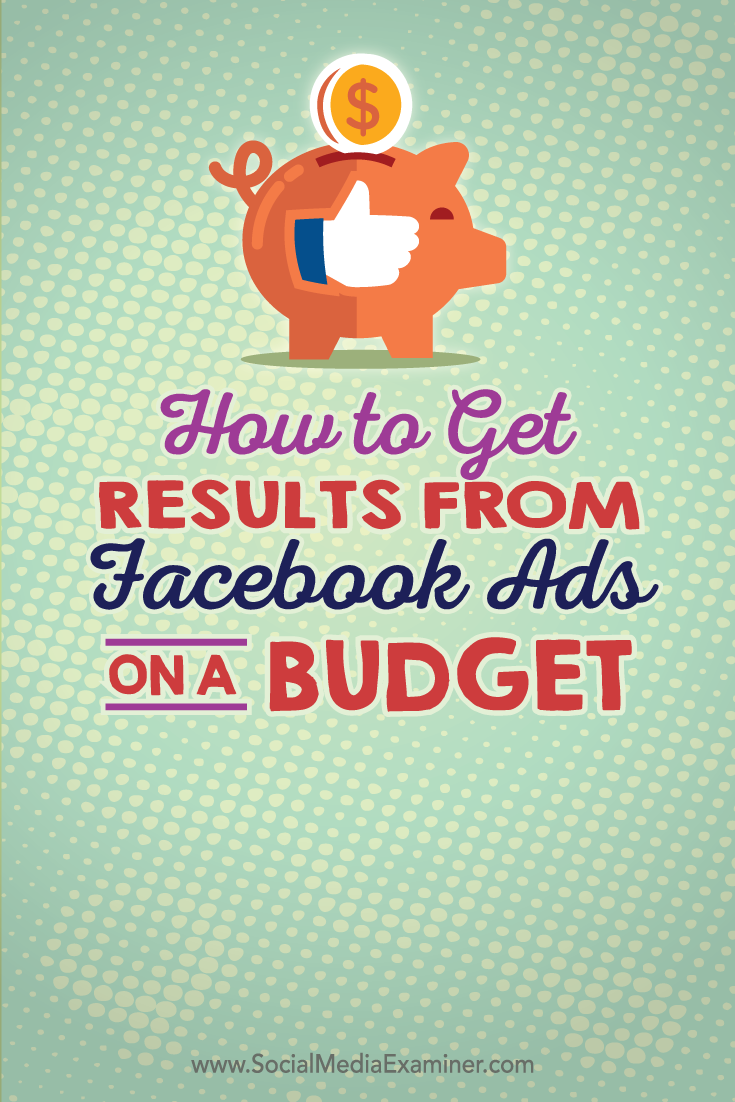 Get Your FREE Course: Web3 for Beginners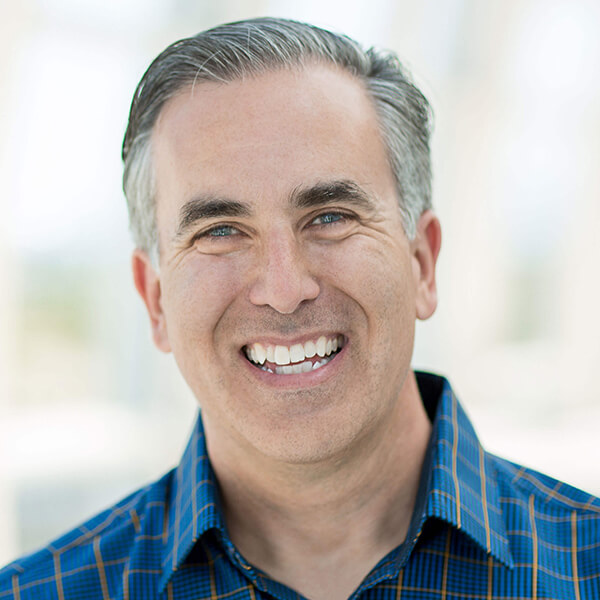 Curious about Web3, but don't know where to start or who to trust?

Introducing Web3 for Beginners, a course taught by Michael Stelzner, the founder of Social Media Examiner.

Learn the basics of Web3 and apply it to your business with this FREE comprehensive course.
CLICK HERE TO GET FREE ACCESS