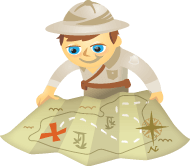 Is your business struggling to connect with other businesses on Facebook?
Need some ideas to spark your imagination?
In this article you'll discover nine ways B2B marketers can use Facebook to connect with customers.
Why Facebook for B2B?
LinkedIn is often the B2B platform of choice. However, there are plenty of opportunities to connect with potential customers on Facebook. I'm not suggesting you give up a platform that works for you, but rather consider expanding your marketing to include Facebook.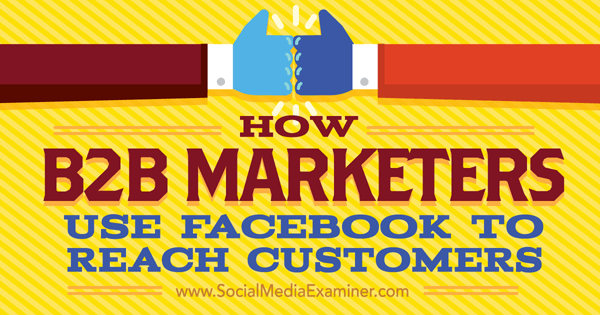 Today, people typically will check your company's social profiles before they do business with you. You don't know on which platform they'll look for you, so cover all of your bases. And be patient. Since organic reach is down, give Facebook some time to catch on with your customers.
Here are nine ways B2B companies are using Facebook successfully and how you can incorporate their tactics into your own social media marketing.
#1: Feature Your Company Culture
Facebook is an excellent way to give future employees and potential customers a sense of your business.
One way to do that is to highlight your employees on your Facebook page. When you share pictures of employees enjoying their work or happily spending downtime, it gives others a sense of your business. People like to work with friendly people, so if you have them, share them.
Also, give potential partners an idea of how you operate by enabling reviews on your page. Positive reviews are great for business. Even constructive criticism can provide helpful feedback. Just make sure to reply to all of your reviews.
Technology platform Sprinklr employs both of these tactics.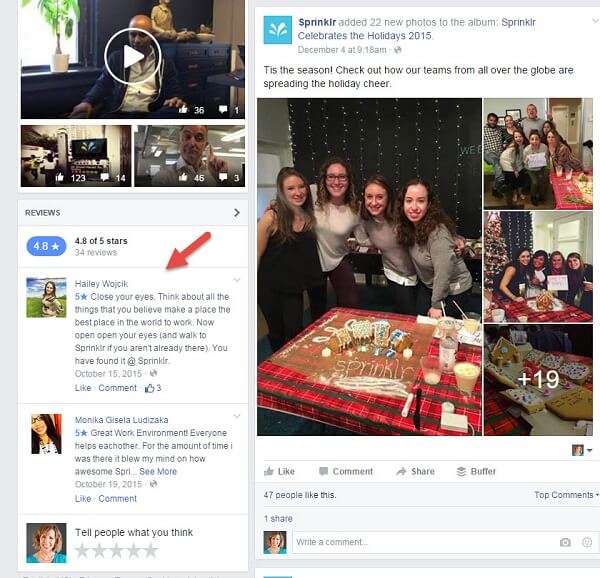 Think of different ways to use your Facebook page to highlight your company culture. For example, if you have multiple offices, do a rotating feature of employees of the week or month from different locations. If partners like your business, ask them to submit a review.
Your Facebook business page gives you opportunities to appeal to potential employees, so you attract the right talent. Plus, a well-reviewed business looks good to potential customers.
To enable reviews on your Facebook page, go to Page Info and set your category as some type of Local Business. Make sure you have a true physical address in your About section (it can't be a PO box).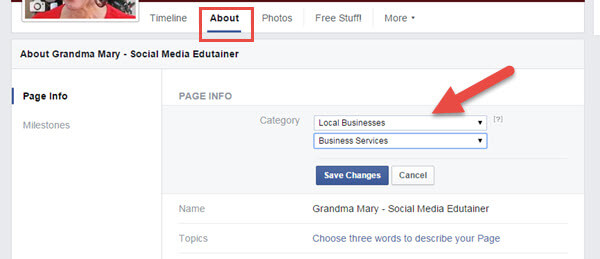 #2: Create Visuals People Want to Share
When you understand your audience, you can create content you know they'll want to share.
Asana, project management software for team collaboration, did a series of GIFs around Thanksgiving. They encouraged their fans to share the thank-you posts with teammates to thank them.
A sharable image doesn't need to be part of a big campaign. Create one–off images that are interesting, inspiring and appealing to your audience. Then, ask a question in your update that relates to the picture.
Post Planner took characteristics of creative people to design this text graphic and then asked the question, "Are you creative?"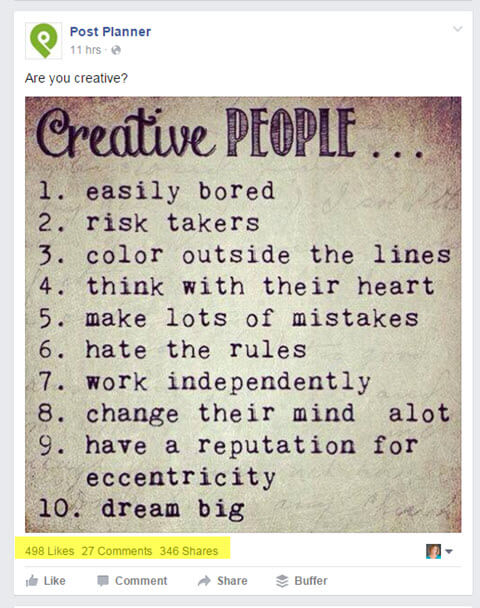 If you think about the types of graphics that appeal to you, it may give you an idea of what you can create to interest your audience.
While GIFs might take a little more work, just about anyone can create an engaging graphic using Canva, PicMonkey, Snagit or a dedicated graphics program like Photoshop.
#3: Connect Through Videos
In many cases small business owners are the best advocates for their business. You can speak directly to your Facebook fans through videos.
Jeanine Blackwell does training programs for business owners who want to create courses for their audience. She does casual videos to promote them on her Facebook page.
Although people typically think videos should be professional and are a huge undertaking, simple and direct frequently do the trick. Jeanine filmed this one in her car at the airport. There was nothing fancy about this video, and it got a ton of views.
Jeanine speaks to her audience directly in her videos and it's very effective.
Remember, if people comment on your videos (or any posts really), be sure to respond to solidify the connection.
If you're comfortable on-camera, give this tactic a shot. When you reach out to people personally, they'll be more inclined to do business with you.
#4: Stand Out With Branded Images
Quote graphics are very effective for marketing, so why not quote yourself in a branded image?
Mark Sanborn is a speaker who has written several books on becoming a better leader. He takes his own quotes and creates images with his branding to share on his Facebook business page.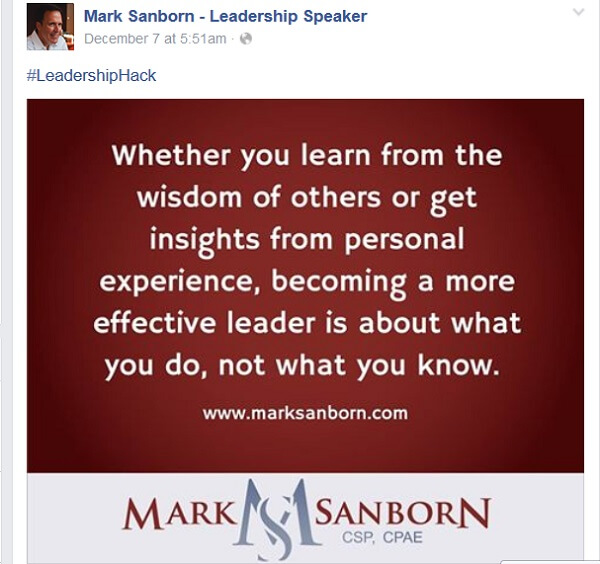 Depending on your niche, quoting yourself may or may not be appropriate. If you're an author or expert, sharing inspirational thoughts through quotes is definitely worth considering.
Make a list of quotes and decide which ones you want to share. This kind of content helps you brand yourself as a leader in your field.
#5: Drive People to Opt In
Think of Facebook as a database where you can find the perfect customers or clients, connect with them on a deeper level and get them on your email list.
To drive people to opt in, create a post that promotes a free webinar or ebook, which someone will receive when they join your email list. Then use audience targeting and Facebook ads to get people to see it and sign up.
The Beautiful Money page created a free financial webinar with a simple and direct benefit: "Time to End the Money Drama!"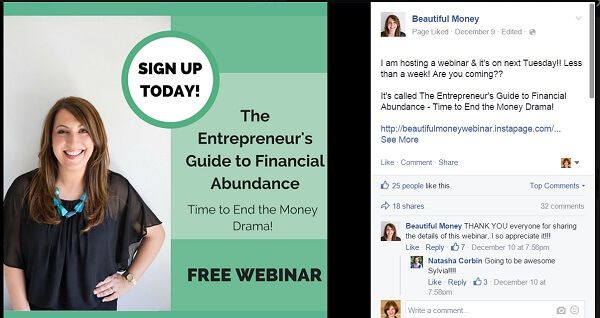 Facebook ads work best when there's an incentive for people to sign up. HubSpot and Marketo do an excellent job of getting signups in exchange for free content. Both companies offer different types of material (ebooks, webinars, cheat sheets), as well as a variety of topics (email marketing, social media marketing, advertising), which appeal to a wide range of their target market.
Come up with different types of free things you can offer your audience and create a post that promotes them.
#6: Create Facebook Events
If you host an event to bring together like-minded people in your community, create a Facebook event to help promote it through your page. Invite your friends, share the event in a post and maybe even promote it with Facebook ads.
ThinkLA is a non-profit that promotes Los Angeles as a hub for innovation in media, marketing and advertising. Their focus is on getting people to attend their events, and their audience knows to stay tuned for the next big event.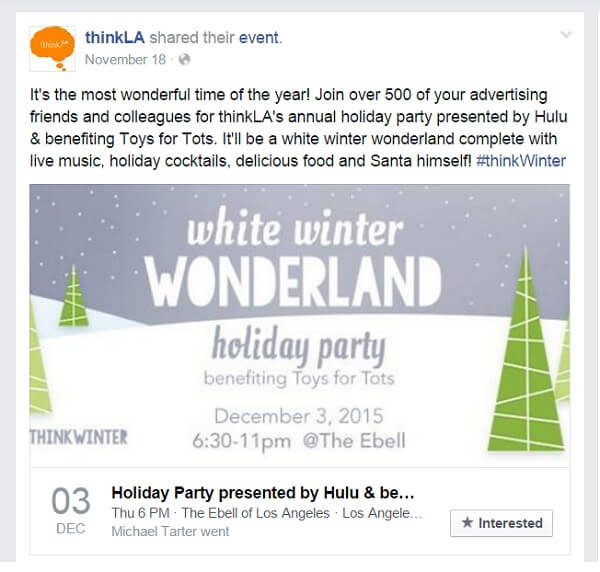 Whether your B2B event focus is continuing education, networking or product demos, create it as a Facebook event. It's an easy way to spread the word to your fans and followers.
This tactic works for virtual events like webinars and live streams too.
#7: Ask Questions
To encourage engagement, ask your audience interesting questions and they'll be compelled to respond.
The questions you ask can be directly or indirectly related to your field. For instance, the Institute for Integrative Nutrition, a health coach training program, asked their audience what they were reading. While the image used in the post showed health-related books, the question was broad enough to encourage a variety of answers.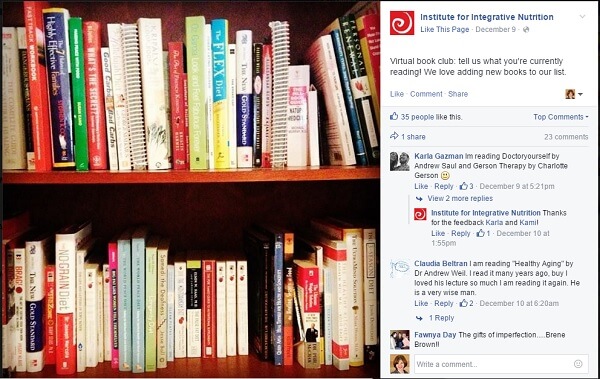 Think about what sorts of questions your audience will be excited to answer. Perhaps ask about their favorite tool or resource related to your business.
#8: Share Your Story
Embracing your audience means letting people know your backstory. Make use of #ThrowbackThursday or #FlashbackFriday and offer your audience an interesting nugget of information from your company's evolution.
Maersk Line is the world's largest shipping container company. By sharing a piece of their recent history, they added a narrative and made their company more human.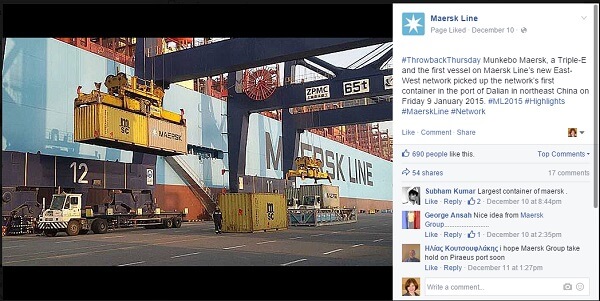 Social media is all about sharing. Find fun and interesting details about your company to share with your audience. They'll love it and feel more connected to your company in the process.
#9: Advertise on Facebook
To give your Facebook posts an advantage, consider investing in advertising. You can use targeting options to make sure potential customers see your posts.
Advertising is especially beneficial for small B2B companies. You're better able to reach the small business owners who need your product, and therefore get a good return on your Facebook ads investment. You can also advertise on Instagram through the Facebook Ads Manager.
Electronic Merchant Systems wanted more people to see their posts, so they advertised.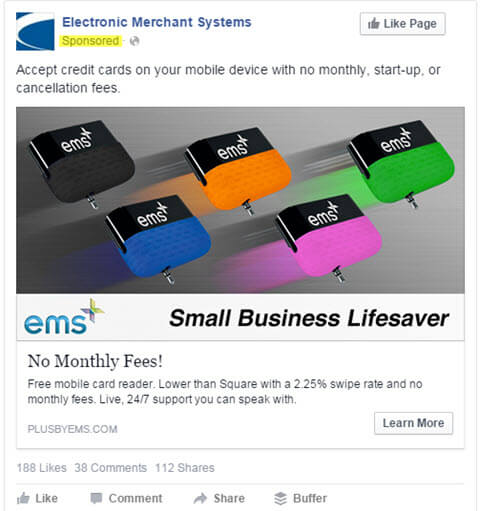 To better target your Facebook ads, you may also want to try remarketing to people who visited your website without making a purchase.
To get the most out of your ads, test your ad content to find out what performs best. Try different combinations of headlines, images and calls to action. Also run ads for different audiences to see what works best for your B2B business.
In Conclusion
If you're B2B, don't discount Facebook as a viable option for your social media marketing. You want to reach current and future customers and potential employees with your posts. Since a lot of people are on Facebook, there's a good chance they're already looking for you on the platform.
Try some of these techniques, set up tracking and then analyze the results to see what gets the best response from your fans and followers.
What do you think? Do you use Facebook as part of your B2B social media marketing? What types of posts get the best engagement? Please share your thoughts and experience in the comments.