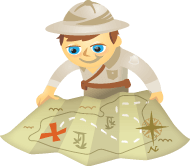 Do you manage your Facebook marketing on the go?
Are you looking for mobile apps to help you?
Facebook mobile apps make it easier than ever for marketers to manage their pages and respond to customers in real time from their mobile device.
In this article, you'll discover the key things marketers need to know about using Facebook mobile apps.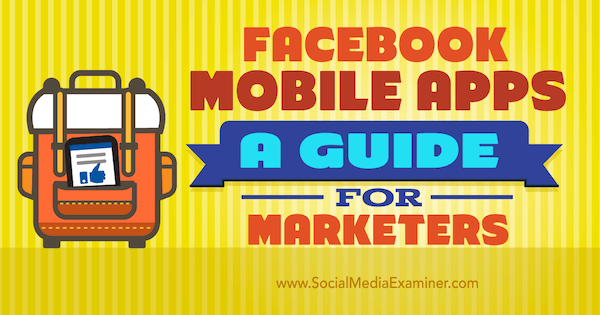 Listen to this article:
Where to subscribe: Apple Podcasts | Google Podcasts | Spotify | YouTube Music | YouTube | Amazon Music | RSS
#1: Manage Your Page With the Pages Manager App
Rather than use the native Facebook mobile app to manage your page, use Facebook's Pages Manager app. The app lets you manage up to 50 pages from your smartphone or tablet, and it's available for both iOS and Android.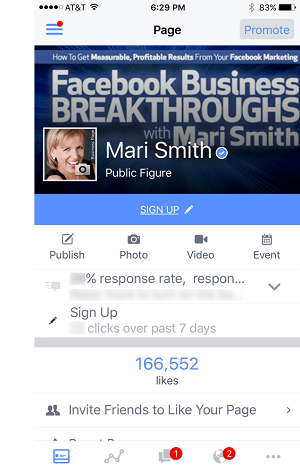 Manage Admins
Facebook lets you assign five different types of admins: Editor, Moderator, Analyst, Advertiser, or another Admin (full access).
To use the app to assign an admin role to someone, tap Page Settings and then Edit Page Roles.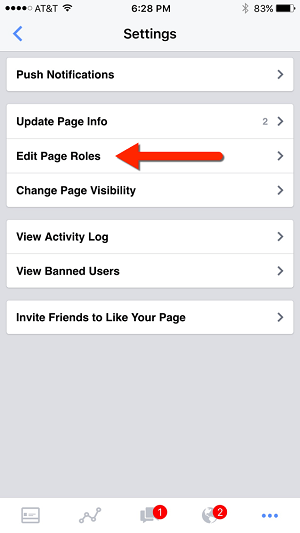 Next, tap Add Person to Page at the top of the screen and type in the person's name. Then select a page role for that person and tap Add.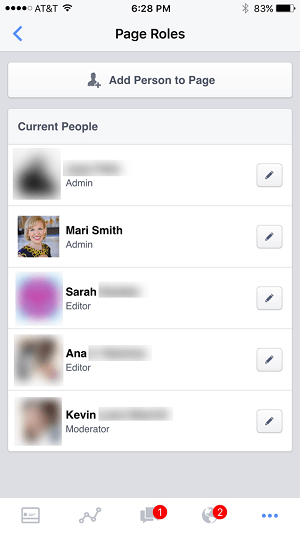 If you want to change someone's role, tap the pencil icon to the right of his or her name (as shown above). Then select a new role and tap Save to save your changes.
Create Posts, Schedule, or Save Drafts
Sometimes Facebook business users get confused about whether they're posting and commenting as themselves or their page. There is no confusion when using Pages Manager, because you need to sign directly into the app as your page. Even if you have your post attribution set to your profile by default, in Pages Manager, your default will be the page.
Similar to the regular Facebook mobile app, you can create and publish all types of posts: status update, photo, video, share a link, or create an event.
Plus, what many page admins might not realize when using the Pages Manager app is that you can schedule posts or save as a draft to come back and complete later. Just tap the three little dots in the lower right once you've created your post. These same features are available on desktop.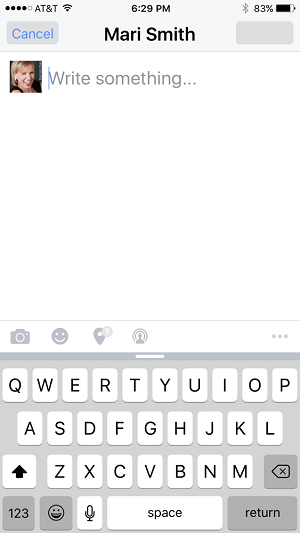 Add Comments and/or Private Message
One of the coolest new functions for Facebook pages in general is that you can respond to comments on your page, reply via direct message, or both. It used to be you had to wait for someone to direct message your page before you could reply via direct message. Now, you can message a user directly in response to a comment on your page.
The message will come through as your page, whether you send the message via the regular Facebook mobile app or the Pages Manager app.
This new feature is especially helpful for pages that receive comments of a particularly sensitive or negative nature at times. Being able to private message the person who made the comment can quickly defuse the situation and take it offline. I recommend also that you leave a comment so anyone viewing the comment thread can see you've clearly taken matters offline with a private discussion.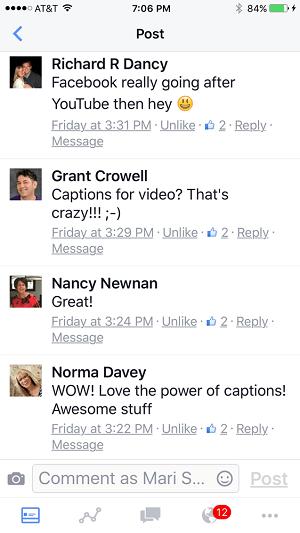 Reply to Messages
The ability to private message a page is optional. However, I strongly recommend that you have this feature enabled. Facebook wants Messenger for business to be the new 1-800 number. In fact, disabling the Message feature on your page is like publishing your phone number and then unplugging your phone.
Facebook is moving towards a more integrated ecommerce and customer service experience with Messenger for Business. The more prompt and thorough your responses to private messages, the more you'll be able to set your business apart from the competition. Facebook encourages page owners to respond to all messages as promptly as possible, usually within five minutes, which can certainly be a challenge for busy business owners.
To access your page messages through Pages Manager, tap the message icon at the bottom of the screen.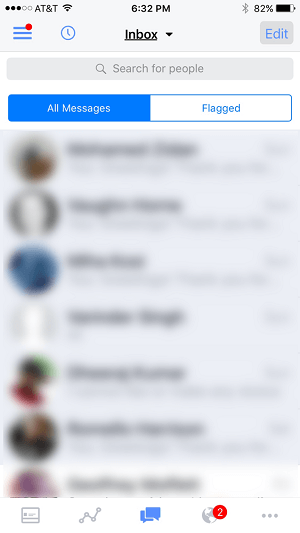 You can view and reply to private messages as your page. You can also access the Saved Replies feature, where you can select from templates you've previously written or create a new one. This helps save you time and effort, and saved replies are accessible by admins, editors, and moderators.
View Insights
Business owners and marketers are untethered in this day and age. To check your page stats on the fly with Pages Manager, tap the insights icon at the bottom of the screen.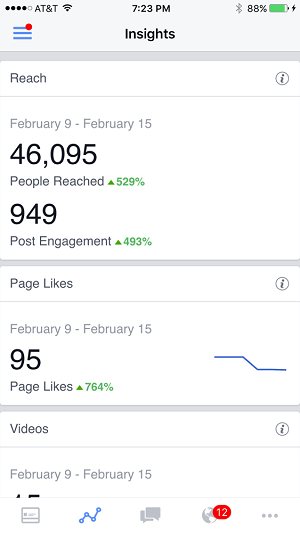 This handy dashboard lets you see five sets of stats at a glance for the past seven days:
Reach: The total number of people your posts reached
Engagement: Total likes, comments, and shares (Facebook also displays Reaction counts in Insights)
Page likes
Message response rate and average response time
Video views
In essence, your office is located wherever you have a mobile device. Take your stats with you, so you can review them wherever and whenever you'd like.
#2: Run and Manage Ad Campaigns With the Facebook Ads Manager App
You can create and manage ads from the regular Facebook mobile app. Just tap the More icon with the three horizontal lines in the lower right, and then select Ads Manager from the menu. From there, you can see and manage existing ads, or select Create Ad at the top. This functionality may be enough to meet the needs of many small business owners.
If you're working remotely, however, it's easier to use the Facebook Ads Manager app to launch, manage, and monitor ad campaigns on the fly. The app is available for both iOS and Android.
On the home page, you can see a list of all of the current and past ad campaigns for your Facebook page.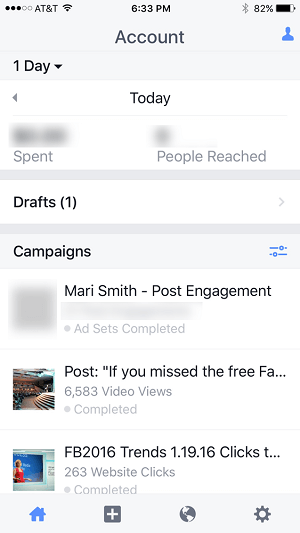 Create an Ad
To create an ad, tap the + icon at the bottom of the screen and then choose an objective.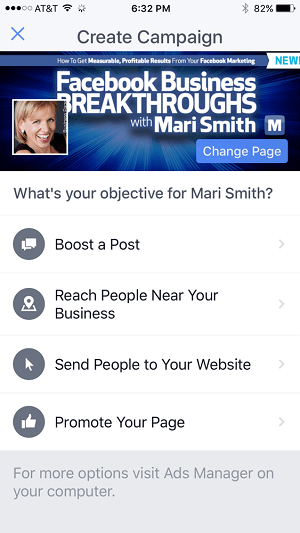 Facebook then walks you through the rest of the process to set up your ad. The steps are fairly straightforward and intuitive.
Edit Campaigns
You may wish to make minor edits to an ad campaign in progress. A quick tip on Facebook ads, though: The algorithms prefer fresh ads. So, if you have an active ad that is not performing the way you want, it's often best to create a new ad with some adjustments.
If you do wish to edit an ad, again the process is easy to follow. Start by selecting the campaign you want to edit.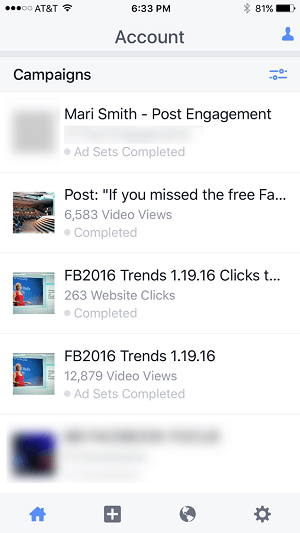 After selecting your campaign, tap Edit.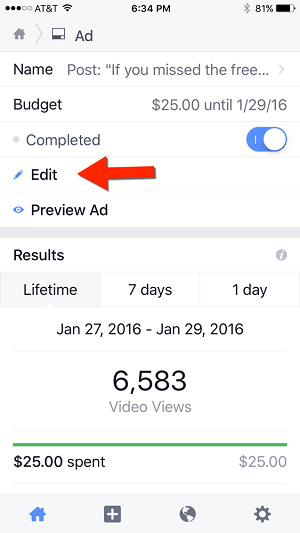 Now you can make changes to your campaign. Select the section that you want to edit. You can choose from Image, Text and Links, Audience, Budget and Schedule, and Placement.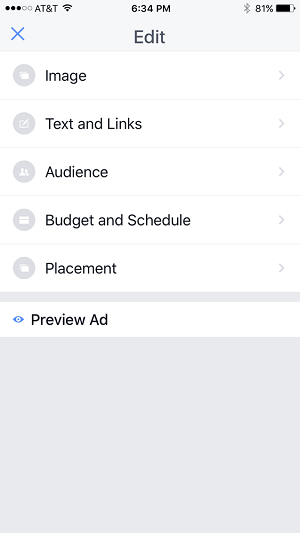 Note that you can preview the ad before saving your changes.
#3: Broadcast via Facebook Live
The Facebook Live feature is a mobile-only live-broadcasting platform, currently available (or in the process of being released) to all iOS and Android owners. If you're a public figure or verified page owner, you can also access Live through the Facebook Mentions app or Pages Manager app.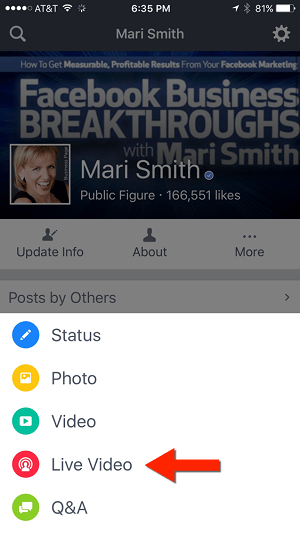 Facebook Live allows you to have "face-time" conversations in real time with your friends, fans, and followers. Once your live broadcast is complete, the video is posted on your wall like a regular native video. Live video is a great way to build a more intimate relationship with your audience. The stronger the connection to you and your business, the more loyal and engaged your following.
To broadcast on Facebook Live from your profile, click anywhere in the "What are you up to?" field.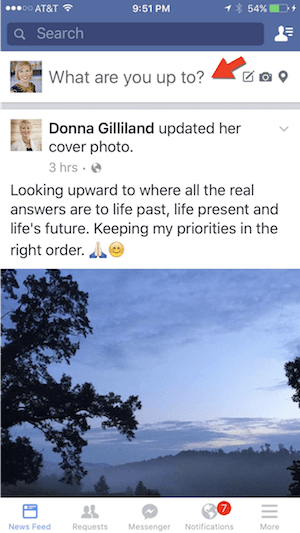 Next, tap Live Video.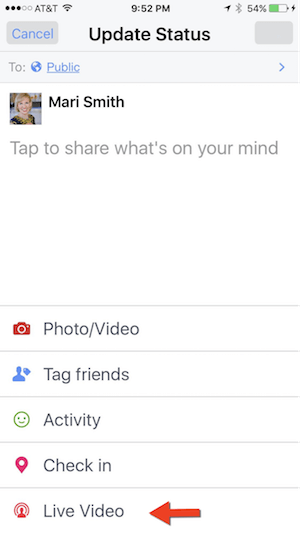 On the next screen, make sure you select Public for your audience, so you can later share the video to your company page. Also, give your live broadcast an engaging title to capture attention in notifications and in the news feed.
As Facebook continues to raise the importance of video, there's no better time to get involved. Even if you're doing other types of video or audio, add another dimension/layer by including Facebook Live video.
#4: Explore Other Facebook-Owned Mobile Apps
Facebook owns several other mobile-only properties, including WhatsApp and Instagram. Here's how those apps work and what they can do for your business.
WhatsApp
WhatsApp is a messaging app that allows you to exchange text messages for free. You don't have to pay for SMS because you send messages using your Internet data plan.
You can call anyone around the globe using the app, making it a great communication tool if you do business internationally.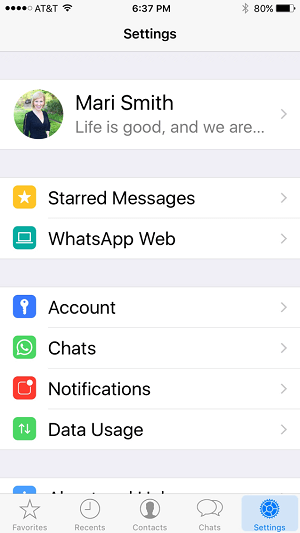 Mark Zuckerberg typically reveals monetization plans when an app or product reaches 1 billion users, a milestone WhatsApp reached in February 2016. Therefore, businesses would do well to keep a close eye on what's around the corner with WhatsApp (and Messenger) integration and advertising/marketing messaging. China's WeChat is light years ahead in this area.
Instagram
Instagram has 400 million users, and it's one of the largest mobile ad platforms.
If you want to create an Instagram ad, you have to do it through Facebook. You can do it through Facebook Ads Manager and Power Editor, and also use Facebook's ad targeting options.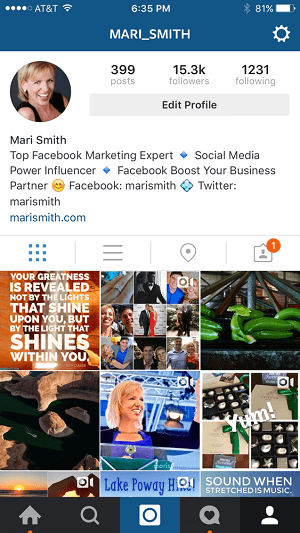 You can create square, portrait, or landscape ads, carousel ads, and 60-second video ads. If you want to sell on Instagram, there are a number of tools (like Soldsie) that can make it easier for people to purchase from you.
#5: Enhance Your Audience's Mobile Experience
According to the comScore Mobile Metrix Report, U.S. digital media consumption in mobile web browsers grew 53% from 2013 to 2015.
Since a large portion of your audience comes from mobile, it's important to make sure to market your business in a mobile-friendly way. Use clear, large images and videos where appropriate, and direct calls to action to grab and engage your readers.
Plus, make sure all landing pages from your campaigns are mobile-responsive. When people click from Facebook to your website, they want to be able to explore it in the most user-friendly way possible.
Both Facebook Canvas and Instant Articles are designed to load lightning-fast (10x faster) on mobile, without users leaving the Facebook app. Marketers will need to embrace these new, immersive ways of sharing content on Facebook to keep mobile users engaged.
Here are some other ways to capture the attention of your audience on mobile to get leads and sales.
Lead Ads
Use lead ads to get people to take action and click through on mobile. (These are also available via desktop.)
Lead ads make it easier for users to immediately connect with the business that's advertising. As a bonus tip, use ads reports to see which devices get the most response, so you can alter your campaigns in the future.
Buy Button and Shop Now CTA
Facebook's Buy button integration with Shopify makes it easy for users to purchase right from the news feed. Showcase your products on your Facebook business page, and direct customers to click the Buy button to check out without leaving Facebook.
The buying process is secure, and users can save their payment information for future purchases. This makes it easier than ever to shop on mobile.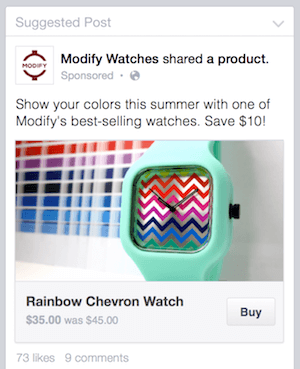 Another (similar) option is to create or change the call-to-action button on your Facebook business page header. Just click the Create Call to Action button in the header or select the arrow next to the current button to edit it, and choose Shop Now. Then send consumers to a mobile-optimized landing page where they can purchase your products or services.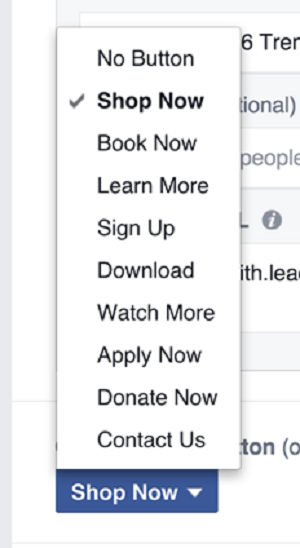 The easier you can make it to purchase through Facebook, the more likely people will buy from you.
Shop Section
Last fall, Facebook began testing the ability to add a full-featured retail shop to sell products right from your page on desktop or on mobile. Users can select items and check out right on the Facebook mobile app.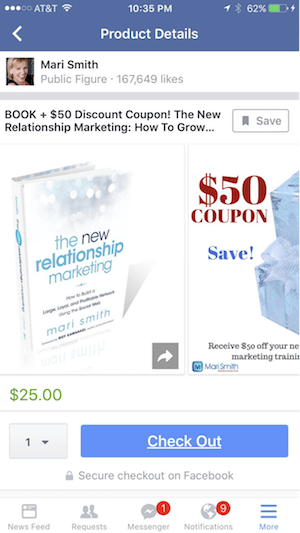 Or you can add a list of your professional services for prospects to purchase directly from your page.
These two new features are a big step in the direction of fully integrated "f-commerce."
Instant Articles
Facebook announced that on April 12 Instant Articles will be available to all publishers. These articles, which are already being used by select media companies, are multimedia interactive content loaded directly to Facebook.
The upside is that Instant Articles load 10x faster and keep users inside the Facebook app. The downside to Instant Articles is that they don't direct people to your website. However, their dynamic nature leads to increased visibility and engagement, possible subscribers, and potential sales.
In Conclusion
There's no question that mobile is big, and its importance to Facebook is constantly growing. Take a look at which mobile Facebook elements will make your marketing job easier and find ways to make the mobile experience better for your audience.
What do you think? Which Facebook mobile apps do you use? Do you optimize your content for mobile users? Please share your thoughts in the comments.