Want to use your company's Facebook page for more than just building awareness? Wondering how to turn your followers into actual customers?
In this article, you'll discover seven tricks to optimize your Facebook strategy to drive revenue across both organic and paid campaigns.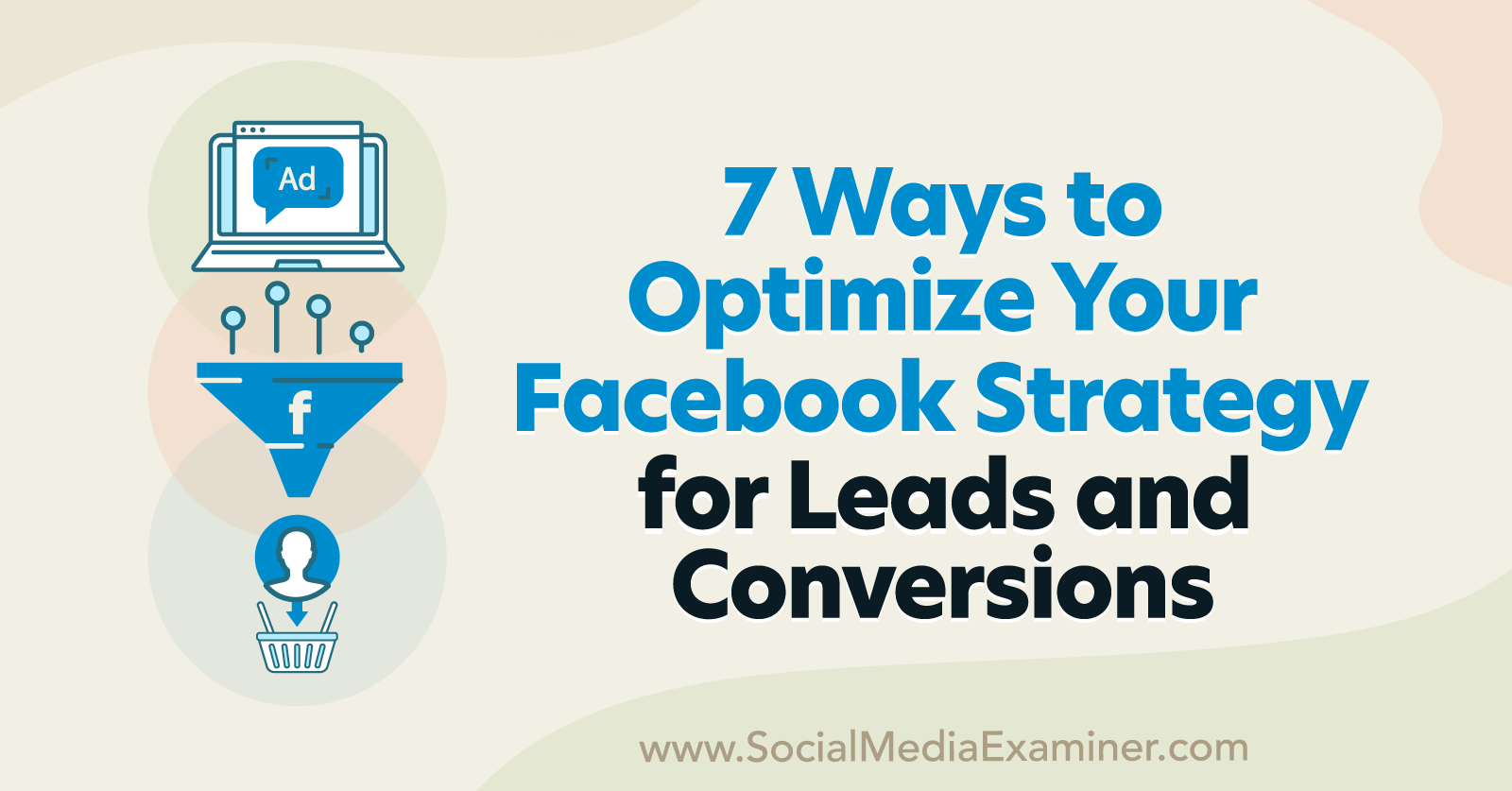 #1: Restrict Each Organic and Paid Post to 1 Goal and 1 Call to Action
Once you set up a Facebook page for your business, you can start publishing content and leveraging native tools to reach your goals. First, let's look at how to map out an organic Facebook strategy for leads and conversions.
Are you unsure what to publish on your Facebook page?
As you draft a content calendar, make sure each post has a clear purpose that aligns with your marketing objectives. For example, say you want to generate leads for a software-as-a-service product. Your Facebook posts might focus on:
Encouraging prospects to sign up for a free trial so they can test your product before you pitch a paid plan
Getting prospects to watch a video about your product so you can add them to your remarketing audience
Increasing email signups so you can market to potential customers via multiple channels
To increase the chance of reaching your goals, always add a compelling call to action (CTA) that prompts your audience to take the next step. If you don't map out a clear course of action for your followers, you may struggle to get the results you want—no matter how great your video looks or how catchy your copy sounds.
So how do you write effective CTAs? They can be as straightforward as saying "Click here to sign up" or "Watch now," as in the example below from Cisco Certifications. Test both simple and complex CTAs with various action verbs to see what resonates best with your audience.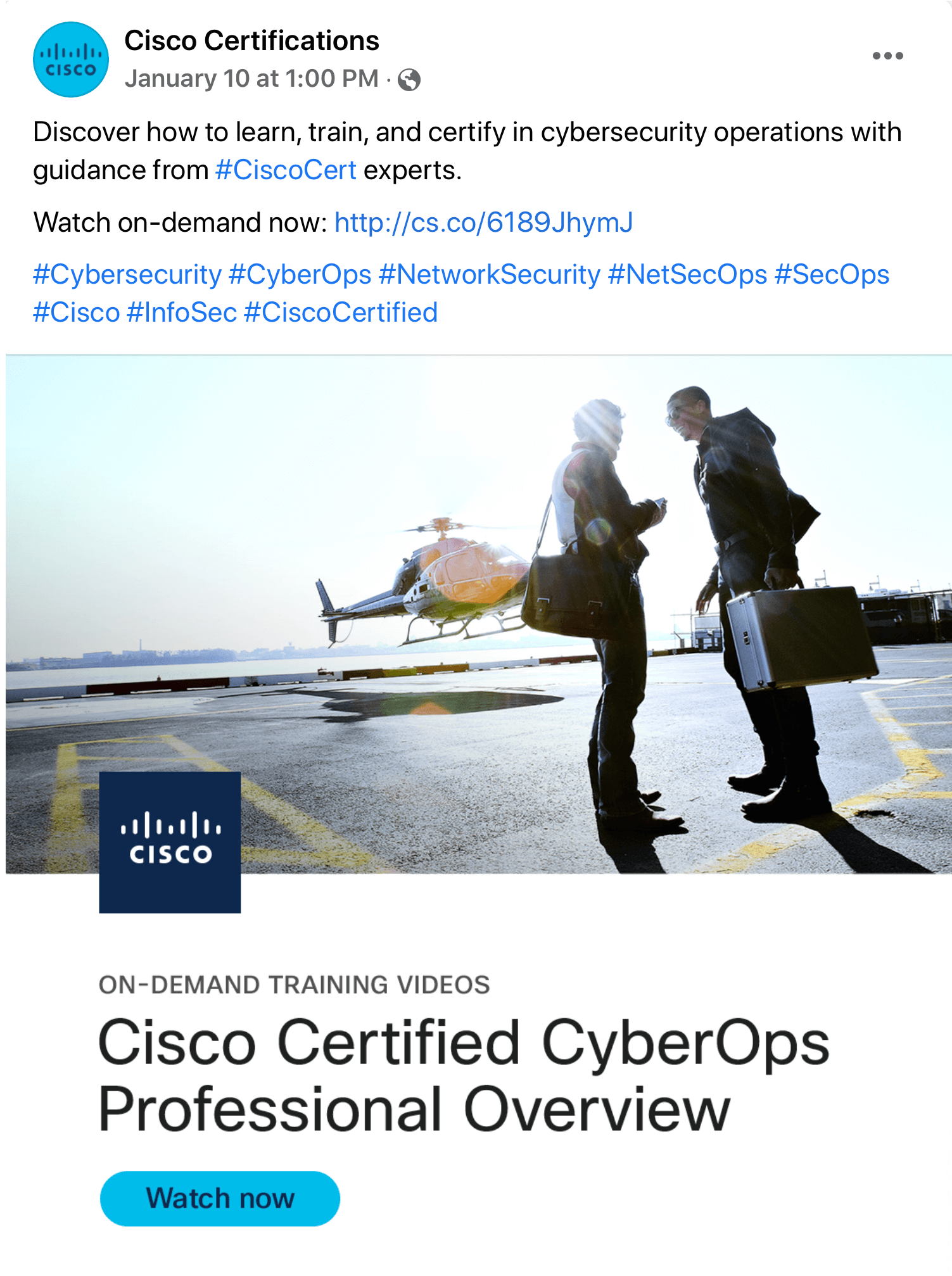 Include Shares to Lead Generating Landing Pages in Your Content Calendar
Some of the posts on your content calendar may focus on increasing brand awareness or educating potential customers. But when you want to generate leads and conversions, upper-funnel content like blog posts and introductory videos won't be convincing enough to get the job done.
Instead, publishing lead magnets tends to be much more effective for lead generation. When you share this type of gated content on Facebook, you offer something of value in exchange for prospects' email addresses, which you can use to nurture leads.
What does a high-value lead magnet look like? It depends on what your business offers and what your audience needs. Successful lead magnets could be:
White papers packed with data and research that prospects can't get anywhere else
Complete guides to a process or system, complete with helpful resources and case studies
Webinars that walk prospects through complex problems and let them ask questions
#2: Put Your Products on Facebook via Facebook Shops
If your business sells products online, then you can do more than just share eCommerce links on Facebook. You can drive additional conversions with Facebook Shops, the platform's native Commerce tool.
To get started with Facebook Shops, open Facebook Commerce Manager and click the Add Shop button. Choose your Facebook page, create or add a catalog, and select a checkout method including seamless checkouts on Facebook. Then add products to your shop by entering inventory manually or syncing an eCommerce platform like Shopify or BigCommerce.
Now you can showcase your Facebook shop on your page by adding a View Shop CTA button or a Shop tab. Both the tab and the button take customers to your Facebook shop, where they can browse your product catalog.
If you've set up Facebook checkouts, customers can purchase without leaving the app. If you've integrated a website checkout, customers can click to go right to the product page on your eCommerce site.
Get Your FREE Course: Web3 for Beginners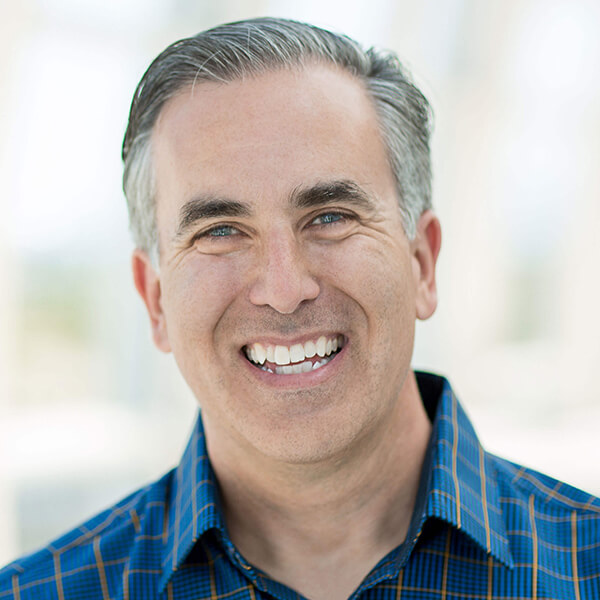 Curious about Web3, but don't know where to start or who to trust?

Introducing Web3 for Beginners, a course taught by Michael Stelzner, the founder of Social Media Examiner.

Learn the basics of Web3 and apply it to your business with this FREE comprehensive course.
CLICK HERE TO GET FREE ACCESS
For example, the Beyond Yoga Facebook shop pictured below features dozens of products organized into collections like New Arrivals and Stock Up & Save. Customers can click on individual products to see specs and sizes, and then they can click through to complete a purchase on the yoga apparel brand's website.

Although customers may seek out your company's Facebook shop while visiting your page, you don't necessarily have to wait for that to happen. Instead, you can tag products in your organic Facebook posts. Tap the Click to Tag Products button on any published post and make your content shoppable.
For example, this HoneyTrek post features two shoppable products, which stand out thanks to the interactive tag. Followers can tap to see the books in the travel writers' Facebook shop and then click through to complete their purchase on the Amazon site.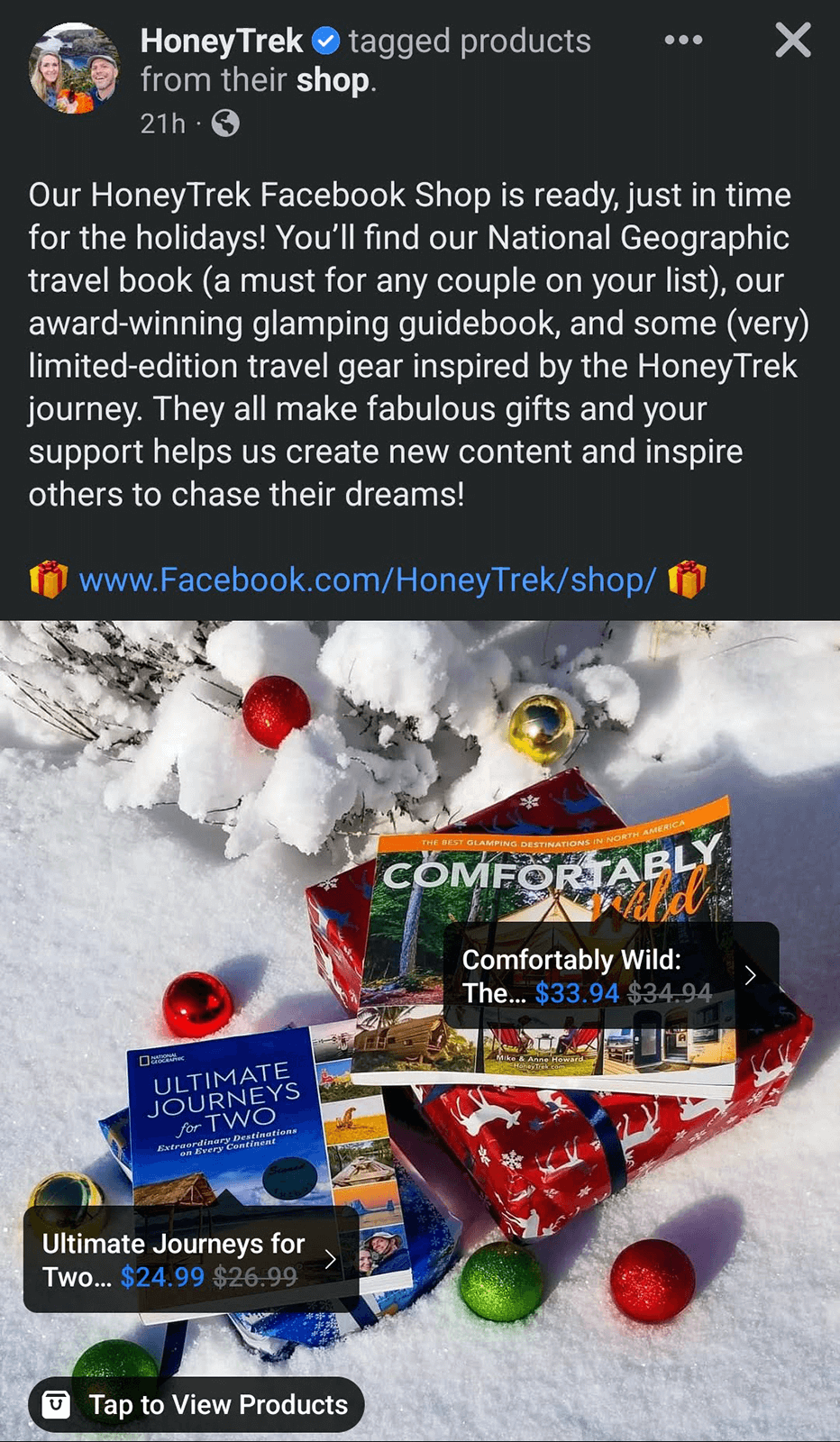 #3: Build Remarketing Audiences to Target With Facebook Ads
No matter your campaign goal, Facebook offers several options for remarketing to people who have already expressed interest in your business. To build an audience, open Facebook Ads Manager and navigate to your Audiences library. Click the blue Create Audience button and select Custom Audience. Then choose the data source you'd like to use.
Facebook Page Remarketing Audience
If you have a relatively large audience or if your Facebook page tends to get a lot of engagement, consider retargeting people who have interacted with your page. To increase your conversion rate, aim for people who have shown a higher level of interest such as those who messaged your page or watched a video.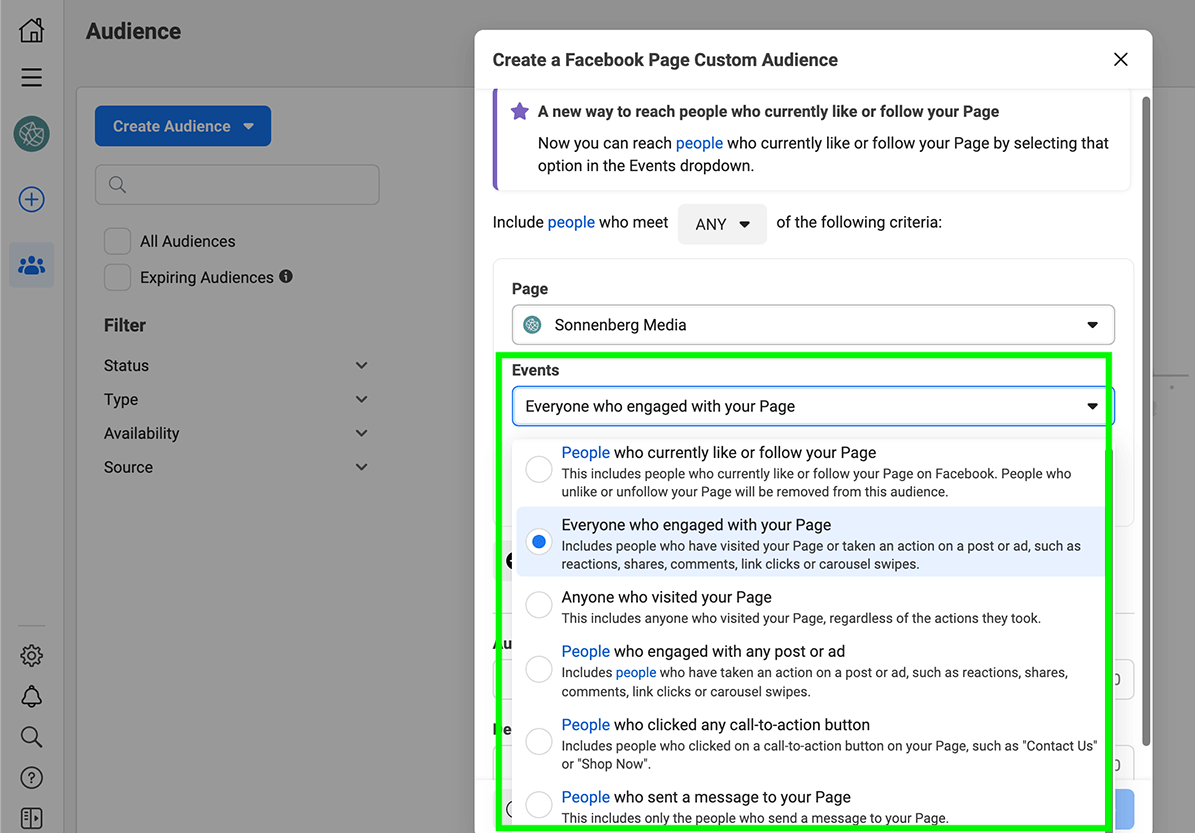 Shopping Remarketing Audience
Does your business have a Facebook shop? You can retarget people who interacted with it in a variety of ways, including:
Viewing products or collections
Saving products to Facebook
Adding products to a shopping cart
Initiating checkout on Facebook
Clicking through to view products on your website
You can also target people who have already purchased from your Facebook shop. Because retaining customers tends to be much more cost-effective than finding new customers, this approach may help you reach your goals at a more affordable price.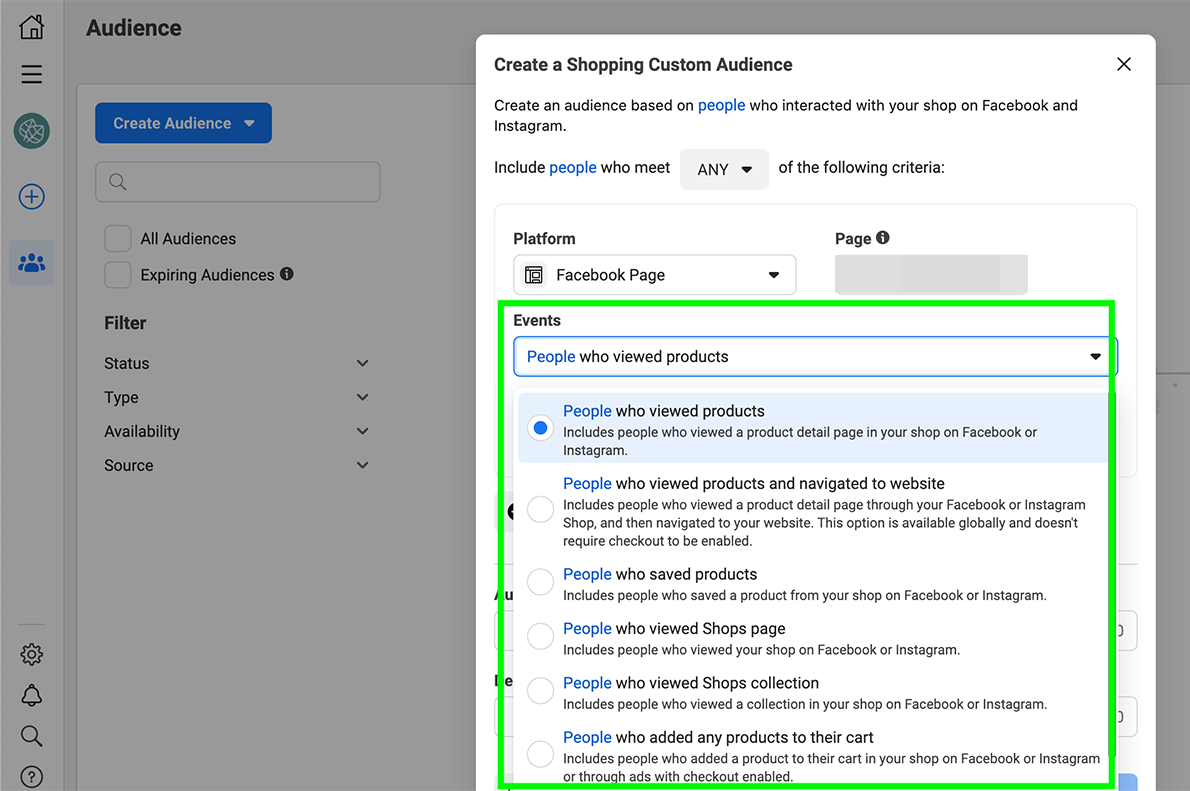 Website Remarketing Audience
Have you installed the Facebook pixel on your website? You can use pixel data to retarget people who have visited certain web pages such as blog posts or lead magnets related to the offer in your ad.
If you've prioritized conversions in Facebook Events Manager, you can use these events to build your remarketing audience. For example, you can retarget people who already completed the Lead event, guiding them closer to a conversion.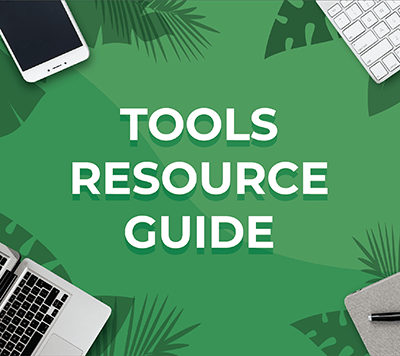 Looking for something to make your life easier?
Discover the tools we recommend to drive engagement, save you time, and boost sales across your entire marketing funnel or business.
Whether you need help planning content, organizing social posts, or developing your strategy, you'll find something for every situation.
FIND YOUR NEXT FAVORITE TOOL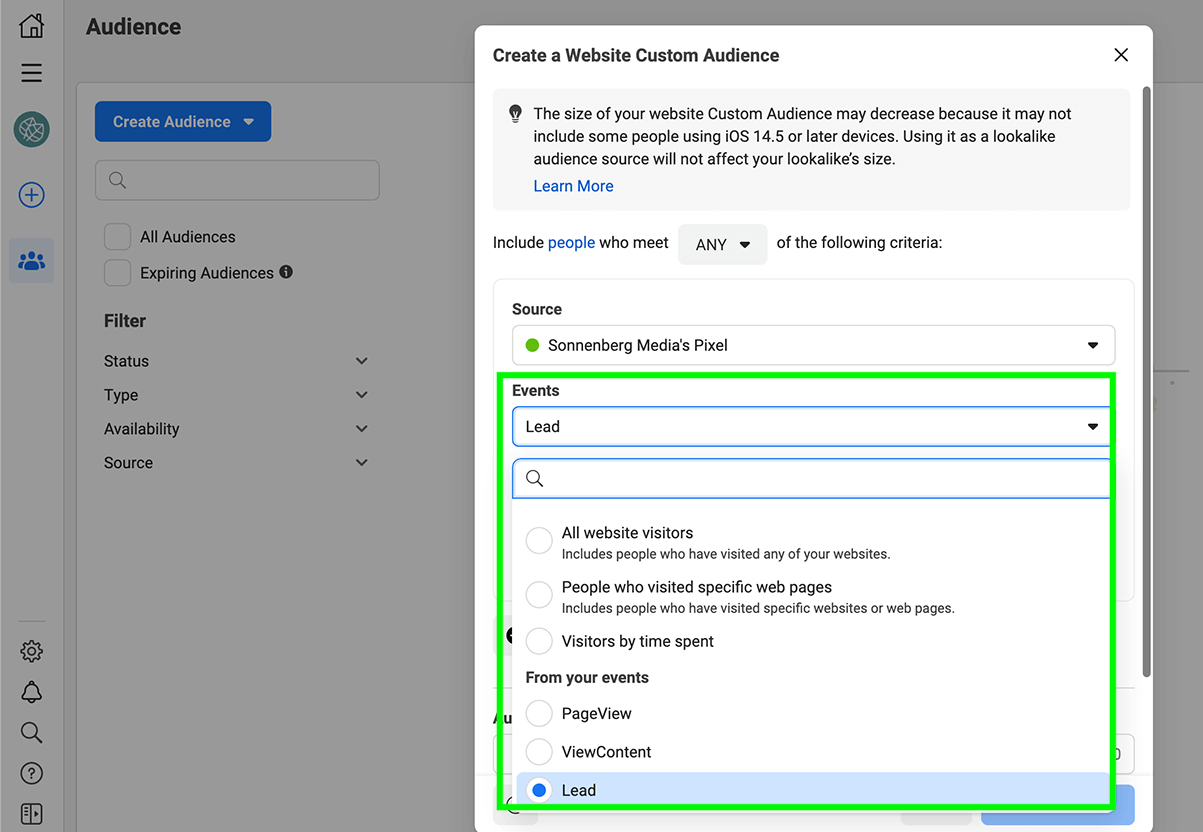 Ad Remarketing Audience
Have you already tested Facebook advertising campaigns? You can retarget people who engaged with certain ad types, allowing you to lead prospects further through the ad funnel. For example, you can remarket to people who opened a lead form or instant experience (see below) even if they haven't converted yet.
#4: Identify and Promote Top-Converting Landing Pages
A regular Facebook publishing schedule is essential for getting organic conversions. But if you post a variety of lead magnets, eCommerce links, and other high-value content, it isn't easy to know what's driving leads and sales. You can use Facebook Insights to track clicks but this data can't tell you whether those clicks led to conversions.
Instead, you need a web analytics tool like Google Analytics. With Google Analytics, you can monitor user behavior from Facebook traffic and track conversions throughout your site.
You can start by setting up custom goals to track contact form submissions, webinar registrations, and lead magnet downloads in Google Analytics. If your company offers eCommerce, then you can also track revenue and conversion rates by switching on the eCommerce options in the admin panel.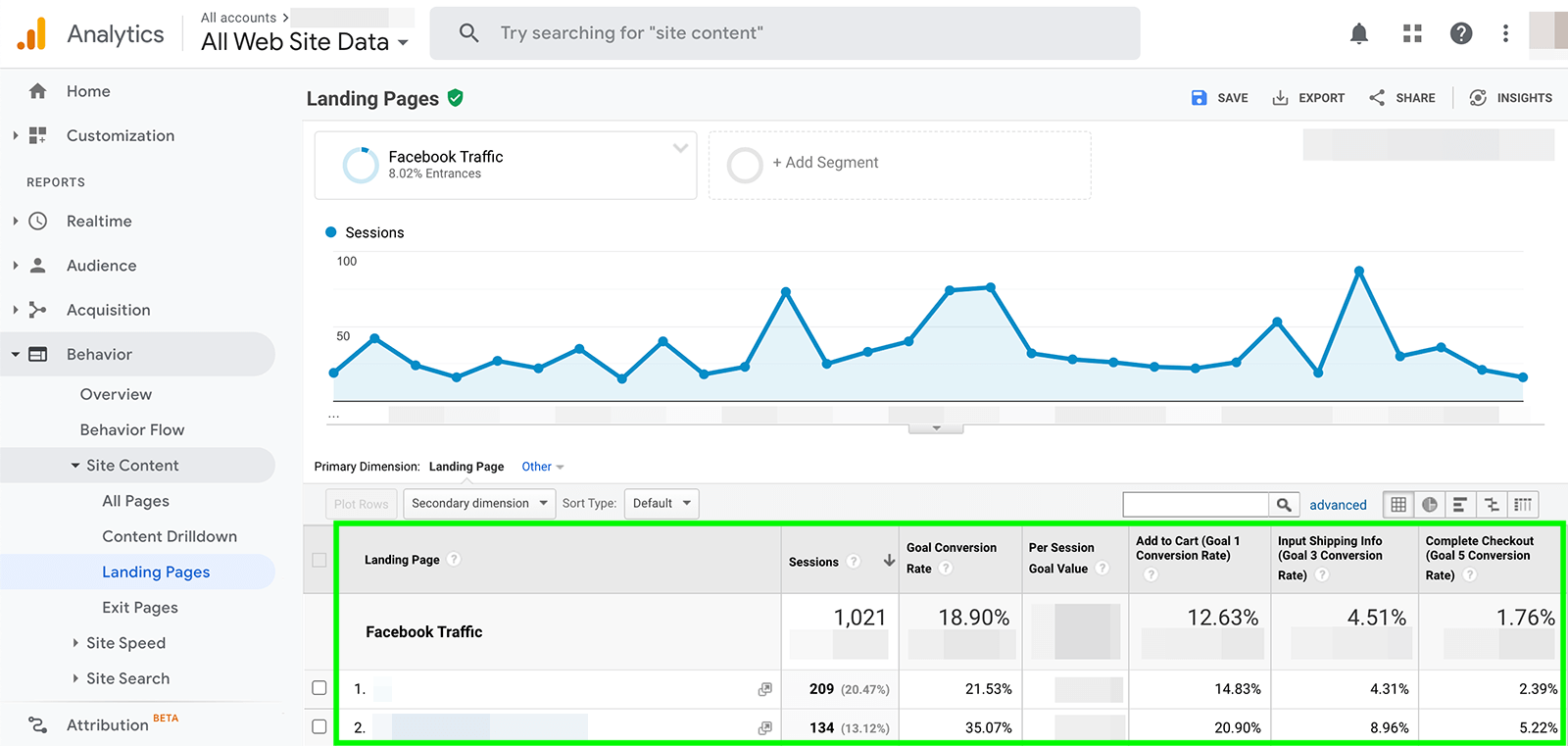 Next, create a segment to filter Facebook traffic. When you click the Landing Pages or Reverse Goal Path view for a key goal, you can see which lead magnets, blog posts, or other landing pages have driven the most conversions. Then you can use these insights to guide your Facebook calendar and publish more effective lead generation content.
Depending on your company's marketing goals, an organic strategy may be all you need to generate enough leads and conversions. But if your goals are more ambitious or if your page's audience is too small, then supplementing with a paid strategy may be essential. Let's look at some of the most effective tactics for getting leads and sales with Facebook ads.
Launch Conversion Ads
Whether you use Facebook Ads' conversion objective to generate leads or drive sales on your website, it's critical to set up conversion tracking. That way, you can get an accurate conversion count and effectively optimize ad delivery.
To set up conversion tracking, open Events Manager and locate your pixel. On the Aggregated Event Measurement tab, add web events one by one. At the top of the list, add your highest-priority events such as purchases, leads, subscriptions, or trials. Further down on the list, add lower-priority events like contacts or page views.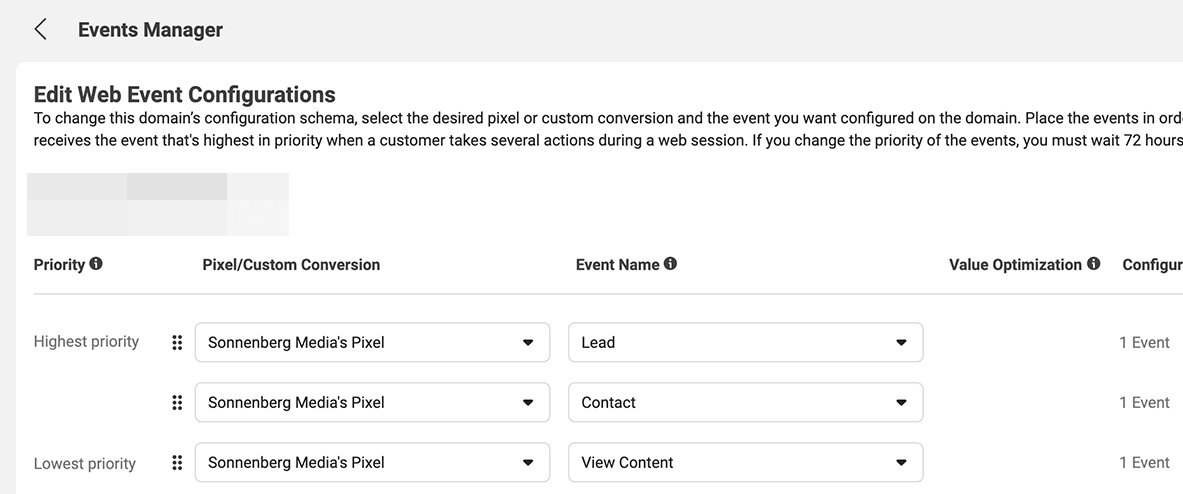 When you create a new ad set using the conversion objective, you can optimize delivery based on the web events you've configured. That means you can run ads targeting leads, trials, subscriptions, purchases, or any other conversion events you've prioritized.
#5: Run Facebook Lead Gen Ads
If you want to add more prospects to your sales funnel, Facebook Ads' lead generation objective is a smart choice. Using this objective, you can get people to message your business via automated chat or submit an instant form, as in the example below from Pantheon. That way, you can learn more about their needs and nudge them toward a conversion.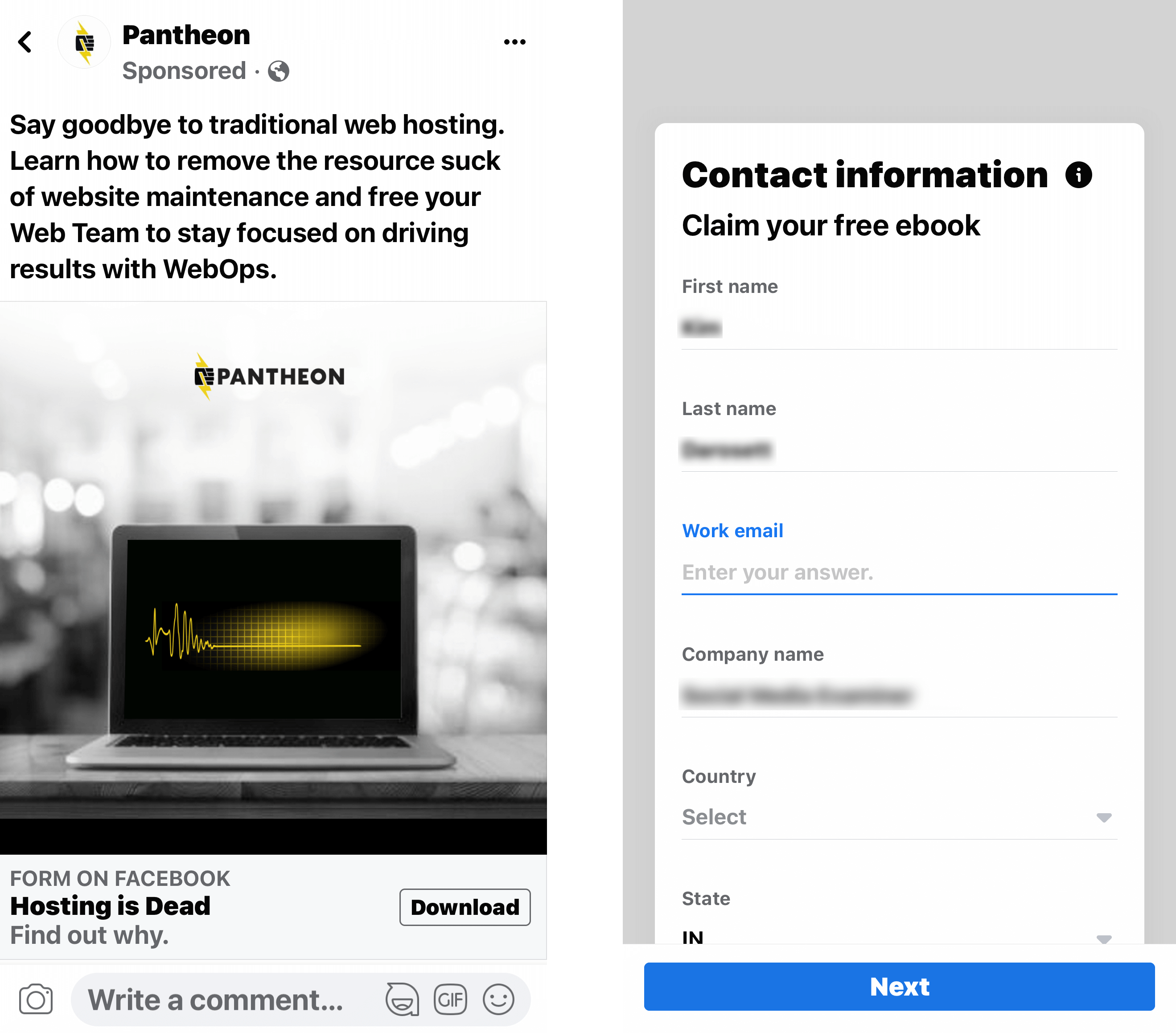 Although the lead generation objective is great for getting leads with native Facebook tools, it isn't the only paid option for connecting with prospects. You can also use Facebook Ads' conversion objective to direct people to your website, where they can access your gated content in exchange for their contact details. To use this objective successfully, be sure to offer a high-value lead magnet.
#6: Optimize Results With Dynamic Formats and Creative
The more Facebook ads you run, the more you can learn about what drives the best results for your business. But even if you have a relatively niche audience, the same creative, copy, and placement won't necessarily appeal to all of your prospects.
If you want to optimize your lead and conversion ads across your audience, use Facebook Ads' dynamic formats and creative option. When you switch it on, Facebook automatically determines the best combination of ad format, destination, creatives, and descriptions for each user so you can get maximum results.
To use this option, create a campaign with the lead generation, conversions, or catalog sales objective. At the ad level, toggle on Dynamic Formats and Creative and add multiple options for both copy and creative.
For example, this ClearClub Facebook ad uses the carousel ad format to display multiple products. Each item in the carousel has an optimized headline and description to capture attention and get conversions.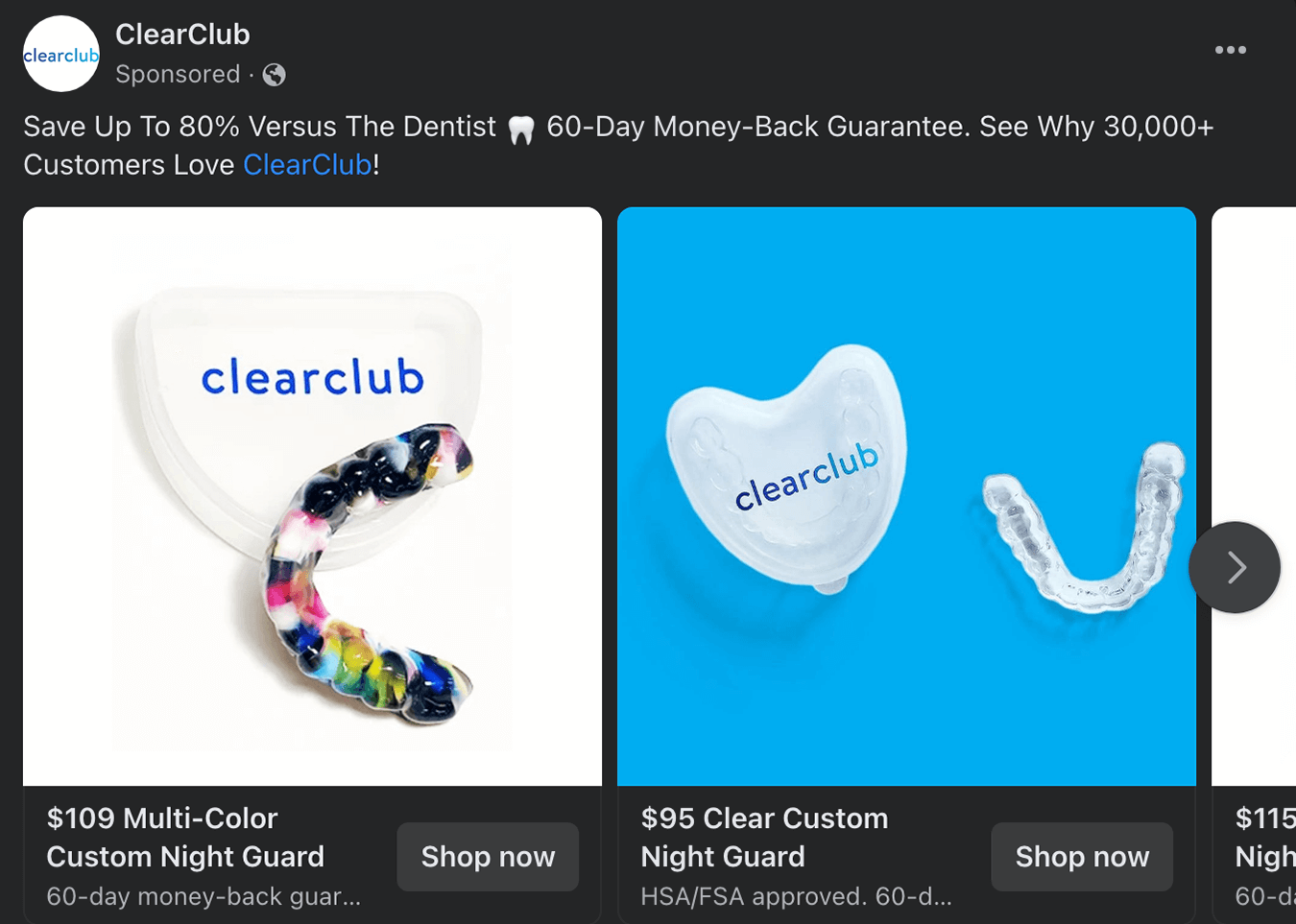 #7: Develop Interactive Instant Experiences
When you launch lead or conversion campaigns on Facebook, choosing the right audience, objective, and optimization event can have a major impact on your ads' success. But it's just as important to use an eye-catching creative that stands out from the rest of the news feed.
With the collection format, you get extra space—a hero image or video plus three thumbnail images—to capture attention in the news feed. When your audience taps on your collection ad, a full-screen instant experience loads instantly, making it easier for prospects to convert on mobile devices.
To design an instant experience, choose an objective like conversions or catalog sales and then select the collection format at the ad level. You can use one of Facebook Ads' storefront or customer acquisition templates to create an instant experience quickly or you can design your own to fit your brand perfectly.
For example, the reMarkable Facebook ad below features a collection ad with multiple images of the brand's note-taking tablet. The ad's instant experience shows how the brand can help prospects get organized and includes a button that customers can tap to make a purchase.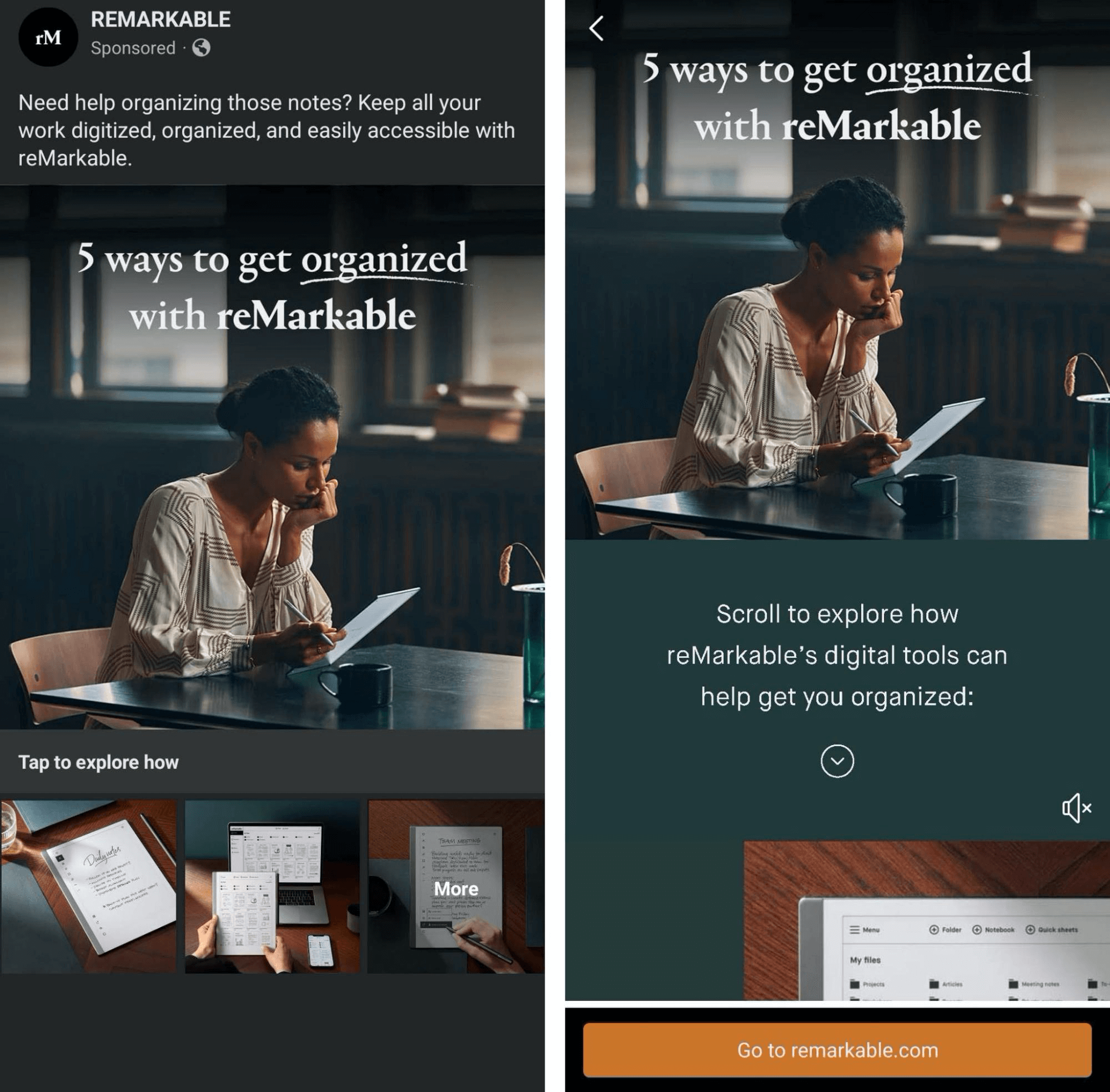 Conclusion
Whether you need to generate leads or drive sales, Facebook offers plenty of options for finding and converting customers. From organic publishing to paid campaigns, you can create a Facebook marketing strategy that successfully meets your lead and conversion goals.
Get More Advice on Facebook Ads
---
Stay Up-to-Date: Get New Marketing Articles Delivered to You!
Don't miss out on upcoming social media marketing insights and strategies! Sign up to receive notifications when we publish new articles on Social Media Examiner. Our expertly crafted content will help you stay ahead of the curve and drive results for your business. Click the link below to sign up now and receive our annual report!
Get Your FREE Course: Web3 for Beginners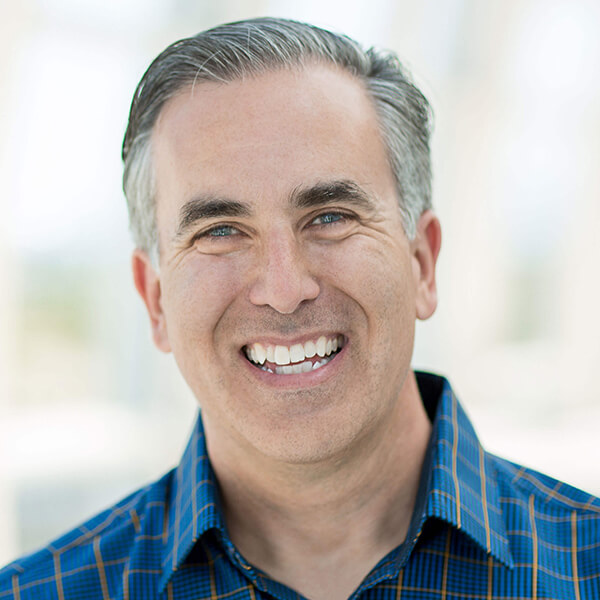 Curious about Web3, but don't know where to start or who to trust?

Introducing Web3 for Beginners, a course taught by Michael Stelzner, the founder of Social Media Examiner.

Learn the basics of Web3 and apply it to your business with this FREE comprehensive course.
CLICK HERE TO GET FREE ACCESS