Curious about buying and selling goods in the metaverse? Wondering if you'll need virtual land to do business in the future?
In this article, you'll learn what the convergence of the physical world and virtual worlds means for business and commerce moving forward.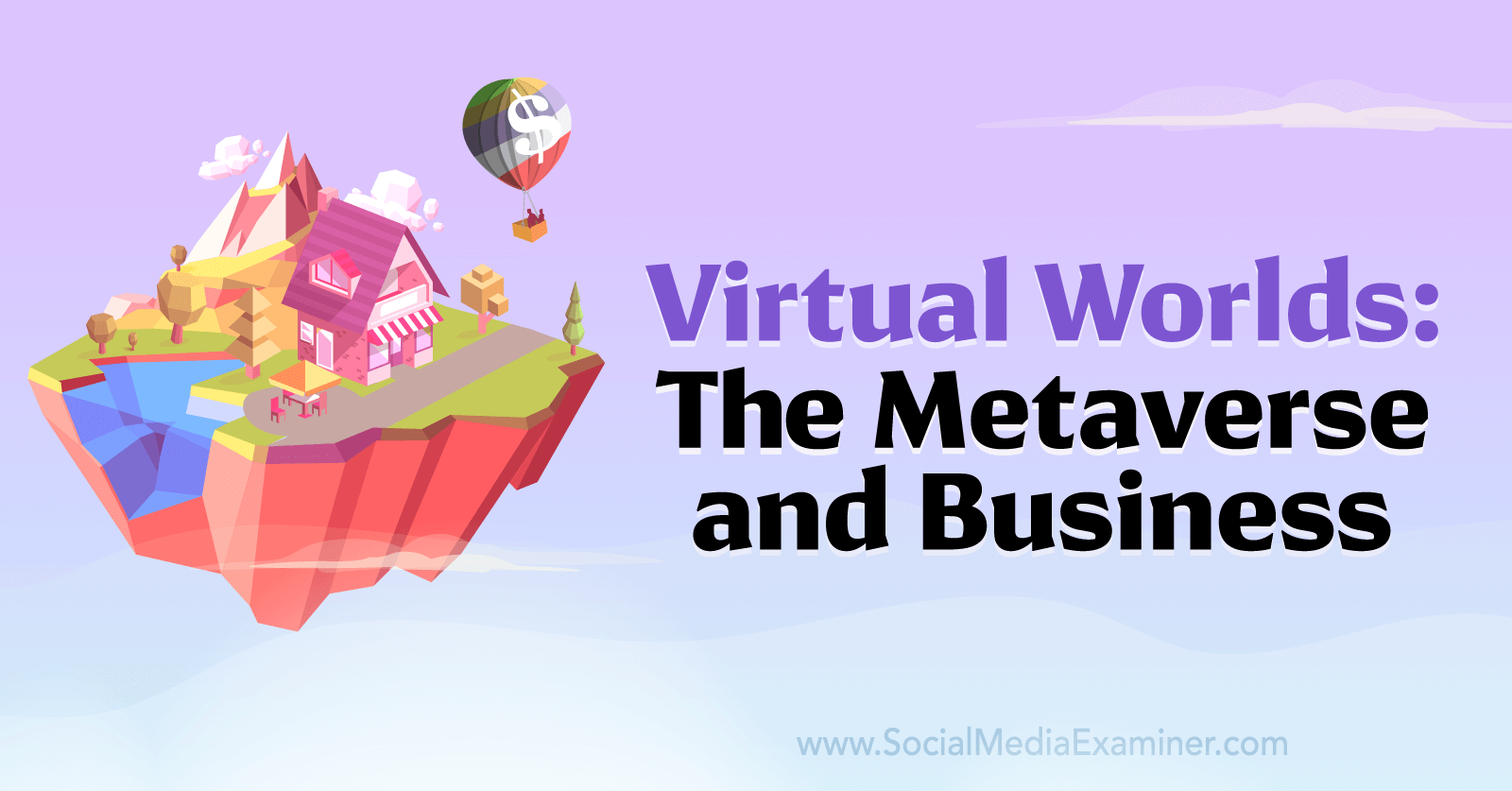 Virtual Worlds: The Metaverse and Business
Curious about buying and selling goods in the metaverse? Wondering if you'll need virtual land to do business in the future?
In this article, you'll learn what the convergence of the physical world and a virtual world means for business and commerce moving forward.
The Metaverse: What Is It and Why Should Businesses Pay Attention Today?
To understand why marketers and businesses need to understand and pay attention to the metaverse, you have to take a step back from the hype surrounding it. You have to understand what it isn't and what it is.
The metaverse isn't virtual worlds, virtual reality, augmented reality, NFTs, the blockchain, or Web3. It's enabled by and combines these technologies into what's becoming the next successor state to the mobile internet.
Web1 connected information and gave us the internet.
Web2 connected people and gave us social media, the sharing economy, and eCommerce.
As Web3 evolves, it's connecting people, places (spaces), and things (assets), and giving us decentralization.
If your business and marketing were impacted by the first and second iterations of the world wide web, they'll be impacted as the metaverse converges with Web3 technologies. This will define how we experience places and things by bridging the physical world with virtual worlds.
If this seems like something too far in the future to worry about today, remember that innovation often happens at breakneck speed. Now is the time to pay attention.
#1: Your Business and Virtual Land in a Metaverse
If you're able to envision a future where marketers and businesses will engage audiences beyond social media and websites, the idea of engaging those audiences in a metaverse is easy to imagine even if the how is less clear to you.
In Web2, infinite domains are for sale but there's only one nhl.com or pepsi.com. Just as there's value in owning the domain for your business, owning virtual land in the right metaverse could allow you to engage better with customers in the future.
Should your business be buying metaverse land today? If so, which metaverse is right for you? The answer to both questions is: it depends. If many of your customers are interested in a certain NFT project—say Bored Ape Yacht Club—it could behoove you to own land and work with a third-party developer (like Journey) to build a branded space for you in that project's metaverse.
If you do plan on building in a metaverse, where you choose to build matters. If your audience skews younger, consider Roblox. If your audience skews a bit older, consider Fortnite Creative. If yours is an alcohol-based business, consider Decentraland where you can age gate your experience.
A common question from businesses is whether they can build something in Roblox and pour it into The Sandbox or Decentraland. The answer is not yet. While the spaces in The Sandbox have a cubist aesthetic, the spaces in Decentraland have a Web2.5 feel. The missing component is interoperability that will allow one aesthetic to transfer over to another.
Metaverse Worlds to Consider and Watch
Decentraland
Fortnite Creative
Roblox
Upland
Somnium Space
Super World
The Sandbox
Experience a Metaverse: Decentraland
Decentraland can be entered via computer and doesn't require a system built for gaming, although it renders more beautifully if your system has a good graphics card. You can sign in as a guest for a limited experience or you can connect your digital wallet for a full experience.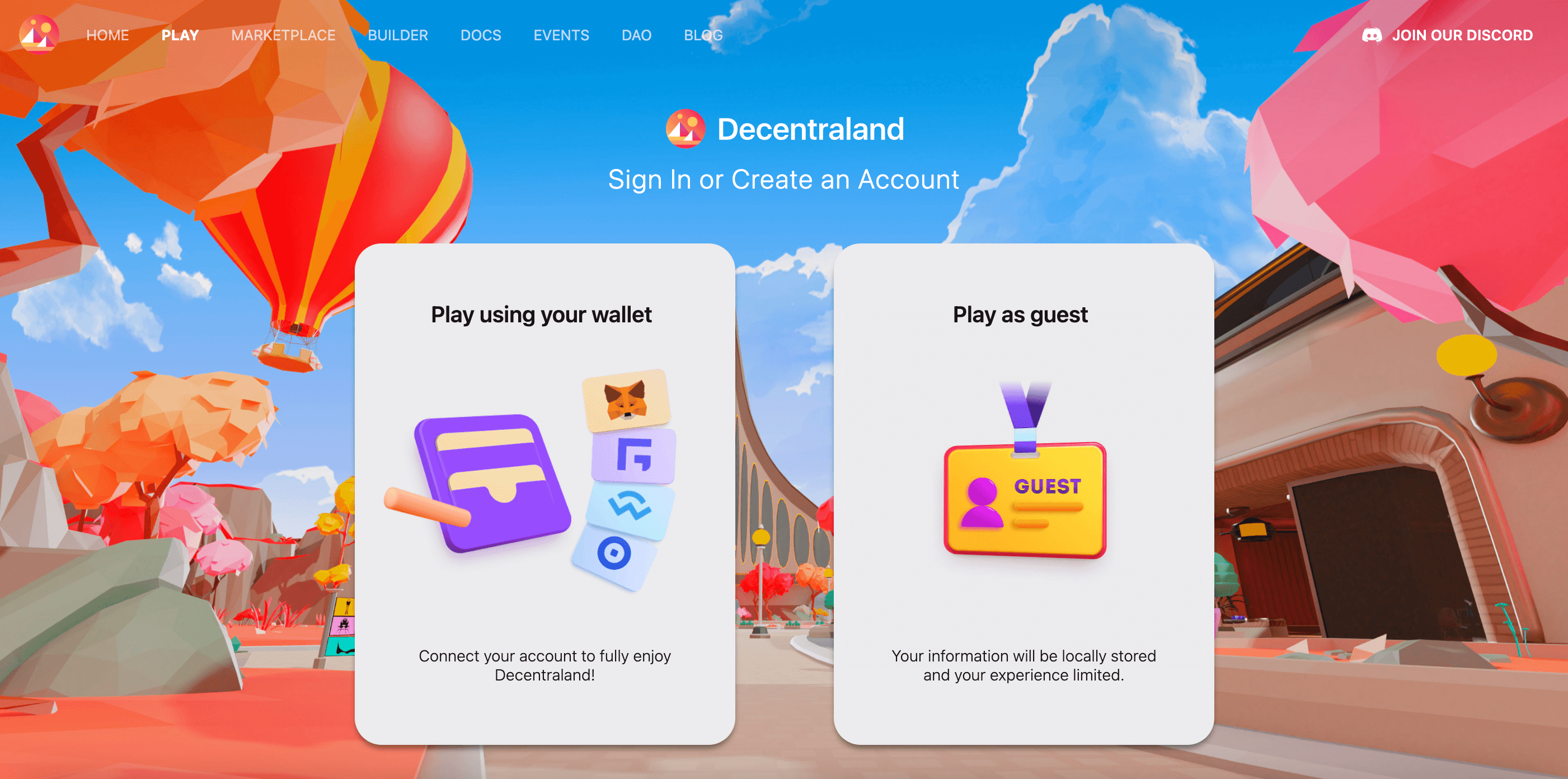 Once inside, you visit specific map coordinates to experience a unique space inside Decentraland. For example, during Fashion Week, you could visit Threedium Plaza to watch and interact with the events.
#2: Business Applications for Owning Land in a Metaverse
Once your space is built, you can do whatever you want with it. You can interact with the people inside the game by selling products or creating a pop-up experience, for example. You can even rent or lease your land to another business that wants to reach the people who frequent that metaverse.
For example, Gucci opened up the Gucci Garden pop-up in Roblox and has now opened up Gucci Town to establish a more permanent presence.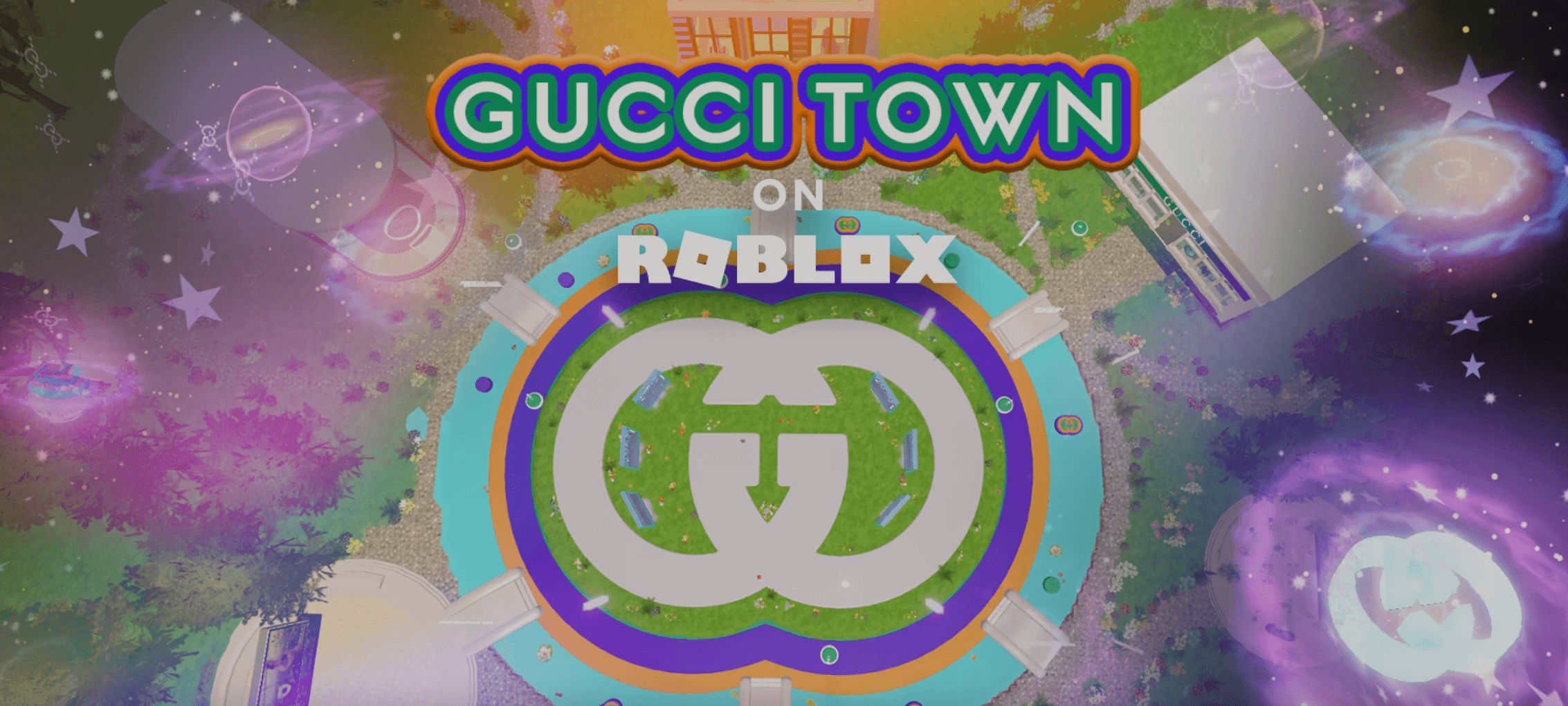 During Metaverse Fashion Week, Threedium Plaza built in Decentraland hosted several events for global brands.
#3: Business Applications for NFTs and Commerce in a Metaverse
Inside centralized metaverse platforms such as Roblox or Fortnite Creative, the digital assets that are purchased aren't NFTs.
Inside decentralized metaverse platforms such as Decentraland, however, the digital assets that are sold and purchased are NFTs owned by holders.
Examples of commerce include:
The sale of NFTs for virtual clothing or jewelry an avatar can wear.
The sale of an NFTs that deliver both virtual objects and physical versions of the asset to the holder in real life (made possible with the Boson Protocol).
During Metaverse Fashion Week, Auraboros sold an NFT for a necklace that your avatar could wear in Decentraland and the physical version of the necklace was also delivered to your house.
Smart Contracts: NFTs and Unlockable Content
A smart contract is the code that defines the activations provided to the holder of an NFT. For example, the smart contract can allow the holder of an NFT to access your general NFT community or to unlock exclusive experiences such as the right to purchase a product that isn't available to the general public. The latter is a solid example of using NFTs to incentivize future commerce.
#4: Considerations for Building a Space for Your Business in a Metaverse
As you plan to build a space for your business in a metaverse, there are a number of considerations to address. Here's a broad overview…
The Structure
Begin by deciding what type of structure you want to build. Will you build an office, a party house, a penthouse? Will your building fit on the virtual land you own or can purchase? In Decentraland, for example, the purchase of an NFT for a 1 x 1 parcel of land will hold a single townhouse-sized building. You can't build outside that footprint, but you can build upward.
The Experience
Next, determine what type of experience you want to create. This decision should be informed by the platform world you're building in. For example, if you build in a gamified platform, your space can't be a brand awareness–first space. This isn't a 'build it and they will come' proposition. You have to create an experience that gives players a reason to visit your space. They must have fun so they want to come back again.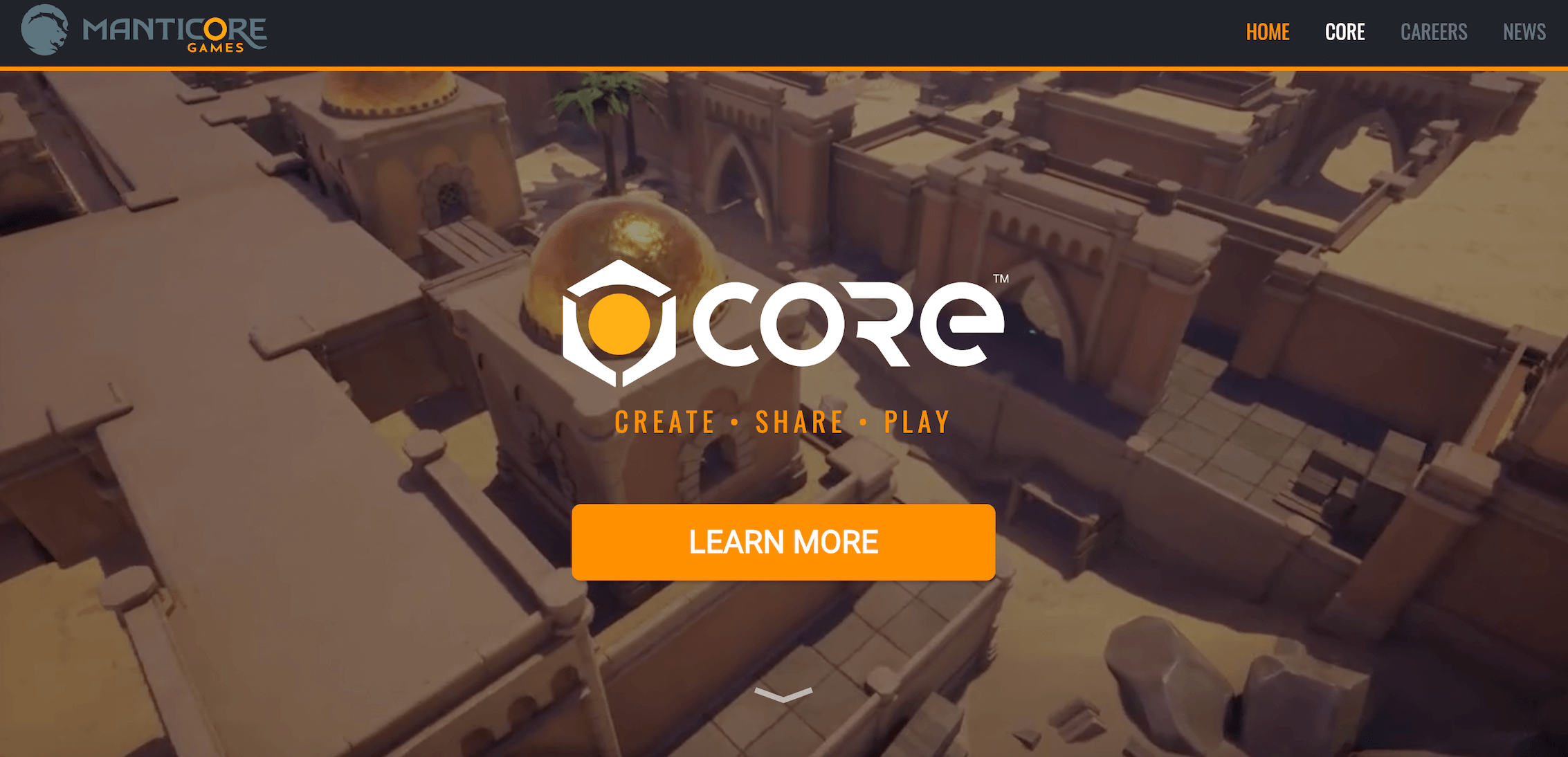 The Builder and Live Ops Team
Then, find a builder that has deep expertise in the type of experience you want to create. Again, if you're building in a gamified space, look for people who understand game theory and game mechanics. Journey has a team that excels in this type of build. You'll also need someone to troubleshoot and adjust your experience as the platform continues to update.
Interested in learning to build in these spaces? Several online education resources exist such as Unreal Engine, Unity, and Manticore Games.
Other Notes From This Episode
Where to subscribe: Apple Podcast | Google Podcasts | Spotify | Amazon Music | RSS
✋🏽 If you enjoyed this episode of the Crypto Business podcast, please head over to Apple Podcasts, leave a rating, write a review, and subscribe.
Disclaimer: The information provided on this website is provided solely for educational purposes and does not constitute any advice, including but not limited to, investment advice, trading advice or financial advice, and you should not treat any of the website's content as such. Social Media Examiner recommends that you independently research any information contained on this Website and that you speak with an investment professional before making any decision to purchase, trade, hold or sell cryptocurrency. Nothing herein should be treated as a recommendation to buy, sell or hold cryptocurrency. Social Media Examiner cannot guarantee the accuracy of any information listed on the website and is not responsible for any missing or wrong information. All information is provided as is and should be used at your own risk. Social Media Examiner disclaims all responsibility and liability for your use of any information found on the website.