Wondering what the Metaverse is and what it could mean for marketers? Are you interested in preparing for the future of business?
In this article, you'll discover why marketers should care about this new development, how to prepare, and how it fits into longer-term strategies.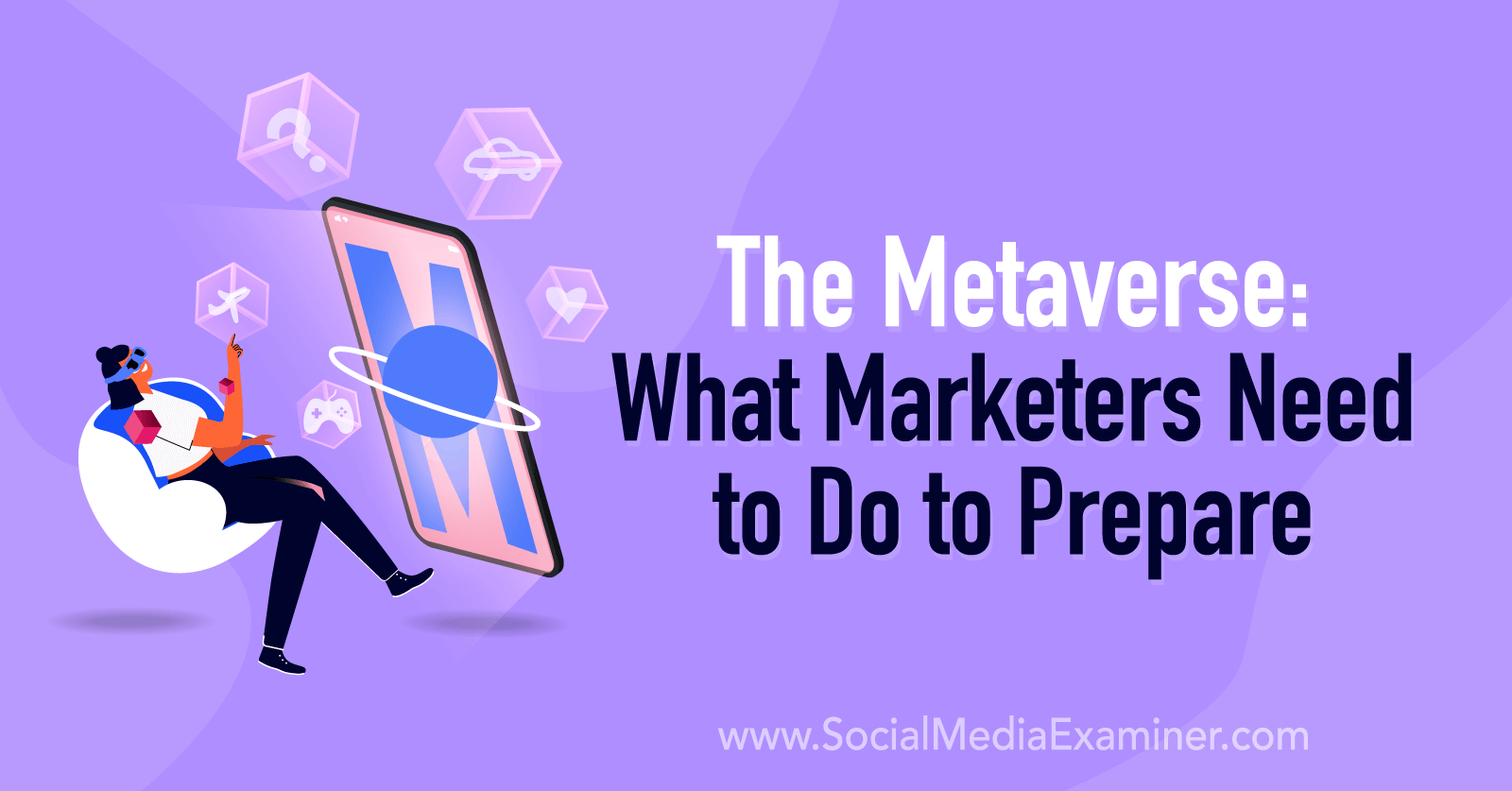 Why the Metaverse Matters to Marketers
In many ways, the advent of the Metaverse feels a lot like the early days in social media, right around 2008 and 2009, when businesses and brands were starting to see the power behind social media marketing and the influence social media would have on people's spending habits. A lot of brands and marketers are starting to see the same potential behind the Metaverse and that potential has reinvigorated the marketing industry.
It starts with what has been dubbed as Web3.
Web 1.0 was the early days of the internet—the "information superhighway"—which connected users with information. This is where businesses went online to build online business cards. Web 2.0, then, is the era in which we live now: the rise of social media and people using the internet to connect with other people.
In Web 2.0, we heard a lot about brands creating communities to connect with their audiences and a lot about groups and relationships. But at the center of these connections, the platforms extract data about the people in these relationships and use that data to make money.
Therefore, those communities end up being on what we refer to as rented land: The founder of the community doesn't necessarily own anything the community is built on. And so, in a lot of ways, the platform has more control over the community than even the founder has. In fact, in the Web 2.0 era, there really isn't much that a brand can outright own, other than a domain.
Now, as we head into Web3, we're seeing how this is evolving from social media and establishing a community on rented land to connecting directly with your audience in a space you own: digital ownership of digital assets. Web3, which makes up one piece of the Metaverse, is poised to connect people with places and things. This means if you own a retail store and currently get leads through the mobile web, you could soon build a world in which you get new leads through the use of virtual reality or augmented reality.
Think of how some real estate agents are using virtual tours of homes to help potential buyers see the property when they can't be there physically because of distance or the pandemic. Now think of that ability as being more widespread and used in nearly any niche or industry.
Another reason marketers should pay attention to the Metaverse is the sheer potential for small businesses and brands in particular.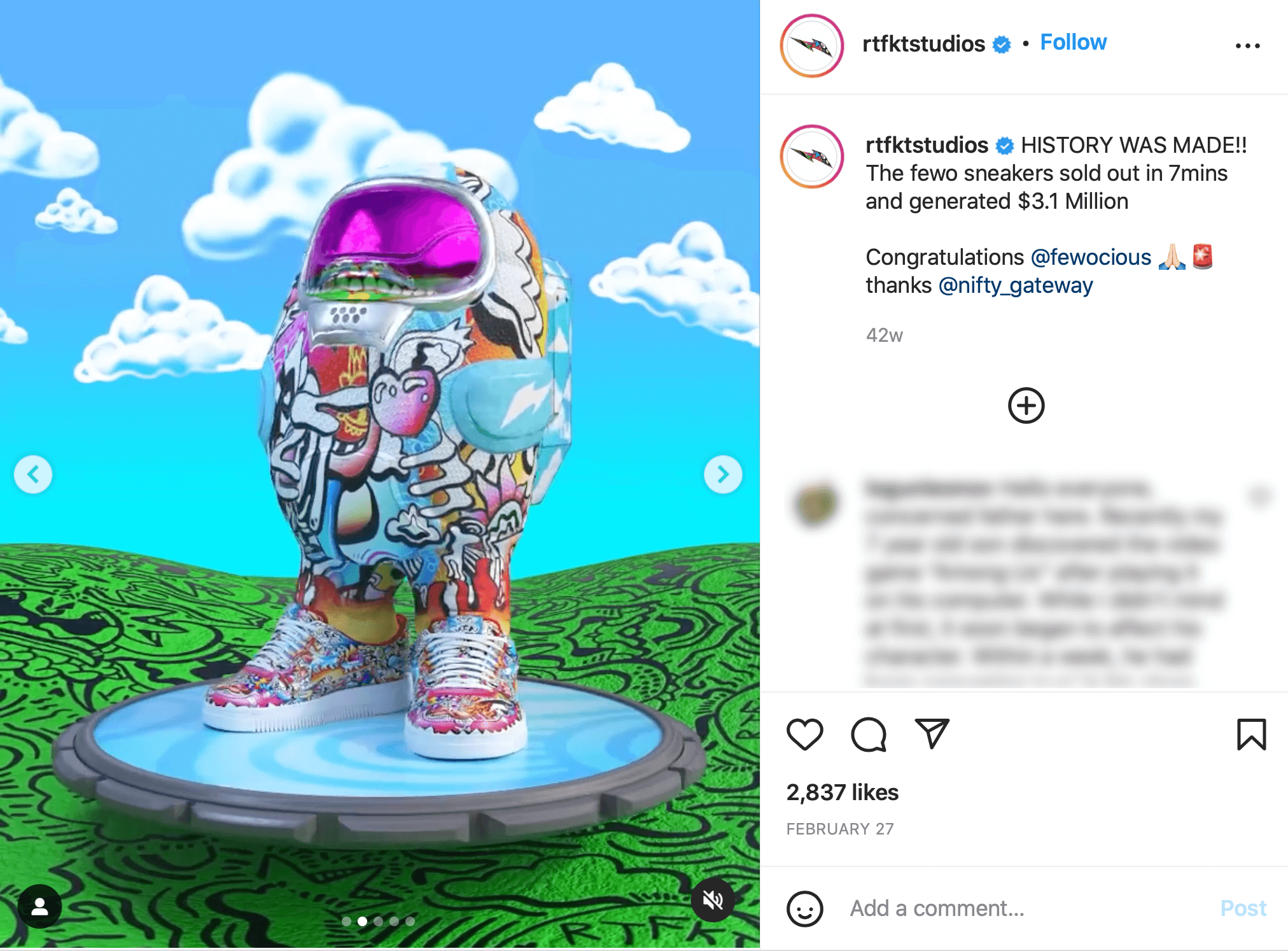 For example, a young digital artist known as Fewocious recently partnered with a company called RTFKT Studios (itself a Metaverse brand), to create a collection of virtual sneakers with a starting price of $3,000 per pair. And while that might sound a little outlandish, when this collection of virtual sneakers was released, they sold out and Fewocious and RTFKT Studios made millions.
This is something that could only happen in Web3 and the Metaverse. In Web 2.0 and the physical realm, the equivalent contract would have been for someone to design sneakers for a company like Nike, an honor that would normally have been reserved for a sports star like LeBron James, certainly not an unknown artist. But this is the kind of leveling potential Web3 is presenting to marketers: life-changing opportunities that would have been reserved for celebrities in Web 2.0.
Of course, the Metaverse is more than just Web3. It's what we think of personal connection inside cyberspace: virtual reality, augmented reality, digital currency, blockchains, cryptocurrency, NFTs… Instead of building a community on someone else's social media site, you will have the opportunity to bring your audience into a world you build. So it really is the convergence of the physical world we live in and the digital world in which we spend so much time.
And while this Metaverse isn't in any way complete yet, many of the marketers who were around during the pioneering days of social media are becoming reinvigorated as they see this as a pioneering moment.
Is Facebook Going to Own the Metaverse?
Of course, we can't really talk about the Metaverse without also discussing the future of Facebook, which has recently rebranded to Meta, solidifying their position and desire to be a leader bringing the Metaverse to the public. So, can Facebook own the Metaverse, and will it?
It is far too early to be able to tell exactly what's going to happen in the Metaverse. As of right now, the Metaverse still isn't even in the dictionary so we're trying to predict the future of something that hasn't even been officially defined.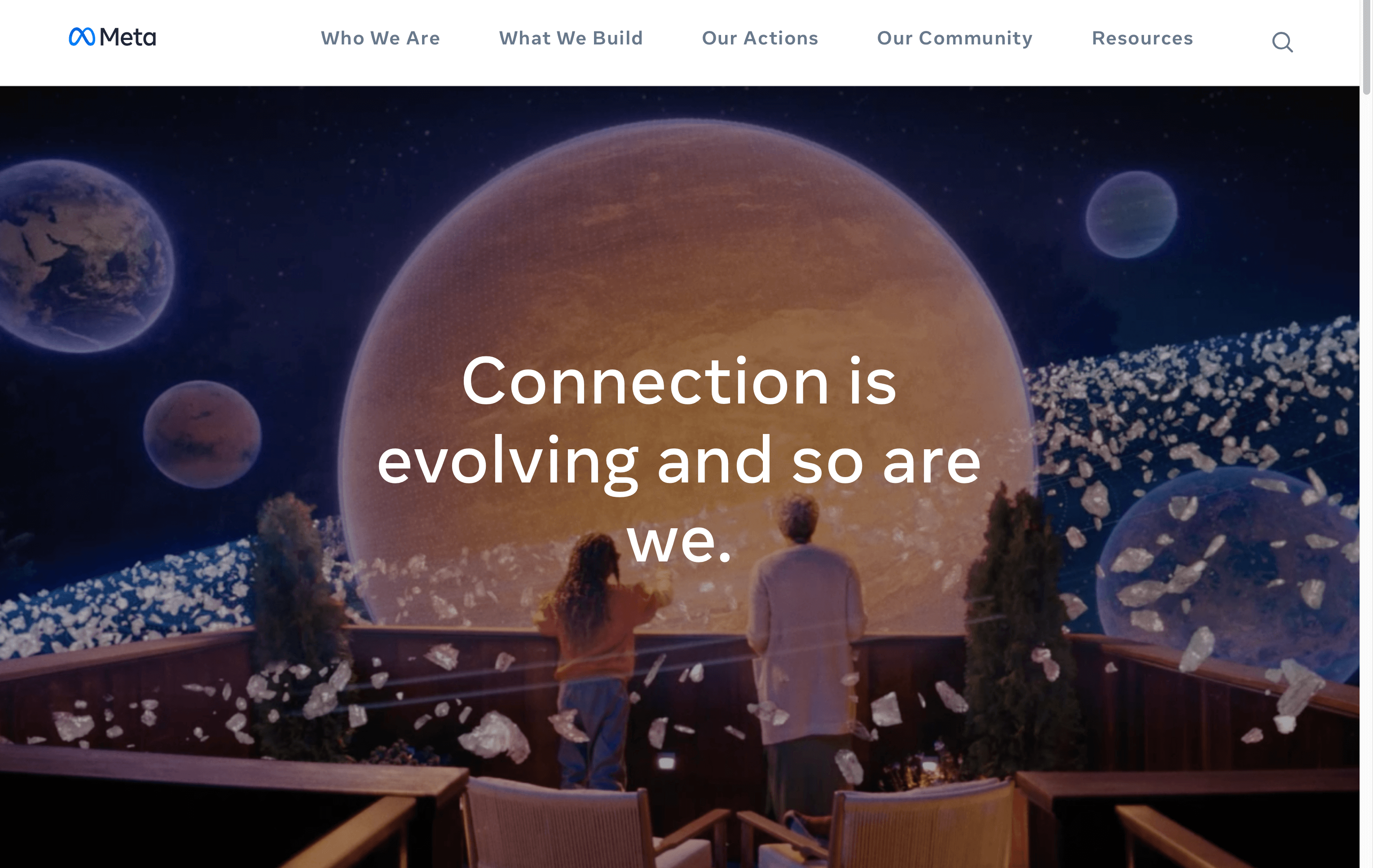 The way it stands right now, Facebook, or any other company, can't own the Metaverse—though they're certainly planting their flag in at least some parts of the Metaverse, namely entry points such as virtual reality and augmented reality. However, Facebook isn't a strong player when it comes to the other pieces that make up the Metaverse.
Because of its decentralized notion, no single company should own the Metaverse. Rather, the Metaverse should be built and open for everyone. This decentralization is something that a lot of the Web3, NFT, and Metaverse communities discuss quite often, having a truly open Metaverse. To have a company own the Metaverse would be akin to having a company own the reality of the physical realm, a concept that feels so far out there that it's hard to fathom.
Nevertheless, Facebook, or Meta, is flying that Metaverse flag and marketers will be smart to watch what they do. Facebook's rebranding announcement catapulted the Metaverse out into the public realm. Whereas just a few months before, only a few small niche communities knew about or discussed the Metaverse, now that conversation has grown globally.
In the aftermath, much more attention is being thrown at the Metaverse as more people are starting to sit up and pay attention. This means the future of the Metaverse is going to come at us faster than anyone would've predicted those months ago.
How Marketers Can Prepare for the Metaverse
Now that you have a basic understanding of what the Metaverse is, let's talk about how your business can start preparing for it. As of right now, there isn't a lot that you can do to start building but there are communities where you can start learning.
One of the easiest ways you can start learning about the Metaverse is to pay attention to the gaming community and even start playing games like Roblox with your kids. In many ways, the younger Gen Z and Gen Alpha already understand how their digital reality connects to their physical reality better than most of us do. And Roblox is a prime example of this. So if you get in there and start playing with your kids, you'll be able to start making these connections as well.
You can also get onto Discord and join a server. Although sometimes overlooked, Discord resembles an interface similar to Slack. But the bots and automations available for you to use to augment your server can help you start to connect with different things that are available.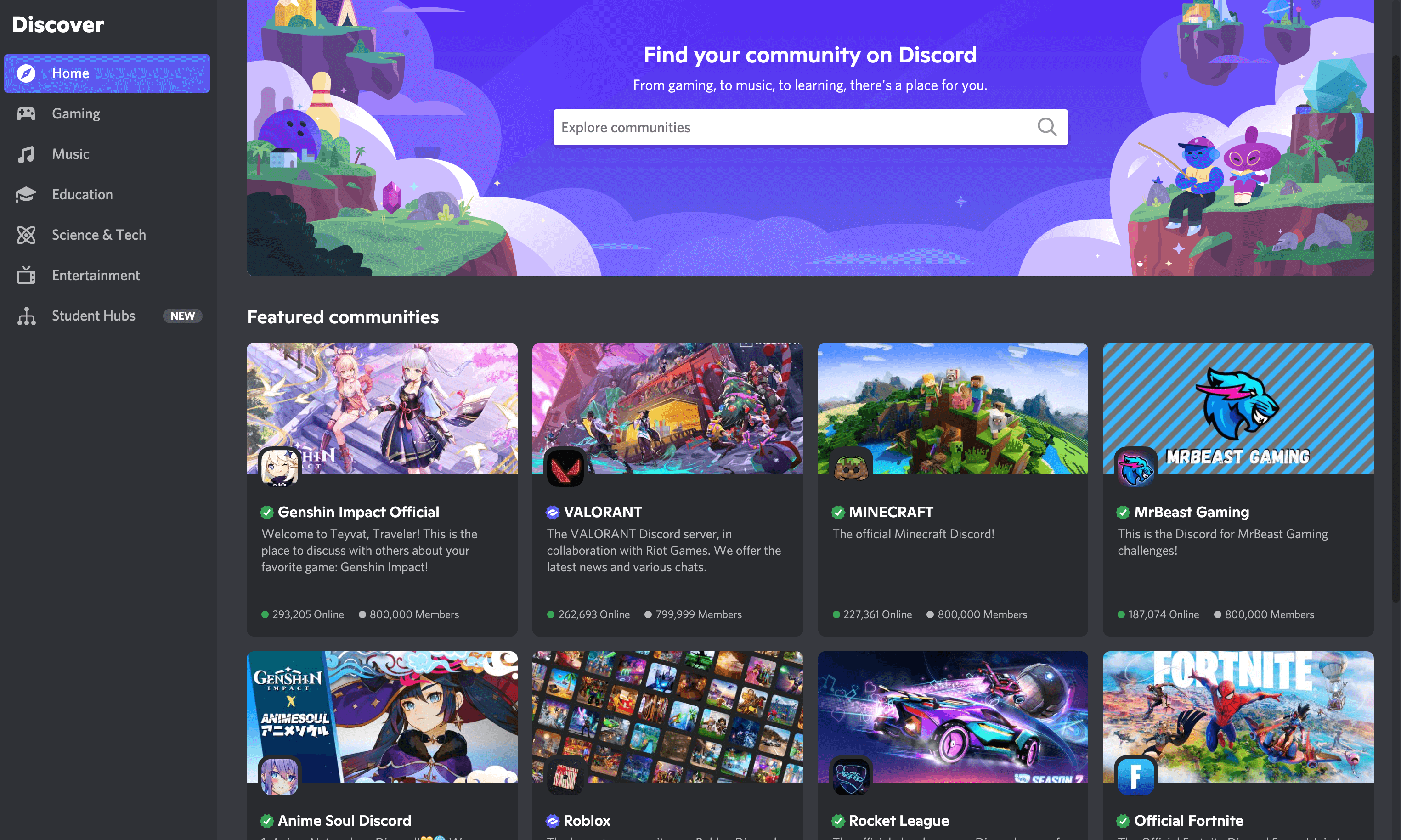 Additionally, a lot of the Web3, blockchain, and NFT experts and communities are already built on Discord so you have a chance to listen and learn and connect with a lot of these early adopters before everything becomes mainstream.
If you're feeling particularly ambitious and want to experiment, you could also set up a metamask wallet and even purchase an NFT to sort of dip your toes in and see what you can learn. When it comes to business and marketing, you can often learn a lot simply by going through the process.
Formulating a Longer-Term Business Strategy for the Metaverse
While we may not be able to predict everything that's going to come with the Metaverse once it becomes mainstream, we can predict that it's going to have an impact on businesses in general, marketing practices, and the marketers who pioneer the new strategies to propel business into the future. So you should start thinking about what your business' role will be in the long run.
Some things to keep in mind as you contemplate your role in the Metaverse are things like:
Should you or your brand create a virtual world?
Should you look into sponsoring a virtual world?
What intellectual property does your company own that you could mint as an NFT?
Should you build a Metaverse team to help you develop an entire Metaverse strategy, and if so, what would such a team look like?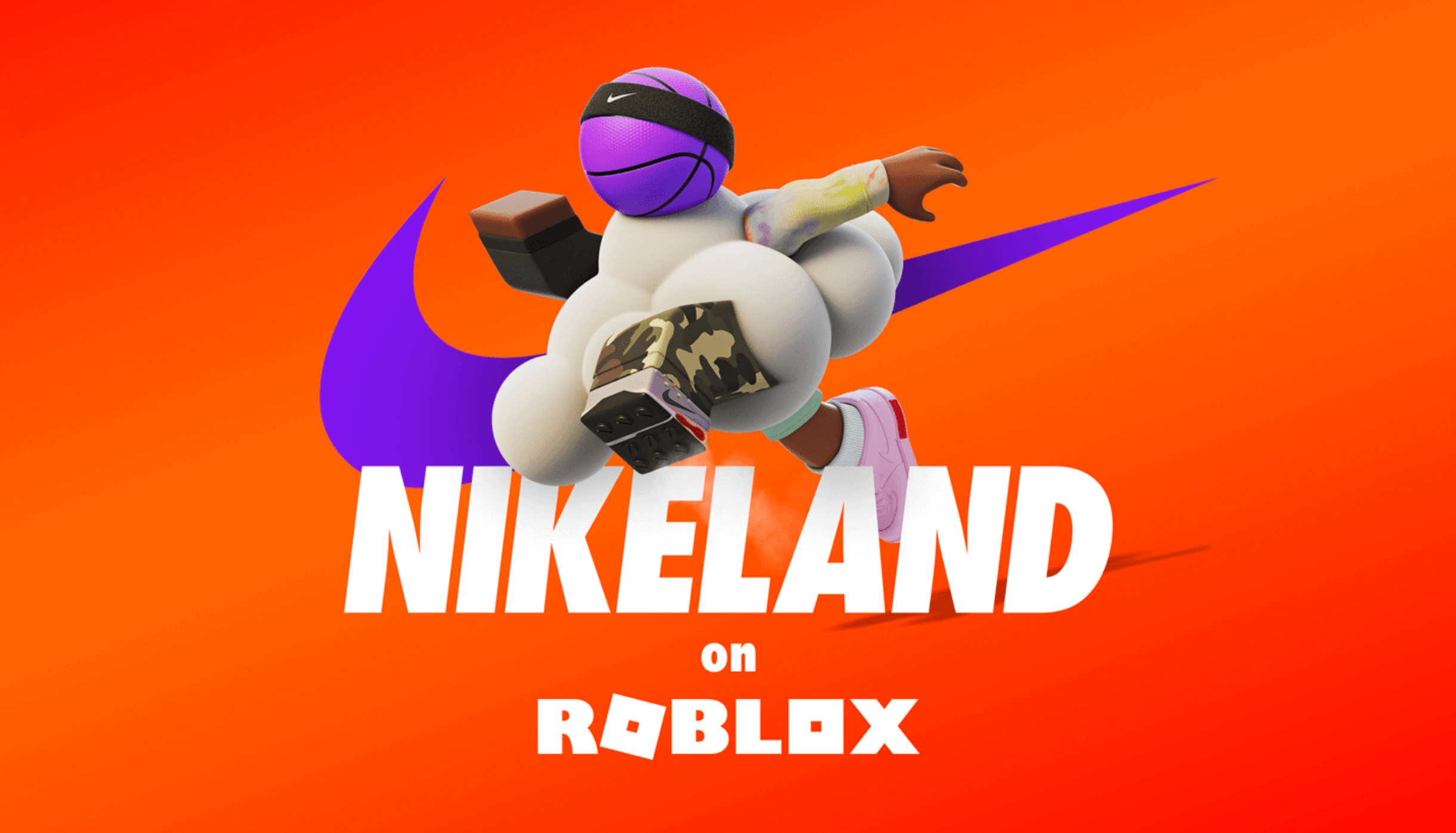 And while some of these questions may seem so far-fetched that they border on irrelevant, remember that in the days before social media really started popping, back in 2006 and 2007 or thereabouts, most businesses hadn't thought to have a team for social media management.
Even as social media started to really come into its own, right around 2009 and even into 2012, many businesses still survived with just a manager. Building out a social media team to help plan and execute a marketing strategy was only something that the larger companies and brands did.
History suggests that the advent of the Metaverse is going to hit businesses in much the same way, with larger brands and companies adopting it and building a Metaverse team before small businesses catch onto the idea. You can get ahead of this by starting to think about what your team would look like and what goals inside the Metaverse they would be working toward.
Other Notes From This Episode
Where to subscribe: Apple Podcasts | Google Podcasts | Spotify | YouTube Music | YouTube | Amazon Music | RSS
❇️ Help Us Spread the Word! Please let your Twitter followers know about this podcast. Simply click here now to post a tweet.
✋🏽 If you enjoyed this episode of the Social Media Marketing podcast, please head over to Apple Podcasts, leave a rating, write a review, and subscribe.