Want to know the strategy behind the top-rated Social Media Marketing podcast? Want to find out how to plan, produce, and run your own show?

In this video, the founder of Social Media Examiner, Michael Stelzner, will share lessons learned from producing a top business podcast.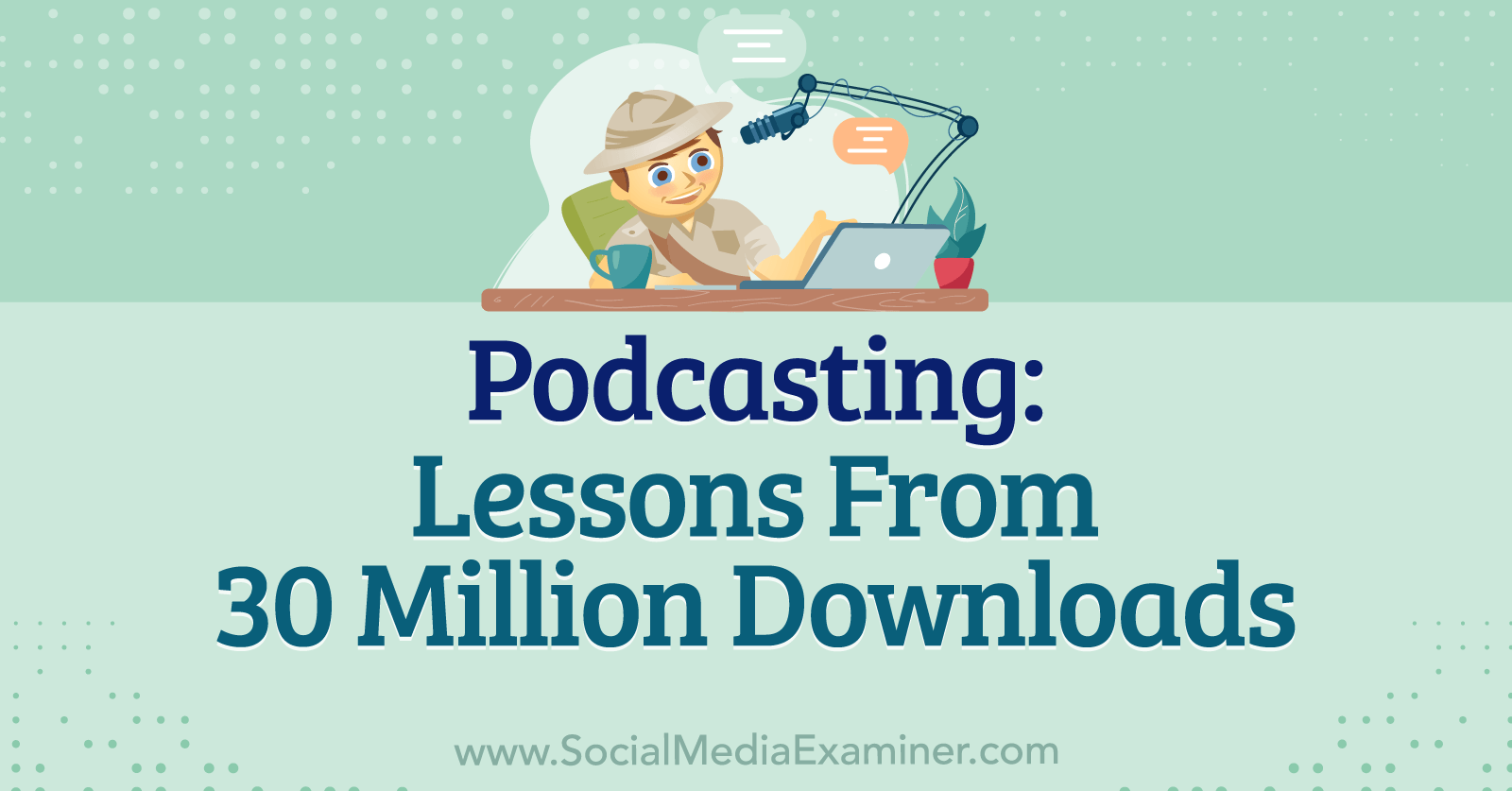 Launching the Social Media Marketing Podcast in 2012
Before we can get to where we are now, we need to take a look at how it all started. In 2012, podcasting was still a growing frontier. The biggest podcasts in business were hosted by large brands and big names. And for the most part, those podcasts didn't serve small business owners or marketers, nor did they really cover social media marketing.
Before launching Social Media Examiner, I had built up a lot of experience as a writer interviewing people. So I knew right away that launching a podcast would allow me to do three things:
Fill in the gap by having my podcast serve small business owners and marketers looking to learn more about social media marketing
Leverage my strengths and skill set as an interviewer to get the best value into this podcast for listeners
Take advantage of the then still-growing trends on Google of people searching for social media marketing
I knew that with a podcast, I'd be able to tap into a new form of content strategy based on the spoken word, rather than blog posts. And my research and planning panned out. Shortly after becoming inspired by Pat Flynn at New Media Expo, Social Media Examiner launched the Social Media Marketing Podcast and immediately became one of the top 25 in all podcasts.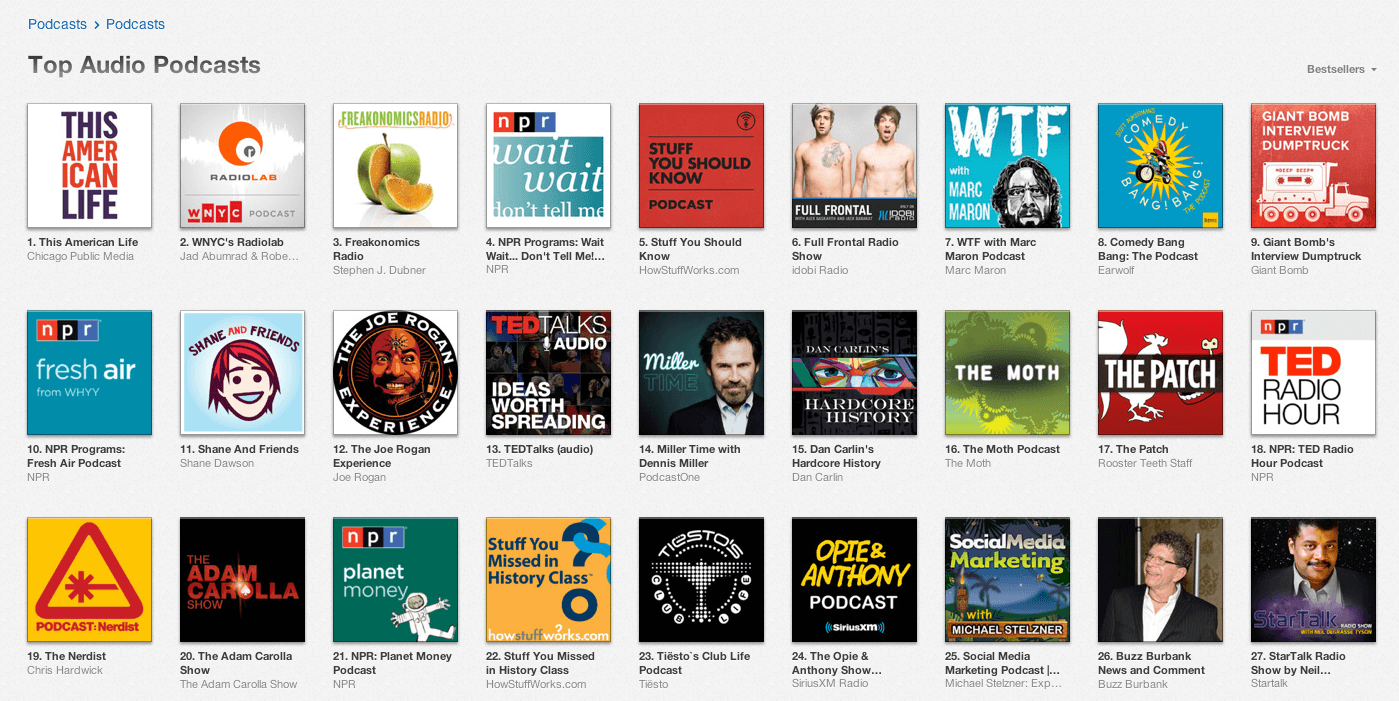 It remained in the top two in the business category for years.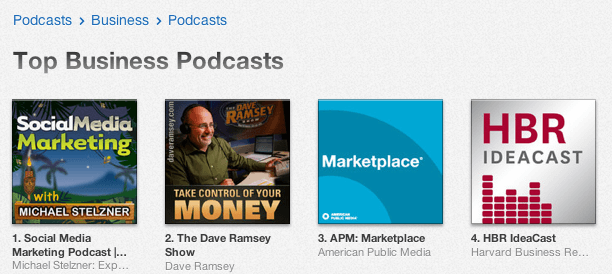 How the Social Media Marketing Podcast Fits Into the Company's Business Model
First, there was the obvious desire to double down on the search trend for social media marketing. Back in 2012, small business owners and marketers were searching for help on social media marketing like crazy, and looking for help on just about every channel and facet of social media marketing.
The name of the podcast, Social Media Marketing Podcast, helped it fit right into Social Media Examiner and the articles we post here. A few months later, when we launched Social Media Marketing World, once again we were capitalizing on the still relatively new and growing search trend for social media marketing help.
When the Social Media Marketing Podcast first launched, the goal was to bring as many experts as possible to our audience in a new way that they could consume while driving in the car, washing dishes at home, or working at the office. It allowed them to multitask in whichever way worked best for them depending on their schedule, rather than forcing them to sit at a computer on a website and read a blog post.
In the early days of the Social Media Marketing Podcast, another goal was to get the top experts at the time to bring their expertise to our audience and provide the help they were searching for. Today, that goal has evolved into bringing on new experts and introducing new players in the field. Quite often, someone starts as a guest on the show and then other opportunities, such as being a correspondent on our live show, filming in studio for our YouTube channel, or even speaking on our stages can open up for these new voices.
We also take a slightly different approach to content creation since launching the podcast. We already have blog posts, contributor posts, and articles go up on Social Media Examiner all the time. The podcast offers another piece of long-form content.
After I record the podcast, we get that episode transcribed, and then our editors work to create new and unique articles based on the content of that podcast. By the time the article is posted on Social Media Examiner, the readers can't tell that it was a podcast episode first until they reach the end of the article and see the podcast player. Instead of reading like the transcript of an interview, it reads like a new original article.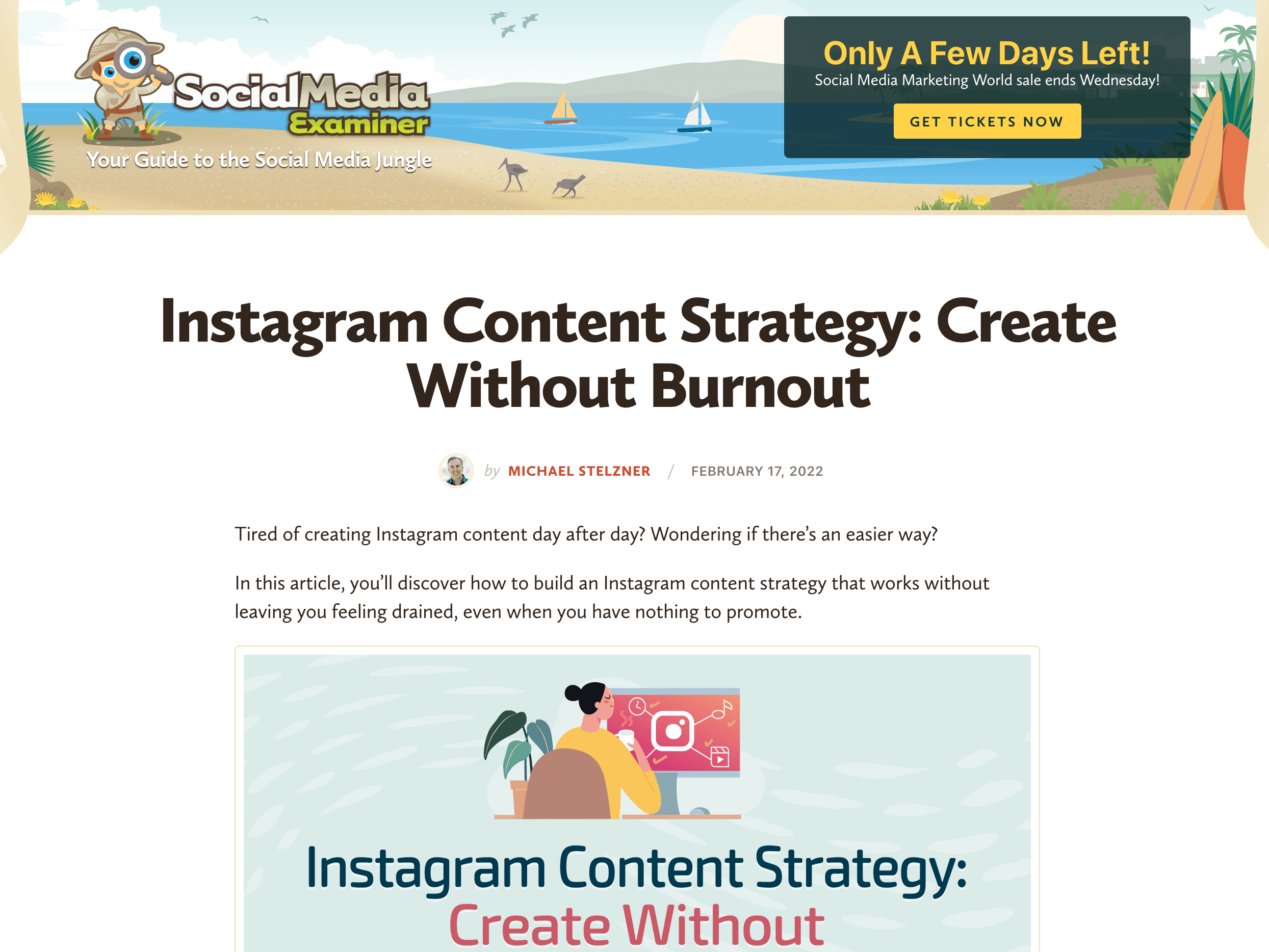 And moving forward, our podcasts will actually be recorded in video format as well as audio format, allowing us to branch out into video podcasting while still producing our audio podcasts and website articles.
Different business owners consume content differently. Some of them learn better by reading, some by listening, and some by watching. And with this content strategy, we're able to serve all of those people.
The Impact of the Social Media Marketing Podcast on Brands and Marketers
As well as becoming a source of valuable content to help our audience, the Social Media Marketing Podcast helped establish a lot of trust with listeners. Listeners trust that I work very hard to bring them a variety of experts on a variety of topics, and that I'm always going to bring valuable content.
The Social Media Marketing Podcast has also allowed Social Media Examiner readers and our listeners to stay not just up to date, but on the cutting edge of social media marketing. We've been able to stay ahead of trends, predict coming trends, and quickly assess any changes that come out on social media. We can immediately cover the business applications for those changes and what they mean for brands and marketers moving forward.
But perhaps the most exciting result of hosting the Social Media Marketing Podcast is being able to see firsthand the sort of impact that the podcast has had on brands and marketers. For example, several years ago, I was out at a Pottery Barn with my family when a young lady who happened to recognize my voice approached me. She asked me if I was Michael Stelzner, and of course I said yes. She told me that she ran the marketing at Williams-Sonoma, which owns Pottery Barn.
Then she thanked me because the reason she had the job at Williams-Sonoma running their marketing was because of the podcast and because of me and Social Media Examiner. So right there, in front of my family, out in public, I got to witness just how big an impact I was having. I was bringing valuable content to small business owners and marketers in a way that allowed them to invite me into their schedule, rather than disrupting their schedule to go find my content.
And of course, because of the new authority I've built up around social media marketing, there have been countless other speaking and interview opportunities, as well as expansion possibilities as I look to the future.
Why the Social Media Marketing Podcast Is Embracing Video Podcasts
If there's one thing that has been proven since Social Media Examiner launched in 2009, it's that whenever you hear an announcement about a new feature on any social channel, you want to try to hop on and incorporate it into your content strategy as early as possible. Right now, all indications are that video podcasts are part of the social media marketing future.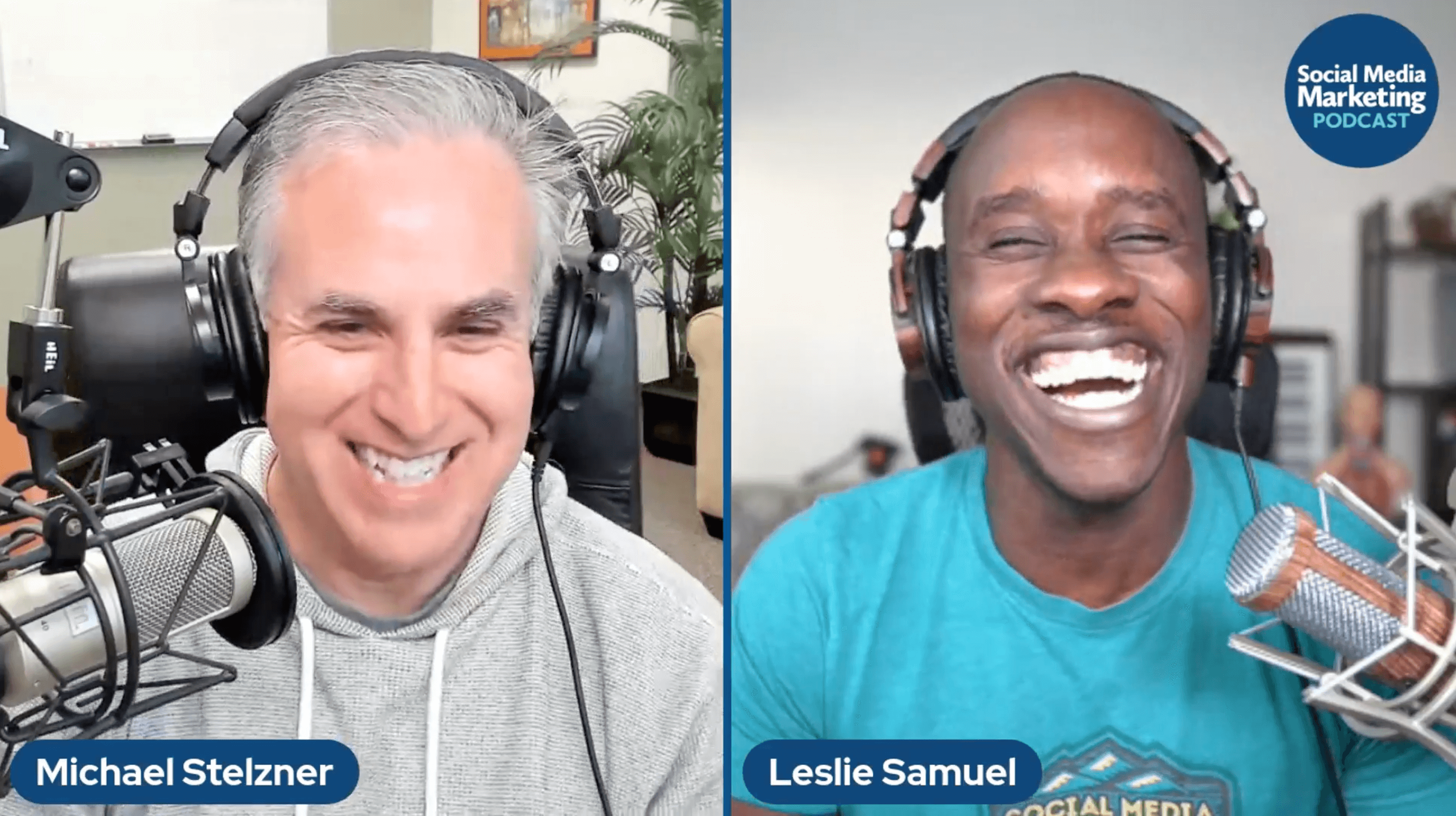 Additionally, by presenting video podcasts, we're able to serve even more people who might be consuming their podcast content solely on places like YouTube.
By stretching out into video podcasts now, we can be ready when a new platform emerges or an existing platform decides to start supporting video podcasts. Not only will we already have the workflow refined, but we'll also already have a lot of the content ready to go to expand on these new channels as early as we can.
Using Dynamic Ads to Promote Products and Events to Specific Audience Segments
Dynamic ads are an amazing new feature that allows us to create specific ads and insert them cleanly into a podcast episode based on geotargeting. With geotargeting, we're able to connect with our listeners on a more personal level by saying something like, "hello fellow Californian" or "hello fellow Floridian" to our listeners in those states.
By being able to personalize our ads, it creates a deeper connection with listeners. They feel more like part of the conversation as they're listening to the podcast and that the product or event we're promoting is designed for them.
Because using dynamic ads allows us to insert ads based on geotargeting, we never have to worry about sending the wrong ad to the wrong people. The right ads will go out to the right people at the right time based on the criteria and strategy we've built into it.
The really cool part is that it also means there may be no ads for a particular listener, should that listener not meet the criteria that we've chosen for targeting ads. To that listener, we don't risk them turning off the podcast while they're listening to an ad that isn't relevant to them. Instead, there's just going to be a very brief pause that sounds more natural and then they get right back into the podcast.
The way these ads work is that they're created and programmed, and then generated and delivered dynamically at the time the listener downloads that podcast episode. So the ads can also change over time depending on when somebody happens to be listening to a particular episode. We no longer have to worry that they'll be listening to an outdated ad that's no longer relevant or promoting an offer that's no longer available.
Why Social Media Examiner Launched the Crypto Business Podcast This Year
Being so deep inside the world of social media marketing since 2009, I've learned how to spot the signs of cutting-edge business and marketing opportunities. Watching cryptocurrencies, Web 3.0, NFTs, social tokens, and decentralized autonomous organizations (DAOs) start to come to life, I can see the value and potential that all of these things bring to business today.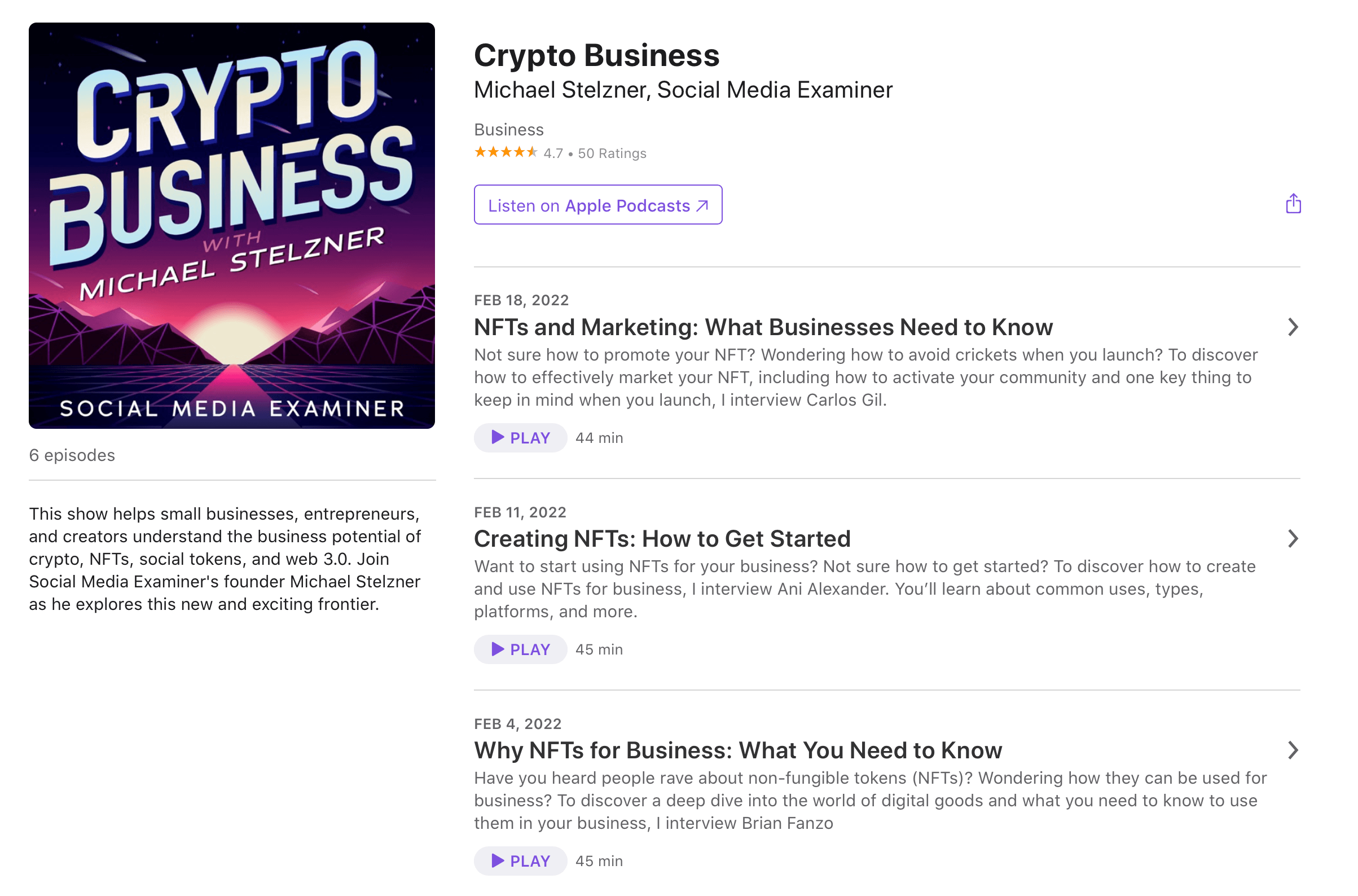 However, most of the resources out there are either geared toward the investment side of crypto or focused on explaining the technical sides of crypto. The business applications of crypto are still largely being explored and experimented with. So there isn't a lot of content out there yet that shows businesses how they can get into crypto and use it to bring more value to their audience. And that's where the Crypto Business Podcast is focused.
I started the podcast intending to bring high-value experts from within the crypto world to talk about business applications of crypto and how businesses might start thinking about incorporating crypto into their branding and marketing strategies. I aim to do so without such a heavy focus on the tech, which can be confusing at times for small business owners to absorb all at once.
Other Notes From This Episode
Where to subscribe: Apple Podcasts | Google Podcasts | Spotify | YouTube Music | YouTube | Amazon Music | RSS
---
Stay Up-to-Date: Get New Marketing Articles Delivered to You!
Don't miss out on upcoming social media marketing insights and strategies! Sign up to receive notifications when we publish new articles on Social Media Examiner. Our expertly crafted content will help you stay ahead of the curve and drive results for your business. Click the link below to sign up now and receive our annual report!