Want to start a podcast that helps you grow your business? Want to avoid the common mistakes and create a show that builds a loyal audience?
In this article, you'll discover what you need to do to successfully launch a business-building podcast.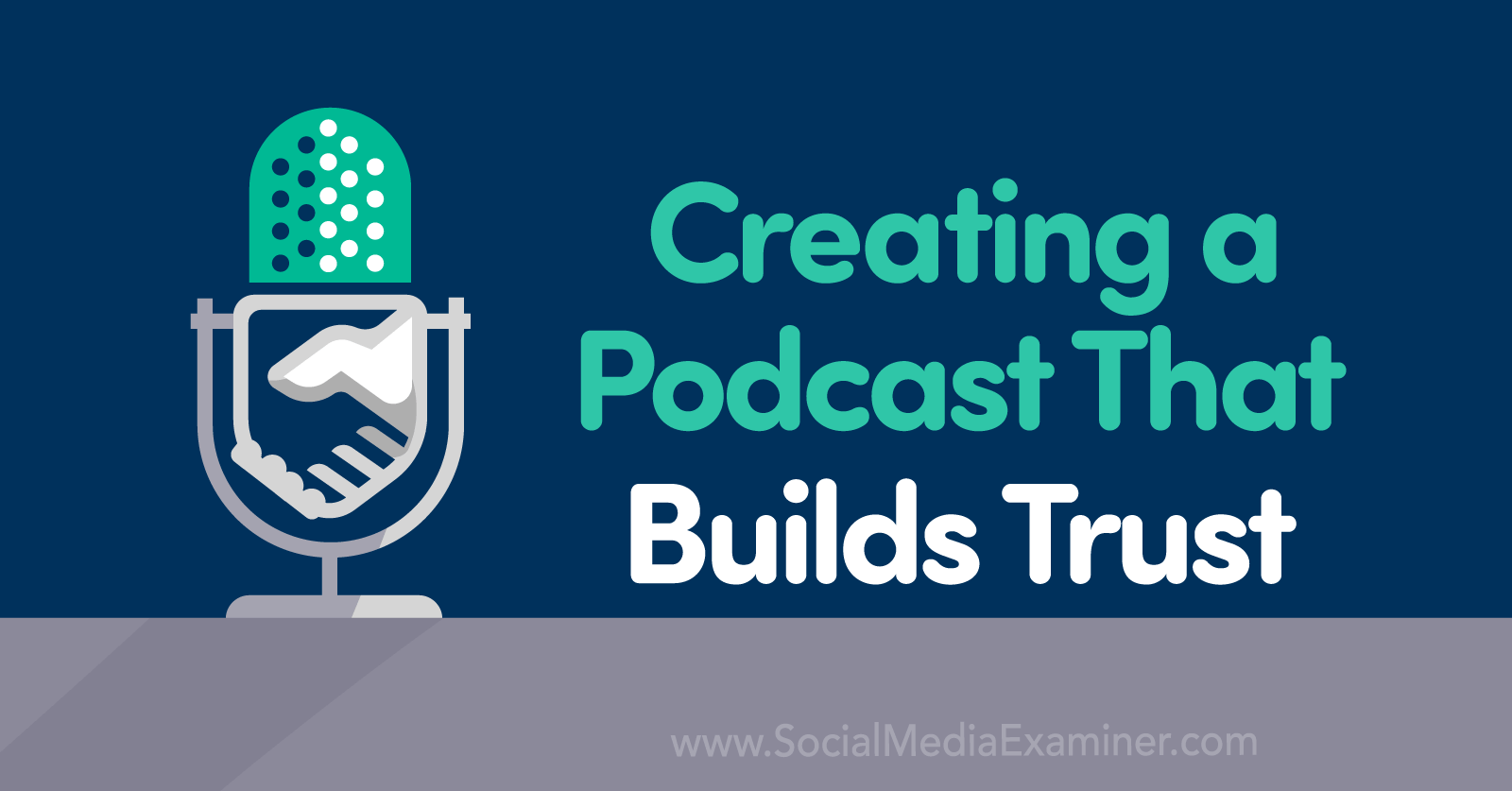 Why Marketers Should Consider Podcasting
Let's start by digging into some of the reasons marketers should consider starting a podcast. For one thing, not everyone is doing it, despite how long podcasting has been around. Having an engaging and successful podcast can really help you stand out in your field.
Podcasting is also an amazing place to put ads. Not only can you sell ad space to brands and sponsors, you can also use a podcast to place an ad and promote your own products, services, or events.
Of course, every social and marketing platform offers some form of paid advertising but they do so by selling your audience to your competitors. Facebook makes money by allowing competitors to target your audience. On a podcast, this can't happen. No one can take your podcast audience and sell it to your competitors.
Additionally, the way people consume a podcast is very different from how they do it on other platforms. On other social media platforms, people are typically scrolling, sometimes with a purpose but most often without. There are algorithms and notifications to help draw their attention to whatever the platform thinks they want to see and engage with. But on a podcast, they're tuning in to hear what you have to say.
And because people want to listen, you have an opportunity to create a much more intimate experience for your audience than you can with other platforms. A podcast audience will be listening to you for several minutes as you pour valuable information out to them. At the end of your episode, they've spent more time with you than they would have while scrolling through another platform—even seeing your ads or your organic posts fly by.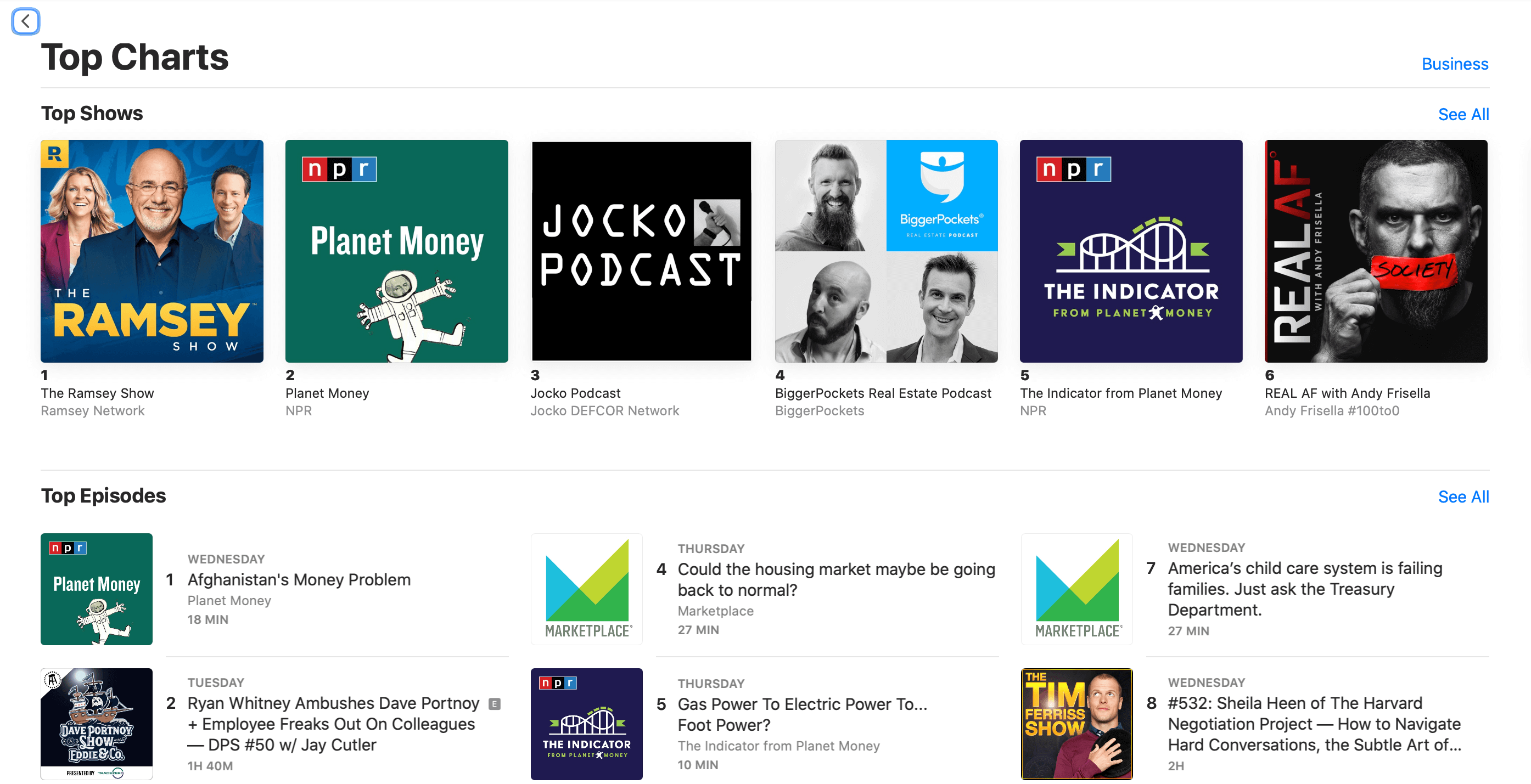 And finally, podcasting is an amazing space to find your voice as a marketer and brand. So many people who start a business struggle with their voice or how narrow their messaging is. They struggle to learn how to present similar information to what's already out there in an engaging and innovative way. But with podcasting, by venturing into a medium that focuses on your voice and compels you to find those innovations, you're able to dig in, refine your message, and find your voice.
Here's how to start your own podcast to build trust with your audience.
#1: Decide What Type of Podcast to Produce
One of the first things you want to do as you start planning your podcast is to decide the type of podcast you want to produce: a solo podcast or an interview podcast.
In a solo podcast, you're the only speaker for that episode. Recording a solo podcast is similar to recording a presentation and there are some pros and cons that go with this. On the positive side, a solo podcast is easier to produce because you don't have to juggle a lot of schedules for recording; you can control the pace and you can batch-record several episodes at once.
The downside is that it puts the entire burden of being engaging and entertaining on you. With a solo podcast, like Seth Godin's, you have to work harder to keep your audience engaged because it's more presentational and less conversational.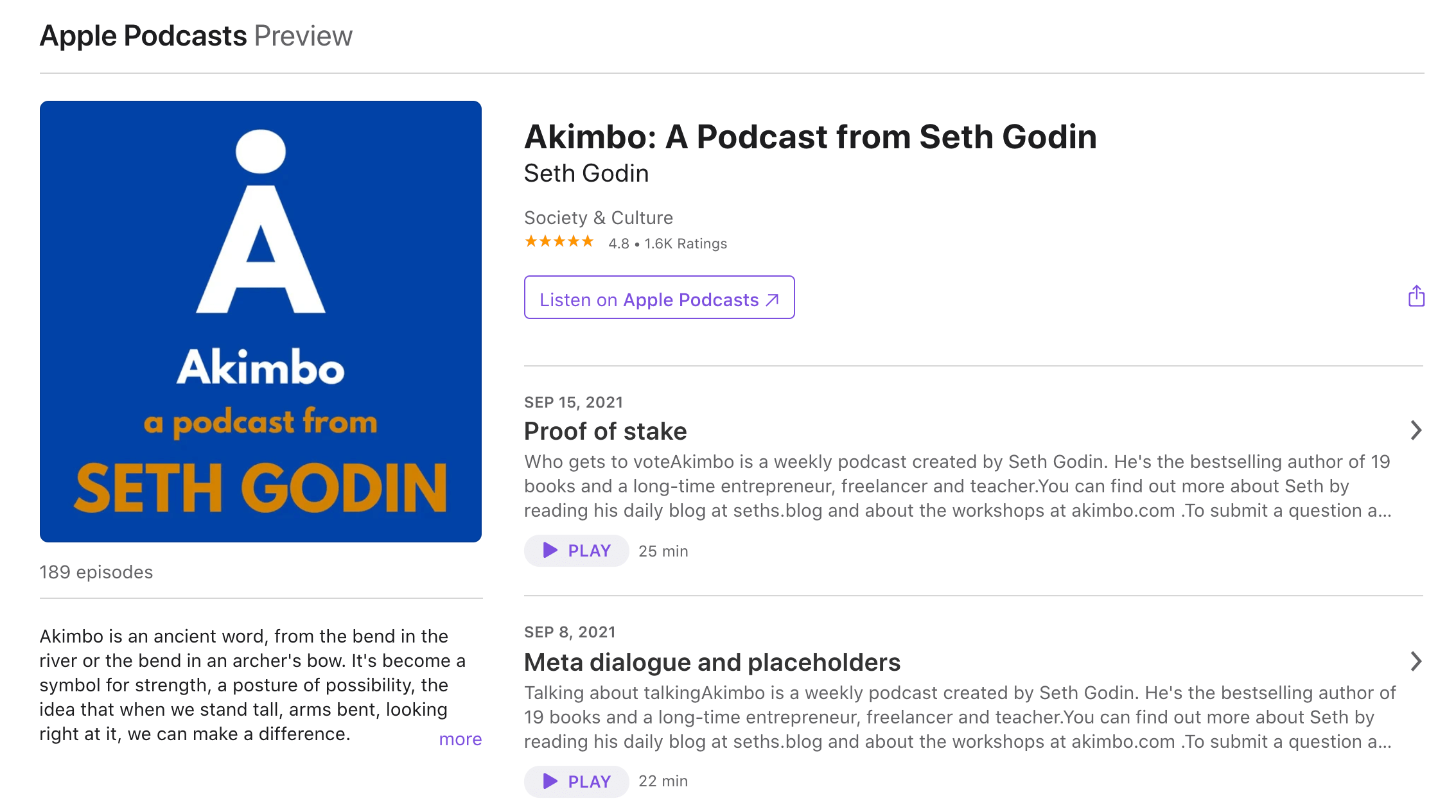 In an interview-style podcast, the opposite is true. Interview-style podcasts are a lot easier to keep the audience engaged. The banter, the voices, the conversation all come together to create an entertaining experience. Doing regular interviews for your podcast also helps you strategically network with people in your industry who you may not normally be able to connect with.
On the other side, juggling various schedules to try to get together and record a podcast is much harder, as is being able to batch-record several episodes at once.
One of the best things you can do in setting up your podcast is to take some time to really dive in and know your audience, to understand what they're after at a deep level so you can be sure to deliver it episode after episode. The good news is this is something you can do regardless of the style of podcaster you want to be.
#2: Define the Goal for Your Podcast
As you're planning a podcast, think about what you want to accomplish with your show. What do you want your audience to walk away with? What should they be getting out of your show? Your audience is asking, "What's in it for me?" It makes sense to apply this question to your podcast from the very beginning.
This is also going to be your own objective for the podcast: Do you want the podcast to generate more leads? Or perhaps you want the podcast to sell your services? Or maybe you want to use the podcast to boost your income in another way such as through sponsorships and affiliate offers.
Whatever your objective is for the podcast, it's much easier to plan and strategize at the beginning of the show if you have this clearly laid out.
#3: Plan Podcast Episodes That Deliver Value to Your Audience
One of the first things you can do on each of your podcast episodes to build trust is to set up and use a clear title that tells the audience what they'll get out of the episode. Try to avoid fancy, clever prose that's vague and unclear. Equally, try to avoid simple "interview with" titles unless you're interviewing a celebrity or someone the audience will know. Instead, stick with your message, what's in it for your audience.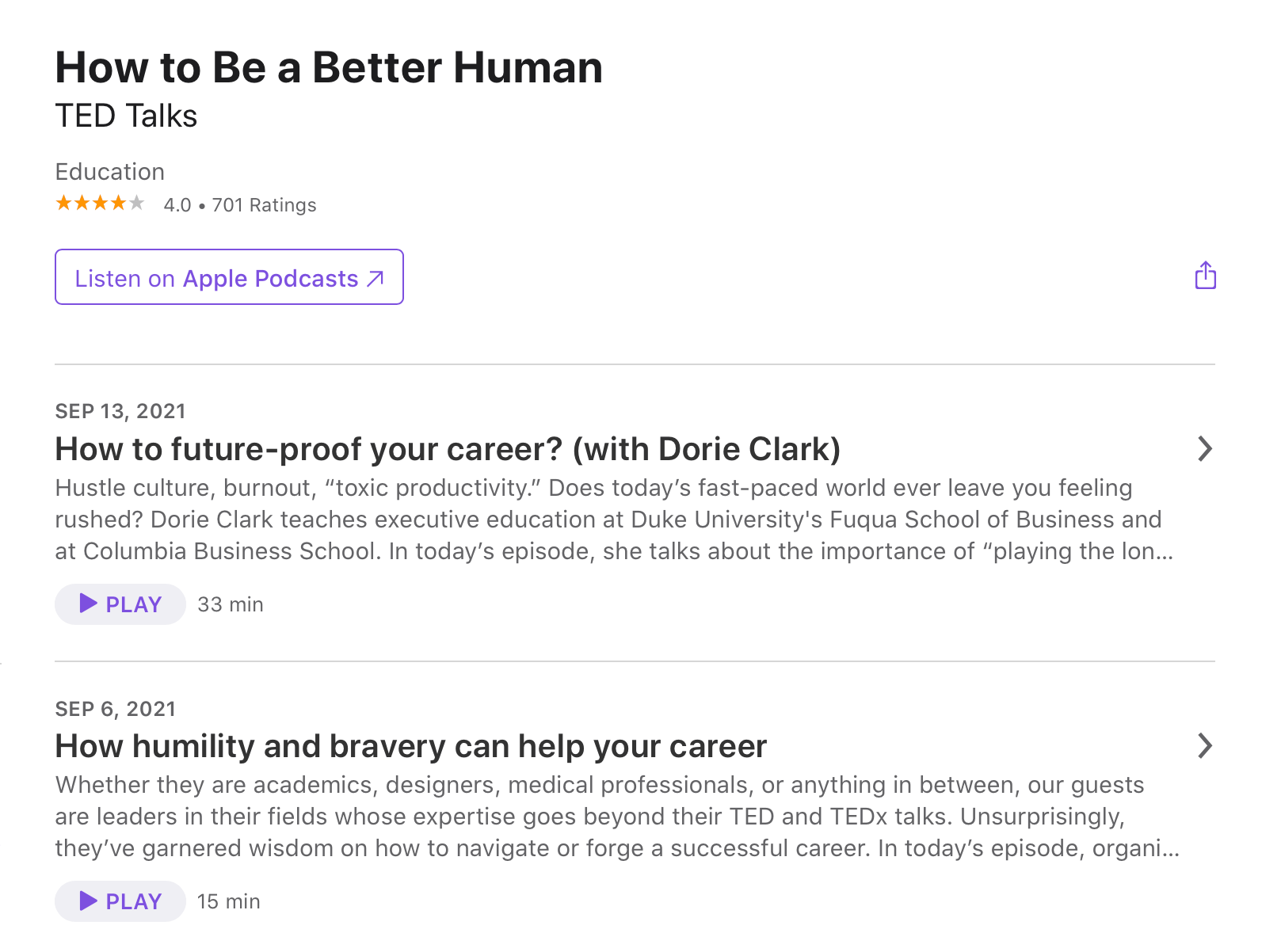 When your audience finds and downloads your podcast, it's a sign that they're interested in that content. As you track your results, from time to time you'll see certain podcast episodes get downloaded much more than others. This will let you know what your audience is interested in learning.
The goal, of course, is to get your audience to come back week after week and listen to your podcast episodes. This is how you know you're truly building trust and delivering on the content they're interested in learning.
There are a few ways to do this; for example, you can connect one episode to the next. Maybe in one episode you can ask a question and then deliver the answer in the next episode. Or you can put out a poll in one episode and then deliver the poll results in the next episode. You can also tease the next episode at the end of your current episode to give your audience something to look forward to next time.
With each episode, you should take the time to figure out your Know, Feel, and Do factors (KFD):
Know: What do you want your audience to know by the time they finish listening to this episode? Here's a quick tip: Keep it short and simple.
Feel: How do you want your audience to feel by the end of the episode? Should they feel inspired to jump into a new community or motivated to take the next step in their business? Or both?
Do: What do you want your audience to do after listening to your episode? Do you want them to listen to the next episode? Do you want them to go to your website?
#4: Prep for Each Podcast Episode
If you're doing a solo-style podcast, then the prep is fairly simple. As you plan your episodes and put content together, you prepare just as you would for a video or a presentation. Run through your know, feel, and do formula so that you can follow that framework and deliver on your promise.
For an interview-style podcast, the prep can be a little more involved. One best practice, and it's something we do for our own podcast, is to do a pre-interview with each of your guests before actually recording the episode. This will help you pinpoint exactly what you're going to talk about, which will in turn ensure that the content is both relevant and valuable to your audience, as well as to the person you're interviewing.
This will also give you a chance to explain to your guest who your audience is and how you serve them. This will make the guest more comfortable and help steer their answers to ensure that they deliver the most relevant content.
And again, with each episode, consider what you want your audience to know, how you want your audience to feel, and what you want your audience to do by the end of the episode.
#5: Avoid 3 Common Mistakes When Starting a Podcast
Let's go over the three biggest mistakes new podcasters tend to make and how you can avoid them.
Remember to Serve Your Audience First
First and foremost, one of the biggest mistakes that new podcasters tend to make is they forget to serve their audience first. As marketers, we all understand the importance of serving our audience. But with podcasting, the service is paramount.
New podcasters tend to be very excited about all of the things they're going to say, people they're going to interview, sponsorship opportunities, promoting their own products and services, and building leads. These things are great but there are certain considerations to make when planning or recording your podcast episodes to ensure that you're serving your audience's needs first and providing these other benefits after.
Track Real Results
The next mistake new podcasters make is failing or forgetting to check their real results. Many new podcasters will check out their downloads to see whether their podcast is working but then they don't go any further.
To truly know whether your podcast is working, go back to the goal you defined in Step #2 and assess whether you're meeting that goal.
If your objective is to use your podcast to generate leads, how do you know if the podcast is working? This is where tracking results is really going to be a big benefit. Logging into your podcast analytics and seeing that 1 million people have downloaded your podcast may feel exciting but not if that million people didn't listen to the episode nor follow your call to action at the end of the podcast.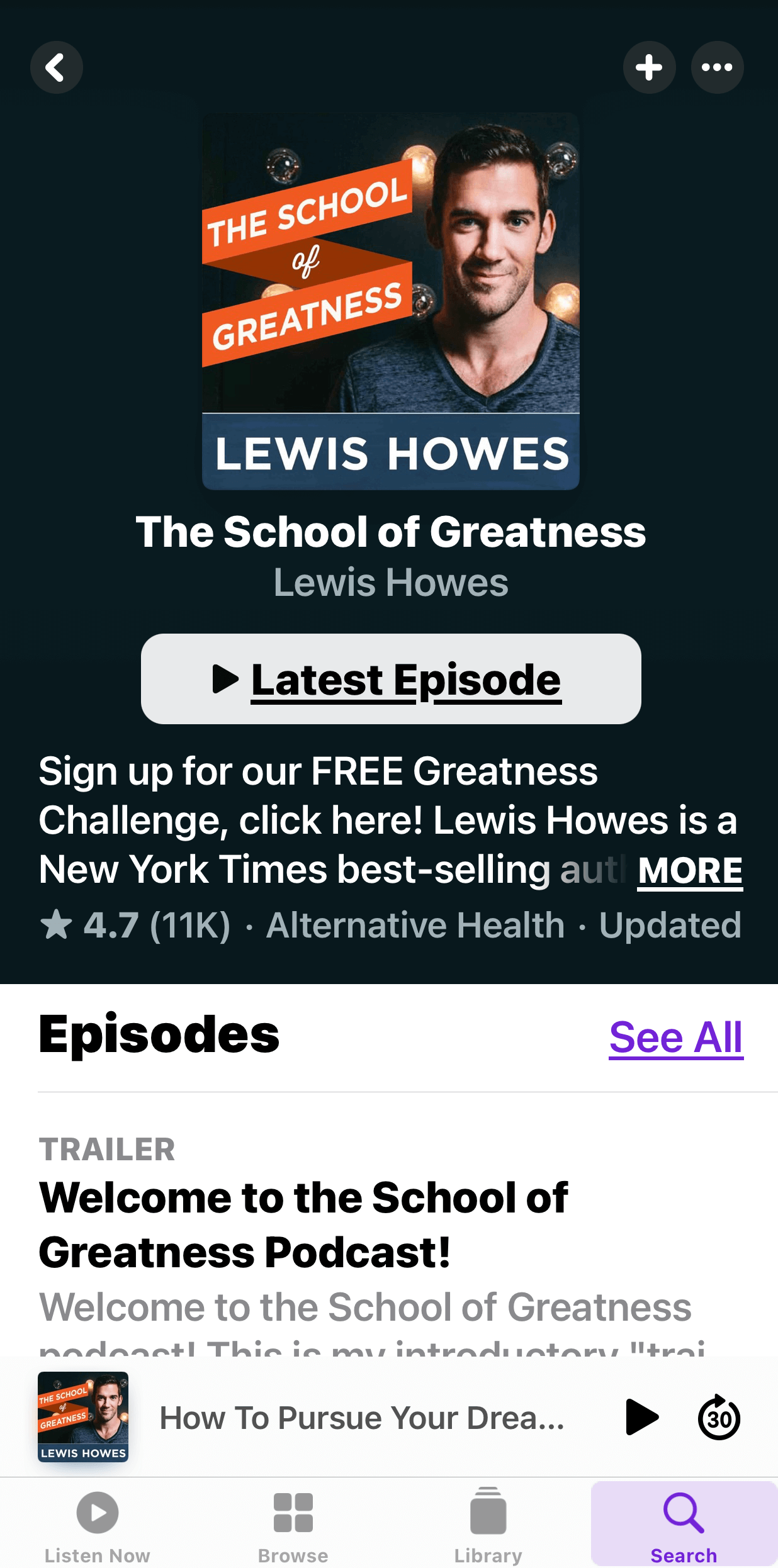 Tracking your results doesn't have to be complicated. It can be as easy as setting up a special link or coupon that's only shared through the podcast and tracking those clicks or the number of times that coupon has been used. By doing this, you'll be able to see exactly what kind of results your podcast is generating and calculate your return on investment.
Once you start publishing your episodes, analyze your data and measure whether your podcast is working and look for ways to optimize pieces to make it work better.
For example, are your titles compelling enough for people to download your podcast episodes? And is the content being listened to? Are people following your call to action at the end of the podcast? These are all areas that you can optimize for maximum engagement and performance with each episode.
Once you have everything running smoothly, progress has been tracked, and episodes are being optimized, then it becomes a matter of scaling. How can you repeat your process, put out more consistent podcast episodes, and continue to serve your audience?
Keep Your Intro Short
We spoke a bit earlier about remembering to serve your audience first, which includes the pieces within your podcast episode. A lot of new podcasters make the mistake of placing episode ads, long introductions, or even talking about their own bio and backstory before digging into the content of their podcast episode.
Your content should come up faster. Your introduction should be short and you really don't need much of a bio at all. At least not a 1- to 5-minute long bio in which you go over how you got to be who you are. They just need to know your name and what they're about to get out of this episode. Dig into the content as fast as possible.
Other Notes From This Episode