Are you wondering what creator coins are? Are you thinking of starting your own token?
In this article, you'll discover what social tokens are, how they work, and why they're important to the future of business.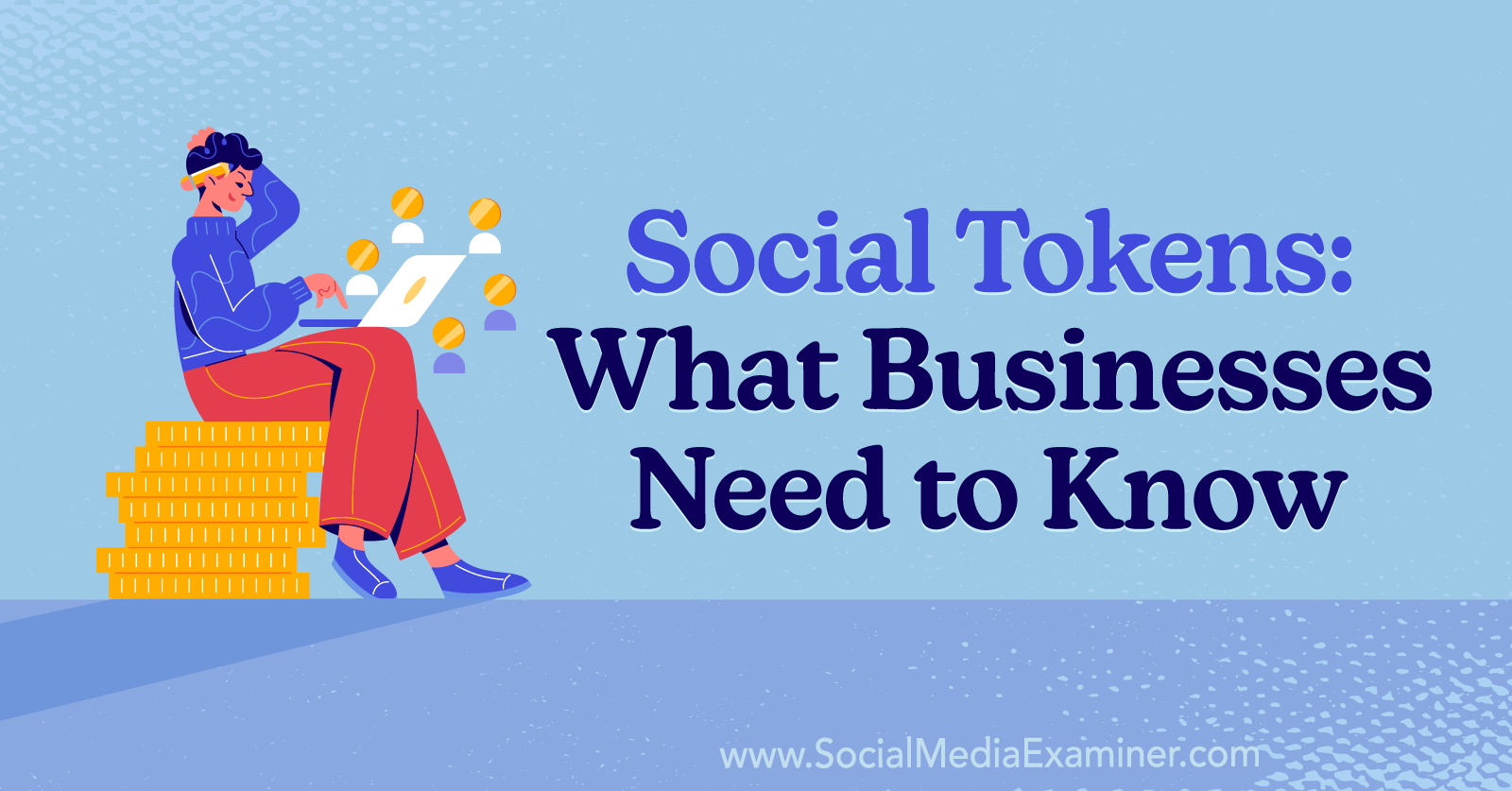 What Are Social Tokens?
One question we're starting to hear a lot when it comes to social tokens is why should marketers bother? Before we address that though, let's talk about what social tokens are.
You may have heard several other terms being tossed around—social token, creator coin, community tokens—they all mean the same thing. These terms are basically interchangeable and people can choose which term suits them. For the remainder of this article, however, we're going to stick with social token for ease of understanding.
A social token is, at its core, a separate and independent economy based on digital ownership. A creator, say Jane Doe, would create a token named after them or after their brand, @JaneDoe. Their audience could then acquire these @JaneDoe tokens, either by being granted some as a reward for engagement or other actions taken on any of Jane Doe's platforms or by purchasing some directly from Jane Doe.
For example, gamer and streamer Alliestrasza had one of the first coins out there. She told people that if they had a certain amount of her $ALLIE coin, they would gain access to an exclusive Discord group that would enable them to communicate with her and get access to her anytime.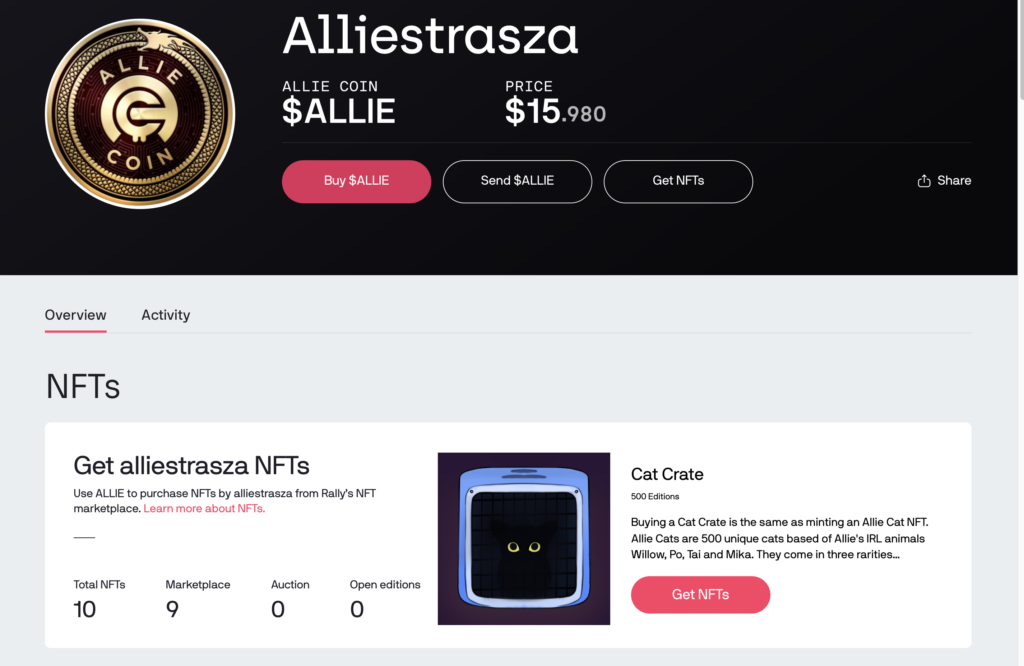 When a creator on any platform creates their token, it's on the blockchain. Generally, most social tokens are on the Ethereum blockchain. And once they create their token, it's up to the creator to decide what their value is going to be.
It's important to note that people who acquire these social tokens aren't actually receiving any money. It's not like the stock market where you can buy into a stock and you would receive a certificate showing ownership of those stocks. You don't receive any physical tokens or coins through the mail or anything like that.
You do need to start with a digital wallet of some kind to buy any kind of coin. Some coins you can buy through your own MetaMask wallet. You can buy different types of coins on an exchange, like a coin base. Once you have your digital wallet, then you can purchase or otherwise acquire some of the different coins that would be available with that wallet.
In exchange, people are receiving a digital record of your personal currency in their wallet. They can use this digital currency within your personal economy in any way you've built them to work. We're going to talk a little bit about what's possible with social tokens later on in the article but think in terms of funding or access to services or even products.
Why Businesses Should Care About Social Tokens
Now that you understand what social tokens are, let's talk about why they matter to marketers. Couldn't you simply create a membership site or a membership group and continue building your communities using subscription models?
The really interesting thing about a social token is that it's not merely paying for a spot within a membership, like so many other subscriptions. Rather, it's paying to own a piece of the community that shares in this individual social economy.
And this is an important distinction to make because as of right now, when someone purchases a membership, they're not purchasing anything tangible. They can't transfer that membership over to someone else, and in many cases, they can't share that membership with anyone else. But with a token, they can do whatever they want because they have something that even in its digital form is still tangible. That piece is theirs to do with whatever they please, including giving it away to someone or selling it.
However, as an owner of that token, people are more invested in that community or in that membership. They become a part of a collective running that membership rather than just a passive member of the audience. They want to see it get shared. They want to see it grow and they want to see you succeed because your success is literally their success.
What Social Tokens Make Possible for Your Business
First and foremost, coins make excellent lead magnets. If you've created a social token, or if you're thinking about creating one, being able to offer your audience 5 or 10 tokens to sign up for your newsletter is a powerful way to both grow your email list while also growing the number of people on your currency.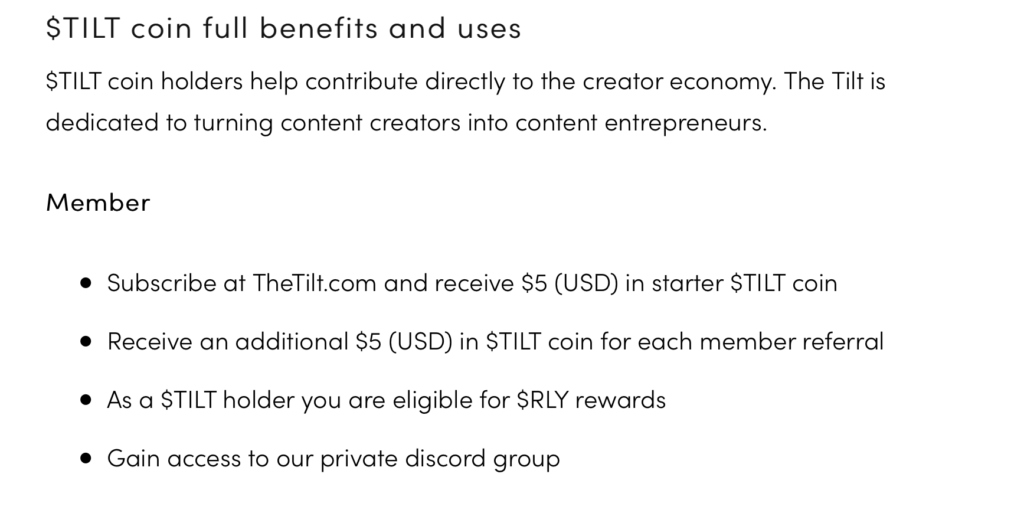 There have also been cases where people create the coins as a way of selling their value in exchange for funds. For example, they'll use the monies raised by the sale of their personal coins to fund a trip to Europe while promising 10% of their total future value.
One of the more fascinating ways to use social tokens is through the creation of communities and fan bases by selling access. This can be access to content, the creator, or even a community.
For example, with The Tilt, when somebody signs up, they get $5 in $TILT coin. If they refer someone, they get another $5 in $TILT coin. They also get access to the company's Discord channel. This is where they activate their Tilt coin into the different membership levels.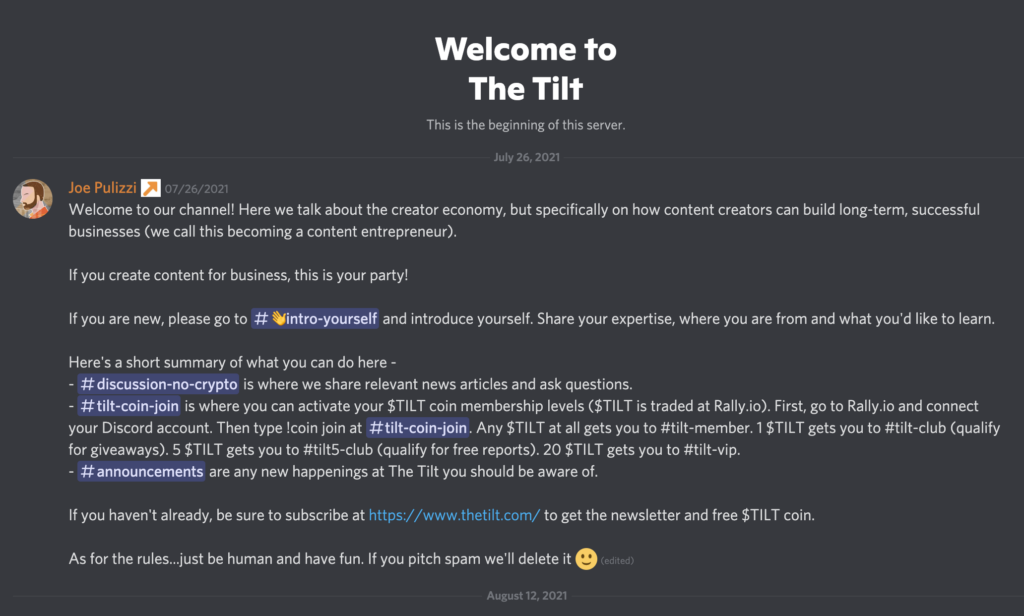 You can also use social tokens to create a rewards program for your community, providing incentives for various activities in your community.
And finally, you can use tokens to sell sponsorships for some of your content such as a podcast or newsletter sponsorship.
All social tokens are set up with some rules, sort of like a smart contract; for example, $TILT coin launched on the Rally network with the understanding that there would never be more than 210,000 coins. So when they launched at about 90,000 coins, they knew they had another 120,000 coins that could still be created once there was a demand for them.
As demand for the coins goes up, meaning as people continue to acquire or purchase the coins, their value also goes up. As people trade or sell off those coins, the value of those coins will go down.
Key Factors to Consider When Creating Social Tokens
One of the first things that marketers should keep in mind as they start trying to create their own social tokens is that they have to think long term. The social tokens are tied to your name or brand for as long as they're in circulation. It becomes a piece of your legacy, which means your reputation is on the line.
More than anything, social tokens help to personify the trust economy. People have to be able to trust your name and your brand because if they can't trust that you're going to hold up your end of the bargain when it comes to buying into your membership, they're not going to buy into your tokens.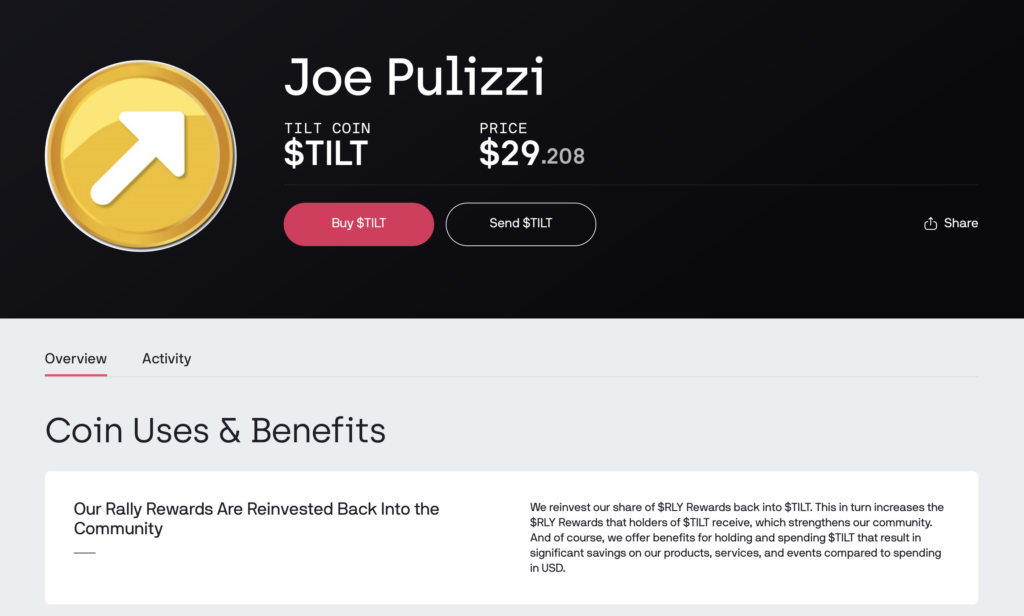 The second thing to keep in mind is to look at the roadmap and your business model and how the token fits into it. Many marketers decide to dabble in creating social coins and the problem with dabbling is that it carries through to the other side.
Creating social tokens isn't something you can successfully dabble in. It requires overhauling a lot of your systems to integrate those social tokens fully, which you can't just go halfway on. You have to look at everything.
For example, if you were going to have a social token and tell your audience that they can use those tokens to purchase products and services, the tokens must be available for purchase and integrated. And that takes some forethought and planning.
A lot of big companies may be changing their rewards programs into tokenized programs over the next year or so. For example, instead of having the Target perks, whatever the reward program is at Target, people would be able to get Target tokens. They'd be able to use and trade those tokens to purchase more products or services or actually trade out of it altogether.
2022 is going to be a big year for a lot of big brands to get into the token game and start building out those programs. And it could happen much faster than anyone is predicting.
Cryptocurrency is already building much faster than anybody really thought it was going to, and it's not even that old yet. There's something with the ownership of a community that makes people that much more invested and engaged with the community; therefore, they're going all-in on the ownership aspect. Decentralized autonomous organizations, which run on tokens, are going to replace many of the online communities we see today.
Eventually, as with anything on social media and technology, as these technologies continue to evolve and grow, they'll become more accessible to more people. The barrier to getting in will be lowered and it will become easier for people to go through the process of creating their own tokens. And they're going to do it while still building their presence on YouTube and other channels.
Other Notes From This Episode
Where to subscribe: Apple Podcasts | Google Podcasts | Spotify | YouTube Music | YouTube | Amazon Music | RSS
✋🏽 If you enjoyed this episode of the Social Media Marketing podcast, please head over to Apple Podcasts, leave a rating, write a review, and subscribe.
Disclaimer: The information provided on this website is provided solely for educational purposes and does not constitute any advice, including but not limited to, investment advice, trading advice or financial advice, and you should not treat any of the website's content as such. Social Media Examiner recommends that you independently research any information contained on this Website and that you speak with an investment professional before making any decision to purchase, trade, hold or sell cryptocurrency. Nothing herein should be treated as a recommendation to buy, sell or hold cryptocurrency. Social Media Examiner cannot guarantee the accuracy of any information listed on the website and is not responsible for any missing or wrong information. All information is provided as is and should be used at your own risk. Social Media Examiner disclaims all responsibility and liability for your use of any information found on the website.
---
Stay Up-to-Date: Get New Marketing Articles Delivered to You!
Don't miss out on upcoming social media marketing insights and strategies! Sign up to receive notifications when we publish new articles on Social Media Examiner. Our expertly crafted content will help you stay ahead of the curve and drive results for your business. Click the link below to sign up now and receive our annual report!