Want more people to respond to your LinkedIn posts? Wondering how to ideate and create LinkedIn content people will engage with?
In this article, you'll discover a LinkedIn engagement marketing strategy that will improve your content creation process and help you interact with more prospects.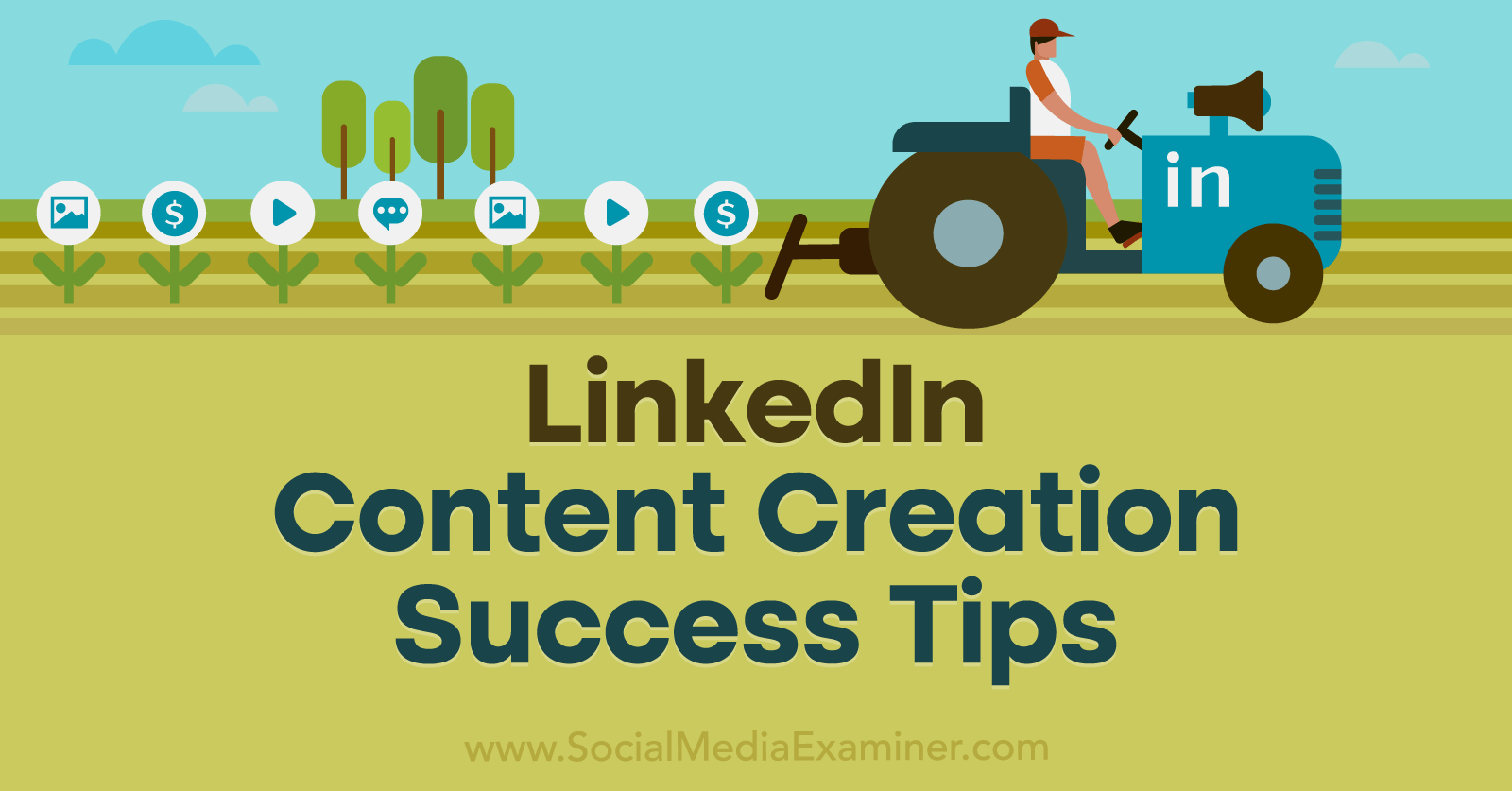 LinkedIn Content Creation Success Tips
Want more people to respond to your LinkedIn posts? Wondering how to ideate and create LinkedIn content people will engage with?
In this article, you'll discover a LinkedIn engagement marketing strategy that will improve your content creation process and help you interact with more prospects.
Why LinkedIn Is Good for Growth Marketers
In its own words, LinkedIn is a "professional community." It's social media in work mode and some people think that makes it boring.
Those people are missing out. LinkedIn has incredibly high levels of user retention and engagement, precisely because it's a professional social network. Everyone on LinkedIn has a definite purpose in being there. LinkedIn users aren't just logging on for a few minutes of distraction or relaxation; they're paying close attention.
As well as its high engagement levels, LinkedIn also has a lot to offer marketers because of its algorithm. Unlike social networks such as TikTok and YouTube that focus on promoting content, LinkedIn wants to promote connections between LinkedIn users.
What does that mean for your social selling strategy? When you create great LinkedIn posts or comments, LinkedIn tries to reinforce your connection with anyone who sees that content. The algorithm will surface more of your posts and comments in the news feed to sustain the connection.
That makes it very easy for you to get attention from your target audience, even if they're distant connections or hard to reach via other channels. You create the content and the algorithm will help you build trust and connection over time.
However… you still need to create the right content in the first place.
#1: How to Create Engaging LinkedIn Posts
Compared to other social networks, LinkedIn is very text-focused. That's good news for marketers who are most comfortable with the written word.
There's still space for video, image, and sound, too. But LinkedIn's text focus should remind you of the most important point about content on the professional social network: stories matter. Every single LinkedIn post you make should tell a story.
Set Up a Regular LinkedIn Posting Schedule
Part of telling a good brand story is being consistent. Keep people engaged over time with a regular, frequent post schedule.
Ideally, you'll post at least twice a day but your content can vary with the time of day. For example:
10 a.m. – 12 p.m. This is when people are getting deep into work. Share a detailed contextual LinkedIn post, showcase your expertise, and start a discussion. These posts are the heart of your story and your strategy.
3 p.m. – 6 p.m. Work is winding down but people are still at their desks. This is a good time for more experimental content: reshares from other social networks, polls, photo carousels, slide decks, or videos. These posts are a fun way to test out new ideas and befriend your audience.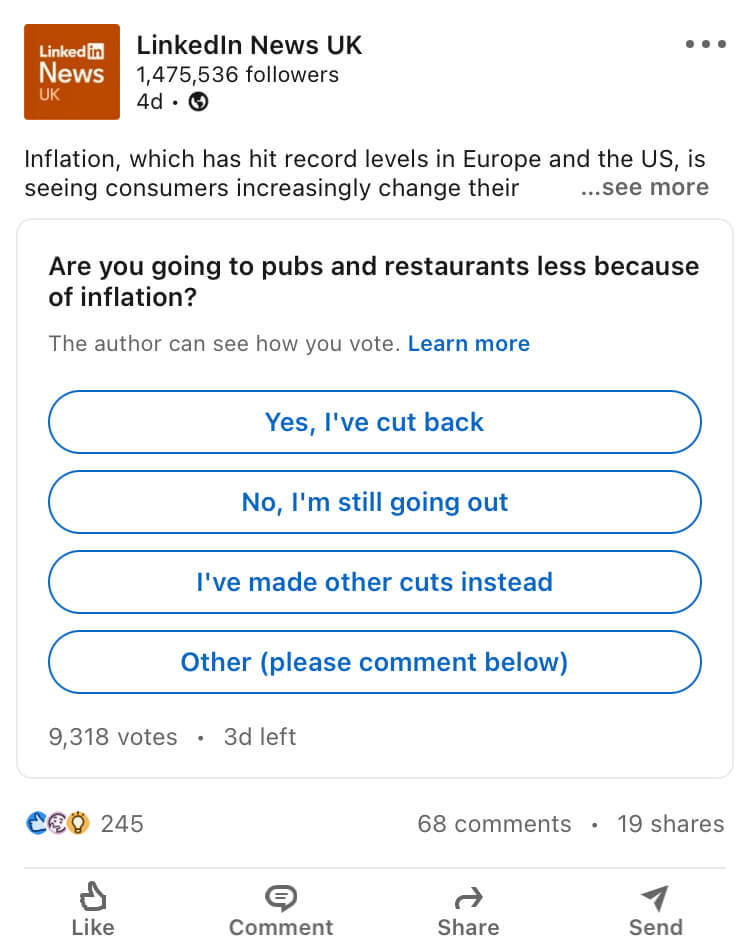 If you have an international audience, spreading posts out like this will also help offset differences in time zones.
Set Up a System to Record New LinkedIn Content Ideas
Sometimes, the best content ideas come from a single word, image, or scribbled note. Have you ever noticed how your most important business insights tend to come along while you're focused on something else, letting your mind relax and process things quietly?
You don't want to lose a single LinkedIn post idea. Get into the habit of making notes on your phone or in a notepad so you can develop content ideas later on.
Use Your Natural Voice
People often think that because LinkedIn is a professional network, they need to speak or write professionally. And by "professionally," they mean stilted, awkward, and hard to read.
Instead, you should create content with your natural voice. Don't just share formal press releases or job postings. Tell stories, offer insights, and share experiences.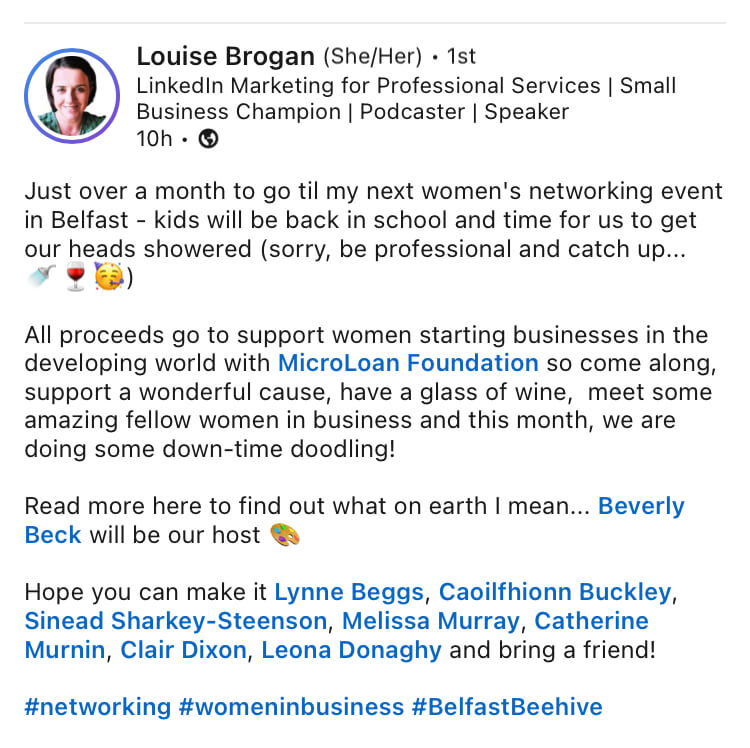 You'll often want to draft posts in advance to make sure that you've included all of the key points and found the right style. But don't get trapped into over-editing. Instead, try to use a relaxed, conversational style.
Remember that every person who sees your content will see it as an individual. You're not performing to a crowded conference hall; you're messaging an individual person. And because you're selling on LinkedIn, you want to make that person feel important.
It's OK to talk about yourself in your posts. But it's usually best to make the opening of your posts about the reader. Write in the second person, with lots of "you" phrases, instead of in the formal third person. Then save your personal observations for later in the post.
Let Audience Feedback Inform Future LinkedIn Content
LinkedIn offers analytics like any other social network: impressions, reactions, comments, and so on. But you can dive a little deeper.
Think about the actual content of your audience's responses to your posts. Are they interested? Are they inspired to take action? Are they encouraged to start a conversation?
If you pay attention, you'll soon figure out which topics and writing styles get the best response from your readers.
#2: How to Get More Out of LinkedIn Comments
Comments are part of what makes LinkedIn unique among other social networks. Comments are hugely important on LinkedIn. They affect your reach, profile, and connections.
Let's look at how you can harness the Comments section.
LinkedIn Algorithm Hack: Use Comments Instead of Shares
Every post on LinkedIn has a Share button. But here's a secret: the LinkedIn algorithm hates reshared posts. If you want to increase your reach and build connections, ignore that Share button.
Instead, comment on posts. When you comment on a post, it's reshared automatically in your news feed.
In the same way, you should encourage people to comment on your posts, not share them. Commenting is a far more effective way of showing a post to a larger audience.
Once someone has commented, LinkedIn continues to reinforce the share. Every time someone new comments on a post, all of the other commenters get notifications. That's a constant reminder of your content, and a constant encouragement to keep the conversation going.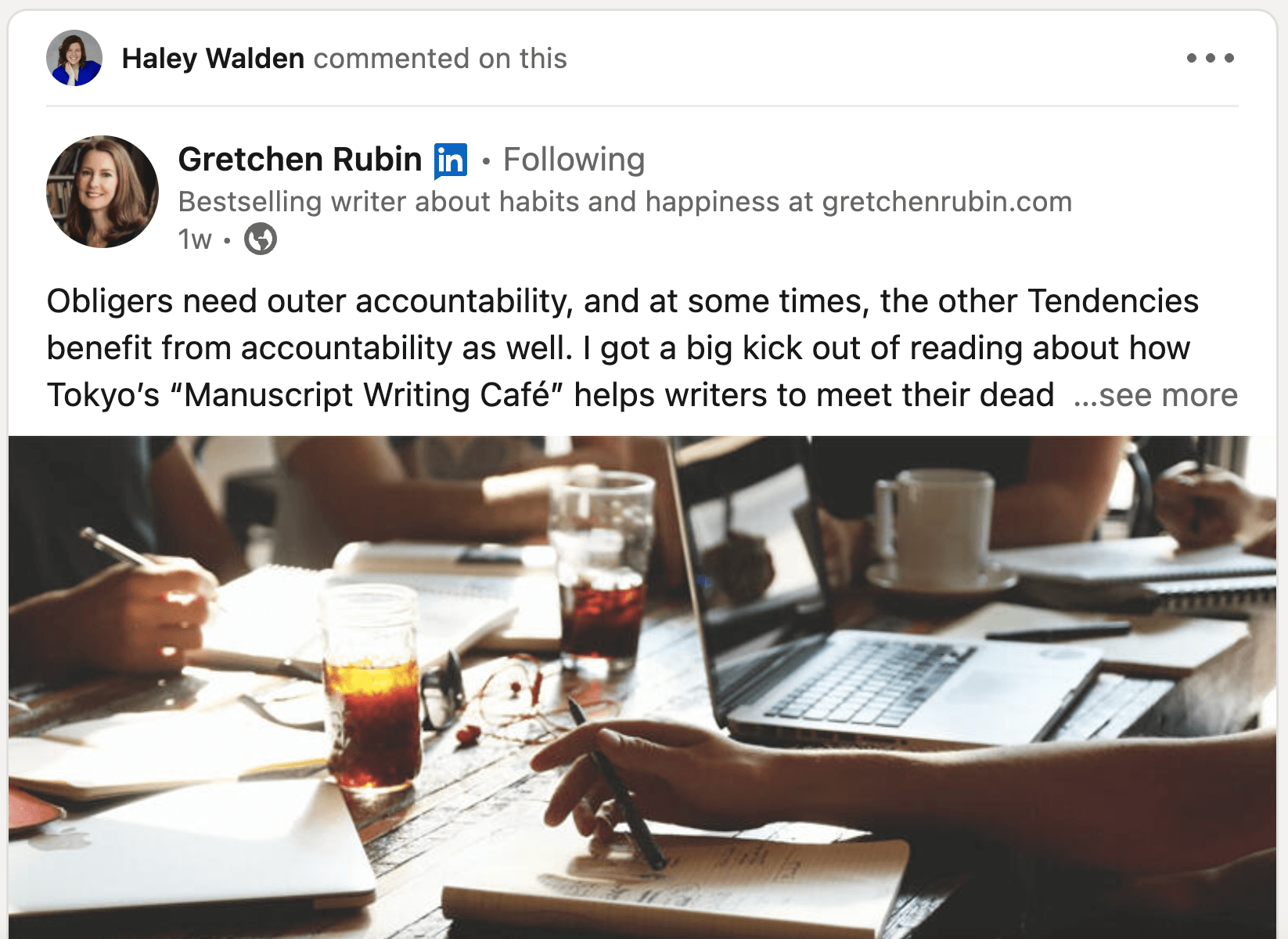 What's more, the LinkedIn algorithm uses comments as signals of how connected you are to someone. That means if someone comments on your content, they'll probably see more of your posts in their LinkedIn feed. If you interact with those comments, view the commenter's profile, or message them directly, then the signal gets even stronger.
This is what we mean when we talk about LinkedIn using content to build connections. The algorithm will help you out if you keep posting, commenting, and following up on those comments.
Use Comments to Further Expand on Your LinkedIn Posts
Comments aren't just for nurturing the leads created by your posts. They can also enhance the content of your posts by adding detail, adding sources, asking further questions, or expanding the topic of discussion.
LinkedIn comments have a very generous character limit and you should make the most of it. For example, you could make a post about a general topic and then describe your own experience in the comments. Or you could monitor the discussion on your original post and then ask follow-up questions to deepen the conversation.
Never Ignore a LinkedIn Comment From a Reader
By now, it should be clear that engaging with the comments is key to your social selling strategy on LinkedIn.
You should never leave a comment without a reaction—or better yet, a detailed response. Whenever you ignore a comment, you're ignoring a potential connection, client, mentor, or colleague.
Comments of at least five words seem to get better results than simple reactions or one-word comments so you can be detailed! Ask people to elaborate on their responses or explain their opinion. Create a welcoming, coffeehouse atmosphere in your posts, where anyone can jump into the conversation.
You can even benefit from the comments on posts by other creators. If you see a great post with a neglected comments section, jump on in there and start responding to people. You'll reap the same benefits as interacting with comments on your own posts.
Use the Comment Section for a Call to Action
Comments are a great way to build connections and nurture leads. But you don't want to lose sight of your ultimate goals.
So you can use the comment section for calls to action, too. If a post is successful and the comments are bustling, add a final comment that reminds people of what you're selling. You could include a calendar link, a link to your website, or a simple invitation to chat with you directly. You've demonstrated your worth through content… now make the sale.
Use the LinkedIn Comments as a Source of LinkedIn Post Ideas
Finally, you can use comments to feed into your content strategy on LinkedIn.
Comments from your connections are a valuable source of common questions, problems, and hot topics. You can use the comments as inspiration for longer posts or even screenshot the comments to share and discuss further.
#3: How to Leverage LinkedIn Creator Mode
In 2021, LinkedIn launched a new Creator Mode. It's designed to offer more profile features and analytics tools for people who post regularly on the platform and want to build an audience—in other words, growth marketers and entrepreneurs just like you.
Getting started is easy. Just go to your profile, scroll to the Resources section, and tap to turn Creator Mode on. LinkedIn will guide you through the next few steps.
So why is it worth it?
More bio space. When you set up Creator Mode, you can choose up to five hashtags to display on your profile. These are separate from your bio so you have more characters left to use.
Focus on followers. In Creator Mode, your profile displays the number of followers by default. This makes it easy for other users to see that you have authority and an audience on the social network. Anyone who visits your profile will be prompted to follow you, rather than connect.
Content is prioritized. The order of the boxes on your profile page will change. Your Activity and Featured posts will appear above your About section so people are directed to your content right away. Your Activity section will also focus on your posts, excluding your likes, reactions, and comments.
If you want to make even more impact, add a video to your profile. You don't need Creator Mode to do this, although you do need to use the mobile app instead of the desktop site.
Once you've recorded a profile video, you'll see a blue circle around your profile photo. Other users will automatically see a 3-second preview of the video and they can tap to view more.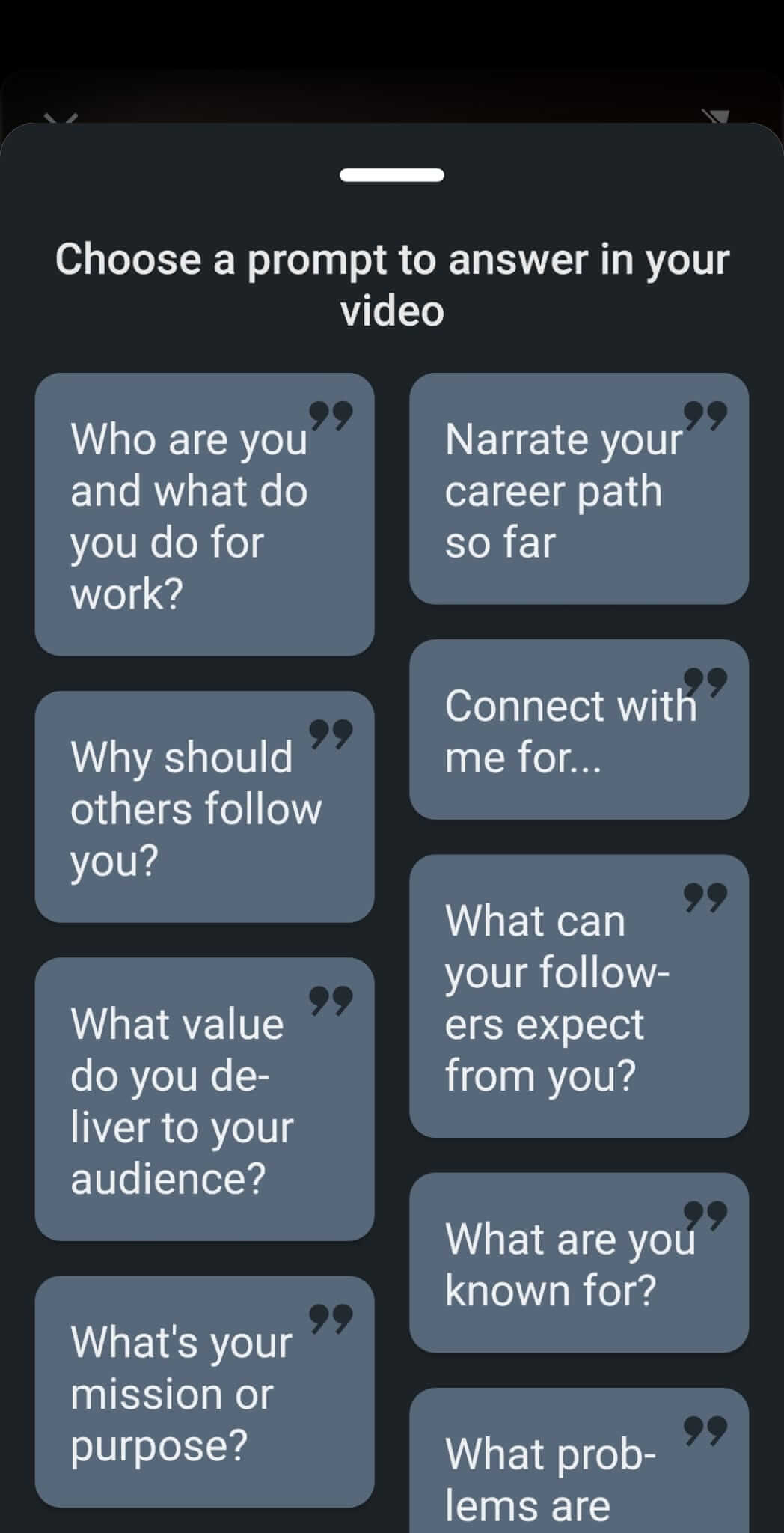 Use your profile video as another content channel on the social network. You can refresh it regularly with new topics or information. When you tap to add a profile video, LinkedIn even offers a set of prompts to help you get started. Use them as a jumping-off point for content ideas!
#4: Topics to Build Your LinkedIn Content Strategy
Let's delve a little deeper into content topics.
You know you should be posting regularly and frequently on LinkedIn, and following up with an active comment section. But what should those posts actually be about?
You want to tell stories that create real connections. You want to hold people's attention over time. You want to become the must-read creator in their feed.
One strategy is to vary your content topics according to the days of the week. Here's a sample post content schedule with a range of different stories that sell:
Monday: everyone wants a distraction on Monday! Share a memory, a story of overcoming a personal challenge, or even some inspiration you found over the weekend.
Tuesday: work has started in earnest now. Help your followers out with actionable tips and tricks.
Wednesday: time to get even more detailed. Share more ideas and advice for other creators. This time, tell the story of how you figured things out. Where did you get the idea? How did you make it work?
Thursday: focus on the core story of your brand. Remind people of your mission and the services or knowledge you offer.
Friday: it's almost the weekend and people are ready to relax. Tell a story about your community: recommend people to follow, share a favorite post, or give a shout-out to your best commenters from the week.
If you want to post on weekends, you can take an even more relaxed approach. Saturday and Sunday are good days to experiment with new formats and topics outside your usual niche.
The goal is to share content that's always engaging but with enough variety to keep things exciting. Before you know it, people will be looking out for your regular Friday comment threads and getting excited to try your Tuesday tips and tricks.
The 3 Best-Performing LinkedIn Content Formats
As we've seen, LinkedIn is a very text-focused social network. But text posts aren't the only kind of content you can share. Videos and carousel posts are also increasingly popular with creators and audiences.
Here are some quick tips to make your content more compelling—whether it's written, filmed, or curated.
Long-Form Content: Text Posts
LinkedIn posts tend to be long. That's one of their greatest strengths.
As a rule, you're aiming for about 700–1,300 characters. That's almost 10X longer than a classic tweet!
Break your post down into five or six paragraphs. Each paragraph should be no more than a couple of lines so it's easy to read.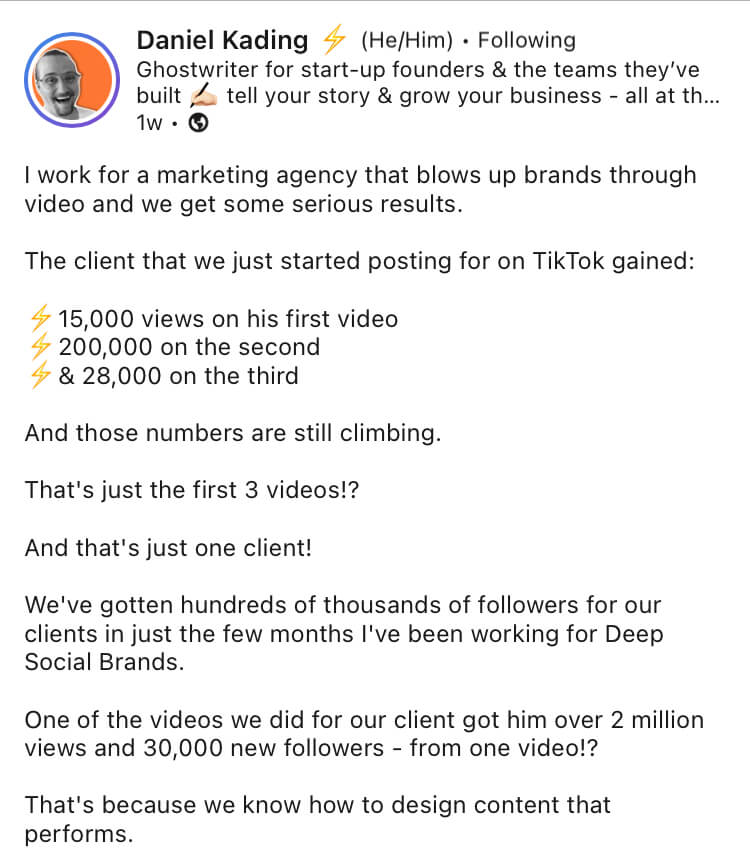 When you draft a post, read it back and ask yourself what the most important sentence is. Most often, people put the key point at the end. But that's the hook so move it up to the first paragraph.
Start with the hook and then fill in the background in the remaining paragraphs. If you make people curious, they're more likely to click See More.
The hook could be an essential tip, a conversation-starting question, or even a controversial statement. Remember, you want to get people talking in the comments!
Video
Video is a growing format on LinkedIn. It's bringing a slightly different content style to the platform.
Just like a text post, your videos should begin with a hook. The rest of the video should be more condensed and snappy than a text post. Keep it simple, short, and sweet.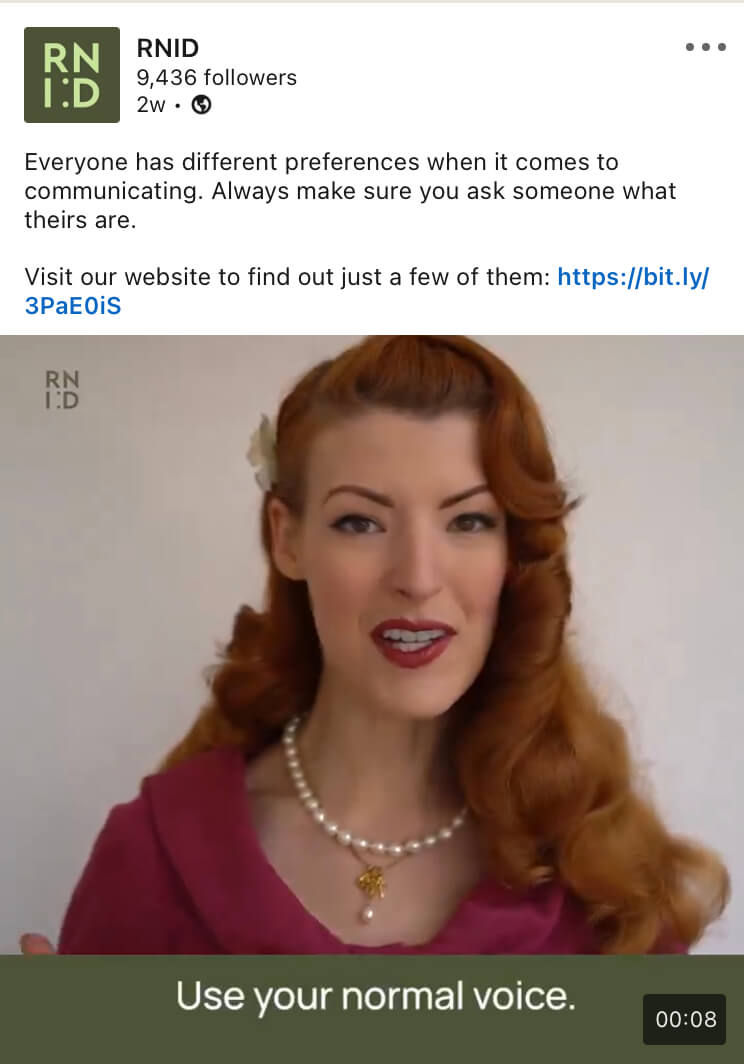 Like on other social media, the most popular video format is vertical and straight to camera. You can be casual and conversational; don't worry about high production values.
The most effective videos are under 30 seconds long. Although you can post longer videos, it's harder to retain viewers and goes against the content trend. Your goal is to maximize reactions, comments, and impressions, instead of holding attention for minutes at a time.
If creating more videos feels like a stretch, you can repurpose video content from other platforms. Video is still pretty new for LinkedIn creators, so simply by sharing video content at all, you'll stand out.
Image Carousels
Image carousels are a very versatile content format on LinkedIn. You can use them to share:
A sequence of photos that tell a story
A slide deck that pitches your business
Screenshots of comments from your posts
Screenshots of posts from other social networks
Don't be afraid to repurpose content such as comments and tweet threads. They show that you have a thriving LinkedIn audience across different social media platforms and they're often great conversation starters.
Other Notes From This Episode
Where to subscribe: Apple Podcast | Google Podcasts | Spotify | RSS
✋🏽 If you enjoyed this episode of the Social Media Marketing podcast, please head over to Apple Podcasts, leave a rating, write a review, and subscribe.
---
Stay Up-to-Date: Get New Marketing Articles Delivered to You!
Don't miss out on upcoming social media marketing insights and strategies! Sign up to receive notifications when we publish new articles on Social Media Examiner. Our expertly crafted content will help you stay ahead of the curve and drive results for your business. Click the link below to sign up now and receive our annual report!