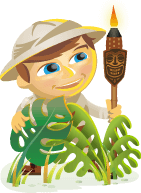 Do you use Instagram for your business?
Are you wondering how Instagram can help with your marketing?
To learn how to get started with Instagram marketing, I interview Sue B. Zimmerman for this episode of the Social Media Marketing podcast.
More About This Show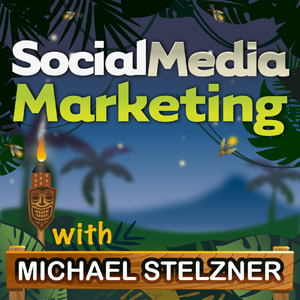 The Social Media Marketing podcast is a show from Social Media Examiner.
It's designed to help busy marketers and business owners discover what works with social media marketing.
The show format is on-demand talk radio (also known as podcasting).
In this episode, I interview Sue B. Zimmerman, who is known as the Instagram Gal. Sue helps businesses use Instagram to find their ideal customers. She's used Instagram herself to increase traffic to her Cape Cod retail boutique by 40% in only 12 months.
Sue shares the strategy behind her Instagram success.
You'll learn how to take advantage of using photos and short videos and how to make the most of hashtags.
Share your feedback, read the show notes and get the links mentioned in this episode below!
Listen Now
Where to subscribe: Apple Podcast | Google Podcasts | Spotify | RSS
Here are some of the things you'll discover in this show:
Instagram Marketing
Why marketers should consider Instagram
Sue states that she didn't know what Instagram was until a little over a year ago. She became curious when her twin daughters were using it.
Sue shares that one of the reasons why marketers should consider Instagram is because it's mobile. It's a great way for your business to communicate directly with people with whom you want to build trust and credibility. There's no better way for people to see what you are up to.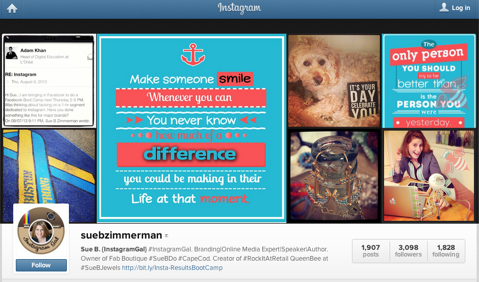 Instagram is a free mobile app, which you can download onto your iPhone or Android phone. It allows you to share photos or videos with your target market. It's very quick, easy and fun to use. There are 20 filters that you can have a lot of fun with.
You'll discover why hashtags and @mentions are most important for marketers and businesses.
Listen to the show to find out what type of image gets the most likes and comments for Sue.
Who is Instagram ideally for and how does it differ from Pinterest?
Sue believes they are similar but have slightly different approaches. Sue has a very active Pinterest account, which is also very successful for her boutique.
Both Pinterest and Instagram have grown into their own thriving communities.
With Instagram, you can tell a story with both photos and videos. As soon as you upload an Instagram image, you can see within seconds that someone has liked it. With Pinterest however, you tell people what you like. You curate your boards and highlight what you like from things that are already online.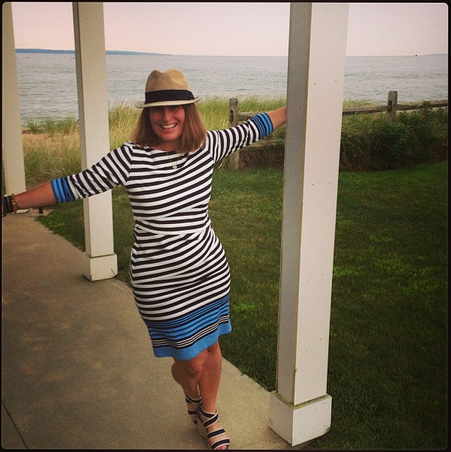 Sue gives an example of how she is able to seize opportunities presented to her with customers in her boutique. It's a great way to create a fun mood.
The hashtags that you use to describe the image or the video are how people follow you or find you.
You'll hear what hashtags Sue uses at an event and why it helps create more interaction. You have to remember that people look for certain hashtags for their industry to stay top of mind.

From a business perspective, when an image grabs your attention, you can choose to click into the account and see if you want to follow the person. Once you start to follow an account, it will show up in your feed. You can also unfollow accounts at any time.
Sue believes that she can put a visual strategy together for any kind of business. You'll hear the different types of businesses she has worked with.
In the B2B world, it's not necessarily about the products you sell, it's about visual feelings. Images of sunsets, nature and oceans get a lot of likes because they are visually pleasing. It's not just about business.
Listen to the show to find out what the benefits are when you share your passions visually as an individual.
Examples of businesses that use Instagram well
One of Sue's favorite businesses is Birchbox. They have over 50,000 followers and are super-creative with their products. One of the products is a subscription-based box of goodies, which is delivered to your door once a month for $10.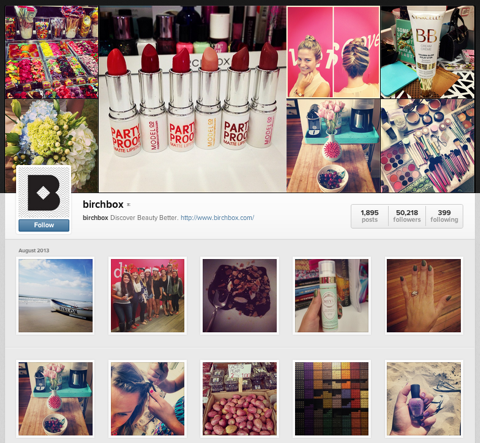 Sue recently did a Google+ Hangout with the owner of Simple Green Smoothies. The reason why they have 170,000 followers is because they have the most gorgeous images of smoothies. You'll find out what added value they provide to their images.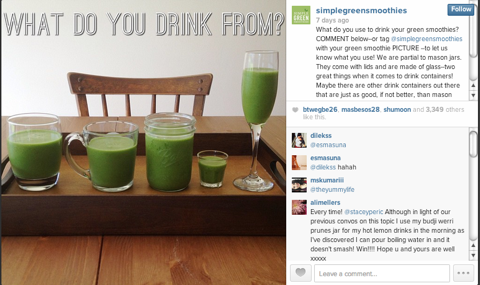 A great example of someone who uses 15-second videos on Instagram is Chalene Johnson, who is a fitness guru. She has 130,000 followers. Her branding is consistent and entertaining.
Listen to the show to hear why Sue loves what Starbucks has done with its Instagram account and why it's not about the coffee.
Should marketers focus more on photos or the 15-second videos?
Sue uses a 15-second video at least once a day. With video, you can capture so much more than with a photo. You can combine audio with the video.
You'll hear Sue give a great example of when she used video instead of photo to capture the moment.
Instagram recently announced that you can upload any video that you've created in your library to Instagram. You might already have a short clip you want to share. It opens up opportunity if you are a video pro.
When you write a description with the correct hashtags for the image, you can type in the URL of where you want to send someone. On Instagram the URL is not live when you click it, but when you share the image to Facebook, it is.

With Instagram you can share images to Facebook, Twitter, Foursquare, Tumblr or email.
You'll discover the advantages of calls to action in the mobile app and how to make sure people receive notifications on Instagram and Twitter.
If you make a video with Instagram, you can do stop animation. Check out Rachel Ryle on Instagram, as she creates the most amazing illustrated videos.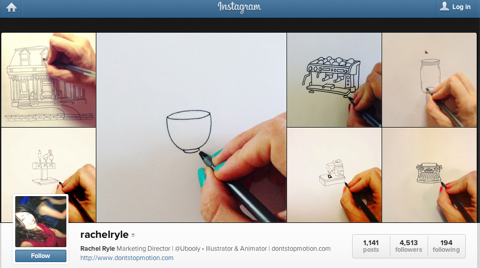 Listen to the show to find out why Sue believes that the 15-second video is a great solution for people who fear creating videos.
How does Instagram interface with Facebook? 
Sue explains that when you create an image on Instagram, you can decide where you want it to go. This is great news for people who have multiple Facebook accounts.
Most people think there are just 5 buttons on Instagram, but there are actually 50 buttons. There's a lot of functionality and features.
Listen to the show to hear how Instagram videos work with Facebook.
What's the difference between the web interface and the mobile app?
Sue explains that you can pull up your Instagram account on your desktop and laptop. The interface is different, but you can still comment, like and connect to other people's accounts, just like you can on your phone.
The great thing about the desktop is that you can go into Statigram and analyze all of your Instagram data. You'll learn about the type of data you can see.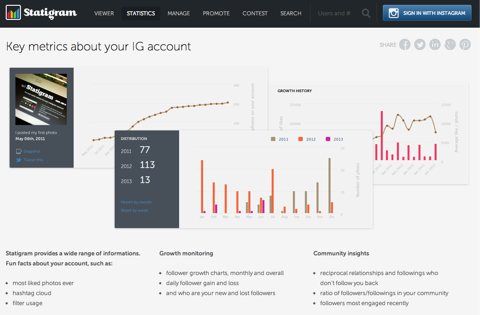 You can't schedule with Instagram. It's all in the moment. Sue believes this is why there is so much engagement and why people love it.
You'll find out why the life span of an Instagram is endless and what people look for with a business account.
Listen to the show to hear why Sue finds the engagement on Instagram is better than any other social media platform that she is active on.
What's your strategy for your Cape Cod boutique?
Sue knows what her relevant hashtags are for the essence of her brand.
Whenever she takes a product shot, she uses the hashtag of the brand or the adjectives that describe the product. It's amazing what people follow. You'll hear why an anchor is such a iconic image and makes a great hashtag.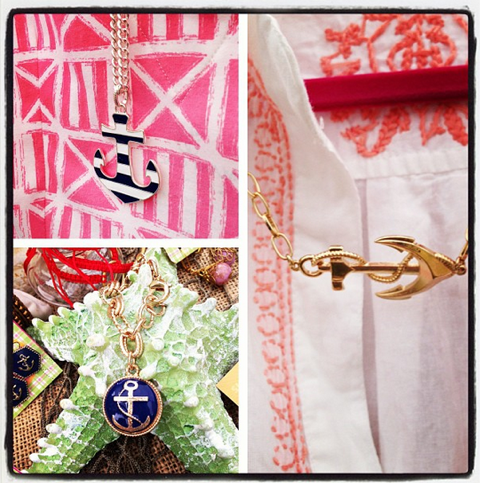 Sue has over 3000 followers—a lot of whom are from her customer base. The images used definitely help drive traffic into her store.
Listen to the show to hear why Sue's standards for photos are extremely high.
Discovery of the Week
Tagboard is a really cool website where you can enter a hashtag and it aggregates the hashtag content across many social networks.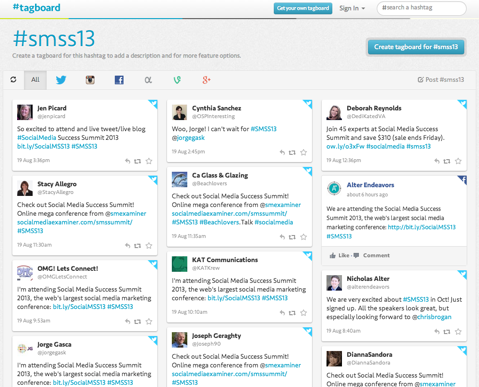 Once you enter your hashtag, you can see which people on a particular platform have used your hashtag. It's a great way to get to a very high-level view of what everyone is saying across the social channels.
Call in and leave your social media–related questions for us and we may include them in a future show.
Listen to the show to learn more and let us know how this works for you.
Other Show Mentions
Social Media Success Summit 2013
Social Media Success Summit 2013 is a special online conference designed to help you master social media marketing (brought to you by Social Media Examiner).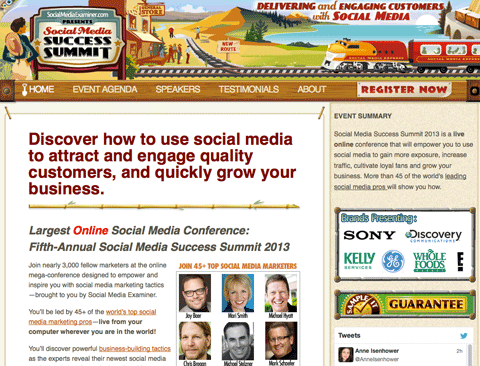 Forty-five of the world's leading social media pros will show you how. Instructors include Jay Baer (author, Youtility), Chris Brogan (co-author, Impact Equation), Mari Smith (co-author, Facebook Marketing), Michael Stelzner (founder, Social Media Examiner), Mark Schaefer (author, Return on Influence), Jesse Stay (author, Google+ for Dummies), Amy Porterfield (co-author, Facebook Marketing All-in-One for Dummies) and experts from General Electric, Sony, E! Online, Kelly Services and Discovery Channel–just to mention a few. Fully online. Click here to learn more.
If you want to improve your Pinterest marketing, you definitely need to check it out. Three of the sessions focused on Pinterest include:
How to Run Successful Pinterest Contests—Melanie Duncan
How to Use Pinterest for More Traffic, Leads and Sales—Cynthia Sanchez
How Big Businesses Do Pinterest Marketing—led by Beth Hayden with marketers from Whole Foods and Target
Social Media Success Summit 2013 is a great opportunity if you are thinking of getting into Pinterest marketing or you want to master social media. It's completely live online and you get the recordings and the transcripts. Be sure to check it out.
Key takeaways mentioned in this episode:
Ways to subscribe to the Social Media Marketing podcast:

What do you think? What are your thoughts on using Instagram for your business? Please leave your comments below.