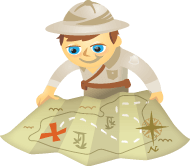 Are you looking for some creative ways to use Pinterest?
Would you like to make stronger connections with your customers?
Although many brands run creative contests on Pinterest, here are some new ways to engage audiences and build your presence.
Take a look at what these 3 brands are doing to get inspiration for using Pinterest creatively for your business.
#1: Run a Campaign to Give Back
One of the most interesting things I've seen on Pinterest was Sony Electronics' Pin It to Give It campaign.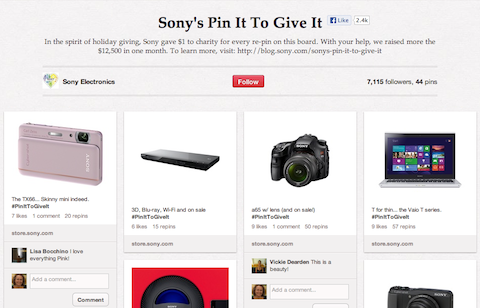 Sony Electronics used their Pinterest brand page to curate an array of Sony Electronics products that were pinned to the Pin It to Give It board. Every time someone repinned from the board, Sony Electronics donated a dollar to The Michael Phelps Foundation. The campaign ran from November 27 through December 31, 2012 and raised more than $12,500.
This campaign had a unique spin when compared to other competitions with the overused Pin It to Win It campaign title. Sony's label clearly communicated that the campaign was about helping others.
This not only helped Sony Electronics build their brand image by showing that they give back to their community, it also helped them engage their audience and create product awareness. Visit the board today and you will see pins that have been repeatedly liked and repinned—many more than 200 times.
How can you get creative with Pinterest contests?
Think like Sony Electronics and create something that is not only unique, but that engages your audience in a way that makes your campaign stand out.
#2: Get Strategic With Guest Pinners
Etsy has made incredible use of Pinterest's group boards feature, also known as contributor boards.
In addition to the Etsy-curated boards on their brand page, they have several guest pinner boards, on which a contributor who is an expert on a subject contributes pins. Both individuals like Guest Pinner: Automatism and companies like Random House, Whole Foods Market and Martha Stewart Living contribute to boards for them.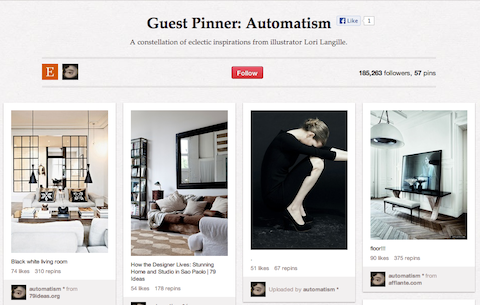 This association benefits the creator of the board and the contributor and forms a strong relationship between the two.
When Guest Pinner: Automatism's Lori Langille pins to the group board Etsy created for her, not only does Etsy's board gather more pins from an expert source, they also attract followers from her because the board is displayed on her personal Lori Langille (Automatism) profile.
Get Your FREE Course: Web3 for Beginners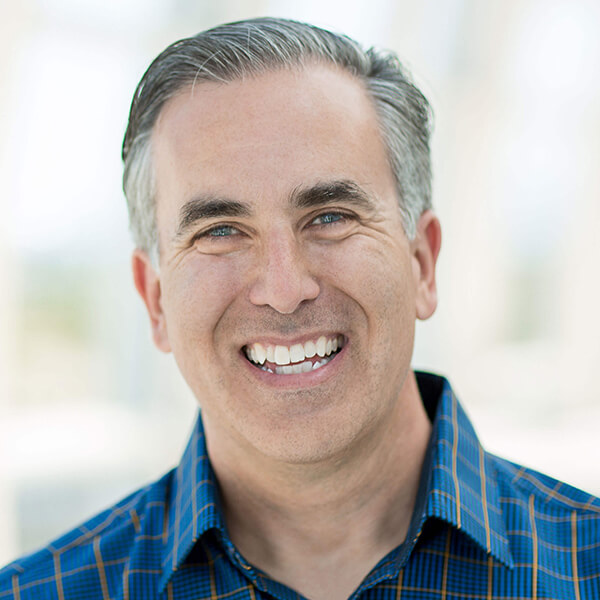 Curious about Web3, but don't know where to start or who to trust?

Introducing Web3 for Beginners, a course taught by Michael Stelzner, the founder of Social Media Examiner.

Learn the basics of Web3 and apply it to your business with this FREE comprehensive course.
CLICK HERE TO GET FREE ACCESS
In turn, illustrator Lori Langille (Automatism) receives increased exposure through the pins on her Guest Pinner: Automatism board, as well as followers who find her through the guest board on Etsy.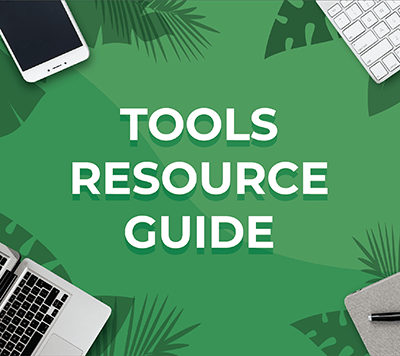 Looking for something to make your life easier?
Discover the tools we recommend to drive engagement, save you time, and boost sales across your entire marketing funnel or business.
Whether you need help planning content, organizing social posts, or developing your strategy, you'll find something for every situation.
FIND YOUR NEXT FAVORITE TOOL

Associating one contributor with one group board, as opposed to associating many contributors with one group board, can help avoid complications with content. Group boards with too many contributors and no moderators often suffer from issues such as oversharing of spam pins that aren't relevant to the board's topic.
How can your business best use guest contributors to your Pinterest boards? Which experts are in your network who could share value with your audience on Pinterest? Follow Etsy's example and create a valuable community on Pinterest with the help of others.
#3: Help People Get to Know You Better
When you think of Ben & Jerry's on Pinterest, the first thing that pops into your mind is probably a brand page full of ice cream recipes, frozen desserts and other sweet stuff.
True to their roots, Ben & Jerry's has done something completely different. They have used Pinterest to help their audience learn more about the company.
On their brand page, you find boards that teach you everything about who they are, what they do and how they treat their fans.
The Fan Photo's board is full of photos from fans who are enjoying Ben & Jerry's ice cream.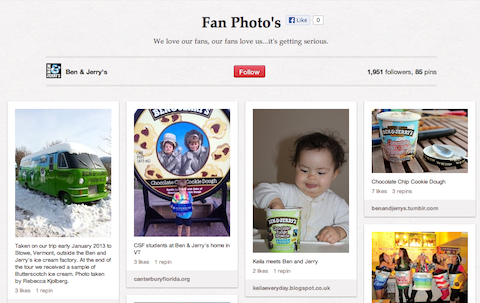 These images will help engage their fans and double as testimonials. When people look at others enjoying ice cream, they want some, too. And they might buy some Ben & Jerry's to get involved like everybody else.
This board shows that Ben & Jerry's cares about their fans, that they want their fans to be a part of the company. This is an attitude that goes a long way toward attracting more loyal fans.
The Our People board shows you pictures of Ben & Jerry's employees.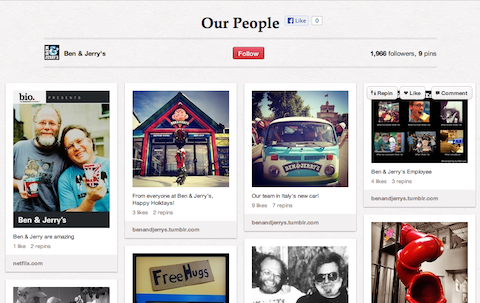 The Our Factory board is a collection of images that show what happens inside Ben & Jerry's factory.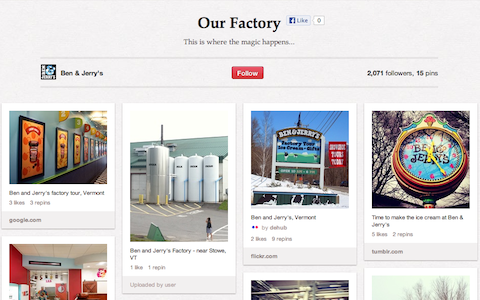 These boards, along with others like On a Mission, History, Vermont and Flavor Graveyard, help Ben & Jerry's to form a special bond with their followers. As boards are pinned, followers get to know the product, the company and the people who work for them better. People prefer dealing with people they know, rather than companies of strangers about whom they know nothing. Visitors will likely be keen on having more Ben and Jerry's.
How does your audience want to engage with you on Pinterest? Is your conversation there one-sided? Or are you making it easy for people to get to know you?
To build a committed following on Pinterest, follow Ben & Jerry's lead. Instead of simply pinning content and products to your boards, make an effort to help your followers learn more about your company and get them involved.
Make the Most of Your Pinterest Community
Pinterest offers unique opportunities to engage with your audience, thanks to the visual interactions.
These are just three examples of brands using Pinterest in creative ways to engage their followers, create partnerships and build community.
What do you think? Have you noticed any other brands with intriguing strategies? Are you inspired to use Pinterest in a more exciting way? Please leave your comments below.
Get Your FREE Course: Web3 for Beginners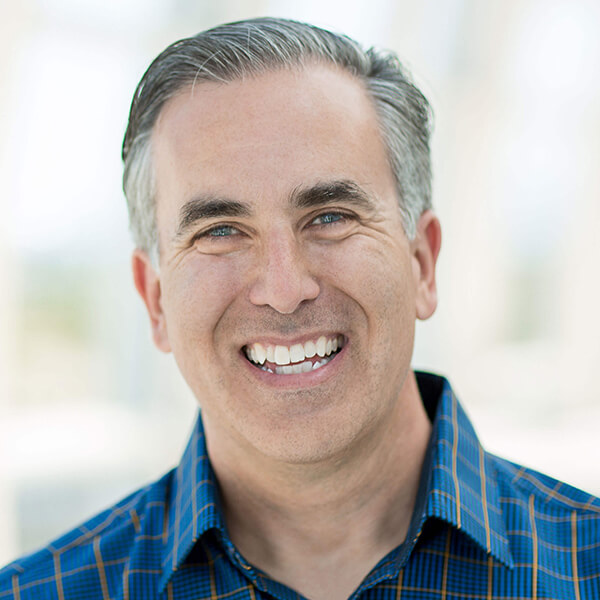 Curious about Web3, but don't know where to start or who to trust?

Introducing Web3 for Beginners, a course taught by Michael Stelzner, the founder of Social Media Examiner.

Learn the basics of Web3 and apply it to your business with this FREE comprehensive course.
CLICK HERE TO GET FREE ACCESS