Struggling to come up with new and effective campaign ideas for your Facebook and Instagram ads? Looking for inspiration?
In this article, you'll discover how to navigate Facebook's Campaign Ideas Generator so you can develop better ad campaign ideas.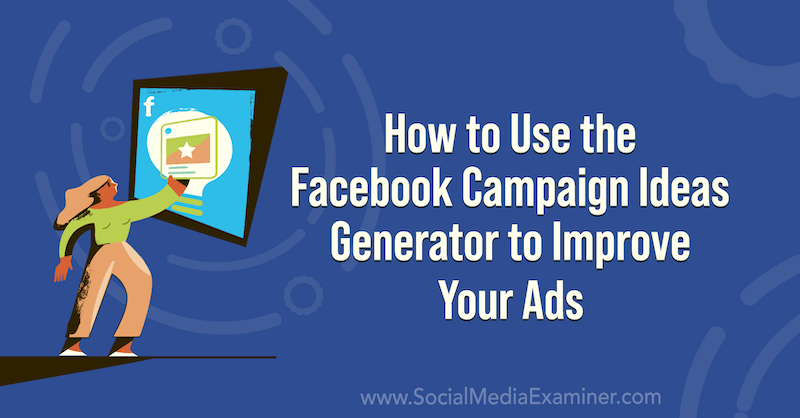 Why Use the Facebook Campaign Ideas Generator?
Facebook has more than 10 million active advertisers and the majority are small- and medium-sized businesses (SMBs). Facebook has stepped up its game recently to help SMBs, brands, and creators maximize their reach with free tools such as the ability to schedule posts and stories in Facebook Business Suite.
Now, the social media giant has rolled out the Facebook Campaign Ideas Generator to help businesses with resources, premade assets, and campaign ideas. In their official announcement of the new tool, Facebook stated, "…we try to proactively listen to your concerns and create solutions. We heard that businesses like yours are looking for guidance on how to develop content for new campaigns, so we built a dynamic tool that could help."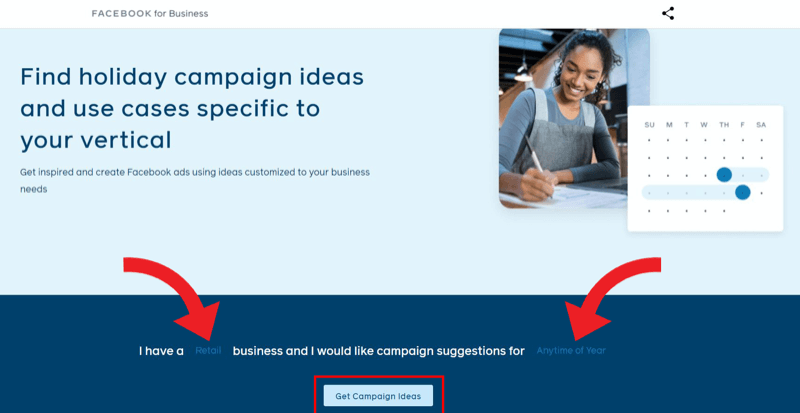 You might be thinking, "Premade assets for Facebook marketing? Sounds pretty cookie-cutter. There's no way those images will be uniquely tailored to my brand."
That's a valid concern but there's a lot more to this free Facebook tool than simply plugging in your promotion details and downloading a customized stock image.
The premade assets are a great resource for small businesses that don't have the bandwidth to hire graphic designers and create their own professional-looking, branded images. The tool also provides caption suggestions, which is helpful for SMBs that don't have copywriters on staff and struggle to come up with copy for social media campaigns.
Even if you aren't interested in using the Facebook-generated assets, they're still immensely useful as a resource to inspire new Facebook ad ideas or help you direct your brand's next photoshoot, so you can try new product arrangements and setups that you know are good for Facebook and Instagram.
Here's how to use the Facebook Campaign Ideas Generator to advantage.
#1: Get Campaign Ideas Based on Your Business Industry and Promotion Theme
When you access the main page for the Facebook Campaign Ideas Generator, you'll start by selecting what type of business you have, as well as the holiday or theme for your campaign.
The image below shows the current business types that Facebook has in its settings. It's a limited selection so choose the one that best applies to your business, even if it's not exact.

The Conference You've Been Waiting For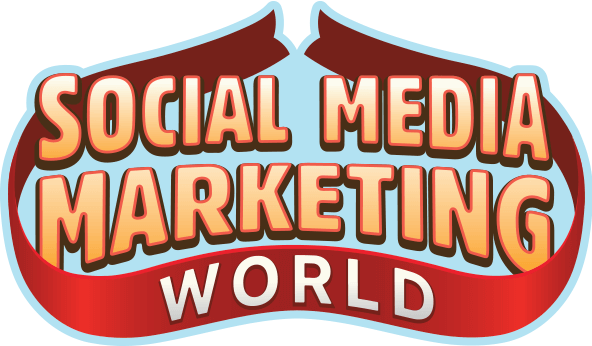 As a small business marketer, you can probably only pick one or two events to attend each year. Get back into the game with an unbeatable conference experience and expert training at Social Media Marketing World in sunny San Diego, California—from your friends at Social Media Examiner.
🔥🔥 As a valued reader, you can save $640 if you act now! Sale Ends Tuesday!
CLICK HERE TO LEARN MORE
Next, you'll pick your promotion theme. Facebook gives you a wide selection ranging from any time of the year to holidays, flu season, and Amazon Prime Day. It's not all-encompassing yet but it's a good start.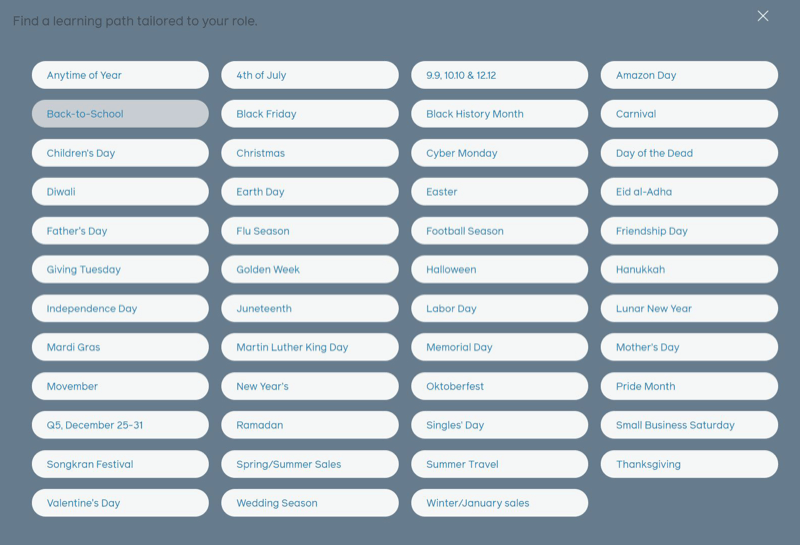 Once you've made your selection, click Get Campaign Ideas to generate your results at the bottom of the page. If at any point you need to change your business and campaign details, just scroll back up to the top of the page.
#2: Campaign Ideas
On the first tab of your results, you'll find the new Facebook marketing campaign ideas created from your specifications in the first step.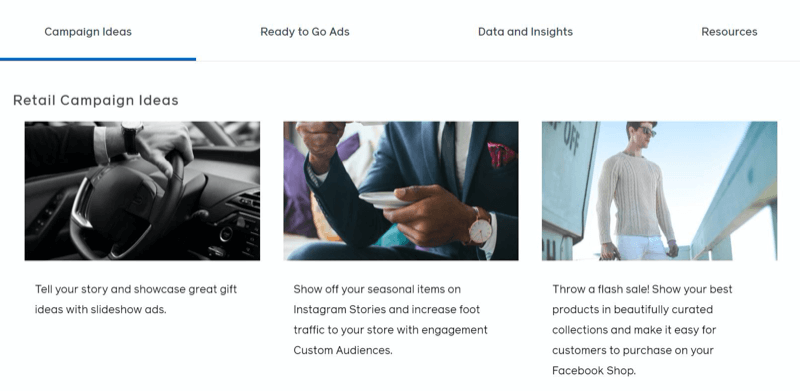 Below the general overview ideas for what type of marketing campaign you could run, you'll see a short list of text captions to either go with your imagery or spark copy ideas.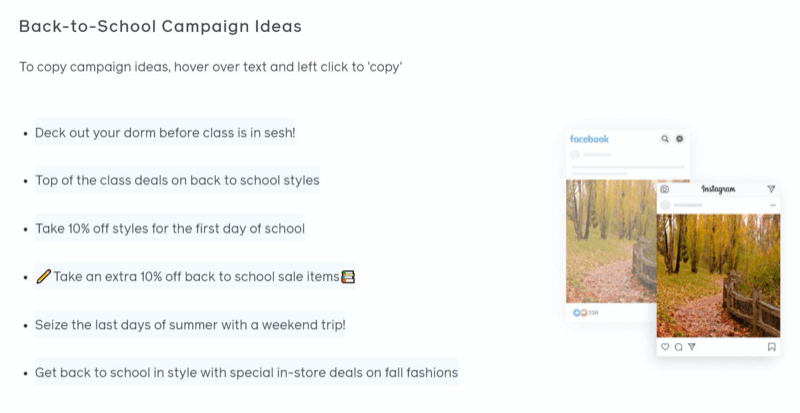 You also have access to an organic post pack with images you can download straight from the Facebook Campaign Ideas Generator.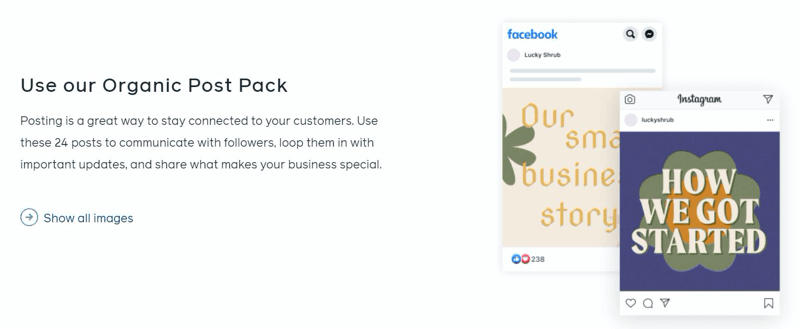 Clicking on Show All Images will bring you to a page with various graphics and captions organized by category including:
Tell Your Story: Provide background information about your business and/or how it got started.
Ask a Question: Encourage your followers to participate in a poll, ask you a question, or start a conversation.
Relatable Weekly Moments: Post about specific days such as Monday motivation or weekend plans.
Speak to the Season: Create seasonal posts (spring, summer, fall, winter).
Announce Sales and Offers: Let your followers know about flash sales, new product launches, or other updates.
Say Thank You to Your Audience: Send a message of appreciation to your followers.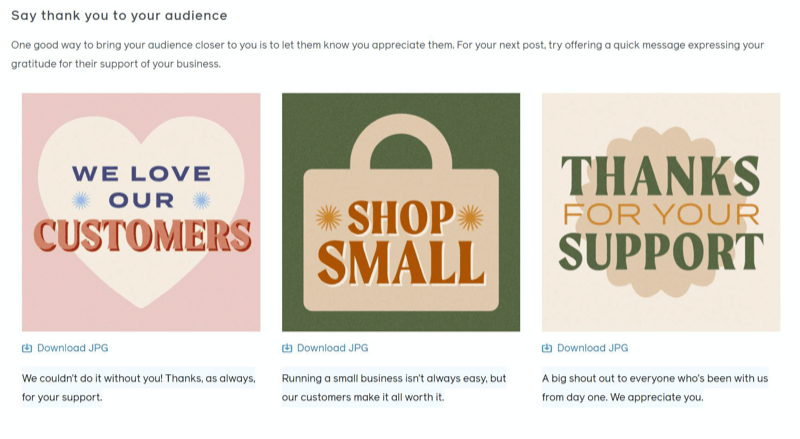 Go Behind the Scenes: Invite your audience to meet your team, learn a fun fact about your business, or take a look behind the scenes of your operation.
Get Your Followers Involved: Do a giveaway, host a guest, invite your customers to leave a review, or invite them to post a photo and tag your brand.
You'll also find a Retail Success Stories section (discussed later in this article) on the Campaign Ideas tab where you can see what other brands have done on both Facebook and Instagram to launch successful marketing campaigns.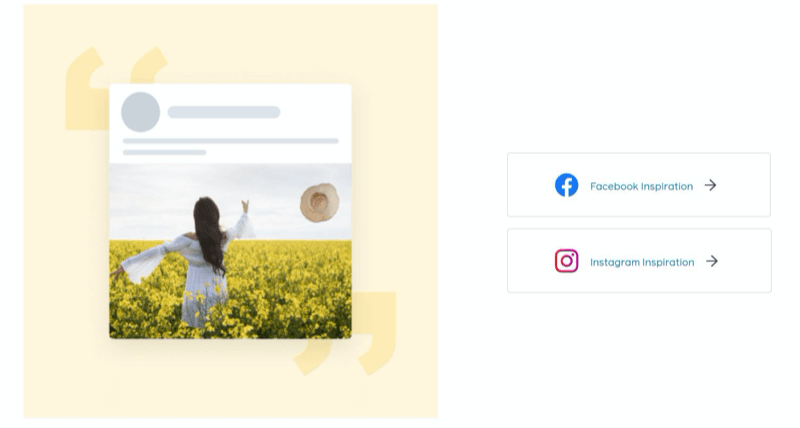 #3: Ready to Go Ads
The Ready to Go Ads feature is currently being tested for eCommerce, retail, and consumer product goods so it may or may not be accessible to you at this time.
If you do have access to this tab, you'll find ready-made assets for your campaign, as well as suggestions and ideas for a DIY approach if you just need a little guidance to create your own assets.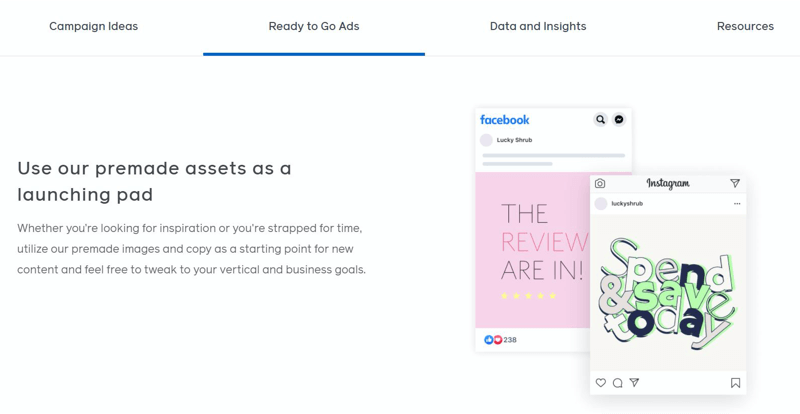 The Retail Ads Pack provides graphics with recommended captions so all you have to do is download the image, copy the caption, tweak the copy to suit your brand and promo, and you're good to go.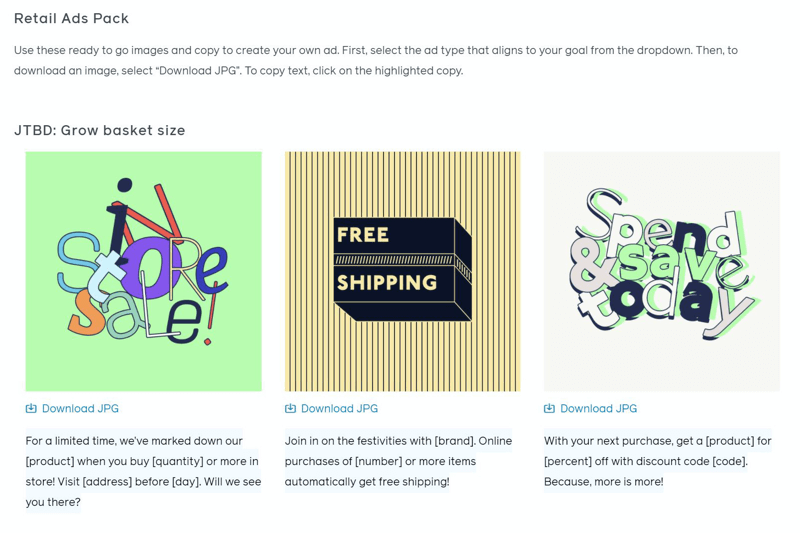 Get Expert Social Media Marketing Training from the Pros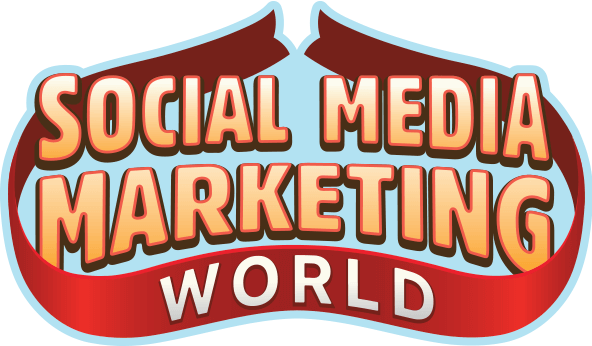 Want to get ahead of the competition and learn how to diversify your social marketing strategy?
Learn from the industry's most trusted experts, rub elbows with other smart marketers, and take your marketing to the next level during this 3-day event in sunny San Diego, California.
CLICK TO LEARN MORE
The premade images definitely have a generic feel to them but they're a good start if you need something quick or if you're looking for some base graphics to get started. Try mixing a few into your Facebook ad creative tests along with your regular branded images to see how they perform.
If you're opting to shoot your own product photos instead, you'll want to scroll down and see the tips and examples below the premade ads.
The Facebook Campaign Ideas Generator recommends creative strategies, as well as specific tools to help you accomplish your photo-editing goals, whether you're animating a story, creating collages, looking for story templates, editing videos, overlaying animated text, or anything else.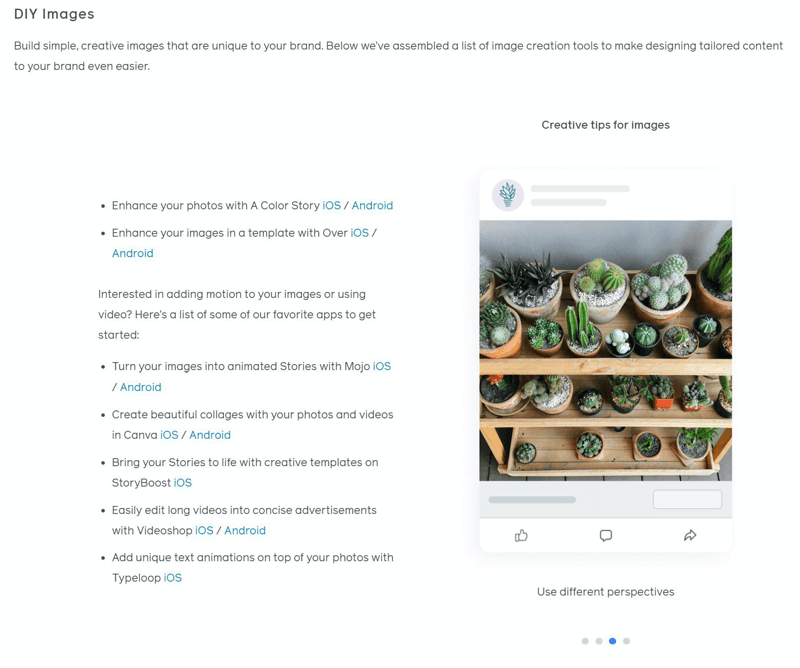 #4: Data and Insights
The Data and Insights tab provides you with an impressive range of data points you can customize based on your specific parameters.
This feature is a game-changer, especially since it's free and it pairs well with the existing Insights feature in Facebook Business Suite.
Category filters for the Data and Insights tab within Facebook Campaign Ideas Generator include:
Region: A global area or specific country
Industry: Automotive, B2B, beauty and health, beverage, consumer packaged goods, eCommerce, education, entertainment and media, financial services, food, gaming, luxury, restaurants, retail, tech and connectivity, travel
People (Audience Demographics): Women, men, parents, Millennials, Gen X, Boomers, mobile-first, omnichannel, lifestyle, milestones (weddings and engagements, birthdays, etc.)
Moments: Seasons and holidays, entertainment, sports
Campaigns: Instagram stories, video ads, people insights, advertising insights, success stories
Platforms: Facebook, Instagram, Messenger, Audience Network
Channels: Mobile, in-store, apps, messaging, television, video
Now you can study trends within your business' region, industry, audience demographics, campaign types, platforms, and channels to see overall trends before you run your campaign, and then study your personal insights afterward to see how your data compares.
You may find that your data doesn't show the exact same trends, and that's okay. Perhaps your audience isn't the typical demographic reflected in the industry as a whole—in which case, you can take the post-campaign analytical data you glean from Insights and modify your marketing campaign to engage better with your specific audience.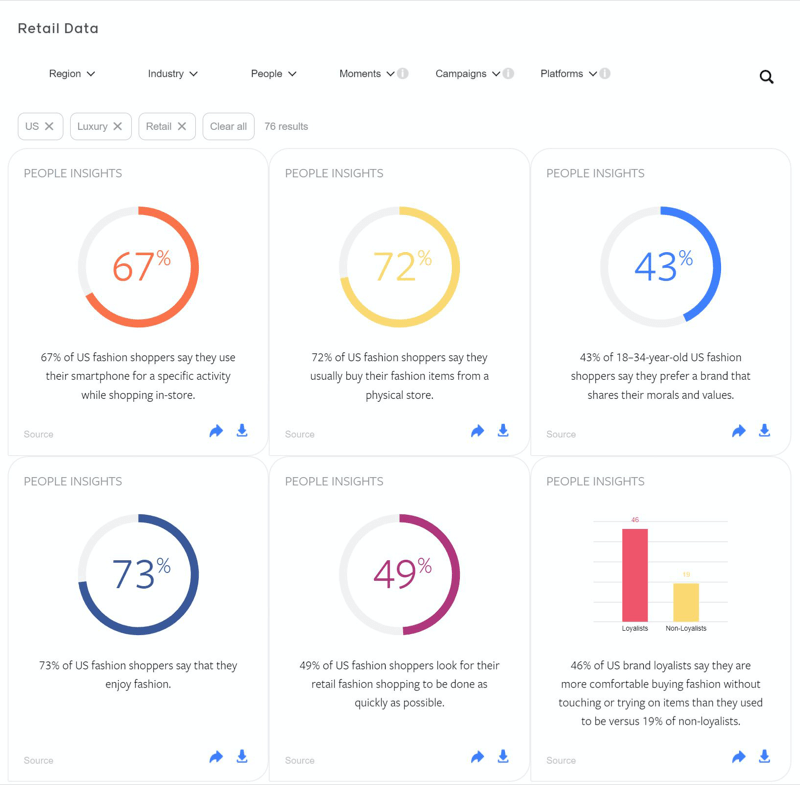 These valuable insights can go a long way toward helping you simplify your Facebook campaign with a more targeted strategy so you're working smarter, not harder.
Also on the Data and Insights tab, you'll find a section that lets you dive even deeper into helpful Facebook articles and Instagram case studies.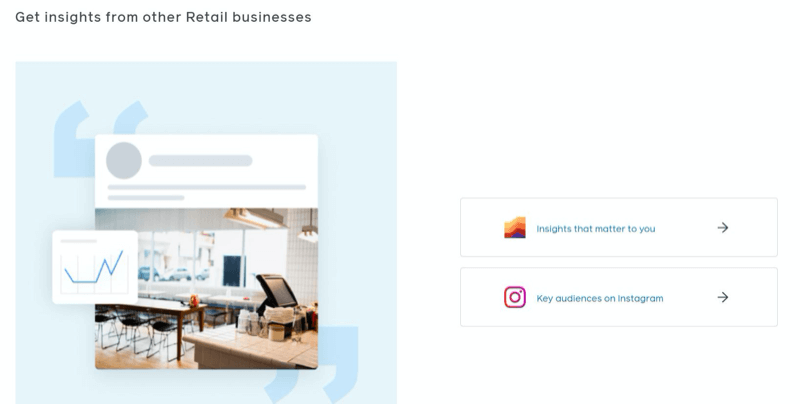 All of these free tools now at your fingertips are designed to help you learn about your audience and industry trends.
#5: Resources
The last tab in your generated campaign ideas report is Resources.
For any SMB that needs extra help learning how to create assets or put together a high-performing ad on Facebook or Instagram, this database has a ton of beneficial information.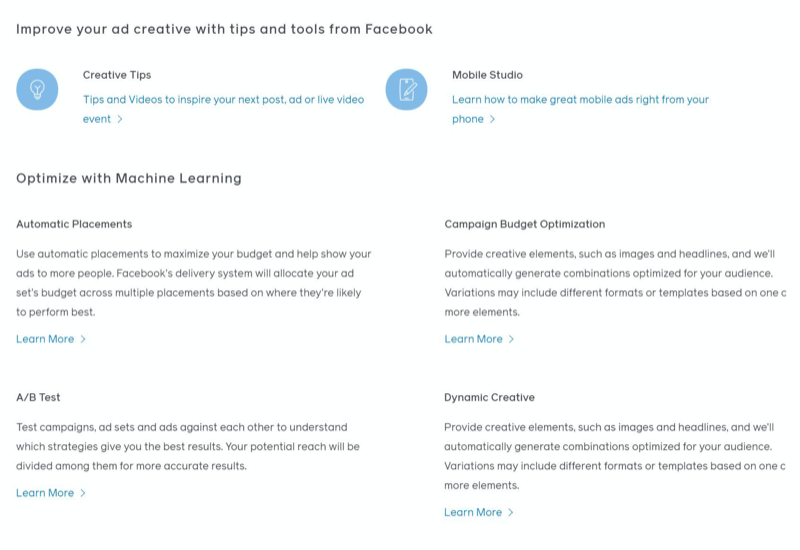 You can access curated articles relevant to your industry, helpful guides, instructional posts and videos, Facebook Mobile Studio, the Business Help Center, and additional resources.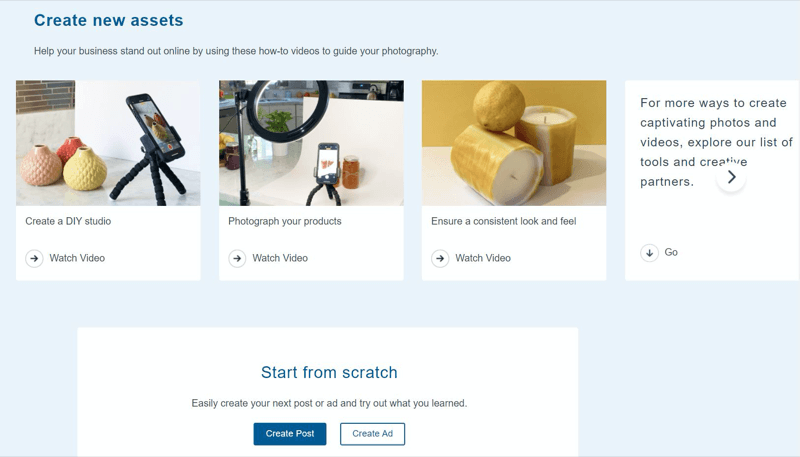 The Resources section of the Facebook Campaign Ideas Generator is surprisingly robust, with enough self-help articles and how-to videos to make a novice start to feel like an expert.
Success Stories and Case Studies Using Facebook Campaign Ideas Generator
All of the information surrounding Facebook ads, campaigns, analytics, and new tools can feel overwhelming, especially for SMBs that have restricted budgets and resources.
One of the most effective ways to plan your strategy, short of investing in a professional third-party vendor to manage your business' social media, is to see what other companies have done that worked.
The Facebook Campaign Ideas Generator gives you plentiful opportunities to examine case studies. Return to the first tab, Campaign Ideas, and scroll to the bottom of the page to find the Facebook and Instagram case studies.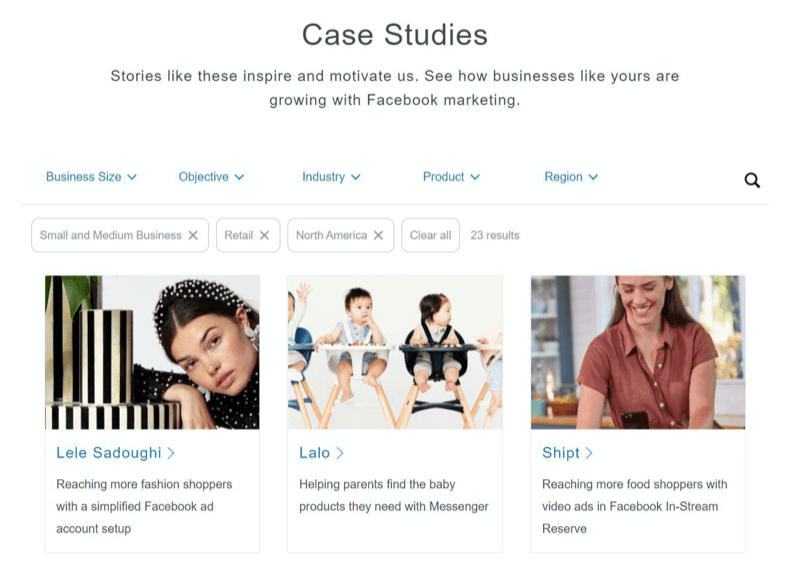 Just like the Data and Insights tab, Case Studies allows you to filter the results to the most relevant cases for you. Filtering options include:
Business Size: Agency, large enterprise, or small/medium business
Objective: Brand awareness, reach, social good, video views, app installs, website clicks, app engagement, lead generation, post engagement, event responses, website conversions, catalog sales, store traffic
Industry: Automotive, B2B, consumer goods, eCommerce, education, entertainment and media, financial services, gaming, health and pharmaceuticals, nonprofits and organizations, professional services, real estate, restaurants, retail, sport, technology, telecommunication, travel
Pages: Page posts and publishing, appointments, events, jobs
Ad Products: Augmented reality ads, ads that click to message, ads that click to Messenger, ads that click to WhatsApp, lead generation in Messenger, Facebook chat plugin, automated ads, automated app ads, automotive inventory ads, collaborative ads, dynamic ads, offer ads, lead ads, travel ads
Ad Formats: Carousel, collection, instant experience, link ads, photo ads, playable ads, slideshow, video ads
Ad Placements: Automatic placements, Facebook news feed, Facebook Live, Facebook Marketplace, Instagram feed, ads in stories, Audience Network, Messenger, WhatsApp Business app, WhatsApp Business API
Targeting: Custom audiences, lookalike audiences, Facebook pixel, automatic advanced matching, international targeting
Cross-Border Business Solutions: Worldwide/regional targeting, multi-country lookalikes, dynamic language optimization, multi-language and country dynamic ads
Shopping Solutions: Ads with product tags, branded content ads, checkout, live shopping, product tagging, shopping custom audiences, shops
Measurement and Reporting: Brand lift, conversions API, conversion lift, split testing, offline conversions, sales lift, reach, attribution
Bidding and Buying Types: Reach and frequency, TRP buying, value-optimized bidding
Programs and Services: Facebook Marketing Partners
Region: Asia Pacific, Europe/Middle East/Africa, Middle East/North Africa, Latin America, North America
This level of detail when filtering case studies helps ensure that you get the most relevant results so you can see how businesses similar to yours found success with Instagram and Facebook marketing.
Let's look at American Vision Windows as an example. The brand earned 16x return on ad spend, $255,918 in revenue, 58 purchases, and 88 booked appointments on its first-ever Facebook ad campaign.
The secret formula to their success? They started by teaming up with a digital marketing agency and a Facebook marketing partner.
Phase 1: Short videos less than 15 seconds designed for off-sound viewing were rolled out as ads targeting parents with children younger than age 6, people interested in home improvement, and window installations in certain zip codes.
Phase 2: The team used information from several Facebook pixels to send lead ads to window shoppers who had engaged in Phase 1.
Phase 3: Video and photo ads with CTAs were sent to interested customers who hadn't yet made a purchase.
All phases relied on Facebook's automatic ad placement so Facebook selected the appropriate platform for each ad based on the best performance.
Conclusion
Having a strong social media presence is important for businesses. On average, 45% of global internet users rely on social media at least once a month when they're looking for information about products and services before making a purchase.
That percentage is higher among younger Millennials and Gen Z, which means this trend is going to continue as Gen Z assumes a more prominent role in the consumer market.
Feature-filled free tools, like Facebook Campaign Ideas Generator, are designed to help SMBs compete on the platform.
Get More Advice on Facebook Ads
Curious about Web3?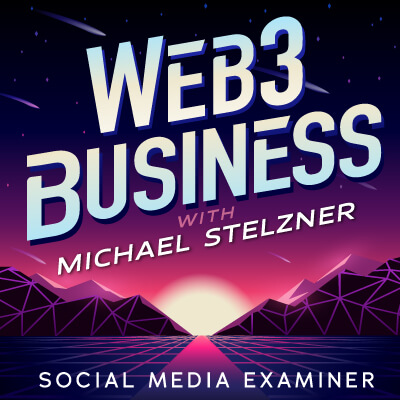 Follow the Web3 Business podcast to find out how Web3 will affect your business in the near future.

Every Friday, host Michael Stelzner interviews leading industry experts about what works right now in Web3 and what to expect in the future, so you can prepare your business for the shift, even if you're a total newbie.
FOLLOW THE SHOW