Looking for new ways to build warm targeting audiences on Facebook? Want to drive more sales with your ads?
In this article, you'll learn how to use three types of Facebook ad formats to improve your results.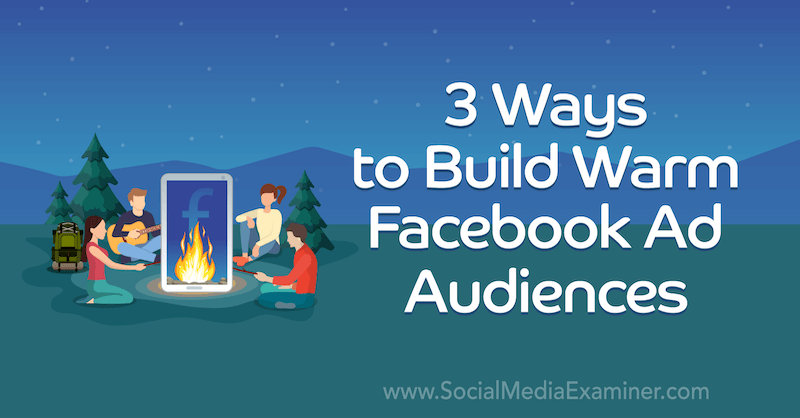 #1: How to Use Facebook Instant Experience Ads to Build Warm Audiences
Instant experience ads are an underutilized format that lets you create a full-screen, mobile-optimized experience for your audience, and they don't need to leave the platform to find out more about your product or service.
Instant experience ads display with a wide headline bar. When the user taps on the ad, they'll be shown a full-screen mini-website within the Facebook app.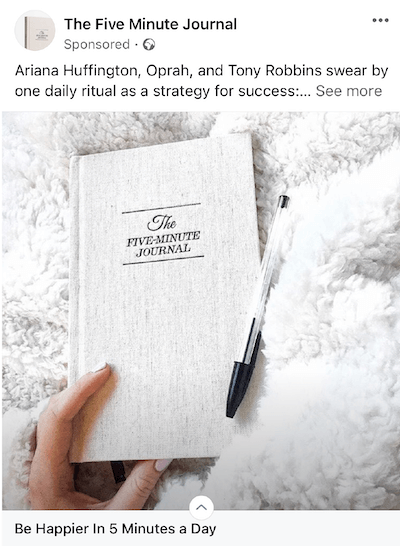 When you design an instant experience ad—or any ad, for that matter—three core elements (the "3 Cs") will take your ad from good to great: eye-catching creative, compelling copy, and an irresistible call to action (CTA). Here's how the ad above effectively uses the 3Cs:
Creative: In the instant experience ad above, The Five Minute Journal uses a simple image to show off its product. The simplicity of this creative helps it stand out in an otherwise busy news feed.
Similar-style images are used throughout the instant experience to create consistency. The creative is further enhanced with bright callouts and highlights, as shown below.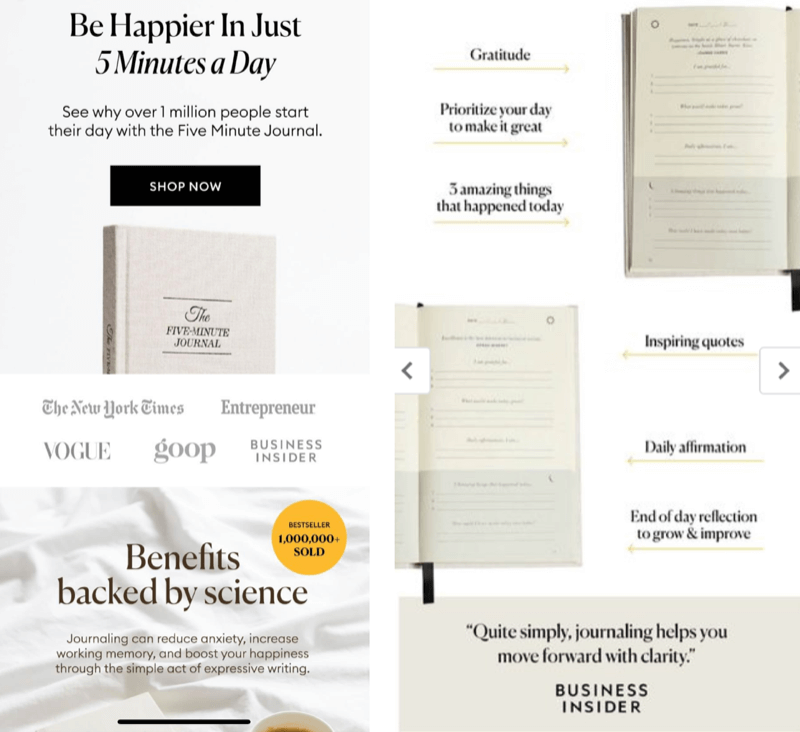 CTA: The CTA in this ad creates intrigue by suggesting a transformation the business' target audience would want to achieve without explaining how. Inside the instant experience, an Add to Cart CTA encourages users to visit the website to purchase the product.
Copy: Building trust and credibility within your copy can lead to quicker conversions. By using names well-known to its audience, The Five Minute Journal has immediately given its product credibility and created a desire in people to find out more about how they can implement a similar daily ritual. The copy used in the instant experience continues this theme and includes PR from famous publications like Vogue.
Create an Instant Experience Ad
Creating a memorable instant experience ad is surprisingly simple. At the ad level, simply select Instant Experience as the destination and choose your preferred template.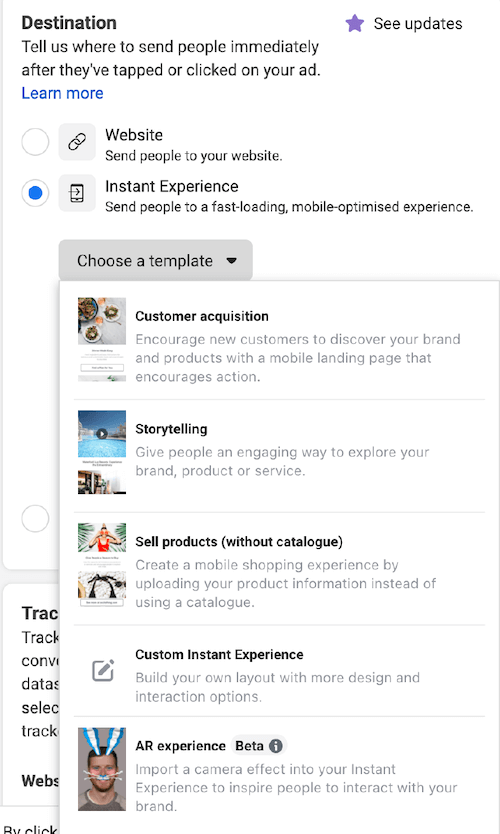 Get Your FREE Course: Web3 for Beginners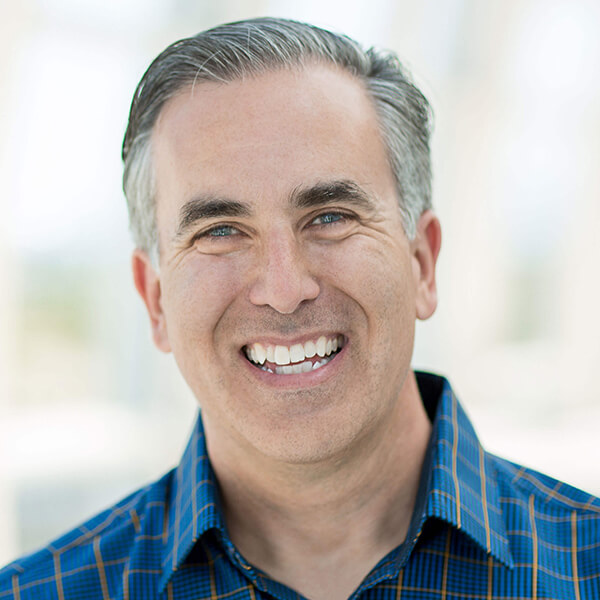 Curious about Web3, but don't know where to start or who to trust?

Introducing Web3 for Beginners, a course taught by Michael Stelzner, the founder of Social Media Examiner.

Learn the basics of Web3 and apply it to your business with this FREE comprehensive course.
CLICK HERE TO GET FREE ACCESS
Pick the template that best suits the kind of experience you want customers to have with your business. If none of these templates suits your needs, you can design your own custom experience to showcase your products or services and encourage your audience to take the next steps to buy from you.
Here's a rundown of the available templates, which are all designed to drive sales:
The Instant Storefront template is available when you choose the catalog sales campaign objective. It allows you to showcase products in a grid layout so your audience can browse more of your products in one place.
The Instant Customer Acquisition template creates a sleek mobile landing page that will help your business stand out from the crowd without your audience having to leave the Facebook app.
The Instant Storytelling template gives people an engaging way to explore your brand, product, or service using photos, video, and text.
Facebook is currently testing a new AR template that will create an immersive experience that encourages people to try out your products virtually using augmented-reality camera effects.
Customize each section of your instant experience with your preferred images and/or video. Ensure the text is compelling and include a strong CTA on your button (label) to entice viewers to act.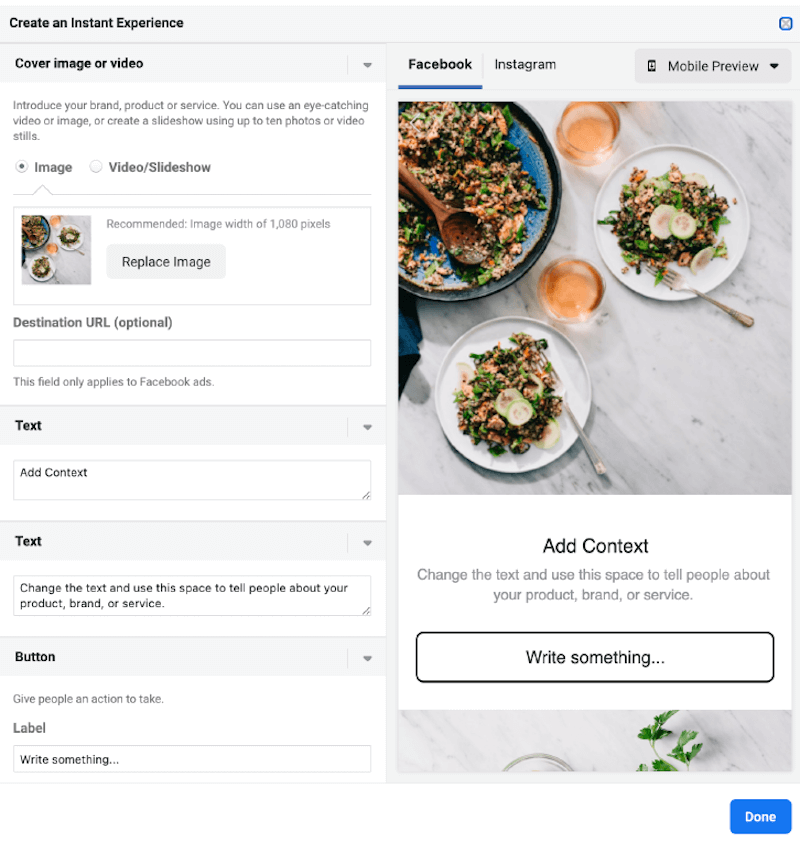 Using Instant Experiences to Create Audiences
Once your instant experience ad is up and running, you can generate custom audiences of people who have interacted with it. You can also create lookalike audiences to reach people with similar attributes.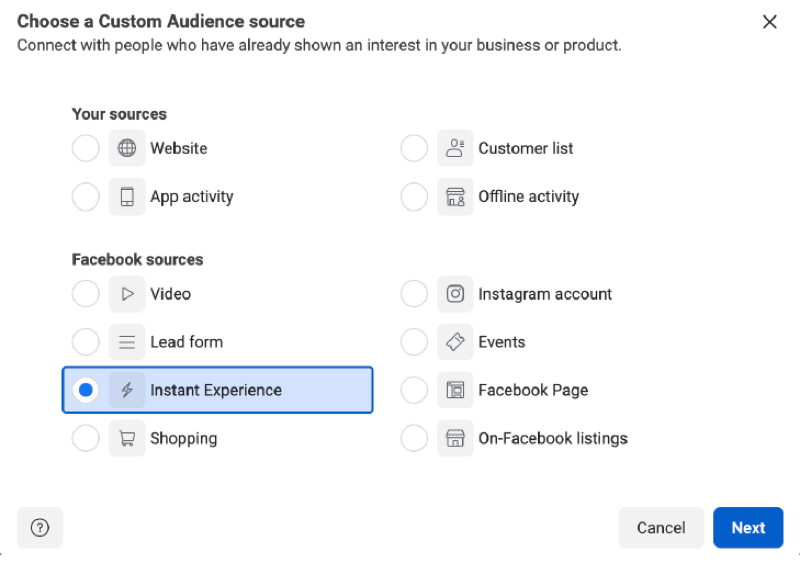 When setting up custom audiences from your instant experience engagers, you can target all engagers by selecting People Who Opened This Instant Experience. If you prefer to target people who have demonstrated a higher level of intent, select People Who Clicked Any Links in This Instant Experience.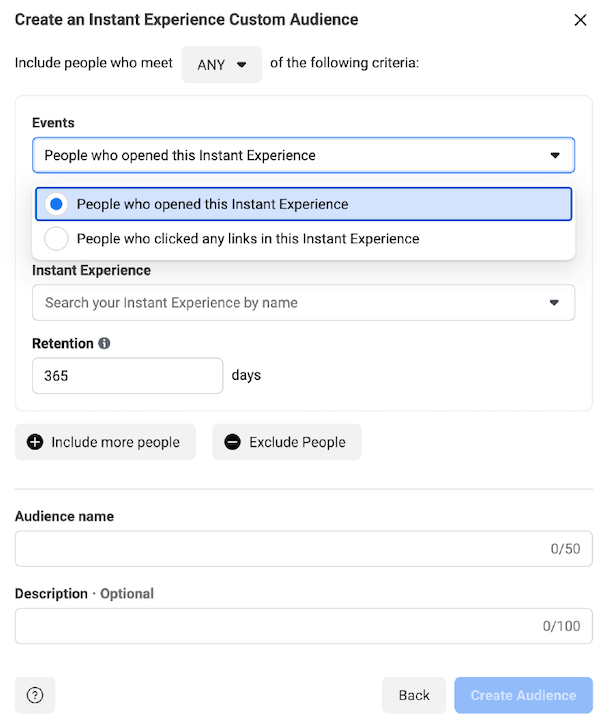 #2: How to Use Facebook Carousel Ads to Build Warm Audiences
Facebook carousel ads are a powerful way to position your business and convert viewers into customers. This format lets you combine up to 10 images or videos into one ad that will intuitively load on the viewer's screen for easy interaction. While a single image ad is great for highlighting the features of a product, the carousel ad format lets you show users the products that are most relevant to them.
This ad format is interactive, and users can scroll through a series of images or videos. Due to their interactive nature, carousel ads can generate more engagement than single image or video formats, increasing time spent viewing your message.
You can manually add images to the carousel ad format to create an immersive experience. For example, in this ad from Qettle, each card shares a different customer review, giving people more reasons to buy the product.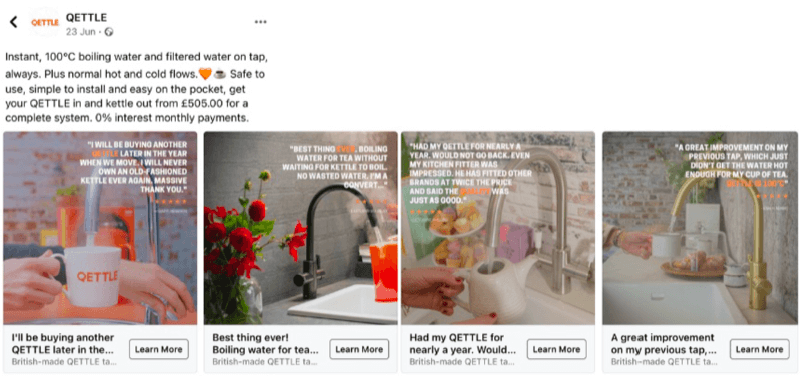 Pro Tip: Use short headlines in carousel ads to ensure text isn't cut off when viewed on mobile. 
If you choose the Catalog Sales objective, you can use a carousel format to display products from a linked catalog. This has the added benefit of personalizing your ads for the viewer, displaying products they're most likely to be interested in based on their previous activity on your website within a set period.
You can show existing customers products related to their most recent purchase to increase their customer value. This ad type can also serve as a reminder to new website visitors who might have been distracted while considering a purchase.
Here's how you can use the 3 Cs in a carousel ad:
Creative: Just like all ads, carousels need to be scroll-stopping but you can also have fun with the creative on each card and entice people to scroll through. Consider taking your audience through an informative journey on each card, providing more detail about the same product, or use the cards to tell a story about your whole collection.
Copy: You'll need to test the ad copy in carousels to find what resonates best with your target audience. The Charlotte Tilbury ad below uses a short caption to entice people to scroll through the product cards. However, for businesses that aren't as well-known, longer captions might prove more successful.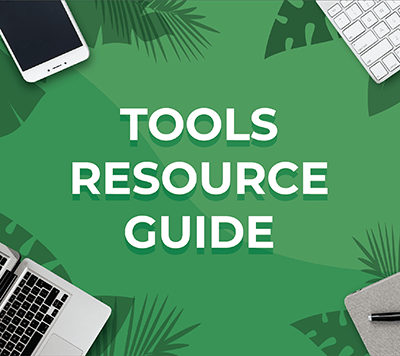 Looking for something to make your life easier?
Discover the tools we recommend to drive engagement, save you time, and boost sales across your entire marketing funnel or business.
Whether you need help planning content, organizing social posts, or developing your strategy, you'll find something for every situation.
FIND YOUR NEXT FAVORITE TOOL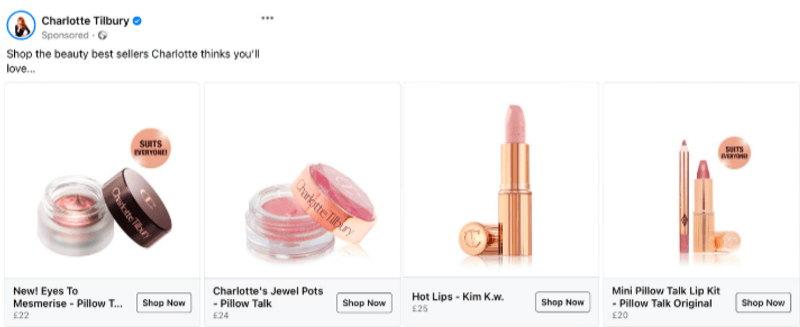 CTA: Each carousel card can display a different CTA but there's no rule that says you need to do this. One strong CTA might work better for your campaign.
Set Up a Facebook Carousel Ad
To set up a Facebook carousel ad, select the Carousel format at the ad level.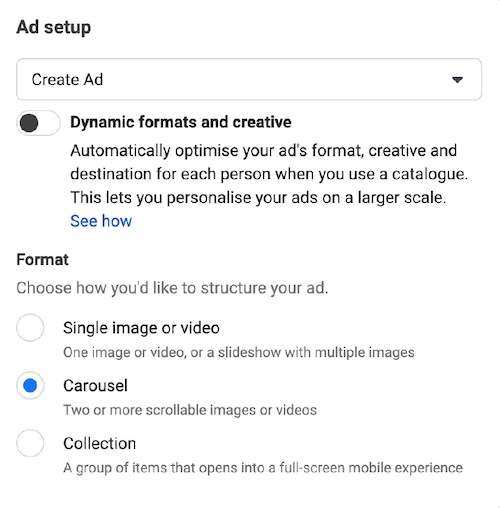 You can create up to 10 cards, each containing a headline, description, and URL. Carousels can feature images, videos, or a mix of the two.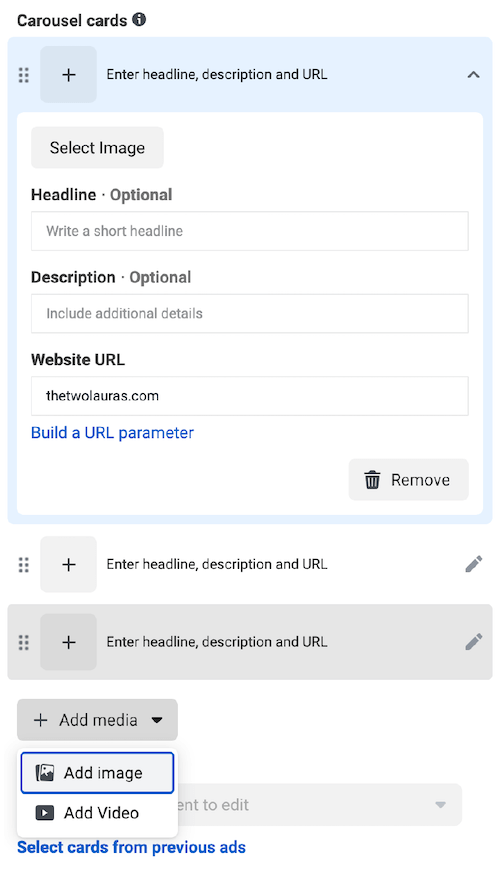 If you've created any carousel ads previously, you can select cards from those ads, mitigating the need to create them from scratch.
Facebook gives you the option to automatically display the card that performs best at the front of your ad. But if your cards need to be shown in a specific order to make sense to your audience, it's best to uncheck that option and have them display in the order you've created them.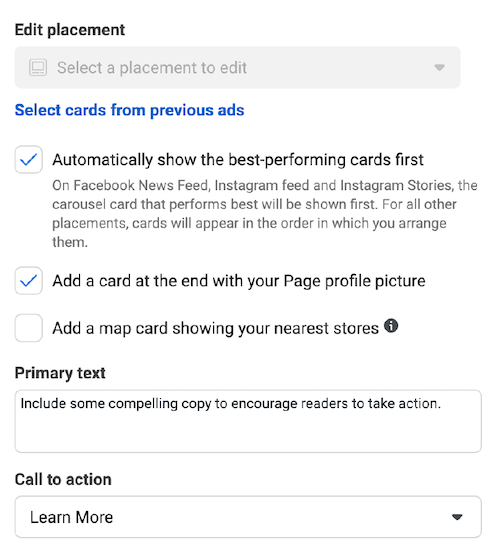 Using Carousel Ads to Create Audiences
When you choose the destination for your carousel ad, sending people to an instant experience rather than to your website allows you to build a custom audience from people who engaged with the instant experience, as described above.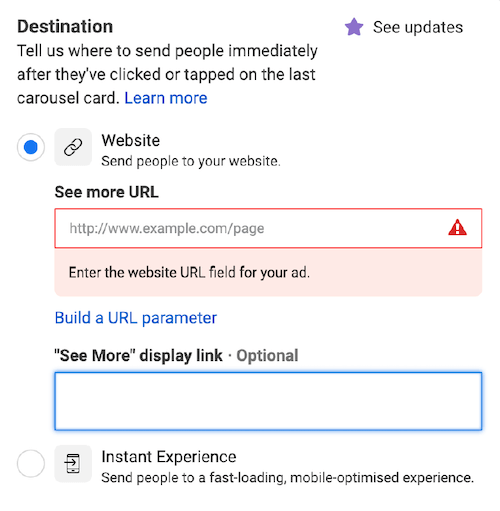 #3: How to Use Facebook Video Ads to Build Warm Audiences
Video continues to grow in popularity and shows no signs of slowing down. Using video in your Facebook ads can serve multiple purposes, the most obvious of which is capturing people's attention while they scroll through the news feed.
Video is also an effective way to
Quickly introduce your products and services to cold audiences.
Build desire by showing how your products can work or achieve results when retargeting warmer audiences.
Grow trust by sharing customer reviews at the bottom of the sales funnel.
While video ads are great for building brand awareness and driving traffic to a product or service, you still need to incorporate the 3 Cs for them to convert well:
CTA: While it's tempting to use a CTA to encourage people to watch your video, when it comes to increasing conversions, the CTA for your video ad should give people key information or a reason to take action to buy.
For example in the ad below, Hydrow uses a price-related offer to give people an incentive to click through.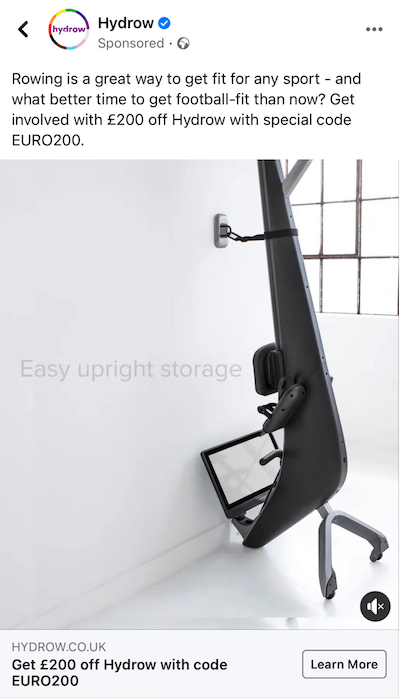 Creative: Facebook video ads are by their nature designed to capture attention and stop people scrolling. But you should also carefully consider the video content itself.
The 60-second video in the ad above shows the product being used by a variety of people in different settings, and includes large captions to speak to people watching without sound. It conveys the unique features of the product offered and shows how the product can be stored, which overcomes one of the key objections people might have when considering buying something of this size.
Copy: Video ad copy should appeal to both the customer's logical reasons as well as their emotional ones. In the Hydrow ad, the copy really speaks to the company's target audience—people interested in playing football—thus tapping into their emotions. And by including the offer again, it gives people logical reasons to buy now.
Create a Facebook Video Ad
Setting up a Facebook video ad is easy. At the ad level, choose Single Image or Video and add your video of choice.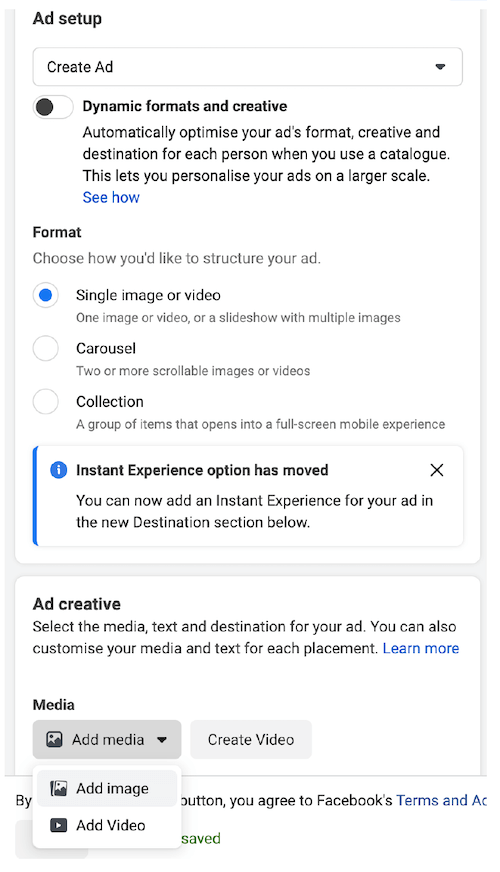 In the Primary Text field, add compelling copy for people who are looking for more information about what they'll find after they click on your fantastic offer.
Be sure to enter an irresistible CTA in the Headline field to give readers a reason to take action.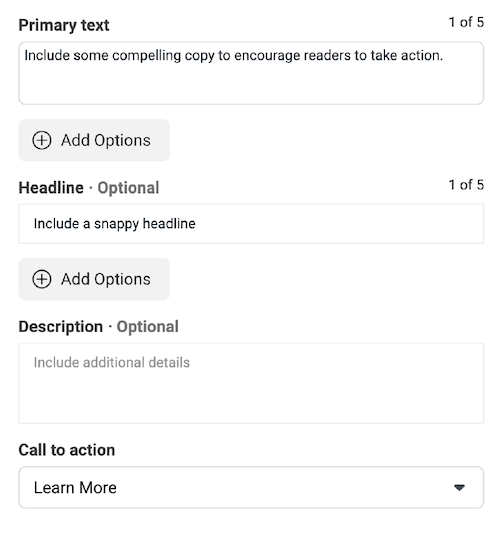 Finally, with the Edit Video option, you can add text or logo overlays and make adjustments before publishing your ad.
Pro Tip: Use a poll to encourage viewers to answer questions about your video content.
Using Video Ads to Create Audiences
With the impact of recent iOS privacy changes on Facebook advertising, video ads have become even more important because you can retarget people who have engaged with your videos to bring people further down the funnel.
When you create a custom audience of video viewers, select the level of engagement required for a viewer to be added to your audience. Focus on the length of time viewers have been watching—the longer a viewer has watched your content, the more likely they are to buy from you.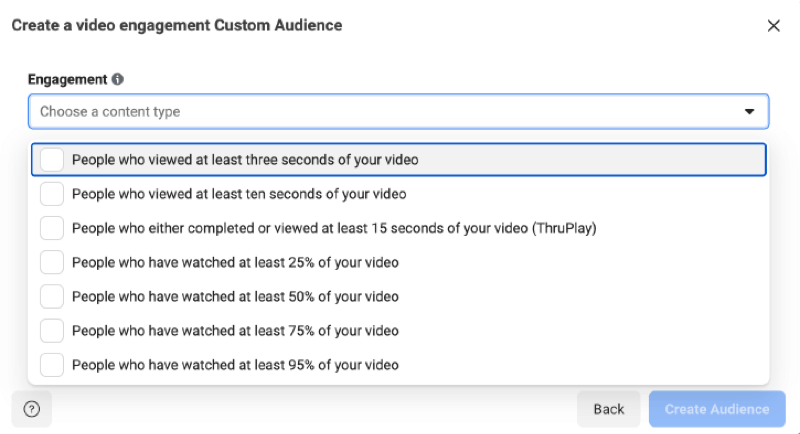 You can also set a retention time to a maximum of 365 days. The retention time is how long someone will remain in your audience after watching your video before being removed.
Conclusion
These three Facebook ad formats can drive more sales for most business types but it's important to do some testing. The most successful option for you may depend on your audience and the type of product or service you offer so experiment with a variety of approaches before deciding on one that works best.
Get More Advice on Facebook Ads
Get Your FREE Course: Web3 for Beginners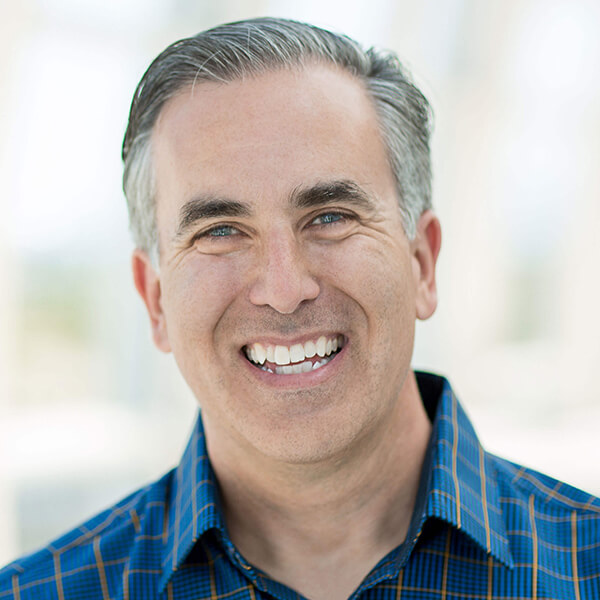 Curious about Web3, but don't know where to start or who to trust?

Introducing Web3 for Beginners, a course taught by Michael Stelzner, the founder of Social Media Examiner.

Learn the basics of Web3 and apply it to your business with this FREE comprehensive course.
CLICK HERE TO GET FREE ACCESS