Want better Facebook ad conversions? Wondering how to write compelling Facebook ad copy?
In this article, you'll learn how to write Facebook ad copy that improves your conversions.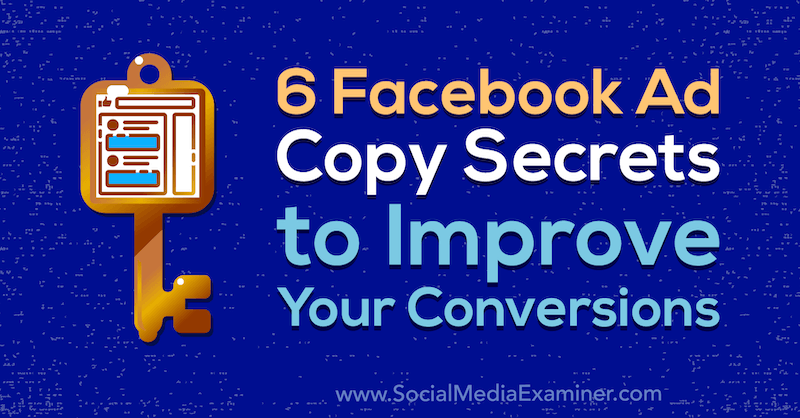 #1: Use the "So That" Statement
The most common Facebook ad copy mistake I see is writing about the features of a product or service, rather than the benefits. The product features might be something like:
Members-only Facebook group
Weekly printable PDFs
100 hours of video training
Yellow shoelaces
1:1 instruction
While these features may be appealing, they don't explain why someone should buy the product. Consumers want to know the benefits—the real reason they should purchase your product. How will it change their lives for the better? What value will it bring them? Why is a particular feature important?
If you revisit the list of features above, the benefits of those features might look like this:
Members-only Facebook group –> Communicate and seek support from business owners going through the same problems as you.
Weekly printable PDFs –> Track your progress, which is vital if you're someone with shiny object syndrome.
100 hours of video training –> Get instant access to the step-by-step system we use to generate 37% more profit.
Yellow shoelaces –> Never get lost in the dark again.
1:1 instruction –> Never get stuck again. I'll hold your hand as you work through the lessons.
Do you see the difference? The feature shares what the person is buying. The benefit shares why they're buying it.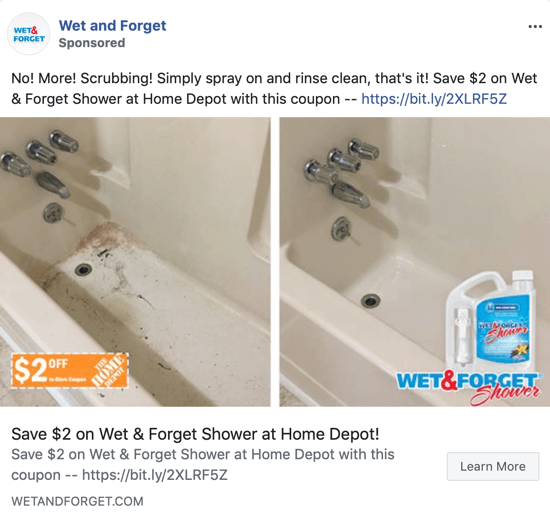 The easiest way to ensure you're always talking about the benefits is with the "so that" statement. Every time you write Facebook ad copy to explain why someone should buy your product/service, simply adding "so that…" to the end of each reason will prompt you to write about the real benefit.
For example:
"Get instant access to countless hours of training so that you have everything you need to lose that stubborn belly fat."
"Get instant access to the members-only community so that you can ask questions, get support, and feel inspired by people who are on the same journey as you."
"Get personal 1:1 instruction from me so that you're held accountable and achieve the body you've always wanted faster."
See how powerful those two words make each of these statements? They ensure you talk about the benefits. That's what will compel people to take action.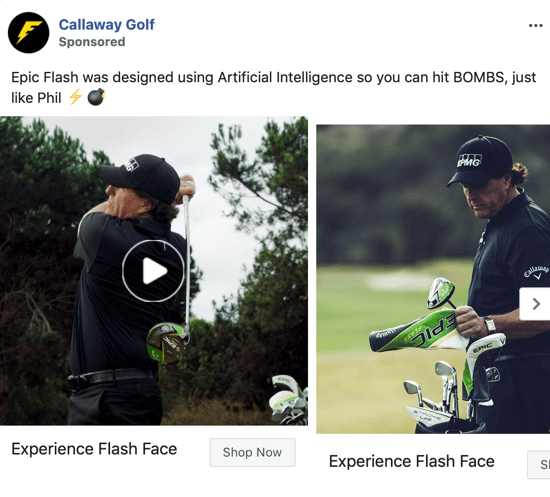 #2: Ask "Yes" Questions
One of the most powerful Facebook ad copy techniques is to polarize people. You want your ideal customers to see your ad content and be drawn in. You want people who aren't your ideal customers to be sent away.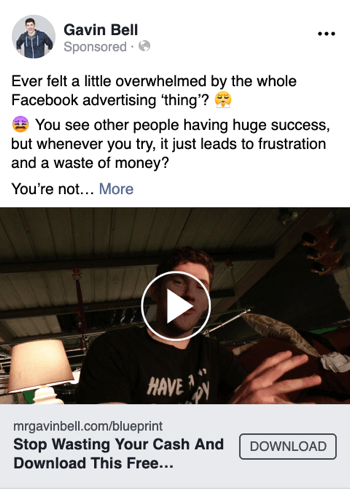 Polarizing people doesn't mean you have to be obnoxiously controversial. It just means you should create an ad for your customer and nobody else. It doesn't matter what you want to share; it only matters what your ideal customer wants to see.
One of the easiest ways to polarize people is by asking "yes" questions. These are questions that only your target customer will say yes to.
Putting yes questions at the top of your ad will help hook your perfect customer. If you grab them with that first line, they'll read the rest. To illustrate, one of my best-performing ads starts with the line, "Ever find Facebook ads a little overwhelming?"
This ad is targeting people who have tried Facebook ads but are unhappy with their results. A lot of business owners find Facebook ads overwhelming so I hook them by asking this question, which in turn allows me to lead them toward a solution (downloading my free guide).
If someone I'm not targeting (such as a Facebook ads expert) sees this ad, they won't click on it because the first question doesn't resonate with them. Mission accomplished: the ad has polarized my audience.
Perhaps you're selling a course to people interested in becoming better at playing bass guitar. You could ask questions like "Feel like you've hit a plateau with your bass playing?" or "Looking to get better at the bass?" If someone who doesn't play the bass sees this, they'll ignore it. But you'll grab the attention of those looking to become better bass players; thus, you'll only get attention from the audience that's important to you.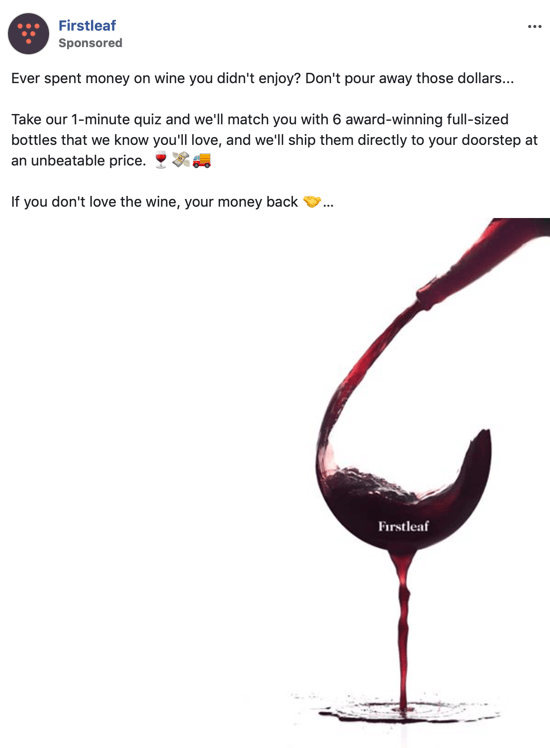 #3: Establish Mutual Interests
Relevancy is hugely important on Facebook. Whenever you post something or run an ad, you're competing against thousands of other advertisers and users on the platform. And if someone doesn't know you, you have to work hard to get their attention.
Generally speaking, people don't like ads. They don't like it when strangers turn up in their feeds trying to sell them something… unless the ad is relevant to them in some way.
If you're targeting an audience of people who don't know who you are, take every opportunity you can to make your ads relevant to them. You can do that by speaking about things of mutual interest.
For instance, you can talk about location. If you're a local business targeting people in your area, simply mentioning your location in the ad copy can make you immediately relevant.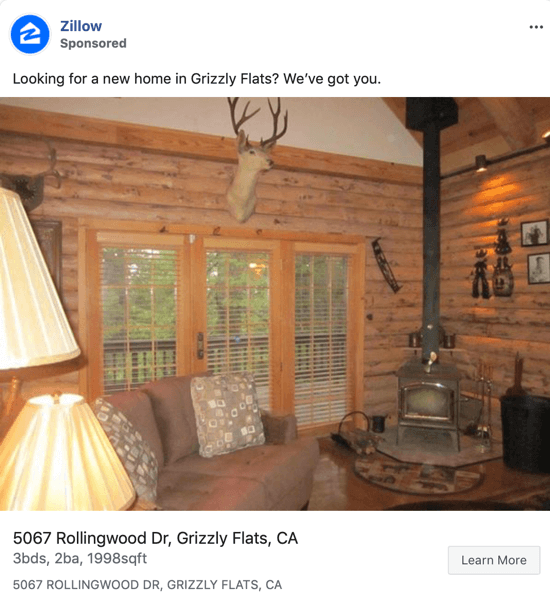 If you're a bar/restaurant in Edinburgh, you could write: "Live in Edinburgh? Come down to X bar tonight and have a drink on us!" That copy is immediately relevant to people in Edinburgh. You'll grab their attention (even if they don't know you) because you've spoken about a mutual interest.
You can take this even further by targeting Edinburgh University students with the same ad. This time, call them out based on location and university: "Edinburgh University students, come down to X bar tonight and have a drink on us!" What university student is going to say no to a free drink?
Think about the mutual interests that you share with your audience and try speaking about those things. They'll start to like you and trust you much faster.
#4: Use Numbers in the Copy
Using numbers in your Facebook ad copy is a great way to grab attention. When someone reads your ad, chances are they'll just skim it, so anything you can do to give a quick win/shortcut will work in your favor.
If you're talking about the results you've helped clients get, saying, "We helped generate 27% more profit," stands out more than, "We helped generate twenty-seven percent more profit."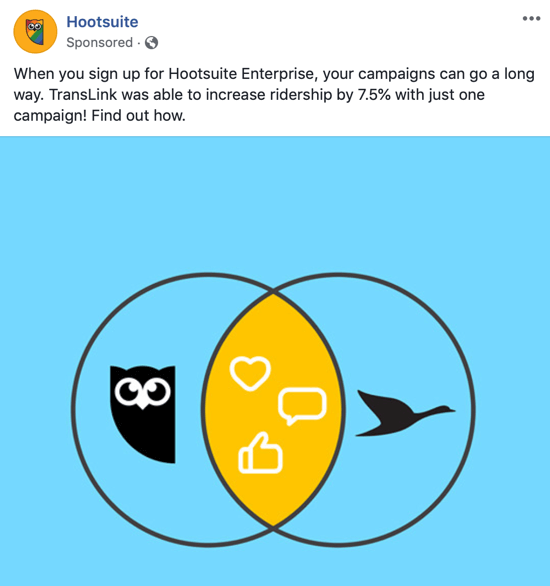 The more specific the number, the better. If you're a business that helps people save money on their weekly grocery shopping, writing "Save $19 on your next grocery bill" is much more appealing than something generic like "Save some money on your next grocery bill."
Numbers are also a great way to show social proof and boost credibility. If you're trying to get people to sign up for your online course or membership, share how many members you already have. In almost every ad they run, ScottsBassLessons.com mentions they have 25,000 paying members, which immediately builds trust and credibility. If there are 25,000 members, it must be good, right?
If you don't have numbers like these, simply share how many people you've helped, such as "723 other entrepreneurs have downloaded this guide." While this stat might not provide the same level of authority, it certainly has some value.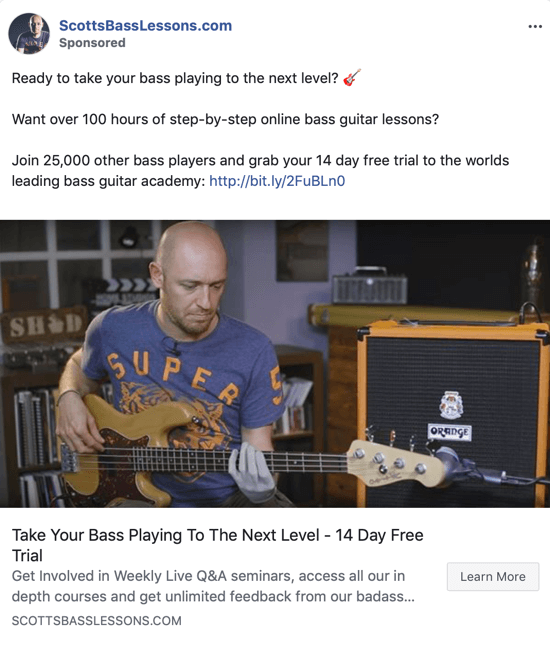 #5: Have a Clear, Singular Call to Action
Arguably the most important part of your Facebook ads is your call to action (CTA). This is the action you're trying to get people to take. If you're trying to drive conversions, your CTA may be something like:
Sign up for our free webinar.
Join our Facebook group.
Get your 50% offer here.
Regardless of what your CTA is, you should only have one. And it needs to be specific.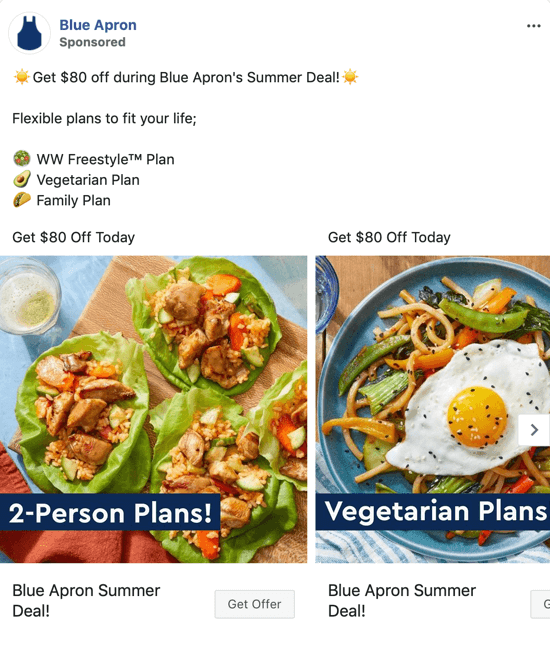 If you provide more than one CTA, you run the risk of diluting the number of people taking the most important one (or any action at all!). It can be tempting to ask people to take various actions, like to download your guide and follow you on Instagram, but providing a choice isn't always the best option.
Think about when you look at a busy restaurant menu. When there are lots of choices, it can be confusing deciding what to order. Sometimes that can lead to decision-making paralysis. However, when you go into a restaurant and there are only a few items on the menu, that decision is much easier to make.
The more choices you give potential customers in your ads (and funnels), the more you risk confusing them and the less likely they'll be to take that action. Giving people a singular CTA not only helps improve conversions, but also helps your customer know what to do next.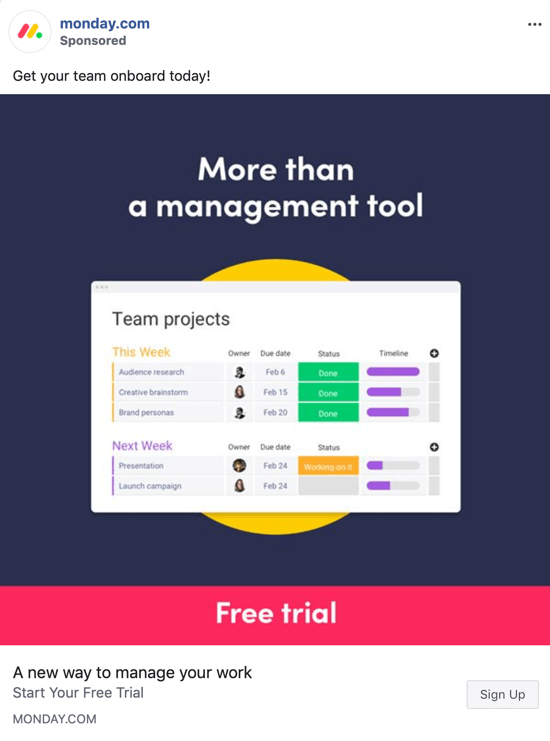 #6: Include the URL in the Ad Copy
When you're writing your Facebook ad copy, it's always a good idea to add the URL of the landing page in the copy itself.
As you know, Facebook requires you to put a URL in the Website URL box, but also including it in the text is a smart move. This gives people two places to click the link and take the action you want. This works well for two reasons.
First, people typically don't like ads so you want to try and make your ads seem like organic content as much as possible. Ideally, you want people to engage with your ads as they would a useful or engaging post in their feed. Including the URL in the text (along with some well-written copy) gives the impression your ad is organic content.
Second, whenever you're trying to get a conversion, you want to put the action you're trying to get people to take in as many places as possible. You don't want to just rely on the user clicking on the image or CTA button in the ad. Give your audience more opportunities to click through to your landing page and take you up on your offer.
As you can see in this ad, the user can either click the link in the text (above the video) or click the Sign Up button below. That's two opportunities to click through.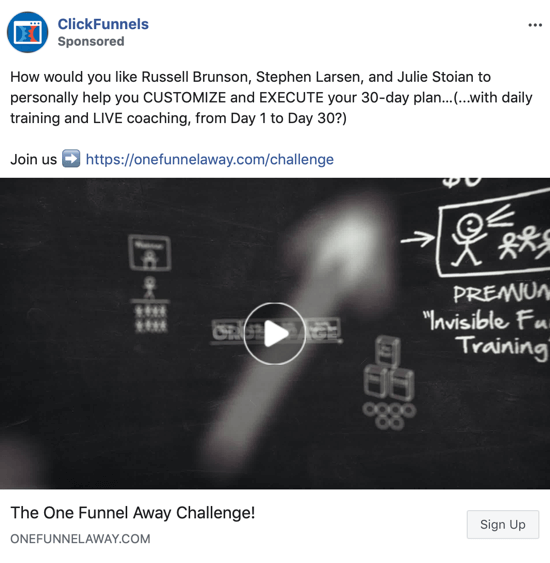 Conclusion
At the end of the day, these six Facebook ad copy tips are just tactics. They're things I've tried and tested for years and have found to work for my clients and me. However, every business is different. Every niche and industry is different. What works for one business might not work for another.
To succeed with Facebook ads, you need to be willing to test, test, test… and then test some more. Over time, you'll learn copy and techniques that work for you.
What do you think? Which of these ad copy tactics do you use? What techniques have been fruitful for your business? Share your thoughts in the comments below.
More articles on Facebook ads: