Do you want to learn more about creating ad funnels on Facebook? Wondering how to build a Facebook ad funnel that works for your business?
To explore how to set up a Facebook ad funnel, I interview Charlie Lawrance. Charlie is a Facebook ads expert and the founder of Gecko Squared, an agency that targets high-growth eCommerce businesses. He's also a writer and contributor for Social Media Examiner.
Charlie shares a funnel framework that any type of business can apply to Facebook ads. You'll also discover how to use remarketing as part of a funnel, and more.
Read a summary of the interview below. To listen to the interview, scroll to the end of this article.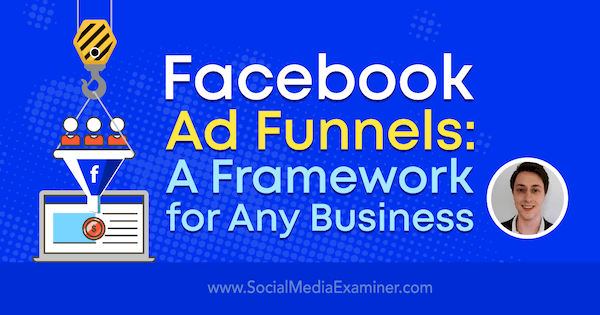 Getting Started With Facebook Ads
Charlie was inspired to become a marketer and an entrepreneur by his father, a career marketer who's worked with startups and corporations, as well as run his own very successful marketing consultancy. Charlie studied business management and got first class honors at Cardiff University. While at university, Charlie made two important decisions that he credits for shaping him into who he is today.
The first decision was getting real-world experience in marketing as a client account manager at an agency in 2010. This is where he dived into Google AdWords and Facebook advertising and could apply his theoretical education in marketing to actual platforms and ad products.
This led to his second major decision, which was to co-found his own app development company with a friend. Although he and his business partner were still university students at the time, they managed to successfully run the business together for a couple of years until his friend moved on to join a family venture. With his business partner leaving and a lack of funding to put toward customer acquisition, the business effectively shut down.
By 2014, Charlie had graduated from university and had another big decision to make. Should he go back to an agency job as everyone in his life expected and encouraged him to do? Or go out and start his own marketing agency? This is when Charlie's agency, Gecko Squared, was born.
Using the knowledge and real-world experience from his previous agency job and building his first company, Charlie now runs a successful agency where he works with amazing clients, helping high-growth businesses massively increase their revenue. He also built The ALL Framework for creating ad funnels. He attributes this success to a lot of trial and error and a lot of money paid to Facebook.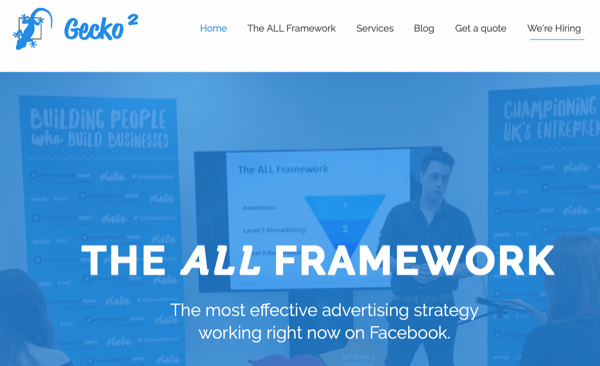 Why Do Facebook Ad Funnels Matter?
It was once possible for advertisers to run one campaign and reliably get sales after sales from cold audiences on Facebook, but its ad platform is much more complex now. Additionally, the cost and demand for Facebook advertising has hugely increased over the last 4 or 5 years.
Charlie has stories from many potential clients whose Facebook ad campaigns have simply stopped working for their businesses. Within 2 or 3 months of running lookalike audiences, their once-profitable cost-per-purchase kept increasing until Facebook ads were no longer sustainable for them.
Another issue Charlie has observed is that Facebook marketers are often selling too early or running ad hoc campaigns that only present sales-based ads to all of their target audiences, whether cold, warm, or hot. This strategy fails to deliver results because you can only push sales so much on Facebook. It's also rare for new or potential customers to convert the first time they encounter any content from your brand or product ads, or visit your website.
One reason is that cold audiences need to be nurtured from being strangers to becoming paying customers. Your cold audience campaigns featuring your promotions and your best sales pitch will likely be successful at first, but the cost per acquisition will eventually go up if you saturate this previously hyper-responsive segment.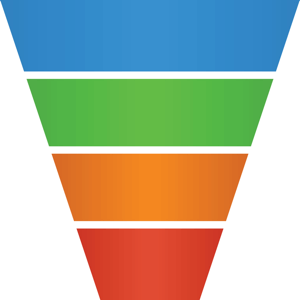 Another reason is that focusing only on cold audience campaigns will alienate and fail to nurture the majority of your audience, who are already familiar with and have an affinity for your brand. Warmer audiences have to be approached differently based on how they've previously encountered or interacted with your brand. Building an ad funnel helps with this.
On a basic level, an ad funnel is a series of ad campaigns that your target audiences see and move through based on their engagement with your business, both on and off Facebook. Funnels allow you to run an integrated strategy that delivers consistent results from your Facebook ads across different types of audiences. Funnels also provide a way to continually grow and refresh your email list.
When done correctly, Facebook is the most powerful advertising channel for any business because it has the reach.
The Elements of a Good Funnel
Charlie's company developed The ALL Framework, a proprietary ad funnel that attracts, engages, and converts people on Facebook. The idea behind it is to constantly move people through each stage based on their engagement with your ad campaigns both on and off Facebook and continuously build your website traffic.
There are three stages to The ALL Framework: Awareness, Level One Remarketing, and Level Two Remarketing. The ALL Framework sets up a method for re-engaging customers at each of these three stages and bringing them back to your website. It allows you to take people from strangers to paying customers in the shortest amount of time possible by showing the right ads to the right people at the right time.

The Awareness Stage
The Awareness stage of The ALL Framework is where you educate and entertain your audience with the ultimate goal of delivering value. This first stage offers a way to build recognition and credibility for your brand in the news feed, and present your products or services through content creation.
When Facebook users are on the platform, they're looking to consume content from brands they follow, people in their lives, and businesses. They aren't actively searching for products and services as they would be on Google or other search-based sites. Without a funnel that begins by driving awareness and providing value through content, any sales-based ad campaigns simply won't deliver results on Facebook. The content element is necessary.
There's a chance that your company is already producing some form of content that educates prospective customers about your brand and entertains your audience. Rather than focusing on how to organically amplify your content, the Awareness stage of the framework is about amplifying content through advertising.
Charlie recommends primarily creating video content for Facebook. Of all of the content types that can be run on Facebook's ads platform, nothing is more engaging and effective at building a high-quality, low-cost audience right now than video. He acknowledges that this might change in the next 2–3 years, but Video Views campaigns are currently the best value for taking a cold audience to a warm audience that can be remarketed to.

Creating Content That Entertains
When it comes to Facebook and Instagram, most businesses can readily think of entertaining content. Entertaining content can be bracketed into three different types: a brand story, viral content, and a look behind the scenes.
Every business should have a brand story. The brand story is the why behind your business. It establishes your brand values and sets you apart from your competitors. A brand story is one of the first pieces of content Charlie asks clients to create if they haven't already done so. He also recommends that this piece of content be delivered primarily as a video.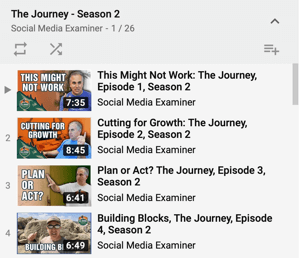 Viral content is tricky because businesses and brands have absolutely no control over whether a piece of material goes viral. It's perfectly fine to build brand content around memes or attach it to pieces of Internet-based culture as long as it has some relevance to your business.
Giving audiences a behind-the-scenes look can be both entertaining and educational. This process-driven blog content captures the side of your business that most people won't ever see. Charlie highlights Social Media Examiner's The Journey as a prime example of how that can be done.
Creating Content That Educates
There are three types of educational content, too. These include the classic how-to content, revealing a creative process, and building on a broader industry topic.
How-to is a popular content type for most B2B environments. You're directly teaching someone about the steps in a process or about a new concept. There are a lot of different ways to approach how-to videos or posts.
Content that highlights a creative process works well for an art- or design-based brand in the Awareness stage of The ALL Framework. To illustrate, a merchandiser could create a time-lapse video of drawing or creating a piece of art. This offers target audiences an insight they wouldn't previously get by only seeing the end product.
You can also approach content creation by taking a broader industry topic and offering your perspective on it. A supplement brand selling antioxidants has to educate people on what antioxidants are before they can even begin explaining why anyone would need their product. You can't have one without the other.
Budgeting for the Awareness Stage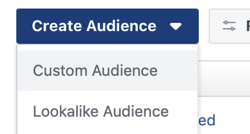 If you have a decent-sized following for your page, you can simply push out video content and build custom audiences just from the impact of your organic reach. If you don't have a large audience or lack organic reach, you can always amplify your content with paid ads targeted to cold, lookalike, and interest-based audiences.
Level One Remarketing Campaigns
The next step is engagement-based remarketing campaigns targeted to people who have previously engaged with your business on Facebook or Instagram. These ad campaigns can position your products and services, present offers, and drive traffic to your website.
Once you've established a population of Facebook users who have watched your videos in the Awareness stage of the framework, you can build custom audiences based on the specific video or type of video that they've watched, along with their level of engagement. These become your Level One Remarketing audiences to whom you can position your product and serve offers.
The quality of these audiences depends on the connection between the Awareness stage of the framework and the Level One Remarketing stage. One way to improve this connection is to decide what you want to promote at your Level One and work backward to create the type of content at the Awareness stage that supports it.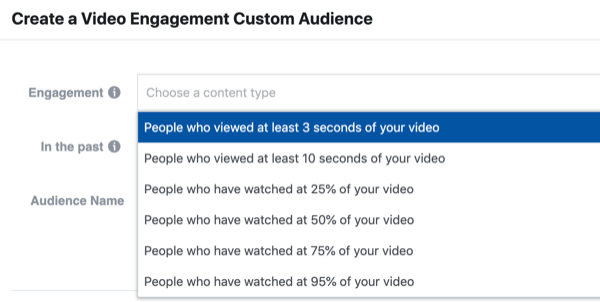 Charlie notes that developing the right content and delivering it to the right audience at the Awareness stage can often lead people to go directly to your website to make a purchase or become a lead.
Create Audiences Based on the Awareness Stage
Although Facebook allows you to segment your video audiences based on video views in seconds and percentage of video length watched, Charlie recommends targeting the highest level of engagement that allows you to have a good audience size. This will depend on two things: the length of your videos and how long people engage with your videos.
Any video longer than 1 minute is now considered a "long" video on Facebook. For any videos longer than 1 minute, you can target those who watched 25%, 50%, 75%, and 95% of the video. For any videos that are shorter than 1 minute, particularly those under 30 seconds, target audiences who watched 50% or more of the video.
Separate Audiences With the Post ID Method
If you're targeting the same video across multiple ad sets, make sure to tie back all of the social proof such as likes, comments, and view counts to that particular piece of content using the post ID method. The post ID is a unique code that can be attached and used to identify the same post or video as it's used across multiple ad campaigns.
To implement the post ID method, take the ID from your page post section and paste it into the Existing Post part of the ad creation tool. This works for tracking both organic page posts and paid ad placements.
Level One Remarketing Positioning and Messaging
There are two important things that need to be established at the Level One Remarketing phase of The ALL Framework: what you're positioning to audiences and the messaging around your brand. This is where you build consideration of your product or services in the eyes of your target market. Not only are you driving highly targeted website traffic at this point, but you're also serving the goal of driving sales.
How you present different offers depends on the type of business you have. For instance, Charlie has found that the tried and tested and best type of offer an eCommerce brand can run is a price incentive. This can include product discounts linked to a minimum spend, free shipping, or more.
Discounts work well to convert customers because they not only create a pricing incentive, but also minimize the risk associated with buying something from a new or relatively unknown brand.
If you don't have the ability to offer free shipping or discounts, focus on positioning the product or service itself. Run ads that highlight its benefits, show results, or offer an initial touchpoint like a free consultation or a limited-time free trial.
This tactic is at least familiar to many marketers, but the major difference is that you're specifically targeting these ads to audiences created in the Awareness stage that are already familiar with your brand.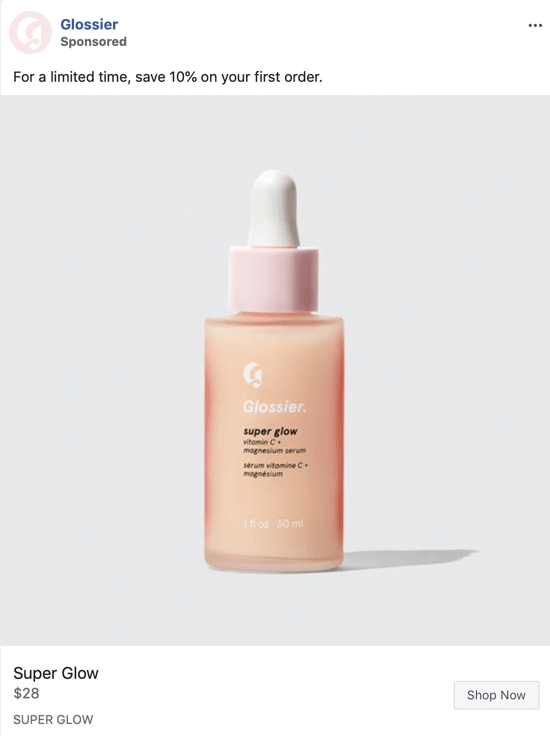 Approaching Different Engagement Audiences
There are two different types of engagement audiences. In addition to those drawn to your brand by your video content marketing in the Awareness stage, you likely also have a much larger group of page and profile followers who interact and engage with your business and your ads organically. Together, these two audience types can increase the results at the Level One stage.
Your Facebook page engagement audience can be further narrowed down to people who have messaged your Facebook page, people who have engaged with your organic posts and ads, or basically everyone who has had some interaction with your page.
Instagram has a similar process for targeting your profile visits. It runs the same engagement criteria that can be narrowed down to people who have interacted with your feed posts and your ads on Instagram, sent you a direct message, or saved your feed posts to their bookmarks.
You don't have to separate these different audiences manually for the Level One stage. The time duration you set for your audiences will naturally do that for you. Video views engagement audiences typically have a much shorter time duration of 7 days. Alternatively, page and profile engagement audiences typically have a much longer duration of 30, 60, 90, or even 180 days.
The exact duration for each type of audience is mainly defined by your ad budget. The more you spend and the more you're funneling in the Awareness stage, the faster you'll be able to build an audience. So the time duration could even be shorter and your campaigns can be much more economical than just tapping traditional cold audiences who have never heard of your business or seen your brand in their news feed.
The idea is to reduce that time to touchpoint based on how frequently people are interacting with either your videos or your Facebook page. When audiences are funneled through the Awareness stage, they've presumably already engaged with your brand either organically or from an ad.
There's a level of recognition, credibility, and authority that developed from these previous interactions. As a result, you'll see better CPMs, have a higher return on investment, and ultimately see better results from your Level One stage.
Level Two Remarketing Campaigns
The final step of The ALL Framework is basically website remarketing to those who didn't become a customer at Level One. Although website remarketing uses a custom audience that can be selected in Facebook Ads Manager alongside video views and page audiences, it requires an entirely separate level due to the temperature of the audience.
At this level, you're now dealing with the hottest audience you can possibly target. Not only have they previously engaged with your business on Facebook, but these people have also visited your website. They simply haven't yet converted. Level Two Remarketing Campaigns are solidly focused on driving conversions by re-engaging these people.
If you can funnel a decent amount of web traffic from Level One and then do Level Two Remarketing correctly, these campaigns promise to be the most profitable Facebook ads you run, regardless of what business you're in or who your clients are. These ads will generate an extremely high return on ad spend. Charlie has personally seen double-digit returns on ad spend from these levels of campaigns.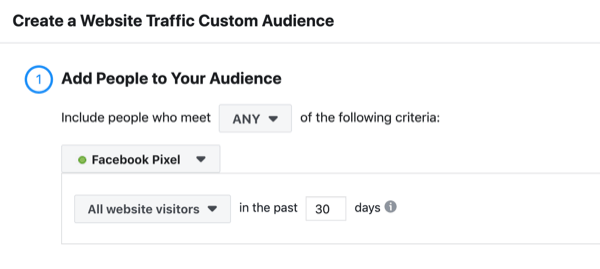 Charlie presents the RTM method of Level Two Remarketing ads. This acronym stands for three different ad types: Reminders, Testimonials, and Messenger.
The RTM Method: Reminders
Reminder ads develop some sense of urgency. It can really be as simple as just reminding a customer that the discount you previously offered at Level One is set to expire. Perhaps it could be a reminder that a certain product they viewed on your website is still available.
The RTM Method: Gather Testimonials
Customer and client testimonials are massively important for your business. They build social proof, which in turn gives people the confidence and trust they need to buy from you or become a lead for your business.
If you don't already gather testimonials, start doing so and use them in your Facebook advertising. Charlie finds testimonials to be most effective when they're used in ad copy rather than in a video. He notes that it works best to follow the testimonials with reiterating the promotion from Level One or mentioning the product you're selling in the Level Two stage. Then have a strong call to action that sends audiences directly to your website.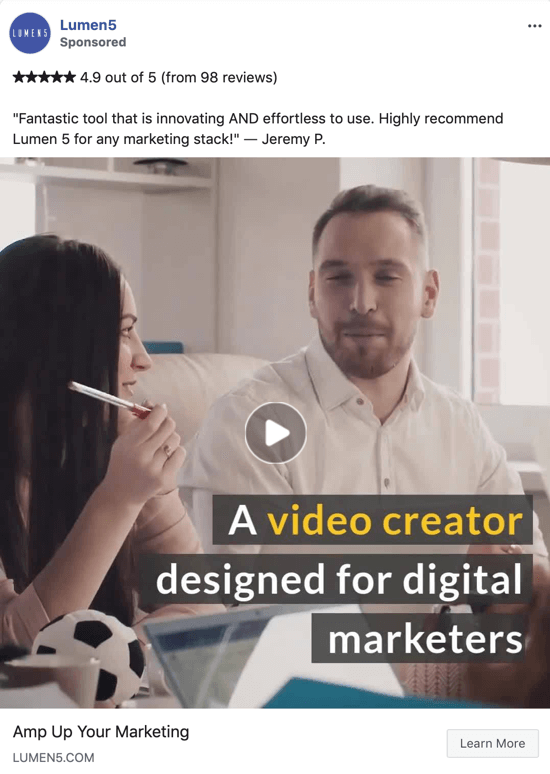 The RTM Method: Messenger
Unlike reminders and testimonials that can be used by all types of businesses, Messenger is best used by high-end service businesses that require a lot of consideration before a purchase.
Messenger allows you to create a quick and easy touchpoint with a potential customer before moving them through the rest of the sales funnel.
For example, you can reach out and say something like, "Hello. We saw you were interested in this service. Have any questions? Just shoot us a message on Messenger and we'll get back to you as soon as possible." This simple Messenger prompt is enough to ignite a conversation that can move toward a phone call or a different sales page on your website.
Discovery of the Week
Facebook Event Calendar provides a way to export and sync your Facebook events calendar to a third-party calendar application such as Google Calendar, Apple Calendar, or Outlook, which can then prompt you with reminders.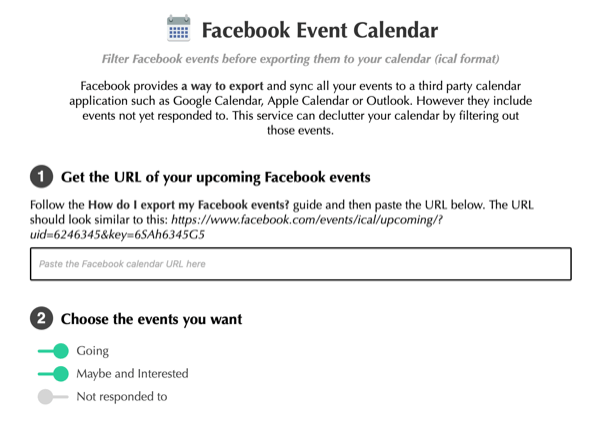 To use this tool, simply paste the URL of your upcoming Facebook events into the Facebook Event Calendar interface. Choose whether to include Facebook events that you're going, interested in, or invited but haven't yet responded. This one-time setup exports this information as either a separate system calendar or a Google calendar that automatically updates as you continue to interact and respond to other Facebook events.
Listen to the show to hear more about Facebook Event Calendar.
Key Takeaways From This Episode:
Listen to the Interview Now
The Social Media Marketing podcast is designed to help busy marketers, business owners, and creators discover what works with social media marketing.
Where to subscribe: Apple Podcast | Google Podcasts | Spotify | RSS
What do you think? What are your thoughts on creating Facebook ad funnels? Please share your comments below.