Wondering how to take your Facebook advertising campaigns to the next level? Looking for ideas to improve your Facebook ad conversions?
In this article, you'll discover seven ways to scale your Facebook ad campaigns.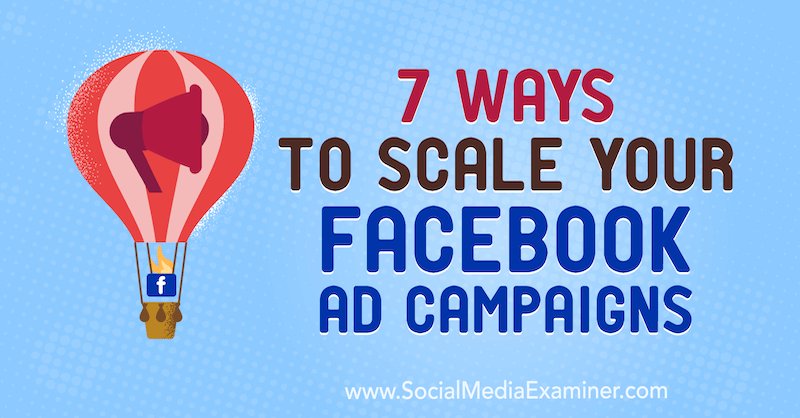 #1: Make Small Salary-Like Bumps to Facebook Ad Spend Every 4–7 Days
As the name suggests, "salary-like" bumps are small increases to your Facebook advertising budget. Basically, it means to raise the budget by 10%–20% every 4–7 days when results are exceedingly good.
To use this tactic, start by making sure that the Facebook campaign is profitable. In this example, the ad set has run for 3 consecutive days and generated 7 conversions at $10.68 each.

These conversions are registrations for a live event and your maximum allowable cost per registration is $20. So to scale it, increase the budget by 20% (from $23 to $27.60 per day) and let it run for another 4 days before reviewing it again. It's that simple.

Unsurprisingly, this is by far the least risky method to scale any campaign. So why does it work so well?
Every ad set learns from its performance and retains the data. When you increase the budget by 10%–20%, it's considered a relatively small change to your ad set, so the ad set retains most of the data and lessons learned from the initial phase of running your campaign. This helps keep your performance relatively stable compared to a larger change that forces the ad set to lose all of its initial data.
Although Facebook has never admitted this publicly, a relevant note recently appeared inside Facebook Ads Manager.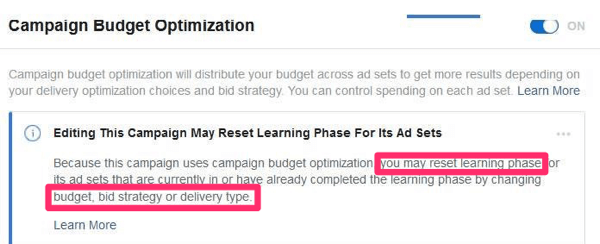 While this note refers mainly to Campaign Budget Optimization (or CBO, a relatively new feature I talk about later in this article), it reveals the fact that changing the budget does reset an ad set's learning phase.
#2: Boost Spending on Your Most Profitable Facebook Audience Segments
If the size of your target audience is at least 1 million (or 10 million if you're already spending $500–$1,000 a day), chances are that a part of your target audience generates more profits than the rest. This campaign-scaling tactic is about finding your most profitable customer segments and spending more money on them than the others.
To do this, you use the Facebook ads breakdown feature. Frankly, I'm really surprised how many advertisers seldom take advantage of this information.
🌟 Ready to Supercharge Your Social Marketing Strategy? 🌟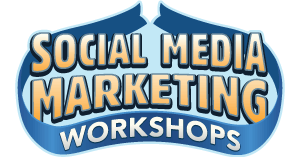 Struggling with your social marketing? You're not alone. The solution? The Social Media Marketing Workshops!

During these live 2 hour deep-dive workshops, you'll discover what's working now on Instagram, Facebook, TikTok, YouTube, and LinkedIn. Skyrocket your engagement, broaden your reach, and amplify your sales.

Become the marketing hero your company and clients need—without leaving your home!
🔥 Save $670 on an All-Access Ticket! Sale Ends Tuesday! 🔥
GET YOUR TICKETS NOW
To find this data, open Facebook Ads Manager and look for the Breakdown button located in the top-right corner above the table of data.

When you click on this button, you'll see four types of breakdowns to choose from:
By Time
By Delivery
By Action
By Dynamic Creative Asset (applicable only when you use Facebook's latest Dynamic Creative ad product, which automatically creates ad variations for you)
Among these four breakdowns, Delivery has been the most useful to me.
If you're looking at this data for the first time, it's best to assume that you know nothing about your customers. Go through each breakdown one at a time.
Most often, I see a significant difference when comparing the results for different age groups. Below, the 35–44 age group is the most profitable customer segment, followed by 45–54, and so on.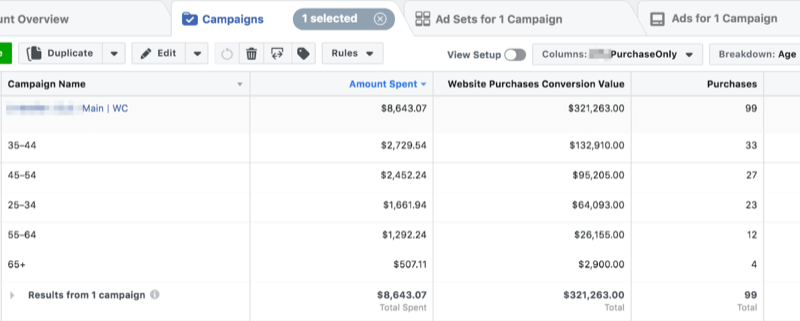 Of course, you won't necessarily see the same results. If you diligently analyze each breakdown, you might discover something that surprises you.
And don't forget that you might have more than one profitable segment.
For instance, you may find that females in the 25–54 age group are most likely to convert. Males 35–44 also look like prime prospects. Based on this data, you could create two duplicate ad sets targeting females 25–54 and males 35–44 separately.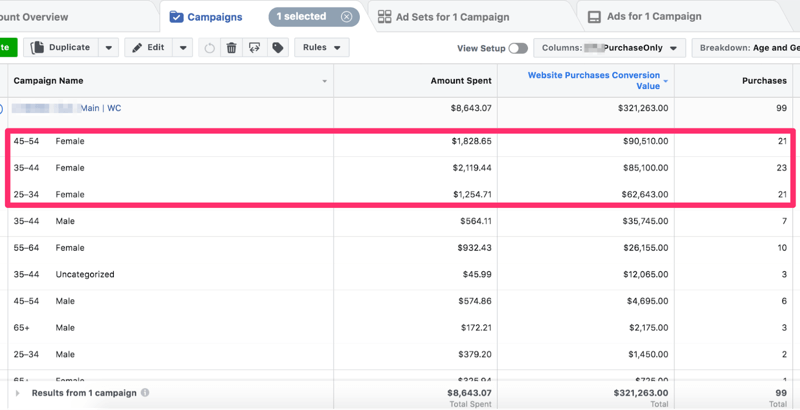 To scale your campaign using this method, duplicate the winning ad set or campaign, adjust the targeting so it includes only the most profitable audience, and spend 30%–50% of the original budget on this customer segment alone.
If you have multiple profitable segments, you can replicate this for each segment you've identified.
Pro Tip: Some Facebook advertisers want quick results, so they spend 100%–200% of their original budget on the narrowed target audience. However, they're also equally likely to see the results turn unprofitable quickly once they exhaust the relatively smaller audience. If you're doing this for the first time, take it slowly and spend just 30%–50% of the original budget.
#3: Replicate Winning Facebook Ads but Target Different Audiences
Horizontal scaling is one of the most widely used and reliable methods to scale Facebook campaigns. With this tactic, you replicate the same winning ads but target them to different groups of people.
In other words, pick out ads that are highly profitable, create new ad sets, and reuse the same ads. In each new ad set, choose different targeting.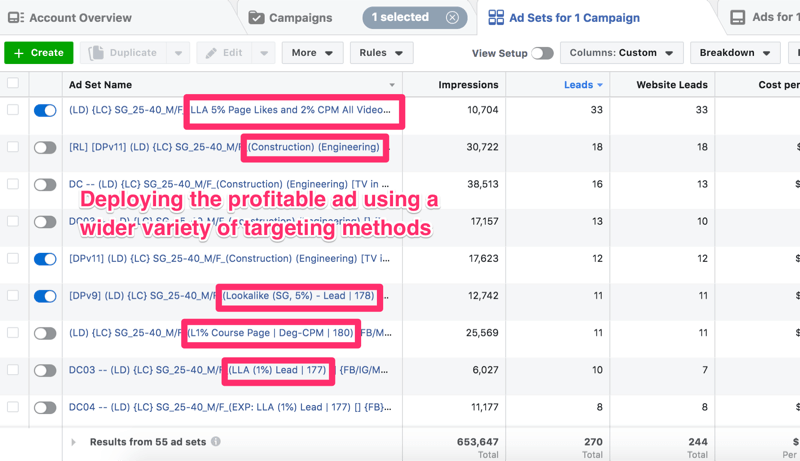 If your profitable ad set targets 1% lookalike audiences of people who closely resemble your customers, you could target:
2%–10% lookalike audiences of your customers
1%–10% lookalike audiences of your leads
Interest-based audiences
Broad, no targeting (especially if you're selling fast-moving consumer goods or products that have mass appeal)
To implement this tactic, try a simple two-step process. First, create a campaign for testing different ad copy and creative combinations. Then when you find a winning ad copy and creative combination, replicate it in a separate campaign intended to scale with different audiences.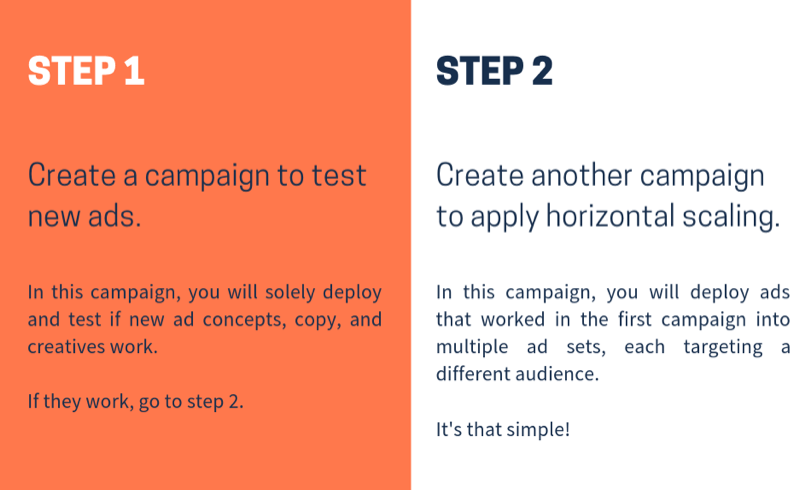 Once you start testing 10–20 ads at a time, you'll begin to see the benefits of this system and won't lose track of the ads to which you've applied the horizontal scaling method.
#4: Automatically Allocate Facebook Ad Spend With Campaign Budget Optimization
You may be aware that all Facebook ad budgets will be managed at the campaign level starting in September 2019.
Ever since Facebook advertising started, budgets have always been managed at the ad set level. In each ad set, you could create multiple ads and Facebook would allocate the ad spend among different ads intelligently.
Now Facebook wants to step up its role and use its machine-learning capabilities to help advertisers allocate spend among different audiences and ads, not just ads alone. CBO is part of Facebook's newly defined offering for advertisers, named Power 5.
With CBO, Facebook hopes to help advertisers who aren't allocating their ad spend so they can more efficiently get better results from the platform.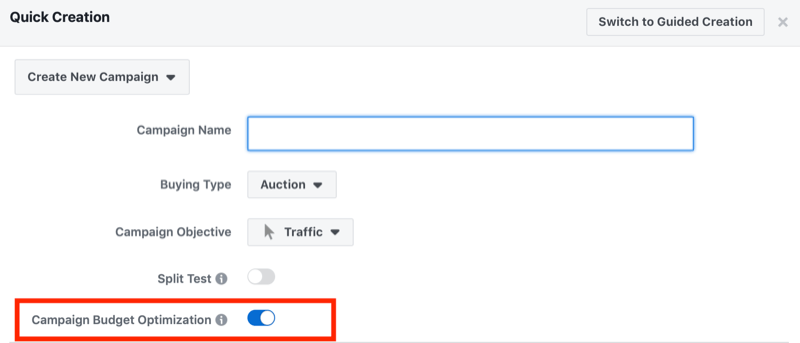 So far, our tests show that CBO works really well when you're trying to scale beyond $1,000 a day. It works especially well when you have:
Multiple ad sets targeting audiences that you know are profitable
Ads that have performed well early in tests and aren't only profitable, but also have link click-throughs above 2%–3%
Although click-through rates alone aren't necessarily an indicator of an ad's strength, having both a profitable and attractive ad means that when it reaches more people, there's room for it to grow and still remain profitable.
Earlier this year, I attended a mastermind hosted by Depesh Mandalia, one of the most well-regarded Facebook ad buyers who also serves as an advisor to Facebook's product team in the UK. One of the most effective approaches to CBO that Depesh shared was to categorize your audiences by the degree of relevance, if not historic profitability.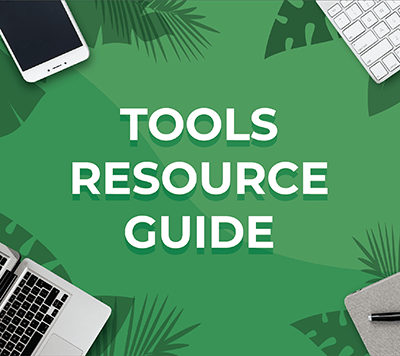 Looking for something to make your life easier?
Discover the tools we recommend to drive engagement, save you time, and boost sales across your entire marketing funnel or business.
Whether you need help planning content, organizing social posts, or developing your strategy, you'll find something for every situation.
FIND YOUR NEXT FAVORITE TOOL
For example, suppose you have the following audiences:
1%–10% lookalike audiences of your paying customers
1%–10% lookalike audiences of your leads
Interest-based audiences

You could categorize these audiences into three or four campaigns:
Group 1: 1%–3% lookalike audiences of your paying customers and a 1% lookalike audience of your leads
Group 2: 4%–6% lookalike audiences of your paying customers, 2%–4% lookalike audiences of your leads, and a few highly relevant interests (e.g., authors, associations, etc.)
Group 3: 7%–10% lookalike audiences of your paying customers, 5%–7% lookalike audiences of your leads, and the remaining interests
In each campaign, set a budget using CBO and turn off ad sets and/or ads that aren't working profitably, just as you normally would.
#5: Use Facebook Automated Rules to Mitigate the Risk of Overspending
The risk-adjusted clone method of scaling a Facebook campaign is about duplicating your profitable ad set, increasing the budget significantly, and mitigating the risks using automated rules. It's a quick but risky way to scale your campaigns. To be clear, it doesn't always work for us, but when it does, it's incredibly fast.
If you have an ad set spending $50 a day profitably, you might duplicate it and set a higher budget (e.g., $100 or $150 a day). So in just a day or two, you could potentially double your ad spend and results.
However, because this approach doesn't always work, you want to mitigate the risk of wasting all of your money. To do this, turn to Facebook automated rules, which you can create inside Ads Manager.

Here are two key rules we use:
Turn off the ad set if ad spend is greater than or equal to three times the cost per acquisition (ad spend ≥ 3x CPA).
Restart the ad set the next day if it's profitable.
In the first rule, you allow the ad set to spend up to three times the desired cost per acquisition.
To create this rule, select your campaign in Ads Manager. Then click Rules and select Create a New Rule from the drop-down menu.

In the Create Rule window, apply the rule to active ad sets inside the campaign you've chosen and tell Facebook to turn off the ad set if the rule is activated, as shown in the image below.

Next, set Lifetime Spent to three times the profitable CPA. In this example, you estimate it to be $15, so you want to activate the rule when it spends more than $45 ($15 x 3 = $45).

Why three times? The reason is twofold.
First, reporting on Facebook is often delayed in real time. So you want to allow for a reasonable amount of time for Facebook to update the report and keep profitable ad sets running for as long as possible.
Second, when you're gathering data on an ad set, the law of small numbers may trick you into making the wrong decisions.
Suppose you get only one purchase after spending $30, which means you paid $30 to acquire one customer. You may think this is unprofitable, so you turn the ad set or ad off. But little do you know that the same ad could easily turn into three purchases if you allowed it to spend $50, and five purchases if you allowed it to spend $60. This would have lowered your CPA from the initial $30 to $17 and then to $12.
This has happened to us several times, so we're cautious not to make the same mistake.
For the rest of the options, keep them at their defaults.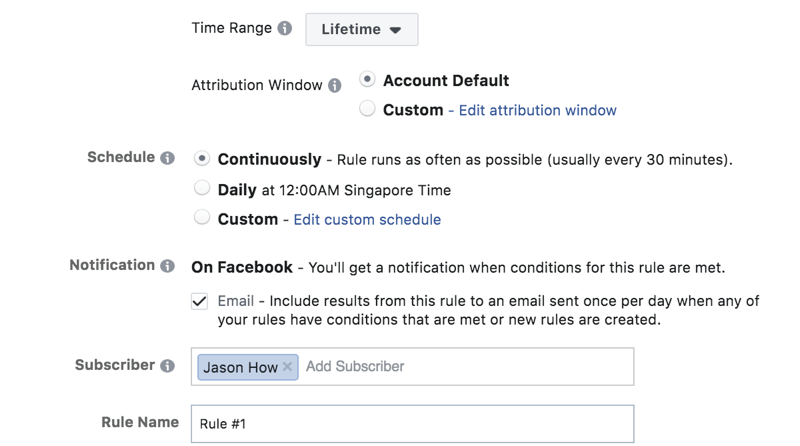 Sometimes, Facebook's report can also be delayed by up to a day or two. To mitigate this problem, create the second rule, which restarts profitable ad sets that were turned off by mistake.
This rule resembles the first rule but with two changes:
Instead of turning off an ad set, turn on the ad set if this rule is activated.
Instead of activating the rule when the cost per lead is higher than $15, activate the rule if the cost per lead is lower than $15.
Basically, this rule checks your account for profitable ad sets that are inactive for some reason.
Let's say the first rule turned off an ad set after spending $45 only to generate two purchases. This gives you a CPA of $22.50, which is unprofitable.
However, due to delayed reporting, the ad set generates four leads and the actual CPA turns out to be $11.25. The rule will pick up on this and turn the ad set back on.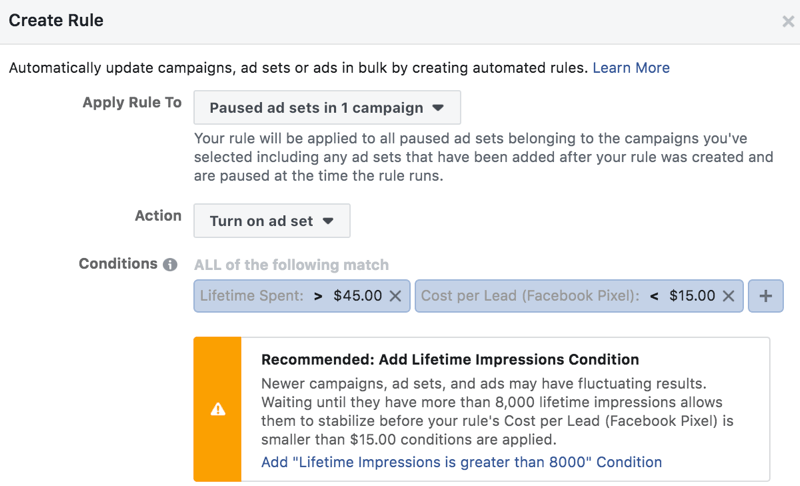 #6: Rotate Multiple Offers Within One Facebook Campaign
The tactics above all focus on immediate tricks you can use to get the most out of your Facebook campaigns. But none of these methods will work if people start getting tired of seeing the same offer over and over again, like the same $29 chiropractic package, $100 discount for a course, free gym trial, or eBook download.
Instead, you want to develop multiple offers you can rotate from time to time. While this may sound like a lot of work, the truth is that you don't need that many offers. Having two compelling offers alone can propel your business to millions of dollars in revenue. An insurance company client of my agency alternated between two offers on Facebook to generate over 600,000 leads and more than $1.7M in recurring annual insurance premiums.
Here's a simple breakdown of what this approach might look like:
January: Promote offer 1 (e.g., lead magnet)
February: Promote offer 2 (e.g., giveaway)
March: Promote offer 1 (e.g., lead magnet)
April: Promote offer 2 (e.g., giveaway)
… and so on.
If you're interested in pursuing this idea, here are some tried-and-proven offers you can pair up and rotate:
Downloadable eBooks and quizzes (or giveaways)
30- to 90-minute webinars and 5- to 20-minute video sales letters
Free trial or entry-level service and low ticket-price packages for a limited number of people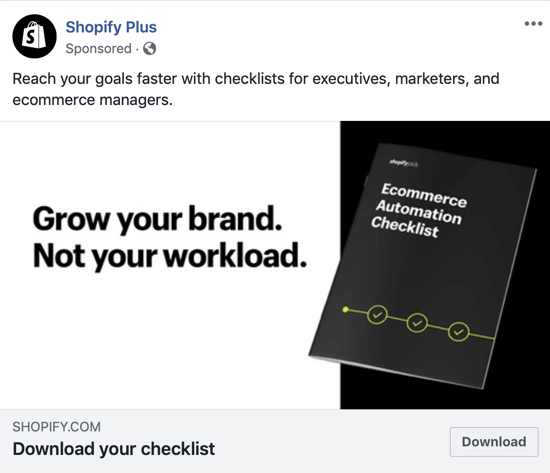 #7: Retarget Facebook Campaign Audiences With New Product Offers
When it comes to Facebook, your ad funnel is as much a foundation of your success as setting up the right offers. However, businesses that succeed with their funnels often stop making them better. They focus fully on driving more targeted traffic, which limits their true ability to scale their business.
In contrast, extending your funnel will let you create additional touchpoints and opportunities for people to discover more about your products and services. You can do this by adding a profit-maximizing offer at the bottom of your funnel.
Suppose you sell your online courses for between $200 and $500 and you're able to do so profitably. However, it's difficult to scale your Facebook campaigns infinitely because traffic gets more expensive and you need to pay more to acquire each new customer. This puts a ceiling on your growth.
To remove this ceiling, you either have to raise prices or create a new higher-priced offer. This could range anywhere from $2,000 for a fully paid course to $10,000 and beyond for a one-on-one work arrangement.
Imagine this: If 10% of your existing customers took up the higher-priced offer, how much more would you be able to pay for traffic (and thus scale your campaigns)? Probably quite a bit more!
Conclusion
If you have profitable Facebook advertising campaigns you'd like to invest more money in, it's important to use the right mix of strategies and tactics. This article shares seven techniques that will help you scale your campaigns effectively.
What do you think? Which of these seven tactics have you tested to scale profitable campaigns? Did they work for you? Feel free to share your thoughts in the comments section below.
More articles on Facebook ads:
Get Your FREE Course: Web3 for Beginners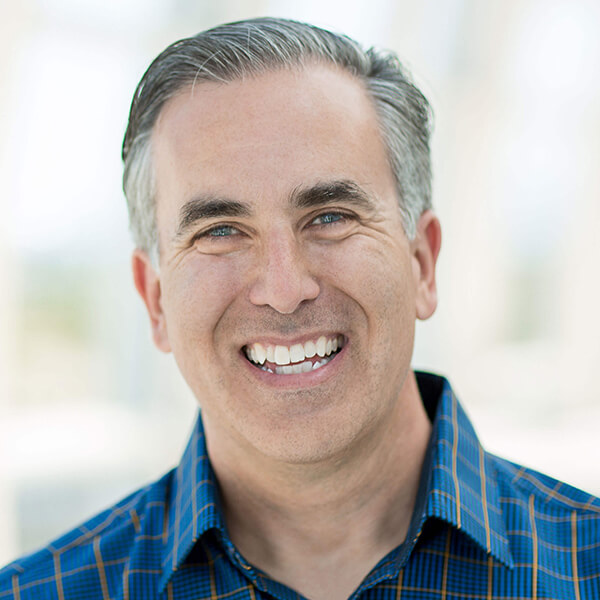 Curious about Web3, but don't know where to start or who to trust?

Introducing Web3 for Beginners, a course taught by Michael Stelzner, the founder of Social Media Examiner.

Learn the basics of Web3 and apply it to your business with this FREE comprehensive course.
CLICK HERE TO GET FREE ACCESS