Do you want to create ad copy that sells? Wondering how you can improve your Facebook ads?
To explore how to write Facebook ad copy that converts, I interview Ken Moskowitz. Ken is the author of Jab Till It Hurts and founder of Ad Zombies, one of the world's top flat-fee ad copywriting services.
Ken shares why ad copy matters. You'll also learn about the four main marketing objectives advertisers should consider, how to use storytelling in ad copy, and more.
Read a summary of the interview below. To listen to the interview, scroll to the end of this article.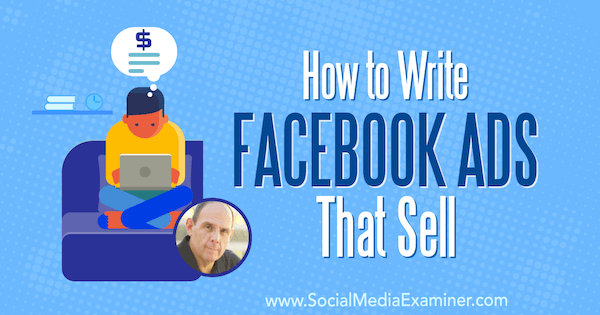 Writing Facebook Ads That Sell
Growing up in New York City, Ken was enchanted with the legendary voices of 101 WCBS FM New York. He was fascinated with the way that the radio talent could articulate a complete story through a quick piece of audio that everyone gets to hear. As a teenager, Ken spent his Bar Mitzvah money to furnish an amateur recording studio in his bedroom. While other kids his age were making music mixtapes, Ken spent his time writing and producing his own commercials.
This hobby blossomed into a job in radio and production. Ken crafted jingles, sweepers, and promo IDs, but found that storytelling—especially when it came to advertising—was his niche and passion. He had a unique talent for selling an idea through the short-form media of radio ads. His work generated millions of dollars for his company over the span of his 27-year career in radio.
By 2011, Ken had left the radio industry to start a full-service creative firm focused on video production, television pilots, and more.
Then on March 6, 2017, Ken responded to a "cry for help" in a Facebook group. A member posted that he had written some ad copy for a client and the ad wasn't converting. The man said, "I don't know what's wrong with the ad… Can anyone help me?" While other group members only offered criticism, Ken provided his insights on why the ad likely wasn't converting. He also proposed a revision to the ad copy, which garnered a hugely positive response throughout the group.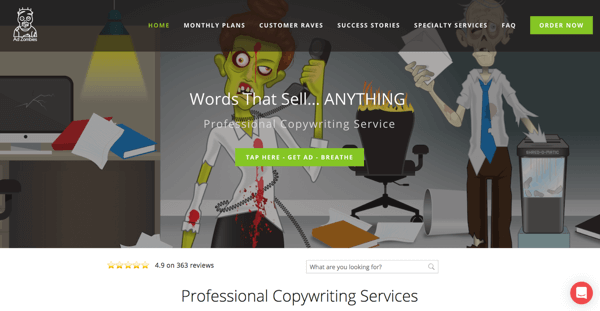 What began as a simple offer of help turned into the start of a new ad copywriting business for Ken: Ad Zombies. Within the first weekend, Ken received more than 100 requests for copywriting help. He knew he had stumbled on to an incredible need.
Ken refers to his love and talent for copywriting as his superpower, and considers himself very fortunate to have discovered this "happy accident." Ad Zombies now serves clients internationally and Ken has expanded the work to a team of writers.
Why Facebook Ad Copy Matters
Words are powerful. They paint pictures in a way that's very hard for the brain to unsee.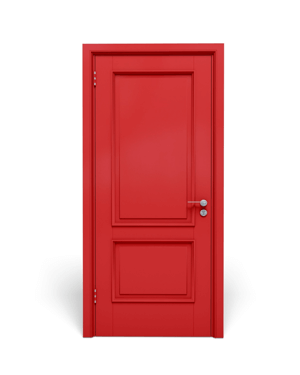 Ken illustrates this point by telling us, "Try not to think of a red door." Your mind might actively be thinking of anything other than a red door. But you still visualize a flash of a red door the moment it's suggested. Even if these words are in a headline for an ad featuring a blue door, your mind is still going to visualize a red door.
Attention-grabbing visuals can stop a scroll on Facebook, but the storytelling in the ad copy is what gets people to go along on a journey with you. There's an art to hooking someone with a headline and then slowly moving them into the body copy of an ad.
For instance, you can go from the image of a blue door to the words, "Try not to think about a red door," and all the way through to the colors of your house in an ad for a painting company.
Listen to the show to hear Ken explain how people of different ages scroll through Facebook at different rates.
Four Main Advertising Objectives
Marketing follows the same natural progression of any other relationship. You go through a period of getting to know one another, becoming comfortable, and so forth before making any sort of commitment. The same thing happens in advertising.
When it comes to attracting clients or customers, start with creating awareness at the top of the sales funnel, move to a consideration phase, and eventually to conversion or retargeting. Ken refers to my latest interview with Amanda Bond in which she labels each phase of the sequence this way: Connect, Commit, and Close.
In our conversation, Ken goes on to describe the advertising objectives marketers need to think about at the different steps of this process.
Top of the Funnel: Awareness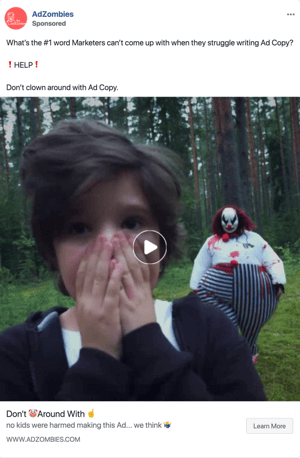 Ken states that it can take up to 14 touch points before your marketing initiatives deliver a qualified lead or sale. So it's silly to expect a customer to convert at the first encounter with your brand. Instead, begin with a strong awareness ad campaign that gets your brand, product, or service at the forefront of that consumer's mind in a fun, creative way.
Ken demonstrates this principle with two awareness ads run by Ad Zombies. Outside of referrals and recommendations, the first touch point most customers have with Ken's company is called The Clown Ad.
The video ad, which features a terrifying clown sneaking up on a little boy alone in a field, has been viewed 1.3 million times and shared 500 times, and has received hundreds of comments.
Another highly engaging ad Ken's company shows people at the top of their sales funnel is called The Booger Ad.
Neither of the two ads is intended to convert or close a deal. They are meant to grab people's attention and be shared and talked about. For this reason, the image in each ad is jarring and the copy is "very short, very sweet."
When you begin with building awareness at the top of the funnel, you aren't necessarily trying to close on the deal at that moment. You simply want your business to be the first thing they think of when they need your product.
Listen to the show to hear examples of three brands that have successfully solidified their place in the memory of consumers.
Middle of the Funnel: Consideration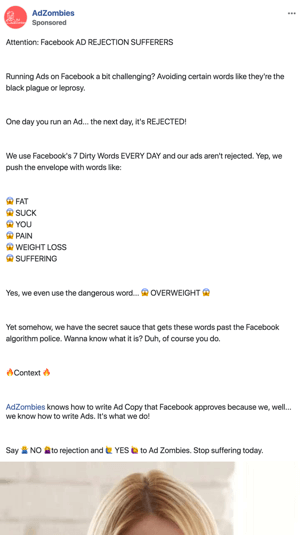 Once a potential customer engages with your brand, they can move to the middle of the funnel, which Ken refers to as the consideration phase. This point in the sequence offers an opportunity to address the pain points of your target audience and educate them on the benefits of hiring you or buying your product.
Ad Zombies uses a video called 'Facebook Ad Rejection Sufferers' to address how to write ad copy that Facebook approves every time. Facebook typically flags certain words, but Ken's company guarantees that it can help advertisers position, organize, and add context to these words that make the ads compliant on Facebook.
The consideration phase is when you give people reasons to interact with your brand by bridging the gap between their pain points and your solution. Although you're not necessarily trying to close a deal or make a sale at this point in the process, you're certainly leading people down the funnel to a conversion.
Bottom of the Funnel: Conversion
After building awareness and convincing customers to consider your brand, the third and final part of the funnel is all about delivering the sale. At this point in the conversion cycle, your ad copy can take a direct sales pitch approach aimed at driving the customer to take action and to buy now.
Highlight the features and benefits of your product, but be genuine and honest with consumers. People can always detect overselling and hype.
Ken also recommends sharing client testimonials and success stories that others have experienced by working with you. This serves as proof that what you do works and reinforces that it's a good decision to choose your brand or company. Ken finds that it's especially compelling when this idea is delivered as a video testimonial.
Listen to the show to hear Ken's technique for shooting video testimonials for maximum impact and benefit to your products.
Beyond the Funnel: Retargeting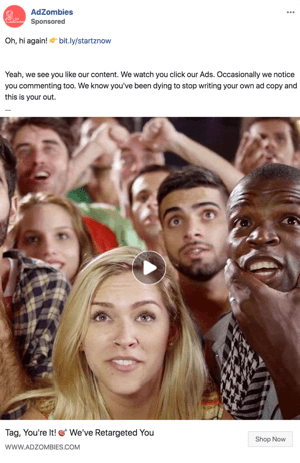 It's critical to go beyond the sales funnel and have a strategy for retargeting those who opted not to sign up or complete a purchase with you.
Here's an example of how Ad Zombies retargets its ideal customers—marketers. Called 'Tag, You're It', this ad features a crowd of people staring at you and says, "When you tap Shop Now, you'll stop seeing this ad."
The rest of the ad says, "We've targeted you… We know you like our content. We see you click our ads. Occasionally, you comment on them. We know you've been dying to stop writing your own ad copy and this is your out. Fire yourself."
The ad copy is written to communicate that Ad Zombies is trying to help its clients, not sell them. The message speaks marketers' language, addresses their needs, and sounds very personal and individualized. According to Ken, this is the reason this ad has historically been a winner for his company. It also shows how all businesses should speak to their audiences.
The Storytelling Style for Facebook Ad Copy
Photos and videos in Facebook ads always precede the headline or text. By the time your eye catches the image and you stop scrolling through the news feed, the description is pretty much dead-center on your device. You then have to scroll up to see the image again or rewatch the video.
The goal is to create a visual that's very hard for people to ignore. Write a headline that grabs users' attention and gets them to scroll back up to your ad. Then have a story that compels them to act immediately.
Use Storytelling to Engage Emotion
Any ad can be a storytelling ad, as long as it's emotionally engaging and connects the dots for people. It's just a matter of positioning your message and keeping the goal of the ad in mind. Ken illustrates how to paint an unforgettable visual with words by describing two real ads he developed for a swim school. The goal of the ads is to motivate parents to enroll their children in lessons at the school.
The story is from the perspective of a young boy who falls in the pool and cannot swim. Ken details the terror the child experiences as the water closes in and he slowly sinks to the bottom. Ken goes on to depict light fading, a struggle to take a breath, and the desperation of no one hearing him as he drowns.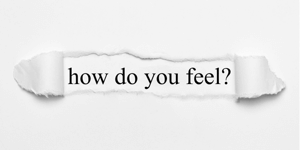 Another ad Ken created for the swim school used an upsetting image of a father and daughter holding hands in front of the headstone of a grave that gets people to stop and notice the ad. The headline reads, "Don't let this happen to your kid" and the call to action distinctly directs people to contact the school.
The swim school's previous ads featuring a happy baby blowing bubbles in the water ran for several months with zero conversions. While it was a sweet image, it lacked a compelling reason for people to act. There was no pain or problem to solve. Ken reports that with the help of strong targeting and well-chosen placements, his ad resulted in 6 months of solid bookings for the swim school within 3 days.
Both ads undoubtedly play on every parent's fears and the pain of losing a child. Their purpose is to create a strong emotional reaction that motivates a visceral buying decision.
Create Empathy Within the Story
One way to approach the storytelling process is to create a fictional character with whom people can empathize and relate. People often don't see pain or issues within themselves when you talk to them directly, but are naturally attuned to see it in others.
Develop a character who shares enough of the same personal attributes, struggles, and experiences with your target audience so they can see themselves in the story. Prompting customers to live vicariously through a character lets them visualize how your service or product can transform their lives or businesses.
Listen to the show to hear how Ken helps me use a character to promote the Social Media Marketing Society.
Test Different Versions of Your Story
An internal rule in Ken's company dictates that you write the ad until the story feels complete, knowing that the right consumer and the right audience will take the time to read every word. Otherwise, it's easy to short-change yourself and miss critical details of a story if you're only aiming to limit the ad to a particular platform or to a certain length.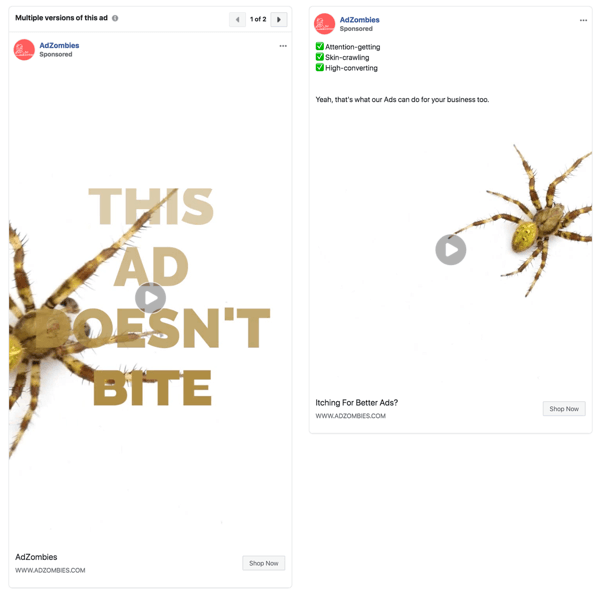 Ken's company writes ads that are only one or two lines long, and ones that go on for paragraphs and paragraphs. Once you've perfected your story, you can tailor long, short, and micro versions of it to test against different placements, audiences, and platforms and see what performs the best.
In split testing the ads, you may discover that one version of the ad outperforms the others on different days of the week due to the finicky nature of the Facebook algorithm. Or that you only reach certain audiences on particular days of the week based on their activity on Facebook.
Ken recommends testing ads over a significant length of time to get accurate data on whether your ads are performing for your goals. Just because something didn't work for someone else doesn't mean it won't work for you. Test everything and you'll quickly discover what works and what doesn't.
Additional Recommendations
Ken offers different resources and ways to help you learn more about ad copywriting and improve your style and technique.
Create Swipe Files
Begin by collecting Facebook ads that resonate with you personally and save them to a clipboard or swipe file that you can easily access. This is completely free and simple to create.
Style is highly subjective and tastes are entirely personal. The best way to develop your own style is by finding pieces of ad copy that speak to you and determine what you like about them. Examine how they're structured.
Breakthrough Advertising
One of the best books on copywriting that Ken recommends to everyone is Breakthrough Advertising by Eugene M. Schwartz. While this book was written decades ago and the references are outdated, the principles and foundational elements outlined within it hold true today. Nothing has changed.
Hemingway Editor
Hemingway Editor is a desktop app that quickly improves your writing.
This tool gives a Flesch-Kincaid readability score and provides feedback as you're writing. It highlights how many adverbs you use, whether you're using passive voice, which sentences are difficult to read, and more. It also offers better alternatives to the phrases you've written.
Natural Reader
Another invaluable tool for copywriting is Natural Reader, text-to-speech software available for Windows and Mac that lets you listen to the way your words come together.
With Natural Reader, you can drop in your ad copy and select a natural human voice to read it back to you. In other words, you can take the ad you wrote and hear the way it would sound in someone's head. It offers a quick way to hear and discover grammatical errors or any other problems within your ad copy.
Discovery of the Week
Google Results Previewer is a free Google Chrome extension that enhances your ability to search Google and discover the exact information you need without having to open each individual link into a separate tab.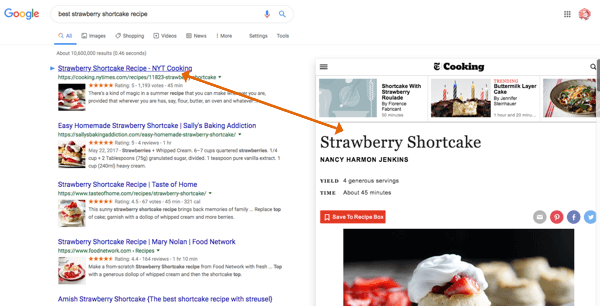 Once this tool is installed on your Chrome browser, you'll be able to hover your mouse cursor over each URL in your Google search results and see a preview of the web page or article. The preview appears as a pop-up window on the bottom right of your search results page. You can scroll within the preview window to view the site without having to click or open extra tabs. When you discover a link worth opening, you can click on it within the search results and open the page.
You can find Google Results Previewer in the Google Chrome Web Store.
Listen to the show to hear more about Google Results Previewer.
Key Takeaways in This Episode
Listen to the Interview Now
The Social Media Marketing podcast is designed to help busy marketers, business owners, and creators discover what works with social media marketing.
Where to subscribe: Apple Podcasts | Google Podcasts | Spotify | YouTube Music | YouTube | Amazon Music | RSS
What do you think? What are your thoughts on writing compelling Facebook ads? Please share your comments below.