Want to know more about your competitors' Facebook ad campaigns? Wondering how to study their ad strategy?
In this article, you'll discover six ways to research your competitors' Facebook advertising campaigns and discover creative ideas for your next Facebook ads.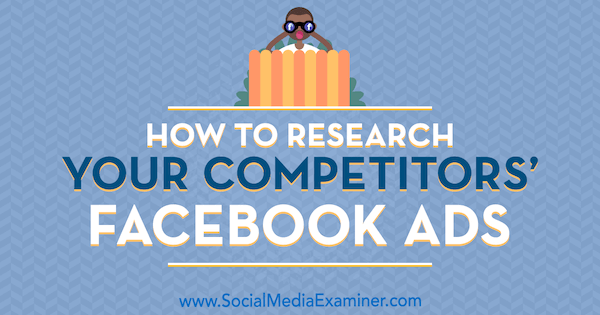 #1: Build a Facebook Ad Swipe File
A swipe file is a place where you can collect information about your competitors' Facebook ads to get inspiration for your next campaign or overcome writers' block. Here's an example of a public swipe file from AdEspresso.
While you can use a variety of tools to create a swipe file, let's look at how to do it with Evernote or Airtable.
Create a Swipe File With Evernote
To set up a swipe file with Evernote (with free and paid plans, starting at $7.99/month), create a tag in your notebook called "swipefile." For every Facebook ad that you like, add a new note about the ad and apply the swipefile tag.

Evernote allows you to create shortcuts for tags, so save time by setting up a shortcut for the swipefile tag. Whenever you need it, you can click on this tag and browse through all of the Facebook ads you've saved.

Create a Swipe File With Airtable or Google Sheets
When doing competitor research, the most significant insights come when you can identify trends and take advantage of your competition's blind spots. To do this effectively, track their Facebook ads in a spreadsheet with Google Sheets, Excel, or Airtable.
Pro Tip: If you have an intern or junior team member, assigning this task to them can be a great learning opportunity and free up some of your time.
Airtable (with free and paid plans, starting at $12/month) is an excellent option for tracking competitor ads because it allows you to toggle between gallery, spreadsheet, and other views.
After you sign up for an account, click Add a Base to create a new spreadsheet. Then add the columns you want to include to track competitor ad details.
In the spreadsheet below, the second column is categorized as an Attachment column type, which allows you to add images. You can simply drag and drop your Facebook ad screenshots into this column.

Now switch to the gallery view to see a visual presentation of the data.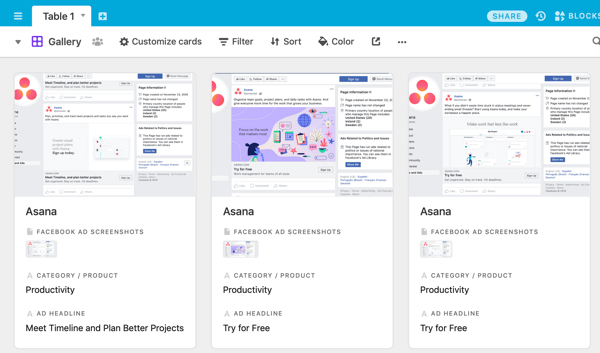 Once you've amassed a few dozen ads in your spreadsheet, you can run custom queries, calculate formulas, and create pivot tables to identify the following details about your competitors' Facebook campaigns:
Brand messaging changes
Best-selling products
Pricing updates
Estimated ad campaign lengths
#2: View Your Competitors' Facebook Ads via Their Business Page or the Facebook Ad Library
As part of its 2018 effort to address privacy concerns, Facebook released an ads transparency tool that allows users to view which ads a Facebook page is currently running. This publicly available information can help you get a better view of the types of ad campaigns your competitors run and their strategic goals.
Of course, savvy advertisers may throw some clunkers in their campaigns on purpose if they suspect their competitors are keeping a close eye. However, if you track this information on a regular basis (at least once a month), you can start to recognize trends and changes in strategy.
To see your competitors' ads, open the Facebook Ad Library and search for their brand name.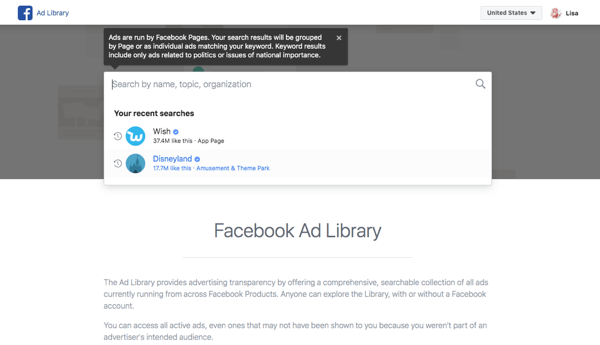 Alternatively, you can open their Facebook page and click the Page Transparency box in the right-hand navigation.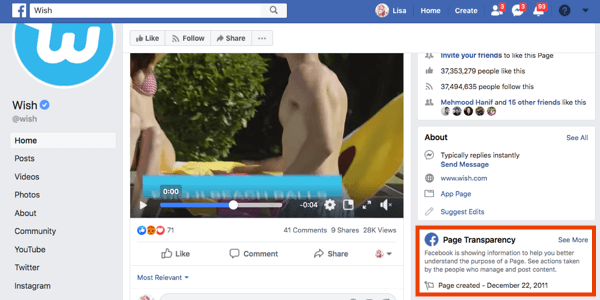 Then, click on View in Ad Library in the Ads From This Page box.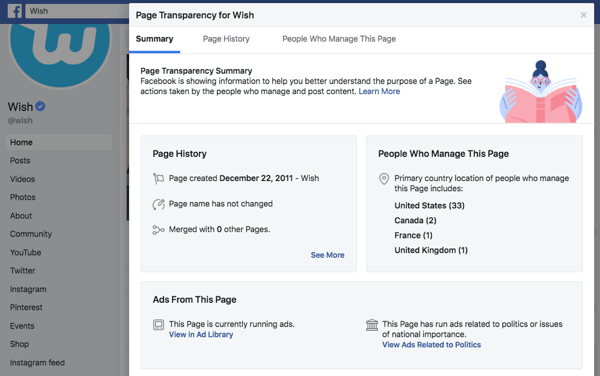 If they're running ads in multiple locations, you'll see a drop-down list that allows you to refine the ads by location. This helps you identify which regions your competitors are focusing on, as well as if they're targeting a new country or region.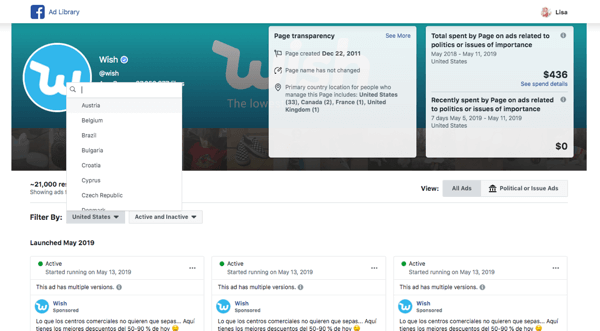 Below is a Wish image ad currently running at the time of this writing. From the copy and image, it's clear that this is a scarcity offer because the company is selling a limited number of Pikachu onesies for $18 and razors for $5, both at 80% off. If you're tracking these ad details in a spreadsheet, you'll be able to follow which products the company is advertising, what their best-sellers may be, and so on.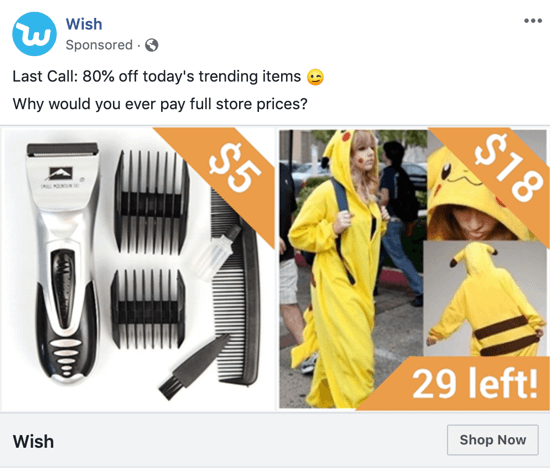 The CTA in the above ad is a Shop Now button so selling is the primary motive. If users click the Shop Now button, it takes them to Wish's iOS app page. So in addition to looking for in-app purchases, Wish is targeting only iOS users.
Now let's look at a Facebook video ad from eCommerce platform Shopify. In this video, they share a customer success story.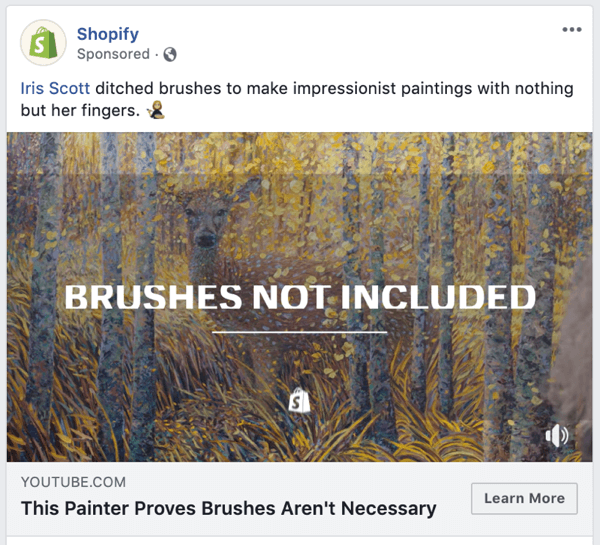 The Learn More CTA button leads to a Shopify YouTube video, so it's clear the goal is to drive traffic to their YouTube channel. This is a clever tactic to game Facebook's preference for videos hosted on their site while also driving traffic to YouTube, the second-largest search engine.
Below are two current Facebook ads (out of many) from Asana, a project management software company. These ads give a sneak peek into how the company is split-testing ads for one campaign. The purpose of highlighting both ads is to show how different hooks and messaging strategies can be used in the same campaign.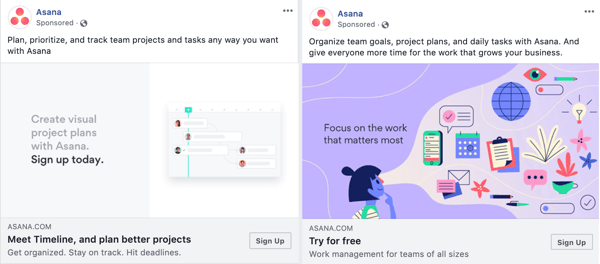 #3: Get Facebook Ad Targeting Insights With "Why Am I Seeing This Ad?"
If you follow your competitors' Facebook pages, when you see their ads in your feed, you can get additional insights with the Why Am I Seeing This Ad? option.
To access this feature, click the three dots icon in the upper-right corner of the competitor's ad in your news feed. From the pop-up menu, select Why Am I Seeing This Ad?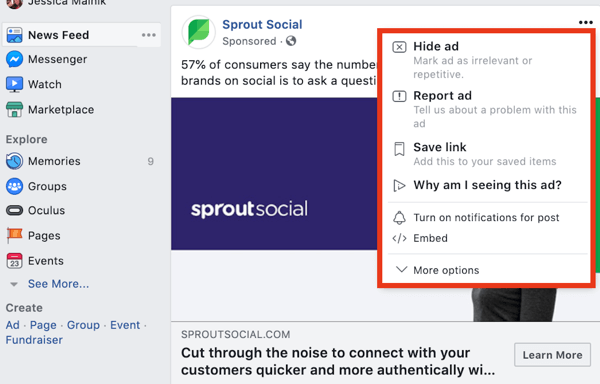 In the About This Facebook Ad window, you'll see an explanation of why Facebook is showing you the ad, which can provide insights into your competitor's targeting strategy. This particular ad is likely a website visitor retargeting campaign because I had recently visited the company's website.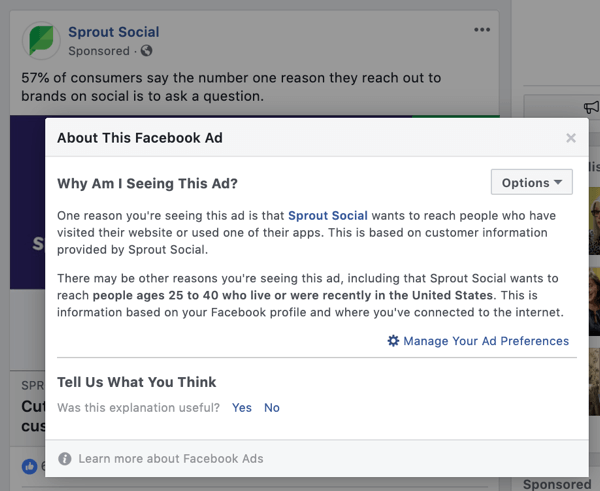 Here's another example of advertiser targeting based on a specific interest—in this case, eCommerce.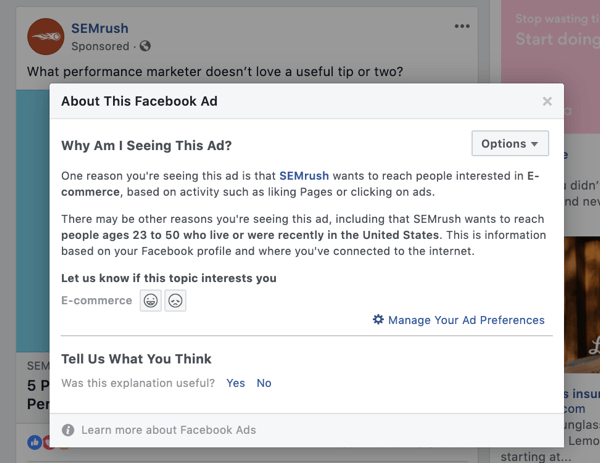 #4: Analyze Your Competitors' Top Social Media Traffic Sources
With website analysis tool SimilarWeb, you can find out how much of your competitors' traffic is coming from social media. Both free and paid plans (contact SimilarWeb for a quote) are available.
Below is an analysis of Asana's social media traffic. Although Facebook drives the most social media traffic, the platform only makes up about 1% of their total traffic. From this data, you can assume Asana's Facebook ad budget is low compared to other marketing channels. This may indicate a blind spot in their marketing strategy or they simply haven't seen a significant ROI from prior Facebook campaigns.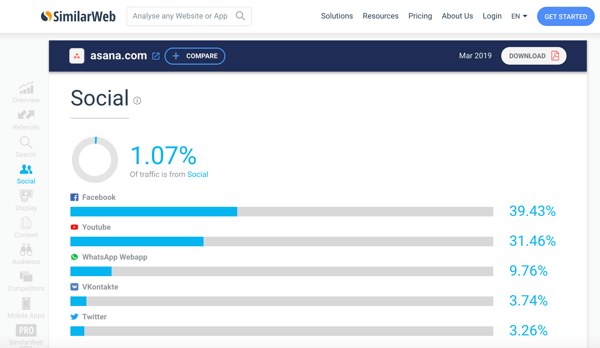 #5: Analyze Google Ad Campaigns With SpyFu and Ahrefs
Facebook advertising doesn't operate in a silo. To get a better view of your competitors' advertising spend as a whole, you can use tools like SpyFu and Ahrefs. SpyFu is available in a limited free version and paid plans, starting at $39/month. Ahrefs starts at $99/month and is available in a 7-day trial version for $7.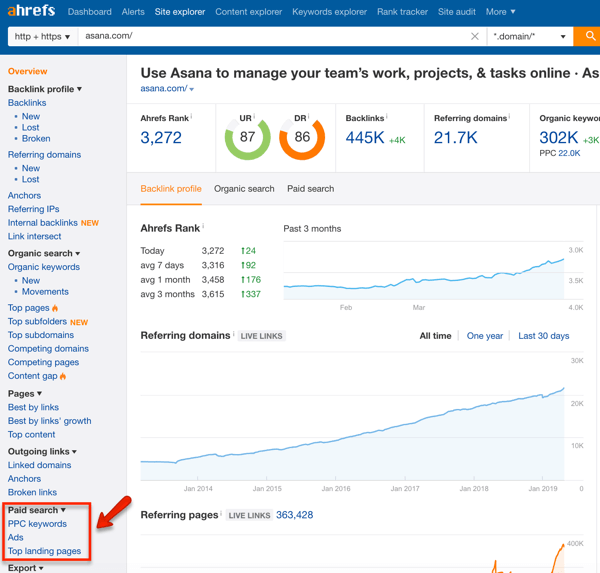 Using Ahrefs, you can view all of the pay-per-click (PPC) keywords your competitor is targeting. Ahrefs also gives you estimated search volume, cost per click (CPC), and traffic stats.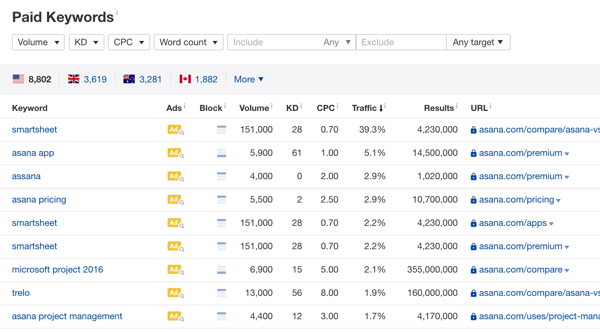 The analysis below reveals a list of ads Asana is running. With more than 1,800 results in the U.S., you can export this data as a CSV file to do more in-depth analyses, create pivot tables, look for trends over time, and so forth.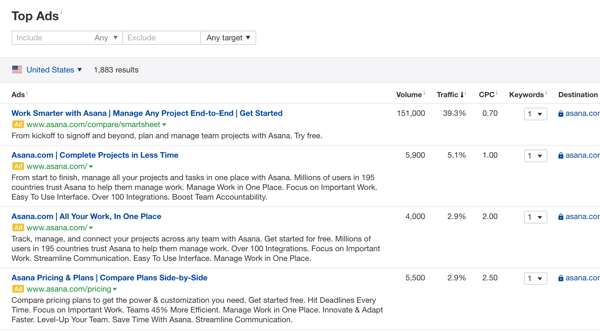 In this SpyFu analysis, you can see that Asana invests in Google Ads (formerly known as AdWords), bidding on 12,000+ keywords and spending approximately $126,000 each month.

If you look closer, though, you can see that 99% of their clicks are organic. So while it appears the company spends significantly more on Google ads than Facebook ads, one of their primary marketing goals is likely centered on SEO.
Let's look at an analysis of Airtable as another example. Their SimilarWeb stats reveal that Facebook is also their biggest social media source and generates a little less than 3% of all of their traffic.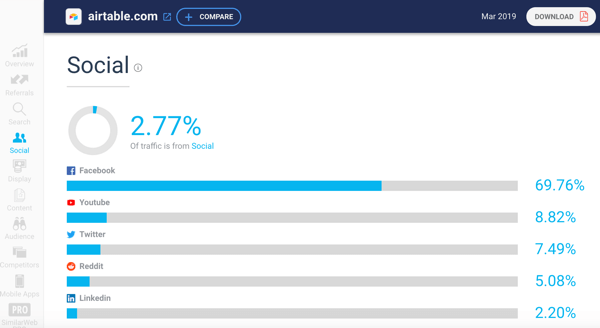 The SpyFu analysis below shows that Airtable bids on more than 45,000 keywords and spends around $355,000 each month on Google Ads.

While Asana is also heavily invested in SEO, as a newer company, Airtable is likely using a more aggressive advertising strategy to show up in searches that they haven't yet been able to rank for above their competitors.
If you dive into Airtable's paid ads in Ahrefs, the data confirms this hypothesis, turning up more than 5,300 results in the U.S.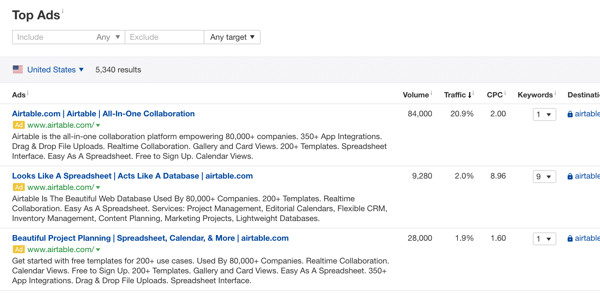 #6: Analyze Competitors' Top-Performing Facebook Content
In addition to looking at your competitors' paid channels, analyze their organic content to get more insights into their overall marketing strategy. I recommend doing this analysis at least once a month so you can identify trends and changes over time.
Don't forget about the comments on Facebook posts and the Community tab on their Facebook page, which can be a goldmine for discovering the most common complaints and support issues. If you know your competitor recently had a big server outage and you have "best-in-class" site uptime and server performance, you might run a Facebook ad campaign advertising "99% uptime" to your competitors' customers.
In addition, tools like Ahrefs' Content Explorer and BuzzSumo are great for this analysis. BuzzSumo is available in both free and paid plans, starting at $99/month.
In BuzzSumo, run a Content Analyzer search to view stats about your competitors' content. The search results will reveal how many social shares each post has received and who's sharing the content.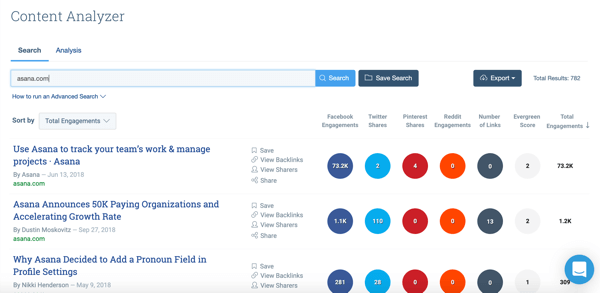 In Ahrefs, pay close attention to referring domains. This information not only shows who's linking to your competitors' content, but can also reveal top influencers in your niche. (Just remember to filter only by "Dofollow" links!) Use this data to create an influencer list and then start building rapport with those influencers.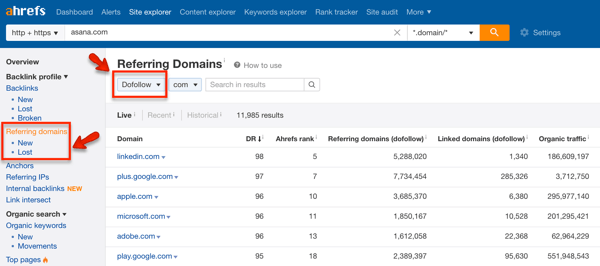 Here's how to leverage the data you gather about your competitors' top-performing Facebook content:
Make a list of your competitor's top 10 most-shared blog posts.
Export a CSV file showing everyone who shared your competitor's posts.
Read through all of the posts and look for any areas where your competitor skimmed a topic. Make a list of any unanswered questions you have.
Is there enough content missing that you can write a version that's at least 10% better? If so, write it.
Once your content is live, share it with everyone who linked to the original version.
Conclusion
If you're a small business with a limited Facebook advertising budget going up against a well-funded large competitor, one way to compete is by doing competitor research.
With Google Ads, you can see estimates of how much your competitors are spending, what keywords they're bidding on, and where their blind spots may be. However, it's more difficult to research your competitors' Facebook ad activity. Using the tactics and tools above, any business can become a pro at analyzing competitors' Facebook ads.
What do you think? What tactics do you find most valuable when doing competitor research on Facebook ads? Do you have any favorite tools to use? Let us know in the comments.
More articles on Facebook advertising: