Need a better strategy for your Facebook ads? Looking for a proven method to improve your Facebook ad results?
In this article, you'll find a simple strategy that will help you plan your Facebook ads.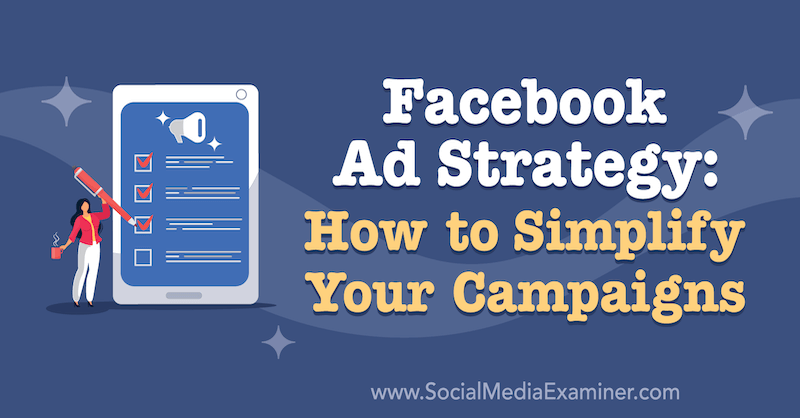 Why Having a Facebook Ads Strategy Is More Important Than Ever
There's no denying that the iOS 14 privacy update is one of the biggest changes to happen to Facebook ads in a while and we don't yet know the full ramifications. But Facebook ads slightly impaired are still going to outperform ads on other platforms, often by a long way.
The ability to reach people frequently, scale to a large audience, and the targeting capabilities make Facebook a cut above other advertising platforms. So it's not all doom and gloom—you have a lot of control over your results. But it also means a Facebook ads strategy is more important than ever.
With Facebook ads, there's no one-size-fits-all approach. If your business sells a $30 product, you need a very different strategy from a business that markets a $50,000 service because the customer acquisition journey is very different. We'll be looking at four Facebook ad strategies you can use, and which one is right for your business will depend on two key factors. One is average customer value and the other is your level of competition on Facebook and Instagram.
Why competition? Facebook and Instagram advertising is interruption advertising so you always need to stand out from the competition. How easy that will be depends on how much competition there is. Your business may or may not be advertising to audiences that are bombarded with competitors' Facebook ads. And some of the tactics that work for low-competition businesses won't work with high-competition businesses.
To help visualize these four strategies, think of average customer value on one axis and competition on the other axis. So there will be both low and high customer value and low and high competition.
Here's how to find a Facebook ads strategy that works for your business.
#1: Calculate Your Average Customer Value
Average customer value is underappreciated in digital marketing circles, as a lot of marketers intuitively want to focus more on the creative side of things. But the higher your average customer value, the more you can afford to pay to acquire a customer, which affects your Facebook advertising.
It also affects the volume. If your business has a relatively low average customer value (meaning your customers don't typically spend a lot with you), you need a much higher volume of customers, which affects how you advertise. And obviously, the reverse is true if you have a high average customer value.
When you measure your customer value, what time range should you use? Ben isn't a big fan of initial customer value (what people spend on the first transaction) or lifetime customer value. Initial customer value doesn't take into account any repeat business and lifetime value is too vague (you can't really visualize it). The metric we'll be looking at for this exercise is the 12-month average customer value.
You might have software that allows you to get this number fairly easily, but if you don't, it comes down to an educated guess based on the data you have.
Let's say you own a hair salon and know your average customer spends $50 each time they come in. How often are they coming in? You may intuitively know they visit every month on average—even if you don't have that exact data on hand. To get your average customer value, you'd multiply $50 by 12 months, which comes out to $600. While this process for calculating average customer value is not exact, it should get you close enough for the purposes of this exercise.
You also need to factor in your profitability. There's no point making this average customer value measurement based on revenue if you only operate with a 10% profit margin. The profit per customer is what's important to consider in this calculation. If you have a high cost of goods or your service is expensive to provide, factor that in.
Keep in mind, too, that you have more control over your customer value than you may realize. You can increase average customer value with upsells and cross-sells, as well as referral programs, which encourage word of mouth.
#2: Determine How Much Competition You're Facing With Facebook Ads
Now let's talk about the competition side of things.
Based on how Facebook and Instagram have matured as ad platforms, competition somewhat mirrors geography. If you advertise a product or service that you deliver locally—and can only be delivered locally—you have much lower competition than if your product or service can be delivered nationally or internationally. That's the easiest way to draw the line between low and high competition on Facebook.
Think about the competitors your customers can choose to work with or purchase from. If you run a Chinese restaurant, how many other Chinese restaurants are in your town? And of those restaurants, how many are advertising on Facebook and Instagram? This number is going to be tiny in comparison to eCommerce businesses that are competing with 50,000 advertisers.
What if you're selling products online that are uniquely yours? That would be high competition. Even though you've been able to gather up your specific slice of the market, thousands of other advertisers are competing for the same audience.
When you look at competition in terms of local and national/international, obviously it's a sliding scale. If you're a lawyer in New York and you operate only within New York, there's still a huge amount of competition. On the flip side, if you sell information products that are extremely niche, where only a handful of companies offer something similar, the competition is going to be low, even though you sell nationally or internationally.
If you know who your competitors are, the easiest way to research them on Facebook is to use a free tool called the Facebook Ad Library. Just plug your competitor's name into the search feature and select their page.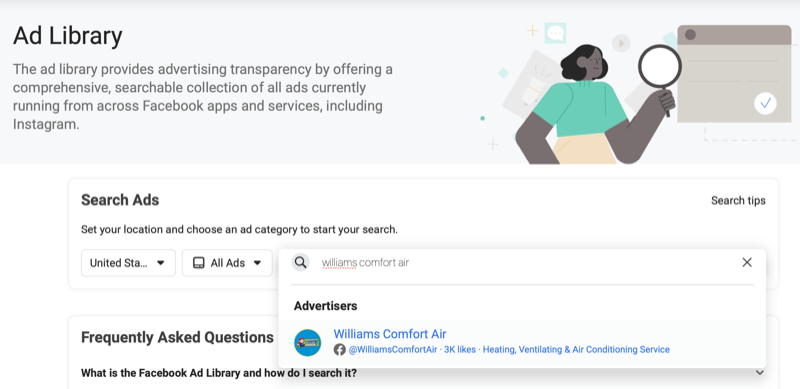 Facebook will then tell you whether that business is advertising, how many ads they're running, and what their ads look like. It's a fantastic tool.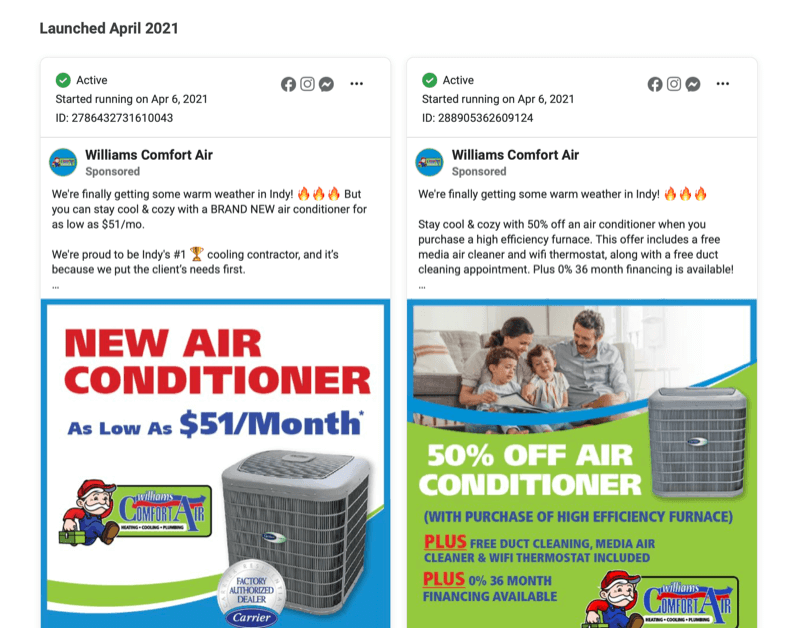 If you're targeting a broader industry and don't know who your competition is, the assessment to use for this exercise is whether or not you're local (assuming you don't have other information to contradict that).
#3: Determine Which Facebook Ads Strategy Is the Best Fit for Your Business
As we discussed, your average customer value and level of competition on Facebook will dictate how you need to advertise on Facebook. Here's how the strategy varies based on where you fall inside the grid.
Low Competition/Low Average Customer Value
If your business has low competition and low average customer value—such as a restaurant, hair salon, or local shop—you don't have to stand out a lot with your ads. Often, just putting your business, offer, or product or service in front of people is enough for them to be interested. You typically don't need unique ad creative or an outside the box approach.
Your goal is to drum up tons of interest, get your local business as busy as it can be, and focus on providing excellent customer service. You want to deliver a good enough experience to a customer that they'll want to come back again and again and recommend it to their friends and family. It's important to keep this in mind because you're unlikely to be profitable on the first transaction. It might cost you more to get someone into your business than you actually make from that person initially, especially when you factor in your costs.
Typically, you'll want to use the reach campaign objective as opposed to brand awareness but it's going to function similarly.
Rather than have a consistent Facebook ad budget—where you spend the same amount every month for, say, the next 2 years—Ben recommends you spend the vast majority of your budget (80% or so) over a 3- to 6-month period to get the best results on Facebook and Instagram. If you try to keep that higher budget for longer than 3-6 months, your results will drop off because you'll often saturate your market when you've got a small audience to advertise to.
The first 3- to 6-month period will be the front-loaded direct offer campaign where you're getting as many people in as possible. After that, you want to run a re-engagement campaign. This could be a special promotion around a holiday or something on a much smaller budget to remind your target market that they should be coming back in every now and then. This is different from when you were aggressively trying to acquire customers at the beginning.
High Average Customer Value/Low Competition
Businesses with a high average customer value and low competition are also often local but their customers are worth a lot more than in the previous scenario. The high average customer value changes everything because you don't have to run your campaigns like a loss leader. You can generate healthy profits on the customers you acquire.
Let's use the example of a roofer. If your average customer is worth $10,000, you might be able to generate leads for $40-$50 each. If you convert one in five, your customer acquisition cost is $250 and you've generated $10,000 in revenue. Obviously, you have to deduct costs but it's still very profitable. This strategy is as close to a "set it and forget it" setup as you're going to get with Facebook and Instagram ads.
Typically, you'll want to advertise something that allows potential customers to find out more about your product or service and ease their way in (a free consultation, for example) because it's often a higher-dollar commitment—hence the higher average customer value.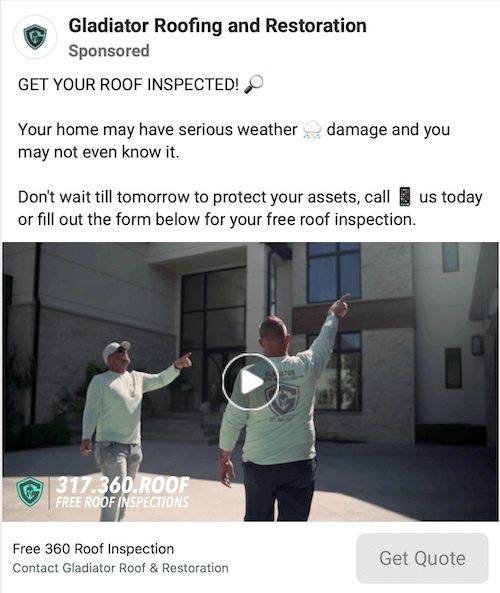 You can directly advertise your offer. You can use a lead generation campaign, or do the same with a conversions campaign but generate the leads for your website. These campaigns often are very effective, fairly straightforward, and you adjust the budget often according to capacity.
The advantage is that you have the margin inside your product to be able to spend more, and therefore, will get more exposure in the local marketplace. In the roofer example, $250 is a considerable amount to acquire a customer but it's something the roofer can easily afford to spend. Many businesses wouldn't be able to pay anywhere near that so it's a massive competitive advantage.
High Competition/Low Customer Value
The high competition/low average customer value category is typically physical product companies and eCommerce businesses. This is the largest category within Facebook advertising, at least on an ad-spend if not per-advertiser basis. But it's also the most difficult strategy to generate great results from on Facebook and Instagram.
There's high competition so you need to do a lot to stand out. However, you can't afford to spend a lot of money because your customers aren't worth that much. If you're selling shoes, for example, your customers aren't spending thousands of dollars with you so you need to be more strategic and approach your advertising differently.
Ben recommends that you aim to break even on the initial transaction (factoring in cost of goods and advertising costs) rather than try to make a profit. Your objective is to acquire as many customers as possible because you know that by building your customer base, you're going to make a profit over the long run when they buy again.
Because we're talking about aggressive customer acquisition, offering aggressive discounts in this space will help you stand out from the competition. And you're able to do that more easily if you're willing to break even. If your customers are seeing tons of ads from competitors, you can immediately differentiate yourself with a 30%-40% discount (if you can offer it).
As a physical product company, one of the best ways to grow your brand is to get your product in as many people's hands as possible so they use it, tell their friends about it, start posting pictures on social media, and so on—essentially creating buzz for the product.
When the word-of-mouth campaign kicks in, you'll make even more money because you're not just acquiring a customer, you're acquiring an evangelist. Having your customers help sell your product is going to become even more important with retargeting being curtailed in the industry due to recent privacy changes.
A lot of the best players in this space inject personality into their branding and everything is designed to get people to interact with the brand and spread the word. When you mail a physical product to your customer, you could use subtle suggestions like "Love this product," "Be sure to take a selfie with it," or "Let your friends know" to encourage more of the actions you want.
High Average Customer Value/High Competition
The last category is high average customer value/high competition. These are typically businesses that sell information products like courses, consulting, and coaching programs.
You can often deliver these products remotely and compete against a huge number of businesses, but when someone buys your $1,000 course or your $5,000 coaching program, you're making quite a bit of money. Because your customers are worth a lot, you don't have to take a loss or break even on the initial transaction.
With these businesses, it's all about standing out from the competition. The strategy Ben recommends is an omnipresence content campaign. With this approach, you have an ad stack of 8-12 ads that you run simultaneously to your target audience. These ads tick various boxes—some deliver value, some show the great work you do (testimonials, case studies), and some are calls to action.
The idea is to choose your target audience and advertise to them consistently for weeks and months. You want to become the go-to person or company they want to buy from because of your consistency—you've shown up more and you deliver more.
Consistency is just one way for physical product businesses to stand out. Another effective tactic is high-quality creative. If you're planning to spend thousands or more on your campaign, the return on investment you get from hiring creative professionals (graphic designers, video editors) who know how to produce eye-catching visuals can be immense.
Another tactic to consider is including an influencer from within the industry in your ad. It doesn't have to be a mega-celebrity, just someone that the industry will know. If they endorse a product, it can make a huge difference in your results.
Other Notes From This Episode