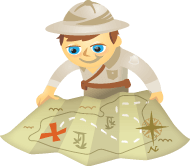 Do you want more leads from Facebook?
Interested in using video ads to automatically nurture your leads?
Using Facebook video ads as part of an automated lead nurturing campaign lets you warm up your prospects.
In this article, you'll discover how to generate and convert leads with Facebook video ads.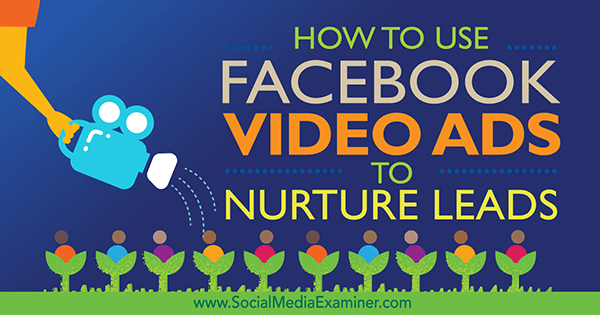 Why a Video Lead Nurture Campaign?
Lead nurturing is when you develop relationships with your prospective buyers at every stage of your sales funnel and through every step of the buyer's journey.
The idea of a video lead nurture campaign is to post a sponsored video to your target audience and then create custom Facebook audiences from the viewers who watched your video. You can then retarget those custom audiences with the next video (or an image ad) and so on.
Driving video views is affordable on Facebook. You could make a Facebook custom audience consisting of about 25,000 people for $1,000 if you assume a CPV (cost per view) of $0.04, or a custom audience of 2,500 people for $100. Retargeting a custom audience will give you better results because these are people who already know your brand.
Create Videos for Your Lead Nurture Campaign
What kind of videos should you make for each step of the funnel? Because each step requires a different focus, you'll need three different videos. Making three videos might seem like a tall task, but it's a lot easier and quicker than you might think. And sometimes it can make sense to throw in an image ad or blog post as one of the steps.
One common misconception about video marketing is that you'll need to hire actors, camerapeople, and an expensive video production company, and then wait weeks or months to get the result. These days, online video tools make it easy for marketers to make videos quickly and affordably.
You can design lead nurture campaigns to be channel-specific (Facebook or a website, for example) or omni-channel (a top-of-the-funnel (TOFU) video on Facebook, a demo on website, etc.). This article focuses on Facebook campaigns, but you can apply these tactics to any channel setup you want.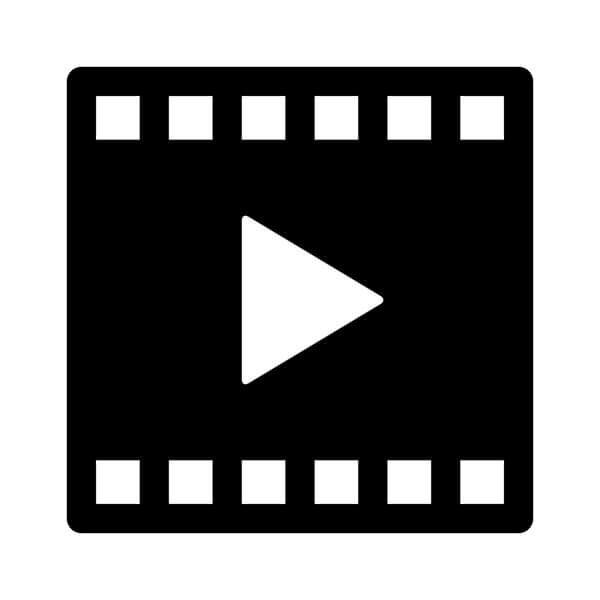 So let's go through the three kinds of videos you'll need to create for your lead nurture campaign.
Top-of-the-Funnel Video
TOFU video ads are broadly shown to your target market and often are based on demographic and/or psychographic indicators, irrespective of intent. In these videos, you introduce your company to customers.
A TOFU video needs to engage your audience on a personal level, helping people understand more about the solution you can provide for their problems. This video also needs to grab viewers' interest initially. The tactic you use to grab attention can also be used in other funnel segments to create continuity and familiarity.
You'll need to adapt your video for your business, but in general, it should be a first impression of your brand.
Here's a short TOFU video for a Korean custom shoe company. This video fits the formula because it's short (who wants to see a long video from a brand they've never heard about?) and has a striking font. A large font size is crucial for mobile at least in the beginning of your video, since many videos on social media auto-play without sound.
.
This video grabs viewers' attention and sets up the brand as respectful of their time, and it feels professional in quality. This video was made with a couple of video clips shot on a smartphone using a template-based video design that cost less than $50.
Middle-of-the-Funnel Video
The middle-of-the-funnel (MOFU) video is where you show your leads why you're the right choice for them. Position your product as the solution to your prospects' needs or problems and offer it as the best choice. Case studies, testimonials, interviews, webinars, and demonstrations are all MOFU activities.
Here is a great example of a MOFU video. At this point, viewers are familiar with the brand and the video can go deeper and focus on the problems that the product or service is solving.
.
Testimonials are a great choice for MOFU videos; try to adapt them for whichever channel you're promoting them on. If you're posting the video as a Facebook ad, keep it short and to the point. If you're posting it on your website, you have a little more leeway.
If your targeting is on point and you've successfully introduced your brand, the middle of the funnel is a great place to start looking for conversions. Testimonial videos are a bit harder to make in general, and they're highly dependent on what kind of business you have. Try putting yourself in the shoes of your prospective customers and let the voices of current customers seal the deal for you.
Bottom-of-the-Funnel Video
The bottom-of-the-funnel (BOFU) video is where you go in for the hook. You've plied your prospects with empathy and valuable information about how you'll solve their problem. Now is the time to let that powerful call to action out of the bag and try to get your prospect/lead to convert, whether that's signing up for your email newsletter or buying your product.
This is the last video from the Korean shoe brand shown earlier. It's short and gets straight to the point.
.
At this point, your prospects are familiar with your brand/product, so going hard for the sale is appropriate here. If you have a simple buying process, you might want to make your lead nurture campaign shorter. (For example, the Korean shoe brand could probably do away with the MOFU part.) However, if you have a more complex product, you should stick to the TOFU, MOFU, BOFU process.
The TOFU and BOFU videos shown above were self-made with video ad design templates that were customized with the brand's content. The whole process of ideation, shooting the video contents, and video post-production can take a small in-house team just a couple of hours. That's how easy it is to get top-quality videos for your business.
Set Up a Lead Nurture Campaign on Facebook
After you've planned out your campaign and made your videos, you're ready to take your show on the road. To set up your lead nurture campaign on Facebook, create an ad campaign with the Video Views objective, use your preferred targeting settings, and then run the campaign.
When the campaign is finished, you'll have two new custom audiences in Facebook Power Editor. One custom audience is made up of users who watched your whole video. For example, the campaign shown in the image below had 600 completed views. Those viewers showed a real interest in the business.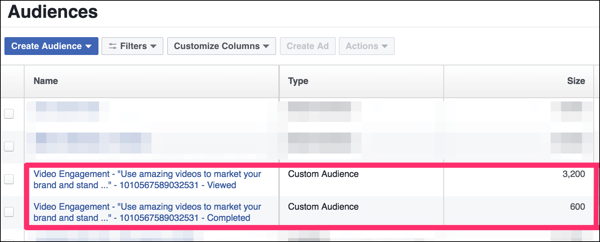 The other custom audience is made up of users who watched part of the video. The campaign shown in the image above had 3,200 views. These are viewers who watched at least 3 seconds of the video but didn't complete it.
Now you'll want to set up a new ad campaign with your next video, and use one of your new custom audiences as the target audience.

This is where you'll go with the MOFU or BOFU ad. Your choice depends on how complex the purchasing journey is and where on that journey your customer currently is (after your previous ad). Experiment to find your sweet spot.
Finally, evaluate, adjust, and iterate.
Conclusion
Using video is a great way to do lead nurture campaigns, especially on Facebook, because you can quickly build quality custom audiences of people who already know about your brand or product. Selling to hot prospects is significantly easier than selling to cold prospects. If you make lead nurture campaigns with video, you can warm up your prospects and then hit them with the strong call to action, either through a video ad or an image ad.
What do you think? Have you tried doing lead nurture campaigns on Facebook? Do you use video ads as a lead generating medium? Please let us know in the comments!