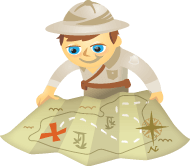 Do you want more conversions from your social traffic?
Are you using landing pages?
Directing targeted social media traffic to relevant landing pages helps you convert visitors into leads.
In this article you'll discover how to optimize landing pages to boost social media conversions.
Why Landing Pages
Rather than direct social media traffic to your home page, landing pages let you send visitors to a page that facilitates the conversions you're after.
Landing pages are web pages that are built for a specific purpose, such as obtaining leads or getting signups for an event, and are accessible through a specific link. You use this link in social media posts and ads, thus making it easy to attribute the traffic that comes to the page from your social media channels.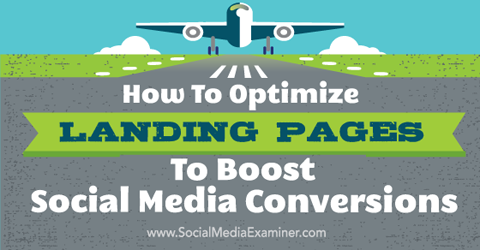 Listen to this article:
Where to subscribe: Apple Podcast | Android | Google Podcasts | Google Play | Stitcher | TuneIn | Spotify | RSS
Scroll to the end of the article for links to important resources mentioned in this episode.
You should create separate landing pages to target segments of your audience with different offers. You can also split test the copy, layout and more so you can see which version is most effective in earning and converting leads.
Here's how you can get more social media conversions by using landing pages.
#1: Tailor Landing Pages to Offers and Audiences
Think about who your ideal target market is. Consider their demographics, geographic locations, likes and needs. Then target these people through social media. Facebook, Twitter and now Instagram offer amazing targeting capabilities.
For example, say that you sell organic, easy-to-prepare dinners. You decide your target market consists of 35- to 45-year-old women with careers who live in metro areas, and are conscious about their diet choices.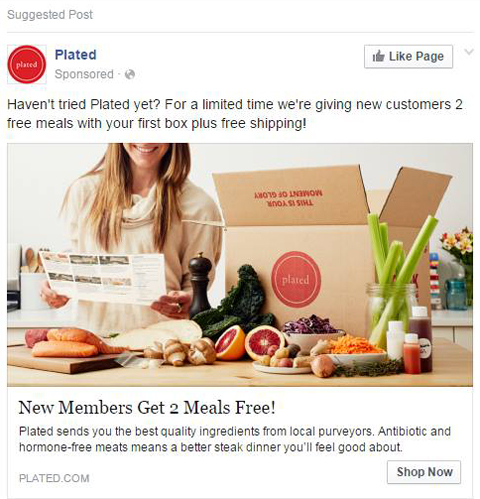 When targeting, talk to your audience in their language and show that you understand what they want and need. Mention that you know they're always short on time but want to make the right choices for their families. Include a call to action to learn more about how "fast" and "healthy" don't have to be mutually exclusive.
Solidify your success with a landing page that further explains the benefits of your product, why they need it and how to get it. Include relevant images of happy, healthy families and a short video testimonial from a stylish happy mom who has two preteens.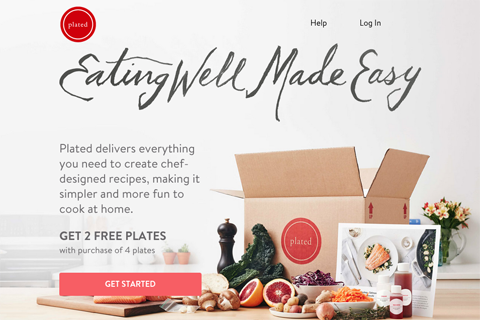 Include a special offer where people can receive a free dinner just for signing up for your newsletter. After you've crafted your targeting, messaging and offer, watch your conversion rates go up.
#2: Split Test Landing Page Variations
While you might know a lot about your target audience, there is always more you can learn. Suppose people aren't 100% sold on your business and don't want to receive your newsletter. Split test by creating another offer with a 20%-off coupon that they can use in any grocery store that carries your product.
Become the Social Media Marketing Rockstar for Your Business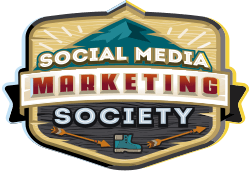 Meet your secret team that makes you look like a social media genius and empowers you to embrace change! We're a genuine community of marketers from your friends at Social Media Examiner. And we're here to support you. Think of us as your career insurance policy. We keep you focused on what matters. We make sure you won't be left behind as the changes keep coming. Join the Social Media Marketing Society. Get access to monthly online training, expert support, and a thriving community of marketers who will empower you to succeed.
CLICK HERE TO ENVISION A BETTER FUTURE
Or maybe you want to experiment with the length of the text. You might be wondering if you should go into detail about your product and its benefits or write brief copy that simply encourages people to try the product. Or instead of pictures of a happy family, you think your audience would be more inspired by images of stylish, successful businesswomen.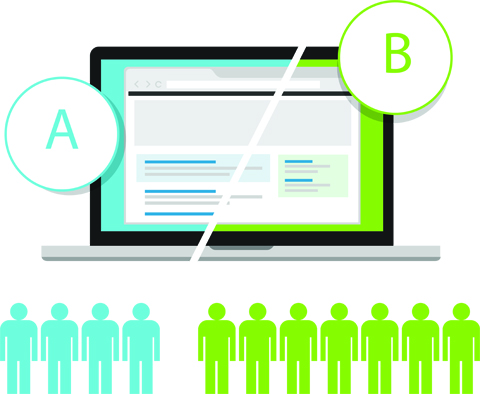 You can gradually split test as many variables as you want and gain more insight into your buyers' psychology. It's best to test only one or two variables at a time to zero in on a cause-effect relationship and track the differences in data.
Discover What Makes a Good Landing Page
Effective landing pages consist of a brief punchy description, clear benefits, a few striking visual elements (such as images or a short video), a testimonial and a strong call to action. Most importantly, they tend to focus on one offer or one goal.
Here are some tips for building a successful landing page:
Keep your page crisp, clear and to the point. Focus on the benefits of a single offer. You can also tailor the page for visitors from a specific social network. For example, Pinterest is known for its inspirational, highly visual content, so use more striking images with this audience.
Consistency across all of your digital channels is crucial. Ensure that you're not confusing potential leads with inconsistent offers. Be mindful that many people will be visiting your website for the first time, so take the time to create an amazing first impression of your brand as a whole.
Make essential elements stand out so visitors don't have to look for signup forms or promotional details. You don't want to give them a reason to rethink their decision. The process should be as fast and easy as possible.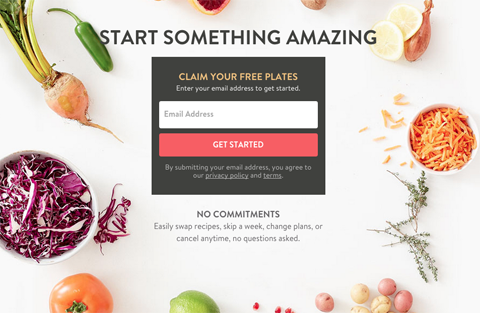 Give people a reason to trust you and do business with you. Mention the benefits so they won't want to pass on the offer.
Incorporate a single call to action. Avoid asking visitors to do multiple things, like sign up for your newsletter, buy your product and follow you on Facebook. Provide value first.
Deliver on your promise. If your audience expects a "one-step sign-up form to receive a free sample today," don't make them jump through hoops to get there.
Conclusion
If you've ever signed up for an exclusive offer, a free ebook or a free copy of something as a result of sharing your email address, you've probably experienced the power of landing pages. So why not employ them in your social media marketing?
Create engaging, highly relevant landing pages that bring value to both new and existing customers and target qualified traffic via your social channels. Also don't underestimate the power of split testing, which can help you improve key parts of your pages and increase conversions. This might sound like a lot of work, but you'll likely see great results from your efforts.
What do you think? Have you ever used landing pages in your social media marketing? How have they worked for you? Please let us know in the comments section below.