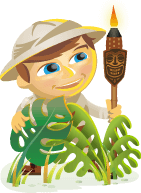 Do you want to launch a product or service to your existing audience?
Are you wondering how to get people involved and excited?
To discover how to create a successful launch, this episode of the Social Media Marketing podcast goes deep on the subject.
More About This Show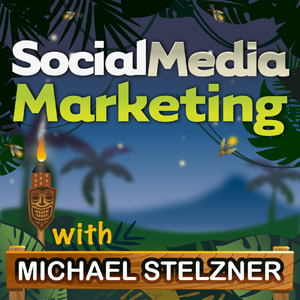 The Social Media Marketing podcast is a show from Social Media Examiner.
It's designed to help busy marketers and business owners discover what works with social media marketing.
The show format is on-demand talk radio (also known as podcasting).
In this episode the tables are turned. Cliff Ravenscraft, popular podcast producer and host of Podcast Answer Man, interviews me!
You'll learn the different ways you can get people involved in a successful launch and how to create a buzz around a new product or service.
Share your feedback, read the show notes and get the links mentioned in this episode below!
Listen Now
Where to subscribe: Apple Podcasts | Google Podcasts | Spotify | YouTube Music | YouTube | Amazon Music | RSS
Here are some of the things you'll discover in this show:
How to Build a Successful Launch
I reveal how I launched a brand-new online magazine.
An introduction to My Kids' Adventures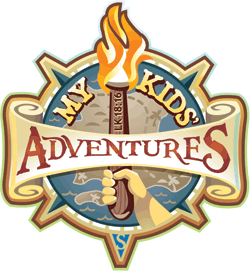 I knew as a busy, working entrepreneur, marketer and parent that my kids were growing up way too quickly. So I decided to go ahead and create My Kids' Adventures.
It's an online magazine for parents who want to have adventures with their kids anywhere, either in their home, neighborhood or the great outdoors. It will launch very soon and it has tons of great content from creative people.
Listen to the show to hear what made me go ahead with the idea for My Kids' Adventures.
How to first tease this new idea to your audience
One of the biggest challenges you face when you want to launch something new is the possibility that not all of your audience is interested in your idea. You should always have a strategy and more importantly, start early.
The first thing I did with My Kids' Adventures was to come up with a cool code name, which was Project Torch. Once this was decided, I started to tease my Facebook personal profile friends.
As soon as Project Torch was announced on Facebook, everybody wanted to know what it was about. I was teasing a sub-community of my larger community.
You'll hear how it not only caused underground buzz with my employees at Social Media Examiner, but high-profile friends too. In marketing terminology, you'd call it the teaser phase.
Whenever I start something new, I always go to the same place to do the initial planning. Here I made a short video of me saying that I was working on something new and very exciting. Implying I was in the same place I was when I started planning Social Media Examiner made people believe that it must be something big.
Once I had written my notes on the new project, I took a photo with my iPhone and uploaded it to Photoshop to blur out the answers to my questions. This image was then put on my personal Facebook Page to tease my audience.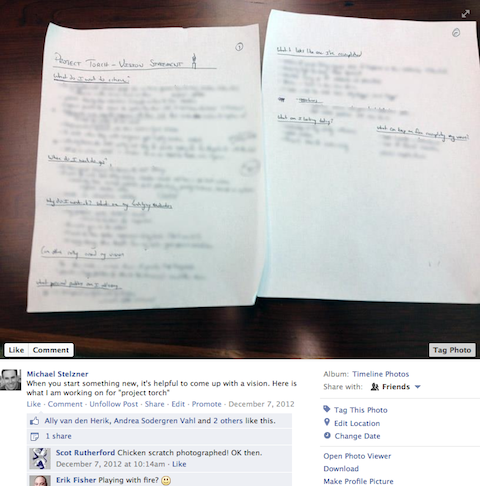 I did the same thing with the Vision Statement. I blurred out about 70% of the words, leaving enough for people to try to figure it out. You'll also discover the other teasers I used on Facebook over the next few months.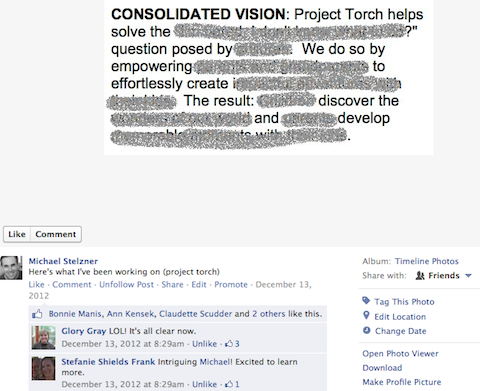 This got people interested and they wanted me to share with them what Project Torch was about. Everyone loves a mystery. The response I received was the motivation to keep going.
Listen to the show to hear how the idea came about when I went to Disneyland last year.
How to release more details
Following the teaser stage, I moved on to what I call a super-soft release. Although I wasn't totally ready, I decided to make an announcement during my keynote at Social Media Marketing World in April this year. You'll discover why it was the ideal time to do this and why I chose to do it with video.
The video was shot two weeks prior to the conference, much of it while on vacation with my family
.
You'll find out why I chose to use certain shots and how it all came together in about 10 days.
The story in the video doesn't really talk about My Kids' Adventures—it's more about the challenge we face as busy parents and how our kids grow up really fast. The response I received was unbelievable.
It was a huge risk to show this video at a business event, but at the end of the day it has everything to do with business, as we are all busy working parents.
You'll discover how many people approached me at the conference and what about the story resonated well with so many people.
Listen to the show to find out why you don't have to have something fully baked before you introduce it.
How to recruit people to help
After the keynote, there was a line of people waiting to talk to me about the video. I knew there would be a response, so I announced a URL they could visit where there would be two different signup forms available.
One form was for the Founders List, which is a list of people who want updates as the project progresses, and the other was a Wanna Help? List. These lists started to build the day the video was released. You'll hear how many people filled out the Wanna Help? form.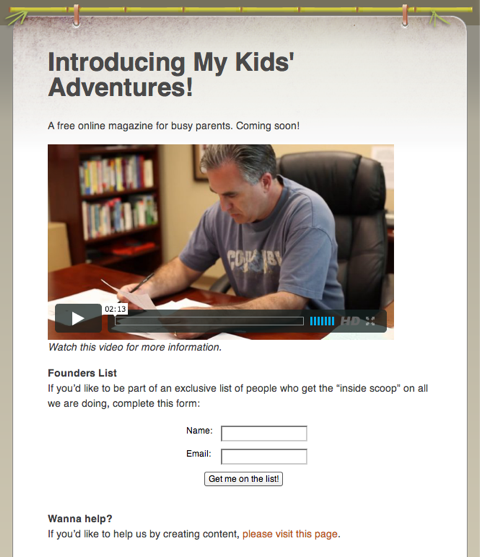 The video was a massive recruitment vehicle for us to get people involved. The reach was amazing. The nature of social media helped us create an exciting starting point.
The idea behind the Founders List is that people want to be part of a special club. You'll hear what the people on this list received each week and how it inspired them to share. The goal for the list was to get 1000 people on it before we launched.
One of the important things to help grow a business is to have some sort of a base in place. If we can get between 750-1000 people interested before we launch, then it will help us launch a lot better and faster. These are our evangelists who are willing to help.
Everything we've done on this project is completely separate from Social Media Examiner. We use AWeber as our email platform and both signup lists are brand-new.
Listen to the show to learn about the process we used to contact these people and what resonated with them the most.
The reveal to the Social Media Examiner community
In the June 7 episode of the Social Media Marketing Podcast, I started to include a 5-7 minute segment on how to launch a product or service. Every week since then, I've given tips and been able to use My Kids' Adventures as the example.
With these episodes I've made it a teachable moment. It's teased my podcast community, which is still a smaller community than the overall Social Media Examiner community.
We also added a large graphic to our Social Media Examiner home page, which allows people to click through to learn more about My Kids' Adventures.
You'll hear what we have planned for the people on the Founders List to help get the word out when it approaches launch day.
I know I'm entering into a very competitive space; however, we are trying to be a little bit different. We want to be slow, methodical and consistent and this is what's going to help us win in the end.
Listen to the show to hear which three adventures Cliff can't wait to try out from My Kids' Adventures.
This Week's Social Media Question
JeFreda Brown at Brown Accounting Solutions asks, "I want to start biweekly live Q&A sessions on Twitter. My business focuses on accounting, tax and business consulting services for small- and medium-sized businesses. What's the best way for me to do this and how far in advance do I need to send information out to reach as many business owners as possible?"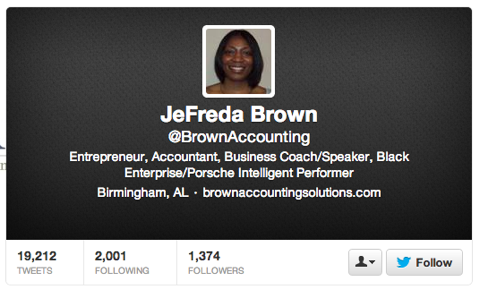 First of all, why only limit yourself to answering people's questions to a specific time of day, rather than trying to make "an event" about it? Why not just simply answer people's questions that they have about accounting all the time? You could become known as the lady who answers people's accounting questions.
Once you are known as a valuable resource for people whenever they have questions, these people will then start to refer their friends as well.
When you answer questions on Twitter, you can answer them whenever you want. You don't have to answer them immediately. This overcomes the challenge of getting the word out ahead of time.
You'll hear how you can use different social media platforms to help promote your service and how it will encourage people to ask questions.
Call in and leave your social media–related questions for us and we may include them in a future show.
Listen to the show to learn more and let us know how this works for you.
Key takeaways mentioned in this episode:
Ways to subscribe to the Social Media Marketing podcast:

What do you think? What are your thoughts on launching a new product or service to your existing audience? Please leave your comments below.