Want to do more with Instagram Stories? Looking for a useful guide to help plan your Instagram stories?
In this article, you'll learn how to plan, create, optimize, and schedule Instagram Stories content for your business.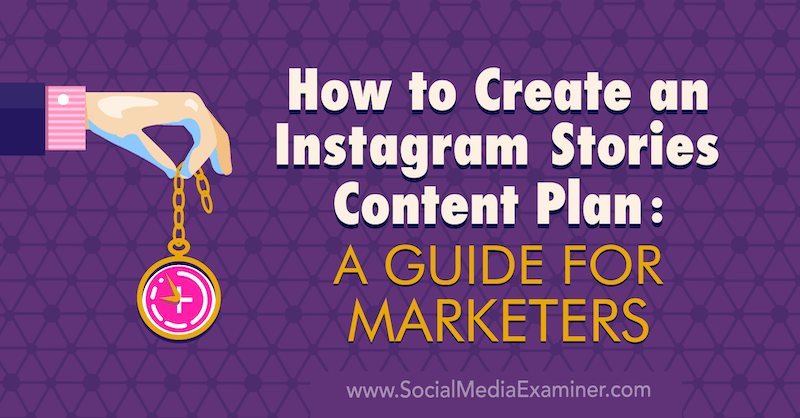 #1: Establish a Theme and Style for Your Instagram Stories Content
As with most of your online marketing efforts, your Instagram stories should have a cohesive style that makes them uniquely yours. The content is visual and fast-moving so it should both appeal to your audience and reflect your branding and style.
When creating your Instagram stories, you'll want to think about:
Font or doodle color choice
Filters
For my Instagram stories, I almost always use the girly, cursive Neon font. And I incorporate a lot of pink into my text color, images, and backgrounds. I'm also partial to the Buenos Aires and Oslo Stories filters. This keeps my stories consistent and recognizable regardless if they're text-, photo-, or video-based.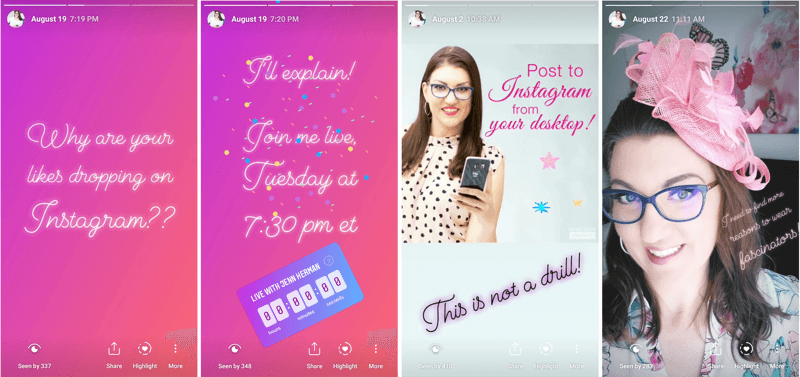 Think about which colors are most associated with your brand. Consider using these colors as your fonts, text boxes, or background colors.
Agorapulse, whose brand color is orange, also uses color and font styling in their stories. They use the Classic font in white with an orange text box to stay on-brand with their color scheme. Or when they use stickers, they change the sticker color to orange.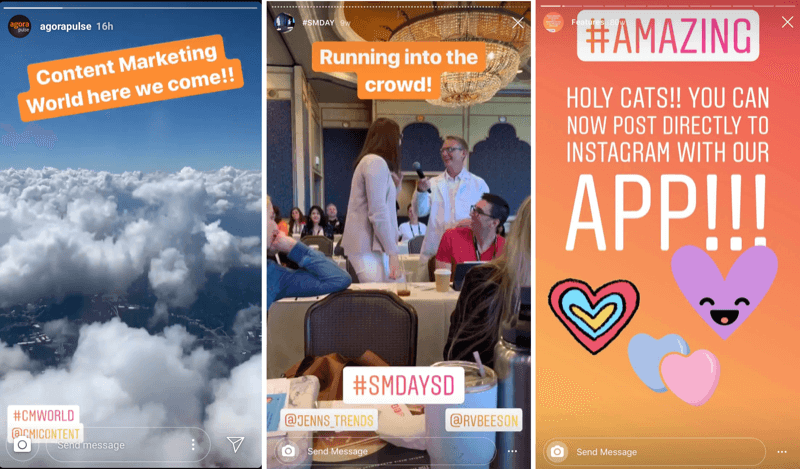 You also want to consider your brand's personality. Are you more feminine? Certain colors, fonts, and filters are better suited to that style. If your brand is about strength and power, selecting Classic or Strong fonts may be a better fit for you. A brand that's classic or vintage, or perhaps even literary, might love the Typewriter font. Pick the one that best aligns with your brand's personality and make that your prominent font choice for consistency.
In addition to creating your own stories, if someone tags you in a story, you have the option to share that post to your story sequence, too. In keeping with your brand style, however, consider adding your own flair to the reshare, using your font choices or filters. Or if you have a good selection of tagged stories to choose from, select ones that align best with your brand style and personality.
Owen Video does this when he speaks at conferences, choosing to reshare posts that align with his personality and story style, while adding his own stickers, emojis, and text to personalize them.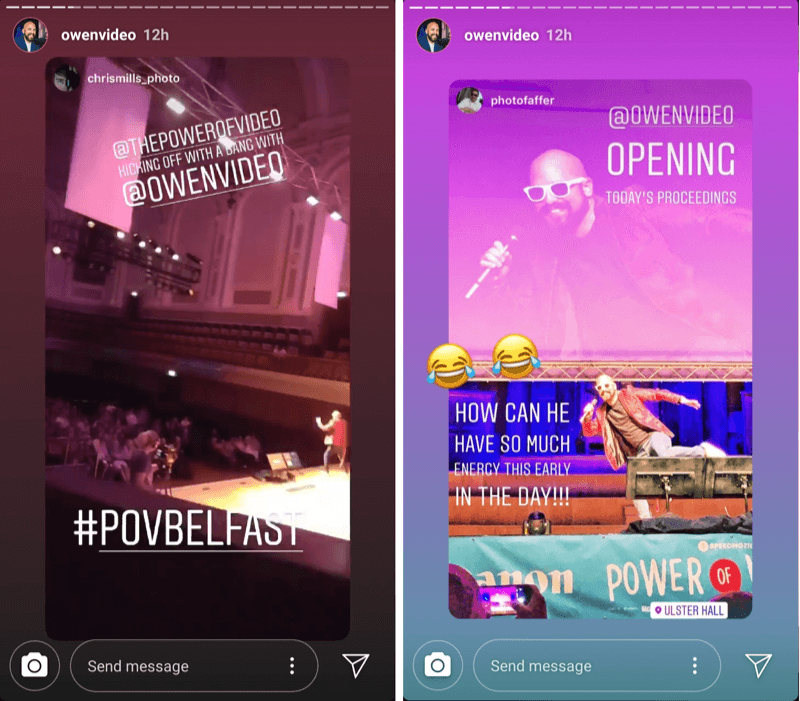 #2: Plan Your Instagram Story Content
Now that you know how your content should look and feel, you're ready to start planning out content ideas for your stories! It's important to understand your goal for using Instagram Stories first.
The Conference You've Been Waiting For
As a small business marketer, you can probably only pick one or two events to attend each year. Get an unbeatable conference experience and expert training at Social Media Marketing World in sunny San Diego, California—from your friends at Social Media Examiner.
🔥 As a valued reader, you can save $750 if you act now! Sale Ends Tuesday! 🔥
CLICK HERE TO LEARN MORE
Are you looking to generate sales?
Are you planning to generate brand awareness?
Are you focused on growing your followers or generating more engagement?
Knowing why you're using Instagram, and specifically Instagram Stories, will ensure you create content that better serves those goals.
For example, including a call to action (CTA) in a story sequence can be a powerful way to generate results; however, it's important to know what CTA to use. A brand growing sales, like Sugar & Cloth, is going to focus more on CTAs that encourage purchases. On the other hand, a brand focused on brand awareness might use a CTA that drives traffic to an IGTV tutorial video.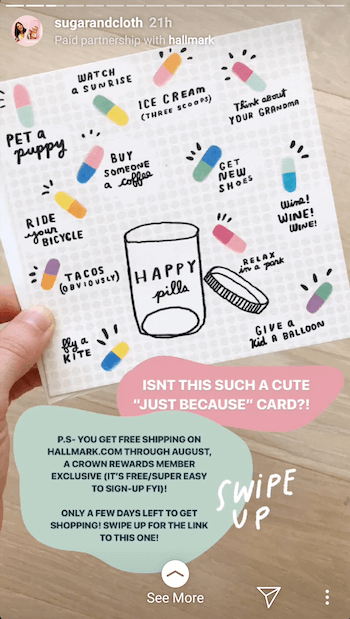 Pro Tip: Don't always leave your CTA to the last post in the sequence. If you're using a six-post sequence, for instance, insert the CTA in the fourth or fifth post. Retention drops off the longer your story goes on and leaving your CTA to the very end means fewer people will see it.
Determine Instagram Story Post Frequency
Instagram stories are fun, casual content, but they still require significant time and planning. Don't commit to creating a seven-post story sequence 7 days a week if you don't have the time or resources to follow through.
Be realistic about the time you have, the team members available, and the resources you have to create content. Plan your story schedule around that availability.
Unlike regular Instagram feed posts where one post stands on its own, Instagram Stories are designed to be in a sequence of multiple posts. While you can post a single photo or video to your stories, viewers are conditioned to watch through multiple posts.
The ideal sequence length is three to seven posts. Most people lose interest after seven posts. Depending on which combination of photos and videos you use, seven stories can be anywhere from 35 seconds to almost 2 minutes. Those longer time frames push the boundaries of story viewers' attention spans.
Tailwind used an ideal story sequence length of four posts to generate interest and registrations for an upcoming Facebook Live training they were hosting.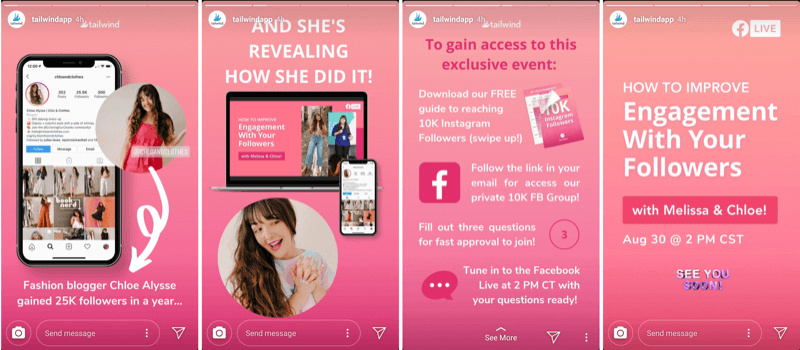 Of course, businesses want to use "push" content to include a CTA that will generate traffic, leads, or sales. But if your stories are always pushing things on your audience, they aren't going to stick around for very long. You have to give them a variety of content featuring some that they want, too! This can include things like:
Entertainment such as bloopers or funny videos
Personal posts that show the human side of your brand
Behind the scenes of your business
Tips or tutorials that help your customers
Answers to commonly asked questions in your industry or business
The Microsoft Instagram account mixes in plenty of entertainment value with their stories. In this sequence, they reveal a noise and offer polls and opportunities to guess the sound.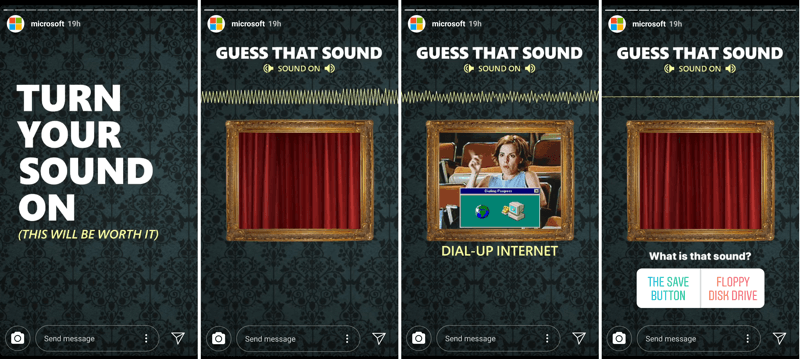 As you're determining the type of content you want to share to your stories, it's also important to plan that content out. It's called a "story" and so ideally should flow through a beginning, a middle, and an end.
If you're going to share a story series about a live networking event you're attending, you might want the following content:
A photo of the front of the venue with all of the signage for the event
A video of the pre-event networking or gathering
A photo of the tables or décor
A video of the chairman recognizing the success of the event
A selfie photo with one of the speakers
A text post wrapping up the key takeaways
By planning this content flow in advance, you can make sure to grab the photos and videos at the right intervals, and also avoid being stuck behind your phone the entire event attempting to document everything.
Decide When to Post Your Instagram Stories
Now that you've figured out the types and number of posts you want to share to your Instagram stories, you have to determine when to post them. There's no secret recipe for picking the right time to share stories. Sometimes it will come down to your audience and when they're most likely to be engaged. Other times it will come down to when you have the content to publish.
It's important to remember that stories only live on your profile for 24 hours; therefore, it's important to pay attention to posting times and days of the week to maximize your reach, views, and engagement. If you know from your insights that your audience is most active on weekends, you would most likely be better off posting your stories on Friday through Sunday rather than on a Monday or Tuesday.
If you're posting a story sequence with all posts shared at the same time, you'll want to pick an ideal time of day. In these situations, the story is meant to flow as one consecutive sequence with each post building on the previous one. You created the content in advance of uploading it and want it all available together.
All four of these images from Kate Spade are part of one clear sequence and you would want them uploaded together to convey the whole message. In these situations, you want to pick an ideal time of day and day of the week based on your audience insights to ensure as many people see the story as possible.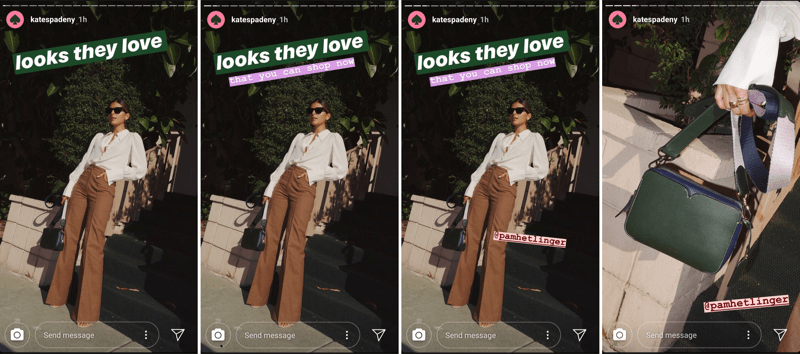 But you won't always have the ability to post a sequence in unison. If you consider the example above where you're posting from a live event, not after the fact, your story posts will be uploaded in real-time intervals. Once the sequence is complete at the end of the evening, however, any new viewers will still be able to see the story in its full sequence. At least until the first posts start to disappear after the 24-hour interval.
Unfortunately, the ideal time for you to share your story posts may come at a time of the day that isn't convenient for you to post that content.
Instagram stories are still designed to be posted organically, without scheduling functionality; however, that's not ideal for all brands. If you want to schedule your Instagram stories, there are a number of third-party tools you can use to do this. Two of the most common approved tools are Planoly and Later; both offer scheduling at $9/mo.
These tools offer the functionality to create stories on your desktop and "schedule" them, but they won't automatically post on your behalf. The app will send you a notification on your mobile device and you can then post your previously designed stories directly to Instagram.
#3: Create Your Instagram Stories Content
Let's take a look at some of the various features you can incorporate into your stories and the creative ways you can produce fun content. Instagram stories offer a lot of opportunity for creativity and what you decide to do is limited only by your imagination.
Note: Instagram Stories are formatted in a vertical 9:16 ratio or a dimension of 1080 wide x 1920 pixels high.
Photos vs. Videos vs. Text Stories
Stories are designed as short-form content where a photo post will play for 6 seconds and a video will play for up to 15 seconds, depending on the length recorded. You can also create text-based posts where you use a specific background color option and start the story with a text placement. These also play for 6 seconds.
When it comes to stories, there isn't a preferred type of content to create. It comes down to how you best serve your audience and how you can create quality content that conveys your message. This often includes a combination of photos, videos, and even text posts within one story sequence.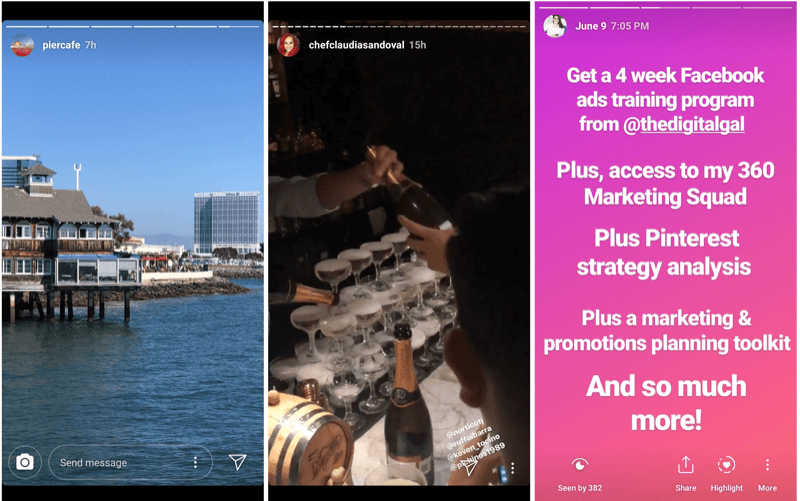 A simple photo upload, video recording (or upload), or a text post is the most basic level of story you can create. But a photo or video can be resized by pinching and moving, augmented with doodles, text boxes, GIFs, and more.
In this post from Octonation, a square video was added to the story and shrunk down to a smaller size. Then doodles were added with the pen tools, a GIF for the "wow" and the arrows, and text for the "OctoTV" and "On" buttons to turn the whole thing into a TV in the story.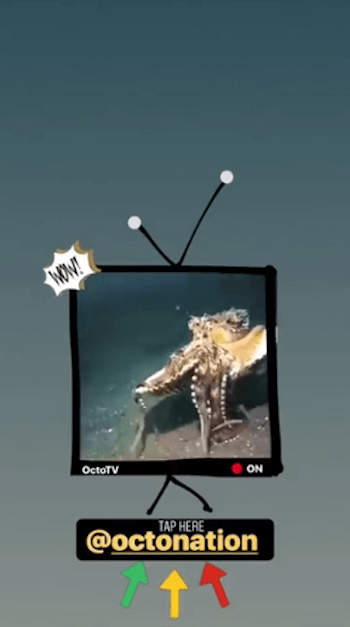 Attention Agency Owners, Brand Marketers, and Consultants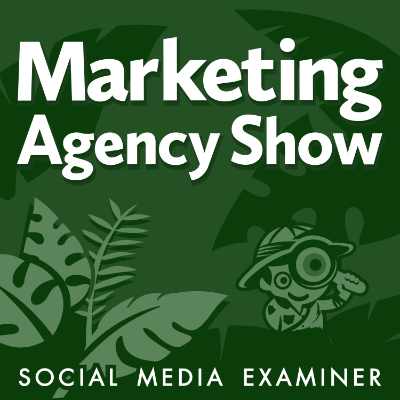 Introducing the Marketing Agency Show–our newest podcast designed to explore the struggles of agency marketers.

Join show host and agency owner, Brooke Sellas, as she interviews agency marketers and digs deep into their biggest challenges. Explore topics like navigating rough economic times, leveraging AI, service diversification, client acquisition, and much more.

Just pull up your favorite podcast app, search for Marketing Agency Show and start listening. Or click the button below for more information.
CLICK HERE FOR THE DETAILS
And a video can include text overlays or animations to add dimension and interest throughout the entire video. Fast-moving videos can be very effective on short attention spans. Creative video strategies like this one from Amanda Robinson, the Digital Gal, can be created in various video editing software tools and then uploaded to your Instagram Stories.
Tools to Create Better Stories
Although you can create stories directly in the Instagram app (taking photos or videos, or creating text posts) you can also create your posts with external tools or software and simply upload the photo or video file to your Instagram Stories.
Amy Porterfield creates beautiful graphics that are aligned with her brand style and personality but are formatted and designed for Instagram Stories.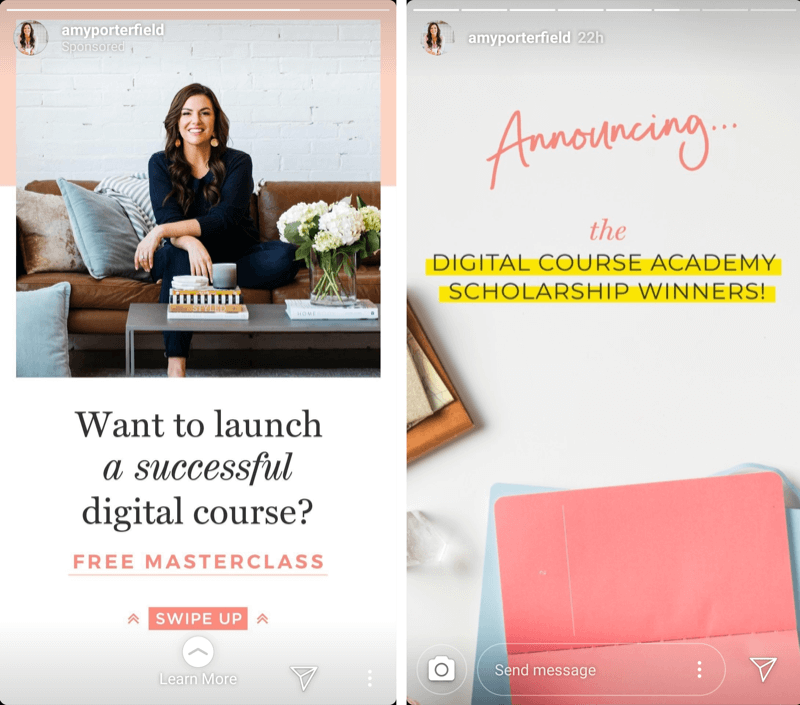 A great tool for this is Canva (with a free plan available, and additional features offered for $12.95 per team member per mo.). You can choose from a wide variety of templates (formatted for 9:16 images) where you can change out photos, edit the text, and personalize the templates to fit your brand. They're quick and easy to use to create beautiful images for stories.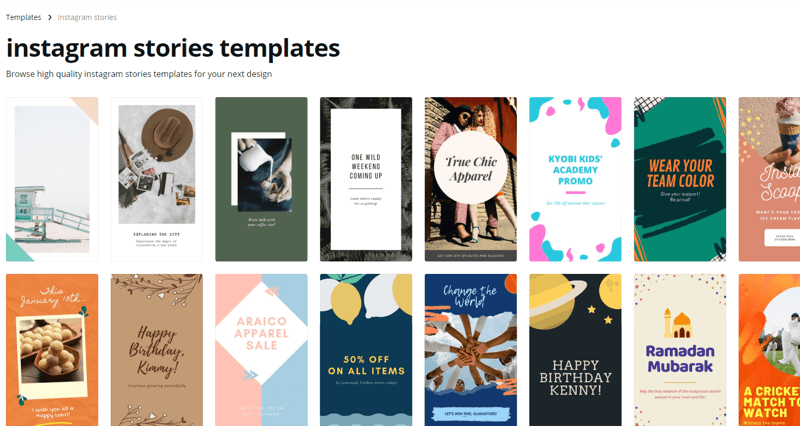 For video templates, Wave.video is an easy-to-use tool that allows you to quickly create 9:16 vertical videos. You'll find a huge variety of royalty-free images, videos, and music for creating videos that are personalized and reflective of your brand. There is a free plan available with videos limited to 15 seconds; create up to 1 min of video for 10/mo., and add a logo and watermark for $49/mo.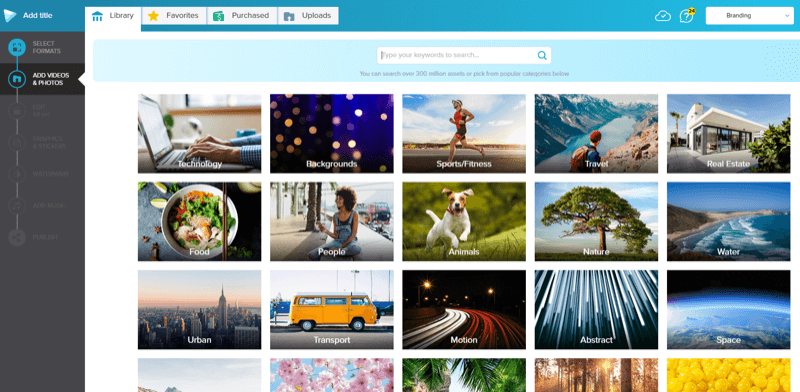 #4: Optimize Your Instagram Stories Content for Engagement
In some of the above examples, you can see how the use of GIFs and stickers can make content more fun and interesting. Stories can be much more engaging and drive more progress toward your goals when you incorporate the right stickers and features into your stories.
Some of the story stickers that are best suited for driving engagement include:
Music
Poll
Questions
Countdown
Emoji slider
Quiz
These stickers provide opportunities for direct engagement from your viewers. This keeps your content active and higher in their feeds and gives you a lot of insight into your customers.
In my story post of a first-class flight, I added the song "Glamorous" by Fergie that tied into the theme. The song sticker adds the music, lyrics, and song details to make it lively and entertaining. Adding a plane GIF provided a little extra movement but the music kept my audience engaged with this post.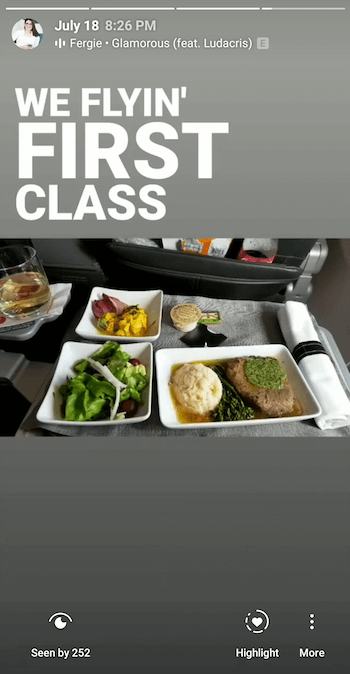 The Poll, Questions, and Quiz stickers are hands-on tools to connect directly with your audience. Viewers can make a selection, add their feedback, ask a question, answer a question, and more. These stickers are valuable for all brands but can come in handy for B2B brands to better connect with their followers.
One prime example of this is the TSA, which allows followers to ask a variety of questions and then they post some of the best or most relevant inquiries along with the responses in their story sequence.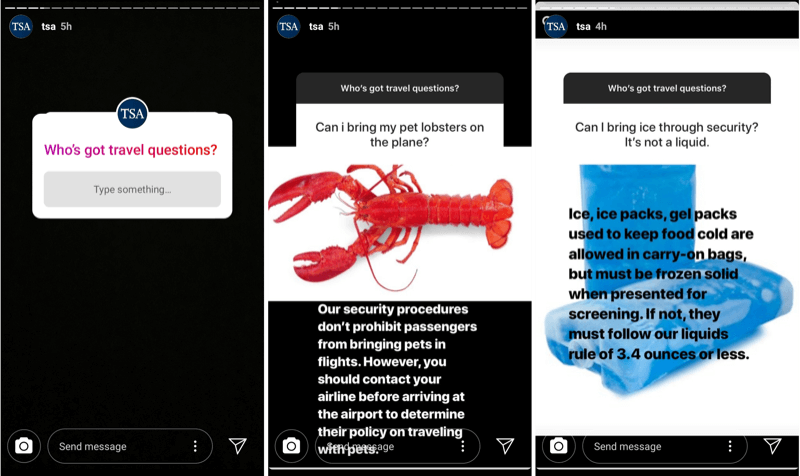 The Countdown sticker allows you to set a time for an upcoming event and your followers can tap on the sticker to receive a reminder when the timer expires. This is a great tool for training events, podcast releases, and other activities you want your customers to show up for.
Finally, the Emoji Slider sticker is a fun, goofy sticker that can be used creatively to get people to generate responses and engage.
To create this story for my Instagram account, I held up the empty wine glass, turned the emoji slider on its side, and used text to ask the question of how much wine people wanted that night. I received a lot of responses to the sticker, which then allowed me to respond to those people with direct messages and engage in personal conversations.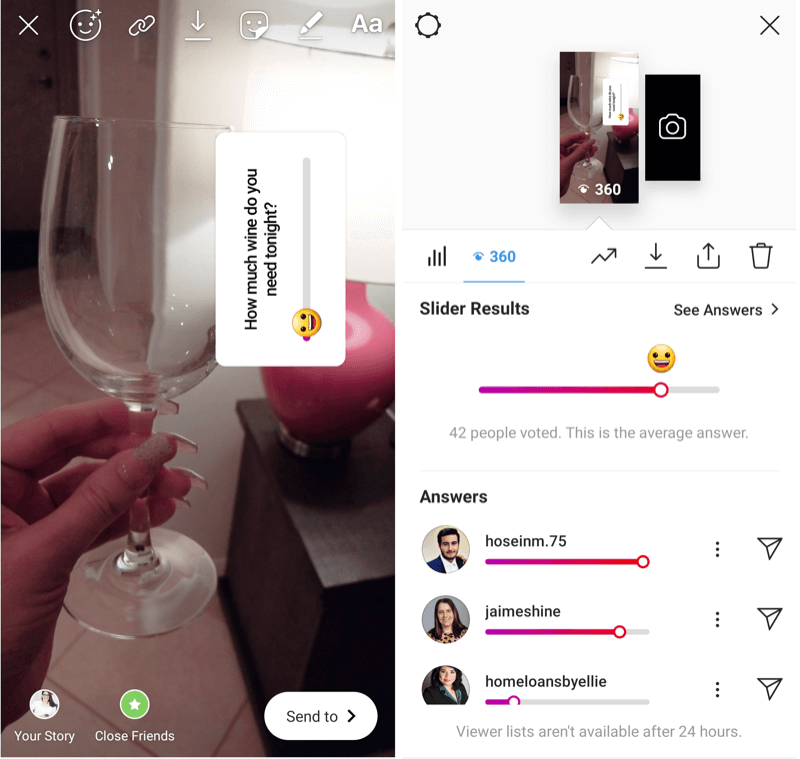 Stickers aren't the only way to optimize your story content for engagement, but they're powerful tools and you should find ways to incorporate them. Some additional engagement tips to consider include:
Keep the content on the story post easy to watch or read. Stories move quickly and if the content is too cluttered or busy, people will tap through or miss the message.
Use bold or contrasting colors to make key messages stand out.
Use arrow GIFs or other tactics to encourage followers to navigate to the next story for more so that you keep up the retention.
One final engagement strategy to consider is the Swipe Up link for Stories. If you're a business or creator profile with more than 10K followers or if you're a verified account, you have the option to add any URL to any story post. Even if you don't meet these criteria, if you use IGTV videos, you can add a link to your stories to send people to your IGTV videos.
This Swipe Up link is a very helpful engagement tactic, as well as a valuable business tool to send viewers to an online destination outside of your stories. If you do use the Swipe Up function, include a GIF to remind people to swipe or put an arrow or circle at the bottom of the story where the See More instruction appears. Give your audience a clear indication to follow that action!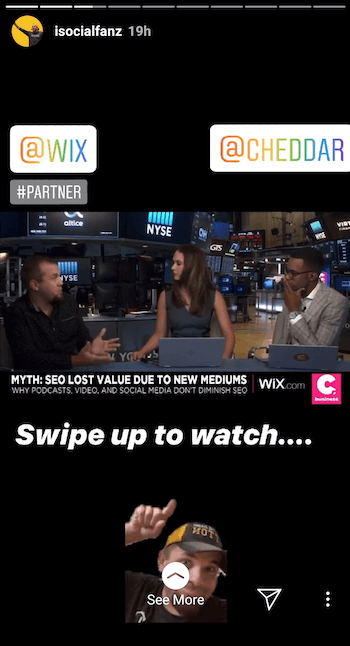 #5: Optimize Your Instagram Stories Content for Reach
So far, we've covered a lot of tactics and strategies to help you create stories. But it's also important to think about how to get more people to see those stories!
There are a few strategies you can use to optimize your stories for increased reach and exposure on Instagram. When it comes to your existing followers, consider the following tips:
Post at dates and times that are ideal for more views. You can review your story insights to better determine the best times or days for your account.
Be responsive to people who leave comments or questions on stickers or who send you direct messages on Instagram in response to a story. Instagram measures this engagement and the more you keep your followers engaged with your stories, the higher you'll rank in their story feed placement.
To reach more non-followers and new Instagram users with your stories, there are a variety of tactics you can use.
Use Instagram Location Tags
Location tags are one of the secrets to getting lots of new exposure! When you add a location tag to your story, there's a chance that it could appear in the search results for that location and others. The key to success here is to use the smallest possible location.
For instance, use a location sticker for a very specific building, park, intersection, or business. The Instagram maps know that the individual location is near surrounding locations, in a certain neighborhood, in a city, in a county, and so on. By tagging the smaller location, you have the potential to show up in the broader searches too. But if you tag the city name, you won't show up in smaller locations within the city.
In this example, I tagged the National University campus location and showed up in three other location searches related to the area I tagged.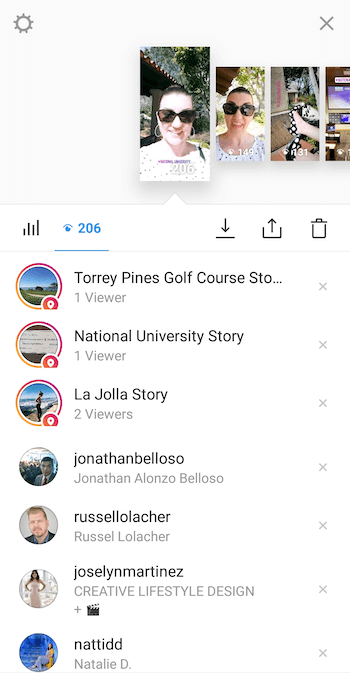 Apply Instagram Hashtags
Just as we know hashtags are powerful for reach on feed posts, they can be very helpful with Instagram stories. There are some limitations, however, that you should be aware of. For one, you can only add one hashtag sticker per story post. Each post in the sequence could have a different hashtag, though.
If you use the text box to add hashtags, Instagram will only count the first three you include, so it's not worth it to use more than three. You also don't want to "hide" your hashtags in your stories. They need to be clearly legible and visible or Instagram won't render them as functional hashtags.
When you use hashtags in a story post, you generally want to go as broad as possible. To illustrate, using #Flowers is likely better than using #SummerGardenIdeas. Not that the latter hashtag isn't valuable, but Stories only live for 24 hours so you have just a small window of opportunity to appear in search.
If you're using hyper-targeted hashtags, they may only get a few views in the 24-hour period. In contrast, with a popular hashtag that gets a lot of views, you increase your odds of appearing in that search and getting more views on your story.
A caveat is that there's no guarantee you'll appear in a hashtag search. Regardless of how many stories are created with a certain hashtag, Instagram limits the number of results shown to each user based on various algorithmic criteria. Why? Because no one wants to tap through 400 story posts in a search result.
Tag Instagram Users
If you want more people to see your content, give more people a reason to share it. If you tag users in your stories (assuming they're actually a part of that story post), they can share your story to theirs, giving you more exposure.
In the story below, both the restaurant and the shopping center where the restaurant is located are tagged as users so both of those accounts can share that content back to their audiences.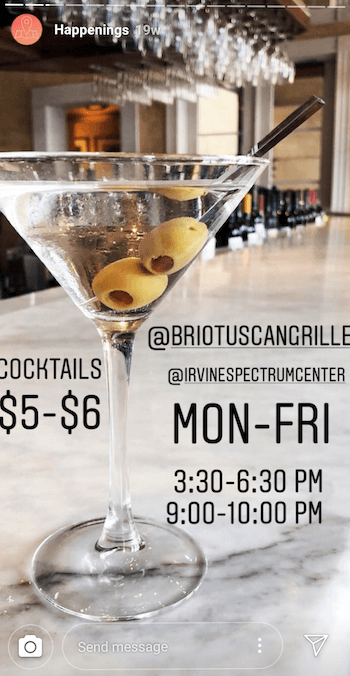 Speaking of sharing, stories you view have the little paper plane icon for sharing located at the bottom. This allows users to share that story directly with another user via a direct message. If you're sharing highly valuable or entertaining content that your audience wants to share, they will! And when the recipient gets the DM, they can directly view your story.
Conclusion
As you can see from this guide, there are a lot of different ways to create and use Instagram Stories. But that's what makes them so unique and allows you to personalize the content while staying true to your brand personality.
When you focus on creating stories that show your brand, connect with your audience, and provide value to them, you'll keep them engaged and responsive. The more they view and engage with your content, the higher you'll rank in their story banner placement. This allows you to continue to stay in front of them and reach those goals you set out to achieve at the beginning of this guide.
What do you think? Have you created an Instagram Stories content plan? Are you going to give it a try after reading this? Please share your thoughts or tips in the comments below.
More articles on Instagram Stories:
3 Days of World-Class Training—Zero Travel!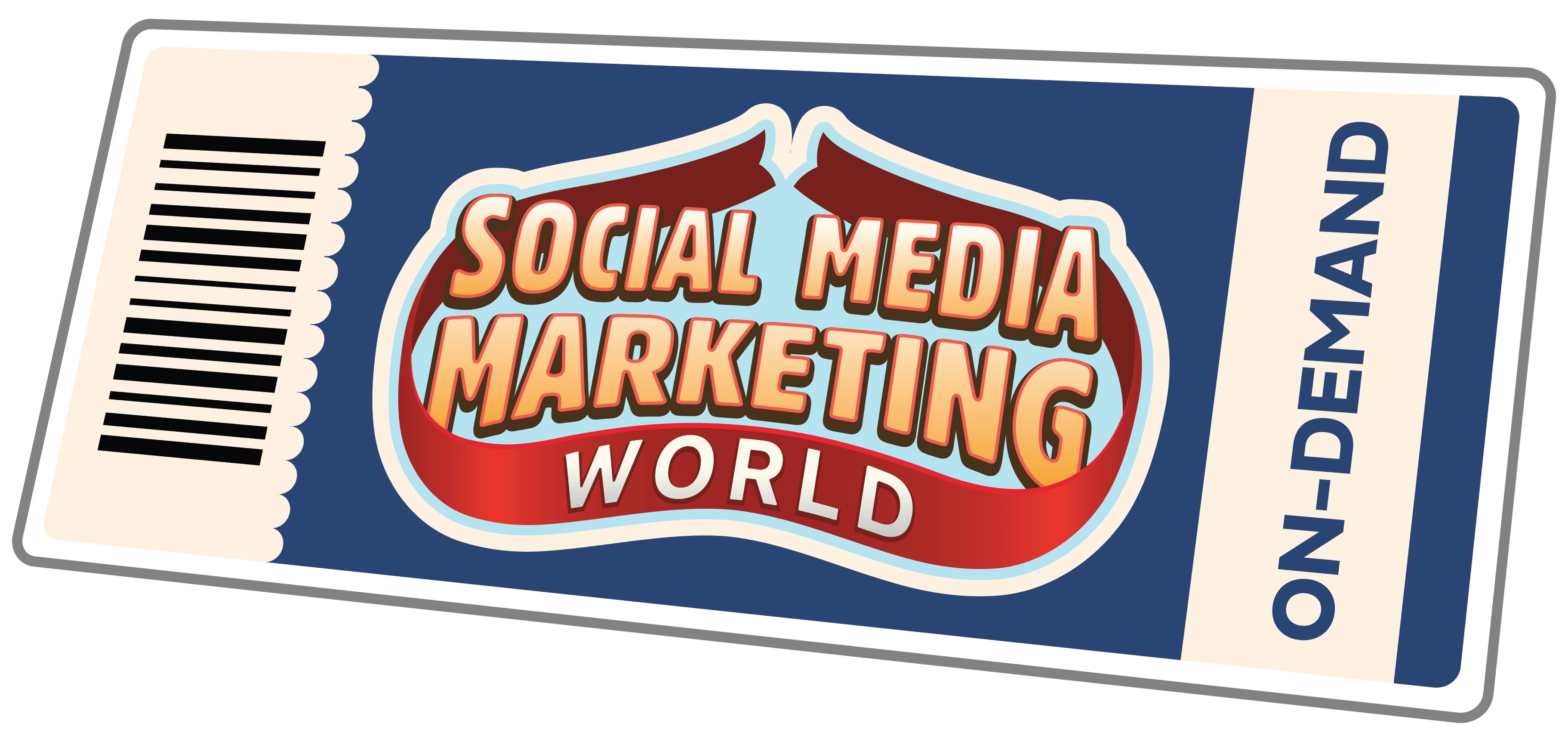 Travel to Social Media Marketing World off the table? Get all of the great content at a fraction of the price with an On-Demand ticket.

That's full access to recordings of every keynote, workshop, and session—the ones people travel thousands of miles to see. Don't wait. Get your On-Demand ticket and enjoy actionable content that you can watch anytime, anywhere.
GET YOUR ON-DEMAND TICKET NOW