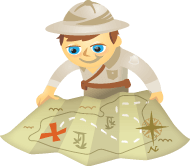 Are you marketing on Periscope?
Want to reach more people?
You can develop a following on Periscope by promoting your broadcasts, engaging with viewers and repurposing your content on other channels.
In this article you'll discover how to build a Periscope audience for your business.
#1: Cross-Promote Broadcasts
While content is ultimately king, think about how you can attract enough of an audience to Periscope to drive results.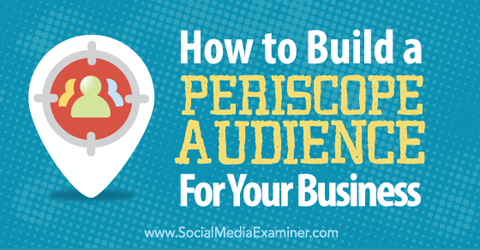 Listen to this article:
Where to subscribe: Apple Podcasts | Google Podcasts | Spotify | YouTube Music | YouTube | Amazon Music | RSS
If you've already established and nurtured followers on other social channels, especially Twitter, you likely have a strong foundation to begin distributing your Periscope content and generating interest.
Think about your branding guidelines for the social channels that you plan to use in your promotion strategy. Even though you're promoting Periscope content, make sure that you optimize your promotions to match the tone and format of the different channels.
By aligning your promotion to each network, you increase the likelihood of earning social shares, receiving feedback and gathering an audience. Consider the following distribution tactics when planning your Periscope promotions.
Twitter
When promoting your live stream on Twitter, craft a brief yet compelling tweet equipped with hashtags and an attractive visual, which are some Twitter best practices.
In the tweet below Michael Hyatt included hashtags to attract people interested in Periscope streams, as well as the followers of his #VirtualMentor brand. Hashtags on Twitter can make your Periscope event (or scope) more noticeable and easily searchable on the channel.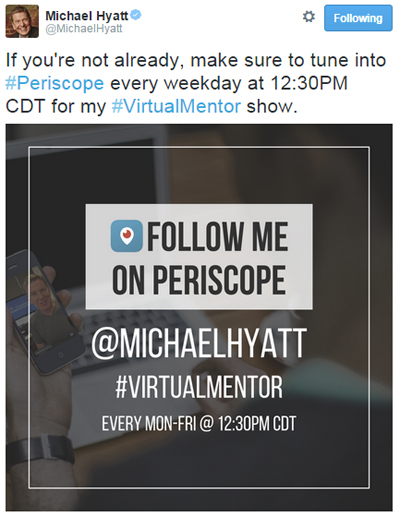 Hyatt also used an informative and eye-catching visual to attract users' attention when they're scrolling through their Twitter feeds.
Pinterest
Pinterest is largely built on visually compelling, do-it-yourself and project-based content. Create informative content that incorporates images with a tall aspect ratio, detailed descriptions of your event and a call to action to your Periscope stream or landing page.
Instagram
When promoting your live stream on Instagram, consider adding a text overlay to your images. Content descriptions on this channel tend to be shorter (around 100 characters) and include multiple hashtags (try three to five).
In this Instagram post, Sue B. Zimmerman promotes a scope with Kim Garst.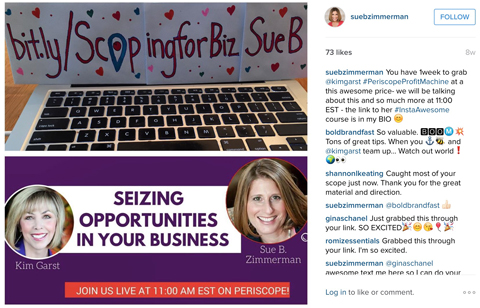 Facebook
Visual content typically does well on Facebook, particularly video. Create a brief video preview to attract attention and tag any guests participating in your Periscope stream to reach a broader audience.
The LPGA promotes upcoming Periscope broadcasts on their Facebook page. This post previews an upcoming broadcast with golfer Morgan Pressel.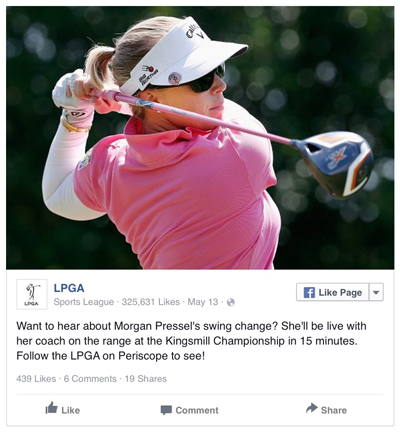 Snapchat
While Snapchat can be a tricky channel for promotions, start by creating a story to announce your Periscope stream. Since your followers won't be able to follow direct links to your content, ask them to take screenshots of your snaps that contain event details or publish snaps that reiterate the value of your Periscope stream to pique interest.
LinkedIn
Create a short LinkedIn Publisher article (between 500 and 800 words) to promote your Periscope efforts. Make sure to include an eye-catching visual and a call to action. You can share this content on your personal account or company profile, through LinkedIn groups or by direct messaging connections who are likely to be interested in your content.
Hootsuite CEO Ryan Holmes promoted an upcoming AMA on Periscope in this LinkedIn article.

Email List and Company Blog
Okay, so your email list and blog aren't necessarily social channels. However, using your owned media channels to generate interest can be an excellent strategy for driving visitors to your Periscope content. Alert email subscribers to your upcoming broadcasts or write a blog post summarizing recent ones. Be sure to ask your followers for feedback and the type of content that they'd be interested in learning about on Periscope.
#2: Engage With Viewers
Your live-stream content should primarily be directed towards the interests of your existing audience and the people you're looking to attract. Additionally, it's important to align your content to the expectations of the people who use Periscope.
Since many of the best practices and tactics for engaging your audience on Periscope are still emerging, this is an excellent opportunity to begin experimenting with new techniques.
For example, Ellen DeGeneres offered her fans a behind-the-scenes look at her TV show on one of her first live scopes.
While you're not likely to get national exposure through a television broadcast, there are a few clever tricks that Ellen pulled off during her Periscope stream that you can draw inspiration from.
Discuss Relevant Topics
Ellen's live-stream content was focused on an informative look into the Periscope application. However, she didn't overtly promote the brand or product. Instead, she opted to involve her audience in its functionality and give people a valuable firsthand experience.
Think about how you can appeal to your audience's interests by tailoring your content to their needs. Be sure to listen to their feedback and adapt your content as you see fit.
Show Off Your Personality
One reason that Ellen has enjoyed a successful career is her bubbly, outgoing and occasionally blunt personality and humor. Notice that her personality isn't lost in the broadcast, and your personality should be present in your live streams, too. Showcasing your personality can humanize your brand and give your customers something to remember and emotionally connect with.
Involve the Audience
Ellen walks among the audience and asks them questions, notices people who are excited and rewards them with face time through her stream. While you won't likely have an in-person audience, think about asking your viewers questions on Periscope and spotlighting their contributions by acknowledging them publicly.
#3: Repurpose Your Videos
After you finish your Periscope broadcast, you'll have an opportunity to share the stream for up to 24 hours. However, you can get more out of your Periscope content by repurposing it on YouTube or by capturing your scopes with Katch.
Michael Hyatt creatively records, edits and republishes his Periscope stream on YouTube and Facebook. This is a great way to develop a constant source of evergreen content.
Repurposed Periscope content (meaning content that doesn't disappear the next day) can be an excellent tactic for making it more effective in the long run.
For example, suppose that you held an amazing live tutorial on Periscope. It'd be a shame if that hard-earned content was gone forever. You don't necessarily need a video guru or post-production specialist to record your video, but it certainly wouldn't hurt.
To record your Periscope content for later use, first broadcast your live stream as usual. After you've finished your stream, open the replay link by following the same link used throughout your promotions. Next, use screen-recording software such as Movavi or CamStudio to capture your content in the highest quality.
When you're finished, you'll have captured the raw video and audio content. To create a format more appealing for YouTube, take your raw video into post-production using a tool like Adobe Premiere Pro or Apple Final Cut Pro.
Finally, render your video content using YouTube's format specifications. From here, you can cross-promote your video to other social channels, write an engaging blog article related to your stream, give access to your sales team to help close leads or do whatever else your editorial calendar calls for.
Conclusion
Periscope is one of the new kids on the block in social media and offers a unique way for you to share content with your audience. You can attract more Periscope viewers by building buzz, engaging with your audience and making your content available for replay.
What do you think? Have you tried any of these tactics to build an audience on Periscope? What strategies have worked for you? Please share your answers and feedback in the comments section below.