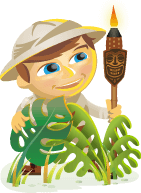 Do you use Google+ for your business?
Are you wondering how you can be more successful generating traffic and growing a community with Google+?
To learn what your business needs to know about Google+, I interview Martin Shervington for this episode of the Social Media Marketing podcast.
More About This Show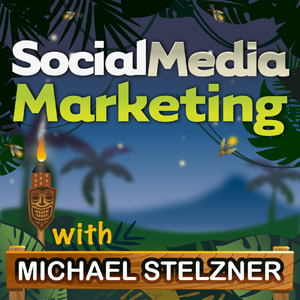 The Social Media Marketing podcast is a show from Social Media Examiner.
It's designed to help busy marketers and business owners discover what works with social media marketing.
The show format is on-demand talk radio (also known as podcasting).
In this episode, I interview Martin Shervington, who is a Google+ marketing expert, consultant and executive coach. He manages two Google+ communities, Plus Your Life! and Plus Your Business! and has authored numerous books including Developmental Coaching.
Martin shares why he values Google+ and the benefits you can get from it.
You'll learn what Google+ can offer your business and the best ways to get started.
Share your feedback, read the show notes and get the links mentioned in this episode below!
Listen Now
Where to subscribe: Apple Podcast | Google Podcasts | Spotify | RSS
Here are some of the things you'll discover in this show:
Google+ Success
Why Google+ and what has it done for your business?
Martin explains how he started with Google+ on March 6, 2012, when his book, Developmental Coaching, was out and he was looking for ways to promote it. He considered Twitter, but decided to go with Google+ instead.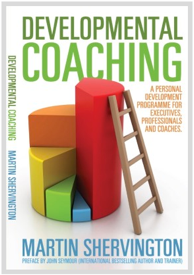 After a few days of learning everything he could about the platform, he realized how useful it was and started to make notes. People then started to relate to his notes and shared them.
You'll find out what type of content he shared and why it gave people a better social experience.
Over the last 20 months, Martin has built two communities. Plus Your Life! is very inspirational and about development on the personal side of things, and Plus Your Business! is all about how to use Google+ in business.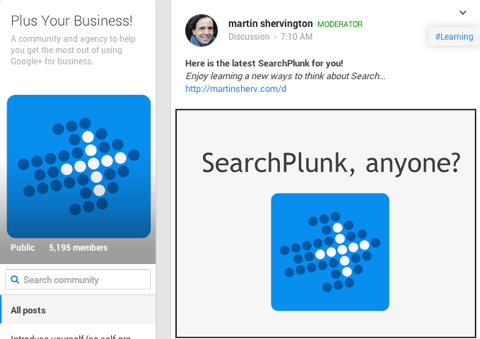 Martin says that Google+ not only helped with his book, it also allowed him to start blogging too.
You'll discover how Google+ helped him  find an audience and why it gave him the ability to express himself more in his writing.
Eventually Martin started to blog on his own site because he could move the attention over. He now has 36,000 people a month visit his blog.
Martin explains that there are two mechanisms of Google+ that make it unlike other platforms—social and search. When it comes to Google+, the connection between search and social is unique. No other platform has it. Martin says that the punchline to this is that Google+ is Google.
Listen to the show to find out why the search engine becomes a personalized content-surfacer based on whom you are connected with, and what you have interacted with in the past.
Google+ statistics
The latest statistics state that there are 1 billion Google accounts. This number includes accounts for YouTube, Google+ and Gmail. There are 540 million active users, of which 300 million are active in the stream.
You'll hear Martin explain in more detail why Google+ is more than just a social site.
Listen to the show to find out why Martin believes that in a year, everyone will see that Google has done something amazing with Google+.
The difference between Google+ users and other social networks
Martin says that whenever a change happens with Google+, people in the Google+ community are wowed by the new features. Everybody gets very excited.
There are some great communities that have formed around different niches. It's a positive environment, where everyone is supportive of one another and there is very high engagement.
Martin believes that people are excited to spend time there, because they feel part of a community.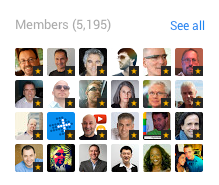 You'll discover some big news that Google+ has in beta testing right now.
Listen to the show to learn how Google has integrated the Google+ experience into all of their different platforms.
YouTube's recent move to integrate Google+ comments
Martin says that a lot of YouTubers have found the change challenging and feel like Google is taking over. However, now people see that you can increase your reach by having the two work together.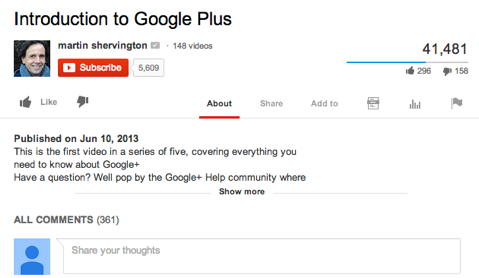 You'll find out the connection between YouTube comments and Google+, and why it's good from a marketing perspective.
Listen to the show to find out why the integration is like no other network when it comes to the spread of content.
How Google+ communities differ from LinkedIn groups
Martin explains how there are two types of communities on Google+. There are private and public, the two being very different in nature.
When you have a private community, it means that you can't share content outside of that community. However, if it's public, then it gets indexed by Google search. You can have as many communities as you want of both kinds.
Martin advises you to start with your personal profile. Don't jump straight in with a new Google+ community. You need to build up a small network and be able to understand Google+ first.
Martin built his two communities over time. Plus Your Life! has around 11,000 members and Plus Your Business! has around 5,000.
You'll discover why the name you choose for your community is important.
Martin relates Google+ communities to the way people are in relaxed, casual environments. He feels that Google has given us the ability to move throughout a multitude of communities that share our interests.
The big difference between Google+ communities and LinkedIn groups is that they're much less self-promotional, and not all about business.
You'll find out why your profile plays an important role in the connections you have with others.
Listen to the show to hear how shared content can drive more people into a community and how communities can appear in a very good position in Google search.
Google+ pages
Martin says the first thing you need to do before you develop a Google+ business page or a community page is to build your personal network—even if it's only a few hundred people. Once you have done this, it will help you understand the culture more.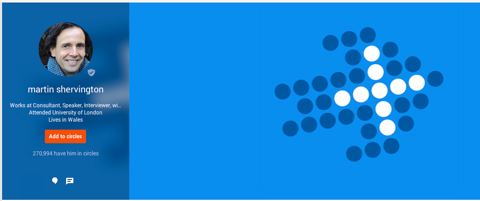 If you have a business, it's a lot easier to build your business page after you have built your personal network. You can then share content from your page to your personal profile.
With a community on the other hand, you can share content from your profile when the time is right and you meet Google's guidelines. It gives you an outlet for your own profile content. You can also do the same with a page.
All of the content you share flows into people's streams, depending on their settings. They don't even have to go into a community in order to see it. It's a great way to build your network.
You'll learn a great tip if you want to build a brand page without having a personal profile.
The best way to make fans or followers feel part of your community is to thank them for a +1. If they share your content, you can also go to the post that they shared and you can +1 it and thank them there too. From here you can add that person into a circle.
You'll discover tactics you can use to get better engagement and allow people to connect with your brand.
Listen to the show to find out how you can use hashtags in Google+ and Google search to find influencers.
Metrics that work
Martin states that at present, Google+ is very light on metrics for page managers. People are saying that now the potential change of the ad system could lead to a lot more analytics. The way to tell if something works is to measure a) Do people go to the site? and b) Do they behave how we intend when they're there?
Martin believes that you will get a lot more analytics over the coming years. Google still says that it's early days for them.
Listen to the show to find out how you can use shortened URLs to track traffic. 
Google authorship and what marketers need to know
Martin explains how Google authorship connects the content you create to your Google+ profile. It can be content that you create within Google+, on another person's website or on your own website.

Your profile image is then attached to your content in Google search. From a branding point of view, it's great because it means that people consistently see your face. Your content can stand out from those who don't have authorship, and it can increase click-through rates.
Listen to the show to find out how you can set up Google authorship.
Discovery of the Week
If you have a hard time focusing, my good friend Cliff Ravenscraft recently introduced me focus@will. It's a website and app that employ neuroscience along with music to allow you to remain focused. They have a free and a paid version.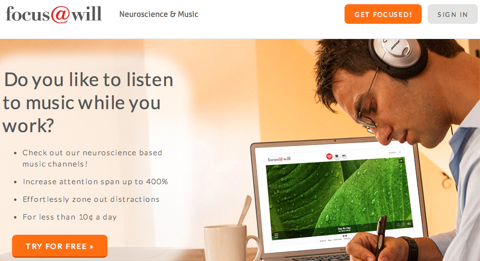 There are many sounds available from different genres. I typically go with the classical music and let it run in the background. I've only been using it a couple of days, but I've been getting an enormous amount of work done.
I strongly recommend you check it out.
Call in and leave your social media–related questions for us and we may include them in a future show.
Listen to the show to learn more and let us know how this works for you.
Other Show Mentions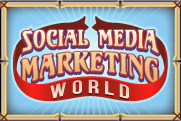 Social Media Marketing World 2014 is our physical mega-conference, which is set to return to San Diego, California on March 26, 27 and 28.
The conference features more than 60 sessions in 4 major tracks, which include social tactics, social strategy, community management and content marketing.
At least 60% of the attendees are employed by businesses, and the rest are people who own their own businesses.
Some of the more recognized brands already registered include Microsoft, Chiquita, Omni Hotels, Coldwell Banker, Motorola, Kawasaki Motors, Seventh Generation, WaterPik, CamelBak, Unisys, Plato's Closet, Delta Dental, State Farm, USAA, Boiron, Cox Business, Schlotzky's, Invesco, LinkedIn, Cutco and Marriott Hotels.
So whether you work for a recognizable brand or you are a social media marketer of any kind who needs to dig in deep, do some great networking and walk away with amazing professional development, then be sure to check it out.
Key takeaways mentioned in this episode:
Ways to subscribe to the Social Media Marketing podcast:

What do you think? What are your thoughts on using Google+ for your business? Please leave your comments below.