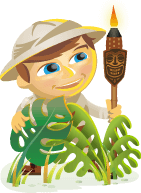 Do you blog for business?
Are you wondering how the blogging can help your business?
To learn how a blog can be the center of your entire marketing program and explode your business's growth, I interview Joe Pulizzi for this episode of the Social Media Marketing podcast.
More About This Show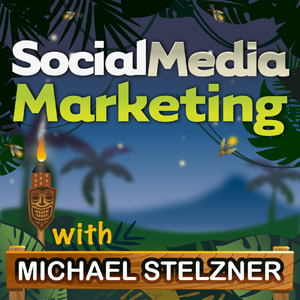 The Social Media Marketing podcast is a show from Social Media Examiner.
It's designed to help busy marketers and business owners discover what works with social media marketing.
The show format is on-demand talk radio (also known as podcasting).
In this episode, I interview Joe Pulizzi, founder of the Content Marketing Institute and co-author of Get Content, Get Customers and Managing Content Marketing.
Joe shares his blogging story and how sharing free content grew his business. You'll learn how blogs can grow your email list, why multi-author blogs may be worth exploration and how to widen your professional network.
Share your feedback, read the show notes and get the links mentioned in this episode below!
Listen Now
Where to subscribe: Apple Podcasts | Google Podcasts | Spotify | YouTube Music | YouTube | Amazon Music | RSS
Here are some of the things you'll discover in this show:
Content Marketing
What is content marketing?
Joe tells us that people think content marketing is a buzzword. He says that 2013 is the year for content marketing to become part of the vernacular used by more marketing folks and business owners.
It's important to realize that content marketing has been around for a long time.
Joe looks at the example of John Deere creating The Furrow magazine back in the late 1800s. The company published the magazine because they wanted to create a true resource and educational component for farmers to be more successful business owners.
The only way to do that back then was to have a magazine. They didn't have blogs, webinars or in-person events. It's the first representation of what is now content marketing.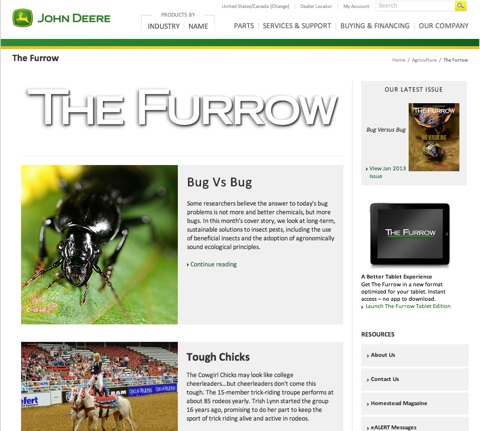 Joe explains that today, we're all basically media companies and publishers. It's really the essence of what content marketing is and because there are no technology barriers; everybody is doing it.
The idea is that companies create or curate valuable, compelling and relevant content on a consistent basis. Usually it's to maintain or change behavior, and attract or retain a customer.
If you're a traditional media company, you create content to get revenue in one of two ways: 1) getting your content sponsored in some way and 2) selling your content. This is how a traditional publisher goes to market. That's the business model.
However, if you're a small business, you're creating content because you ultimately want to sell something. You're not necessarily making money directly from the content, but sales are coming in a later form or you're growing relationships with people who are then more likely to buy from you at a later date.
Listen to the show to find out why the barriers to entry are very low and why consumers are more accepting of content in different forms than they have ever been.
Joe's blogging story
Joe describes the term blog as being a very important tool.
He started out in the content marketing industry in 2000, with a company called Penton Media. Penton still is the largest independent business publisher in North America. They publish magazines mainly in industries like heating and air conditioning,  major manufacturing or food service.
Joe ran the custom content division for all of these properties, which meant that if someone didn't want to advertise in a magazine, the publisher sent them over to Joe. It was his job to find a different way to make money from these people because he couldn't sell them ads.
Joe tried to figure out how to help these companies tell better stories: "How were companies going to get attention if they didn't have a compelling story to tell?"
Joe shares examples of the market share of the most popular television shows. Happy Days in the '70s had a 30+ share, The Cosby Show in the '90s had a 20+ share and American Idol in 2005/2006 had a 13+ share and today, Sunday Night Football has a 10+ share.
It's getting harder and harder to advertise for that attention, so what do you do?
Joe soon realized that content marketing was going to take off. He also had the entrepreneurial bug and wanted to start his own business.  In 2007, he left Penton where he was VP of Custom Media.  At the time, the economy wasn't great and it got worse after that. He launched a business in what was possibly the weakest economic environment that we have seen in the past 20 years.
He had to think how was he going to promote his expertise in content marketing so he went on to found the Content Marketing Institute.
He looked at how to attract customers through 1) a blog (where he would solve what he thought was a customer challenge around the practice of content marketing) and 2) a book. These were the two critical components of his success.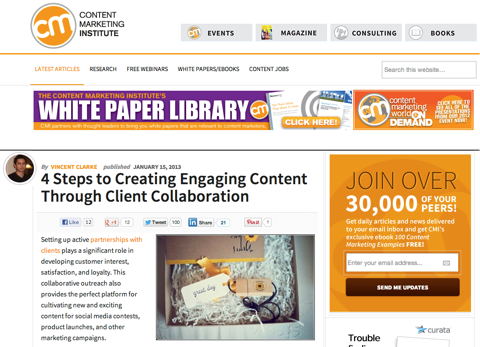 For Joe personally, blogging was so important. Today, if he had to start again, he would start with a blog.
Listen to the show to find out what was the turning point for Joe's blog.
What types of businesses are best-suited for blogging?
It all depends on the business you're in and what you're trying to do with your business. The easy answer is, every type of business can be suited for blogging.
A blog is a great way to communicate your expertise and solve the pain points of your customers. Joe believes there is no better way to put really amazing information together in a package than a blog. You can embed videos and podcasts, and link it up with your Pinterest and SlideShare presences and everything else you are trying to do online.
Not only do you need to have the right niche, you need to commit to it and remain focused on the informational needs of your customers. The most important part is to be consistent.
When it comes to getting your information out there, you want it to be found in search engines and shared by your customers and prospects, so you can grow your network and get new people to your site.
When you have a blog, you create your own platform, which is critical for any business. You take the content, repackage, repurpose and re-imagine it into new forms to do different things.
Another reason why blogs are so critical today is MarketingSherpa's stats show that today, 60% of the buying decision-making process is done without ever talking to a sales rep. What this means is if you don't give compelling content along the way to somebody considering your product, you are going to be left out of the decision-making process.
Listen to the show to hear the success story of Marcus Sheridan, CEO of River Pools and Spas, and how his blog became the #1 ranked swimming pool blog in the world.
The value of a business blog
Joe shares a personal story about his next book and how the start of the first chapter is going to be the number 39,400.
Over the last 6 years, Joe has spent over $39,400 on advertising to grow his business to a multimillion-dollar organization. His company ranked in the Inc. 500 last year, coming in at #365 and the 9th fastest-growing media company (just two spots behind Facebook, believe it or not).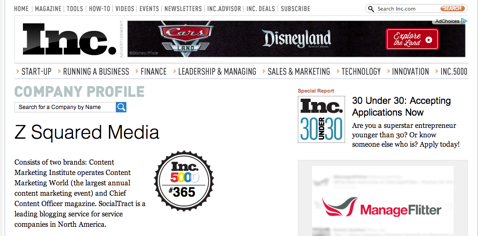 His company is the fastest-growing startup in northeast Ohio and they spend less than $50,000 on traditional advertising.
Blogging, bar none, is the number-one thing that Joe has done to grow his business.  He shares compelling content and answers customers' questions.  If he didn't have his blog, he wouldn't have been able to do any of the other things with his business or with Content Marketing World and Content Marketing Institute.
Listen to the show to hear more about why consistency is important.

The connection between blogging and sales
The biggest difference is the value of a subscription. The number-one way to get sales is through a free email subscription. You want your blog content to be so compelling that people opt to subscribe to it.
Content Marketing Institute has almost 40,000 readers on its subscription list.  If you can get someone to sign up for free email subscriptions to your content, it sets the sale in motion.
Everything starts with that free email subscription. And to begin, you have to create the best content on the planet and deliver it through your blog.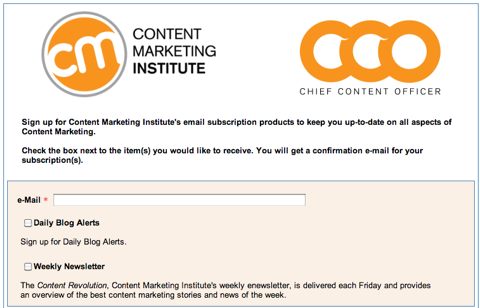 Joe tracks almost 95% of the company's sales initially to a blog subscription.
Listen to the show to learn more about how free email subscriptions can lead to sales and attendee signups for your events.
The value of multi-author blogs versus a solo blog
When Joe started his blog in 2007, he posted his own content 4-5 times a day. He launched his business on his own, but as it started to take off, he soon realized he needed to focus on strategy, sales and on getting out there.
He recruited other people to contribute from outside. The company was able to tap into new networks that it never had before.
With a multi-author blog, you can organically grow your network and have influencers contribute to your blog.  They share it with their network and then more people sign up through an email subscription, which grows the network. This has been the key over the last 2 years.
Joe's company went from good growth to amazing growth (quadrupling the network size in a very short time), thanks to influencers sharing their content with other people.
Listen to the show to hear how creating a movement is very powerful.
How to recruit someone to write for your multi-author blog
When you're a solo blogger and you don't have a lot of resources, you identify the people who are influential in your network. You do this through observing on Twitter or Google Alerts and finding where your customers are hanging out. These are the influencers in your industry.
To get their attention, you simply share their content. You tag them on Facebook and Twitter. You also do content collaboration and ebooks and share their case studies. You basically make these people look very smart. It's also great content for your own readers.
Listen to the show to learn more about the best ways to get influencers to guest blog for your site.
This Week's Social Media Question
Scott at TrainUp asks: "We specialize in learning management systems and find people training in business, human resources, IT, law and other industries. What are the things we can do with a less visual product, when we need to be posting things that are engaging and attention-getting on social sites like Pinterest and Facebook?"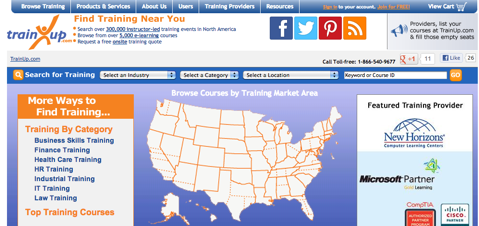 Scott, here are my thoughts.
Since you're just getting started with your social strategy, the question to ask is "Should images be at the center of your social strategy?" Your business model is not all that different from Social Media Examiner's business model. At the end of the day, what we do is sell events and you sell training.
And here's something to keep in mind. Facebook is now actually penalizing posts that have images in them. We've done extensive studies with our 115,000 Facebook fans and found that when we do not include an image inside the post, the post is seen by a lot more people. Of course, the posts that do have images tend to have higher engagement, so there's a tradeoff.
I think you should focus on written content delivered through blogging or maybe podcasting. Have some of your expert trainers share their knowledge and use this form of content to draw people in. Of course, encourage people to share that content through the social networks.
Listen to the show to hear more about my suggestions for Scott.
Call in and leave your social media–related questions for us and we may include them in a future show.
Don't Miss This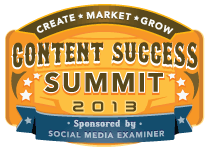 Social Media Examiner's Content Success Summit 2013 starts in a few days. This is an online conference designed for marketers and business owners who want to master content marketing.
This conference will reveal everything from strategy to content creation techniques you can put to use immediately.
Content Success Summit starts February 5, 2013, and is spread over four weeks to improve learning and accommodate your schedule. Plus you'll get recordings and transcripts of all live sessions. Be sure to check it out.
There are 22 speakers including Joe Pulizzi, Ann Handley, Michael Hyatt, Michael Stelzner, Mark Schaefer, Amy Porterfield, Gini Dietrich, Marcus Sheridan, DJ Waldow, David Siteman Garland, Pat Flynn and Derek Halpern.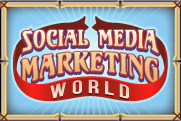 Other Show Mention
Social Media Marketing World is Social Media Examiner's latest mega-conference—taking place at the waterfront San Diego Marriott Marquis & Marina in San Diego, California on April 7-9, 2013.
As you'd expect, Social Media Examiner recruited the biggest and best names in the world of social media marketing for this conference. Only the best for you! Be sure to check it out.
Look forward to the keynote with Jay Baer, Mitch Joel, Chris Brogan and Mario Sundar—Are We Getting Better or Getting Busier?
Key takeaways mentioned in this episode:
Ways to subscribe to the Social Media Marketing podcast:
What do you think? What are your thoughts on using blogs for content marketing? Please leave your comments below.