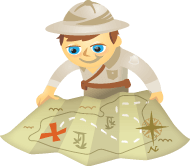 Are you wondering how to add social media to your email communications?
Email and social media marketing go together like Batman and Robin.
They both can be effective on their own; however, when combined, their (super) powers can save the city and exceed your marketing goals.
Is Email Dead?
In this article I'll show you how to combine email marketing with your social media efforts.
In a recent StrongMail survey, "More than two-thirds of business leaders (68%) say they plan to integrate social media with their email marketing efforts in 2012" (as reported by MarketingProfs on December 12, 2011).
As a guy who lives, breathes, eats and sometimes dreams email marketing, I was thrilled to see email getting some mainstream love.
You may be thinking, "Hey, isn't email dead?"
Think again. I mean, sure, there are certainly case studies of companies forgoing email and replacing it with social media. I'd argue that these are exceptions, certainly not the norm.
This blog post and infographic on the value of email by SmarterTools will quickly dispel the "email is dead" myth.
Need one more proof point that email is not dead? How many times have you checked your email this week? Today? Since you started reading this blog post? Okay. Now that we are all in agreement, let's continue.
Why Does Integration Matter?
Why would you want to include social sharing abilities within your email campaigns? What are the benefits of inviting an email subscriber to connect with you on your social networks? Why should you integrate email marketing and social media?
Including and promoting social sharing or share with your network options in an email are important for a few reasons:
They extend the reach of your emails: The more people share your email, the more potential you have for opens, clicks and conversions.
They allow you to identify key influencers: Most email service providers (ESPs) include metrics on who has shared your emails the most often, as well as the effect their sharing has had on other key stats (opens, clicks, conversions, etc.). Armed with this data, you—the marketer—can be better informed as to who your key influencers are. If appropriate, you can then send dedicated campaigns to your biggest supporters.
They provide an opportunity for list growth: The more eyeballs on your emails, the better chance you have of gaining new subscribers.
Including and promoting social connection(s) options in an email are important for a few reasons:
Get Your FREE Course: Web3 for Beginners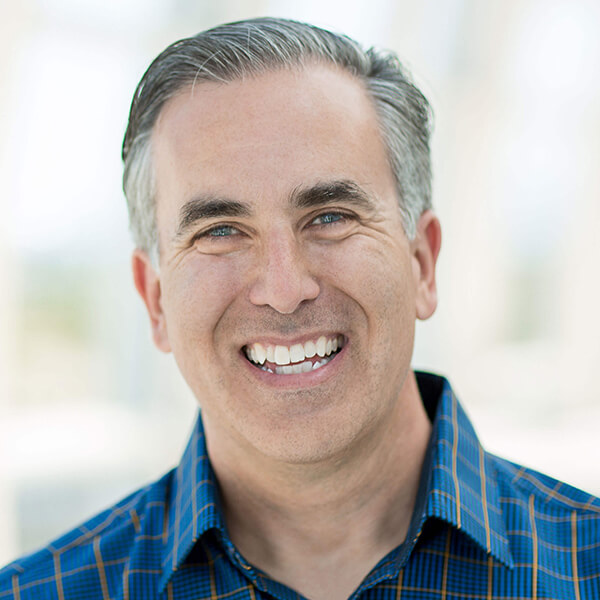 Curious about Web3, but don't know where to start or who to trust?

Introducing Web3 for Beginners, a course taught by Michael Stelzner, the founder of Social Media Examiner.

Learn the basics of Web3 and apply it to your business with this FREE comprehensive course.
CLICK HERE TO GET FREE ACCESS
They provide another platform to connect with your audience: Remember that each platform—email, Twitter, Facebook, YouTube, a blog, etc.—enables you to communicate and interact with people in different ways.
They give email subscribers more options: It's possible that your email subscribers prefer to engage with your company or brand on different channels. While email is great, it's not the only option. Give 'em a choice!
They allow you to expand the reach of your message: In short, why limit your communication with prospects, customers and/or fans to one network? Take advantage of other channels!
9 Ways to Integrate Email Marketing and Social Media
Before we dive in, it's important to understand the distinction between social sharing and connecting:
Social Sharing: This is when a marketer includes an option for the subscriber to share the entire email or a specific content block with their social network(s).
Social Connection: This is what we tend to see most often—asking your email subscribers to like your Facebook page, follow you on Twitter, subscribe to your YouTube channel, etc.
Below are 9 ways to integrate email marketing and social media for maximum effectiveness. One thing to note: I consider "old-school" social networks like blogs and SMS (texting) to be social media.
#1: Include Social Icons in Emails
While this may sound like an obvious one, it's important to include social icons in your email campaigns. To be clear, I'm not talking about slapping a tiny Facebook or Twitter icon somewhere at the bottom of an email. Nope. Say it loud. Say it proud. Like the Huffington Post Media Brief.

#2: Ask Email Subscribers to Share and Connect
Sometimes just including social icons is not enough. Remember: While many subscribers recognize the Facebook/Twitter/LinkedIn icons, not all know what action you want them to take when they see them in an email. Don't be afraid to tell them! See how WineAnthology shares.

Of course, if it fits with your company image/brand, you can also use a bit of humor like BustedTees does here.

#3: Send a Dedicated Email Campaign
There are times when including some links or buttons—asking your subscribers to socially connect or share with their network—is not clear enough. If you are not having much success, try sending an email that is dedicated to a particular social network like Copyblogger does here.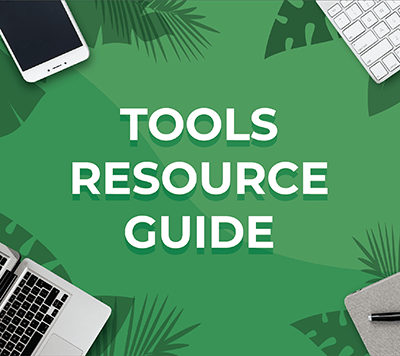 Looking for something to make your life easier?
Discover the tools we recommend to drive engagement, save you time, and boost sales across your entire marketing funnel or business.
Whether you need help planning content, organizing social posts, or developing your strategy, you'll find something for every situation.
FIND YOUR NEXT FAVORITE TOOL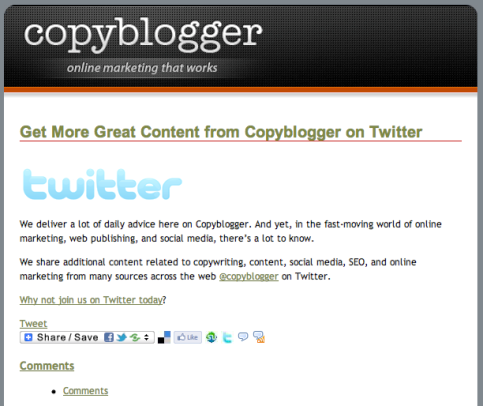 #4: Provide Incentive
As mentioned in #3, if you want someone to connect with you on other social networks, sometimes you need to provide an incentive—tell me what's in it for me!
I really like what Hydro Flask did in this email below, asking email subscribers to invite their friends to like them on Facebook. Notice the incentive that benefited everyone—"the more you like, the more you save."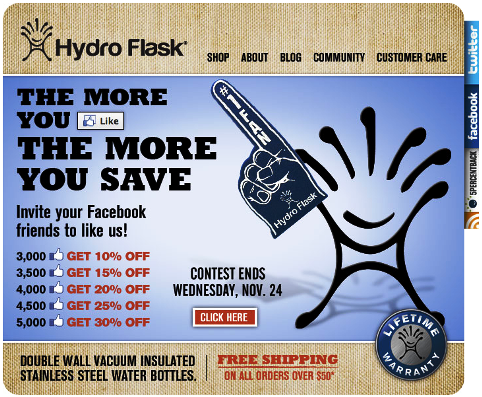 However, your incentive does not have to be financial. You can also try what Chris Penn did here in his email newsletter. (Note: red box is mine.) He offered two subscribers a chance to be featured in his next email—the one who shared the most and the one who generated the most click-throughs.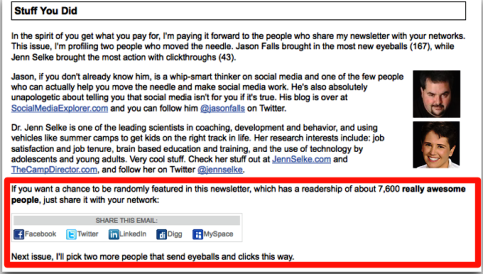 #5: Promote Email Sign-up Via Social Networks
If you have a strong following on a particular social network, don't hesitate to ask for new email subscribers via that channel. See what C.C. Chapman did in this tweet.

You can also promote your email sign-up page on Facebook, as Cruise Deals did in this example.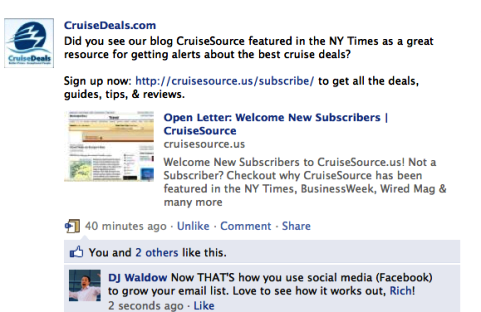 #6: Include "Retweet This!" Snippet in Email
Another great way to cross-pollinate email marketing and social media is to highlight a particular tweet in your email campaign. MarketingProfs is one company that does this in many of their emails.
Check out this example below from a recent email. What I like about featuring a particular tweet is that it fits nicely with the "share your community's stuff" mantra.

#7: Build an Email Opt-In Form on Facebook
Facebook allows you to embed an email sign-up form as one of your apps. Take advantage of this great opportunity to encourage your Facebook fans to opt into your email list.
Here is a great example from the Park City Mountain Resort's Facebook page.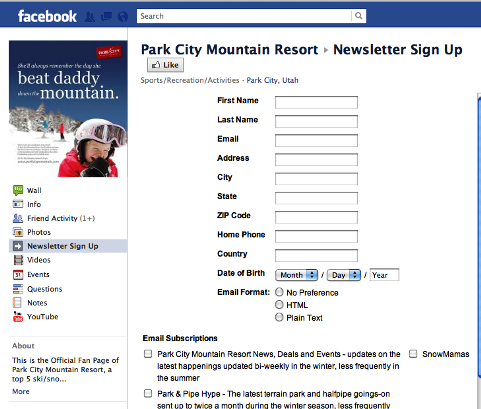 I also really like this December Holiday Promotion from Crocs on their Facebook page. Notice how they also provide an SMS option. More on that in #8.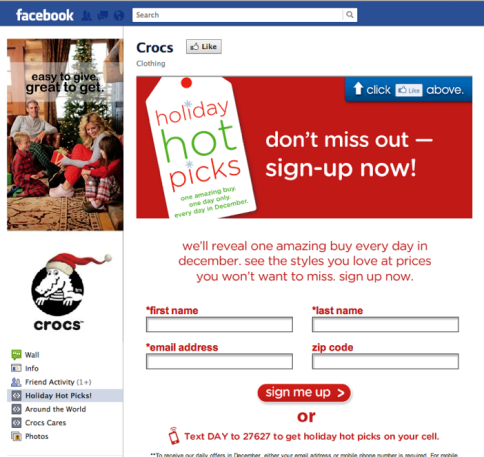 Note: Many ESPs provide this email opt-in on Facebook functionality. MailChimp (an ESP) details their Facebook sign-up app in this blog post.
#8: Don't Forget SMS (text)
One of my favorite (creative) cross-promotion techniques is from Southwest Airlines. The next time you fly SWA, be sure to look at your cocktail napkin. I snapped this picture of mine a while back, but I'm pretty sure they are still doing it.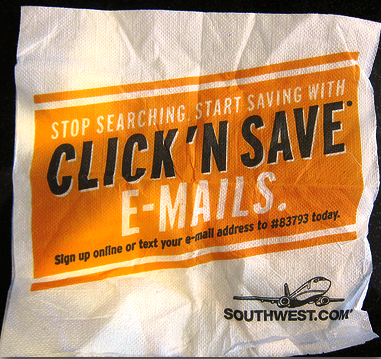 #9: Promote Email Marketing on Your Blog
One often-overlooked integration option is using your blog to mention, link to and ask for new email subscribers.
Chris Brogan does this occasionally in his blog posts. (Note: the red box/text is mine.)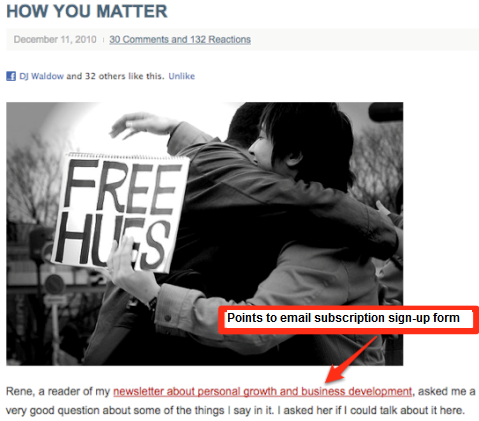 Conclusion
So there you have it. Batman. Robin. Email. Social. It's time to start using email marketing to power social media and social media to power email marketing.
What do you think? Have you come across examples of companies effectively integrating the two channels? Have you found success? Do you have other tactics to add to the list? If so, please share in the comments box below!
Get Your FREE Course: Web3 for Beginners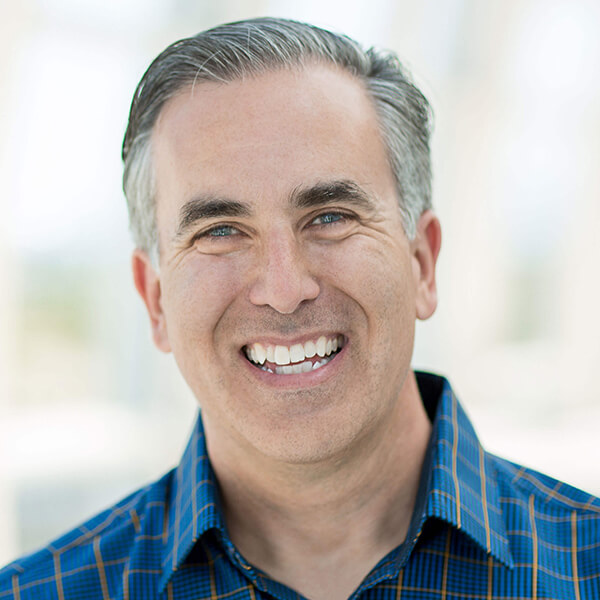 Curious about Web3, but don't know where to start or who to trust?

Introducing Web3 for Beginners, a course taught by Michael Stelzner, the founder of Social Media Examiner.

Learn the basics of Web3 and apply it to your business with this FREE comprehensive course.
CLICK HERE TO GET FREE ACCESS