Do you use retargeting on Facebook and Instagram? Wondering how to leverage ad retargeting in light of recent privacy changes?
In this article, you'll discover creative ideas for retargeting audiences on Facebook and Instagram.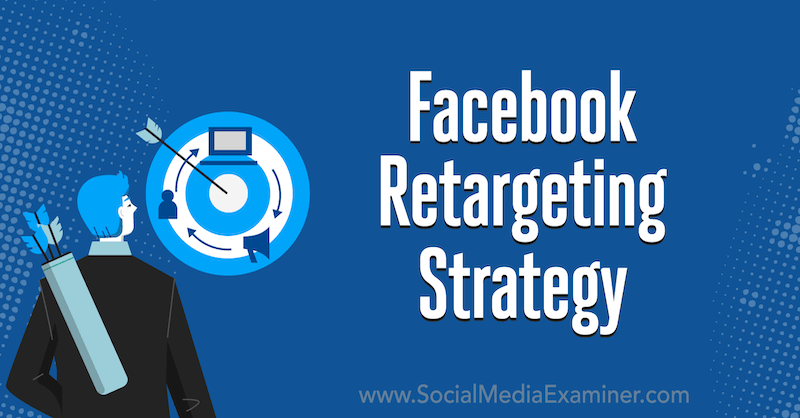 Why Facebook Retargeting Still Matters Despite Recent Privacy Changes
Despite recent privacy changes with Apple and Google, there are still ways to use Facebook to stay in front of the people you spend time and money on to attract.
If you look at the buyer journey, people who have liked, clicked, shared, opened, or watched your content on Facebook have taken some level of digital touch. They're saying, "Out of all of the things in my news feed, I'm interested in this" and you don't need the pixel to retarget them.
Facebook lets you retarget people who've visited your Facebook page or engaged with your content (liked, commented, shared, or clicked), or visited or RSVPed to your Facebook event page. It's the same thing with Instagram. If they've DMed you, visited your profile, or followed your profile, you can retarget them.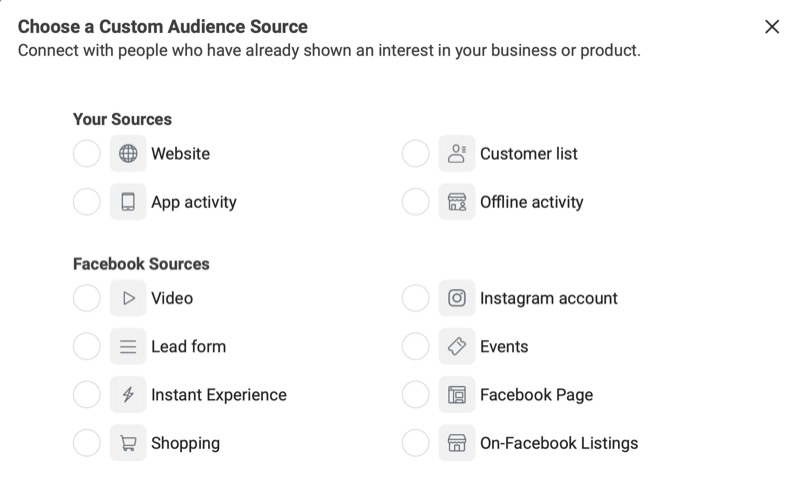 Likewise, you can retarget actions people take on ads such as interacting with a lead form ad. You can target people who opened the form, opened it but didn't submit it, and people who opened and submitted it.
If you have a list with customer names, emails, and phone numbers—which is the same data people use to create their Facebook or Instagram account—Facebook will also allow you to target them.
Facebook lets you narrow all of these actions to a certain time frame. You can go back 365 days to target people who clicked on a call to action button, sent you a message, saved a post, or visited your page. So even if they don't follow you but were curious enough to check out your page, you can stay in front of them.
Now let's look at some creative ways to retarget these audiences on Facebook and Instagram.
#1: Retarget Facebook Event Page Audiences
Facebook event pages are a great way to build audiences you can retarget. These pages work for both free and paid events including conferences, seminars, webinars, book launches, real estate open houses, and more. Basically, for any type of live event where you need bodies in the seats—whether virtual or in person—you can use a Facebook event page with a combination of event page ads.
If you're a real estate agent, you might use an event page for an upcoming open house and include client testimonials. As you drive traffic to the event page, you're building the know, like, and trust factor with social proof.
An event page would also work if you're doing a virtual home tour in lieu of an in-person open house. If your open house is Saturday at noon, let everyone know you'll be going live on the event page for a virtual tour. The people who watch the live stream can then ask you questions about what they're seeing as you show them the house.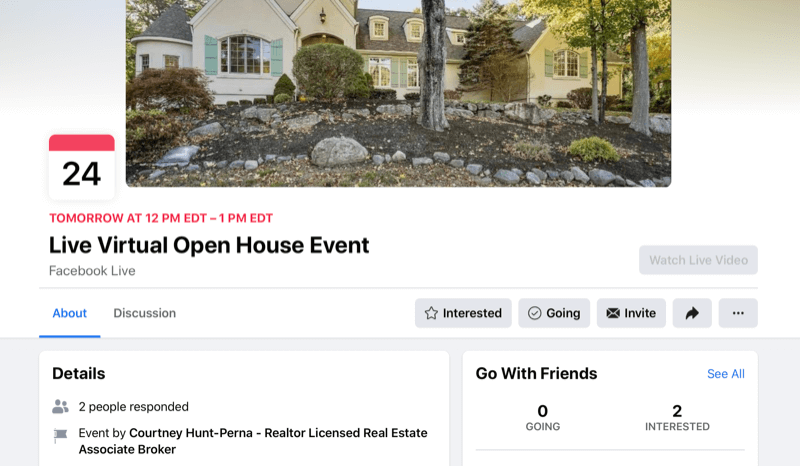 Facebook event pages functionally are very similar to Facebook groups in that everybody can post in them but they have certain advantages. If the admin posts on your event page, people get notified under the world notification, which is very powerful. And you can target inside of an event page, whereas you can't target directly into a group.
With an event page, you can retarget anyone who visits the page or clicks Going or Interested. Even if someone doesn't attend your event, just the fact that they checked out your page signals they have some level of interest. They may not be available for that particular day and time but could be interested in a future event you have.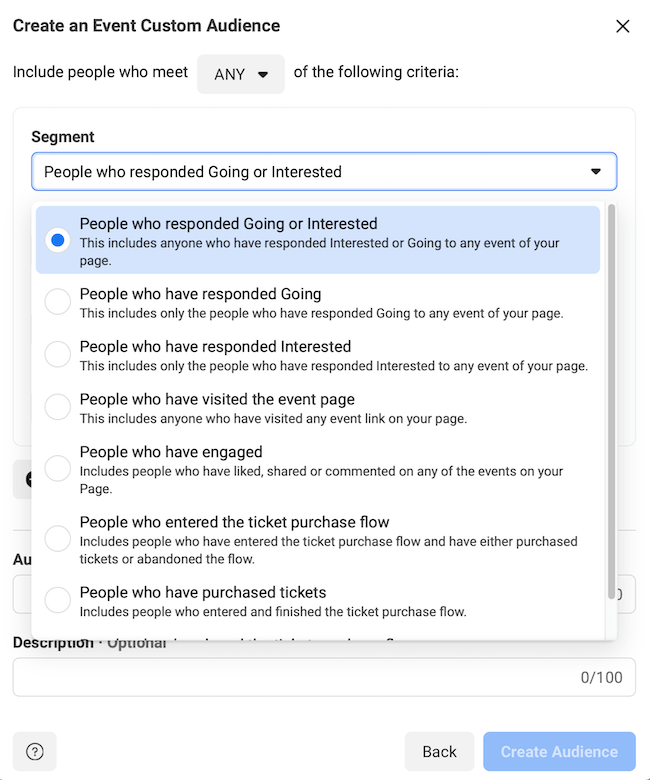 You can also retarget people who engage with posts on your event page.
So if they've clicked, commented, liked, or shared any post or ad coming from your event page, Facebook lets you retarget them. If you post videos or stream Facebook Live video on your event page, you can retarget people who've watched 25%, 50%, 75%, or more of those videos. Tristen recommends retargeting people who watch at least 50%.
Additionally, you can retarget people who have clicked on your ticketing link and people who have purchased (if you don't sell tickets through Facebook directly).
When you set up an event page, make sure you can create it from your Facebook business page rather than your personal profile so you can do retargeting and get access to analytics.
To keep your audience engaged, post client testimonials, promo videos, and updates on your event page. For example, if you have a webinar or conference and want to announce a new speaker, create a post on your event page. Anyone who has selected Going or Interested will receive a notification every time you post on the page.
You'll also get a link to your event page that you can share. So you could email or text the link to your customer list to let people know you have an event coming up. Tell them to click the link to RSVP. Once they click on the link, it takes them to the Facebook event page. If you want to have them go through Eventbrite or some type of ticketing software, you can embed the link there.
You can also share the link to the event page in your email signature and share it in different Facebook groups, posts, and pages.
Use Paid Ads to Drive Traffic to Your Facebook Event Page
Once you've set up the event page, how much of your effort from advertising should be spent on acquiring new people to the event versus retargeting people who already organically found the event?
You still want to use some paid ads to drive targeted traffic to that event. The difference between just creating the event and "posting and hoping" is that when you create ads, you're paying Facebook or Instagram to force that ad onto the phones, tablets, and computers of your target market. So if you're targeting women business owners or married professionals, you can make sure that those audiences see your ad.
With every targeting aspect available in Ads Manager, you can specify who's most likely to RSVP and convert for your event.
#2: Retarget Customers on Facebook via Your Email List
If you have a list of customers or leads, you can upload that list to Facebook so you can run ads to that audience. Additionally, you can build a lookalike audience from that audience so Facebook will find people who are similar to your customers.
You'll need to put all of this customer data—including names, phone numbers, and emails—into a CSV file to upload it to Facebook. Facebook will then use this data to try to match your contacts with Facebook profiles.
Ideally, you want your customers' personal emails and personal phone numbers because most people don't create a Facebook account with their work email or work phone number. If you have their personal phone number, that should be enough for Facebook to match that customer to their Facebook profile.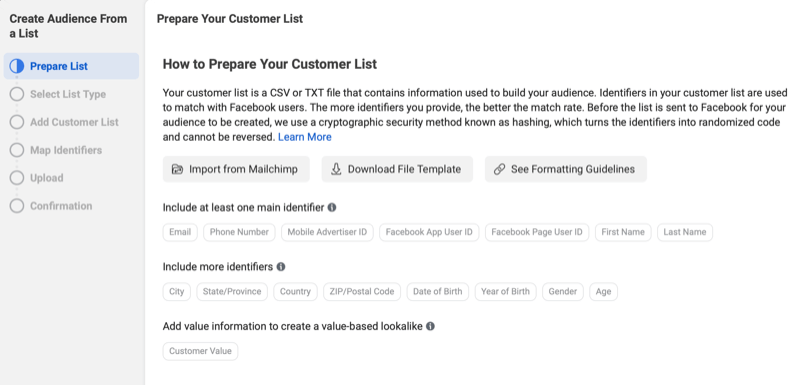 #3: Retarget Instagram Profile Visitors
Facebook will also let you retarget people who engage with you on Instagram. This includes people who view your Instagram profile, follow your account, engage with your content or ads, or send you a DM. You can create custom audiences based on this criteria to retarget these Instagram users with ads.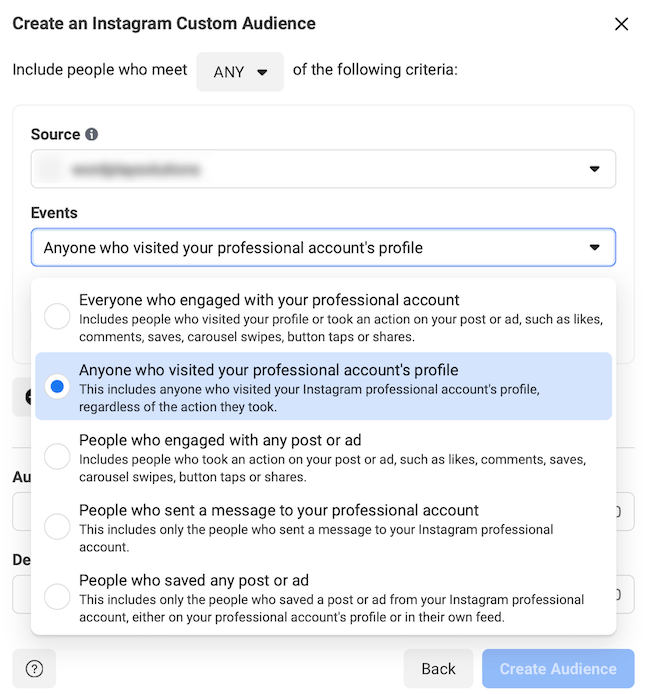 A Creative Way to Retarget Clubhouse Users
Let's look at a creative way to extend Instagram targeting even further.
If you're active on Clubhouse, you might be wondering if there's a retargeting strategy you can use to get people off of Clubhouse. And there is—with the help of Instagram.
Most people who are on Clubhouse use Instagram as their communication channel for Clubhouse. If people have an interest in what you're saying on Clubhouse, they'll go to your Instagram profile to find out more about you. People who take the time to click through from your Clubhouse profile to Instagram are an audience you want to stay in front of and Instagram allows you to retarget them.
Let's say you know you're going to be on stage in a Clubhouse room on a certain day and you're expecting high levels of activity and lots of visitors. You can set up an ad to run right after your appearance and target it to a custom audience of anyone who has visited your Instagram profile within the last 1, 2, or 3 days (whatever interval makes sense for your strategy).
What you say in this kind of ad will depend on your audience and personality. Tristen tends to be more direct and snarky in his ads. One is just a picture of him pointing with text that says, "I know you visited my Instagram profile from Clubhouse—go ahead and click the link to learn how to do this for yourself."
Or if that approach doesn't suit your brand, your ad could simply say something like, "Did you get a chance to check out my room on Clubhouse?" or "If you want to learn more about [topic], here's a free resource."
You can also target people who send you a DM on Instagram. When you're on stage on Clubhouse, tell the audience to send you a DM to learn more and then retarget people who've sent you a DM within the last 24, 30, 48 days, whatever works for you.
Because you're targeting a very small audience with these kinds of ads, they're really inexpensive. At the time of this recording, you only need to spend $2-$3 a day.
#4: Design a Facebook Retargeting Strategy That Works for Your Business
All of these retargeting audiences we've been talking about are custom audiences and you have to go into Facebook Ads Manager to create them. The good news is that Facebook is collecting all of this data whether you target it or not. So if you're just getting started with your retargeting strategy, you can retarget past actions and events when you set up your custom audiences.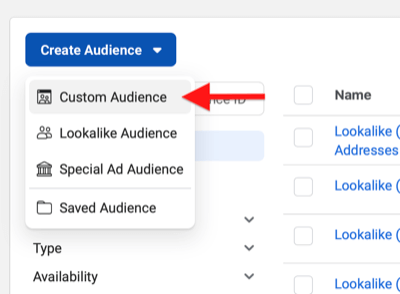 There are a variety of strategies and funnels for retargeting on Facebook but one of the most common ones is "know, like, trust." You want people at the top of the funnel to get to know you so your first post or ad could be a brand awareness video that tells people about your business. Then once they're aware of you, give them something for free (like a lead magnet) so they start to like you.
And after they've taken those first two steps—maybe watched a video and opted into your lead magnet—you could send them some client testimonials to build trust.
Once you get them down that ladder or funnel, you can start asking them to convert. Prompt them to take a discount, buy your product, RSVP, or take a similar action.
Retarget Warm Audiences on Facebook With a Video Ad Sequence
You can also set up video ad sequences where anyone who watches a certain percentage of your first video ad is served a second video ad. Anyone who watches a certain percentage of the second ad is served a third ad.
Let's say each ad is queued up to where people have to watch at least 50% or more of a video to be served the next video in the sequence. So if they watch at least 50% of video A, you'll retarget them with video B, which might be a client testimonial or lead magnet. If they watch at least 50% of video B, they'll be served your third video, which might be a webinar.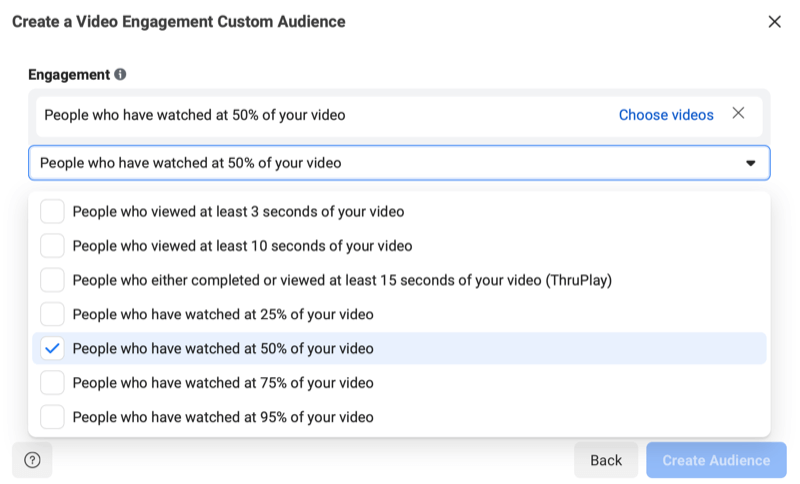 You know if they get to the third video, they have a high level of intent, so you can then start trying to convert them—"buy this," "schedule a call with me," and so on. You've also built up that know, like, trust factor because they've seen you at least three times.
Other Notes From This Episode