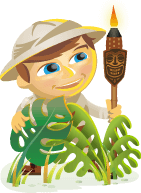 Do you run Facebook ads?
Are you familiar with the latest changes?
To explore a number of recent changes to Facebook that will impact all advertisers, I interview Jon Loomer.
More About This Show
The Social Media Marketing podcast is an on-demand talk radio show from Social Media Examiner. It's designed to help busy marketers and business owners discover what works with social media marketing.
In this episode, I interview Jon Loomer, a marketing expert who specializes in Facebook advertising. Jon is host of the Social Media Pubcast and blogs at JonLoomer.com.
Jon explores Facebook ad changes and what you need to know.
You'll discover updates to the 20% text rule, custom audiences, and more.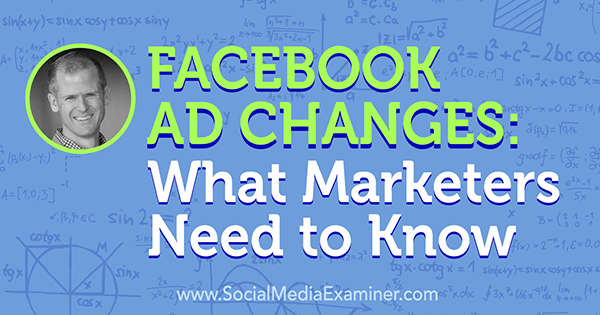 Share your feedback, read the show notes, and get the links mentioned in this episode below.
Listen Now
Where to subscribe: Apple Podcast | Google Podcasts | Spotify | RSS
Here are some of the things you'll discover in this show:
Facebook Ad Changes
The 20% text rule change
Jon explains why the 20% rule was created and says that until recently, any Facebook ad image with more than 20% text would be rejected. The text ratio was measured by placing a grid over the image and if there was text in more than 5 out of the 25 boxes, it was considered over the 20% text limit.
Since Facebook has abandoned the rule, advertisers can have as much text as they want in their image. However, the more text in the image, the less reach it will receive and the more it will cost to run such an ad.
Now, when you upload an image to the Text Overlay tool, Facebook will rate the image as: OK, Low, Medium, and High.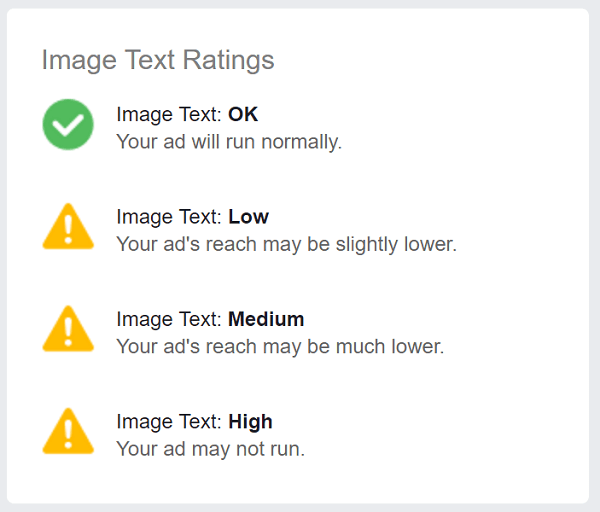 Facebook is general about the guidelines, Jon explains, but there is no longer a grid. Basically, zero text means it's OK, and 20% text is considered Low. However, if you compare Facebook's example for 20% to the actual 20% rule, it's actually a little bit more than 20%.
Facebook says if you have been following the 20% rule until now, you probably won't see any changes. However, Jon thinks the system for detecting the text is a little buggy, although it's still early on. For instance, he talks about an image of nature that was flagged for having text.
Jon says the best approach is to test it. Experiment with little or no text in your images, and compare the results. You'll need to determine what text you absolutely need.
The logo is another potential issue since not all logos are created equal. Jon's logo has never been flagged. However, sometimes they detect it and sometimes they don't.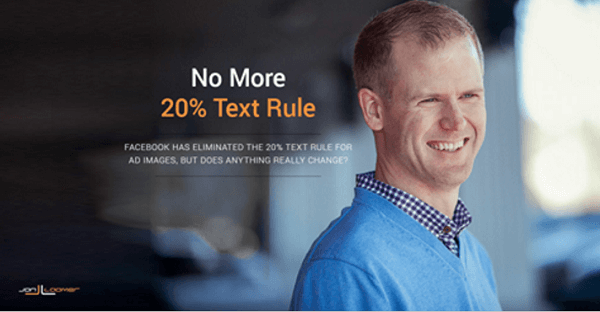 Many advertisers and users love memes and big call-to-action text, and now they can boost them. Jon says you probably need to do a manual bid and bid really high to get that ad seen, but you never know. It may be extremely effective.
Listen to the show to discover whether the text scale is at play on organic posts.
Facebook custom audiences
Jon is a big fan of Facebook custom audiences, which is creating audiences of people who have visited your website. It's powerful since these people already know who you are. However, Jon explains, there is a weakness in those audiences.
All audiences aren't created equal. In an audience of people who have visited your site over the last 180 days, some visited once, others visited 50 times. Some people bounced after three seconds and don't even remember being there, while others have spent hours on your site. Until recently, you couldn't differentiate the two.
With the new website custom audiences' advanced feature, you can create an audience based on frequency. For instance, base it on how many times someone has visited your website or performed one specific action, such as a purchase or a registration.
Now, when Jon promotes his blog posts, instead of targeting all of his website visitors from the last 180 days, he focuses only on those who visited at least three times. The quality and the cost per website click have been much better.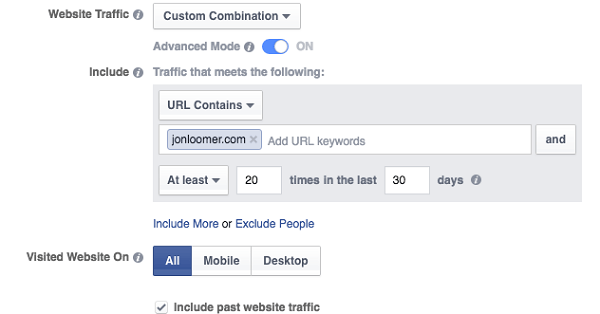 In addition to frequency, you can create a custom audience based on a section or sections of your site, as well as time on site. For example, you can target only people who have been to your site for an hour over the last 180 days.
Jon notes creating a custom audience for time on site is only doable within the API, not through Power Editor. However, there are tools out there that access the Facebook ads API. Jon says to search "Facebook Power Editor alternatives" or check out Driftrock, a tool he has used in the past.
Site visits can be done through Power Editor. When you create an audience, select Custom Combination. Then click URL Contains. It could be a section, the domain, whatever. Then, indicate how many times over the last X number of days.
In the beginning, Jon used custom audiences for promoting content and registrations. He created four or five different audiences and four or five different ad sets. He targeted people who in the last 180 days visited the site 1 time, 2 to 5 times, 6 to 10 times, 11 to 15 times, and so on. It usually follows the trend you would expect, he continues. The more often they visit your website, the better your results.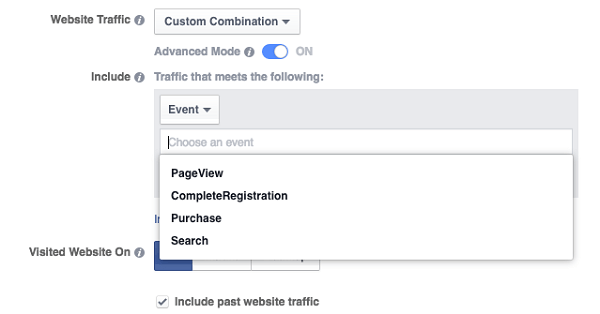 Within the last several months, video engagement on Facebook custom audiences was released.
Another new addition, Jon says, is the lead ad custom audience.
Lead ads are a way for advertisers to collect leads from users without sending them to a website. The user clicks on an image, which looks like a typical link ad, and it flips over to a form, which pre-fills the information (name, email address). All someone has to do is submit.
In the past, you couldn't create an audience from a lead ad since users weren't being sent to your website. Now, with the lead ad custom audience, you have the ability to create audiences out of anybody who submits. You can upsell, exclude them from seeing that ad again, and create audiences out of people who clicked but did not submit, or clicked whether or not they submitted.
Essentially, those people are more valuable than those who ignore your ad.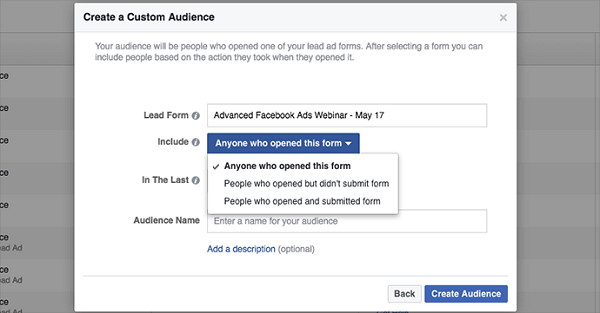 Should we set all custom audiences to the maximum of 180 days? Jon says it depends. You would want to use a short duration to show a very specific ad for four days after someone registers for something.
In general, it's counterintuitive, he continues. You would expect the 30-day audience to be more valuable than the 180-day audience. That hasn't necessarily been the case. What Jon thinks is happening is if you give Facebook a larger audience to work with, it gives them a better sample size to optimize.
Jon organizes his custom audiences based on name, so he can easily find them. As soon as he writes a blog post and hits Publish, Jon creates an audience for it, so he can exclude it. He doesn't need to promote that post to people who have already read it.
While you're able to create a custom audience after the fact, Jon says it's smarter to do it at the time you create the content.
Listen to the show to hear my thoughts on how to use info from your Google Analytics to inform custom audience choices.
Dynamic ads
Facebook changed dynamic product ads to dynamic ads, partially because it applies to more than tangible goods. A dynamic ad gives you the ability to upload a product feed. So if you have an ecommerce site with hundreds or thousands of products, you don't have to create a different ad (and a different custom audience) for every product.
First, upload a feed. It could either be a static feed that you change or one that goes to a URL that gets updated. Facebook has a feed with your products, their links, images, descriptions, and prices. Then create an ad template with pre-selected variables. For instance, put the name of the product in the link headline, and it pulls in the description for that section. You even create fill-in-the-blank info for the copy, price, etc.
Then, based on the page people visit on your site or the product they view, you can dynamically show them a product in an ad.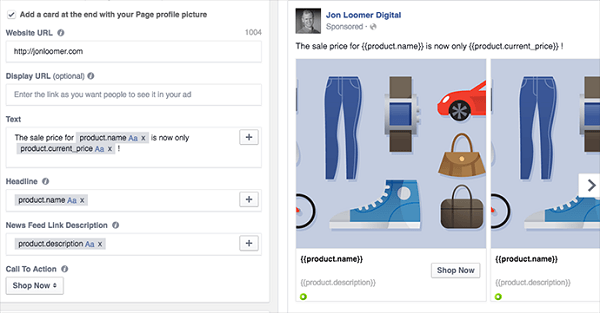 Jon says if you think through the audience and copy to create 10 different ads for 10 different products, you'll probably have more success. However, that's not viable for an ecommerce site with hundreds or thousands of products.
A travel company is one type that would benefit from the change to dynamic ads since travel is not a tangible product. A website where someone is able to book a flight and hotel rooms can show ads dynamically. For instance, based on flights, it could show dynamic ads for area hotels. The pricing would be dynamic too.
Listen to the show to discover if you can integrate dynamic ads on multiple websites.
Other ad considerations
With features like Canvas, Facebook is trying to make users' experience immersive, as opposed to solely text. Jon explains how Canvas looks like a link ad, but the content immediately loads in your phone without going to a website. It looks a lot like an instant article, except it's not pulling from a feed from your site, which is what instant articles do.
Facebook gives you an editor to build a Canvas ad, and you don't have to be a designer to create it. Add different elements, whether it's text, imagery, carousels, product feeds, or videos.
Originally, Canvas was only in an ad format. Now users have the ability to create ads organically. Jon says you can create some pretty amazing experiences with Canvas. Instead of only sharing a video in one organic post, share a bunch of things.
For something product-based, include a video that introduces the product and then have a carousel with three different views or variations. You can also have a product feed below it, which automatically loads all the ways to buy it.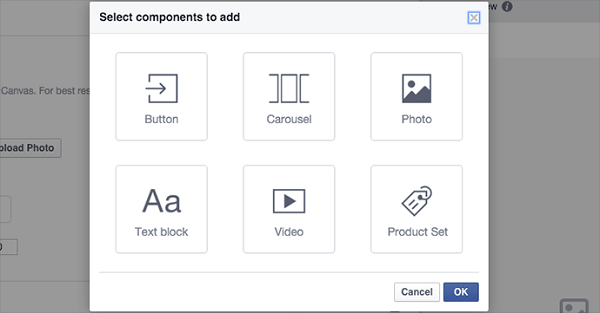 Live video is big, but as noted in a TechCrunch article, it has a huge weakness since there's no waiting room for Live video. You have to do workarounds, like create an event. You have the ability to promote it, but only as a recorded video after the fact.
Jon says you can bet that Facebook knows it's a weakness and they can make more money if they allow users to schedule and promote their Live videos.
Listen to the show to hear Jon's thoughts on whether you can use 360 images and video in ads.
The Audience Network
The Audience Network is the way for advertisers to reach targeted Facebook audiences when those people are away from Facebook. It's a partner within mobile apps. So if someone is using an app, they could see a Facebook ad at the bottom or a pop-up, even though they're not on Facebook at the time. The advertiser is monetizing via the Facebook Audience Network.
This has expanded to instant articles. So when publishers create an instant article, they can embed ads within them that are either their own ads or Audience Network ads. Therefore, other advertisers can reach the people who are reading your instant articles and you, as the publisher, can make money off of it.
Even though Audience Network is a low-key, underground option right now, Jon says long-term it could be a potential AdWords and AdSense rival. This is Facebook's ad network away from Facebook. If publishers start placing it on their websites, not just on their instant articles, and get paid more because the targeting is so good within Facebook ads, people may start preferring it over AdWords and AdSense.
Listen to the show to learn more about the Audience Network.
Discovery of the Week
Grammarly is like spell-check for your social media posts. Even when you post something on social that you think is perfect, people sometimes comment with corrections. You either misspelled something or used the wrong spelling of a word. Grammarly fixes that.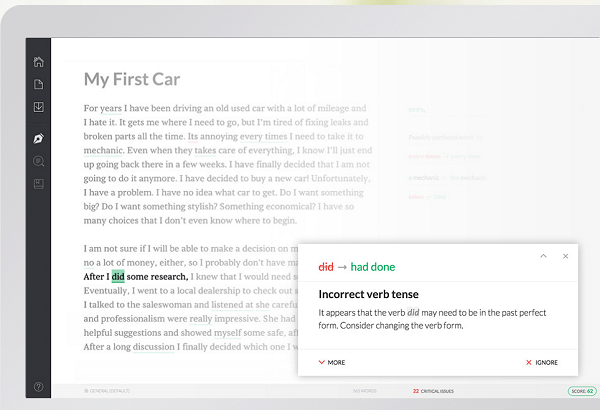 Grammarly is software, as well as a browser extension. Download the native app for free on your Mac or Windows computer. Then drag and drop documents, and it will do a spelling and grammar check. There are also browser extensions for Safari, Chrome, and Firefox, which do a live check of whatever you type on the web.
The program analyzes your writing for improper word usage, too. It highlights any errors, just like standard spell-check. Once you see a problem, you can fix it.
Grammarly's free program has a lot of functionality, but there are paid upgrade options available, which do even more intense checking and suggestions.
Thanks to Corey McGee, one of our listeners who sent us that find. Email [email protected] to share your favorite discoveries with us.
Listen to the show to learn more and let us know how Grammarly works for you.
Other Show Mentions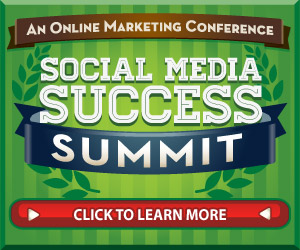 Today's show is sponsored by Social Media Success Summit 2016.
Facebook announces changes every week, which is a challenge for those doing Facebook marketing.
During our 8th annual Social Media Success Summit, we have 12 sessions dedicated to Facebook marketing, covering everything from Facebook ads to Facebook Live video.
Discover the latest techniques from people who are in the trenches, experimenting and figuring out what works with Facebook marketing.
You'll soak in 39 social media marketing sessions taught by the top social media pros, including Mari Smith (co-author, Facebook Marketing: An Hour a Day), Michael Stelzner (founder, Social Media Examiner), Kim Garst (author, Will the Real You Please Stand Up), Joel Comm (co-author, Twitter Power 3.0), and Amy Porterfield (co-author, Facebook Marketing All-in-One for Dummies)–just to name a few. They'll share their latest social media marketing tactics with you.
Plus, Jon will be speaking on How to Use Facebook Lead Ads. Check out the entire agenda.
Discover the best and newest ways to market your business on Facebook, Instagram, LinkedIn, YouTube, Twitter, Pinterest, and Snapchat.
Find new ways to improve your content and measure your results with sessions on video, live video, visual marketing, analytics, and marketing tools–all from the comfort of your home or office.
Register now for Social Media Success Summit 2016.
Listen to the show!

Key takeaways mentioned in this episode: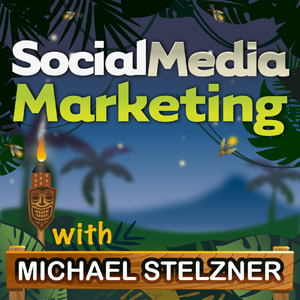 Ways to subscribe to the Social Media Marketing podcast:
What do you think? What are your thoughts on the Facebook ad changes? Please leave your comments below.