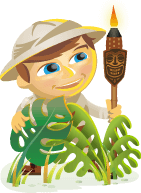 Do you have a content sharing strategy for your business?
Are you interested in discovering ways to leverage great content to promote your business and drive sales?
To learn how to build a following by sharing other people's content, I interview Guy Kawasaki.
More About This Show
The Social Media Marketing podcast is an on-demand talk radio show from Social Media Examiner. It's designed to help busy marketers and business owners discover what works with social media marketing.
In this episode I interview Guy Kawasaki, the author of the book Enchantment and the chief evangelist at Canva. His newest book is called The Art of Social Media: Power Tips for Power Users.
Guy explores how to build your social media following by sharing other people's content.
You'll discover how to create a consistent brand image for your company, develop a strategy for consistently sharing great content with your audience and leverage that content to promote your products or services.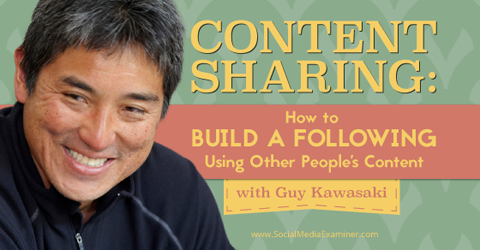 Share your feedback, read the show notes and get the links mentioned in this episode below!
Listen Now
Where to subscribe: Apple Podcast | Google Podcasts | Spotify | RSS
Here are some of the things you'll discover in this show:
Content Sharing
How Guy got started in social media 
Depending on how you define social media, Guy was there at the very beginning with CompuServe forums. He says he was late to blogging, starting four or five years after it really took off, but gradually adopted social media much quicker over the years.
Guy joined Twitter six or seven months after it started, but was on Google+ six days after it launched.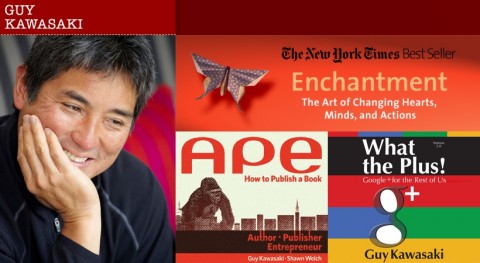 Today, Guy considers social media as God's gift, especially for entrepreneurs, because it's fast, free and ubiquitous. It's a great equalizer and makes it possible to potentially reach millions of people with just one tweet, image or post.
Listen to the show to discover why Guy says we're in the renaissance of marketing. 
Have a consistent image and mantra across all of your social networks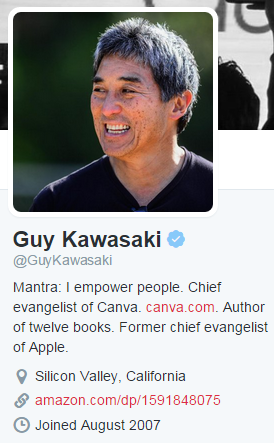 In Guy's new book he talks a lot about the importance of having a consistent brand image across all of your social media channels.
Guy advises against adopting a different persona for each social media platform. It's much too difficult to manage and will make people question who you really are.
You'll hear Guy explore the importance of having a mantra for your business and provides some great examples.
Your mantra explains who you are and why your product, service or business exists in two or three simple words. It should go in the Bio or About Me sections of all of your social media profiles.
Listen to the show to learn how your mantra is radically different than your company mission statement or slogan.
The importance of the Incognito Window 
Guy explains that the Incognito Window is a feature found on all browsers, which allows you to browse your pages and your social profiles anonymously. This mode lets you see how a new visitor to your website will see it.
Many marketers will be amazed to discover that what they see on their own company's website on a day-to-day basis is not the same thing as most people see when they visit for the first time.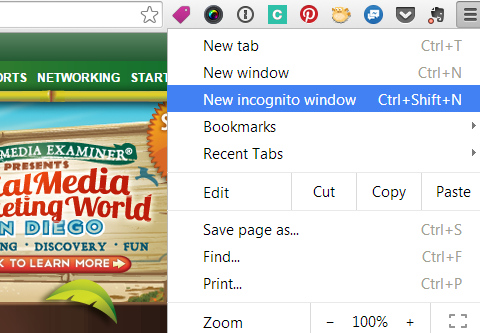 The Incognito Window mirrors a different online experience that you or someone inside your company may not even realize exists because you've gotten past the sign-ins, cookies and gates, whereas other people have not.
Listen to the show to learn why the Incognito Window matters to your business. 
Guy's content-sharing philosophy
Guy says there are two key components to his entire strategy. He believes the most important test of all of social media is what he calls the "reshare test," which is: "Are you sharing something that other people will share with their friends and followers?"
You'll hear how he relates tipping in a restaurant to a +1 or a like, or something like a thumbs-up. Whereas with a share, you risk your reputation if the experience doesn't match the promise.
Guy believes that you should share and share a lot. He constantly curates and shares stories, videos and infographics that he believes others will find informative, interesting or entertaining.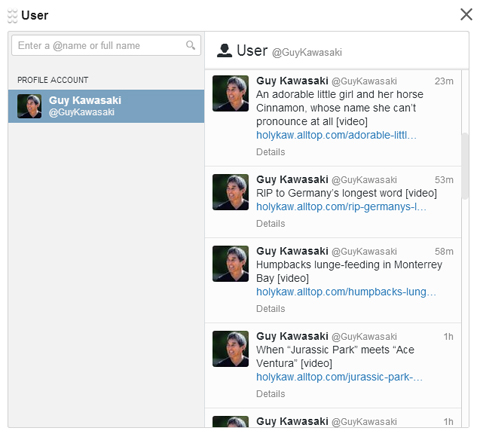 The second component is a higher philosophical orientation, which Guy calls the "NPR (National Public Radio) model." You'll hear why he believes they have earned the right to promote, and why as a marketer you should think of yourself like NPR.
Listen to the show to hear how Guy applies his content-sharing philosophy to his own content strategy. 
Optimize your content sharing
Guy shares 50 to 60 stories per day across all of his social media platforms and repeats most of his posts identically four times throughout the day.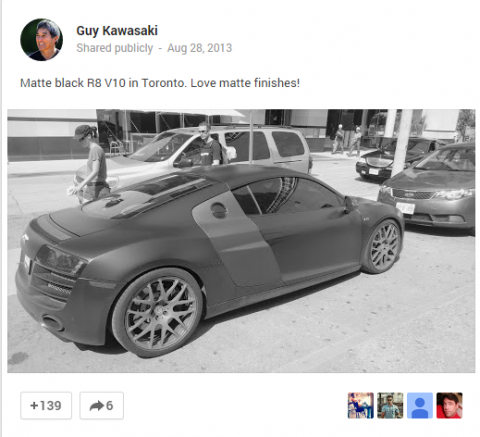 Guy challenges the notion that social media is entirely about personal, intimate, one-to-one, manual, unscheduled, unassisted contact. He is completely transparent about the fact that he automates and repeats his tweets.
Guy believes social media is a marketing platform and uses it as a business tool.
Listen to the show to discover why Guy shares the same content multiple times a day and how it impacts his engagement. 
Content-sharing tools
Guy is a co-founder of Alltop, a collection of the best RSS feeds sorted by thousands of topics and by publication. Alltop presents the first five headlines of the day from each source on one page.
You can mouse over the post titles to preview each story and decide if it's worth sharing with your audience.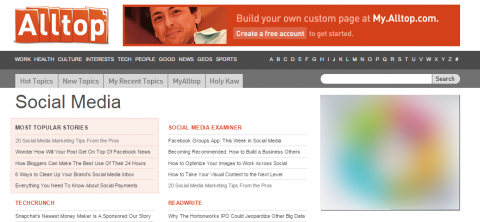 With the NPR model in mind, you can share great content related to your business and position yourself as an expert. Over time, you will earn the right to promote your products and services.
Alltop helps you find great content from a variety of sources to share with your audience.
Listen to the show to learn what other tools Guy recommends to make content discovery and sharing easy. 
Leverage your community to sell your products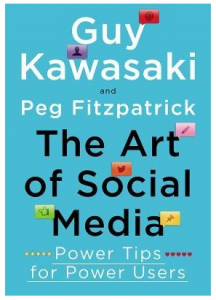 Guy and his co-author, Peg Fitzpatrick, turned to their social media channels to get help  proofing and critiquing their new book, The Art of Social Media: Power Tips for Power Users. 
They signed up dozens of people to read and make suggestions for their book before it was published. They even put potential titles and subtitles to a vote among their social media audiences. Then they credited everyone who contributed in the final product.
According to Guy, the benefit of crowdsourced feedback is the feedback itself. It doubles the quality of your books and empowers people to help promote it. Each contributor is personally invested in driving the success of your book because he or she had a part in creating it.
Listen to the show to discover the beautiful side effect of collaborating with your audience. 
Discovery of the Week
Do you always have your smartphone in hand? Would you like to make a cool first impression with your smartphone?
Have you heard of Case Mate? Case Mate offers a robust, completely customizable phone case for your iPhone 5/5S, 6, 6 Plus or your Galaxy S5. Its tough exterior protects your phone and especially your screen from being dropped. It lasts a long time and is absolutely gorgeous.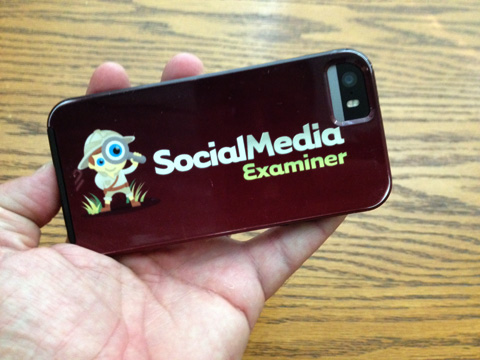 Once you select your phone, Case Mate has a do-it-yourself interface to help you design your very own custom case. The site offers multiple layouts, fonts, colors, etc. You can also upload images from your computer or social media profiles and position them anywhere you want on the case.
Once you're satisfied with the look, you preview and purchase. It's simple to create and a great way to stand out from the crowd.
Listen to the show to learn more and let us know how Case Mate works for you.
Other Show Mentions
Discover Social Media Marketing World 2015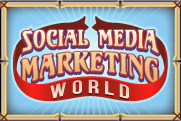 Today's show is sponsored by Social Media Marketing World 2015.
We are super-excited about Social Media Marketing World 2015. It's the world's largest social media marketing conference. By attending, you'll make connections with 100+ of the world's top social media pros (plus 2,500 of your fellow marketers) and you'll discover amazing ideas that'll transform your social media marketing.
Hear testimonials from our 2014 conference speakers.
This is just a sample of industry experts talking about their experience at Social Media Marketing World.
Our guest today, Guy Kawasaki, will be at the conference and you will have an opportunity to meet him and speak to him in person. What's also awesome is the number of leading women in social media who will be there too: Mari Smith, Ann Handley, Laura Fitton, Nichole Kelly, Chalene Johnson, Kim Garst, Gini Dietrich, Andrea Vahl, Ekaterina Walter, Pam Moore, Viveka von Rosen, Lynette Young, Peg Fitzpatrick, Sue B. Zimmerman, Susan Beebe and many more!
The response to this conference has been amazing. You just have to track the hashtag #SMMW15 to discover what everyone is already saying about it. If you don't just want to network with amazing people, but also take your social media marketing to the next level, then this is the place for you!
The conference takes place in sunny San Diego, California on March 25, 26 and 27, 2015. Hundreds of people have already secured their tickets. Click here to check out all of the speakers and the agenda, watch our video and grab your tickets today.
Key takeaways mentioned in this episode: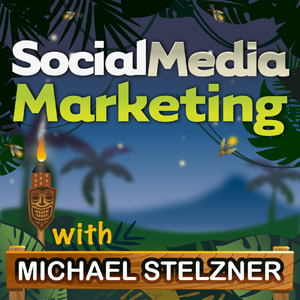 Ways to subscribe to the Social Media Marketing podcast:
What do you think? What are your thoughts on building a social media following with other people's content? Please leave your comments below.