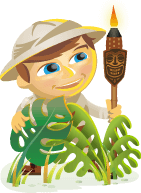 Do you have a blog for your business?
Are you ready to take your blogging to the next level?
To explore how to build your blog readership, I interview Darren Rowse for this episode of the Social Media Marketing podcast.
More About This Show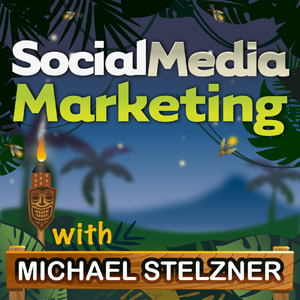 The Social Media Marketing podcast is a show from Social Media Examiner.
It's designed to help busy marketers and business owners discover what works with social media marketing.
The show format is on-demand talk radio (also known as podcasting).
In this episode, I interview Darren Rowse, the world's leading authority on blogging. He authored the book ProBlogger and founded two popular blogs: Digital Photography School and ProBlogger. Darren has been blogging since 2002 and his work has inspired millions of people.
Darren shares how he built a mega-blog with millions of monthly readers.
You'll discover how to attract more readers, engage your audience and monetize your blog.
Share your feedback, read the show notes and get the links mentioned in this episode below!
Listen Now
Where to subscribe: Apple Podcast | Google Podcasts | Spotify | RSS
Here are some of the things you'll discover in this show:
Advanced Blogging
How Darren started blogging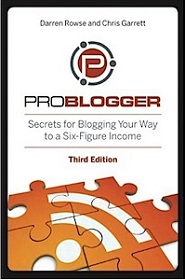 In 2002 Darren came across a blog for the first time and knew right away it was a medium he wanted to explore. Almost immediately, he started his first blog.
Darren explains that he had no background in technology or writing, just a fascination with community and communication.
He developed an audience for his personal blog over the next year and a half, writing about a variety of niche topics (photography, spirituality, movies, politics). When his audience "complained" that there was too much variety, Darren split the topics up into different blogs.
From there, Darren began to experiment with making money from blogging. It evolved from a hobby into a part-time job, then grew into a full-time business.
Listen to the show to hear how many blogs Darren launched over the years.
Why it's never too late to start blogging
When Darren first started blogging, he looked at the big bloggers and thought he was too late to start. At that point, the big names had only been blogging for a year or two. However, Darren says new bloggers are breaking through all the time.
More blogs mean greater opportunities to network and the ability to grow faster, especially if you can get on the radar of an influencer in your niche.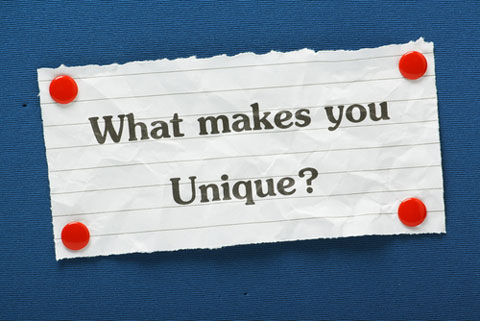 While there may be a ton of bloggers out there, Darren explains that there's nobody who has your exact set of experiences, opinions, stories, skills and perspectives, and that's what sets you apart. If you can harness your uniqueness, there's certainly a way to get noticed.
Listen to the show to hear how blogging in your niche will serve you well now and in the future.
Digital Photography School, then and now
Darren started Digital Photography School in 2006. It evolved from one of his previous blogs—a digital camera review blog. It was quite profitable, Darren explains, but not particularly satisfying. He wanted a blog about photography that he enjoyed writing—where he could build a relationship with his readers and answer common photography questions.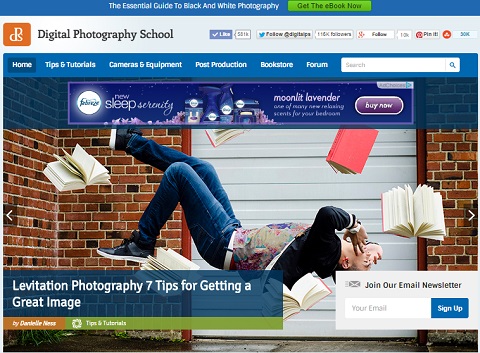 When the site launched, Darren wrote all of the blog content himself (two to three posts per week), focusing on evergreen content and throwing shareable content into the mix. It was on a free theme, boot strapped, and gradually began to rank in Google and develop a following. He monetized using AdSense and Amazon affiliate marketing.
A photography enthusiast, Darren says he's the guy in your circle of friends who people ask to photograph parties because they can't afford a real photographer. He's also the one everyone comes to before they buy a camera.
He started the site writing beginner-level content. As the site developed, he hired professional photographers to write for the more advanced audience.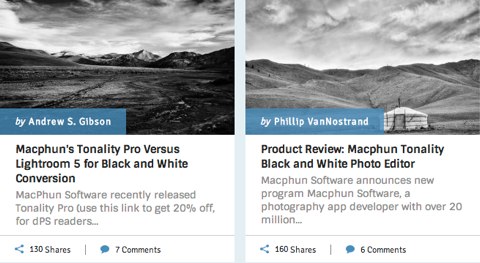 Now, Digital Photography School has around 4.5 million unique visitors a month, has been redesigned three times and now has a small team of developers working on it full-time.
It's also monetized in more complicated ways, including a mix of ad networks, direct advertisers and product sales. Plus, now it publishes two times a day instead of two to three times per week. There's a team of paid writers, as well as guest contributors.
Listen to hear more detail about the ways he monetizes the website.
Darren's editorial mix
Digital Photography School publishes a newsletter, which goes out Thursday night Australian time. During the week, there are two new posts a day. For the most part, the weekly content builds upon itself.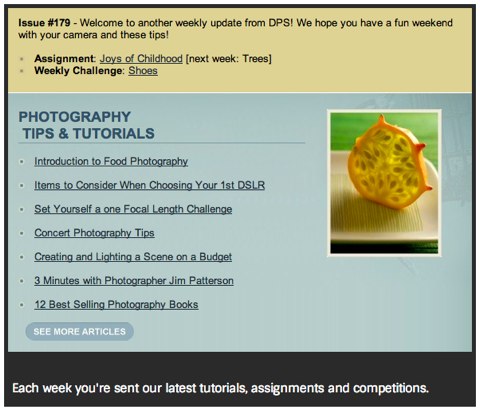 Darren shares the three types of editorial content they create: information (tutorials/how-to's), inspiration (great photos that relate to the tutorials) and interaction (assignments that encourage readers to take the information and inspiration and go experiment).
Since they started using this model, Darren explains that their readers have been learning, not just gaining knowledge. Their photos have improved.
Listen to the show to learn about the length of Digital Photography School's content.
More about the elements in Digital Photography School's blog
Assignments: Every weekend Digital Photography School gives their readers an assignment. It usually (but not always) relates to a tutorial from earlier in the week.
For example, an assignment that's more technique-related, like "take a long-exposure photo," will relate to a tutorial from earlier in the week. An assignment like "blue," mentioned in the podcast, will relate to an image collection the day before, which has a bunch of blue images to give ideas and inspiration.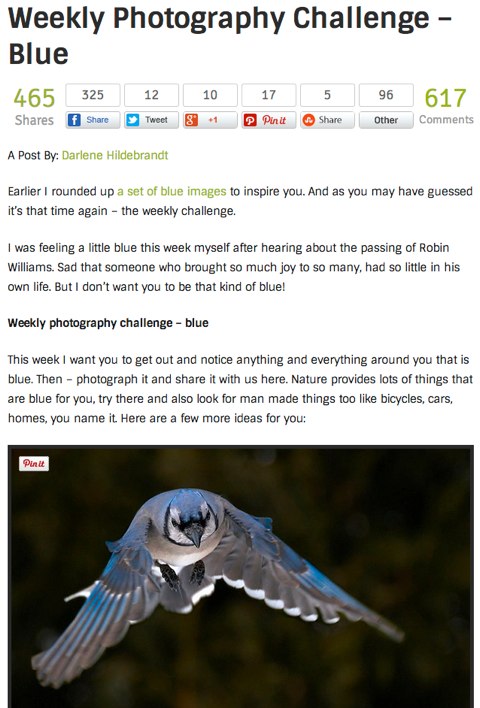 Assignments started on the blog in 2007 as a way for readers to show off what they've learned. Before you could show pics in comments, readers could link to their Flickr page or blog. Assignments are great for engagement and you can do them on a variety of types of blogs.
Polls: Digital Photography School conducts polls on a regular basis for two reasons: engagement and education.
Darren explains that anything you can get your reader to do on your site (like answer a poll question), the more likely they'll be to come back and see the results. Polls also teach you about your readers, Darren continues. Answers can enhance and update audience personas, so writers (and advertisers) can better understand them. Polls help identify trends, influence content choices and find appropriate advertisers.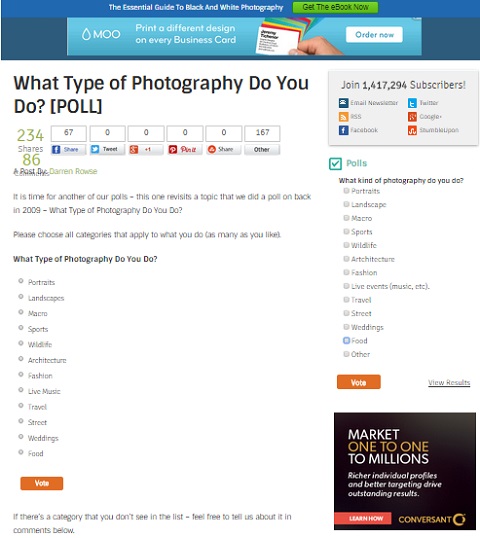 As a bonus, polls make for good shareable content. Darren uses a basic poll plugin and then puts results into Keynote with a nice graphic.
Forums: Digital Photography School launched forums because their readers demanded it, Darren explains. Too many threads were getting lost in their Flickr group, so they created a forum using vBulletin.
While the forums are not a major part of Digital Photography School, they have their own community. Darren says there are certain types of people who will never comment on a blog or use social media, but they love their forums.
Listen to the show to discover the benefits of letting your readers show off.
WordPress plugins
Darren's developers created a plugin called The Communicator, which is free with a ProBlogger.com subscription. The tool's functionality includes floating sidebars, lightboxes, pop-ups, end-of-post options and more.
If you can deliver different things at the end of an article or at different key points as people are scrolling, it can increase page views, newsletter signups, ad messages and ebook downloads, Darren explains.

To get the plugin, go to https://ProBlogger.com/download-centre/. They have seven plugins available, such as the Facebook Tracking and Conversion Pixel Helper (for Facebook advertising), Sticky Top Bar Messenger (for things you want to stand out at the top of your site) and WordPress Plugin: Flickr Suckr (to suck in a bunch of Flickr images onto your blog). Note: for free content on blogging, go to ProBlogger.net.
Two other plugins Darren recommends are Easy Digital Downloads (for managing ebook sales within WordPress) and WordPress Editorial Calendar (for managing blog content—you can see any posts you have scheduled as a calendar, and drag and drop).
Listen to the show to hear how these plugins work.
How Digital Photography School is monetized
Darren says his site's monetization varies from month to month.
Ebooks tend to be their primary income stream, he explains. They have 21 ebooks, two of which have printables. They try to launch four or five ebooks each year. It's great for bloggers to have a nice library, Darren explains, so they can do cross-selling, bundling and author packs.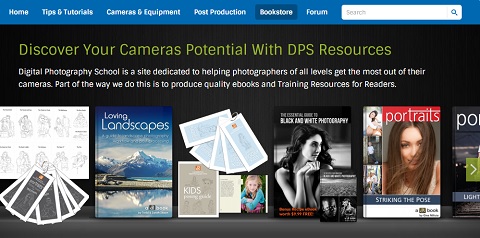 They also use a mix of different advertising: direct to advertisers, ad networks and affiliate promotions like Amazon, as well as other people's ebooks and membership sites. They recently launched a sister site called SnapnDeals: a deal site for photographers.
Listen to the show to hear how a good topic makes all the difference.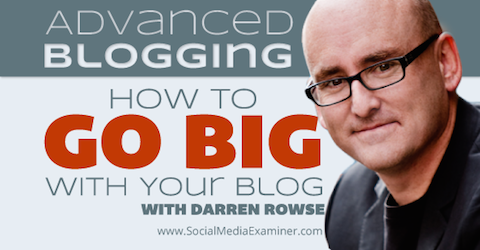 Discovery of the Week
Do you work in WordPress with multiple writers? Do you find it complicated to manage everything that needs to be done to get the content produced for your blog? Instead of using spreadsheets and Google docs, try this plugin called Edit Flow.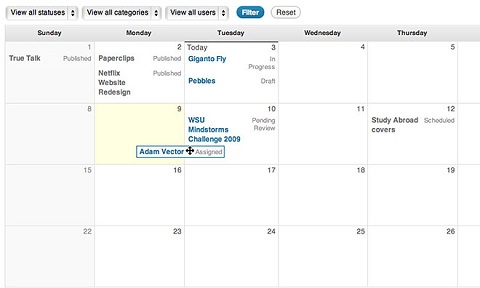 Edit Flow has wonderful functionality, such as a comment thread only visible to your content team and a searchable and sortable calendar so you can see all of the articles that have been written. There's also the ability to indicate special needs of the article in the sidebar: deadlines, image needs, a custom checklist and more.
It hasn't been updated since 2013, but we haven't noticed any issues here at Social Media Examiner. So check it out.
Listen to the show to learn more and let us know how this works for you.
Other Show Mentions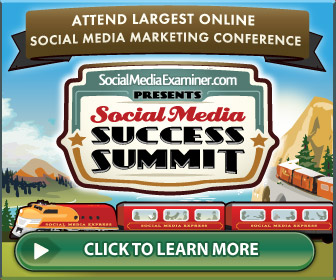 Today's show is sponsored by Social Media Success Summit 2014.
This is our largest online event. It's completely online, so no travel involved. There will be three sessions each day spread over an entire month. Each day has a theme, like LinkedIn Marketing or Social Media Strategy.
To help you do everything you could be doing with your social media, we have some spectacular sessions lined up.
On October 15, Viveka von Rosen will be talking about "LinkedIn Prospecting Gold: 5 Steps to Finding, Engaging and Closing Leads with LinkedIn." LinkedIn has come up with a whole bunch of new features and they're awesome if you can find them and know what to do with them. Stephanie Sammons and Melanie Dodaro will also be speaking about LinkedIn on the 15th.
On October 8, Mari Smith will be speaking about two of her biggest passions: Facebook and relationship marketing, with her session called "How to Build Powerful Relationships on Faceboook and Beyond." She'll be sharing her latest tips about how to expand your reach organically.
Viveka, Stephanie, Melanie and Mari are just a few of the 45 Social Media Success Summit speakers this year.
If you want to learn more, visit here where you can check out all of the speakers and the agenda. Make sure you grab your ticket before the price goes up. We've got a lot of earlybird sales going on right now.
Key takeaways mentioned in this episode:
Ways to subscribe to the Social Media Marketing podcast:

What do you think? Do you have a business blog? What sorts of content do you create? In what ways do you engage with your readers? Please leave your comments below.