Wondering how to use Instagram organic content to create demand for your products or services? Looking for wisdom on building your content strategy?
In this article, you'll discover how to use Instagram content to generate greater interest in your product or services.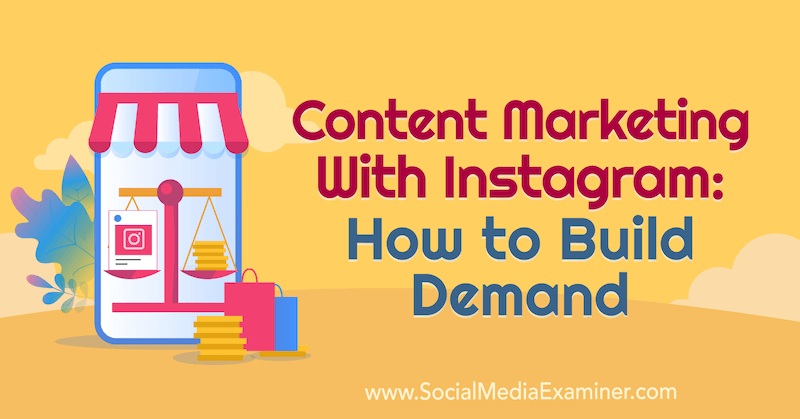 Why Use Instagram for Organic Marketing and Selling?
There are two primary reasons marketers should focus their time and energy on Instagram for organic marketing and selling.
The first is that Instagram is still the king when it comes to direct message (DM) conversations. DMs are a valuable tool for building relationships and having sales conversations and Instagram makes it easy for people to slide into your DMs.
Instagram lets you quickly react to someone's Instagram story instead of actually texting them. You can give them a thumbs-up, love their content, or share the fire emoji and that automatically puts them into your inbox. So if you're selling a product or service, it allows you to have more conversations with your followers.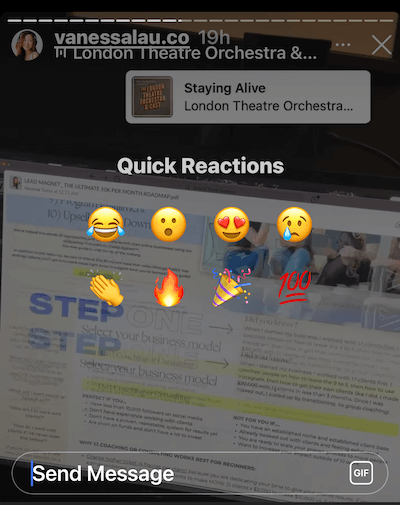 Instagram DMs also have a feature that lets you send a voice note to someone. You'll find it takes less time to send a voice note than it does to send a text and it adds a personal touch to the conversation.
The second reason Instagram is valuable for organic marketing and selling is that it's a multimedia platform so there are a variety of places for you to post content. You can create long-form videos for IGTV, bite-sized content for Instagram Reels, posts for the feed, or Instagram stories for behind-the-scenes content. The possibilities for engaging your audience on Instagram are endless.
Because Instagram offers so many placements, you can also repurpose a lot of content from your other platforms to stretch your content even further.
Common Instagram Content Mistakes to Avoid
To craft a compelling and well-rounded content strategy for Instagram, there are three common mistakes you want to avoid. Here's how to steer clear of them.
Instagram Content Performance
Some Instagram marketers make the mistake of focusing too much on vanity metrics when they post content. They might evaluate success based on likes and comments alone or focus their efforts on creating shareable content that goes viral.
However, it's important to understand that different pieces of content can serve different purposes and how you evaluate their success isn't the same. For each piece of content you create for Instagram, you need to set an objective.
For example, if you post a photo of yourself to give followers a glimpse of your life, you're likely to get more likes and comments than with other types of content. While this is more surface-level engagement, those likes and comments serve an important purpose: They give you a boost in the Instagram algorithm.
If, on the other hand, your goal is to get shares or saves from your content, you might post an inspirational quote or infographic. When you look at your analytics for this type of content, it likely gets fewer likes and comments but significantly more shares and saves, leading to more reach and visibility.
When you showcase client testimonials in your content, your objective might be to simply get more DMs, more prospects in the pipeline, or maybe more clicks to the link in your bio, which would lead to your product and service. Whether the posts get enough likes or comments doesn't matter because that was never your objective in the first place.
Instagram Caption Length
Writing long captions for Instagram used to be a best practice but the platform has changed. Instagram now offers a variety of ways to structure and format your content. If you spend 30 minutes writing an amazing Instagram caption but people only skim it or don't read it at all, that's not an effective use of your time.
The goal of any content is to get your audience to consume it. When you publish a video on social media, you want to structure it in a way that will keep people watching until the end—your focus is on watch time. In the context of Instagram captions, you want to structure your content to increase "read time."
If you have a long, value-based Instagram caption you want to share, consider turning it into a carousel in bite-sized pieces that are easier to digest. Write your caption in the notes app on your phone or in a Google doc, take a screenshot of it, and crop it into pieces that will fit in a carousel.
For the first image in the carousel, use what Vanessa calls the "photo bait" method: Choose an image that you know is going to perform well with your audience, something that will stop the scroll. Then for the rest of the slides behind it, use the screenshots you prepared.
In this example, when people swipe the carousel, they can scroll through the content like a slide show or presentation, allowing them to become engaged with the text and actually read it. And if a particular part of the carousel really resonates with them, they'll reshare that.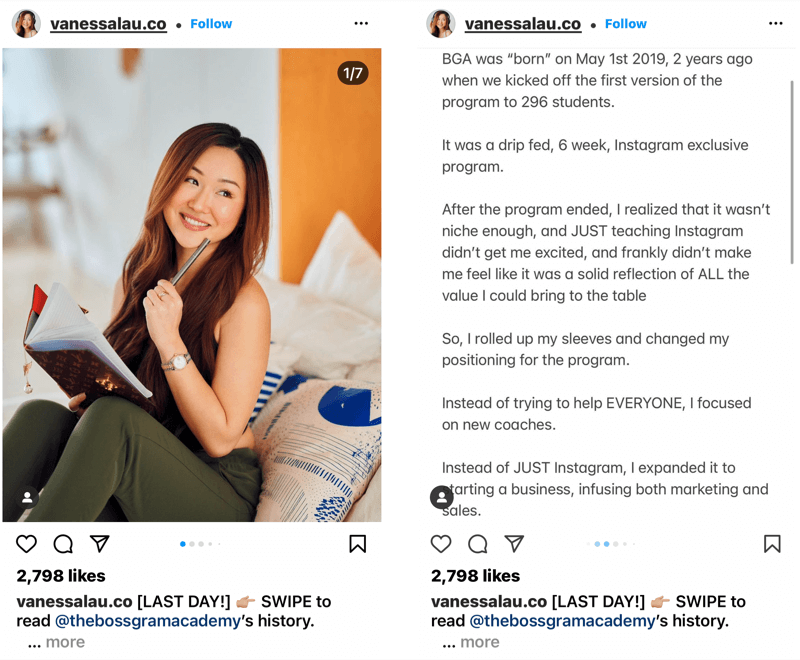 For the actual caption of the post, keep it short. It's not an essay because you saved that for the carousel itself. Also be sure to tell readers to swipe.
The photo bait method gives the best of both worlds. With the first slide, you get the vanity metrics that will boost you in the algorithm, and for the rest of the carousel, you're potentially overcoming people's objections, addressing common mistakes or myths, and building social proof.
Keep in mind that you can hide anything beyond the first slide, including a video testimonial from a client, a screenshot of your sales page or your offer, and so on.
Instagram Content Strategy
The third mistake to avoid is thinking that giving everything away for free on Instagram will get people to buy your products or services.
A lot of service-based businesses post a high volume of tutorial-based content where they're basically teaching people everything that their paid products and services are designed to convey. While constantly posting this type of content might get you more views, likes, and followers on Instagram, it doesn't work from a business perspective.
What you're essentially doing is training your audience to rely on your free content. Of course, a 10-minute video, a feed post, or an Instagram story–like miniseries is never going to help someone solve a big problem. And the bigger the problem your products and services are trying to solve, the more important it is to diversify your content on Instagram.
If you're only focusing on sharing how-to content and not balancing it with other types of content that will build demand for your services, the people consuming your content will never develop a need for your paid offerings. They'll continue to do it all themselves because you trained them through your content to constantly expect the solutions for free.
Another problem with constantly doing freebie content is that you'll start to attract people who are always going to expect everything for free from you because you're literally giving away everything for free. When you do this, you're cannibalizing your own product or service. There's no curiosity about what your paid offer is because you're giving it all away.
3 Types of Content to Post on Instagram
If your ultimate goal is to develop demand for your product or service, you need a good balance of primarily three types of content on Instagram.
Content That Educates
Around 25% of your Instagram content should be how-tos or quick wins. Educating your audience on a topic helps you build trust and position yourself as an expert. This is an opportunity to give people a taste of what you can provide via your paid products and services.
How-to content also helps you build traffic. Because people are searching for solutions online, this type of content will get seen a lot faster. It tends to get the most views, likes, and shares.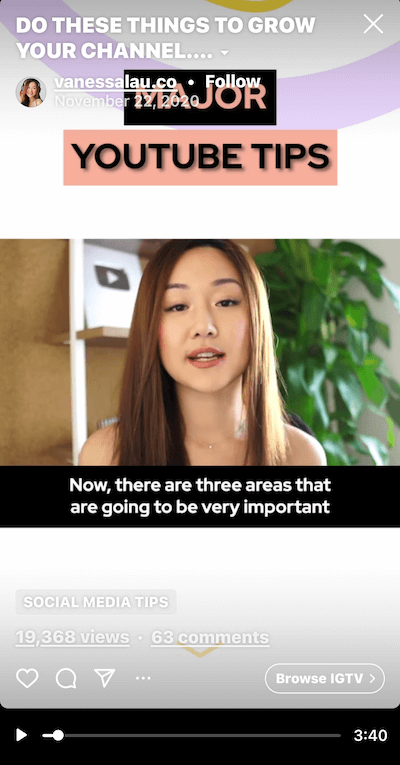 When you create educational content, the call to action is crucial. Think about the expectation you want to set and where you want to send people. Make sure you convey that this is just a small portion of what you offer and direct people to click the link in your bio or DM you to learn more.
Content That Overcomes Objections
You'll also want to create content for Instagram that either directly or indirectly addresses objections. While your target audience's objections may differ from other businesses, here are the top objections that most businesses have to overcome.
"I Don't Trust You."
If you frequently find that people in your sales pipeline aren't sure you're the expert for them or that your product is the best, create content that directly or indirectly addresses that objection. You could do that with testimonials or client case studies, as well as by sharing your own journey for relatability.
"It's Not the Right Time."
Another common objection is, "I can't do [this] until I have all of [that] ready." You want to create content for Instagram to address this objection and get people to take the next step with you.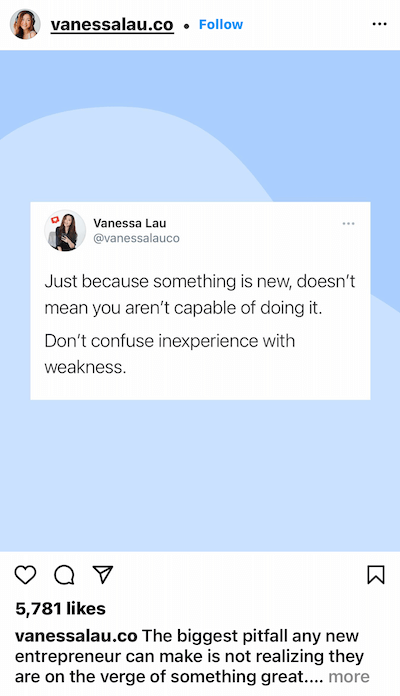 Let's say that your business is teaching people how to get clients using Instagram. Some of the objections you might see are, "I need to figure out my niche first" or "I need to post three videos before I can invest." To overcome these objections, you might create content that explains why now is the right time to use Instagram and gives three reasons why Instagram is still relevant.
You could also compare Instagram to other platforms, give the pros and cons of each, and explain why Instagram is great for businesses specifically. If you don't yet have the track record to share your own successes, you can leverage examples from others in your own content. It's still a success story, just not your customer success story.
Think of successful entrepreneurs who have followed a similar concept that you're preaching or overcome a similar excuse that's preventing your audience from buying your products and services, and leverage their story.
"I Don't Have the Money."
Another common objection to overcome is, "I don't have the money." The thinking is that they don't think they need to hire a professional and would rather do it themselves to save a few bucks. To address this, share some of the mistakes that people make when they try to do it on their own.
If your business sells lash extensions, for instance, you could take pictures of some of your clients' lash extension nightmares when they did it themselves or went to a cheaper place. When people see these photos on your Instagram account, they'll immediately have a reason to consider your offering.
Content That Addresses Mistakes and Myths
The third type of content to include in your Instagram content mix should address mistakes or myths that your audience blindly follows and give your recommendation of what to do instead.
The reason this content is important is that when you highlight mistakes, it makes your audience aware that they aren't doing something right and puts them into problem-solving mode. When they're more problem-aware, they'll start hunting for a solution.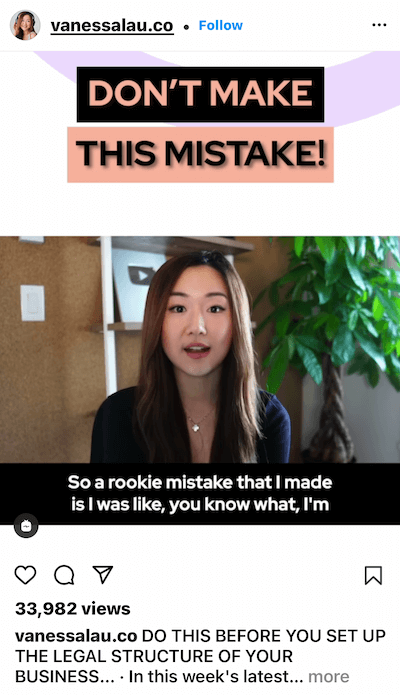 This is where your how-to content and content that addresses objections come into play. You want people to realize through consuming your other content pieces that your business has the solution they're looking for. You want them to be curious enough that they'll click on the link in your bio and find more of the solution that could help them and encourage them to buy your paid products and services.
Other Notes From This Episode
Episode sponsored by Ahrefs. Sign up for Ahrefs Webmaster Tools and get a free website audit to find ways you can drive more traffic.
Follow Michael Stelzner on Clubhouse at @Stelzner and follow the Social Media Examiner club.
Get your ticket to the Social Media Marketing Workshops at marketingworkshops.live.
Watch exclusive content and original videos from Social Media Examiner on YouTube.
Tune into our weekly Social Media Marketing Talk Show. Watch live on Fridays at 12 PM Pacific on YouTube. Listen to the replay on Apple Podcasts or Google Podcasts.
What do you think? Are you inspired to incorporate some of these techniques in your content strategy for Instagram? Share your thoughts in the comments below.