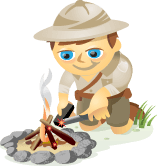 Do you struggle to determine an accurate ROI in social media marketing?
Wondering which of your social media campaigns are most profitable?
It's important to know whether the money you've invested in your social media marketing has provided a return that's worth what you've put in.
In this article, you'll discover five tools to help you accurately and completely measure your social media ROI.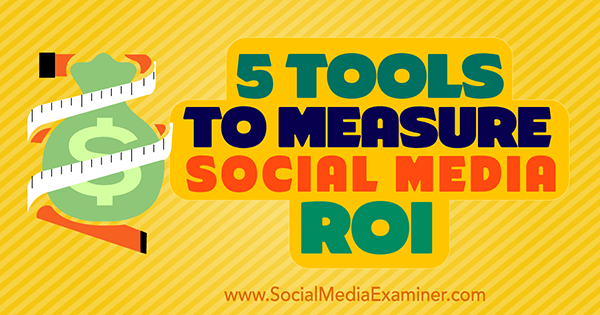 Listen to this article:
Where to subscribe: Apple Podcast | Google Podcasts | Spotify | RSS
#1: Kissmetrics
Kissmetrics is an analytics platform designed to optimize marketing success and ROI. It lets you track individuals, groups of similar individuals, and your users as a whole throughout their visit to your site.
People are tracked anonymously on their first visit all the way through multiple visits and conversions, and even after they've left and come back.
It's a great tool to evaluate customer behavior and ROI.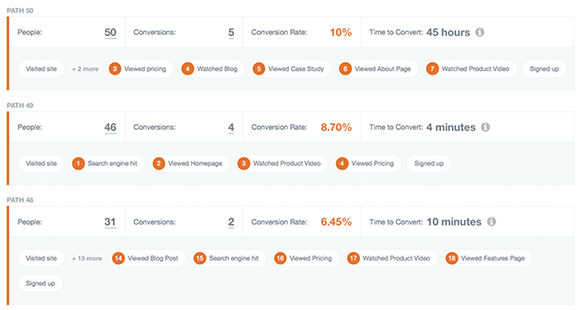 The stand-out feature of Kissmetrics is that it notes when users leave and come back, and what they do when they return.
You can track ROI coming from Facebook, LinkedIn, Twitter, or any website, and attribute the conversion credit to the correct social media channel, allowing you to track your entire customer lifecycle more accurately.
This, in turn, provides valuable information about ROI, and lets you see which paid advertising sources are actually working and converting.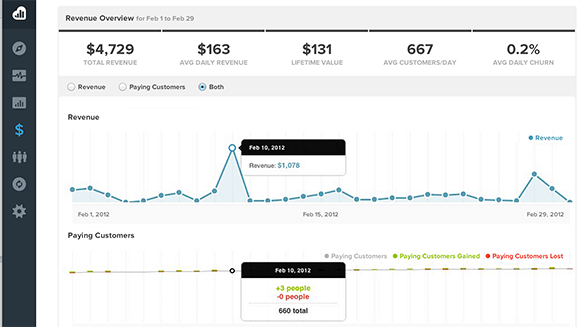 A free trial of Kissmetrics is available when you first sign up. After that, plans start at $120 per month. A/B testing reports are available with the Power Plan, which is currently $600 per month.
#2: Customer Lifetime Value Calculator
While plenty of social media campaigns prioritize sales or on-platform engagement, social media is frequently used to connect with new audiences and generate new leads. If that's your goal, it's a good idea to calculate your approximate customer lifetime value (CLV).
You can use the Customer Lifetime Value Calculator to find out not only what a new lead is costing you, but also whether it's worth it.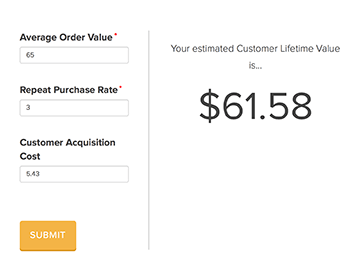 With this tool, you can create CLVs for each of your different customer groups. For example, a jewelry store can calculate the value of customers who make big, one-time, high-value purchases like wedding rings, as well as customers who buy a much less expensive charm bracelet, but who come back an average of six times to add charms to the bracelet.
By knowing an estimated CLV, you can quickly determine how much you're willing to spend on lead generation or engagement campaigns on social media.
The Customer Lifetime Value Calculator is free and fast.
#3: RJ Metrics' Cloud BI
For a more in-depth analysis of CLV, try RJ Metrics' CloudBI. The tool not only automatically calculates CLV, it will even break the CLV down to show the social media channel that sent you the customer in the first place.
RJ Metrics also offers amazing features like churn analysis that gives you insight into your customers' behaviors, and analysis about marketing ROI as it pertains to customer acquisition cost.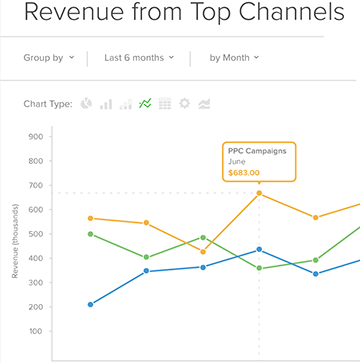 In addition, RJ Metrics will show you the all-time value based on the acquisition source and repeat order profitability from different sources. This helps you decide which social ad platforms are working for you and which to invest in.
You can even have reports sent to you on a regular basis.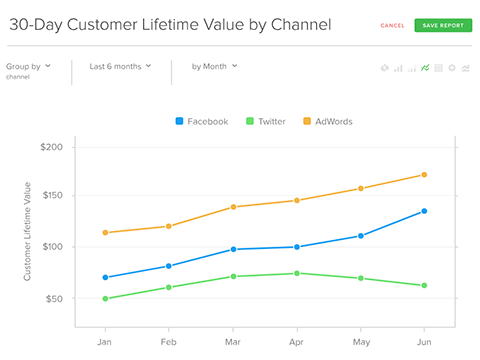 #4: Cyfe
Cyfe is an all-in-one reporting tool that provides an insane amount of information about how your content is shared across social media and the impact it's having on your overall ROI.
You can use widgets to create multiple customized dashboards where you can see the reporting on Facebook ads, Twitter engagement, Shopify orders and sales, or Google Analytics. The categories of widgets to choose from include advertising, blogging, email tracking, social media, and more.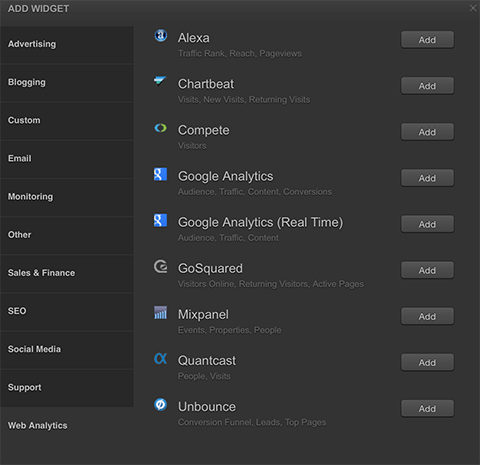 Cyfe has some really interesting social tracking features, combined with detailed ROI and analytics reporting, like their Twitter Mentions widget. With this feature, you can track the number of Twitter mentions on a certain keyword or hashtag.
If you run a contest, for example, you can track your designated hashtag to see how far the reach extended and how many people participated.

You can track sales, invoices, social media mentions, visits to your site, and expenses quickly and easily.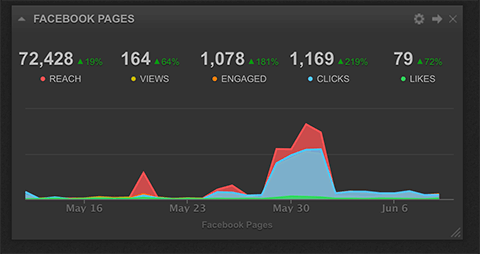 Cyfe is free to start, with a premium plan costing only $19 per month (or $14 per month if paid annually). Note: premium offers unlimited everything, including dashboards, widgets, and customization.
#5: Google Analytics
Google Analytics allows you to see where your traffic is coming from and how visitors interact with your site, including the visitors coming from social media.
You can track the response to different social campaigns and see which are more successful at moving users to and throughout your site, as well as tracking specific conversions.

Almost all major social media sites provide on-platform analytics that tell you how many users are clicking to your site or how many conversions your ads generate. However, you should still track social media activity, including ad campaigns, with Google Analytics.
To get a more complete and accurate view of social ROI, you can use the Social Analytics section to set up goals to measure the value of the social referrals that come to your site.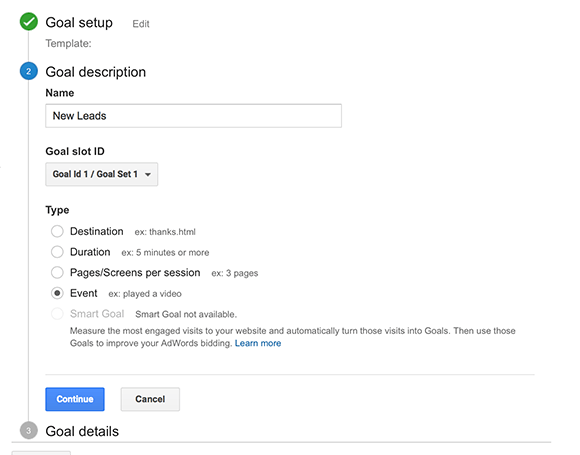 In addition, Google Analytics lets you track conversions by taking the whole buying cycle into consideration, so you can see which pages helped trigger conversions or which campaigns are working and why.
Google Analytics provides valuable insights into which social media channels (and ad platforms) send you the most (and most relevant) traffic. As an added bonus, it's free and easy to set up on your site.
Conclusion
Measuring and consistently evaluating ROI would be a massive headache if it weren't for the five tools listed above and others like them. When calculating your most accurate ROI, however, you still want to add in all the necessary factors and costs.
These can include the amount you're paying for the campaigns, on social media tools (including contest, analytics, and scheduling software), and the social media specialists you're paying to create content.
Make sure to consider these costs and factor them in where necessary. The software and tools listed above can help you do the rest, and give you an accurate assessment of your true ROI.
What do you think? How do you measure ROI? What costs do you factor in? Which tools have you used? Please share your thoughts, knowledge, and experience in the comments below!