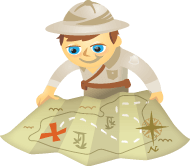 Do you want more from Pinterest?
Have you considered using Pinterest analytics to inform your marketing decisions?
When you know where to look in Pinterest analytics, you'll find actionable information you can use to improve your Pinterest strategy.
In this article you'll discover five ways to use Pinterest analytics and improve your Pinterest marketing.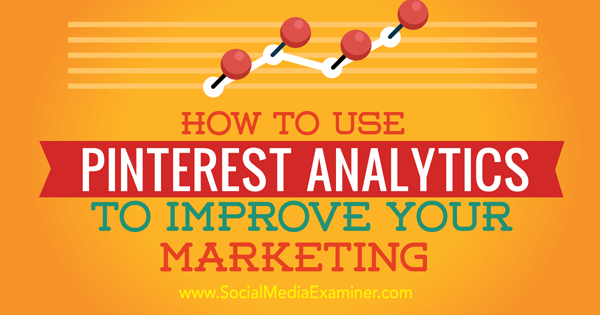 Listen to this article:
Where to subscribe: Apple Podcast | Google Podcasts | Spotify | RSS
#1: Identify Your Competition
Competition takes various forms on Pinterest. Competitors include businesses selling the same products as you and companies populating your audience's feeds with pins.
You'll find a list of brands that your audience engages with in the Interests segment under the Your Audiences dashboard in Pinterest Analytics.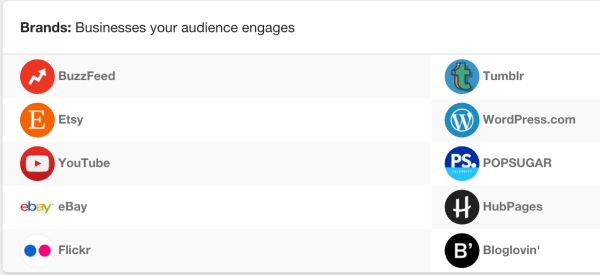 While this list is typically comprised of bigger publisher brands that probably aren't your direct competitors (think BuzzFeed and POPSUGAR), you're still competing with them for audience attention.
Sift through the brands and look for trends in content. You'll get a sense of the types of content and pins your audiences interact with on a daily basis. Look over the boards and pins, because they might inspire what you create next.
Ask yourself a few questions:
What messages is your audience hearing?
What do you like about the brands' boards or pins? What don't you like?
Is there anything you can mimic or do differently?
How can your pins stand out from the competition?
Learn what your audience is hearing, seeing and interacting with to help inform your Pinterest strategy.
#2: Discover Which Device Your Followers Prefer
As you make your way through Pinterest analytics and gain valuable insights about your audience, it's important to segment and analyze your followers and devices.
Go to the Your Audience section of your analytics and find the option to segment the data by All Audiences or Your Followers. All Audiences includes everyone who has ever seen one of your pins, while Your Followers is reserved for the people who follow your business and boards.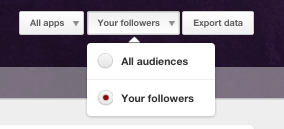 Limiting the data to only your followers allows you to perform a deeper analysis of the people who care the most about your business. Begin by evaluating their interests, pinner boards and the businesses they engage with.
Get Your FREE Course: Web3 for Beginners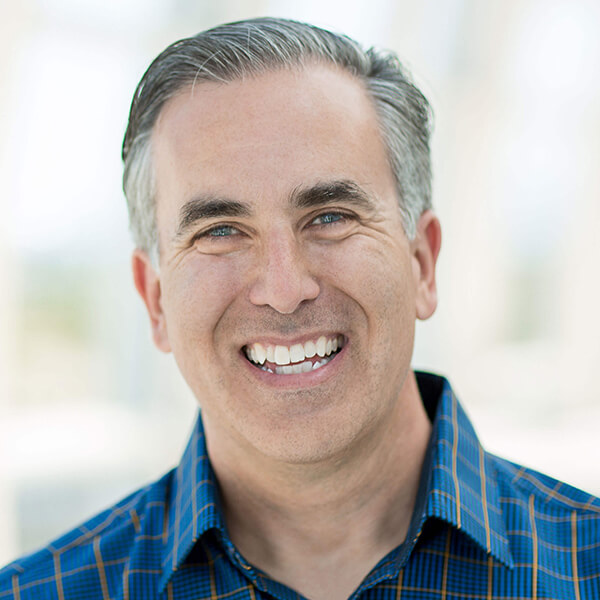 Curious about Web3, but don't know where to start or who to trust?

Introducing Web3 for Beginners, a course taught by Michael Stelzner, the founder of Social Media Examiner.

Learn the basics of Web3 and apply it to your business with this FREE comprehensive course.
CLICK HERE TO GET FREE ACCESS
Compare and contrast the similarities and differences among your followers and audiences. Knowing what your followers are interested in will give you insight into what's working well and how they perceive your brand.
Lastly, within all of your Pinterest dashboards, you have the option to segment your data by app or device.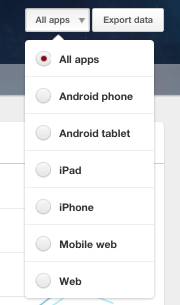 One benefit of segmenting your audience by device is to gain insight into how many people use Pinterest from their desktop computers versus their mobile phones versus their tablets.
Why is that important? Because pins and boards look different on each of those screen sizes. By understanding which device your audience uses the most, you can start optimizing your pins for that device.
Examine your pins on all devices:
Are there pins that perform better on certain devices? Why?
How do the pins look? Are they too tall? Too small?
Can you read the words on the pins from your smartphone?
How do the colors look in the feed? Do they catch your eye?
Do the descriptions keep your attention and make you want to click through?
These are a few of the questions you should ask when looking through the Device segment. Examining your answers will help you maximize your next pin.
#3: Find Out How People Organize Your Content
One way people can engage with your pins is by repinning them. Repins are a sign that people found your pins interesting enough to save and share with others. But have you ever wondered what boards or type of boards your pins were repinned on?
With Pinterest analytics, you can find the top boards that contain a large number of your pins. Go to the Interests tab under Your Audience and scroll down to the Boards section.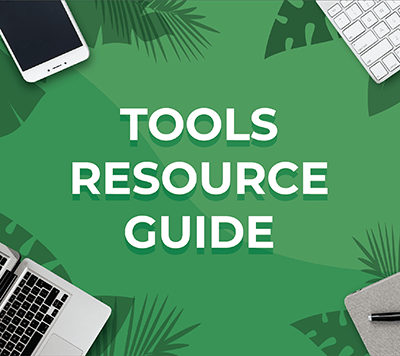 Looking for something to make your life easier?
Discover the tools we recommend to drive engagement, save you time, and boost sales across your entire marketing funnel or business.
Whether you need help planning content, organizing social posts, or developing your strategy, you'll find something for every situation.
FIND YOUR NEXT FAVORITE TOOL

You can quickly see how people are organizing your content without having to hunt it down. In the example above, people are actively pinning your content to lifestyle and seasonal boards.
Visit these boards to understand what else people are pinning to them. You may consider organizing a few of your boards in this way to make it easier for your audience to interact and engage with your pins.
With these insights, you also get a better idea of how people are thinking about your brand. Board titles provide context for how people actively perceive your brand.
Before moving on, ask yourself a few questions:
Do you like how people are thinking about your pins or brand?
Is their perception of your brand or product(s) accurate?
What can you do to change that perception?
Use your answers to inform your Pinterest strategy.
#4: Discover Your Audience's Interests
As a marketer, it's important to understand whom you're trying to reach. Some businesses go to great lengths to create detailed personas of their target audiences.
To help determine your audience persona on Pinterest, go to your Pinterest analytics and navigate to the Interests tab under Your Audience. The first section of data is a visual representation of your audience's interests.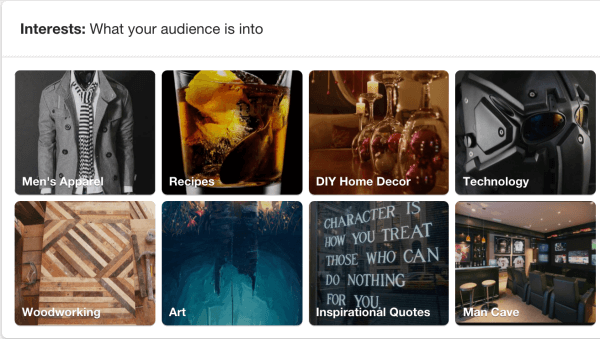 Pinterest claims that these interests are in no particular order, nor do they have weighted significance. Therefore, it's best to view them all as equal when informing your strategy.
Review these interests to find out what you could pin to engage your audience as a proactive tactic. For example, to inspire the audience in the graphic above, you might experiment with creating a "Woodworking Tech Gadgets"–themed pin. The pin could link to a blog talking about the best new gadgets for woodworkers in 2016.
By creating content and sharing pins that your audience is more likely to find interesting, you'll help increase engagement rates on your pins and boost referral traffic from Pinterest to your website.
#5: Reveal Your Most Engaging Pins
Pinterest recently announced they're opening up promoted pins to all U.S. businesses in January 2016. Promoted pins are "Pins that businesses pay to appear where [users are] more likely to notice them." They're a great way to gain more exposure and engagement on your pins.
If you're unsure which pins to start boosting, turn to your power pins. Power pins are pins with a high mix of repins, clicks, comments, likes and more. Essentially, they're pins with high user engagement and interactions.
You can find your top all-time pins under the Your Pinterest Profile dashboard.

Use your power pins to get started with promoted pins, as these are the pins that have performed well historically. This may reduce the risk of experimenting with the platform.
Make sure to look for trends with these pins, which you can use to refine your future content strategy.
Review the images to glean insights:
Are they engaging?
Is there a color pattern?
What do you notice about the shape of the images?
Are there words on the images?
Then analyze the content of pins:
Is there a theme?
Is the content seasonal or of a certain type?
Are the titles and pin descriptions search engine–friendly?
Power pins are an excellent place to start with promoted pins and gain an understanding of which pins have already performed well.
Conclusion
You can glean many insights from your Pinterest analytics if you know where to look and how to frame the data. Employ these insights to inform your Pinterest strategy and improve your content marketing strategies.
What do you think? What other audience insights do you look at in your analytics? What are your favorites? Please share them in the comments section. I look forward to hearing from you!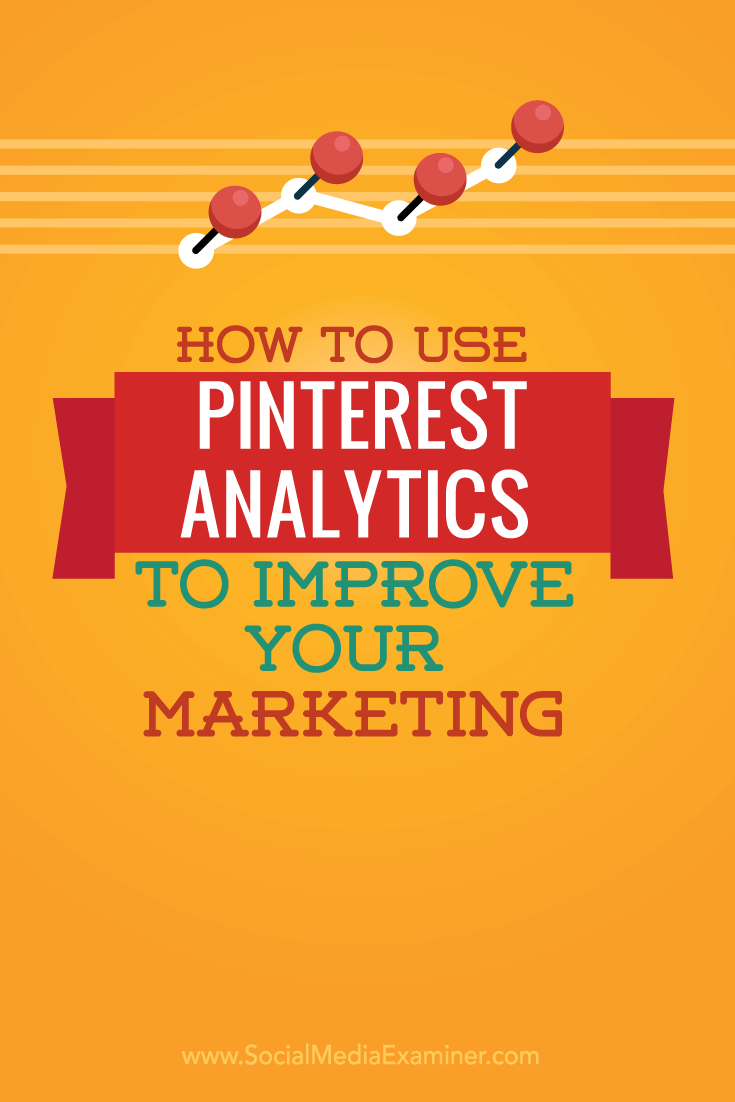 Get Your FREE Course: Web3 for Beginners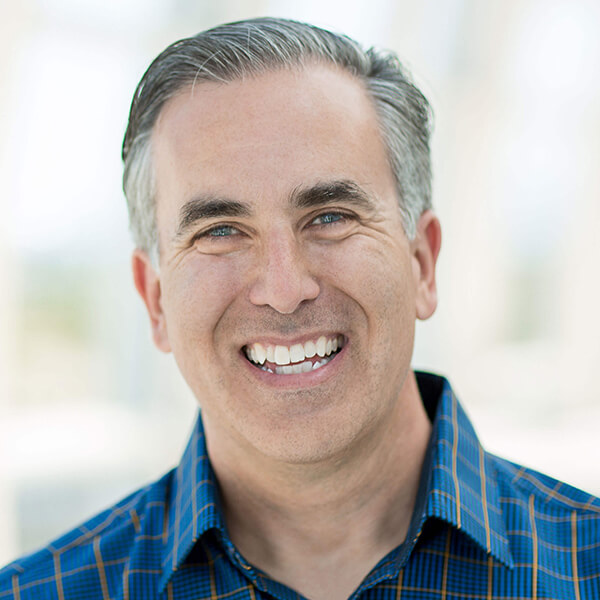 Curious about Web3, but don't know where to start or who to trust?

Introducing Web3 for Beginners, a course taught by Michael Stelzner, the founder of Social Media Examiner.

Learn the basics of Web3 and apply it to your business with this FREE comprehensive course.
CLICK HERE TO GET FREE ACCESS