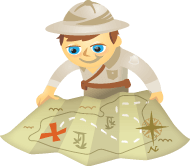 Do you use Pinterest for your social media marketing?
Interested in better ways to connect with your audience?
People use Pinterest differently from other social networks. Instead of conversations or news sharing, people use Pinterest to collect information about their interests.
In this article you'll discover what the Pinterest community looks for and how to create pins to get their attention.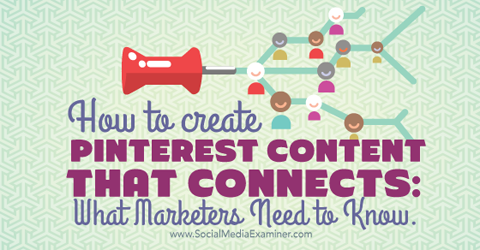 Listen to this article:
Where to subscribe: Apple Podcasts | Google Podcasts | Spotify | YouTube Music | YouTube | Amazon Music | RSS
How Pinterest Differs
Unlike other social networks, where people mostly share things that have already happened, most of the pins on Pinterest are about things people want to do or achieve.
The word "dream" is commonly found on Pinterest, especially in board titles, such as dream wedding, dream vacation, dream wardrobe and even dream man cave.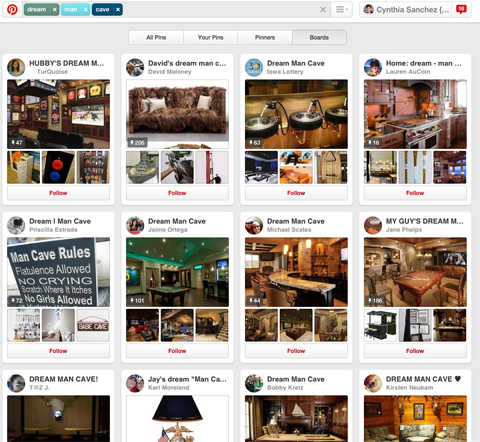 People use these boards to collect pins for inspiration for the long- and short-term. This is good news for businesses, because people will (hopefully) turn their dreams and plans into reality one day and start buying the items they've pinned.
Boards with pins of recipes, DIY projects or gadgets are likely to be realized sooner rather than later, and could all lead to purchases at any time. This is why visibility on Pinterest is so important.
Many business owners also use Pinterest for their own planning needs, so it's a great platform for business-related tools and software, as well as consultants and service providers. For example, if you're a graphic designer who creates boards dedicated to logo and web design ideas, you could easily get hired if the right person sees and is impressed by your boards.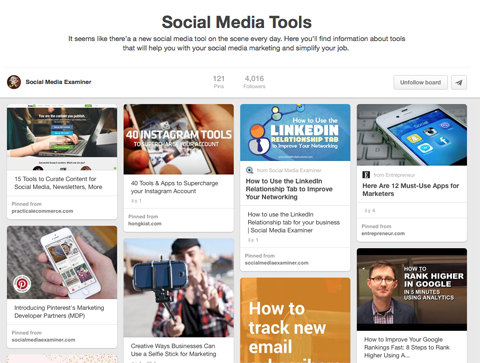 Some Pinterest users express their personality through their accounts. They pin images of things they identify with, such as art, fashion or quotes that they find meaningful or funny. These are excellent ways to connect with customers. Plus, when you know what your audience likes, you can tailor content or even create products and services to suit them.
Here are three ways to share pins that will engage your Pinterest community.
#1: Produce Content That Inspires and Informs
If you're looking for a source of inspiration for content that would do well on Pinterest, look no further than your email inbox or the FAQ section of your website.
Create videos and articles that address common questions asked about your products and services, as well as share different ways to use your products. Upload pins (along with links to posts) that get your community excited about using your brand.
Duck Brand creates outstanding informational content. They not only show different ways to use their products for maintenance and repair projects, but also explain how to do creative projects with their tape.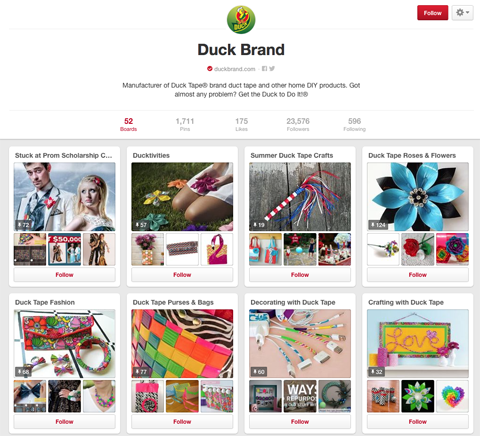 The company gets Pinterest users involved by challenging them to use Duck's products creatively. For example, Duck Brand asked participants to create prom dresses and tuxedoes in a competition for a $50,000 scholarship.
The key is to construct boards and pins that inform and inspire your community so they'll want to try new things and get creative with your products.
#2: Create Descriptive Images
When people think of Pinterest, the first thing that comes to mind is images. Create visuals that have a clear message so they'll grab your audience's attention.
If you pin a product or a food photo for a recipe, a good image might be all you need. However, if the concept is more abstract or you're promoting a service, get creative with images and perhaps include some text.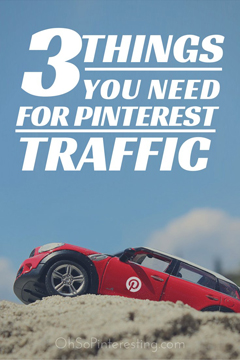 For example, in the graphic above, the car represents the concept of bringing traffic to a website from Pinterest. If this image was placed next to the title of the blog post, the car image alone would be enough. However, this blog post was also shared on Pinterest and other social networks, so the image needed a text overlay. This made the image more eye-catching and helped clarify the message independently of the blog.
When visitors go to your website or blog, they can easily learn all about your business. When they see one of your images on Pinterest, the image needs to provide enough information that users know what message you're communicating and thus will be driven to engage. Create images that your community can interpret and respond to in a way that makes sense to them.
#3: Selectively Curate Content
Your Pinterest business profile shouldn't only be about promoting your content, products and services. Build an account that serves your audience. After all, social media is an extension of your customer service.
Curate content that your Pinterest followers will find useful to make your account a more valuable resource. This also takes the pressure off of you to create all of the content you need to keep your account active.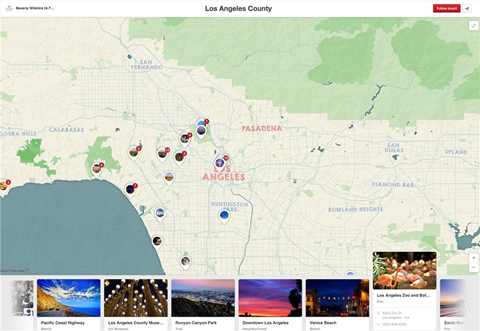 For example, the Beverly Wilshire not only pins images of their hotel, but also repins content from other boards to help people plan trips to Los Angeles. They use place pins so people can also reference the information on their mobile devices while exploring the city.
When deciding what content to pin from other online sources or repin from other Pinterest accounts, make sure the content reflects well on your business. If the information is accurate, aligns with your brand and is valuable to your audience, go for it!
Final Thoughts
It's important to keep your community in mind when marketing your business on Pinterest. Create and curate your account in a way that serves your Pinterest community for the best engagement and results.
What do you think? How do you create community on Pinterest? What Pinterest content do you use? What types of images get you the best engagement? How do you determine whether the content you repin aligns with your brand? Please share your thoughts in the comments.