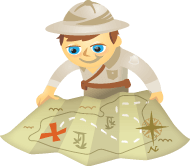 Could your Pinterest marketing use a jumpstart?
Are you curious about what's working for other businesses?
Tweaking techniques that have been successful for others can help you drive traffic, connect with your target audience, and increase sales.
In this article, you'll discover 26 tips to improve your Pinterest marketing.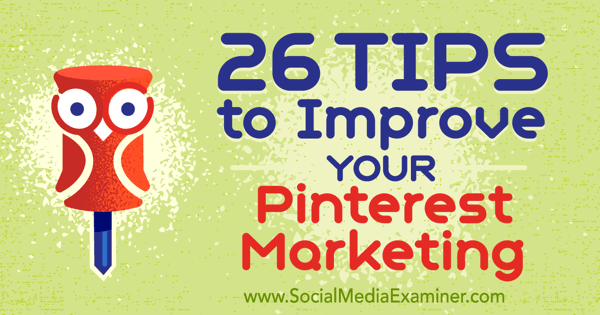 Listen to this article:
Where to subscribe: Apple Podcast | Google Podcasts | Spotify | RSS
#1: Share Pin It for Later Links
The Pin It button encourages users to pin content from your site onto their own boards. Engagement is captured even when users aren't on the platform. The same idea holds true for Pin It for Later links.
You can post Pin It for Later links, along with the prompt "Pin it for Later" across social media.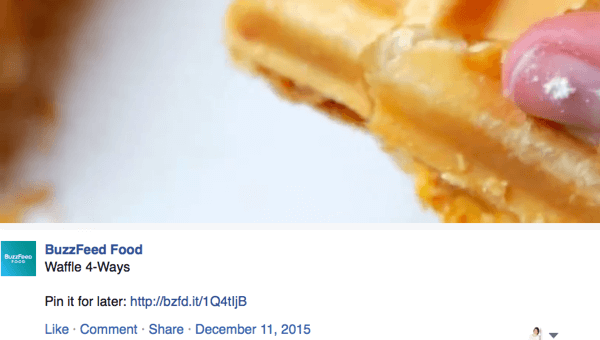 To create a Pin It for Later link, attach the URL of the pin you want users to save, add it to a post on social media after explaining what it is, and attach it to the phrase "Pin it for later!"
This is a great way to drive traffic to Pinterest and build up repins.
#2: Add 20-30 Keywords in Promoted Pins
Keywords are the most important targeting feature you can use with promoted pins. Pinterest recommends that you use 20-30 keywords per promoted pin. That's just enough to get you noticed, but not so many that you're showing your content to the wrong people.
Using a large number of keywords can help you cover all of the broad, specific, short, and long keywords you need. You'll show up better in searches when users are looking for content like yours, and it helps ensure that your pin is placed in the right category.

These keywords won't show up on promoted pins; they work instead like targeting criteria, matching your content with the people looking for it.
Think outside the box. Dollar Shave, for example, recently promoted their razors for Father's Day gifts, and attached a Father's Day keyword even though it's not a direct description of the product.
#3: Feature Multiple Products in Single Pins
Featuring multiple products in your pins can help them to get more engagement. This tactic can add value to a single pin for two reasons: first, you show users how many amazing things you have to offer; and second, you have a better chance of appealing to more users by featuring more options.
The Conference You've Been Waiting For
As a small business marketer, you can probably only pick one or two events to attend each year. Get an unbeatable conference experience and expert training at Social Media Marketing World in sunny San Diego, California—from your friends at Social Media Examiner.
🔥 As a valued reader, you can save $800 if you act now! Sale Ends Tuesday! 🔥
CLICK HERE TO LEARN MORE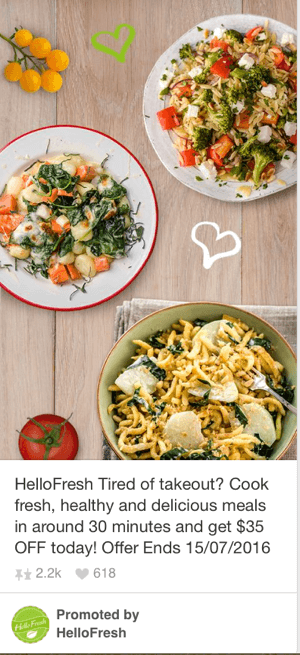 You can feature multiple complementary products (like an assembled outfit from your collection) or show multiple uses for a single product (like six types of crafts that use mason jars). Not only does this increase the chance of appealing to more users, but it can also lead to larger sales.
#4: Capitalize on Image Height
Pinterest's pages are full of vibrant, high-quality, colorful images. So how do you make yours stand out? Image size (or image dimension) matters a great deal. While Pinterest automatically scales all images you upload to match the exact width, you choose the height of your images.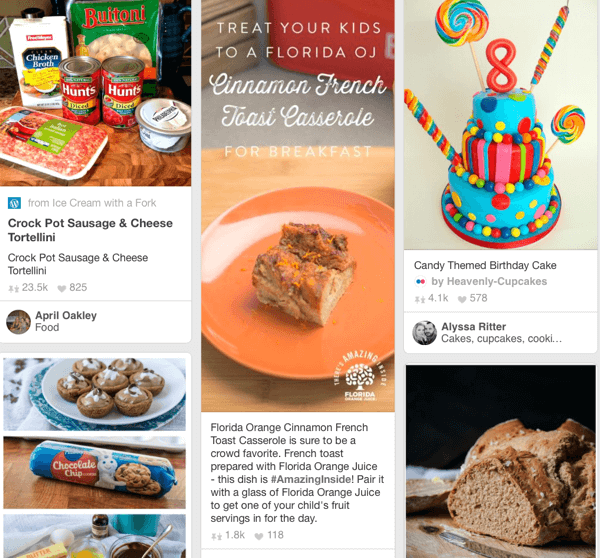 Vertical pins (pins that appear taller) perform better on Pinterest. It's recommended that you use image dimensions from about 2:3 and 1.3:5 (with the minimum recommended width being 600 pixels).
Note: While you can design pins with the extended dimensions 1.2:8, pins that reach the maximum height don't perform quite as well.
#5: Include Text Overlay on Images
While descriptions matter, images reign supreme on Pinterest. However, visuals still need a little help sometimes. To catch the attention of users scrolling quickly through feeds, add text overlay directly onto your images to make them stand out and explain why your pin and the content behind it are so valuable.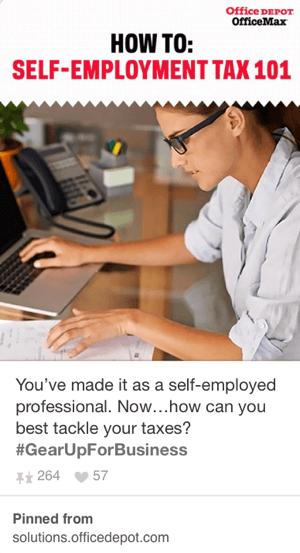 In most cases, text shouldn't make up the majority of the pin. It can, however, be helpful to show off step-by-step tutorials, listicles, or a few words telling pinners what the pin is.
Keep the text simple, the phrases short, and all of it easy to read. Bold text can make the description stand out. Plus, make sure the text is strongly contrasting in color from the rest of the image.
#6: Choose Light Over Dark Images
Aside from image dimension and text overlay, the colors in the images we choose are vital for engagement and number of clicks. Research shows that lighter-colored images are consistently repinned more than darker images. Warm colors (reds) are also more likely to be repinned than images with predominantly blue tints, getting an average of twice as many pins.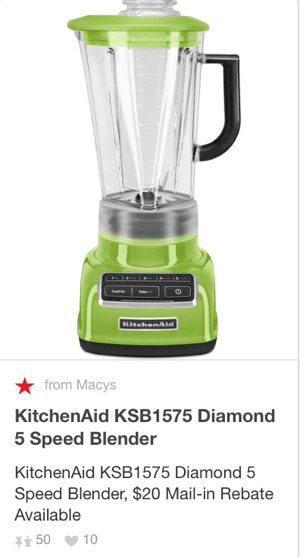 In addition, if you're looking for fast attention from your pins, use strongly contrasting colors to draw the eye straight to your content. Just make sure the dominant color is light as much as possible.
#7: Feature Step-by-Step Tutorials
DIY, or do it yourself, content is a staple of the platform. Even though most of us are never quite able to replicate the stunning results we often see there, that doesn't stop us from trying.
Images that actually show step-by-step tutorials often get a high amount of engagement and clicks on Pinterest.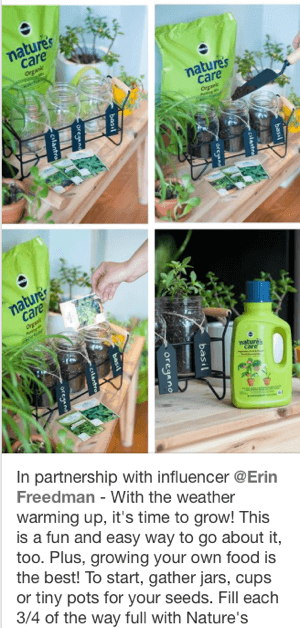 Use step-by-step tutorials within an image to show users that you actually have content to share with them. When the value is up front in the initial image, you'll increase the likelihood of users repinning the pin to share or save for themselves later.
It can also help make the tutorial look easy, giving users an "I can do that" feeling that motivates them to save it and maybe even try it out later on.
#8: Create 150- to 300-Word Descriptions
While the image remains the most important part of a pin, the description still holds its own weight. Descriptions give more information about what the pin is, which will help convince users to click and show them the value of doing so. It's also an opportunity to add in your desired searchable keywords.
Using between 150-300 words seems to be the sweet spot for Pinterest descriptions.

The audience you're trying to reach and the type of content you're trying to promote will affect your optimal description length. Test the length of the descriptions you use on your pins and see what resonates for your audience.
It seems like no matter what field you're in, in the majority of cases you don't want more than 350 words.
#9: Include Links in Pin and Board Descriptions
This is a simple but effective trick. Adding a link to your pin and/or board descriptions can increase clicks to your site, because users can click on the pin to actually travel to your site. It can also show users where they're going without clicking on the pin to view it or leaving Pinterest.
You should keep the link as short as possible.
As well as adding links to your descriptions on pins and boards, make sure you always include a link to your website on your main profile page. It's important to remember because this can send more traffic to your main site.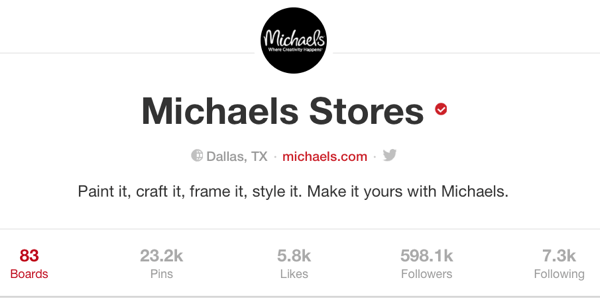 #10: Use Calls to Action in Pin Descriptions
Calls to action (or CTAs) are just as important on Pinterest as they are on every other platform. Adding CTAs in your pin description encourages users to take a desired action.
Popular examples of CTAs that often work well include: Repin, Learn More, Enter Our Sweepstakes, and Buy Now.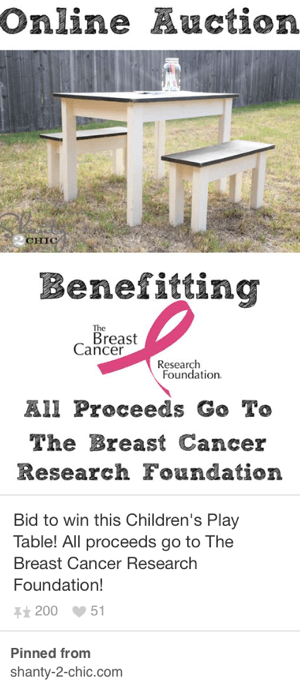 In the example above, the CTA "bid to win" encourages users to take part in a charitable auction. Telling users exactly what you want them to do, whether on Pinterest or once they get to your site, will give users a specific mission to complete and increases the likelihood that they'll do so.
CTAs should always be brief, clear, and to the point. This is especially true on Pinterest.
#11: Share Price Points in Your Descriptions
Price tags can quickly grab the attention of a user scrolling by. If you're promoting a product and trying to sell it, always add a price tag to your description.
Seeing the price of your product can put customers one step closer to considering a purchase. It suddenly feels more like shopping online than browsing a Pinterest feed. While a price tag alone doesn't have all of the benefits of a full-blown Buyable Pin, it acts as a signal to pinners that it's for sale and it's waiting for them.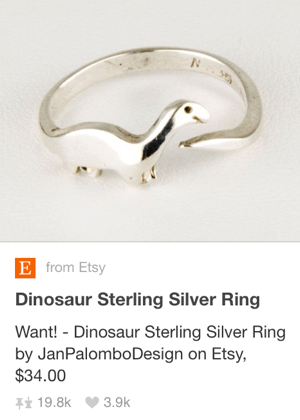 Without Buyable Pins, you can add text in the description of a regular pin. Alternatively, you could use rich pins, which are discussed later on. If you're interested in setting up rich pins for your products now (and don't want to wait for tip #15), check out the guide on how to set them up.
#12: Pin Consistently and Often
Like most marketing efforts, an important factor in success is the amount of content that you post. And again like all marketing efforts, the key question is how often.
For businesses, a good start is to pin about five times a day. Space these five pins out across the day, and make sure you pin in the afternoon and evening, as those are the best times for pin engagement.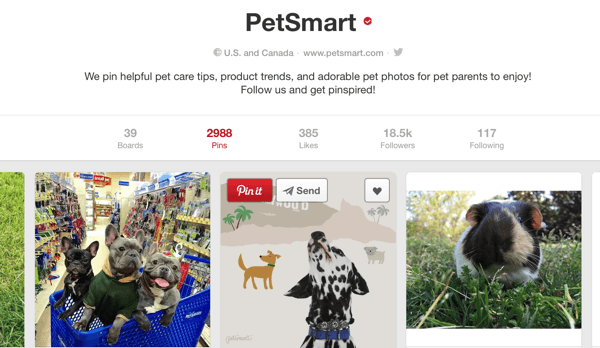 Spacing out your pins gives you a better chance of reaching more audience members.
#13: Schedule Pins
While you want to pin often, you also want those pins to be spaced out throughout the day. Trying to post multiple times a day, every day, can be exhausting unless you have a scheduling tool.
Unfortunately, Pinterest doesn't have any features that allow scheduling in advance (at least not yet). Fortunately, there are several third-party tools available to help you.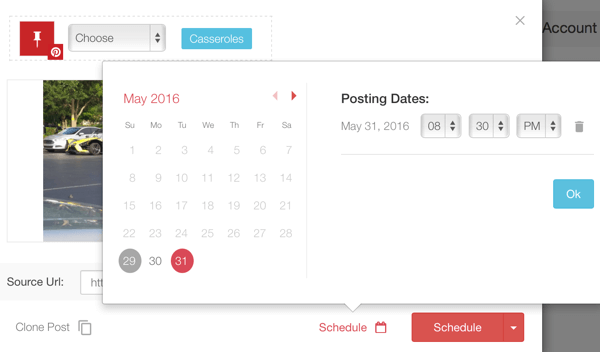 Viraltag makes uploading and scheduling pins easy. Use Viraltag to schedule what day and time you want your pins to be uploaded. Viraltag also has some unbelievably useful and smart features.
Scheduling your pins can keep your content on track and consistent.
#14: Explore Pinterest's Analytics
The analytics and data we have about our content marketing or social media marketing efforts is important. You can find out who your audience is, who you're missing, and what content is performing well (and what isn't). Having this data can help us improve our results over time.
Pinterest has an analytics platform available for those with business profiles, which lets you see information about pin performance and general audience.
Attention Agency Owners, Brand Marketers, and Consultants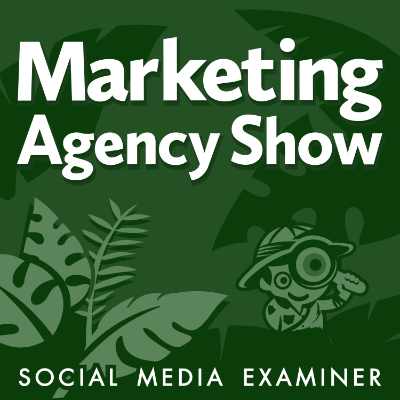 Introducing the Marketing Agency Show–our newest podcast designed to explore the struggles of agency marketers.

Join show host and agency owner, Brooke Sellas, as she interviews agency marketers and digs deep into their biggest challenges. Explore topics like navigating rough economic times, leveraging AI, service diversification, client acquisition, and much more.

Just pull up your favorite podcast app, search for Marketing Agency Show and start listening. Or click the button below for more information.
CLICK HERE FOR THE DETAILS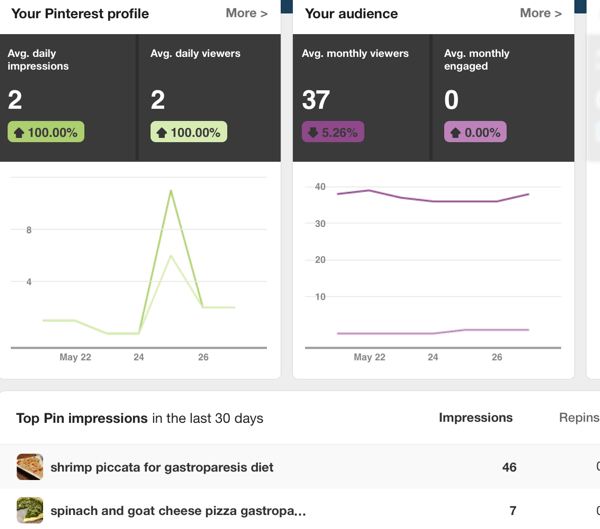 That said, some marketers and businesses want even more detail. Use a tool like Quintly to get access to more analytics features than Pinterest currently has. You can see an analysis of pin or media type distribution, find out the average price of your products, track follower growth, and more.
Plans start at $129 a month, and it includes other platforms, too.

#15: Take Advantage of Rich Pins
Rich pins are a great feature that you can use to make your pins more dynamic. Only business accounts can use rich pins, and you need to set up rich pins separately and link them to your site.
Types of rich pins include app, place, article, product, and recipe pins. Article pins, for example, will display the title of the article, its publisher, the publication date, and the author.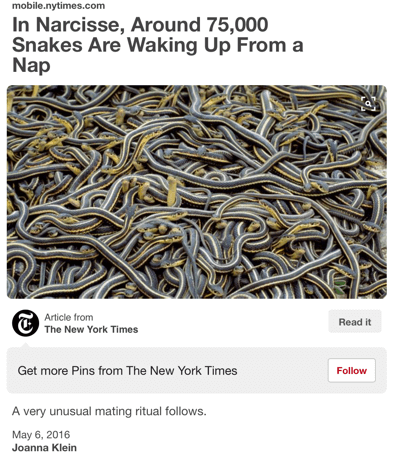 Product pins in particular can help boost sales by providing product and price information, including product availability and where to buy it.
To use rich pins, you'll need to add some metadata to your site, validate your site, and then apply for rich pins. You only have to apply once per domain.
You can see how to apply for rich pins here.
#16: Reach Local Visitors With Place Pins
For local businesses, place pins have their purpose in marketing. Businesses looking to increase visits from destination travelers can also benefit from place pins.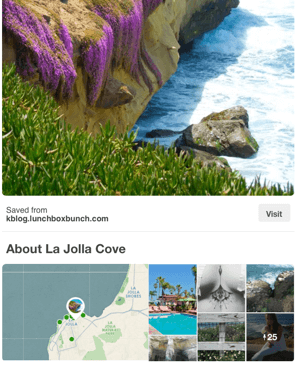 Place pins are a type of rich pin, and include a map of where your business is, an address, and a phone number in the description (if you choose to add them). It shows users exactly where a place is located, and can even be added to the users' saved places.
With place pins, users can also discover you if they're checking out a nearby place pin. This feature alone is worth adding place pins to your content when possible.
#17: Collaborate With Influencers on Guest Boards
Did you know that you can open a board to one (or more) specific pinners and allow them to pin to the board with you? This happens often when you create a guest board for your business and invite an influencer to pin to it.
Brands like Etsy and Lowe's frequently have guest boards created by experts.

Guest boards offer an array of benefits, including bringing a new perspective and new content to your site, and adding the authority and expertise of the influencer. It also helps content from your boards to show up in the feeds of the followers of the influencer, which connects you with new members of a target audience.
#18: Tag Influencers in Relevant Pins
Influencers matter on Pinterest just as much as they do elsewhere, and you don't even need a guest board to interact with them. To get their attention, try tagging an influencer in a pin.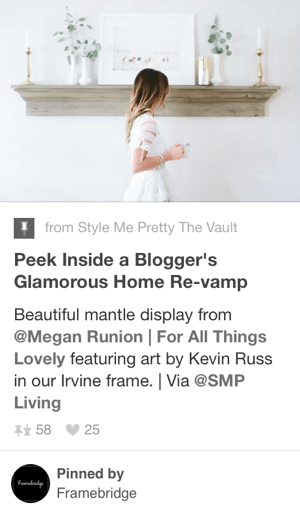 Share content from different influencers to help build rapport and make sure you have a good reason to tag them in your pin. Note: Tagging influencers when the content isn't directly tied to them comes across as spam.
Pinning content to your board from different influencers is a good practice, as pinners like to see content that comes from multiple places instead of pure self-promotion. If the influencers reciprocate, they could be sending a huge amount of traffic and repins your way.
#19: Focus on Product Uses
This is one of the biggest mistakes marketers and businesses new to Pinterest make: they focus only on what the product is instead of how it can be used. Pinterest's audience is much more interested in the use cases of a product, or how it fits into their lifestyle.
You'll have much better results if you design your pin so users can picture themselves using your product.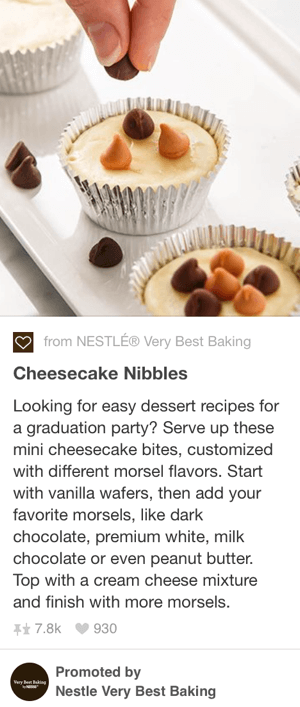 Your content will likely perform best if you can demonstrate different use cases in the pin image, instead of just an image of just the product. If you're selling artisan furniture, show how it fits into the whole room. If you sell sports equipment, show the yoga mat and the silhouette of a yogi out on a mountain or in a studio.
The more people can picture themselves using the product (especially if you can highlight multiple uses, like "Six exercises for your balance ball!"), the more likely they'll respond.
#20: Put Keywords Everywhere
Keywords are just as important on Pinterest as they are on Google. When people use the search engine, keywords determine what pops up.
Since users can search for pins, boards, and pinners by keywords, you need to put keywords everywhere you can. Every possible description that's open to you should have at least one keyword on it. Include keywords in the descriptions on your pins, your boards, and even your profile.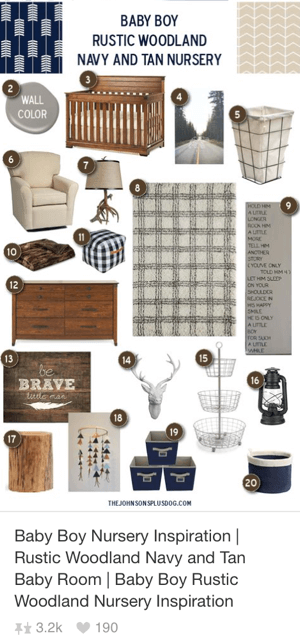 Using more than one keyword in a description when possible can increase the likelihood of your pin connecting with the right audience through the search feature. Keep that in mind and use keywords wherever you can without overdoing it.
Note: Adding keywords to the ALT text on your images off of Pinterest can also increase visibility.
#21: Research Related Keywords
Knowing what keywords you want to use in your regular pins and boards can be difficult, but promoted pins can give you some insight. When you add a keyword to your promoted pins (and again, you never have to run the campaign if you don't want to), you'll see a list of relevant related keywords that you can choose from.
Pinterest also automatically provides a few keywords to choose from before you even search, based on the pin you're promoting.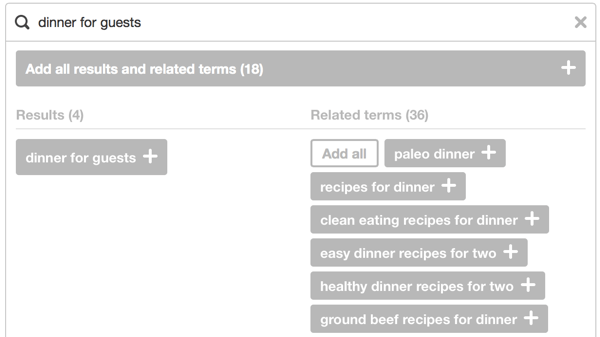 You can add these keywords to the descriptions of regular pins. If you have some similar pins, using combinations of different keywords can increase your overall audience by making all of your pins more diverse.
#22: Use Broad and Specific Keywords
This tip is applicable for regular pins, but is most important for promoted pins. With regular pins, you can add keywords into a description. While you can add multiple invisible keywords to promoted pins, those keywords never even show up in the descriptions. Though invisible, these keywords for promoted pins will help your target audience find you and vice versa, especially through searches.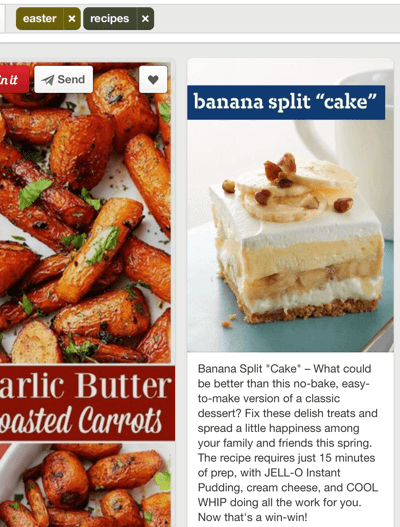 Choosing a combination of keyword types is important. You can reach your audience more consistently if you use both broad and specific (and short- and long-tail) keywords.
Pinterest is largely about discovery, but you still want people to be able to find you if they're specifically looking for you.
#23: Frequently Update Promoted Pin Campaigns
Like with many social media ad platforms, you don't want to run one campaign forever, even if it's working now. Over time, your ad will reach its peak amount of engagement and clicks, and your campaign will stagnate, which makes updating your promoted pin campaigns even more important.

Change up the image, pin, description, and even keywords you're using in your promoted pins every few weeks. This can keep engagement up and allow you to connect to or attract new members of your target audience.
Plus, if you notice that one campaign has underwhelming results, you can stop it or update it while it's running.
#24: Track Your Traffic With Google Analytics
Google Analytics is one of the most important tools marketers and ecommerce businesses have, regardless of what type of marketing you focus on.
While the promoted pins system tracks conversions, using Google Analytics to track traffic sent to you by both promoted and regular pins can help you see how users are coming to and moving through your site.
This is especially true since regular pins don't have conversion tracking information (you can just see how many clicks you got).

Use Google Analytics to find out how many users Pinterest is sending to your site each month, and get you an overview of how users move from page to page in your site. You can identify drop-off points and get an idea about how to get more results from the traffic you get to your site from Pinterest.
#25: Let Your Followers Guide Your Content
Unlike Facebook, you can view the profiles of the users who follow you on Pinterest. From Pinterest profiles, you can get a basic idea of your followers' interests, potential demographics, frequency of activity on Pinterest (including their pins and likes), and most importantly, what other types of content they're pinning.

While it will be difficult to evaluate all of your followers and their content, even getting a snapshot of information from a variety of your followers can give you ideas for the other types of content performing well with your audience.
If your followers pin a lot of DIY content, you can add more to your board. If they share interests, you can create content that appeals to your followers' interests. If, for example, Sherwin Williams paint store noticed that a large number of their followers also had pins from the category Kids & Parenting, they could have a board with DIY kids' projects, nursery color schemes, and kid room ideas.
#26: Run a Pinterest Contest
For those looking to boost engagement, number of followers, and new leads off-platform, Pinterest contests are a fantastic marketing tool. When you run a Pin It to Win It contest, for example, you ask users to repin from a selection of pins (though you can't ask them to repin just the image).
This often results in having a variety of your content being pinned by different users, which can then be saved and repinned organically by other users who come across it.

Because pins can be reposted indefinitely, it's always a good idea to add a note about the end date for the contest on the pin, particularly in the image when possible. Doing this ensures that users don't continue to keep contest pins cycling.
Conclusion
There's a variety of tips and techniques that you can use to get better results when marketing on Pinterest. Whether you're looking to optimize your pins' images so they stand out in searches or focus on using Pinterest's features to connect and engage with your audience, these 26 tips for Pinterest marketing will boost your success and help you get the results you're looking for.
What do you think? Which tips have you used in your Pinterest marketing efforts? What's worked for you? Share your thoughts, knowledge, and experience in the comments below!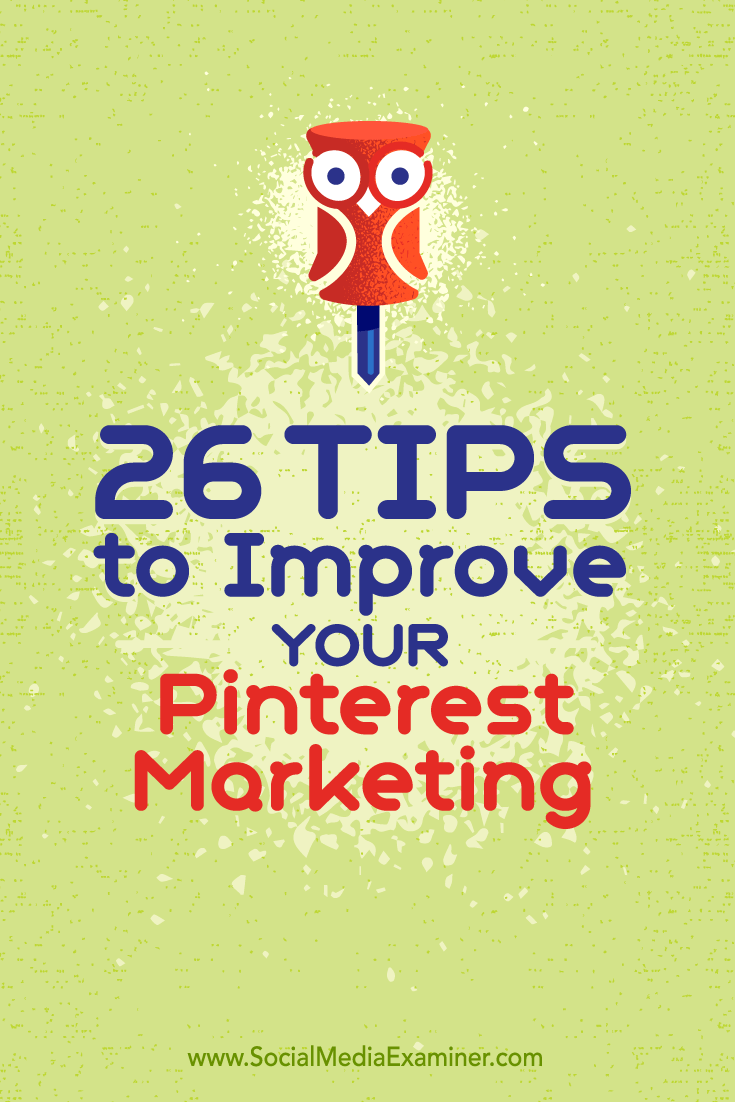 3 Days of World-Class Training—Zero Travel!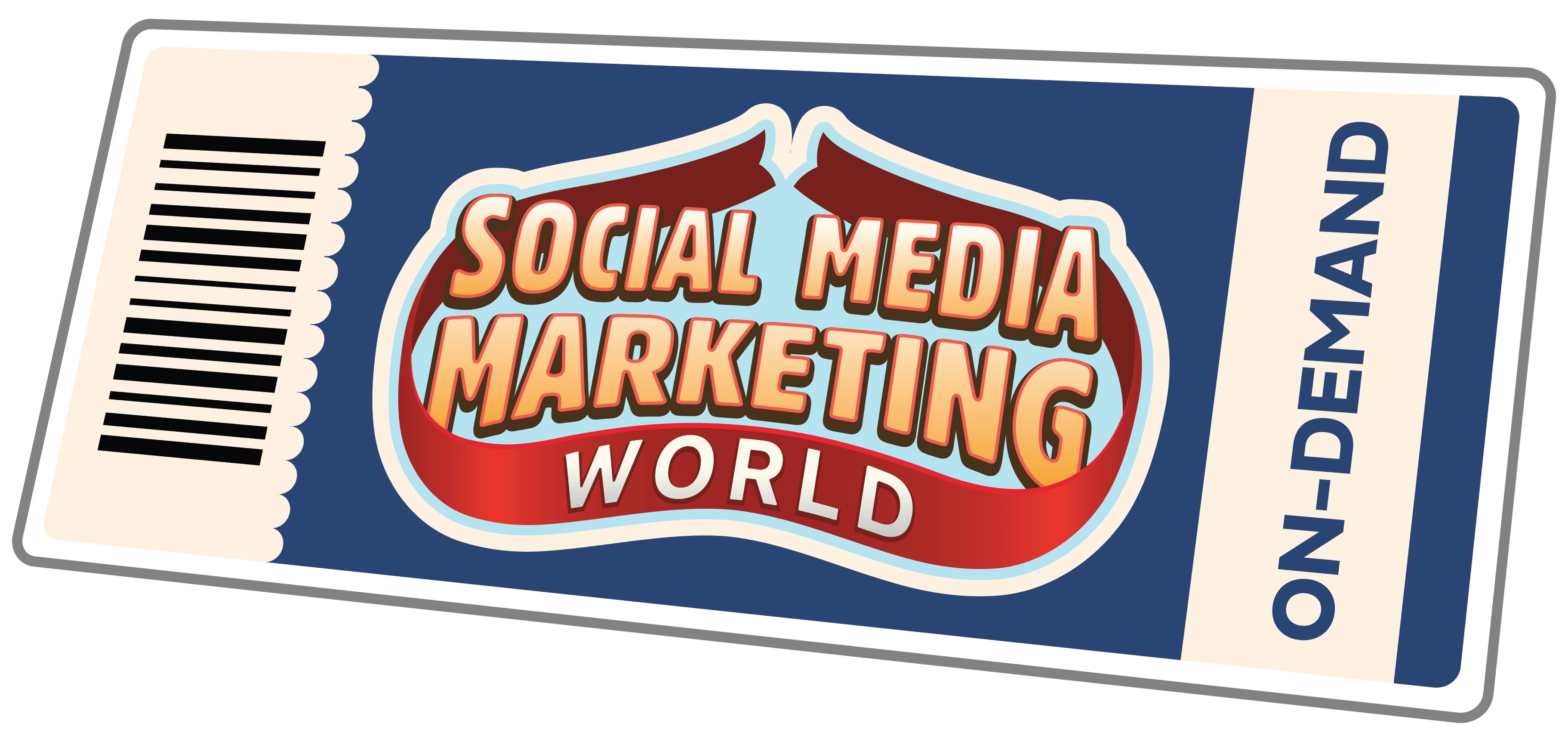 Travel to Social Media Marketing World off the table? Get all of the great content at a fraction of the price with an On-Demand ticket.

That's full access to recordings of every keynote, workshop, and session—the ones people travel thousands of miles to see. Don't wait. Get your On-Demand ticket and enjoy actionable content that you can watch anytime, anywhere.
GET YOUR ON-DEMAND TICKET NOW